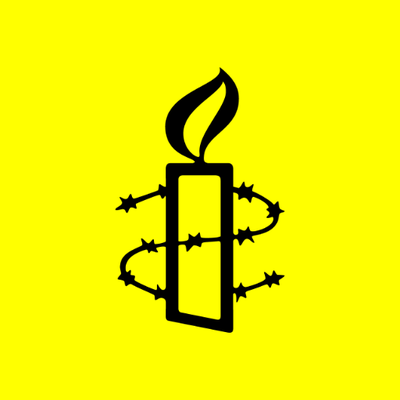 For Immediate Release
Contact:
AIUSA media office,Email:,media@aiusa.org,Phone: 202-544-0200 x302
Amnesty International USA Voices Serious Concerns about Federal Immigration Proposal Priorities
WASHINGTON
Amnesty International USA voiced serious concerns today regarding priorities for a comprehensive immigration reform (CIR) bill proposed by U.S. Senators Majority Leader Harry Reid (D-NV), Charles Schumer (D-NY), Richard Durbin (D-IL), Dianne Feinstein (D-CA) and Robert Menendez (D-NJ). A draft version of the bill summary touts increased border patrol, Immigration and Customs Enforcement (ICE) personnel and penalties for immigration status-related crimes. However, it pays little attention to long-needed reform of ICE's unnecessary home-invasion style enforcement operations, targeting and often terrorizing undocumented persons.
"The senators' get- tough language fails to recognize that an end to the ongoing human rights violations in immigration enforcement practices and a vigorous defense of human rights is an essential component of true immigration 'reform'", said Lory D. Rosenberg, interim policy and advocacy director for Amnesty International USA's refugee and migrants' rights program.
"Immigration reform is desperately needed in the United States," said Rosenberg. "Reform measures cannot however flout fundamental human rights such as liberty and equality before the law. The increased enforcement provisions portend for a virtual tsunami in mandatory detentions, which lock people up without the right to a bond hearing, in direct violation of fundamental human rights."
The bill summary emphasizes aggressive identification and expulsion of broad categories of immigrants and refugees, including those found in federal, state or local prisons, those who enter or reenter unlawfully, and those believed to have 'gang' connections. Absent from these provisions is any consideration of a person's individual circumstances, including the amount of time living in the U.S., presence of family members, community ties and employment history.
Without necessary safeguards and individual, case-by-case determinations, broad gang provisions that may require only an association may be used to deport immigrants and asylum seekers who often are marginalized from the workforce and forced to live in neighborhoods plagued by gang violence.
Additional measures to combat unlawful immigration include increased punishment and prison sentences for fraud, misrepresentation, and other violations of immigration law, again regardless of circumstances, which could result in the imprisonment of asylum seekers who use fake passports to flee persecution.
The broad sweep of prisons contemplated by the bill summary will indiscriminately pull in both those held for minor traffic violations and serious violent criminals. What is more, despite an extremely unfavorable report from the U.S. Department of Homeland Security Office of Inspector General (OIG) imposing more than 30 corrective recommendations on the 287(g) program that have not been made, the bill summary perpetuates the inappropriately designed state-federal enforcement programs, such as 287(g), which has received constant criticism for its disregard of obligatory human rights protections as well as its flagrant civil rights and liberties abuses.
"These escalated enforcement measures would be implemented in the present climate of inefficient and often out-of-control ICE arrest and detention operations, vastly increasing the number of immigrants and asylum seekers subject to mandatory detention and denied meaningful access to family, community or counsel to represent their rights in the courts," said Rosenberg.
Amnesty International USA calls on Congress to craft a fair and humane immigration policy that:
SS Provides a formal process through which undocumented people can obtain legal status. A legalization scheme can make a significant contribution towards protecting immigrants' rights, particularly in reducing labor exploitation and promoting social cohesion.

SS Reforms immigration policies that unnecessarily separate families. Immigration judges should have the authority to review all decisions to detain immigrants and the discretion to stop deportation in the interest of family unity. To ensure fairness, these decisions should be subject to federal court review.

SS Fully guarantees immigrant workers' labor rights, including the right to join unions.

SS Focuses on protecting the rights of immigrants most at risk of human rights violations, including undocumented immigrants, immigrant women and immigrant children.

SS Restores immigration enforcement responsibilities exclusively to federal authorities and terminates unconstitutional state and local law enforcement programs and state laws purporting to enforce immigration standards.

SS Places immigrants and their communities at the center of the debate on immigration by recognizing and ensuring their role in formulating and implementing strategies to protect their rights.
"Neither the U.S. Constitution nor international law permits the arbitrary penalization of entire communities," said Rosenberg. "Appropriate safeguards against unwarranted, arbitrary detention and expedited deportation are critical if the reform legislation is to achieve its goal of bringing undocumented immigrants out of the shadows so they can be properly screened and registered by the authorities and welcomed into U.S. society."
Amnesty International is a Nobel Peace Prize-winning grassroots activist organization with more than 2.8 million supporters, activists and volunteers in more than 150 countries campaigning for human rights worldwide. The organization investigates and exposes abuses, educates and mobilizes the public, and works to protect people wherever justice, freedom, truth and dignity are denied.
Amnesty International is a global movement of millions of people demanding human rights for all people - no matter who they are or where they are. We are the world's largest grassroots human rights organization.
(212) 807-8400
LATEST NEWS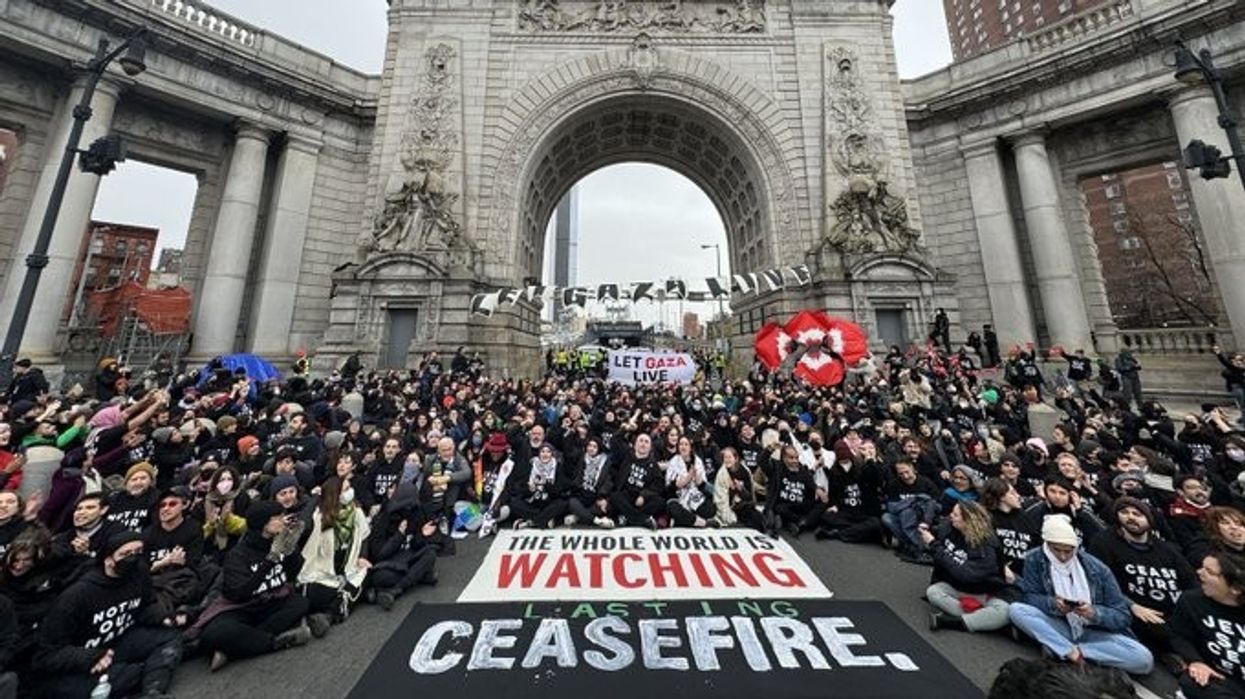 "We will make business as usual impossible until the U.S. stops funding and fueling a genocide," Jewish Voice for Peace said.
In what organizers said was the largest action of civil disobedience in New York City since the Iraq War, more than 1,000 protesters blocked traffic on the Manhattan Bridge for hours Sunday to demand a permanent cease-fire in Israel's war with Hamas in Gaza.
The action, organized by Jewish Voice for Peace, began around 2 pm Eastern Time, and traffic began moving again around 5:30 pm, The New York Times reported. The group included 1,500 Jews, Palestinians, religious leaders, and elected officials, Jewish Voice for Peace said on social media.
"These kind of things where you stop traffic brings more attention to the issue," 74-year-old participant Joan Glickman, who lives in Westchester, toldGothamist. "I do think there are many Americans who don't really pay attention to how serious this is."
The protest came on the third day of a negotiated four-day pause in hostilities between Israel and Hamas. On Sunday, Hamas released a third group of 17 hostages while Israel released 39 Palestinian prisoners, The Associated Press reported. However, activists expressed concern about what would happen when the temporary truce ended.
"There are only two days left before the Israeli government resumes its genocidal onslaught against the people of Gaza—funded and fueled by the U.S. Netanyahu has said, 'We will come back to annihilate them,'" Jewish Voice for Peace tweeted Sunday.
On October 7, Hamas attacked Israel, killing 1,200 and taking around 240 hostages. In the month and a half since, Israel has killed more than 14,800 Palestinians in Gaza, including 10,000 women and children. That figure is more than double the number of women and children confirmed killed in Ukraine in two years of war against Russia. More than 800 legal scholars have said Israel may be committing a genocide in Gaza, and one human rights lawyer and former United Nations official called Israel's campaign in Gaza a "textbook case of genocide."
The protesters Sunday blocked the Manhattan entrance to the bridge and sat down in the center of the entrance ramp, The New York Times reported. One person scaled the arch over the ramp to unfurl a Palestinian flag.
"We needed to continue to raise our voices and continue to speak out because there's thousands of Palestinians that are under the rubble right now," Jewish Voice for Peace member Jay Saper said at the protest, as the Times reported.
At one point, the protesters said they would refuse to leave until U.S. President Joe Biden called for a permanent cease-fire to the conflict, and they unfurled banners reading, "Lasting cease-fire," and "The whole world is watching."
"We will make business as usual impossible until the U.S. stops funding and fueling a genocide," Jewish Voice for Peace tweeted.
A spokesperson for the New York Police Department told Gothamist that it made "multiple" arrests.
"I hope that this message is strong and they're listening in the White House," Palestinian American activist Linda Sarsour said during the protest, as Gothamist reported.
News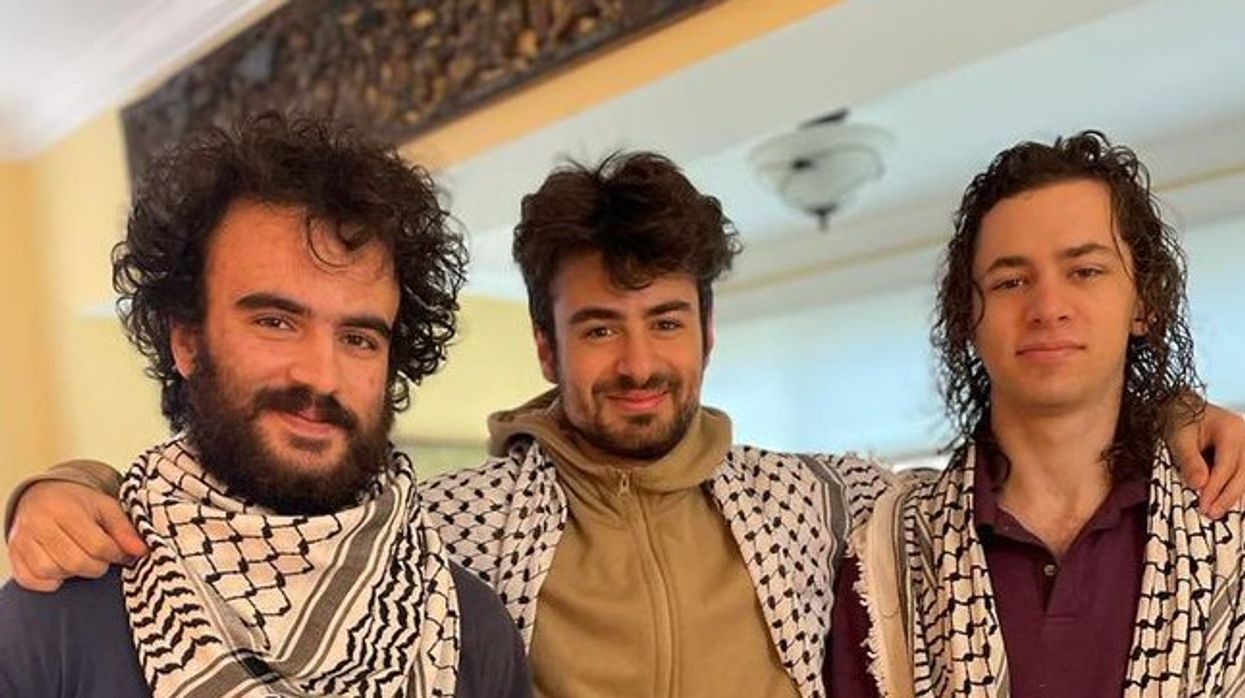 "The surge in anti-Arab and anti-Palestinian sentiment we are experiencing is unprecedented, and this is another example of that hate turning violent," one advocate said.
Three university students of Palestinian descent were shot and wounded Saturday night in Burlington, Vermont.
The students were identified as Brown University student Hisham Awartani, Haverford College student Kinnan Abdel Hamid, and Trinity College student Tahseen Ahmed. In a Sunday morning statement posted on social media, the American-Arab Anti-Discrimination Committee (ADC) said they had "reason to believe that the shooting was motivated by the three victims being Arab."
"We are praying for a full recovery of the victims, and will support the families in any way that is needed," ADC executive director Abed A. Ayoub said in a statement. "Given the information collected and provided, it is clear that the hate was a motivating factor in this shooting. We call on law enforcement to investigate it as such."
"The surge in anti-Arab and anti-Palestinian sentiment we are experiencing is unprecedented, and this is another example of that hate turning violent," Ayoub continued.
The three 20-year-olds were visiting one of the trio's family members in Burlington for Thanksgiving, police said, as the Burlington Free Press reported. They were walking along a residential street near the University of Vermont campus around 6:30 pm Eastern Time when a white man confronted them, according to Seven Days.
"The suspect was on foot in the area. Without speaking, he discharged at least four rounds from the pistol and is believed to have fled on foot," police said, as the Burlington Free Press reported.
Police said that two of the men were wearing keffiyehs at the time of the shooting, while ADC said that all three were wearing keffiyehs and speaking Arabic. Police, however, said they did not yet know the shooter's motives.
"The hate crimes against Palestinians must stop. Palestinians everywhere need protection."
"My deepest condolences go out to the victims and their families," Burlington Police Chief Jon Murad said in a statement reported by the Burlington Free Press. "In this charged moment, no one can look at this incident and not suspect that it may have been a hate-motivated crime. And I have already been in touch with federal investigatory and prosecutorial partners to prepare for that if it's proven."
The three men were taken to the University of Vermont Medical Center where two are stable and one "has sustained much more serious injuries," police told Seven Days on Sunday.
Two of the students are U.S. citizens and the third is a legal resident.
The families of the three men circulated a statement through the nonprofit Institute for Middle East Understanding.
"We call on law enforcement to conduct a thorough investigation, including treating this as a hate crime," the statement read in part. "We will not be comfortable until the shooter is brought to justice."
"We need to ensure that our children are protected, and this heinous crime is not repeated. No family should ever have to endure this pain and agony," the families continued.
The Council on American-Islamic Relations (CAIR) said it was offering $10,000 to anyone providing information that led to the arrest or conviction of the shooter or shooters, and the FBI said it was aware of the incident and prepared to investigate if local police found evidence of a federal crime, according to TheAssociated Press.
The head of the Palestinian mission to the United Kingdom, Husam Zomlot, linked the shootings to the killing of six-year-old Wadea Al Fayoume last month, a Palestinian boy who was stabbed 26 times by his family's landlord in Chicago.
"The hate crimes against Palestinians must stop," Zomlot tweeted. "Palestinians everywhere need protection."
Independent Vermont Senator Bernie Sanders also issued a statement.
"It is shocking and deeply upsetting that three young Palestinians were shot here in Burlington, Vermont," Sanders said on social media. "Hate has no place here, or anywhere. I look forward to a full investigation. My thoughts are with them and their families."
In the wake of Hamas' October 7 attacks on Israel and Israel's bombardment of Gaza afterword, both Islamophobic and antisemitic incidents have increased in the U.S., The Guardian reported. CAIR said it had received 1,283 reports of discrimination and petitions for help between early October and early November, a 216% increase from the same time period last year.
News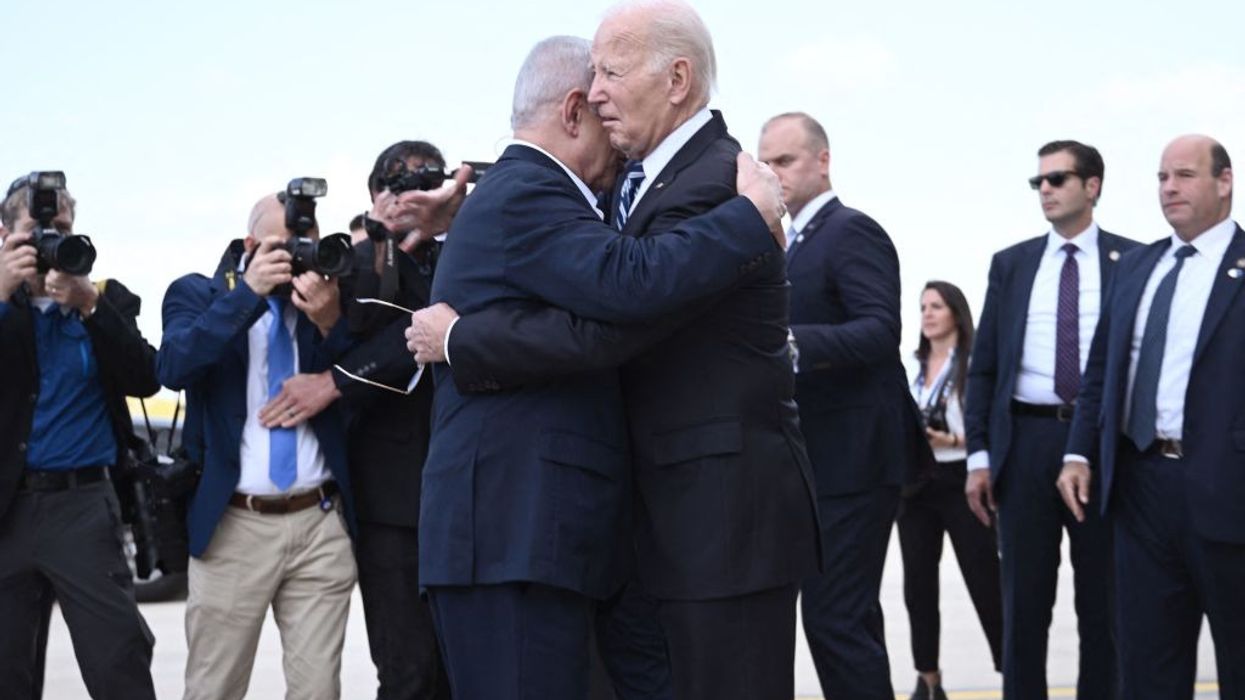 The request would remove most conditions on Israel's use of a U.S. weapons stash, including a requirement that it only use surplus or obsolete weapons and a cap on how much the U.S. can spend resupplying the stash.
President Joe Biden has requested that Congress to lift most of the restrictions on Israel's access to a U.S. stockpile of weapons in the country, The Intercept reported Saturday.
The request came in the administration's supplemental budget request to the U.S. Senate, sent October 20. It concerns the War Reserve Stockpile Allies-Israel (WRSA-I) that the U.S. has stored in Israel since the 1980s for its own use in a potential conflict in the region. The U.S. allows Israel to access the stockpile under certain conditions, but Biden's request would remove most of these conditions, including a requirement that Israel only use surplus or obsolete weapons and a cap on how much the U.S. can spend resupplying the stash.
"The President's emergency supplemental funding request would essentially create a free-flowing pipeline to provide any defense articles to Israel by the simple act of placing them in the WRSA-I stockpile, or other stockpiles intended for Israel," Josh Paul, a former State Department official who resigned over U.S. arm transfers to Israel in the midst of its bombardment of Gaza, told The Intercept.
"The Biden administration's supplemental budget request would further undermine oversight and accountability even as U.S. support enables an Israeli campaign that has killed thousands of children."
The news comes in the midst of a four-day cease-fire between Israel and Hamas, which has given journalists and humanitarian organizations a moment to assess the extent of the death and destruction unleashed by Israel in Gaza since October 7, when Hamas attacked Israel, killing 1,200 and taking around 240 hostages. In retaliation, the Israeli military has killed more than 14,800 people in Gaza, around 10,000 of them women and children. That means the number of women and children killed in Gaza in less than two months is more than double the number confirmed killed in Ukraine in two years of fighting with Russia, The New York Times concluded Saturday. One of the reasons for the high civilian toll, the Times said, is Israel's use of 2,000-pound, U.S.-made bombs in a densely populated Gaza Strip.
Despite this, Biden's request would allow Israel to access all weapons from the WRSA-I, not just excess or obsolete ones, something that could hurt U.S. preparedness, Paul told The Intercept. The request would also remove a requirement that Israel provide concessions to the U.S. in exchange for accessing the weapons, lift the $200 million per year restocking cap, and shorten a requirement that the government inform Congress 30 days ahead of a weapons transfer under "extraordinary" circumstances.
"The Biden administration's supplemental budget request would further undermine oversight and accountability even as U.S. support enables an Israeli campaign that has killed thousands of children," John Ramming Chappell, a legal fellow with the Center for Civilians in Conflict, told The Intercept.
The U.S. typically provides Israel with $3.8 billion in military aid every year, more than it sends to any other nation, according to Al Jazeera. The House has already approved additional aid this year to the tune of $14.3 billion.
The Intercept story came the day after Biden seemed open to the idea of putting conditions on military aid to Israel while answering questions from reporters in Nantucket.

"I think that's a worthwhile thought, but I don't think if I started off with that we would have gotten where we are today," Biden said, as HuffPost reported. "We have to take this a piece at a time."
On the campaign trail in 2020, Biden said the idea of putting conditions on aid to Israel was "absolutely outrageous." But the administration's seemingly unconditional support for Israel as it carried out its siege, bombardment, and invasion of Gaza has led to backlash among progressives, who have marched for a cease-fire and carried out direct actions in several major cities. A Reuters/Ipsos poll released on November 15 found that 68% of the U.S. public backed a cease-fire.
In an appearance on NBC's Meet the Press on Sunday, National Security Adviser Jake Sullivan did not rule out the idea that Biden would sign legislation putting conditions on military aid to Israel, though he said currently what was proving effective was behind-doors diplomacy with Israel and Arab nations.
"He is going to continue to focus on what is going to generate results," Sullivan said.
News