Rights Groups Call on Obama to Declassify Documents on Secret Detention, Rendition, and Torture
Documents Show Bush Administration Exploited Confusion; Obscured DOD Role
NEW YORK and WASHINGTON
The Obama administration should take immediate steps
to declassify and release documents that would allow the American public
to understand the truth about the human rights violations committed as
part of the U.S. secret detention, extraordinary rendition, and coercive
interrogation programs, said three prominent human rights groups today.
The groups-Amnesty International USA (AIUSA), the Center for Constitutional
Rights (CCR), and the Center for Human Rights and Global Justice (CHRGJ)
at NYU School of Law-issued their call after receiving declassified documents
that contradict previous government documents regarding the role of the
Department of Defense (DOD) in secretly detaining individuals in the name
of national security.

The more than 2000 pages of newly released
documents from DOD and the Department of State (DOS) were obtained through
the groups' Freedom of Information Act (FOIA) lawsuit against multiple
government agencies, which has been ongoing since 2007. Although the documents
are heavily redacted, this particular batch suggests that the Bush administration
exploited confusion over the term "ghost detainee" to assert that it
did not hold such detainees at the same time that the CIA was operating
the so-called "High-Value Detainee" program. DOD appears to have
used four different categorizations for "ghost" detainees and asserts
in "talking points" dated 2004 that it "does not hold 'ghost' detainees"-apparently
in reference to one of these categories. The documents raise more
questions than they answer, since they do not make clear DOD's role in
holding individuals in secret and without access to the International Committee
of the Red Cross (ICRC). In light of the newly-public report by the
ICRC on the CIA's so-called "High Value Detainee" program, such questions
demand immediate answers.
"We need a full and public accounting
of the DOD's involvement in categorizing and handling 'ghost' detainees,"
said Margaret Satterthwaite, Faculty Director of the CHRGJ. "Although
the previous administration was able to hide behind this slippery vocabulary,
the Obama Administration should take all possible steps to get to the heart
of what happened. Without establishing the truth about past abuses,
the Obama Administration cannot move forward with a clean slate."

An August 2004 "Talking Points" document
on "Defining Ghost Detainees" prepared for then-Secretary of Defense
Donald H. Rumsfeld, stated that "DOD policy is to issue an internment
number [ISN, which triggers notification of detention to the ICRC]
to each detainee captured within 96 hours," and that "DOD does not hold
'ghost' detainees." In stark contrast, previously released DOD documents-apparently
created in August 2005-suggested that DOD held detainees for 14 to 30
days off the books, and admitted that "The practice of holding 'ghost
detainees' for the CIA-although limited in scope-was guided by oral,
ad hoc agreements and was the result, in part, of the lack of any specific,
coordinated interagency guidance."
"Today's disclosures confirm DOD was
deliberately confusing in public statements about its participation in
disappearing prisoners for the CIA's exploitation and engaged in willful
blindness towards the CIA's torture interrogation tactics," stated CCR
AttorneyGitanjali S. Gutierrez. "Congress's investigation
of the CIA's program must include examination of DOD personnel's role
and the efforts by high-ranking DOD officials to conceal the military's
support of the CIA program."

The documents also include an almost entirely
redacted 11-slide powerpoint entitled "Guantanamo Detention: Transfer
/ Release Progress"-which contemplates options for and obstacles to the
transfer of detainees-dated November, 29, 2006, shortly after so-called
High Value Detainees (HVDs) were transferred out of the CIA ghost detention
program to Guantanamo.

From DOS, the groups received redacted
notes from a January 27, 2004 meeting between then-Secretary of State Colin
Powell and the President of the ICRC-a meeting which took place around
the time the ICRC delivered a February 2004 report to the U.S. outlining
serious violations of international humanitarian law by the United States
with regard to detainees in Iraq. The groups also received a redacted September
24, 2004 cable describing the situation of juvenile detainees in Iraq,
which makes no reference in the unredacted portions to the concerns articulated
in the August 2004 Fay-Jones Report about abuse of juvenile detainees in
Abu Ghraib.

"President Barack Obama pledged to restore
transparency to government but very little has changed in this regard since
he took office," said Tom Parker, AIUSA Policy Director, (Counter)
Terrorism and Human Rights. "Governmental agencies continue
to drag their feet and obfuscate when addressing FOIA requests. The material
released to date hints at widespread governmental misconduct, and it is
high time officials realized that the cover up is every bit as damaging
as the crime."

AIUSA, CCR, and CHRJG filed FOIA requests
with several U.S. government agencies, including the CIA, DOD, DOS, DOJ,
and DHS beginning in 2004 and filed a lawsuit in June of 2007. Morrison
& Foerster LLP serves as co-counsel in the case. This is the second
set of documents released by DOD and DOS through the litigation.

To see the most recent documents from DOD
and DOS, as well as the prior filings and the documents previously released
through this litigation, click here.

For more information or copies of legal
filings in the case and released documents, please contact jnessel@ccrjustice.org,
opgenhaffen@juris.law.nyu.edu,
or ssingh@aiusa.org,.

For more information about the organizations
involved, please see their websites: www.ccrjustice.org,
www.chrgj.org
and www.amnestyusa.org.
LATEST NEWS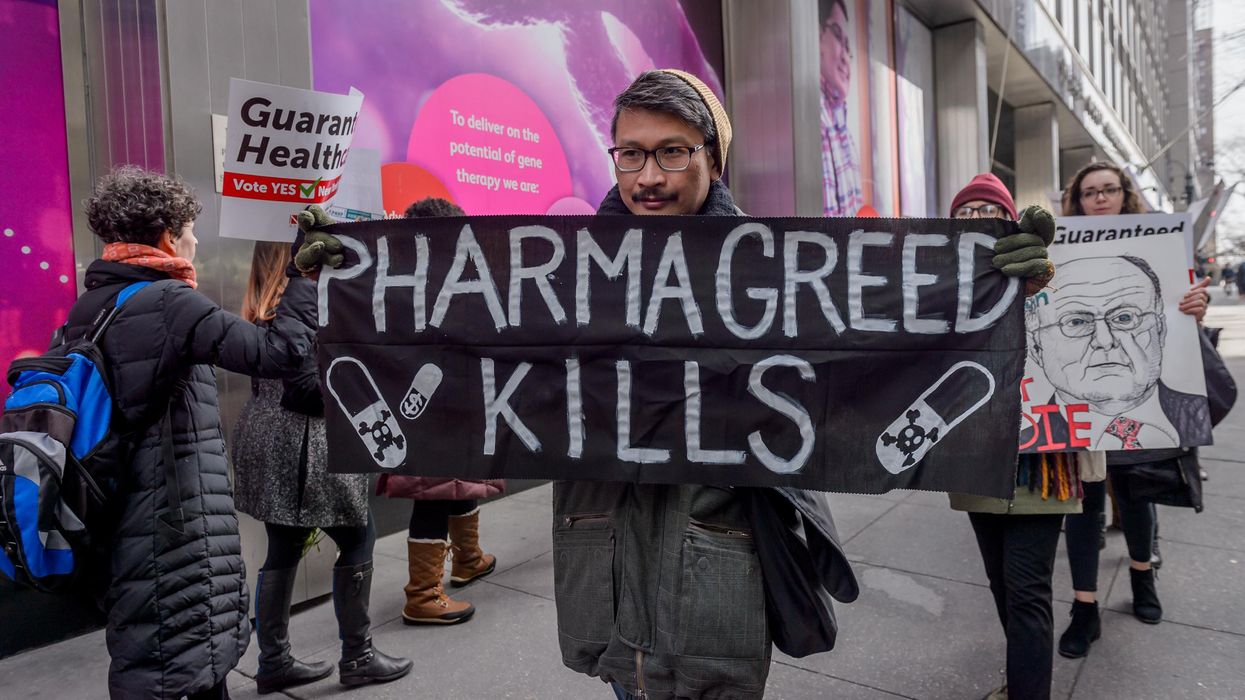 "We request HHS to consider this appeal directly... because the NIH has repeatedly demonstrated its unwillingness to even acknowledge that the Bayh-Dole Act includes an obligation to make products invented with federal funds 'available to the public on reasonable terms.'"
Two days after President Joe Biden's administration rejected a petition asking federal regulators to use their authority to lower the astronomical price of a lifesaving prostate cancer drug developed entirely with public funds, petitioners on Thursday filed an administrative appeal.
At issue is enzalutamide, a drug the Japanese pharmaceutical giant Astellas and its U.S. counterpart Pfizer sell under the brand name Xtandi. Although Xtandi owes its existence to U.S. taxpayers, who bankrolled 100% of its development, an annual supply of the drug costs $189,900 in the United States—three to six times more than its list price in other wealthy nations.
In late 2021, prostate cancer patients Robert Sachs, Clare Love, and Eric Sawyer petitioned the U.S. Department of Health and Human Services (HHS) to exercise its "march-in rights" against Xtandi. Under the Bayh-Dole Act, the federal government can reclaim and redistribute patents for inventions created with public funding—enabling generic competitors to produce cheaper versions—when "action is necessary to alleviate health or safety needs" or when an invention's benefits are not being made "available to the public on reasonable terms."
HHS Secretary Xavier Becerra referred the petition to the National Institutes of Health (NIH), whose acting Director Lawrence Tabak argued in a Tuesday letter that "Xtandi is widely available to the public on the market," citing Astellas' estimate that "more than 200,000 patients were treated with Xtandi from 2012 to 2021."
Even with insurance, co-pays for Xtandi are sky-high. Medicare recipients, for example, are expected to pay roughly $10,000 per year for the medicine. Especially for the millions of uninsured and underinsured people in the U.S., Xtandi remains completely out of reach.
Tabak's letter went on to say that Xtandi's "practical application is evidenced by the 'manufacture, practice, and operation' of the invention and the invention's 'availability to and use by the public….'" As Knowledge Ecology International executive director James Love lamented, the NIH completely elided any mention of "reasonable terms," editing out that key phrase from Bayh-Dole.
In their appeal, the petitioners wrote: "The petition focused on a single issue: the reasonableness of charging U.S. cancer patients three to six times more than residents of other high-income countries for the drug Xtandi."
"There is no dispute about the following facts," the appeal continues. "Xtandi was invented on grants from the U.S. Army and the NIH at UCLA, a public university. The patents were licensed eventually to Astellas, a Japanese drug company, with a partnership share now held by Pfizer, following its 2016 $14 billion acquisition of Medivation, UCLA's original licensee, that occurred just after the NIH rejected an earlier march-in request on Xtandi. The prices in the United States have consistently been far higher than the prices in other high-income countries."
Prior to the 2021 petition, Clare Love and prostate cancer patient David Reed filed a petition, later joined by Sachs, with the U.S. Department of Defense (DOD) after the Senate Armed Services Committee instructed the Pentagon to initiate march-in proceedings when the price of a drug created with a DOD grant exceeds the median price in seven large high-income nations. The Pentagon, however, has yet to acknowledge or act on the petition submitted to it in February 2019.
"If you consider both of these requests together, a petition to exercise the government's march-in or other rights in the Xtandi patents has been pending before the federal government for more than four years," Thursday's appeal states. "The HHS petition was filed 16 months ago."

It continues:
The petitions were filed with the DOD and HHS instead of the NIH because the NIH has repeatedly demonstrated its unwillingness to even acknowledge that the Bayh-Dole Act includes an obligation to make products invented with federal funds 'available to the public on reasonable terms.' This is demonstrated by a track record of dismissing multiple requests to use the government's Bayh-Dole safeguard to address pricing abuses and access restrictions, including those concerning the federal government's march-in rights under 35 USC § 203, and the federal government's global royalty-free license, under 35 USC § 202(c)(4). There are also extensive email records between Mark Rohrbaugh, currently NIH special adviser for technology transfer who is a long-time agency official, and lobbyists for drug companies and university rights holders, obtained through Freedom of Information Act requests, which not only express opposition to any safeguards regarding unreasonable pricing but organize public relations efforts against using a march-in request to address the pricing of products.
"HHS chose to assign to the NIH the evaluation of our petition regarding Xtandi," says the appeal. "We request HHS to consider this appeal directly, and not assign NIH to review its own decision. The latter would be tantamount to no review at all."
Since Bayh-Dole was enacted in 1980, "march-in rights have never been used... and NIH has repeatedly rejected the idea that affordability is a reasonable term," The American Prospectreported Wednesday. With Xtandi, "advocates thought they found the perfect test case for a new administration that paid lip service to lowering prescription drug costs."
As The Levernoted on Wednesday, the NIH's decision this week was consistent with Biden's track record:
Biden was vice president when the Obama administration rejected congressional Democrats' demand that the government use the same power to lower the skyrocketing prices of medicine in America.

As a senator in 2000, Biden was one of just eight Democrats who helped pharmaceutical lobbyists kill a measure spearheaded by Sen. Paul Wellstone (D-Minn.) and then-Rep. Bernie Sanders (I-Vt.) that would have reinstated the Reagan-era requirement that drug companies sell medicines developed with public money at a reasonable price.

That requirement was repealed by the Clinton administration in 1995, following pressure by drugmakers.
But Becerra's acquiescence to Big Pharma was more surprising. Prior to joining the Biden administration, the HHS secretary had expressed support for wielding the executive branch's authority to rein in soaring drug prices.
As the attorney general of California in the summer of 2020, "Becerra demanded the Trump administration use existing law to lower the price of medicines that were originally developed at taxpayer expense," The Lever reported. "As a member of Congress in 2016, Becerra signed on to a letter to the Obama Department of Health and Human Services calling on officials to broadly use 'march-in rights' to lower the cost of prescription drugs—including 'specialty drugs, like those to treat cancer, which are frequently developed with taxpayer funds.'"
Despite pressure from numerous members of Congress and medicine affordability advocacy groups, the NIH declared Tuesday that it "does not believe that use of the march-in authority would be an effective means of lowering the price of the drug."
Instead, the agency vowed to "pursue a whole-of-government approach informed by public input to ensure the use of march-in authority is consistent with the policy and objective of the Bayh-Dole Act," a move that progressive advocates denounced as a "pathetic" attempt to deflect criticism of its failure to use or threaten to use its legal power.
"This is a drug that was invented with taxpayer dollars by scientists at UCLA and can be purchased in Canada for one-fifth the U.S. price," Sanders said Tuesday. "The Japanese drugmaker Astellas, which made $1 billion in profits in 2021, has raised the price of this drug by more than 75%."
"How many prostate cancer patients will die because they cannot afford this unacceptable price?" asked Sanders, chair of the Senate Committee on Health, Education, Labor, and Pensions.
During a Wednesday hearing, Sanders made the case for changing "the current culture of greed into a culture which understands that science and medical breakthroughs should work for ordinary people, and not just enrich large corporations and CEOs."
News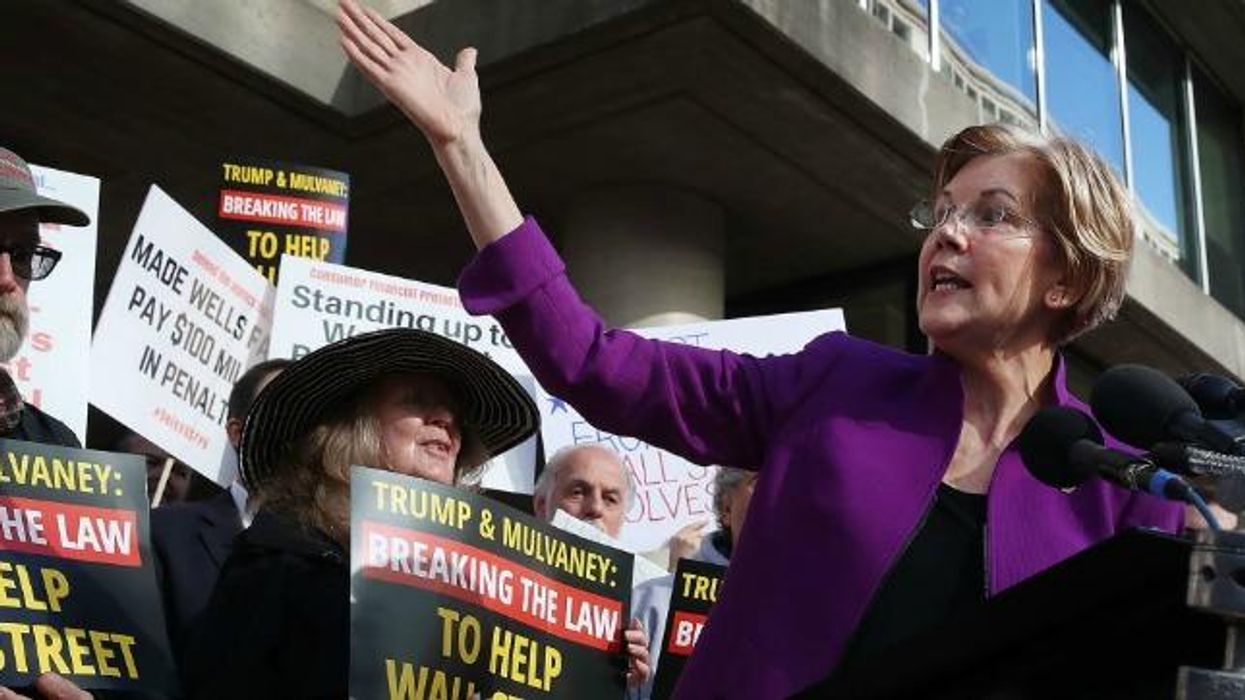 "If the Supreme Court follows suit," said one watchdog, "it will mark a major win for everyday consumers impacted by abusive fees, predatory lenders, and corporate greed."
U.S. Sen. Elizabeth Warren, who established the Consumer Financial Protection Bureau in 2010, was among the consumer advocates celebrating on Thursday as a federal court in New York City ruled that the bureau's funding structure is constitutional—rebuking years of right-wing and corporate attacks on the agency.
The Massachusetts Democrat expressed hope that the U.S. Supreme Court, which is expected to hear arguments in a separate but related case later this year, "follows more than a century of law and historical precedent" and also rules in favor of the CFPB, which has regulated debt collectors, payday lenders, credit card companies, and other financial businesses for more than a decade.

"Yet again, the constitutionality of the CFPB has been upheld, as it has been time and time before," said Warren.
The 2nd U.S. Circuit Court of Appeals ruled in favor of the bureau Thursday in a case stemming from a debt collector's attempt to avoid a subpoena from the CFPB in 2017.
A lower court ruled in the case in August 2020 that the bureau's funding structure is constitutional, but the 5th U.S. Circuit Court of Appeals in New Orleans said last year in the case set to be heard by the Supreme Court that the funding violates the Constitution's appropriations clause and the separation of executive and legislative powers.
The CFPB is funded by the Federal Reserve rather than through appropriations voted on annually by lawmakers.
Writing for the three-judge 2nd Circuit panel that voted unanimously in favor of the bureau, Judge Richard Sullivan noted that the justice system "has consistently interpreted the appropriations clause to mean simply that 'the payment of money from the Treasury must be authorized by a statute,'"—which doesn't apply to the CFPB since it receives no funding from the U.S. Treasury Department.
An upcoming ruling by the Supreme Court that supports the 2nd Circuit's finding would "mark a major win for everyday consumers impacted by abusive fees, predatory lenders, and corporate greed," said government watchdog Accountable.US.
"The CFPB is a vital voice for consumers and protects Americans from unfair and abusive practices," said Rep. Nydia Velázquez (D-N.Y.). "We can't allow these protections to be weakened."

News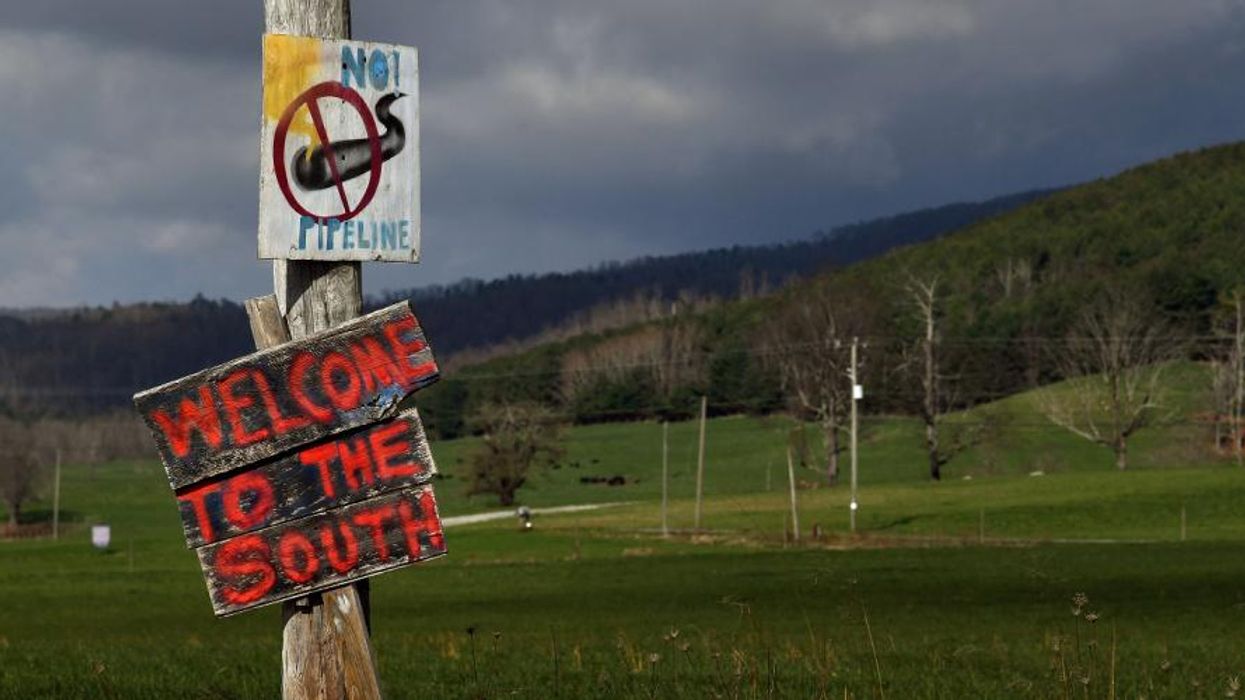 "Time and time again the people have risen up against the backroom deals and slimy maneuverings at the federal level to push MVP through, and we will keep standing up," vowed one organizer.
As congressional Democrats launch new clean energy and environmental justice efforts, House Republicans outraged climate campaigners and frontline communities on Thursday with a move to fast-track a long-delayed fracked gas pipeline.
Congresswoman Carol Miller (R-W.Va.), backed by 10 other Republicans, introduced an amendment to the GOP-led Lower Energy Costs Act (H.R. 1) to ensure that the controversial Mountain Valley Pipeline (MVP) is "constructed expeditiously."
Russell Chisholm, managing director of the Protect Our Water, Heritage, Rights (POWHR) Coalition, highlighted that Miller's fresh push for the MVP came just a day after Democrats introduced the A. Donald McEachin Environmental Justice for All Act.
"As they watch the demise of the fossil fuel industry that lines their pockets, they are desperate to fast-track this unnecessary and disastrous pipeline."
"Hours after our environmental justice movement released a positive vision for a livable future, the Environmental Justice for All Act, these Republicans are throwing a tantrum," Chisholm said in a statement Thursday. "As they watch the demise of the fossil fuel industry that lines their pockets, they are desperate to fast-track this unnecessary and disastrous pipeline—to the point that they want to strip away judicial review and nullify bedrock environmental law."
The Intergovernmental Panel on Climate Change (IPCC) report released Monday "makes clear that we must stop all new fossil fuel expansion immediately," he continued. "We demand our representatives to silence this ridiculous whining while our regulatory agencies and courts assess the science and evidence that mandates the MVP be stopped."
Jason Crazy Bear Keck, co-founder of 7 Directions of Service, said, "The fact that some of our elected representatives have been bending over backwards to fast track the MVP, a poster child pipeline for corruption and environmental injustices, is appalling to us as impacted community members, water protectors, and land defenders."
"Only a short-sighted, greed-driven person who stands to profit would go to such great lengths to attempt to revive a failing zombie project like the MVP," he asserted. "Time and time again the people have risen up against the backroom deals and slimy maneuverings at the federal level to push MVP through, and we will keep standing up until our basic rights and protections, like those granted by the EJ for All Act, are secured and upheld."
While residents living along the over 300 miles of pipeline route through Virginia and West Virginia have long fought against MVP, the project got national attention last year as Sen. Joe Manchin (D-W.Va.) tried to force a "dirty deal" on permit reforms.

Though Manchin's proposals were thrice defeated, the right-wing Democrat and MVP supporter signaled in February that he would continue to work with the new House GOP majority to try to advance a fossil fuel-friendly measure.
E&E Newsreported Wednesday that "other politicians hailing from the mid-Atlantic are eager to see the pipeline operate. But Republicans have previously opposed the idea of singling out one project for special congressional treatment. And they might not want to hand Manchin a win at a time when the moderate Democrat mulls running for reelection."
House Majority Leader Steve Scalise (R-La.) last week introduced the Lower Energy Costs Act—which, while unlikely to make it through the divided Senate and reach President Joe Biden's desk, is intended to wipe out the administration's climate agenda.
As E&E detailed:
Republicans say the proposal, which will be debated and voted on next week, would allow the United States to produce more oil, gas, solar, and wind in a manner that is more environmentally sound than anywhere else on the planet.

The bill, the work of three committees, would require the federal government to hold quarterly oil lease sales in Western states. It would speed up environmental permitting that GOP lawmakers complain drags on years longer than it should. The package would also allow for more hardrock mining in mineral-rich states like Minnesota and Idaho.
Meanwhile, Senate Majority Leader Chuck Schumer (D-N.Y.) on Tuesday sent supporters of the GOP bill a clear message from the floor of the upper chamber: "You can do all the hoopla you want in the House, it ain't passing."
The IPCC this week put out "their most dire warnings to date: Unless the world swiftly transitions to clean energy and curbs emissions, our planet risks crossing a point of no return sometime in the next decade," Schumer said. "What awaits us on the other side could be severe and irreversible: droughts, storms, crop failures at a level we can scarcely imagine today."
"House Republicans seem to think the best solution for our energy needs is not to help America transition to clean energy... Unfortunately, they think doubling down on more giveaways to Big Oil is the way to go," he added. "Democrats want to see a bipartisan, commonsense energy proposal come together in Congress, but Republicans' H.R. 1 proposal is dead on arrival in the Senate."

News
SUPPORT OUR WORK.
We are independent, non-profit, advertising-free and 100%
reader supported.