For Immediate Release
December, 04 2008, 11:00am EDT
Contact:
Sam Husseini, (202) 347-0020; or David Zupan, (541) 484-9167
Auto Solutions: * Green Jobs * Nationalize GM
WASHINGTON
WENDY THOMPSON
Thompson, a retired worker at American Axle in Detroit and former president of UAW Local 235, is helping organize a caravan of auto workers to D.C. There will be a rally seeing the caravan off on Sunday at 2 p.m. at the Metropolitan Center for High Technology in Detroit, and it will arrive in D.C. on Monday morning.
She said today: "Weakening auto workers' benefits and contracts will not save the auto industry. Autoworkers have already made billions of dollars worth of concessions to the Big Three in recent contracts. Giving further concessions will not strengthen the industry, particularly when labor costs for UAW-made cars remain below 10 percent.
"Obviously there's a problem with transportation and environmental concerns. Instead of closing plants, we need to convert them. Just like in World War II when auto plants were changed overnight to produce material for the war effort, we should convert plants today for alternative energy sources. We should be building mass transit systems. Right now, we're importing heavy wind turbines from Germany; we should be manufacturing them here. The automakers are not moving in such directions. The government needs to take the lead, and people need to have a greater role in such government decisions.
"Instead of scaling back healthcare for autoworkers, we should have a single-payer system like they have in Canada, basically expanding Medicare to include everyone. Similarly, instead of scaling back autoworkers' pension plans, we should expand Social Security so it provides enough for all retired workers to live on."
ROBERT WEISSMAN
Editor of the Multinational Monitor, Weissman just wrote the piece "Nationalize GM -- Or At Least Think About It," which states: "One must note the awesome disparity in treatment for the auto industry and Wall Street. Government agencies have thrown literally trillions of dollars at the financial sector, with very light conditions, and virtually no discussion of industry salary structures (aside from limited restraints on top executive compensation). By contrast, there has been endless fulmination about supposedly excessively generous wages for unionized auto workers, and much more severe financial and oversight conditions proposed for an industry bailout. ...
"General Motors now has a market capitalization of $2.8 billion. Ford's market value is $6.1 billion. These are relatively small amounts compared to the $25 billion the companies are requesting -- and they are likely to come back for more later."
A nationwide consortium, the Institute for Public Accuracy (IPA) represents an unprecedented effort to bring other voices to the mass-media table often dominated by a few major think tanks. IPA works to broaden public discourse in mainstream media, while building communication with alternative media outlets and grassroots activists.
LATEST NEWS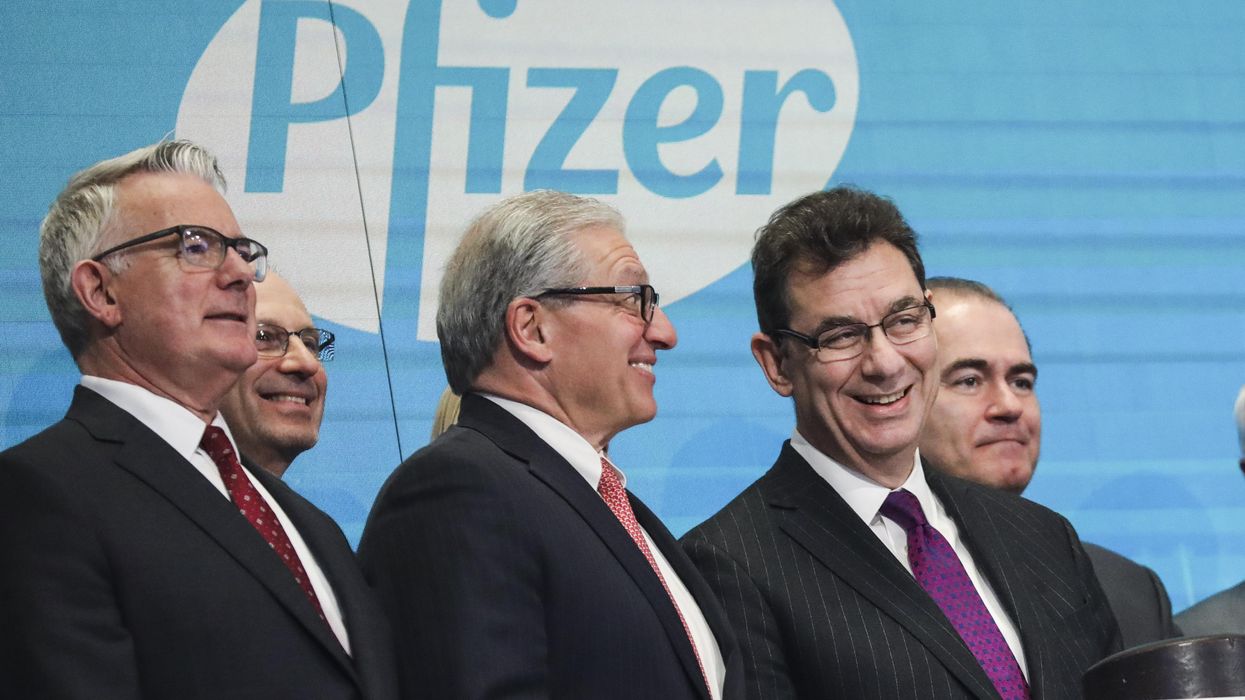 "Put simply, Pfizer has plundered health systems for profit," said the People's Vaccine Alliance.
The U.S.-based pharmaceutical giant Pfizer reported Tuesday that it brought in a record-breaking $100.3 billion in revenue in 2022 and $31.4 billion in profit, sums that campaigners decried as "sickening" in the face of an ongoing pandemic and persistent inequities in coronavirus vaccine access.
"In one year alone, Pfizer's revenue has exceeded the total health expenditures of more than 100 countries combined," Julia Kosgei, policy co-lead for the People's Vaccine Alliance, said in a statement. "If it were a country, Pfizer would sit in the wealthiest third of nation-states. And it has amassed this fortune while jacking up prices on Covid-19 vaccines amid a pandemic that has devastated people's livelihoods. Put simply, Pfizer has plundered health systems for profit."
Pfizer, led by CEO Albert Bourla, is the manufacturer of one of the two available mRNA vaccines for Covid-19, as well as the oral coronavirus treatment Paxlovid. The company reported $56 billion in sales of its Covid-19 vaccine and Paxlovid, though it said it expects sales to drop in the coming year as it moves to hike prices significantly on its vaccine—a plan that has drawn international alarm and outrage.
Globally, more than 2,600 people are dying from Covid-19 each day on average. According to Our World in Data, just over 26% of people in low-income nations have received at least one coronavirus vaccine dose as Pfizer and other pharmaceutical giants refuse to make their vaccine technology available to all—even though it was developed with the help of government funding and scientific advancements.
"Billions of people in developing countries still cannot access affordable Covid-19 medicines," said Kosgei. "Companies like Pfizer are gobbling up ever-greater proportions of health budgets and handing the spoils to wealthy shareholders—all while treating access for developing countries as little more than a PR initiative. We cannot go on like this."
The U.K.-based advocacy group Global Justice Now called Pfizer's record earnings report "sickening."
"With this latest 'all-time high' announcement, Pfizer now has revenues higher than the GDP of 133 countries, including 8 E.U. member states, and is the first pharma company ever to make $100 billion in a year," noted Tim Bierley, the group's pharma campaigner. "But not content with doubling its revenues with a pandemic windfall, they are now still moving to aggressively hike the price of Covid-19 booster doses, putting even more pressure on already struggling public health systems."
"Their latest record-breaking revenues are further proof that the company treated the pandemic as an opportunity to enrich its shareholders," Bierley added. "We can't allow Big Pharma companies to hold us to ransom in this way. We need the government to be bold and break with the monopoly patent model that fails people everywhere. It's time to put people's lives above corporate profit."
"A people-funded vaccine should be cheap and freely available."
Both Pfizer and Moderna have signaled plans to raise the prices of their vaccines to somewhere between $110 to $130 per dose in the U.S. as the Biden administration moves ahead with the commercialization of coronavirus inoculations, tests, and treatments—shifting costs onto patients and insurers and leaving the uninsured to shoulder significant payments.
The U.S. government has previously paid around $30 per dose for Pfizer's vaccine.

In recent days, the Biden administration has faced growing calls to use the federal government's ownership of key patents and other leverage to force Moderna and Pfizer to make their vaccines affordable and readily available to all who want them.
"The Biden administration should not allow Moderna to more than quadruple the price of the Covid vaccine to $130 when it costs just $2.85 to produce," Sen. Bernie Sanders (I-Vt.) tweeted on Sunday. "The Covid vaccine must be used to save lives, not to further enrich the billionaire owners of Moderna."
Moderna and Pfizer are also facing backlash from lawmakers overseas over their planned price increases.
In a letter to Bourla and Moderna CEO Stéphane Bancel on Tuesday, British MP Caroline Lucas of the Green Party and three other lawmakers wrote that with the National Health Service "already under significant pressure and the costs of medicines increasing year on year, we are extremely concerned about the multiple impacts of a possible price hike."
"Throughout its development, the Pfizer/BioNTech vaccine received huge amounts of public money and support internationally," the lawmakers wrote. "Even the mRNA technology that Pfizer/BioNTech employed in the Covid-19 vaccine is rooted in decades of publicly funded research. A people-funded vaccine should be cheap and freely available."

News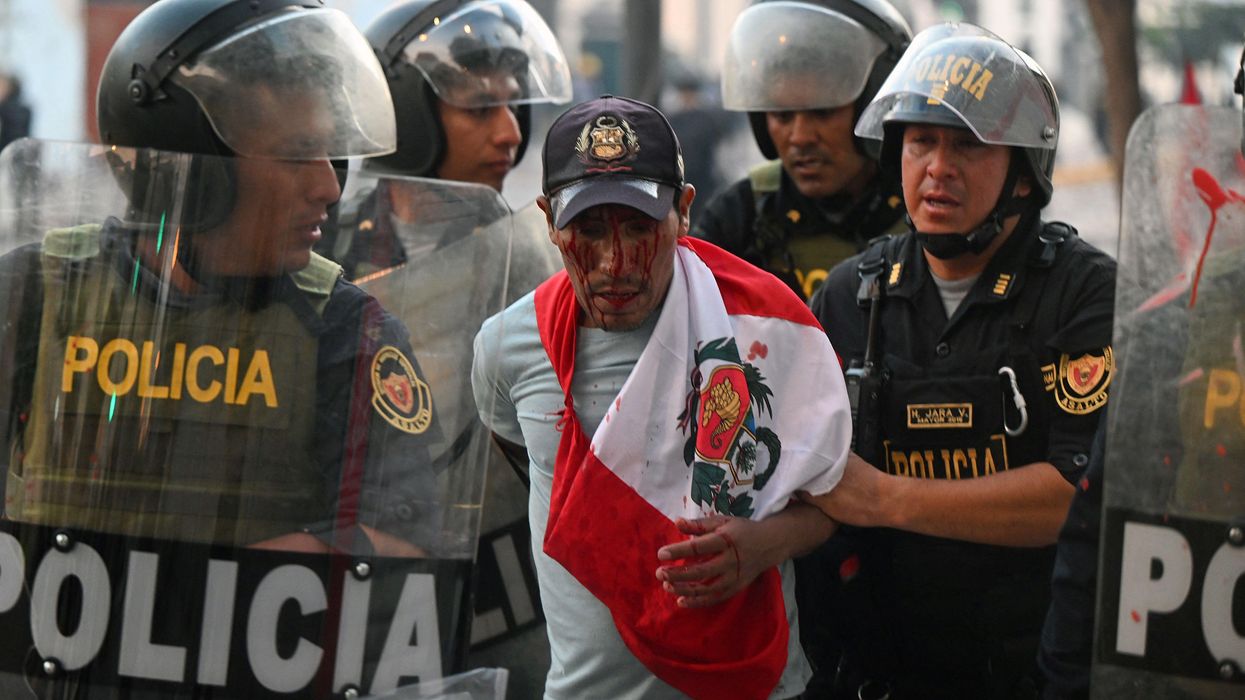 Peruvian security forces have met protests against unelected President Dina Boluarte with "indiscriminate violence," the U.S. lawmakers wrote.

Twenty House Democrats on Monday pressed the Biden administration to immediately halt the flow of security funding to the Peruvian government over its vicious crackdown on protests against unelected President Dina Boluarte, who rose to power following the arrest of leftist President Pedro Castillo last month.
Since Castillo's arrest and imprisonment—which drew vocal opposition from political leaders in the region—mass demonstrations have broken out and spread across Peru as largely low-income and Indigenous supporters of Castillo mobilize to demand his release, Boluarte's resignation, and sweeping constitutional reforms. Peru's security forces have swiftly and violently cracked down in an unsuccessful attempt to quell the uprising, killing more than 50 people and injuring hundreds more.
In a letter to U.S. President Joe Biden, a group of House Democrats led by Reps. Susan Wild (D-Pa.) and Chuy Garcia (D-Ill.) condemned the "indiscriminate violence" and "consistent use of excessive force" by Peruvian security forces and urged the administration to "publicly denounce these ongoing human rights violations."
The lawmakers also called on Biden to pause all security funding to Peru, which amounts to tens of millions of dollars annually. The House Democrats pointed with alarm to the U.S. ambassador to Peru's "recent meeting with the Peruvian minister of defense and announcement of $8 million in further U.S. funding for CORAH, a Peruvian government coca eradication program, which includes funding for forces involved in the egregious human rights violations that are currently taking place."
"We urge your administration to immediately suspend U.S. security assistance to Peru until the violent repression of protests ends and steps are taken by the country's authorities to investigate human rights crimes and prosecute those responsible," the lawmakers wrote.
\u201cThank you to @RepRaulGrijalva, @RepChuyGarcia, @JanSchakowsky and so many other colleagues for joining me in standing with the people of Peru. It is past time to demonstrate a dedication to human rights through actions, not just words.\nhttps://t.co/2joPwBZcBE\u201d

— Rep. Susan Wild (@Rep. Susan Wild) 1675120811
The letter came days after police killed a 55-year-old demonstrator in the Peruvian capital of Lima, where protests have swelled in recent days.
Boluarte, who has imposed curfews in several regions and curtailed civil liberties, is urging Peru's conservative-dominated Congress to approve a plan to hold new elections this year instead of in 2024 in an effort to end the demonstrations. Resisting pressure to resign, Boluarte—who served as vice president under Castillo—has pledged to stay on as president until new elections are held.
As Agence France-Presse reported Monday: "Boluarte said that if lawmakers refused to bring forward the vote, she would propose a constitutional reform so that a first round of elections would be held in October and a runoff in December. Demonstrators are calling for immediate elections, as well as Boluarte's removal, the dissolution of Congress, and a new constitution."
In their letter, the 20 House Democrats raised concern that the Biden administration has granted legitimacy and support to the Boluarte government as it rolls back basic freedoms and kills demonstrators.
Less than two weeks after Castillo's arrest, U.S. Secretary of State Antony Blinken held a call with Boluarte in which he said he "looks forward" to working with her "on shared goals and values related to democracy, human rights, security, anti-corruption, and economic prosperity."

The Democratic lawmakers also pointed to the Biden administration's expressed support for "peace on all sides," a message that the members of Congress called "ambiguous" in the face of massive human rights violations.
"The U.S. government can and must do more," the lawmakers wrote. "We believe our proposed actions would send a powerful signal in support of fundamental rights and help promote effective engagement for a political resolution."

News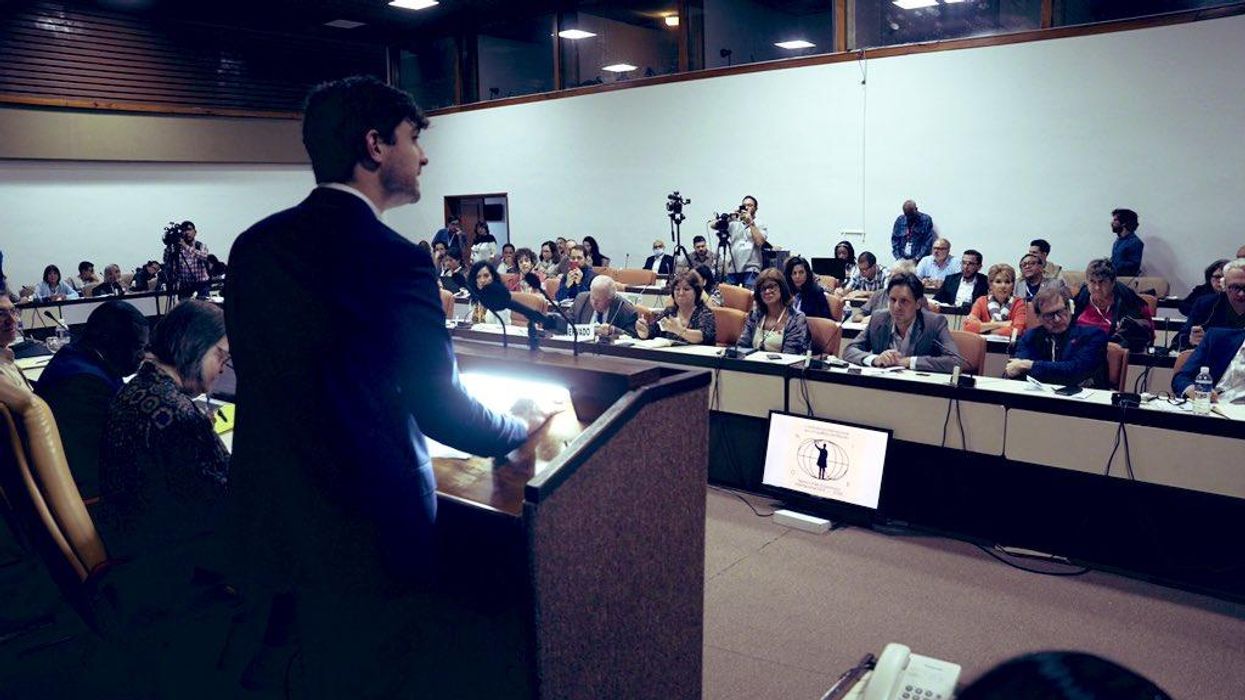 "What is the common vision to guide the Global South out of this crisis?" asked the Progressive International. "What is the plan to win it?"
Delegates to the Havana Congress on the New International Economic Order—a gathering organized by the Progressive International and attended by more than 50 scholars and policymakers from 26 countries across all six inhabited continents—agreed over the weekend on a declaration that outlines a "common vision" for building an egalitarian and sustainable society out of the wreckage of five decades of neoliberal capitalism.
"The crisis of the existing world system can either entrench inequalities," the declaration asserts, or it can "embolden" popular movements throughout the Global South to "reclaim" their role as protagonists "in the construction of a new world order based on justice, equity, and peace."
Delegates resolved to focus their initial efforts on strengthening the development and dissemination of lifesaving technologies in low-income nations.
"Delegates agreed that a key priority must be to secure science and technology sovereignty."
This decision comes one year after Cuban officials announced, at a press conference convened by the Progressive International (PI), their plan to deliver 200 million homegrown Covid-19 vaccine doses to impoverished countries abandoned by their wealthy counterparts and Big Pharma—along with tools to enable domestic production and expert support to improve distribution.
It also comes as Cuba assumes the presidency of the Group of 77 (G77), a bloc of 134 developing countries in Africa, Asia, and Latin America where "the combined crises of food, energy, and environment" are escalating, PI noted.
"What is the common vision to guide the Global South out of this crisis?" the coalition asked. "What is the plan to win it? What is the New International Economic Order for the 21st century?"
"After two days of detailed discussions about how to transform our shared world, delegates agreed that a key priority must be to secure science and technology sovereignty," PI general coordinator David Adler said Sunday at the conclusion of the Havana Congress. "From pharmaceuticals to green tech, from digital currencies to microchips, too much of humanity is locked out of both benefiting from scientific advances and contributing to new ones. We will, as today's declaration calls for, work to build 'a planetary bloc led by the South and reinforced by the solidarities of the North' to liberate knowledge and peoples."
Speaking at the January 12 ceremony during which Cuba ascended to the G77 presidency, Cuban Foreign Minister Bruno Rodríguez Parrilla emphasized the need for coordinated action across the Global South on science and tech, arguing that "scientific-technical development is today monopolized by a club of countries that monopolize most of the patents, technologies, research centers, and promote the drain of talent from our countries."
The G77 Summit on Science, Technology, and Innovation, scheduled for September in Havana, seeks to "unite, complement each other, integrate our national capacities so as not to be relegated to future pandemics," said Parrilla.
During his speech on the first day of the Havana Congress, meanwhile, former Greek Finance Minister Yanis Varoufakis called for a new non-aligned movement to "end the legalized robbery of people and Earth fueling climate catastrophe."
\u201cAt the Havana Congress on the New International Economic Order, @yanisvaroufakis calls for a New Non-Aligned Movement to "end the legalised robbery of people and Earth fuelling climate catastrophe."\n\nRead his full speech here: https://t.co/P8zdht8FD9\u201d

— Progressive International (@Progressive International) 1674836693
Read the full Havana Declaration on the New International Economic Order:
The Havana Congress,
Recalling the role of the Cuban Revolution in the struggle to unite the Southern nations of the world, and the spirit of the 1966 Havana Tricontinental Conference that convened peoples from Asia, Africa, and Latin America to chart a path to collective liberation in the face of severe global crises and sustained imperial subjugation;
Hearing the echoes of that history today, as crises of hunger, disease, and war once again overwhelm the world, compounded by a rapidly changing climate and the droughts, floods, and hurricanes that not only threaten to inflame conflicts between peoples, but also risk the extinction of humanity at large;
Celebrating the legacy of the anti-colonial struggle, and the victories won by combining a program of sovereign development at home, solidarity for national liberation abroad, and a strong Southern bloc to force concessions to its interests, culminating in the adoption of the U.N. Declaration on the Establishment of a New International Economic Order (NIEO);
Acknowledging that the project of decolonization remains incomplete, disrupted by concerted attacks on the unity of the South in the form of wars, coups, sanctions, structural adjustment, and the false promise that sovereign development might be won through integration into a hierarchical world system;
Emphasizing that the result has been the sustained divergence between North and South, characterized by the same dynamics that defined the international economic order five decades prior: the extraction of natural resources, the enclosure of 'intellectual property,' the plunder of structural adjustment, and the exclusion of the multilateral system;
Recognizing that despite these setbacks, the flame of Southern resistance did not die; that the pursuit of sovereign development has yielded unprecedented achievements—from mass literacy and universal healthcare to poverty alleviation and medical innovation—that enable a renewed campaign of Southern cooperation today;
Stressing that this potential for Southern unity is perceived as a threat to Northern powers, which seek once again to preserve their position in the hierarchy of the world system through mechanisms of economic exclusion, political coercion, and military aggression;
Seizing the opportunity of the present historical juncture, when the crisis of the existing world system can either entrench inequalities or embolden the call to reclaim Southern protagonism in the construction of a new world order based on justice, equity, and peace;
The Havana Congress calls to:
Renew the Non-Aligned Movement: In the face of increasing geopolitical tensions born from a decisive shift in the global balance of power, the Congress calls to resist the siren song of the new Cold War and to renew the project of non-alignment, grounded in the principles of sovereignty, peace, and cooperation articulated at the 1955 Bandung Conference, 1961 Non-Aligned Conference, 1966 Tricontinental Conference, and beyond.


Renovate the NIEO: To accompany the renewed non-aligned movement, the Congress calls to renovate the vision for a New International Economic Order fit for the 21st century; a vision that must draw inspiration from the original Declaration, but also account for the key issues—from digital technology to environmental breakdown—that define the present conditions for sovereign development; and to enshrine this vision in a new U.N. Declaration on the occasion of its 50th anniversary.


Assert Southern Power: The Congress recognizes that economic liberation will not be granted, but must be seized. As the original call for a New International Economic Order was won through the exercise of collective power in the coordinated production of petroleum, so our vision today can only be realized through the collective action of the South and the formation of new and alternative institutions to share critical technology, tackle sovereign debt, drive development finance, face future pandemics together, as well as coordinate positions on international climate action and the protection of national sovereignty over the extraction of natural resources.


Accompany Cuba in the G77: The Congress recognizes the critical opportunity afforded by Cuba's presidency of the Group of 77 plus China to lead the South out of the present crisis and channel the lessons of its Revolution toward concrete proposals and ambitious initiatives to transform the broader international system.


Build a Planetary Bloc: The Congress calls on all peoples and nations of the world to join in this struggle to definitively achieve the New International Economic Order; to build a planetary bloc led by the South and reinforced by the solidarities of the North, whose peoples recognize their obligation to resist the crimes committed in their names; and to bring the spirit of this Havana Congress into the communities that we call home.
News
SUPPORT OUR WORK.
We are independent, non-profit, advertising-free and 100%
reader supported.