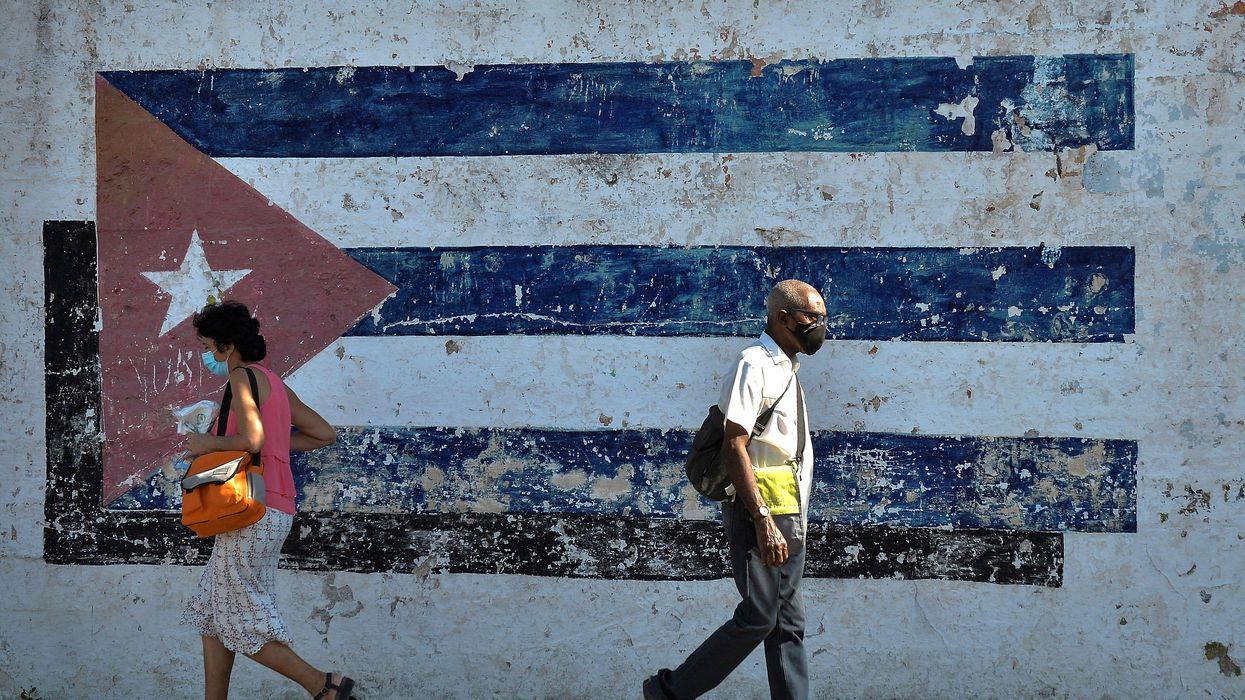 An open letter organized by CodePink calls on U.S. President Joe Biden to abandon the Trump administration's hostile posture toward the Caribbean island.
More than 10,000 people and 100 progressive advocacy groups have signed an open letter urging U.S. President Joe Biden to reverse the Trump administration's terrorism designation for Cuba and to reinstate Obama-era policy with the Caribbean island.
"Your policies toward Cuba, which have been more aligned with those of President [Donald] Trump than President [Barack] Obama, are hurting the well-being of the Cuban people and run counter to the will of the majority of U.S. citizens," says the letter, organized by peace campaigners at CodePink. "An important policy change that we urge you to take immediately is to remove Cuba from the list of State Sponsors of Terrorism."
Just days before Biden's inauguration, Trump's Secretary of State Mike Pompeo was roundly criticized for putting Cuba back on the U.S. State Department's list of "State Sponsors of Terrorism."
The Obama White House--in which Biden served as vice president--had removed Cuba from the department's blacklist in 2015, writing that "(i) the Government of Cuba has not provided any support for international terrorism during the preceding six-month period; and (ii) the Government of Cuba has provided assurances that it will not support acts of international terrorism in the future."
In a statement attempting to justify his last-minute decision to re-designate Cuba a "state sponsor of terrorism," Pompeo accused Cuba of "repeatedly providing support for acts of international terrorism in granting safe harbor to terrorists" and engaging "in a range of malign behavior across the region."
These were references to Cuba's refusal to extradite members of Colombia's National Liberation Army (ELN) over alleged involvement in a 2019 bomb attack in Bogota and to the nation's ongoing support for Venezuelan President Nicolas Maduro, who survived a U.S.-backed coup attempt in 2019.
As the new letter explains:
ELN representatives were in Cuba as part of an internationally recognized process of peace negotiations, similar to the one Cuba hosted with the FARC [Revolutionary Armed Forces of Colombia], which was supported by the United States, Norway, Colombia and other nations. In addition, the recently elected Colombian president, [Gustavo] Petro, has asked Cuba to serve as the host country again for peace talks with the ELN, erasing any lingering concern or justification that the United States may have of Cuba's role as anything but a guarantor country for peaceful dialogue.
As a result of Pompeo's terrorism classification, which U.S. Secretary of State Antony Blinken has yet to undo after 20 months, Cuba has been forced to endure additional "sanctions and international financial restrictions that limit Cuba's ability to carry out critical financial transactions, including those needed to advance its efforts to combat the pandemic," the letter notes.
Cuba has been dispatching doctors to various parts of the world to help tackle Covid-19, and it has launched an effort to share its homegrown vaccine technology with other countries to expand global supply. In defiance of decades of harmful U.S.-led sanctions, the biggest export of the small island nation, which has a lower child mortality rate than its more powerful and hostile neighbor to the north, is medical care.
Despite Democratic lawmakers' entreaties and Biden's own campaign pledge to abandon Trump's "failed" approach to Cuba--which included implementing more than 200 punitive policies following Obama-era efforts at normalization--the White House has imposed other sanctions in recent months, intensifying Washington's 60-year embargo on the Caribbean island.
"The economic deprivations to which U.S. sanctions contribute have resulted in the mass migration of Cubans, which is currently a major challenge to U.S. interests in border security, as well as causing a humanitarian crisis for the same Cuban people that your administration claims to support," states the letter.
Biden's recent easing of travel restrictions to Cuba is poised to "help Cuban Americans connect with their families," but that's far from enough to redress the deteriorating economic conditions harming millions of people on the island, the letter continues.
When the Obama administration certified the removal of Cuba from the State Department's blacklist in 2015, it declared that the U.S. would "continue to have differences with the Cuban government, but our concerns over a wide range of Cuba's policies and actions fall outside the criteria that is relevant to whether to rescind Cuba's designation as a State Sponsor of Terrorism."
Signatories to the letter contend that "the same situation exists today."
"The United States does have clear differences with the Cuban government--as they do with many governments--but we also have both national and international interests in supporting global pandemic coordination" and in mitigating "Cuba's humanitarian crisis that is causing tens of thousands of Cubans to seek dangerous passage to the United States," says the letter.
At the start of his presidency, Biden said that Cuba's status as a so-called state sponsor of terrorism was "under review," the letter points out.
"Given that removal from the list requires an inquiry into any terrorism-sponsored activity before providing a rescission request to Congress, we request that your administration immediately complete that review and initiate proceedings to remove Cuba from the list," it adds. "Such a move will advance legitimate U.S. security and humanitarian interests and help the future of the Cuban people."
CodePink plans to deliver the letter to various progressive lawmakers this week, including Sen. Bernie Sanders (I-Vt.), Rep. Ilhan Omar (D-Minn.), and Rep. Jim McGovern (D-Mass.). McGovern was one of a few members of Congress who urged Biden to provide aid to Cuba in the wake of last month's catastrophic oil fire.
The anti-war group also intends to deliver the letter to "opposition figures that continue to advocate for hostility toward Cuba," including Sens. Ted Cruz (R-Texas) and Marco Rubio (R-Fla.), as well as Rep. Maria Elvira Salazar (R-Fla.).
News