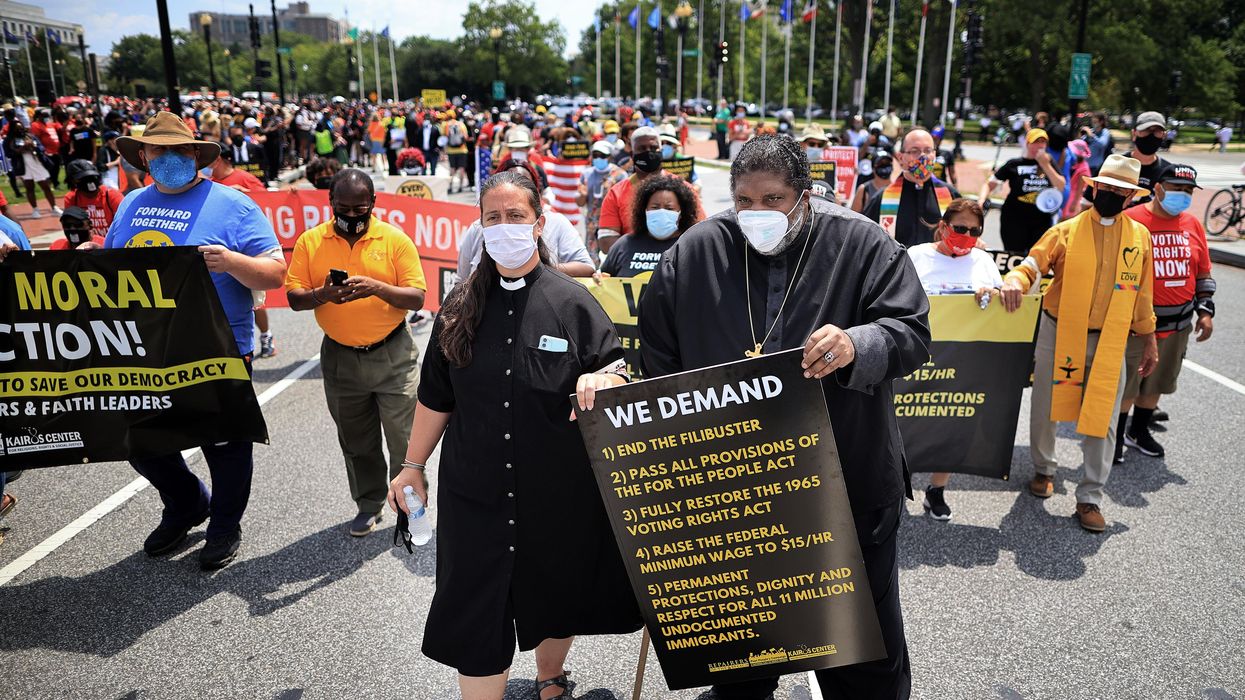 "Today and every day let's honor King as we end racism, poverty, ecological devastation, the denial of healthcare, militarism, and this false narrative of Christian nationalism," said Rev. Dr. Liz Theoharis.
To mark Dr. Martin Luther King Jr. Day on Monday, leaders of a modern iteration of the slain civil rights champion's final campaign called on U.S. politicians from both sides of the aisle—many of whose policies and actions are like those King condemned as the "evil triplets of racism, materialism, and militarism"—to step up and meet the needs of the country's poor and low-income people.
Poor People's Campaign: A National Call for Moral Revival released a video demanding the Biden administration and every member of Congress "meet with poor and low-wealth people, religious leaders, economists, lawyers, and public health specialists to address the systemic policy violence that threatens the soul of our nation."
"When prophets are killed or assassinated, our job is to pick up the baton and continue the work," campaign co-chair Rev. Dr. William J. Barber II said in the video. "Sadly, many will go to King events today and claim to honor the prophet. Elected officials on both sides of the aisle will go while even today, they are standing diametrically opposed to the things he fought for: addressing systemic poverty, addressing racism, ensuring voter protection, just immigration policy, just treatment of Indigenous people, healthcare for all, and dealing with the war economy and militarism."
As they do each year, officials—including Republican lawmakers who voted against an MLK Day holiday, the U.S. government King called "the greatest purveyor of violence in the world today," and its agencies like the FBI that tried to destroy King—all took to Twitter to sing his praises.
Poor People's Campaign Petition Congress to Truly Honor MLK Legacy | Press Conferencewww.youtube.com
Rev. Liz Theoharis, also a co-chair of the Poor People's Campaign, said in the video that "this Martin Luther King Day, we must continue a campaign for social, political, and economic rights, not simply commemorate a man. Today and every day let's honor King as we end racism, poverty, ecological devastation, the denial of healthcare, militarism, and this false narrative of Christian nationalism. Let us fight poverty, not people."
The video also includes messages from low-income Americans and advocates calling for healthcare, living wages, "and more so everyone can thrive."
"I live in North Carolina. I work 60 hours a week and more and I still don't make enough money to live comfortably," Matthew Byars said in the video. "I'm chasing the American Dream, but I'm living the American nightmare. Raise the minimum wage. Impacted people matter too."
King, along with the Southern Christian Leadership Conference, launched the original Poor People's Campaign in December 1967, months before he was assassinated in Memphis while supporting a strike by Black sanitation workers. King said the movement's demands were $30 billion for anti-poverty programs, full employment for all, a guaranteed universal income, and the annual construction of 500,000 affordable homes.
SCLC president Ralph Abernathy led the campaign after King's murder, and in May 1968—just weeks after King's murder—his widow, Coretta Scott King, led demonstrators in a two-week protest in Washington, D.C., where participants demanded an Economic Bill of Rights.
Camp life in Resurrection City 1968www.youtube.com
Thousands of poor people camped on the National Mall in a community called Resurrection City, which stood for six weeks—including on the day when Sen. Robert F. Kennedy (D-N.Y.) was assassinated on June 5—until police violently destroyed it and evicted the protesters.
News