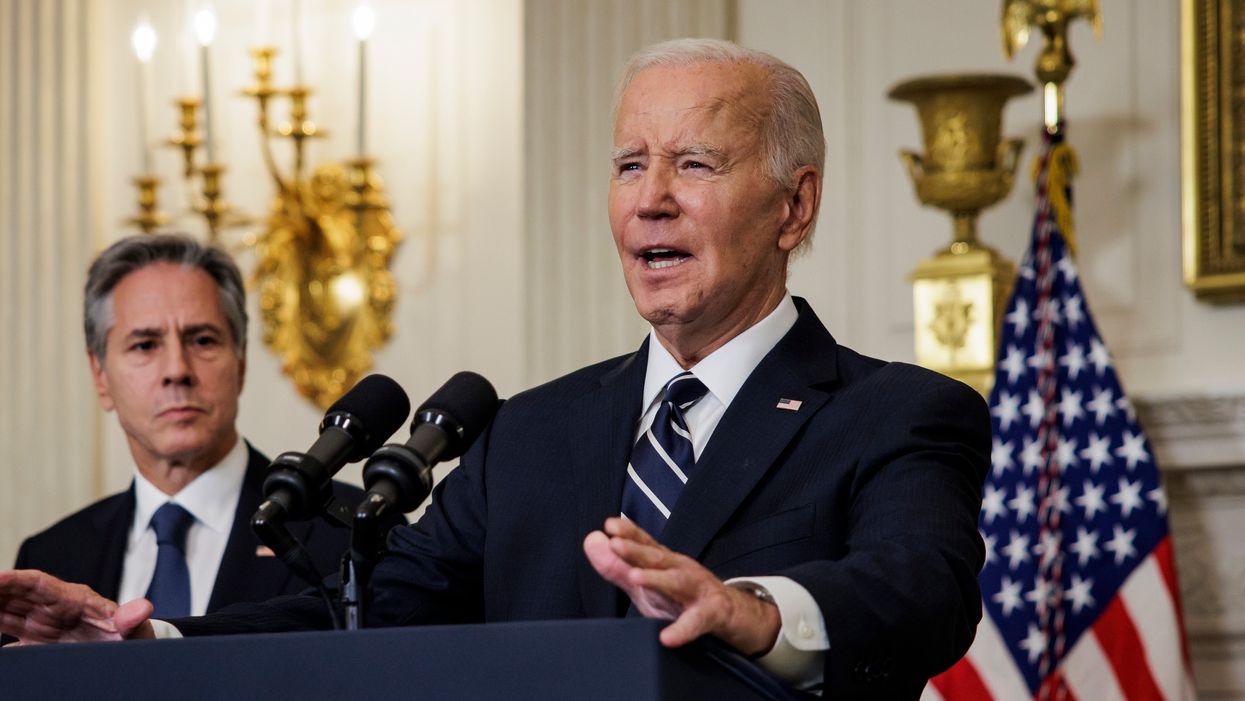 "Our team has had to update more than once the numbers of our clients' relatives who have been killed as we prepared this lawsuit and motion."
A group of Palestinian Americans on Thursday urged a federal court to issue a preliminary injunction barring the Biden administration from providing any additional weaponry or diplomatic support to the Israeli military as it carries out mass atrocities in Gaza.
The "urgent motion" comes days after the group, represented by the U.S.-based Center for Constitutional Rights (CCR), sued President Joe Biden, Secretary of State Antony Blinken, and Defense Secretary Lloyd Austin in a federal court in California, arguing that the top officials are "failing to prevent an unfolding genocide where they have influence over the state of Israel to do so, and directly abetting its development with weapons, funds, and diplomatic cover" in violation of international law.
The plaintiffs in the case are U.S. citizens with family in Gaza, which has been under relentless assault since a deadly Hamas-led attack on southern Israel last month. At least 116 of the plaintiffs' family members have been killed in the Palestinian enclave since the latest Israeli bombing campaign in Gaza began.

"Our team has had to update more than once the numbers of our clients' relatives who have been killed as we prepared this lawsuit and motion," Astha Sharma Pokharel, an attorney at CCR, said Thursday. "There is no starker illustration of how urgently this injunction is needed."
The Biden administration has opposed calls for a cease-fire and pledged unconditional support to the Israeli government as it wages war on the besieged Gaza Strip with the help of U.S. weaponry, including thousands of Hellfire missiles and army vehicles. That support has continued in the face of a horrific death toll and humanitarian crisis and amid global alarm over Israeli officials' genocidal rhetoric.
In an emergency briefing paper released less than two weeks into Israel's assault, CCR warned that the U.S. "is not only failing to uphold its obligation to prevent the commission of genocide, but there is a plausible and credible case to be made that the United States' actions to further the Israeli military operation, closure, and campaign against the Palestinian population in Gaza rise to the level of complicity in the crime under international law."
The lawsuit filed earlier this week echoes that case, stating that the "unfolding genocide of the Palestinian people in Gaza has so far been made possible because of the unconditional support given by the named official-capacity defendants in this case"—Biden, Blinken, and Austin.
The lawsuit and push for a preliminary injunction are backed by leading scholars of genocide and the Holocaust, including William Schabas, a world-renowned expert on international human rights law.
In a declaration supporting the lawsuit, Schabas wrote, "There is a serious risk of genocide committed against the Palestinian population of Gaza and that the United States of America is in breach of its obligation, under both the 1948 Genocide Convention to which it is a party as well as customary international law, to use its position of influence with the Government of Israel and to take the best measures within its power to prevent the crime taking place."
The new motion was submitted Thursday as Israel raided Gaza's largest hospital and prepared for an assault on the southern Gaza city of Khan Younis, prompting fears of a widening military campaign.
Meanwhile, little humanitarian aid has been allowed to enter the blockaded territory, leaving millions of lives at risk as most of the population lacks water, food, medicine, and other basic necessities.
The World Food Program warned Thursday that "nearly the entire population" of Gaza "is in desperate need of food assistance."
"The small quantities of food that can be found are being sold at alarmingly inflated prices and are of little use without the ability to cook, forcing some to survive on one meal a day," the U.N. organization said. "For the lucky, that includes more than solely canned food, though some people have resorted to consuming raw onions and uncooked eggplants."
News