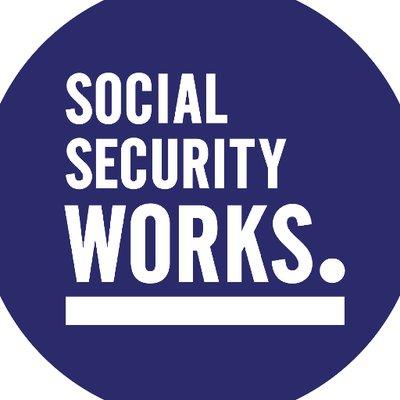 The Inflation Reduction Act is a Victory for Seniors--and a Defeat for Big Pharma
The following is a statement from Alex Lawson, Executive Director of Social Security Works, on President Joe Biden signing the Inflation Reduction Act into law:
"Today is the beginning of the end of Big Pharma's iron grip on Washington.
WASHINGTON
The following is a statement from Alex Lawson, Executive Director of Social Security Works, on President Joe Biden signing the Inflation Reduction Act into law:
"Today is the beginning of the end of Big Pharma's iron grip on Washington.
The Inflation Reduction Act is a critical step towards lower drug prices. It will ensure that Medicare beneficiaries pay no more than $2,000 a year for prescription drugs. It will stop pharmaceutical corporations from raising the prices they charge Medicare for drugs faster than the rate of inflation. At long last, it will give Medicare the power to negotiate lower prices on key prescription drugs.
With the passage of the IRA, the U.S. government now has the legal ability to determine a 'fair price' for prescription drugs. While that ability is currently limited to a few key medications, it can and should be expanded in the future.
Big Pharma threw everything they had -- $100 million and 1,500 lobbyists -- at stopping the IRA. They failed. Democrats in competitive races understand that Pharma money is toxic, and that the best way to win elections is to fight for lower drug prices.
This is Big Pharma's first big defeat, but it won't be the last. We will never stop fighting until everyone in America has the medications they need."
Social Security Works' mission is to: Protect and improve the economic security of disadvantaged and at-risk populations; Safeguard the economic security of those dependent, now or in the future, on Social Security; and Maintain Social Security as a vehicle of social justice.
LATEST NEWS
One project in particular, the CP2 export terminal, "would be the most harmful facility built in the United States," one frontline activist said as campaigners delivered petition signatures.
Climate and environmental justice campaigners on Thursday delivered more than 200,000 petition signatures calling on the Biden administration to reject the Calcasieu Pass 2, or CP2, liquefied natural gas export facility as well as all other planned LNG infrastructure.
Environmental advocates and progressive lawmakers have been increasingly raising the alarm about CP2 and the broader expansion in LNG exports, pointing out that they put both the U.S. climate goals and frontline Gulf Coast communities at risk. CP2, for example, would emit 20 times as many greenhouse gases as the controversial Willow oil drilling project in Alaska.
"CP2, the proposed liquefied natural gas project that is proposed to come right in my backyard, where me and my children live, would be the most harmful facility built in the United States," Roishetta Ozane, founder and director of the Louisiana-based mutual aid organization Vessel Project, said in front of the U.S. Department of Energy (DOE).
The petition, circulated by Fossil Free Media, urged President Joe Biden and Energy Secretary Jennifer Granholm to halt all new approvals for LNG export projects until the DOE changes how it determines whether such projects serve the public interest.
"It is critical that DOE assess the climate, environmental justice, and consumer impacts when determining whether exports are in the public interest, especially as the agency considers its current pipeline of nearly 20 LNG export projects under review," the petition reads in part.
It first argues that exporting LNG will hurt U.S. energy customers, since exporting the fuel would raise domestic prices. Second, it points to a Sierra Club analysis finding that existing and proposed LNG export facilities would have the same impact on the climate over their lifetimes as 675 coal plants.
"We are already overburdened and overflowing with fossil fuel extractive industry."
"Every time the United States approves a new LNG facility, that is giving us 30 more years of pollution," Ozane said Thursday. "How are we going to meet our climate goals? We are contributing to this climate catastrophe that we are in."
The petition also points out that CP2 and other LNG export facilities would only increase the local pollution burden on communities in the Gulf Coast already disproportionately impacted by the oil, gas, and petrochemical activities. Frontline activists have highlighted that Venture Global, the company behind CP2, has a history of environmental violations. Its Calcasieu Pass terminal, after which CP2 would be modeled, violated its air permit more than 2,000 times during its first year of operations.
During the petition delivery, Ozane said that she has to call her children inside every time that gas or smoke flares from one of the 12 petrochemical facilities in her vicinity, adding that she was "afraid of the air that they are breathing."
"We are already overburdened and overflowing with fossil fuel extractive industry," Ozane said. "We don't need any more."
After delivering the signatures to the DOE, the activists then presented them at the headquarters of Venture Global.
Ozane noted that the petition delivery comes as world leaders gather for the United Nations Climate Change Conference (COP28) in the United Arab Emirates. Ozane said that she would attend the conference next week to let the delegates know that the U.S. was not keeping its climate promises as it plans to expand LNG exports.
350.org and Third Act co-founder Bill McKibben, who publicized the fight against the LNG buildout in a September New Yorker article, has noted that, while climate accounting rules don't count a country's fossil fuel exports as part of its total emissions, they still contribute to the climate crisis.
"If this buildout continues, and if you counted the emissions from this gas against America's totals, it would mean that American greenhouse gas emissions would not have budged since 2005," McKibben wrote on his Substack.
But climate activists like McKibben and Ozane are hoping that the Biden administration will heed their warnings and stop the LNG expansion.
"With the agency's pending decision on the CP2 export application, in particular, the stakes could not be higher," the petition concludes. "Please do the right thing and stop approving these projects that hurt our climate, communities, and economy."

McKibben celebrated Thursday's action on social media.
"200,000 signatures is nothing to sneeze at," he tweeted, "and my sense is this fight is just going to grow!"
News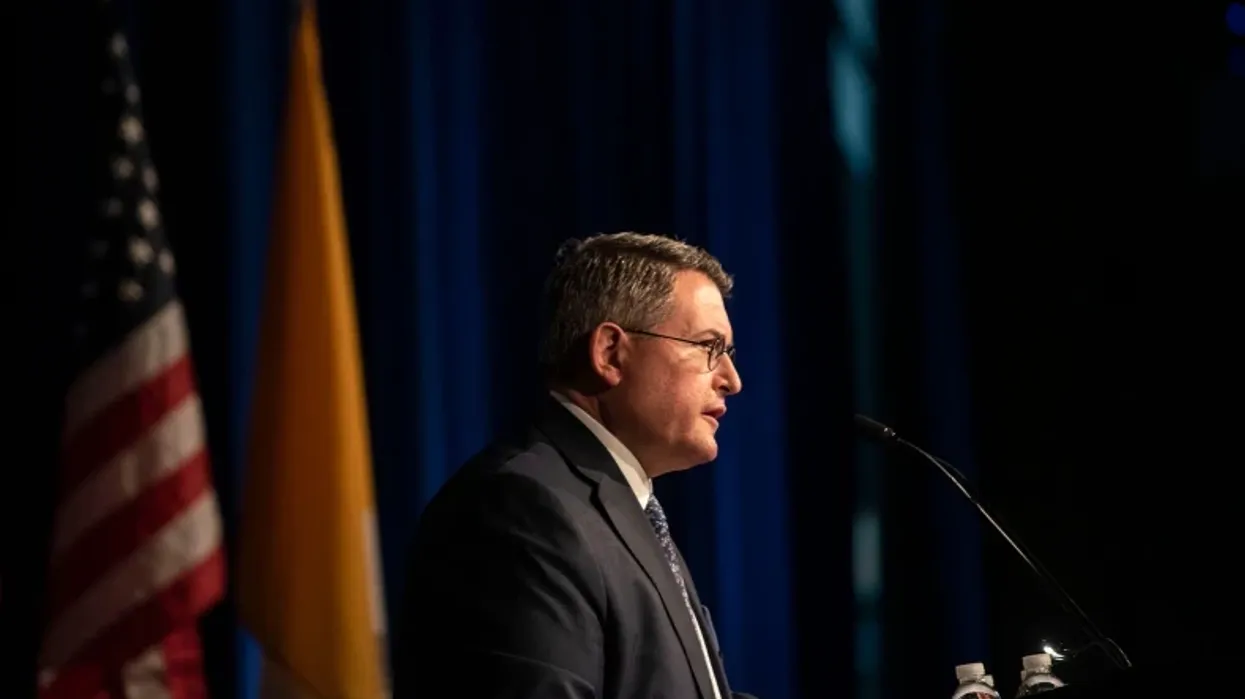 "Today, the Senate Judiciary Committee sent a strong message that the rich and powerful cannot evade scrutiny or accountability," said one advocate.
Democratic lawmakers on the U.S. Senate Judiciary Committee on Thursday said Republican members' conduct spoke volumes as the GOP used "every permutation" of obstruction to try to prevent the panel from subpoenaing billionaire megadonor Harlan Crow and Federalist Society co-chairman Leonard Leo over their gifts to right-wing U.S. Supreme Court justices—a ploy that ultimately failed.
A committee meeting was marked by a tumultuous back-and-forth between Republicans and Democrats, with lawmakers including Texas GOP Sens. John Cornyn and Ted Cruz accusing the Democrats of enacting a vendetta against conservative justices on the high court with their vote in favor of ordering Crow and Leo to testify.
Both men have refused to provide the committee with information regarding reports that they funded luxury trips and other gifts for right-wing Justices Clarence Thomas and Samuel Alito.
As a leader of the Federalist Society, Leo has also played a key role in securing seats on the Supreme Court for some of its most conservative members, paving the way for the court to overturnRoe v. Wade and significantly weaken states' abilities to regulate gun ownership, among other rulings.
Stand Up America applauded committee Chair Dick Durbin (D-Ill.) and the other Democrats for voting to subpoena Crow and Leo, saying the move—in the face of Republican obstruction and claims that the subpoenas would "destroy" the committee—helped to reassert Congress' role as a co-equal branch of government.
"Billionaires like Harlan Crow believe they can buy loyalty on the Supreme Court, turning our nation's highest court into a political plaything for the ultrawealthy and well-connected," said Brett Edkins, managing director of policy and political affairs for Stand Up America. "Today, the Senate Judiciary Committee sent a strong message that the rich and powerful cannot evade scrutiny or accountability."
"The American people deserve answers," Edkins continued. "Today's vote brings us one step closer to understanding the full scope of Justice Thomas' and Alito's wrongdoing and restoring honesty and integrity to the Supreme Court."
Earlier this month, the Supreme Court announced for the first time the establishment of an ethics code, but advocates said that without any enforcement mechanisms in place, the code would not go far in ensuring an end to lavish gifts like those paid for by Crow and Leo.
"We need a Supreme Court that works for all of us, and we need assurance that it is," said Maya Wiley, president and CEO of the Leadership Conference on Civil and Human Rights. "Following the court's recent adoption of its own code of conduct, which is insufficient and lacks any mechanism for enforcement, this urgent work must continue."
"As the committee exercises its crucial oversight authority to ensure abuses of power don't go unchecked in our federal judiciary, Congress must continue to act," Wiley said. "It is unacceptable that abuses of power could become more frequent and severe—further corroding the public's faith in our judicial system and undermining our democracy."
Sen. Sheldon Whitehouse (D-R.I.) outlined on social media the efforts Republicans went to on Thursday to stop Democrats from subpoenaing Leo and Crow—invoking the "two-hour rule" which required the meeting to end by 12:00 pm, interrupting the vote repeatedly, and staging a walkout.
"They're also saying we have no business doing this," Whitehouse said. "Wait a second—the judicial conference is a body Congress established, the disclosure laws are laws passed by Congress. The idea that Congress can't oversee how an agency that it created is implementing laws it passed, is frankly nonsense."

Crow told Forbes after the vote that the subpoena was "invalid" and demonstrated "the unlawful and partisan nature of this investigation."
Leo echoed Republican members when he issued his own statement, saying Democrats "have been destroying the Supreme Court; now they are destroying the Senate.
"I will not cooperate with this unlawful campaign of political retribution," said Leo.
The right-wing activist's response did not come as a surprise to progressive critics.
"For wealthy fascists like Leonard Leo, the law is something to exploit, not obey," said veteran journalist Mark Jacob.
The committee could seek to enforce the subpoenas in court or refer the matter to the U.S. Justice Department if Leo and Crow follow through on their threat to not comply with the orders.
As the committee determines how to get to the bottom of the allegations against the right-wing activists, said Wiley, progressives must continue their "ongoing push to confirm highly qualified federal judges who are professionally and demographically diverse and committed to civil and human rights."
"That is how we build an equal justice judiciary that works for everyone," she said. "Communities across the nation depend on federal jurists to fairly administer justice for all people, and we must do whatever it takes to ensure that they do."
News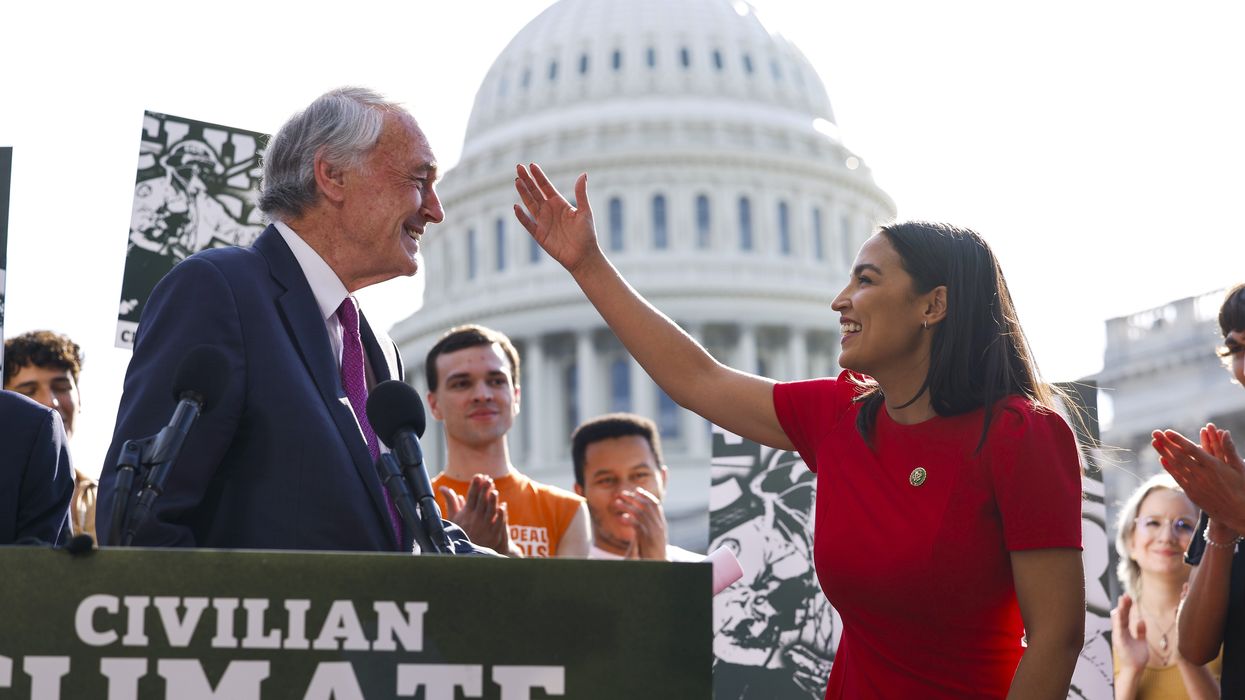 Progressive members of Congress, including Sen. Ed Markey and Rep. Alexandria Ocasio-Cortez, urged the president to support a complete phaseout of fossil fuels.
Sen. Ed Markey and Rep. Alexandria Ocasio-Cortez on Thursday led a group of more than 30 U.S. lawmakers in calling on President Joe Biden to embrace a complete phaseout of fossil fuels and an immediate end to public financing of new overseas oil and gas projects as world leaders gathered for the first day of the COP28 summit in Dubai.
In a letter to the president, who decided to skip the talks, Markey (D-Mass.), Ocasio-Cortez (D-N.Y.), and 32 other members of Congress wrote that the U.S. has a "duty" to pursue more ambitious climate goals and "support other countries in adopting the principles of environmental justice that we should also prioritize here at home."
"In order to remain on target for a livable future, we urge the administration to support the move toward an extensive, expedient, and equitable phaseout of fossil fuel production and consumption," the lawmakers wrote. "A full phaseout should be inclusive of coal, oil, and fossil gas, and led by the wealthiest and highest-emitting countries, including short-term phase-down goals and climate financing to assist developing countries in executing a clean energy transition."
The letter, spearheaded by the leaders of the congressional Green New Deal Resolution, was released after the COP28 talks opened with a deal to operationalize a loss and damage fund geared toward helping low-income nations recover from the increasingly devastating climate impacts they've faced in recent years, despite doing the least to cause the planetary crisis.
The Biden administration, representing the country that is the largest historical emitter of planet-warming carbon dioxide, pledged just $17.5 million to the loss and damage fund, a sum that one campaigner called "embarrassing."
As Common Dreams reported, the administration also drew outrage by launching an oil and gas drilling auction just days before the start of the United Nations climate summit.
In a social media post Thursday, Markey called on the Biden administration to "lead by example and take bold action to end this climate emergency."
The Biden administration has thus far rejected calls to support a full phaseout of fossil fuels, allowing U.S. oil and gas extraction to surge to record levels despite increasingly dire warnings from the scientific community.
The administration has also repeatedly broken its commitment to end direct public financing for international fossil fuel projects.

In a briefing on the eve of COP28, Special Presidential Climate Envoy John Kerry told reporters that the administration supports "requiring the phaseout of unabated fossil fuel."
As Bloomberg's Lara Williams recently warned, the ambiguity of "unabated"—expected to be a hot-button term during the COP28 talks—"leaves an enormous loophole for the continued expansion of fossil fuel production under the vague promise that all will be abated in the future."
News