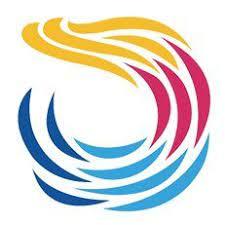 For Immediate Release
Contact:
Olivia Alperstein, Media Manager, Institute for Policy Studies, olivia@ips-dc.org, (202) 704-9011
Net Worth of U.S. Billionaires Has Soared by $1 Trillion--To Total of $4 Trillion--Since Pandemic Began
Wealth Increase in 9 Months Exceeds Likely $908 Billion Cost of Covid Relief Package GOP Has Stalled as Too Costly
WASHINGTON
The collective wealth of America's 651 billionaires has jumped by over $1 trillion since roughly the beginning of the COVID-19 pandemic to a total of $4 trillion at market close on Monday, December 7, 2020. Their wealth growth since March is more than the $908 billion in pandemic relief proposed by a bipartisan group of members of Congress, which is likely to be the package that moves forward for a vote in the next week, but has been stalled over Republican concerns that it is too costly.
The total net worth of the nation's 651 billionaires rose from $2.95 trillion on March 18--the rough start of the pandemic shutdowns--to $4.01 trillion on Dec. 7, a leap of 36%, based on Forbes billionaires, according to a new report by Americans for Tax Fairness (ATF) and the Institute for Policy Studies (IPS). By around March 18 most federal and state economic restrictions in response to the virus were in place. Combined, just the top 10 billionaires are now worth more than $1 trillion.
Forbes' annual billionaires report was published March 18, and ATF and IPS collected the real-time data on Dec. 7 from the Forbes website. The methodology of this analysis has been favorably reviewed by PolitiFact. The ATF-IPS analysis also looks at wealth growth since February 2019--the date of Forbes' immediately previous annual billionaires report published well before the start of the pandemic and resulting market gyrations.
The $1 trillion wealth gain by 651 U.S. billionaires since mid-March is:
At $4 trillion the total wealth of all U.S. billionaires today is nearly double the $2.1 trillion in total wealth held by the bottom half of the population, or 165 million Americans.
"Never before has America seen such an accumulation of wealth in so few hands," said Frank Clemente, executive director of Americans for Tax Fairness. "As tens of millions of Americans suffer from the health and economic ravages of this pandemic, a few hundred billionaires add to their massive fortunes. Their pandemic profits are so immense that America's billionaires could pay for a major COVID relief bill and still not lose a dime of their pre-virus riches. Their wealth growth is so great that they alone could provide a $3,000 stimulus payment to every man, woman and child in the country, and still be richer than they were 9 months ago. Joe Biden won a tax-fairness mandate in November. We look forward to working with him and Congress to deliver on that mandate by taxing the massive wealth of these billionaires."
"The updraft of wealth to the billionaire class is disturbing at a time when millions face eviction, destitution, and loss," said Chuck Collins of the Institute for Policy Studies and co-author of Billionaire Bonanza 2020, a report looking at pandemic profiteering and billionaire wealth. "Billionaires are extracting wealth at a time when essential workers are pushed into the viral line of fire."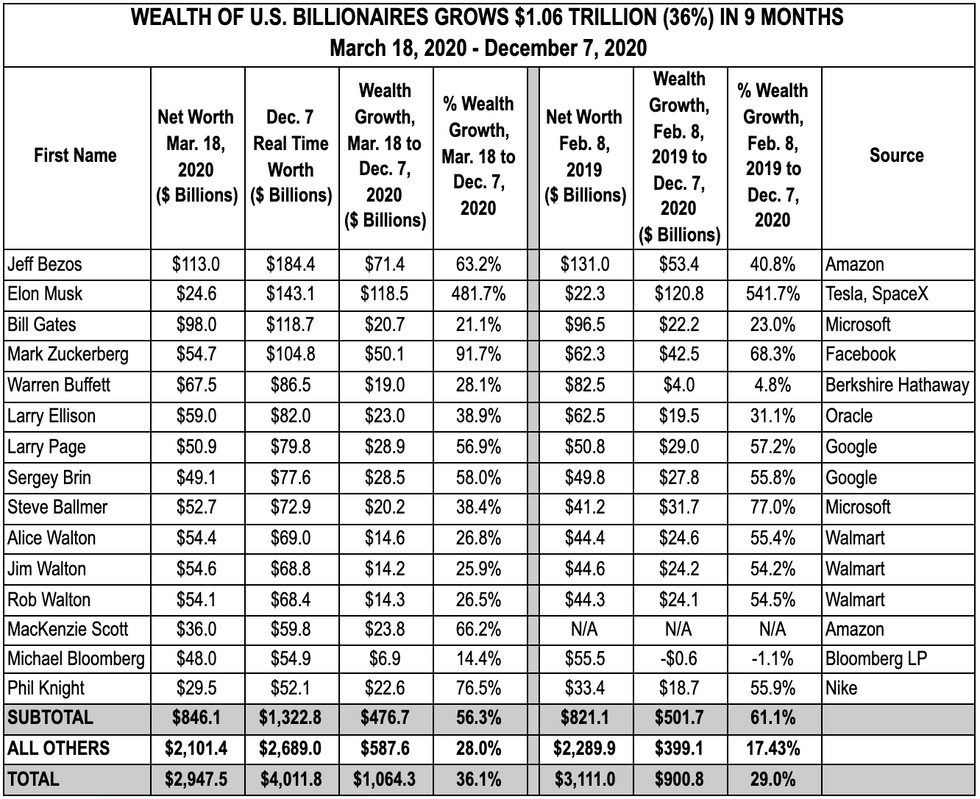 Sources: All data in table is from Forbes and available here.
March 18, 2020 data: Forbes, "Forbes Publishes 34th Annual List Of Global Billionaires," March 18, 2020
Dec. 7, 2020 data: Forbes, "The World's Real-Time Billionaires, Today's Winners and Losers," accessed Dec. 8, 2020
Feb. 8, 2019 data: Forbes 2019 World Billionaires Report, March 5, 2019
Ordinary Americans have not fared as well as billionaires during the pandemic:
Without a federal fiscal relief package, workers will face even greater loss of jobs and services than they have already suffered. The Economic Policy Institute predicts that without more federal aid 5.3 million public-sector jobs--including those of teachers, public safety employees and health care workers--will be lost by the end of 2021.
Because of long-standing racial and gender disparities, low-wage workers, people of color and women have suffered disproportionately in the combined medical and economic crises of 2020. Blacks and Latinos are far more likely to become infected with Covid-19 and to die from the disease. Billionaires are overwhelmingly white men.
The stock market surge and lock-down economy have been a boon to tech monopolies and helped create four U.S. "centi-billionaires." Jeff Bezos, Elon Musk, Bill Gates and Mark Zuckerberg are now each worth more than $100 billion. Prior to this year, Bezos had been the only U.S. centi-billionaire, reaching that peak in 2018. Bezos and other billionaires have seen particularly astonishing increases in wealth between March 18 and Dec. 7:
Jeff Bezos's wealth grew from $113 billion on March 18 to $184 billion, an increase of 63%. Adding in his ex-wife MacKenzie Scott's wealth of $60 billion on that day, the two had a combined wealth of almost a quarter of a trillion dollars thanks to their Amazon stock. If Bezos's $71.4 billion growth in wealth was distributed to all his 810,000 U.S. employees, each would get a windfall bonus of over $88,000 and Bezos would not be any "poorer" than he was 9 months ago.
Elon Musk's wealth grew by nearly $119 billion, from $24.6 billion on March 18 to $143 billion, a nearly five-fold increase, boosted by his Tesla stock. SpaceX founder Musk has enjoyed one of the biggest boosts in net worth of any billionaire. That $119 billion growth in wealth is more than five times NASA's $22.6 billion budget in FY2020, the federal agency Musk has credited with saving his company with a big federal contract when the firm's rockets were failing and it faced bankruptcy.
Mark Zuckerberg's wealth grew from $54.7 billion on March 18 to $105 billion, an increase of 92%, fueled by his Facebook stock.
Dan Gilbert, chairman of Quicken Loans, saw his wealth rocket by 543%, from $6.5 billion to $41.8 billion, the second biggest percentage increase of all the billionaires.
Institute for Policy Studies turns Ideas into Action for Peace, Justice and the Environment. We strengthen social movements with independent research, visionary thinking, and links to the grassroots, scholars and elected officials. I.F. Stone once called IPS "the think tank for the rest of us." Since 1963, we have empowered people to build healthy and democratic societies in communities, the US, and the world. Click here to learn more, or read the latest below.
LATEST NEWS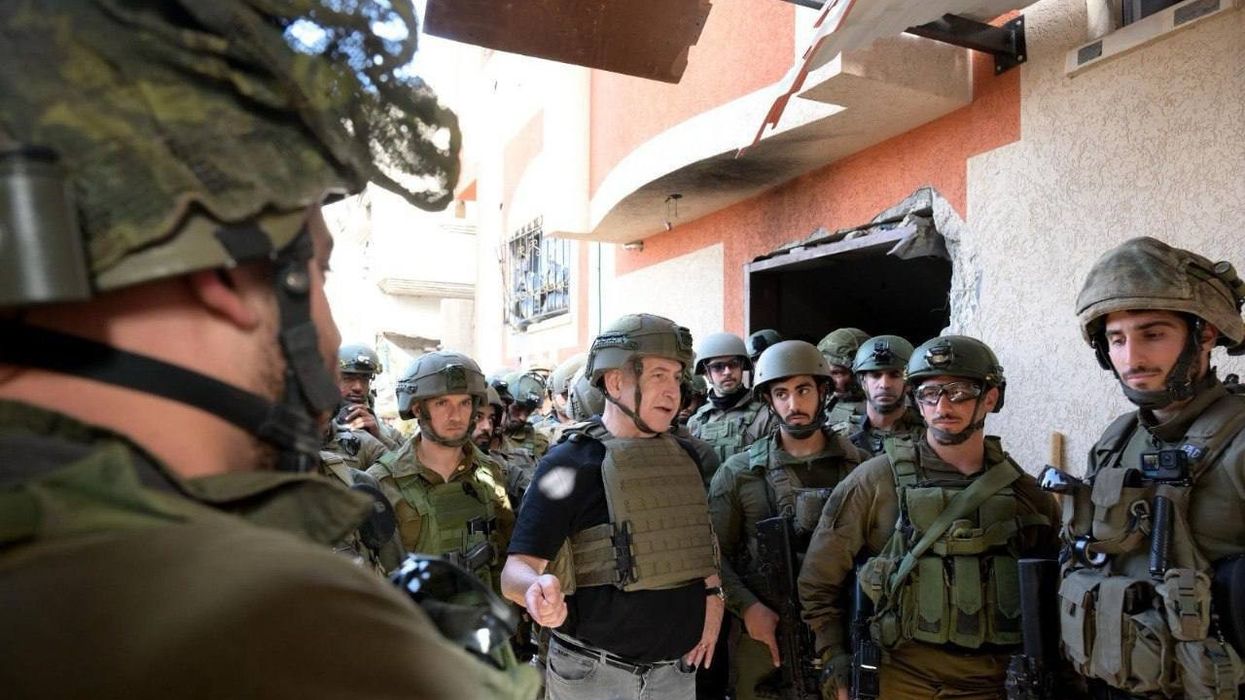 "Look Joe Biden: Netanyahu is spitting in your face," said one critic. "Are you going to keep hugging him in public or are you going to finally end the blank check and hold him accountable for his words and actions?"
With his approval ratings in the tank, Israeli Prime Minister Benjamin Netanyahu has reportedly been lobbying members of his Likud party in a bid to keep their support, claiming he is "the only one who will prevent a Palestinian state" in Gaza and the West Bank.

Netanyahu's remarks, first reported by the Israeli public broadcaster Kan, fly in the face of the Biden administration's continued push for a two-state solution as the "only way to guarantee the long-term security of both the Israeli and the Palestinian people."
"To make sure Israelis and Palestinians alike live in equal measure of freedom and dignity, we will not give up on working towards that goal," U.S. President Joe Biden, who has offered unconditional political and military support to Israel during its latest assault on Gaza, wrote in a social media post late Monday.
Analysts have long argued that one democratic state, not two states, is the only viable alternative to the apartheid status quo, given factors such as ever-expanding Israeli settlements in the West Bank. Throughout his career, Netanyahu has vociferously opposed a peaceful resolution and worked to divide Palestinians in Gaza and the West Bank by propping up Hamas.
"Anyone who wants to thwart the establishment of a Palestinian state has to support bolstering Hamas and transferring money to Hamas," Netanyahu told his colleagues in 2019. "This is part of our strategy—to isolate the Palestinians in Gaza from the Palestinians in the West Bank."
In his latest comments to Likud backbenchers, Netanyahu reportedly said he's "the only one who can withstand U.S. pressure" and that he knows "how to manage American public opinion," even as American public support for Israel's assault on Gaza falls.
The Times of Israelreported Monday that Netanyahu "boasted about having gone against" U.S. wishes by launching a ground invasion of Gaza and raiding the Palestinian territory's largest hospital on the pretense that Hamas was hiding a command center on the facility's grounds—a claim that has not been substantiated.
Netanyahu, facing mounting domestic pressure to resign, has also indicated that Israel plans to occupy the Gaza Strip for an "indefinite period" after the current war, defying Biden's warning against a prolonged occupation.
"Look Joe Biden: Netanyahu is spitting in your face," Yonah Lieberman, co-founder of the Jewish-American advocacy group IfNotNow, wrote on social media Monday. "He doesn't take you seriously. Are you going to keep hugging him in public or are you going to finally end the blank check and hold him accountable for his words and actions?"
News of the Israeli prime minister's meetings with Likud lawmakers came as the attack on Gaza is under a tenuous pause to allow for the release of hostages. Netanyahu has opposed a lasting cease-fire and pledged to continue waging war on the strip once the pause is over.
The Financial Timesreported Tuesday that Biden and other top U.S. officials have implored Israel not to trigger mass internal displacement in its planned offensive in southern Gaza, where many people have fled to escape Israeli bombing in the north. Israel's assault has displaced around 70% of Gaza's population so far.

Israeli officials have not provided any public indication that their bombing campaign will be less destructive following the end of the pause.
"The enemy will meet first the bombs of the Air Force, and after that the shells of the tanks and the artillery and the scoops of the D9 [bulldozers], and finally gunfire of the infantry troops," Israeli Defense Minister Yoav Gallant said Monday. "We will fight in the entire strip."
News
"We urge the commission to continue to focus on its vital work preserving market integrity and protecting the public, uphold the letter and spirit of the Dodd-Frank Act, and withdraw the proposed rule."
A trio of Democratic U.S. senators on Monday wrote to Commodity Futures Trading Commission Chair Rostin Behnam expressing their "serious reservations" with the agency's proposed rule on seeded funds and money market funds, a policy the lawmakers warned would "undermine the goals of Dodd-Frank" by rolling back the already weakened financial oversight law.
Passed in the wake of the 2008 global financial meltdown, the Dodd-Frank Wall Street Reform and Consumer Protection Act—which was partially rolled back during the Trump administration—overhauled federal financial regulation. In a letter to Behnam, Sens. John Fetterman (Pa.), Sherrod Brown (Ohio), and Tina Smith (Minn.) assert that the CFTC's proposed rule is a "step in the wrong direction" that would increase market instability by decreasing collateral requirements for certain transactions.
The Global Markets Advisory Committee, largely made up of finance industry insiders, recommended the proposed rule in 2020 during the Trump administration.
As the letter explains:
The proposed rule would reduce or eliminate initial margin requirements for up to three years for a subset of swap market participants. "Initial margin" is the collateral that participants must set aside when entering swap agreements. Initial margin requirements, along with "variation margin" and other capital requirements, protect counterparties to a swap in the event of a default. Dodd-Frank set up comprehensive rules for swap agreements after they significantly contributed to the 2008 financial crisis and the federal government was forced to bail out Wall Street.
"The 2008 financial crisis showed the dangers that swaps can pose to economic stability, and Dodd-Frank directed regulators, including the CFTC, to require initial margin for uncleared swaps specifically to reduce those risks," the senators wrote. "It is vital for the CFTC to continue upholding its Dodd-Frank mandate and to maintain high standards and safeguards for this important market."
"We urge the commission to continue to focus on its vital work preserving market integrity and protecting the public, uphold the letter and spirit of the Dodd-Frank Act, and withdraw the proposed rule," the lawmakers added.
The collapse earlier this year of Silicon Valley Bank and Signature Bank—both of which benefited from regulatory relief thanks to the 2018 rollback—brought renewed scrutiny on Dodd-Frank's Republican-engineered shortcomings. Sen. Mike Crapo (R-Idaho), who wrote the 2018 banking deregulation law, insisted in March that "there is no need for regulatory reform" in the wake of the banks' failures.
Robert Weissman, president of the consumer advocacy group Public Citizen, responded to Crapo's assertion by writing that "you have to be hard-core committed to mindless free-market fundamentalism—or truly in thrall to your donors—to insist there's no need for new regulations after Silicon Valley Bank."
Last month, Sen. Elizabeth Warren (D-Mass.) also wrote a letter to Behman sharing her concerns about the proposed rule. Noting the policy's 2020 introduction, Warren said in her October 10 letter that "it is unclear why the commission is choosing to propose these rules now, three years later, without conducting its own additional analyses of whether the changes are necessary or will strengthen the stability of the domestic financial system."
"I strongly urge the commission not to loosen the existing rules and not to roll back important Dodd-Frank Act reforms," Warren added.
News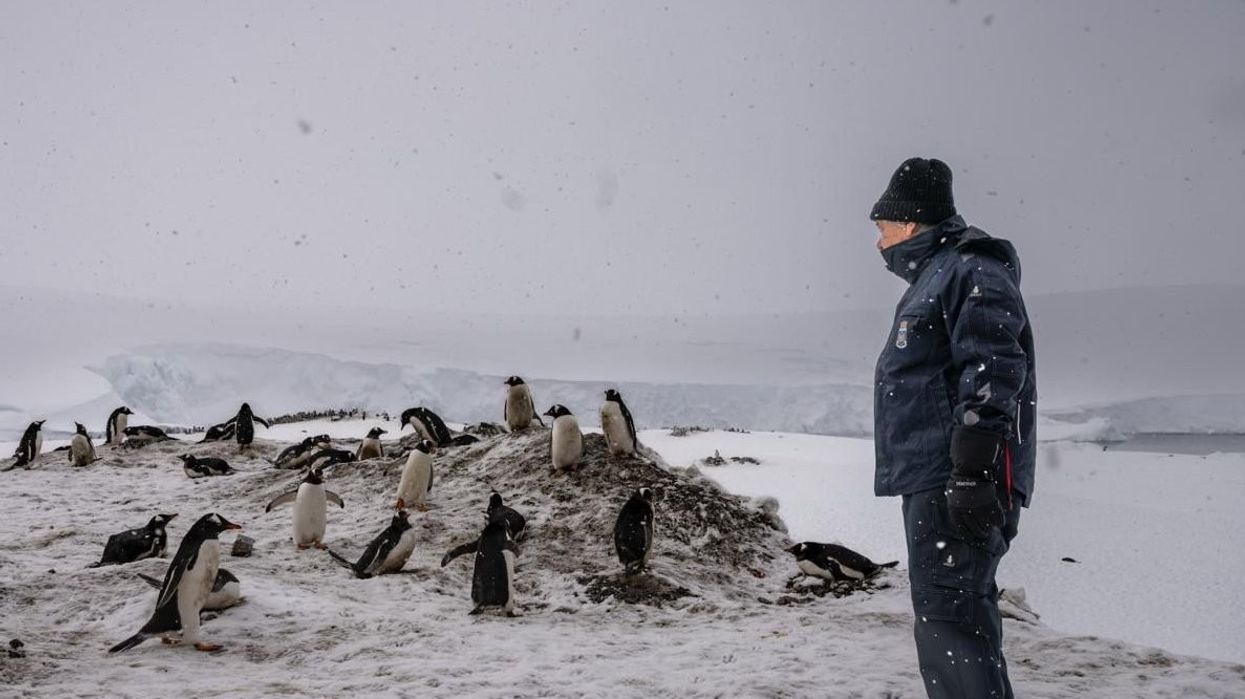 "It is profoundly shocking to stand on the ice of Antarctica and hear directly from scientists how fast the ice is disappearing."
United Nations Secretary-General António Guterres on Monday issued yet another impassioned call for ambitious climate action after a trip to Antarctica and amid preparations for the U.N. Climate Change Conference later this week.
"I have just returned from Antarctica—the sleeping giant. A giant being awoken by climate chaos. Together, Antarctica and Greenland are melting well over three times faster than they were in the early 1990s," he told reporters in New York City.
"It is profoundly shocking to stand on the ice of Antarctica and hear directly from scientists how fast the ice is disappearing," the U.N. leader said of his trip to the continent last week, pointing out that "this year, Antarctic sea ice hit an all-time low."
"Leaders must not let the hopes of people around the world for a sustainable planet melt away."
Scientists project that 2023 will be the hottest year in 125,000 years. Recent research has also shown that Antarctica is warming faster than widely cited models predicted, and even if humanity significantly cuts planet-heating pollution from fossil fuels, the West Antarctic Ice Sheet faces an "unavoidable" increase in melting this century.

Guterres stressed Monday that "what happens in Antarctica doesn't stay in Antarctica. We live in an interconnected world. Melting sea ice means rising seas. And that directly endangers lives and livelihoods in coastal communities across the globe. Floods and saltwater intrusion imperil crops and drinking water—threatening food and water security."
"The movement of waters around Antarctica distributes heat, nutrients, and carbon around the world, helping to regulate our climate and regional weather patterns," he explained. "But that system is slowing as the Southern Ocean grows warmer and less dense. Further slowdown—or entire breakdown—would spell catastrophe."
"The cause of all this destruction is clear: the fossil fuel pollution coating the Earth and heating the planet," he stressed. "Without changing course, we're heading towards a calamitous 3°C temperature rise by the end of the century."
That's according to a U.N. analysis of currently implemented policies, released last week ahead of the COP28 summit—which will be hosted in the United Arab Emirates by Abu Dhabi National Oil Company CEO Sultan Al Jaber, who has allegedly used meetings about the upcoming climate talks to push for fossil fuel deals with other governments.
"If we continue as we are, and I strongly hope we will not, the Greenland and West Antarctica ice sheets will cross a deadly tipping point. This alone would ultimately push up sea levels by around 10 meters. We are trapped in a deadly cycle," Guterres declared Monday. "At COP28, which starts later this week, leaders must break this cycle."
"Leaders must act to limit global temperature rise to 1.5°C, protect people from climate chaos, and end the fossil fuel age," the U.N. chief said, referencing a key goal of the 2015 Paris agreement. He called for tripling renewables, doubling energy efficiency, bringing clean power to all, a "clear and credible commitment" to phasing out fossil fuels, and "climate justice."
"Antarctica is crying out for action," Guterres said. "Leaders must not let the hopes of people around the world for a sustainable planet melt away. They must make COP28 count."
News