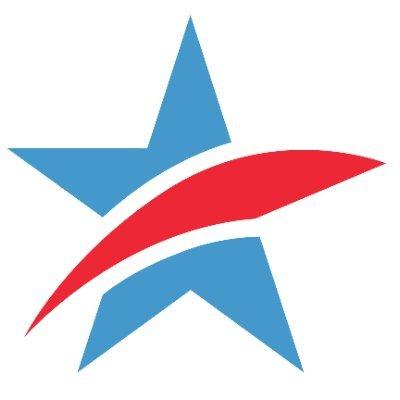 Provocative Report on California Citizens Redistricting Commission Selection Process Raises New Questions about Legislative Role in Striking Latinx Applicants
WASHINGTON
A report released today by the University of Southern California (USC), the University of Minnesota and the University of Houston researchers makes the provocative recommendation that the California State Legislature should no longer have the power to strike finalists from the pool of applicants for California's Citizens Redistricting Commission. The report was issued in the wake of a series of controversial strikes in the selection of the new slate of commissioners.
"The removal of seven of the 14 Latinx finalists by legislative leaders has been controversial, especially because the strikes are shrouded in secrecy, compared to an otherwise transparent selection process," said Kathay Feng, Common Cause National Redistricting & Representation Director. "The closed-door striking of finalists by the legislature runs counter to the goals of transparency and accountability for the Citizens Redistricting Commission. It leaves open the question of why so many qualified Latinx applicants were removed from the pool, undermining the voters' mandate of creating a Commission that reflects the state's racial and ethnic diversity."
The report examines each stage of the selection process in the wake of the results of the "first draw" of eight citizen commissioners. This draw resulted in the selection of three African American, two Asian American, and two LGBTQ-identified commissioners by random selection, but zero Latinx commissioners. The "Fair Maps, Voting Rights, and Diversity" report proposes multiple reforms and highlights that the removal of 24 candidates from a pool for 60 finalists by legislative leadership (aka legislative strikes) reduced racial and ethnic diversity in the pool and struck more Latinx candidates than candidates from any other racial or ethnic group. The report states, "Among the Democratic applicants struck by the legislative leaders, almost all applicants cut were Latinas." The percentage of applicants who were Latinx increased in each stage of the selection process because of careful consideration by the three-auditor panel in charge of narrowing the pool. Unfortunately, that progress was undone at the legislative strikes stage.
California Common Cause was instrumental in creating the California Citizens Redistricting Commission, a people-centered redistricting process that puts a premium on transparency and public input. The selection of a diverse commission was written into Proposition 11, which voters approved in 2008, to ensure that the Commission would hear and represent all Californian voices. The final stage of the selection process - where the first eight commissioners choose the final six to complement their own demographics, background, and skills - can and must ameliorate the lack of Latinx commissioners. However, the overall process bears reviewing to ensure there is robust representation throughout the process.
The "Fair Maps" Report documents the power of the California Citizens Commission to address racial equity by improving racial representation in elected bodies. The 2011 Commission, by all accounts diverse in race, ethnicity, gender and geography, drew district lines that resulted in significant gains for growing minority populations:
"For the first time in modern history, the California congressional delegation reached parity with its eligible Latino/a voting population." (p. 14, citing a jump from nine to 16 members of Congress, or 30% of the California congressional delegation)
"By 2020, under the commission-drawn map, 13.2% of the U.S. House delegation identified as Asian American, a historic high for the state delegation. The percentage of AAPI members of Congress had more than doubled by this point under the commission-drawn map when compared to the legislative-drawn map a decade prior."(p. 17, describing growth from 6% to 13.2% of the California congressional delegation under commission maps).
To read the USC Schwarzenegger Institute for State and Global Policy-led report, click here .
To view this release online, click here .
Common Cause is a nonpartisan, grassroots organization dedicated to upholding the core values of American democracy. We work to create open, honest, and accountable government that serves the public interest; promote equal rights, opportunity, and representation for all; and empower all people to make their voices heard in the political process.
(202) 833-1200
LATEST NEWS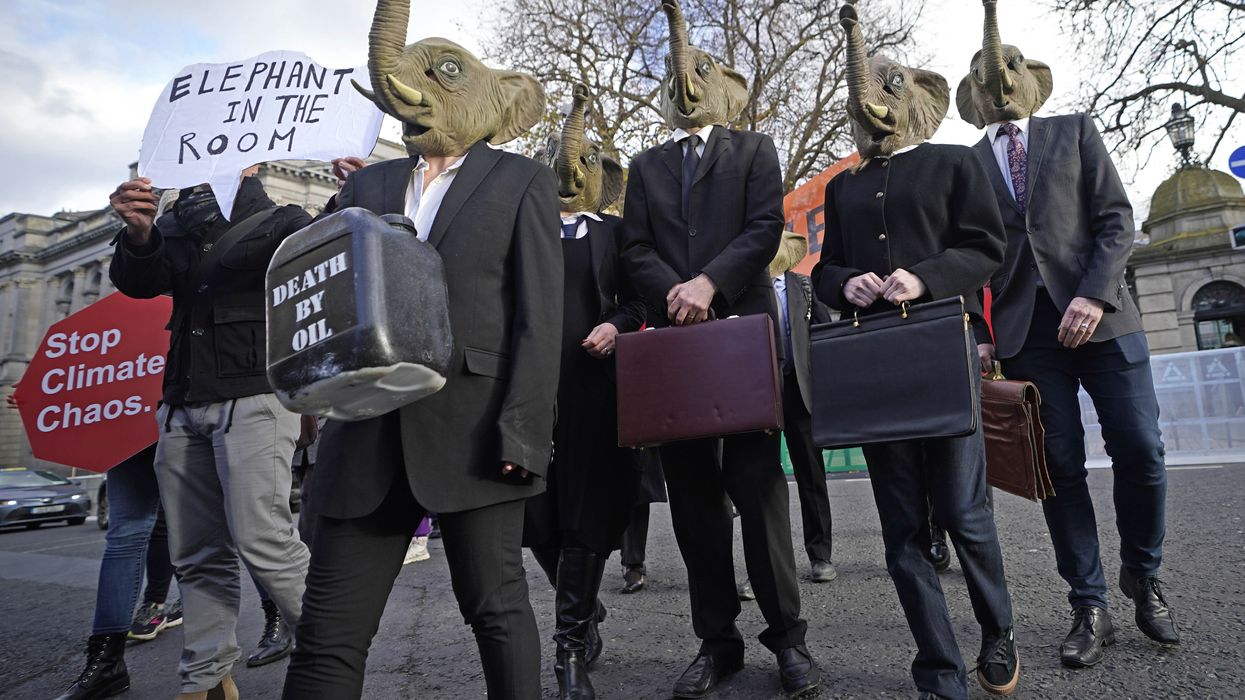 "Digital platforms continue to provide vested fossil fuel actors with a cheap and easy way to disinform the public about climate change," said one campaigner.
An analysis published Wednesday shows that major fossil fuel corporations have pumped millions of dollars into digital advertising this year in the lead-up to the COP28 talks, part of a broader campaign that has inundated social media with disinformation in an attempt to undermine climate science and action.

The new report from the Climate Action Against Disinformation (CAAD) coalition examines three groups that are largely responsible for the spread of climate disinformation online: the fossil fuel lobby, state-affiliated media networks, and online influencers who boost false information published by right-wing websites such as Breitbart .
The report estimates that just 13 oil and gas companies spent between $4.13 and $5.21 million on Facebook advertising between January and October 2023—a likely undercount, given that the platform's ad library doesn't provide details on ads not classified as related to social issues, politics, or elections.
Shell, ExxonMobil , BP, and TotalEnergies accounted for 98% of the ad spending, CAAD found, with Shell spending more than the other companies.
The report argues that the fossil fuel industry's online ad campaigns reflect a "shift from climate denial to subtler forms of 'delayism' and 'inactivism.'"
"Whether via traditional and digital ad spend, proxy group campaigning, or even the use of paid-for 'influencers' on social media, industry is now marshaling its PR around two parallel (and contradictory) fronts in tandem," the report states.
The first front is "promoting the continued and 'absolute' necessity of oil and fossil gas to economies around the globe, especially in the wake of concurrent global crises" such as the Covid-19 pandemic and Russia's invasion of Ukraine. The second front, according to the new report, is "overselling the contribution of industry actors to achieving 'net zero.'"
The report points to a BP Facebook ad that claims the company is "increasing investment in the transition to lower carbon energy and keeping oil and gas flowing where it is needed," suggesting that the continued extraction of fossil fuels is necessary as the world shifts toward renewables.
"And, not or," reads the sponsored post, which received nearly 4 million impressions.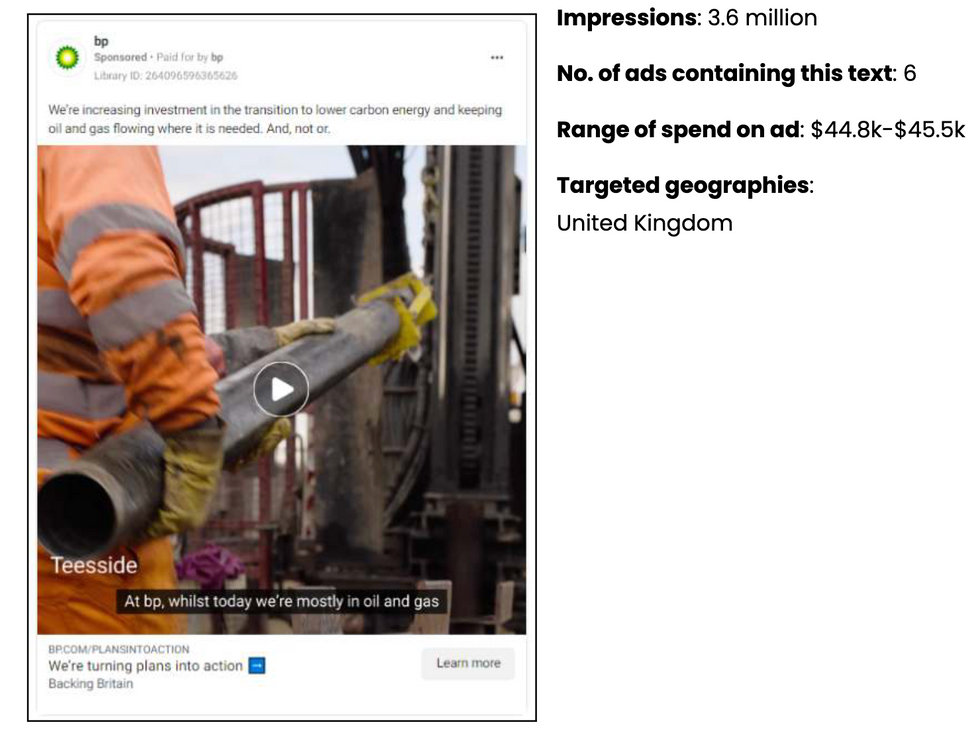 The CAAD analysis goes on to highlight an ad from TotalEnergies touting biogas as a "renewable energy," a characterization that experts and advocates have said is misleading.
"Digital platforms continue to provide vested fossil fuel actors with a cheap and easy way to disinform the public about climate change," Faye Holder, program manager at Influence Map, said in a statement Wednesday. "Over the past year, there has been a lot of positive momentum around tackling greenwash and disinformation, but this report shows us there is still a long way to go. And with platforms failing to implement even their own partial policies, the need for legislation protecting the public's right to accurate information is paramount."
The report also examines the proliferation of climate lies on platforms such as Facebook, Instagram, and X, formerly known as Twitter.
"Since December 2022, #ClimateScam has outperformed both #ClimateCrisis and #ClimateEmergency every month on X... regardless of whether you measure by retweets or likes," the report notes. "In July 2023, when use and retweets of all three hashtags surged, the most widely shared posts focused on these events. (Looking ahead to COP28, it is worth noting that November 2022 also saw a small uptick for #ClimateScam and #ClimateCrisis; a trend which may be repeated this year.)"
Published on the eve of COP28, the report provides further evidence that the fossil fuel industry is prepared to use its vast influence and resources to derail another critical chance to rein in oil and gas production that is pushing global temperatures to record highs and driving increasingly deadly weather events.
"The world is grappling with an environmental crisis compounded by an information crisis," said Jennie King, head of climate research and policy at the Institute for Strategic Dialogue and CAAD's intelligence lead. "2023 is set to be the hottest year on record, yet the urgent climate action we need is beset by denialism and viral campaigns that reject the scientific consensus."
"Such content not only undermines public support, but increasingly erodes trust in institutions and is producing violent outcomes," King added. "The professionalized efforts of the fossil fuel lobby are now intersecting with state-sponsored PR, online grifters, and commercial disinformers. We must recognize the threat of mis- and disinformation for what it is: a barrier to cohesion, to action, and to a livable future for all."
News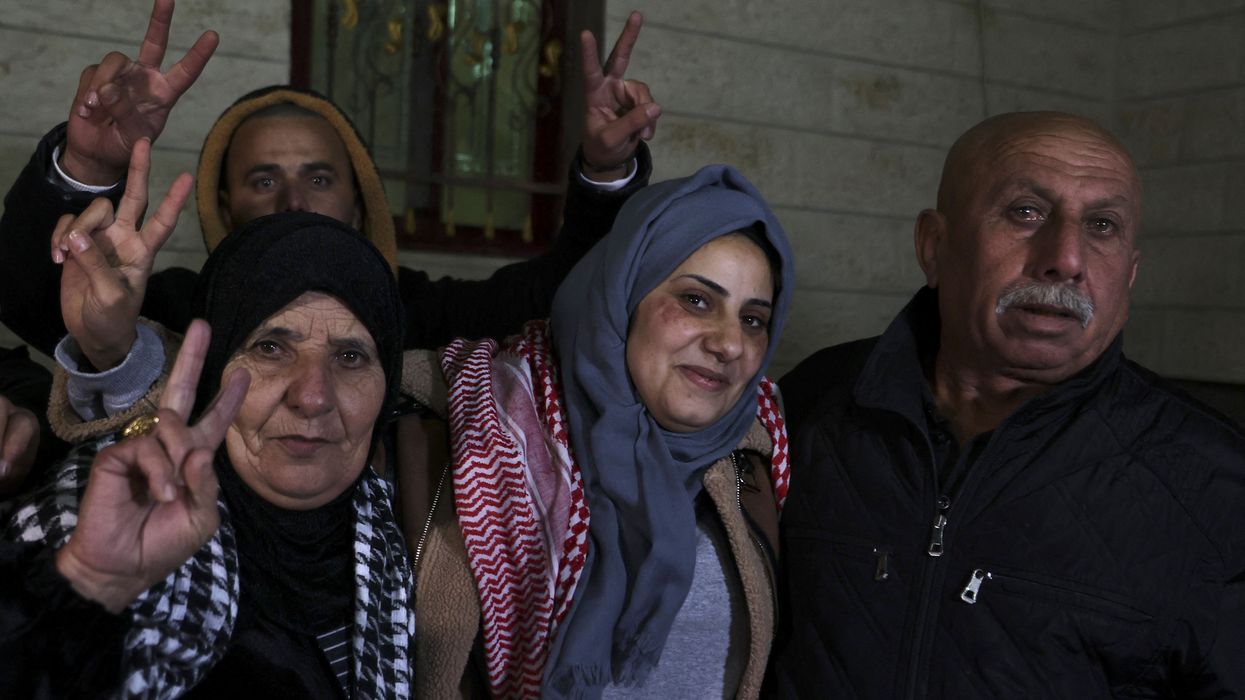 Rep. Rashida Tlaib condemned the refusal of many U.S. lawmakers to "view Palestinians as equal human beings who deserve the same rights, freedom, and human dignity."
Democratic Rep. Rashida Tlaib on Tuesday called for the release of all hostages and political prisoners currently being held in Israel and Gaza after the U.S. House passed a resolution demanding that Hamas immediately free hostages taken during last month's deadly attack.
Tlaib, who voted for the resolution, said the failure of many of her colleagues to urge Israel to release Palestinians who have been jailed without charge or trial "demonstrates their refusal to view Palestinians as equal human beings who deserve the same rights, freedom, and human dignity."

"Every innocent civilian should be released and reunited with their family, no matter their faith or ethnicity," said Tlaib, the first Palestinian-American woman ever elected to the U.S. Congress. "I will continue to call for the release of all hostages, as well as the innocent Palestinians who were arbitrarily detained and being held by the Israeli government indefinitely without charge or trial."
Prior to the Hamas-led October 7 attack, Israel was holding more than 1,300 Palestinians in administrative detention , the Israeli human rights group B'Tselem has estimated. In the wake of the attack, Israeli authorities arrested thousands of additional Palestinians .
Under a deal that Israel and Hamas reached last week, dozens of Palestinians and Israelis have been freed from captivity during a fragile humanitarian pause. But as Al Jazeera reported, Israel arrested nearly as many Palestinians as it released during the first four days of the pause.
The Israeli military has described all of the Palestinians it has freed under the deal with Hamas—many of them children—as "terrorists." The Intercept 's Jeremy Scahill observed that "of the 300 names Israel proposed for potential release, 233 of them have not been convicted of any crimes; they are categorized simply as 'under arrest.'"
"The Netanyahu government and its supporters have promoted a narrative that these prisoners are all hardened terrorists who committed violent crimes," Scahill wrote Sunday. "This assertion relies on a farcical 'Alice in Wonderland'-inspired logic of convicting them by fiat in public before any trial, even the sham trials to which Palestinians are routinely subjected. Israel released a list of the names with alleged crimes they committed. And who is making these allegations? A military that acts as a brutal occupation force against Palestinians in the West Bank."
"Israel is asking the world to believe that these 300 people are all dangerous terrorists, yet it has built a kangaroo military court system for Palestinians that magically churns out a nearly 100% conviction rate," Scahill added. "All of this from a country that constantly promotes itself as the only democracy in the Middle East."
More than 100 Palestinians and more than 60 Israelis have been freed during the pause, which is set to end Wednesday. While talks to further extend the pause are underway, the Financial Times reported that "far-right ministers in Israeli Prime Minister Benjamin Netanyahu's coalition have rejected the possibility of a broader hostage-for-prisoner release deal with Hamas."

News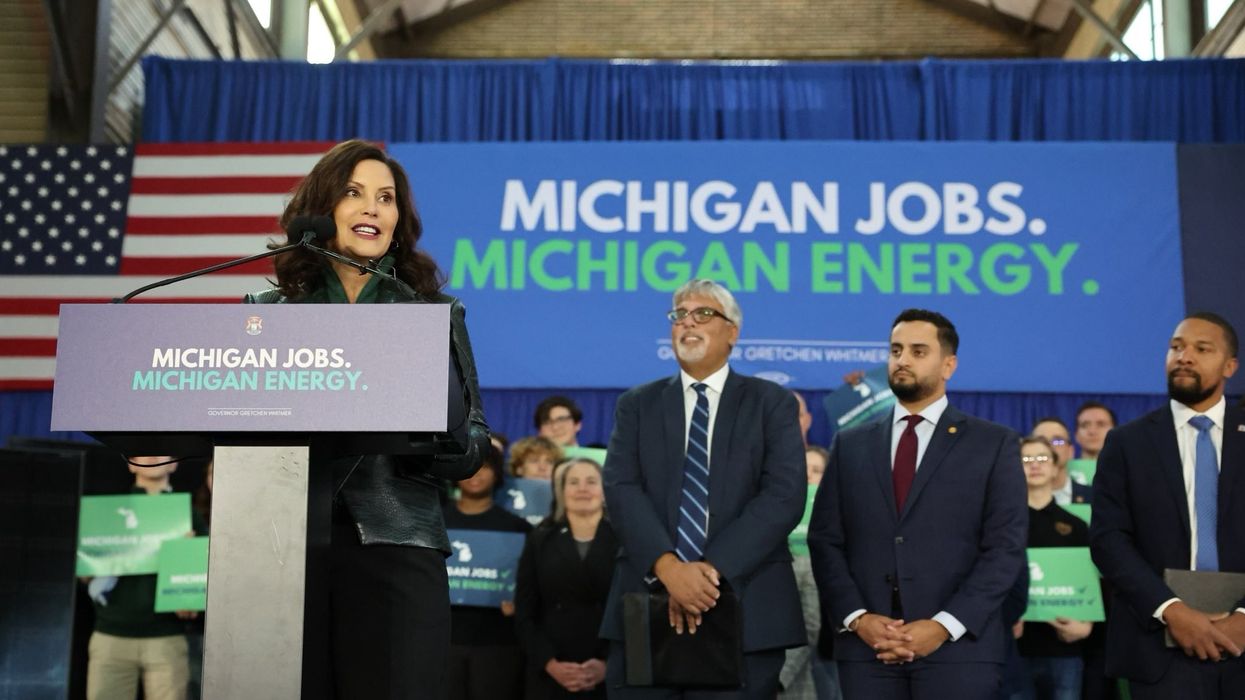 "This is a HUGE climate win that will create a safer, sustainable future AND good-paying, clean energy jobs!"
As scientists worldwide continue to sound the alarm about the need to swiftly ditch planet-heating fossil fuels, Democratic Michigan Gov. Gretchen Whitmer won praise from green groups on Tuesday for signing what she called "game-changing" legislation that "will help us become a national leader in clean energy."

"These bills translate into better air, water, and health for everyone," said Derrell Slaughter, Michigan clean energy advocate at the Natural Resources Defense Council. "The pathbreaking standards for the Midwest industrial heartland will see the state move to 100% clean energy by 2040 and put more resources toward energy efficiency."
"Michigan has seized the opportunity to demonstrate our commitment to combating climate change and ensure a sustainable, just, and prosperous future for our state," he added.
Senate Bill 271 is the part of the "Clean Energy Future" package that features the 100% clean energy standard. S.B. 273 increases Michigan's energy waste reduction standards, and S.B. 277 lets farmers rent out their land for solar power generation.
Additionally, S.B. Bill 502 directs the Michigan Public Service Commission to consider affordability, equity, environmental justice, and public health in reviews of power company plans; S.B. 519 establishes a Community and Worker Economic Transition Office at the the state Department of Labor and Economic Opportunity; and House Bill 5120 empowers the MPSC to greenlight large renewable energy projects.
Johanna Neumann, senior director of Environment America's Campaign for 100% Renewable Energy, said Tuesday that "since the 1800s, Michigan has been at the forefront of leveraging new technologies to improve American lives. By committing to a future powered entirely by clean, renewable energy, Michigan is building on its legacy of innovation."
"Gov. Whitmer and the state Legislature are creating a situation ripe for Michigan to realize its vast renewable energy potential," she continued. "The state has enough wind resources to power the state 3.5 times over and enough sunshine to meet 55 times the state's 2020 electricity demand."
Neumann noted that Michigan joins other states also "leading the way" with clean or renewable energy mandates for the coming decades: California, Connecticut, Hawaii, Illinois, Maine, Minnesota, Nevada, New Mexico, New York, Oregon, Rhode Island, Virginia, and Washington.
"In 2018, when Environment America launched its 100% Renewable Campaign , only Hawaii had any statewide 100% clean or renewable energy goal," she said. "It's great to see more states ensure that powering our lives with clean and renewable energy will lead to a healthier and safer future. We'll keep driving more states to get on the 'road to 100%'"
While climate campaigners welcomed the package, there are some notable critiques. As Michigan Advance explained :
The Michigan Environmental Justice Coalition has expressed opposition to a key part of the package, S.B. 271, which requires energy companies to generate 60% of their energy from renewable sources by 2035 including biomass, landfill gas made from solid waste, gas from methane digesters using municipal sewage waste, food waste and animal manure, and energy-generating incinerators in operation before January 1.

The group says that the carveout for landfill gas, biomass, gas from a methane digester, and its inclusion of incinerators and natural gas using carbon capture technology will disproportionately impact lower-income communities.

"Gov. Whitmer and her allies will try to spin the passage of S.B. 271 as a victory for climate and environmental justice," said Juan Jhong-Chung, Michigan Environmental Justice Coalition co-executive director. " In reality, it is a disaster for everyone but DTE and Consumers Energy. There can be no climate win without environmental justice, and environmental justice communities who will bear the brunt of this dirty law were systematically excluded, dismissed, and ignored during its drafting."
The Detroit News reported Tuesday that "DTE Energy, one of Michigan's two dominant electric utilities, gets about 15% of its electricity generation from renewable sources, according to its website. And Consumers Energy, the other dominant electric utility, already plans to get 40% of its energy from renewable sources by 2040."
Whitmer, who celebrated signing the bills with an event at Detroit's Eastern Market, declared on social media that "today is a huge win for Michigan. We'll protect our air, water, and land while facing climate change head-on and lowering costs."

As The Detroit News detailed: "Whitmer said the measures will lower household energy costs by an average of $145 a year, but Republicans have argued rates will increase as utilities pass the costs of renewable projects along to customers. The study the governor appeared to get the $145 projection from examined additional changes on top of the new laws' move to clean energy ."

Whitmer also declared that the legislation will bring nearly $8 billion in federal funding to the state for clean energy projects and create 160,000 "good-paying" jobs, according to Michigan Advance .

"With today's bills, we define the future," Whitmer said. "As Michiganders, we know we have a responsibility to face climate change head-on, not only to make lives better today, but to make sure life goes on centuries from now. Let's keep fighting for future generations."

The governor is widely seen as a rising star in the Democratic Party and is expected to potentially seek national office someday. For 2024, Whitmer has made clear that she supports President Joe Biden, who is seeking reelection.

Biden—who ran on ambitious climate pledges in 2020 but has let campaigners down with decisions on the Mountain Valley Pipeline, Willow oil project, and leases for extracting fossil fuels from public lands and waters— plans to skip the United Arab Emirates-hosted U.N. climate summit, COP28, set to begin Thursday in Dubai.

News