No Hanoi Agreement, But Diplomacy Must Continue
WASHINGTON
In response to the Hanoi summit meeting between President Trump and Chairman Kim Jong-un ending without an agreement, Kevin Martin, President of Peace Action and Coordinator of the Korea Peace Network, released the following statement:
"It's unfortunate that the Hanoi Summit did not lead to an agreement, however, failure to reach an agreement should not be taken as a sign that diplomacy is not working. Diplomacy has done far more to advance the security of the U.S. and the Korean Peninsula than economic coercion and threats of military force. Diplomacy takes time and obviously much more work remains to be done. Members of Congress can help guide the process in a more productive direction moving forward by supporting Rep. Ro Khanna's new legislation calling for the signing of a peace agreement and other important steps to advance the goals of peace and a denuclearized Korean Peninsula."
Peace Action is the United States' largest peace and disarmament organization with over 100,000 members and nearly 100 chapters in 34 states, works to achieve the abolition of nuclear weapons, promote government spending priorities that support human needs and encourage real security through international cooperation and human rights.
LATEST NEWS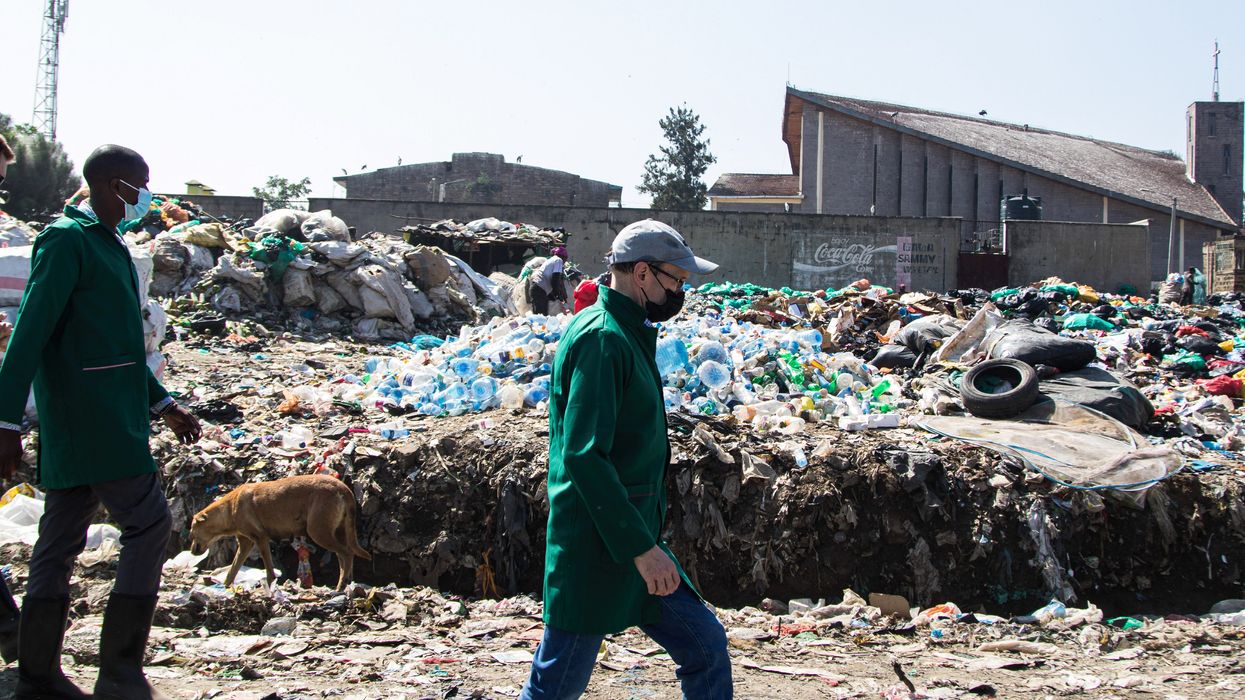 "Plastic directly harms each of the 8.1 billion people on this fragile planet, but our leaders have effectively chosen to treat petrochemical companies as the only stakeholders worth listening to."

United Nations talks over a proposed global plastics treaty ended Sunday with little concrete progress toward an agreement to curb the production, use, and waste of the polluting material after lobbyists for the fossil fuel and petrochemical industries showed up in force to prevent a breakthrough.
Negotiators convened last week in Nairobi, Kenya—a capital city inundated with plastic waste—with a mandate to make headway toward a legally binding global treaty regulating plastics, the production of which is expected to triple in the next several decades in the absence of government action.
But AFPreported that "treaty terms were never really addressed, with a small number of oil-producing nations—particularly Iran, Saudi Arabia, and Russia—accused of employing stalling tactics seen at previous negotiation rounds to hinder progress."

Additionally, as the Center for Biological Diversitynoted, the United States' delegation "has not made any firm public commitments to push for measures that curb plastic production." The United States generates the second-most amount of plastic waste per year behind China.
Critical roadblocks to progress are the industries that profit from plastic production, including Big Oil. Nearly all plastic is made from chemicals sourced from fossil fuels, the Center for International Environmental Law (CIEL) has estimated.
Lobbyists for the fossil fuel and petrochemical sectors—which have been pressuring negotiators to oppose a deal that limits plastics production—made their presence felt during the third round of plastics treaty talks since last year, when nations agreed to develop a binding plastics treaty by 2024.
According to a CIEL analysis released last week, at least 143 fossil fuel and chemical industry lobbyists registered to attend the latest session of talks in Nairobi, outnumbering the delegations of the 70 smallest countries combined.

"The results this week are no accident," David Azoulay, Program Director for Environmental Health at CIEL, said Sunday. "Progress on plastics will be impossible if member states do not confront and address the fundamental reality of industry influence in this process."
"We need to find a way forward without oil and gas producers dictating the terms of our survival."
CIEL accused many countries, including the U.S., of attempting to water down calls for an ambitious agreement to rein in plastics pollution and trying to gum up the works with procedural maneuvers. Talks are set to resume in Ottawa, Canada in April 2024.
More than 68 million tons of plastic are expected to end up in the environment worldwide this year as waste continues to grow, polluting communities, waterways, and oceans—a major threat to critical ecosystems and public health.

Graham Forbes, Greenpeace's head of delegation to the plastics treaty talks, said Sunday that any viable global agreement "must reduce plastic production by at least 75% by 2040."
"Plastic directly harms each of the 8.1 billion people on this fragile planet, but our leaders have effectively chosen to treat petrochemical companies as the only stakeholders worth listening to," said Forbes. "Governments are allowing fossil fuel interests to drive the negotiations towards a treaty that will absolutely, without question, make the plastic problem worse and accelerate runaway climate change."
"We need to find a way forward without oil and gas producers dictating the terms of our survival. We have one year to turn this around, and to ensure that we are celebrating our collective success instead of dooming ourselves to a dark and dangerous future."
News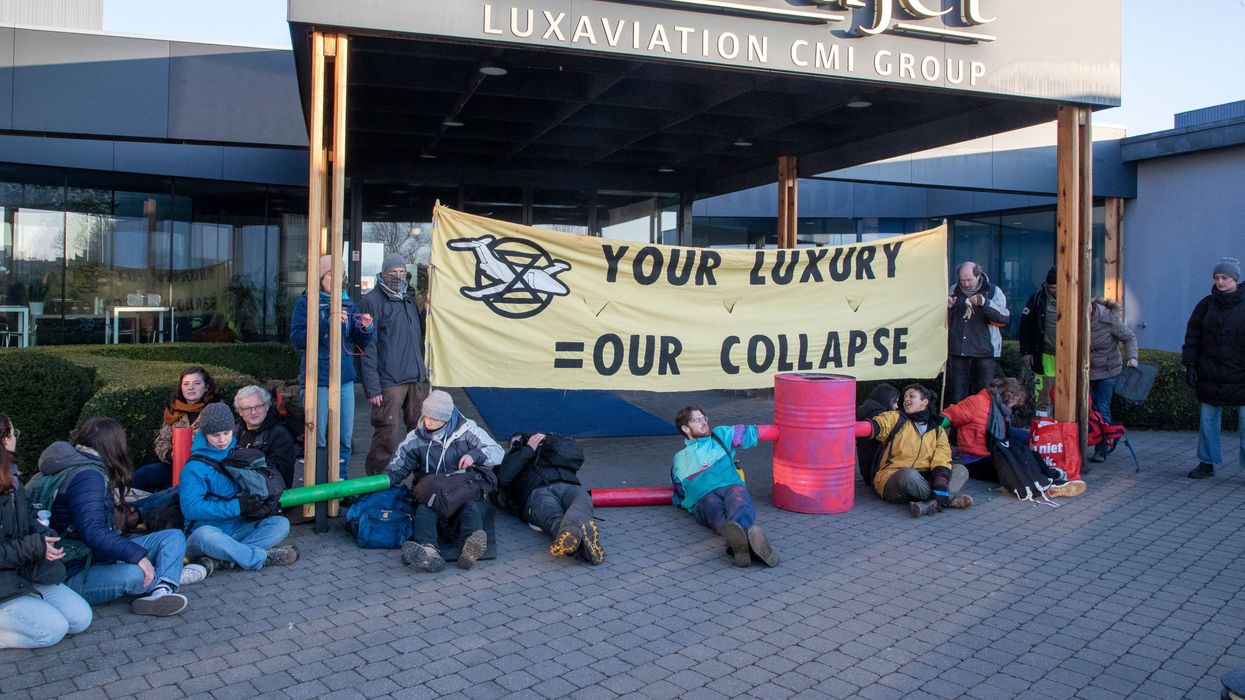 "The super-rich are plundering and polluting the planet to the point of destruction and it is those who can least afford it who are paying the highest price."
The richest 1% of the global population produced 16% of the world's carbon dioxide in 2019, generating as much planet-warming pollution as the poorest two-thirds of humanity, according to a report released Monday by Oxfam International.
Climate Equality: A Planet for the 99% describes the fossil fuel-driven climate emergency and runaway inequality as "twin crises" that are leaving those least responsible for planetary breakdown to bear the worst consequences, from catastrophic extreme weather to food and water shortages.

"If no action is taken, the richest will continue to burn through the carbon we have left to use while keeping the global temperature below the safe limit of 1.5°C, destroying any chance of ending poverty and ensuring equality," the report warns. "The world needs an equal transformation. Only a radical reduction in inequality, transformative climate action and fundamentally shifting our economic goals as a society can save our planet while ensuring wellbeing for all."

Using the latest available emissions data from the Stockholm Environment Institute, Oxfam calculated that it would take roughly 1,500 years for a person in the bottom 99% to produce as much CO2 pollution as the world's top billionaires create in a year. The annual emissions of the global super-rich cancel out the emissions-reduction impact of nearly a million onshore wind turbines, according to the report.

The report also estimates that the emissions of the top 1% in 2019 will cause 1.3 million heat-related excess deaths in the coming decades, with most of the deaths occurring in the current decade.
Oxfam noted that transportation is far and away the largest source of pollution from the ultra-rich, whose private jets, yachts, and fleets of gas-guzzling cars are highly carbon-intensive. Experts at Indiana University estimated in 2021 that a "superyacht" emits more than 7,000 tons of CO2 per year.

Climate activists have also increasingly targeted private jet travel as a key source of luxury emissions. Oxfam observed in its new report that "a short trip on a private jet will produce more carbon than the average person emits all year."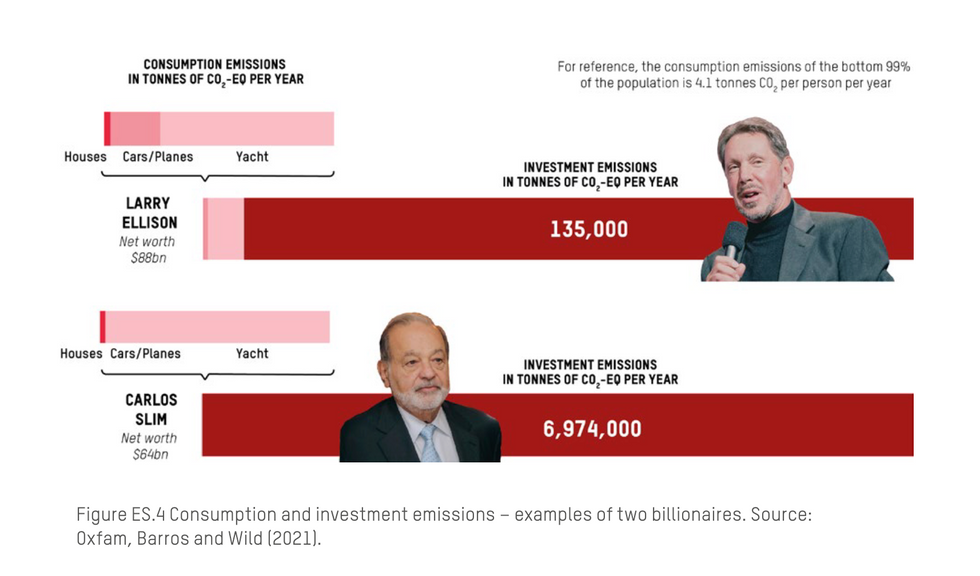 The report comes in the wake of news from the World Meteorological Organization that global greenhouse gas concentrations reached an all-time high once again last year, underscoring the need for dramatic action to curb fossil fuel use and transition to renewable energy.
Chiara Liguori, Oxfam's senior climate justice policy adviser, said in a statement that "the super-rich are plundering and polluting the planet to the point of destruction and it is those who can least afford it who are paying the highest price."
"The huge scale of climate inequality revealed in the report highlights how the two crises are inextricably linked—fueling one another—and the urgent need to ensure the rising costs of climate change fall on those most responsible and able to pay," said Liguori.
"Governments globally, including the U.K., need to tackle the twin crises of inequality and climate change by targeting the excessive emissions of the super-rich by taxing them more," Liguori added. "This would raise much-needed revenue that could be directed to a range of vital social spending needs, including a fair switch to clean, renewable energy as well as fulfilling our international commitments to support communities who are already bearing the brunt of the climate crisis."
Oxfam's report calls on governments to pursue a "radical increase in equality" by imposing wealth taxes on the richest 1% as well as steep inheritance, land, and property taxes. The report also recommends taxing or banning private jet travel, space tourism, and other polluting luxury activities and imposing "permanent, automatic" windfall profit levies on major corporations that often take advantage of crises such as wars and pandemics.
Additionally, Oxfam urged governments to invest heavily in establishing universal programs—from healthcare to education to childcare—and transitioning away from fossil fuels. The group said that rich countries must honor their commitments to provide climate financing to poor nations facing the brunt of the climate crisis and support debt cancellation and other relief measures.
"Unless we rapidly reduce carbon emissions," the report states, "we will exhaust the amount of carbon we can emit without triggering climate breakdown within just five years."
News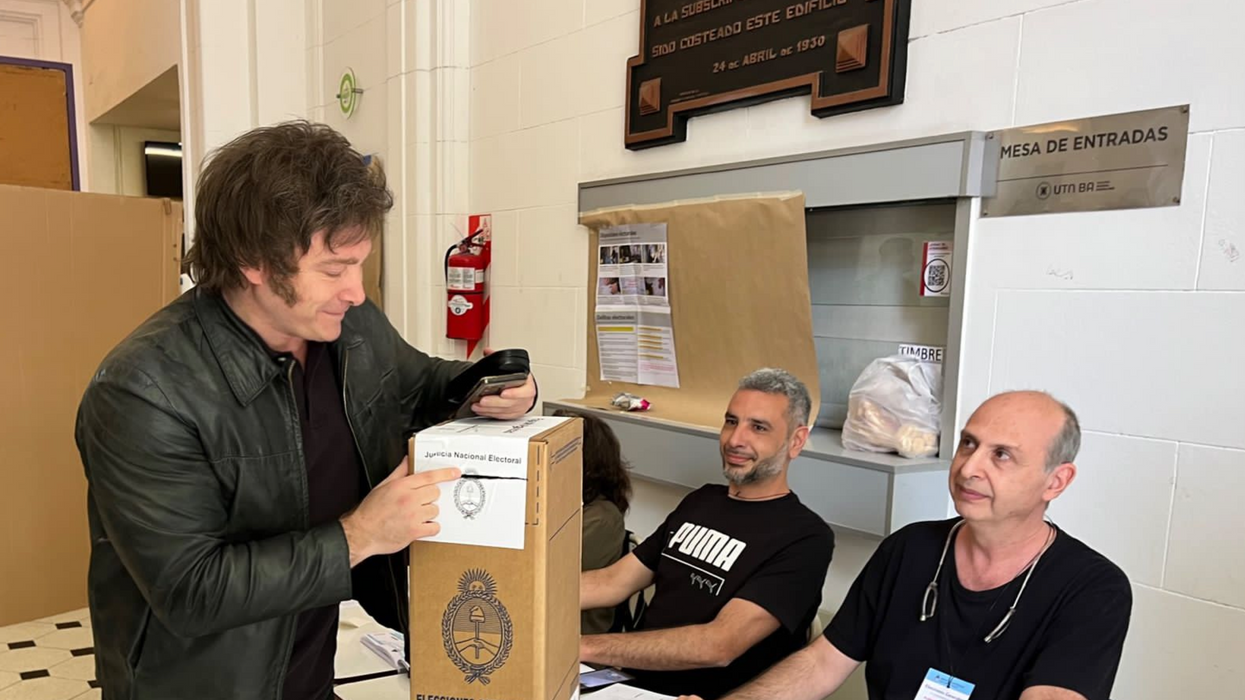 "No one so extremist on economic issues has been elected president of a South American country," said U.S. economist Mark Weisbrot.
Javier Milei—a far-right admirer of former U.S. President Donald Trump who says that climate change is a "socialist lie" and who pledged to take a "chainsaw" to social programs—will be Argentina's next president after winning a decisive victory in Sunday's runoff.
Sergio Massa, Argentina's Peronist economy minister, conceded defeat Sunday evening to the 53-year-old Milei, a radical libertarian economist often called the "Trump of Argentina" who will take office amid a looming recession, triple-digit inflation, and a nearly 40% poverty rate in Latin America's third-largest economy.
Following Massa's concession speech, Argentinian election officials said that with nearly 87% of votes tallied, Milei had 56% and Massa 44%.
Gone Sunday were the baseless allegations of voter fraud that Milei supporters said cost him the first round of the presidential contest, as well as the chainsaw he often used as a prop to show how he would eviscerate social programs.

"No one so extremist on economic issues has been elected president of a South American country," economist Mark Weisbrot, co-director of the Center for Economic and Policy Research, warned Friday.

In addition to deploring socialism for "stealing the fruits of one person's labor and giving it to someone else," Milei has asserted that "all the policies that blame humans for climate change are false" and has called abortion—which has only been legal in Argentina since 2021—"murder."
Milei, a self-described "anarcho-capitalist" libertarian, is also an advocate of same-sex marriage, transgender rights, and drug legalization.

Referring to former center-right Argentinian President Mauricio Macri—a Milei supporter—Weisbrot said that "much of the current crisis in Argentina is a result of what happened during [his] administration, including unsustainable borrowing combined with large-scale capital flight, as well as an inflation-depreciation spiral that takes on a momentum of its own."
"But a crazed, economically suicidal approach would only make things worse—and as Argentina has experienced, things can get a lot worse," he added. "Milei displays a callous disregard for most people's living standards, values, and well-being, as well as a commitment to widely discredited economic policies, that is unprecedented."
Human rights defenders have also sounded the alarm over Milei and his running mate Victoria Villarruel's open admiration for Argentina's former U.S.-backed military dictatorship, whose reign of terror and repression spanned from 1976 to 1983.
Massa unsuccessfully tried to distance himself from intensely unpopular outgoing President Alberto Fernández and Vice President Cristina Fernández de Kirchner, a former president who was convicted last year of fraud.
And so now the next president of Argentina will be a man who wants to legalize the sale of children and human organs, renounce his country's monetary sovereignty in favor of the U.S. dollar, and says he receives political advice from his dead dog.
"God help us all," wrote one anti-Trump Republican group on social media.

News