For Immediate Release
June, 24 2015, 08:30am EDT
Contact:
Jason Howe, Equality California
PHONE: 323-848-9801
CELL: 415-595-9245
EMAIL: jason@eqca.org
Jill Marcellus, Transgender Law Center
PHONE: 415-865-0176 x310
CELL: 516-313-9659
Coalition Prepared to Fight Ballot Initiative Targeting Transgender Californians
A coalition of leading lesbian, gay, bisexual and transgender (LGBT) and allied organizations has formed to battle a proposed ballot initiative targeting California's transgender community.
LOS ANGELES
A coalition of leading lesbian, gay, bisexual and transgender (LGBT) and allied organizations has formed to battle a proposed ballot initiative targeting California's transgender community.
The coalition consists of the American Civil Liberties Union of California, Equality California, the Human Rights Campaign, Los Angeles LGBT Center, the Mexican American Legal Defense and Educational Fund (MALDEF), and Transgender Law Center, as well as a steering committee of organizations representing diverse communities throughout California. Attorney General Kamala Harris today issued a title and ballot summary for the bathroom policing initiative, named "Limits on Use of Facilities in Government Buildings and Businesses," which would prohibit transgender people from using facilities in government buildings and require the government to monitor bathroom use. The law would also allow anyone offended by the presence of an individual in a restroom to sue that person for a $4,000 in damages, as well as attorney's fees.
"All Californians should have the same freedom to go about their lives and access government buildings without having their privacy invaded or being forced to undergo invasive examination simply to use a public restroom," said Kris Hayashi, Executive Director of Transgender Law Center. "The bathroom policing initiative would unfairly single out transgender people and people who don't meet stereotypes of what it looks like to be male or female for interrogation and exclusion."
"Privacy for All" is the same group that previously unsuccessfully attempted to overturn AB 1266. The group is backed by the Sacramento-based Pacific Justice Institute, a right-wing legal organization.
"Our opponents clearly have a taste for irony," said Rick Zbur, Executive Director of Equality California. "Why else would they include 'privacy' in the name of their organization that seeks to invade the most basic dignity of the transgender community - or really, of anyone who doesn't match subjective standards of masculinity or femininity? This initiative has no safeguards about who does the interrogating or how an individual would prove their identity. It's a recipe for harassment."
Right-wing activists have increasingly targeted the transgender community for discrimination, proposing a spate of bills and initiatives across the country that would prohibit transgender people from using public bathrooms and otherwise participating in public life.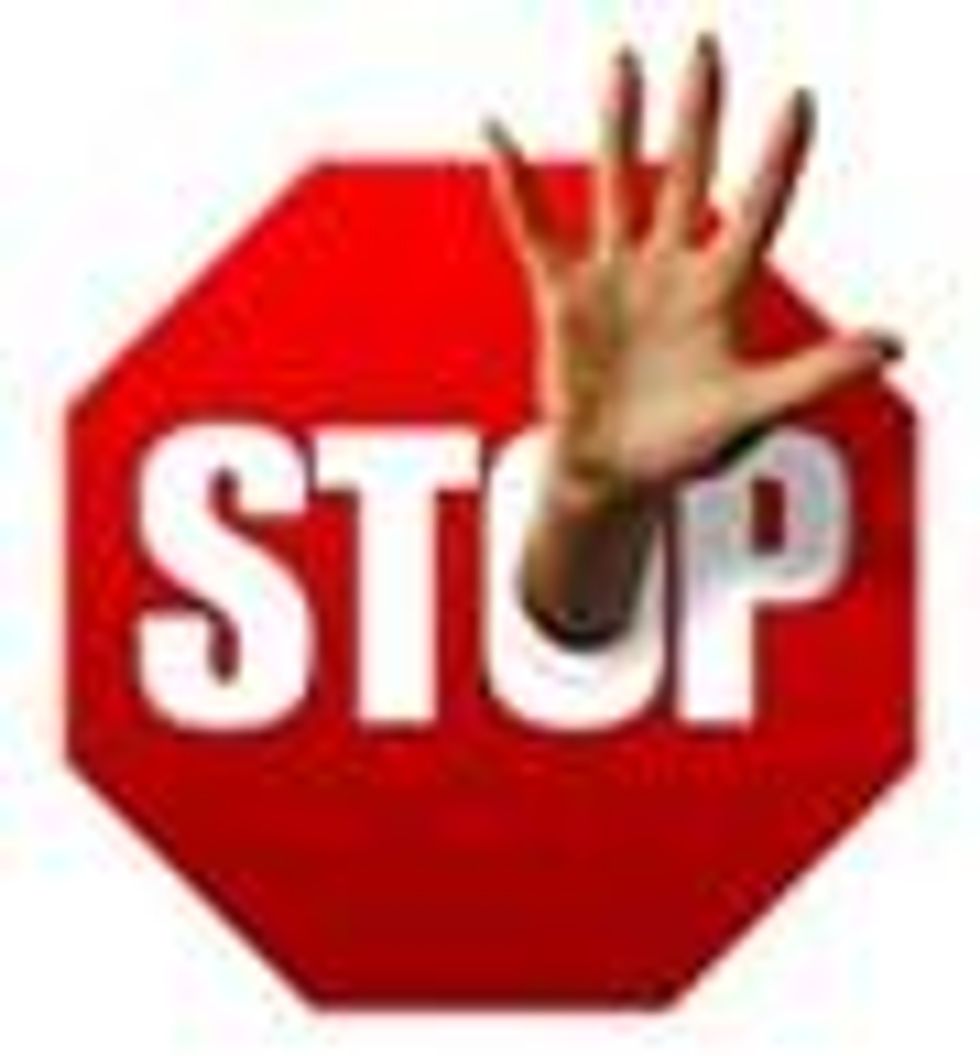 We Interrupt This Article with an Urgent Message!
Common Dreams is a not-for-profit news service. All of our content is free to you - no subscriptions; no ads. We are funded by donations from our readers.

Our critical Mid-Year fundraiser is going very slowly - only 1,024 readers have contributed so far. We must meet our goal before we can end this fundraising campaign and get back to focusing on what we do best.
If you support Common Dreams and you want us to survive, we need you now.
Please make a tax-deductible gift to our Mid-Year Fundraiser now!
The bathroom policing initiative goes even farther than efforts in other states or previous California ballot proposals, potentially allowing anyone to sue an individual whose gender expression they found offensive in a restroom. Government analysts say the measure could cost California millions of dollars every year in legal expenses and lost federal funding.
The initiative also includes language authorizing businesses to exclude individuals from facilities for not looking masculine or feminine enough, and preventing individuals from bringing legal action to enforce discrimination laws. The provision in effect could lead to exclusion based on gender altogether from facilities in those establishments with no legal recourse.
Backers of the initiative now may begin collecting the 365,880 signatures needed to place the proposal on the 2016 ballot.
Equality California is a nonprofit, nonpartisan, grassroots-based, statewide advocacy organization whose mission is to achieve equality and civil rights for all lesbian, gay, bisexual and transgender (LGBT) Californians.
LATEST NEWS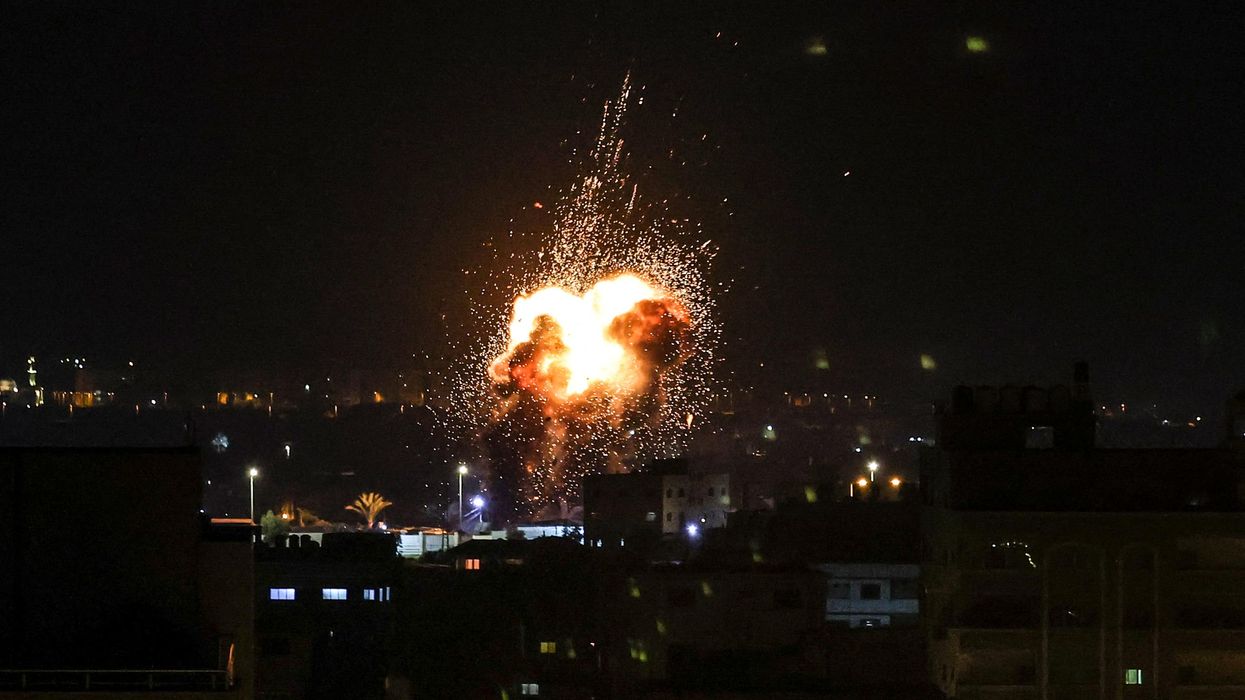 "Israel's horrific colonial violence must end," said the U.S. Campaign for Palestinian Rights.
Israeli forces launched their latest bombing campaign in the occupied Gaza Strip early Friday morning just hours after killing at least nine Palestinians in a raid on a West Bank refugee camp—resulting in the deadliest single day in the besieged territory in more than a year.
The airstrikes came after the Israeli army said two rockets fired from Gaza were intercepted by Israel's missile defense system.
No injuries or deaths have been reported from the Israeli strikes as of this writing, but Al Jazeeranoted that the country's warplanes hit the al-Maghazi refugee camp in the center of Gaza with its early Friday bombing, which caused infrastructure damage and power outages.
At least 14 missiles were fired by Israeli fighter jets Friday morning.
"We didn't sleep the whole night, bombing and missiles," 50-year-old Gaza resident Abdallah Al-Husary toldReuters. "There is worry and there is fear, any minute a war can happen. With any clash in the West Bank, there can be war along the borders in Gaza."
Israeli forces have killed at least 30 Palestinians so far this year under the far-right government of Prime Minister Benjamin Netanyahu, who has elevated virulently anti-Palestinian figures to top posts, including national security minister.
Last year, according to data gathered by Middle East Eye, Israeli forces killed more Palestinians in the West Bank—at least 220 people—than in any year since the Second Intifada.

"Israel's horrific colonial violence must end," the U.S. Campaign for Palestinian Rights said in response to the fresh round of bombing.
Friday's attack on Gaza could be the first of many to come, Israeli Defense Minister Yoav Gallant suggested Friday. As the Associated Pressreported, Gallant "instructed the military to prepare for new strikes in the Gaza Strip 'if necessary.'"

The burst of violence by the Israeli military drew a muted international response.
According toAl Jazeera, the United Arab Emirates, China, and France have requested a closed-door United Nations Security Council meeting on Friday to discuss the situation.
"While Palestinian deaths mount, the international response to Israel's violations consists of little more than timid condemnation at best, and unconditional support at worst."
Vedant Patel, a spokesperson for the U.S. State Department, said during a press briefing Thursday that the Biden administration is "deeply concerned by the escalating cycle of violence in the West Bank."
"I want to underscore the urgent need for all parties to de-escalate, to prevent further loss of civilian life, and to work together to improve the security situation in the West Bank," Patel added. "Palestinians and Israelis equally deserve to live safely and securely."
Following the deadly Israeli raid on the Jenin refugee camp, the Palestinian Authority suspended a security cooperation agreement with Israel.
U.S. Secretary of State Antony Blinken is scheduled to visit the Middle East starting Sunday, with planned trips to Egypt, Israel, and the West Bank. Axiosreported that CIA Director Bill Burns "arrived in Tel Aviv on Thursday for visits to Israel and the occupied West Bank, where he is expected to meet Israeli and Palestinian leaders and his counterparts on both sides."
Philip Luther, Middle East and North Africa research and advocacy director at Amnesty International, condemned the international community for continually refusing to act in the face of Israel's unending violence against Palestinians.
"For almost a year, Jenin refugee camp has been at the center of Israel's escalating military crackdown," Luther said in a statement Thursday. "Palestinian journalist Shireen Abu Akleh was shot dead in the camp last May, and its residents continue to be subjected to relentless military raids which amount to collective punishment."
"Meanwhile, Israel continues to enjoy total impunity for the system of apartheid it imposes on Palestinians—a system which is partly maintained through violations like unlawful killings," Luther added. "While Palestinian deaths mount, the international response to Israel's violations consists of little more than timid condemnation at best, and unconditional support at worst. Today's bloodshed is a reminder of the cost of this shameful inaction—until there is accountability, deadly attacks against Palestinians across the occupied Palestinian territories will continue."
News
"Chevron should not be doing $75 billion in stock buybacks while price gouging American families and accelerating the climate crisis," said one critic.
Climate and consumer advocates reacted angrily Thursday to Chevron's announcement of a planned $75 billion stock buyback amid record profits and a worsening planetary emergency exacerbated by the continued extraction and burning of fossil fuels.
California-based Chevron said Wednesday it would start buying back shares on April 1, and that the new repurchase will be three times the size of the last one, which began in 2019. Bloombergnotes that the new buyback is equivalent to nearly a quarter of Chevron's market value.

"Companies like Chevron are doing absolutely massive stock buybacks after price gouging working families for over a year," tweeted Pennsylvania state Rep. Malcolm Kenyatta (D-181). "Then these same companies will come back hat-in-hand begging for more tax breaks and tax cuts."
Brian Vickers, a business administration professor at Northeastern State University in Oklahoma, tweeted, "I kept saying gas price increases were straight-up price gouging and not indicative of the price of oil, and here's all the proof I was right."
\u201cAfter decimating Indigenous groups in the Amazon and evading a $9.5 billion pollution judgement in Ecuador, @Chevron is now reporting a $75 billion buyback of its own stock. How the rich get richer while the poor die.\n\nThis company should lose its license to operate.\u201d

— Steven Donziger (@Steven Donziger) 1674760480
The Biden administration—which despite a worsening climate emergency has been pressing oil companies to increase production to keep gas prices down—denounced Chevron's planned buyback.

"For a company that claimed not too long ago that it was 'working hard' to increase oil production, handing out $75 billion to executives and wealthy shareholders sure is an odd way to show it," White House spokesperson Abdullah Hasan said in response to news of the buyback.
Thursday's announcement came as Chevron, BP, ExxonMobil, Shell, and TotalEnergies are set to announce a record $199 billion in collective 2022 profits, 50% higher than the previous record set over a decade ago, according to Bloomberg.
\u201cNEWSFLASH: Chevron should not be doing *$75 BILLION* in stock buybacks while price gouging American families and accelerating the climate crisis.\u201d

— Climate Power (@Climate Power) 1674755389
Chevron's $11.2 billion third-quarter profit last year was its second-highest on record and nearly double the $6.1 billion it reported during the same period in 2021.
Reacting to Chevron's impending buyback, biogeochemist and Earth sciences professor Gabriel Filippelli said "so much is wrong about this."
"Record profits for Chevron and the [Biden] administration is mad that they don't pump that into more drilling?" he asked. "They should pump it into more renewables and a real divestment strategy to stop producing their deadly product."
On Wednesday, U.S. Sens. Catherine Cortez Masto (D-Nev.) and Ben Ray Luján (D-N.M.) reintroduced the Fair and Transparent Gas Prices Act, which the lawmakers argue "would give the Federal Trade Commission the tools it needs to investigate unfair practices, provide market transparency, and prevent price gouging by Big Oil and gas companies."
\u201cBig Oil is making record profits, while Nevadans still have some of the highest gas prices in the country. I see it every time I fill up my tank.\n\nMy bill will investigate Big Oil for price gouging and work to stop any unfair practices hurting Nevadans.\nhttps://t.co/bT3Qv1m5kx\u201d

— Senator Cortez Masto (@Senator Cortez Masto) 1674745500
Last March, Rep. Ro Khanna (D-Calif.) introduced legislation that would tax excess oil company profits and use the proceeds to pay American households a quarterly rebate. That same month in the Senate Bernie Sanders (I-Vt.) introduced the Ending Corporate Greed Act, which would impose a 95% tax on the windfall profits of major companies.
President Joe Biden has threatened to back a windfall profits tax on Big Oil unless companies ramp up production, but has not yet done so.

News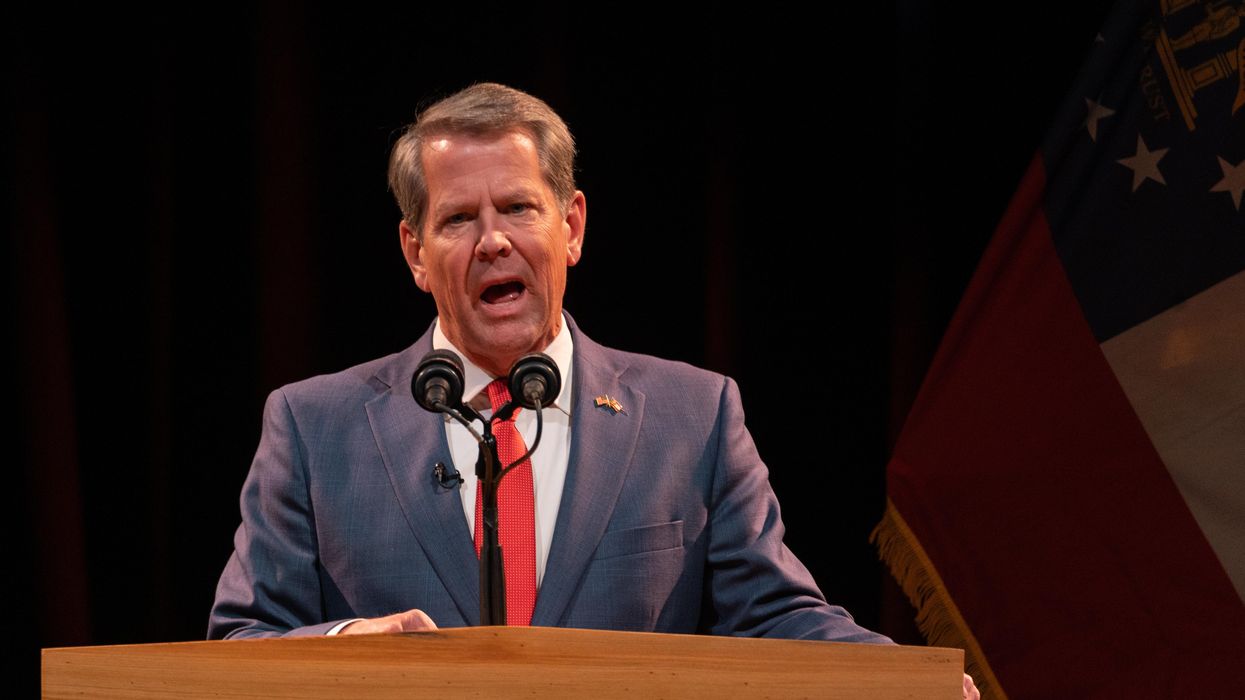 While the move comes after law enforcement in Georgia killed a "Cop City" protester, one official said it is a "purely precautionary" measure before the anticipated release of video footage from an arrest in Tennessee.

Republican Georgia Gov. Brian Kemp on Thursday signed an executive order declaring a state of emergency through at least February 9 that will enable him to deploy up to 1,000 National Guard troops "as necessary."
The order follows protests in Atlanta after 26-year-old forest defender Manuel "Tortuguita" Teran was shot dead last week during a multi-agency raid on an encampment to oppose construction of Cop City, a nearby law enforcement training center. The Georgia Bureau of Investigation (GBI), which is investigating the case, has said Teran was killed after he shot and wounded a state trooper.
While the order begins by stating that "protests turned violent in downtown Atlanta" last Saturday, The Atlanta Journal-Constitutionreported that Kemp's aides signaled that the move was not about the Cop City demonstrations but rather in anticipation of any potential response to video footage from Memphis, Tennessee showing the arrest of Black motorist Tyre Nichols.
\u201cGeorgia Gov. Brian Kemp is calling up to 1,000 National Guard troops & declaring a state of emergency until Feb 9, a week after police killed forest defender Tortuguita. 12 Cop City opponents were charged with domestic terrorism since. Tomorrow the Tyre Nichols video comes out.\u201d

— Alleen Brown (@Alleen Brown) 1674766682
As Common Dreamsreported earlier Thursday, five fired Memphis cops were charged with second-degree murder and other crimes related to Nichols' death. Footage of the 29-year-old's arrest is expected to be released sometime after 6:00 pm local time on Friday.
"We understand the executive order is purely precautionary based on possible unrest following the release of the videos from Memphis," an official in Georgia with direct knowledge of the situation told the AJC. "There are no immediate intentions to deploy the guard."
The Atlanta Police Department also mentioned the Memphis case in a statement Thursday:
We are closely monitoring the events in Memphis and are prepared to support peaceful protests in our city. We understand and share in the outrage surrounding the death of Tyre Nichols. Police officers are expected to conduct themselves in a compassionate, competent, and constitutional manner and these officers failed Tyre, their communities, and their profession. We ask that demonstrations be safe and peaceful.
In a series of tweets Thursday, the Atlanta Community Press Collective named several people killed by law enforcement in recent years and suggested that Kemp's order is about "trying to instill fear in anyone who stands up against police brutality."
\u201cKemp's declaration of a State of Emergency isn't about property damage at Saturday's protests at all. It's about police murdering #TyreNichols and Tortuguita within two weeks of each other. They're trying to instill fear in anyone who stands up against police brutality.\u201d

— Atlanta Community Press Collective (@Atlanta Community Press Collective) 1674764329
Meanwhile, national groups and progressive lawmakers have echoed local demands for an independent probe in Teran's case.
The Georgia Bureau of Investigation has highlighted that it is separate from the Georgia State Patrol and said that GBI "is conducting an independent investigation," after which it will "turn the investigative file over to the prosecutor." The agency noted Wednesday that DeKalb County District Attorney Sherry Boston has recused herself from the case so a special prosecutor will be assigned.
Some have pushed back against the "police narrative" that the "corporate media has ran away with" for Teran's case, as forest defender Kamau Franklin toldDemocracy Now! last week, adding that "we find it less than likely that the police version of events is what really happened."
"And that's why we're calling for an independent investigation, not one that's done by the Georgia Bureau of Investigation, not one that's done by any federal authority, but a complete independent investigation," Franklin said, "because that's the only way we're going to know what really happened."
Rights & Justice
SUPPORT OUR WORK.
We are independent, non-profit, advertising-free and 100%
reader supported.