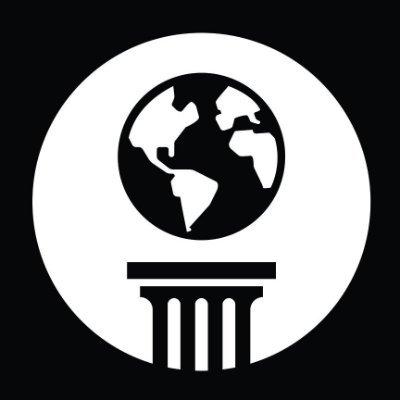 For Immediate Release
Contact:
Raviya Ismail, Earthjustice, (202) 745-5221
Both Houses Partner and Release Climate Legislation Discussion Draft
Rep. Waxman, Sen. Whitehouse, Rep. Blumenauer and Sen. Schatz leading the charge on addressing climate crisis
WASHINGTON
Today Rep. Henry Waxman (D-CA), Sen. Sheldon Whitehouse (D-RI), Rep. Earl Blumenauer (D-OR) and Sen. Brian Schatz (D-HI) released a discussion draft of climate legislation that would put a price on carbon pollution.
The following is a statement from Sarah Saylor, Senior Legislative Representative for Earthjustice:
"We welcome this discussion draft from environmental leaders Rep. Waxman, Sen. Whitehouse, Rep. Earl Blumenauer and Sen. Schatz.
"We look forward to the further development of these ideas and adding our thoughts to the conversation. We hope that more members of Congress will come to take the threat of climate change as seriously as these leaders do."
Earthjustice is a non-profit public interest law firm dedicated to protecting the magnificent places, natural resources, and wildlife of this earth, and to defending the right of all people to a healthy environment. We bring about far-reaching change by enforcing and strengthening environmental laws on behalf of hundreds of organizations, coalitions and communities.
800-584-6460
LATEST NEWS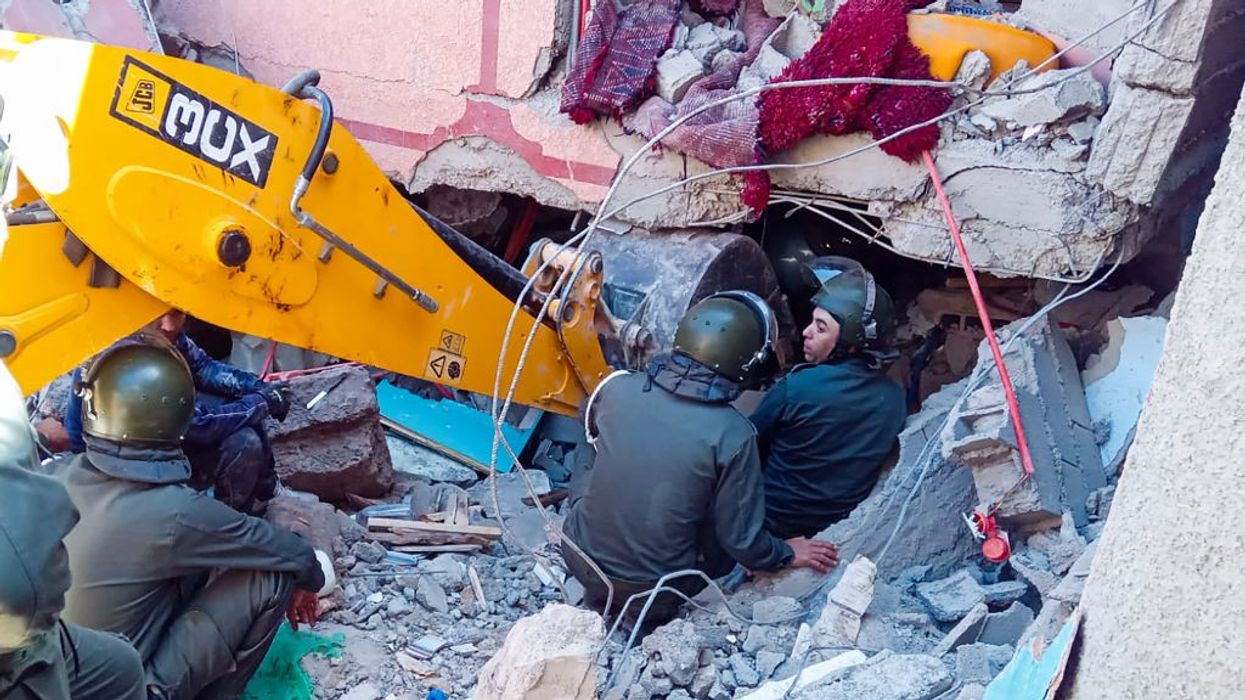 Death toll expected to climb as emergency workers search for survivors in Marrakesh and other impacted villages and cities.
The strongest earthquake to hit the country of Morocco in more than 120 years has left over 800 people dead and many thousands more trapped, missing, or injured.
The quake registered 6.8 on the Richter scale with the epicenter located in the Atlas Mountains and not far the city of Marrakesh where historic buildings—many built of mortar and stone not designed to withstand such tremors—collapsed and the streets filled with people overnight trying to flee the destruction and danger.
"The problem is that where destructive earthquakes are rare, buildings are simply not constructed robustly enough to cope with strong ground shaking, so many collapse resulting in high casualties," Bill McGuire, professor emeritus of geophysical and climate hazards at University College London, told the Associated Press. "I would expect the final death toll to climb into the thousands once more is known. As with any big quake, aftershocks are likely, which will lead to further casualties and hinder search and rescue."
Morocco's interior ministry put the initial death toll at 822 as of Saturday morning, with 672 injured, but both numbers are certain to rise. Though the stronger impacts were closer to Marakesh, the earthquake was felt across the country, including in Casablance, Essaouira, and the capital city of Rabat.
Large nations, including both the United States and China, sent their well wishes to the people of Morocco.
"I am deeply saddened by the loss of life and devastation caused by the earthquake in Morocco," said U.S. President Joe Biden in an overnight statement. "Our thoughts and prayers are with all those impacted by this terrible hardship."
Biden said his administration as in contact with Moroccan officials and willing to send whatever help might be necessary. "We are working expeditiously to ensure American citizens in Morocco are safe," Biden said, "and stand ready to provide any necessary assistance for the Moroccan people."
"On behalf of the Chinese government and people, I would like to express my deep grief for the victims and sincere condolences to the families," said China's President Xi Jinping.
Dr. Mohammad Kashani, associate professor of structural and earthquake engineering at the University of Southampton, spoke with the Guardian to offer his analysis of the disaster.
"The earthquake was magnitude 6.8 with 18.5km depth, which is quite shallow," explained Kashani. "The shallow earthquakes are normally more destructive. The location is at the boundary of the Eurasian and African plates. Almost all earthquakes occur at the boundary of tectonic plates due to their movement."
"It is too early to see the extent of damage," he continued. "However, from what I've seen in photos and videos this very similar to the earthquake that occurred in February in Turkey. The area is full of old and historical buildings, which are mainly masonry. The collapsed reinforced concrete structures that I saw in the photos were either old or substandard."
News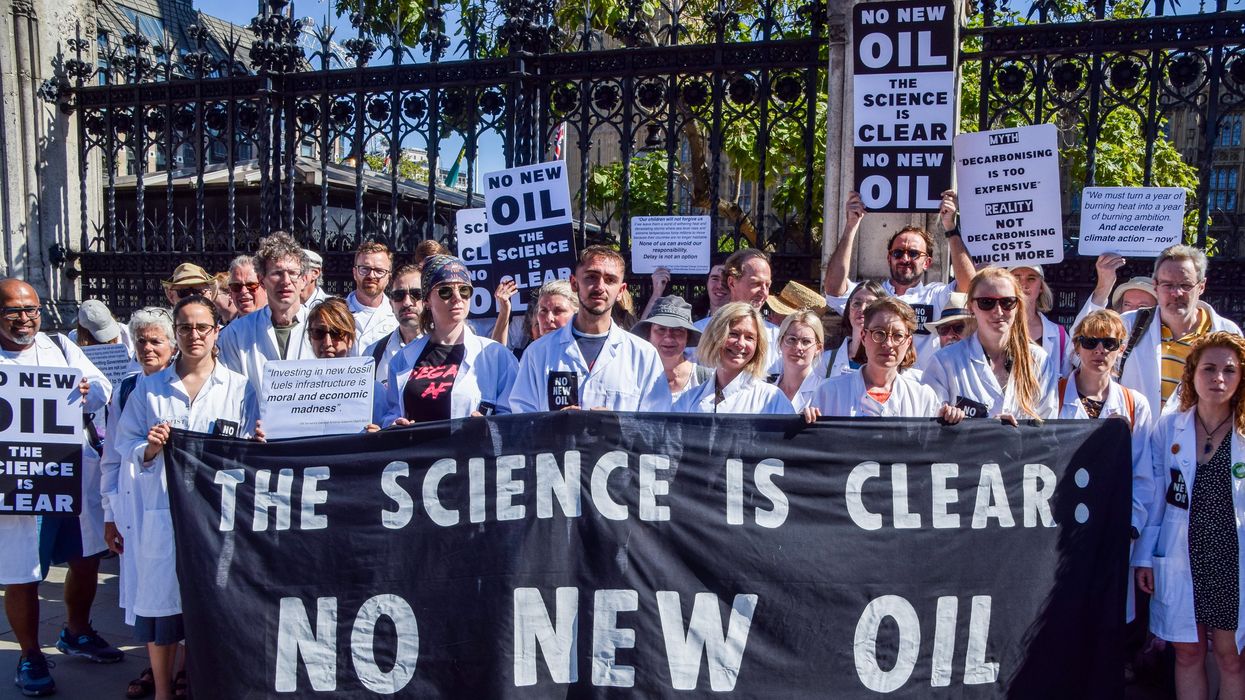 "This report is a wake-up call to the injustice of the climate crisis and a pivotal opportunity to correct course," said one expert.
"The United Nations' polite prose glosses over what is a truly damning report card for global climate efforts. Carbon emissions? Still climbing. Rich countries' finance commitments? Delinquent. Adaptation support? Lagging woefully behind."
That's how Ani Dasgupta, president and CEO of the World Resources Institute, began his response to a "global stocktake" report released Friday by the U.N. Framework Convention on Climate Change (UNFCCC) ahead of two global summits.

"This report is a wake-up call to the injustice of the climate crisis and a pivotal opportunity to correct course," Dasgupta continued. "We already knew the world is failing to meet its climate goals, but leaders now have a concrete blueprint underpinned by a mountain of evidence for how to get the job done."
"There are a few bright spots worth celebrating," he noted. "But overall, the report finds there are more gaps than progress—gaps that can only be erased by transformational change across systems like energy, food, land, and transport. The future of our planet depends on whether national leaders use this stark assessment as a catalyst for bold systems transformation."
"This report makes clear that President Biden is squandering precious time every second he fails to take bold action on fossil fuels."

The UNFCCC report comes nearly eight years after countries finalized the Paris climate agreement, which aims to keep global temperature rise this century below 2°C, relative to preindustrial levels, with a more ambitious target of 1.5°C.

"The global stocktake was designed under the Paris agreement to assess our global response to the climate crisis and chart a better way forward," the UNFCCC explained Friday. "The global stocktake is held every five years and is intended to inform the next round of nationally determined contributions to be put forward by 2025."
Data collection began in 2021, ultimately resulting in more than 170,000 pages of written submissions and over 252 hours of meetings and discussions. The new synthesis report summarizes 17 key technical findings from the discussions.
"I urge governments to carefully study the findings of the report and ultimately understand what it means for them and the ambitious action they must take next," said U.N. Climate Change Executive Secretary Simon Stiell. "It's the same for businesses, communities, and other key stakeholders. While the catalytic role of the Paris agreement and the multilateral process will remain vital in the coming years, the global stocktake is a critical moment for greater ambition and accelerating action."
As University College London professor of climatology Mark Maslin explained, the report "makes it clear that the Paris agreement was a game-changer" but also countries' greenhouse gas (GHG) emission reduction pledges are not in line with the 1.5°C target.
"The U.N. estimates that... we need to reduce global GHG emissions by 43% by 2030 and further by 60% by 2035 compared to 2019 levels and reach net-zero [carbon dioxide] emissions by 2050 globally," Maslin summarized. "This is a huge ask given that greenhouse gas emissions were at their highest level ever in 2022."
"All the technology exists to undergo the net-zero transformation but the huge increases in renewables, [electric vehicles], and batteries [have] to be even more rapid to make the huge cuts suggested by the U.N.—estimates are we need everything to happen five times faster," he added.
The UNFCCC publication was released in preparation for the U.N. Climate Change Conference (COP28)—scheduled for November and December in Dubai, United Arab Emirates—where the first global stocktake will conclude.
"This global stocktake report provides clear direction on how we can meet the expectations of the Paris agreement by taking decisive action in this critical decade," said COP28 President-Designate Sultan Al Jaber—whose selection for the summit post is controversial because he also heads the UAE's Abu Dhabi National Oil Company. "We must urgently disrupt business as usual and unite like never before to move from ambition to action and from rhetoric to real results."
The report also comes just ahead of U.N. Secretary-General António Guterres' Climate Ambition Summit scheduled to begin on September 20 in New York City. In response, activists have planned the March to End Fossil Fuels on September 17.
Organizers of the NYC march are calling on U.S. President Joe Biden to stop federal approvals for new fossil fuel projects and repeal permits for "climate bombs" like the Willow project and the Mountain Valley Pipeline; phase out oil and gas drilling on public lands and waters; declare a climate emergency; and provide a just transition.

Advocacy groups supporting the march issued fresh demands for action on Friday in response to the UNFCCC publication.

"This report makes clear that President Biden is squandering precious time every second he fails to take bold action on fossil fuels," said the Center for Biological Diversity's Jean Su, who previously authored a document detailing how an emergency declaration would empower the administration to tackle the climate crisis. "Every day we're seeing and feeling the harms of fossil-fueled climate change from extreme heat to deadly wildfires and devastating floods."
"As leader of the world's largest oil and gas producer, Biden has more power than anyone to stop expanding the fossil fuels driving this deadly crisis," Su added. "Ahead of the U.N.'s Climate Ambition Summit, thousands of people will be in the streets of New York on September 17 for the March to End Fossil Fuels. This is the perfect opportunity for Biden to declare a climate emergency, use all his executive powers to phase out fossil fuels, and finally secure a legacy as a climate leader."
"We need the biggest players to use their power to avert climate chaos, and to flex their muscle to protect human life rather than protecting corporate polluters."

Greenpeace International policy coordinator Kaisa Kosonen on Friday called out governments across the globe, declaring that "our house is burning down and the people with the power to save us are still sipping coffee pretending it's not happening."
"No government can claim they didn't know how to fix the climate problem," she said. "They've been thrown a lifesaver again and again by scientists, and now we have this report. What the world is waiting for is action; leadership. We need the biggest players to use their power to avert climate chaos, and to flex their muscle to protect human life rather than protecting corporate polluters."
Looking toward COP28, Kosonen argued that "at this year's U.N. climate summit, governments must agree to end the use of oil, gas, and coal in a fast and fair way and make the polluters pay. Leaders can no longer smile and claim they support the Paris agreement and its 1.5°C warming limit, if they fail to give fossil fuels an end date and continue their expansion."
"The solutions are ready—renewables are now the cheapest power source—but we've got to push the fossil fuel industry out of the way," she stressed. "Fossil fuel corporations are holding us hostage, but their time's up."
The UNFCCC report and resulting calls for action follow a series of scientific findings throughout the week that also generated demands for a swift end to fossil fuels, including that Antarctica is warming more quickly than models project, this summer is the hottest on record, and last year greenhouse gas concentrations, global sea level, and ocean heat content all hit record highs.

News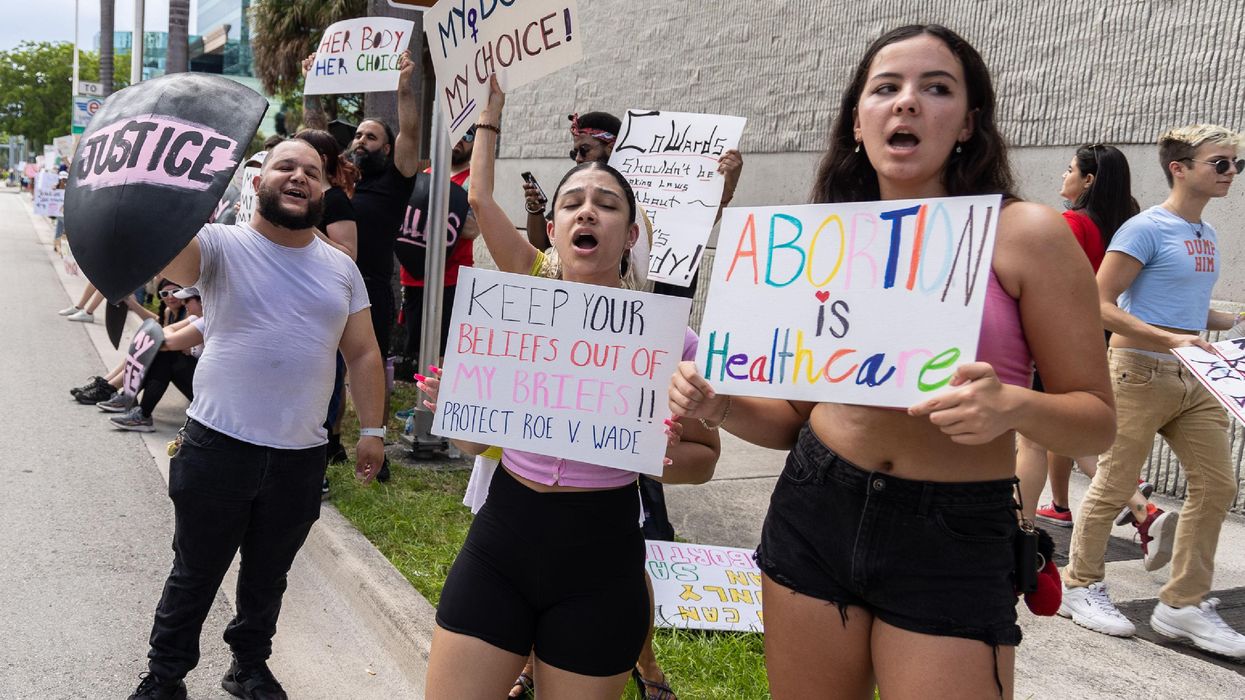 "The people of Florida have said over and over that their right to control their own bodies and make their own healthcare decisions should remain a protected right in the Florida Constitution," said one advocate.
Abortion providers and reproductive rights advocates demanded that that Florida Supreme Court consider "the will and the well-being of the people" in the state on Friday as an attorney for the ACLU argued before the court that it should block the 15-week abortion ban signed into law by Republican Gov. Ron DeSantis last year.
The court heard oral arguments in Planned Parenthood of Southwest and Central Florida, et al. v. State of Florida, et al., in which the reproductive rights organization has argued that the 15-week ban—as well as a six-week ban signed by DeSantis earlier this year, which would go into effect if the current law is upheld—violates the state constitution.

Whitney White, staff attorney for the ACLU Reproductive Freedom Project, represented the plaintiffs and argued before the court that Floridians have repeatedly affirmed that the right to obtain abortion care is protected by the the state constitution's privacy clause, which was added to the document via a referendum in 1980.

"In 2012," noted the ACLU, "voters overwhelmingly rejected Amendment 6, which would have taken those abortion protections away."

The group argued that the language in the constitution and those votes—along with a poll taken last year that showed two-thirds of Floridians support abortion rights—demonstrate that the Supreme Court must block House Bill 5, the 15-week ban.
In court, White said that for more than a year, H.B. 5 has been "violating fundamental rights and subjecting pregnant Floridians to serious and unnecessary risks to their health and indeed their lives."
"Now the state is asking this court not only to allow these harms to continue, but to in fact hold that there is no protection for abortion under the Florida Constitution whatsoever, and indeed hold that there is no protection for any decisional privacy rights at all," she said.
She told the justices that doctors across the state "are finding their hands tied by H.B. 5, and it is forcing them to wait for patients who are experiencing treatable medical pregnancy complications to deteriorate to the point of, for example, experiencing life-threatening conditions like sepsis before providers can intervene and feel confident that they can provide care."
"In another case," White said, "a provider was forced to deny care to a 14-year-old rape survivor—a child who had already been traumatized by the assault and now had to bare the additional trauma of continuing a pregnancy against her will."
"These injustices have been ongoing for a year, and if this court doesn't step in now there's an even more dangerous six-week ban waiting in the wings," she continued.
By sharing the stories of doctors and patients while defending a viewpoint held by the majority of the Florida population, White brought "the people's voice" to the state Supreme Court, said Stephanie Fraim, president and CEO of Planned Parenthood of Southwest and Central Florida.
"Across the state, Floridians are outraged that the government continues to interfere in their personal medical decisions," said Fraim. "The people of Florida have said over and over that their right to control their own bodies and make their own healthcare decisions should remain a protected right in the Florida Constitution. Moreover, the Florida Supreme Court must respect the decades of precedent that make this law clearly unconstitutional. Floridians understand that this ban is a gross overreach into their lives, and they will not stand for it. We will continue to fight for our reproductive rights through all possible avenues."
DeSantis—who is also running for the GOP's presidential nomination in 2024—appointed five of the seven justices to the Florida Supreme Court; only one justice was appointed by a Democratic governor. During the oral arguments, Chief Justice Carlos Muniz referred to Roe v. Wade at one point as "an abomination."
Considering the makeup of the court, abortion rights advocates have expressed fear that the justices are likely to uphold H.B. 5 and allow a six-week ban to be enforced, which would put abortion almost entirely out of reach across the Southeast, remaining legal only before 12 weeks of pregnancy in North Carolina and six weeks, before many people know they're pregnant, in Florida, Georgia, and South Carolina.
Like advocates in states including Arizona and Nebraska, rights groups in Florida are working to place a referendum on abortion access on 2024 election ballots.
"Florida prides itself on individual freedom without government interference and abortion bans directly contradict who we are," said Kelly Flynn, president and CEO of A Woman's Choice of Jacksonville. "This 15-week abortion ban undermines the care we provide to patients who come to our clinic, often under complex and difficult circumstances. Many patients in Florida aren't able to receive an abortion by 15 weeks, let alone six weeks, due to financial obstacles, logistical hurdles, and navigating overlapping policies designed to make it harder to provide and access care."
"We remain committed to providing abortion care to Floridians," said Flynn, "and attaining abortion justice for all."
News
Independent, nonprofit journalism needs your help.
Please Pitch In
Today!