For Immediate Release
November, 07 2012, 06:22am EDT
Contact:
Mark Kastel, 608-625-2042
Monsanto Throws GMO Victory <br>Party in California
$46 Million Advertising Blitz Convinces Citizens to Vote "Against Own Interests"
SACRAMENTO, CA
After a deluge of allegedly misleading advertisements paid for in large part by pesticide and biotechnology corporations, California voters defeated Proposition 37, which would have given them the right-to-know whether the foods they buy at the grocery store contain genetically engineered ingredients (GMOs).
With 95% of the vote counted, according to the California Secretary of State's office, the proposal was defeated 53-47%.
"Genetically engineered foods found on market shelves have most commonly been altered in a lab to either be resistant to being sprayed by large amounts of toxic herbicides, or to produce, internally, their own insecticide," explains Mark A. Kastel, Codirector of The Cornucopia Institute.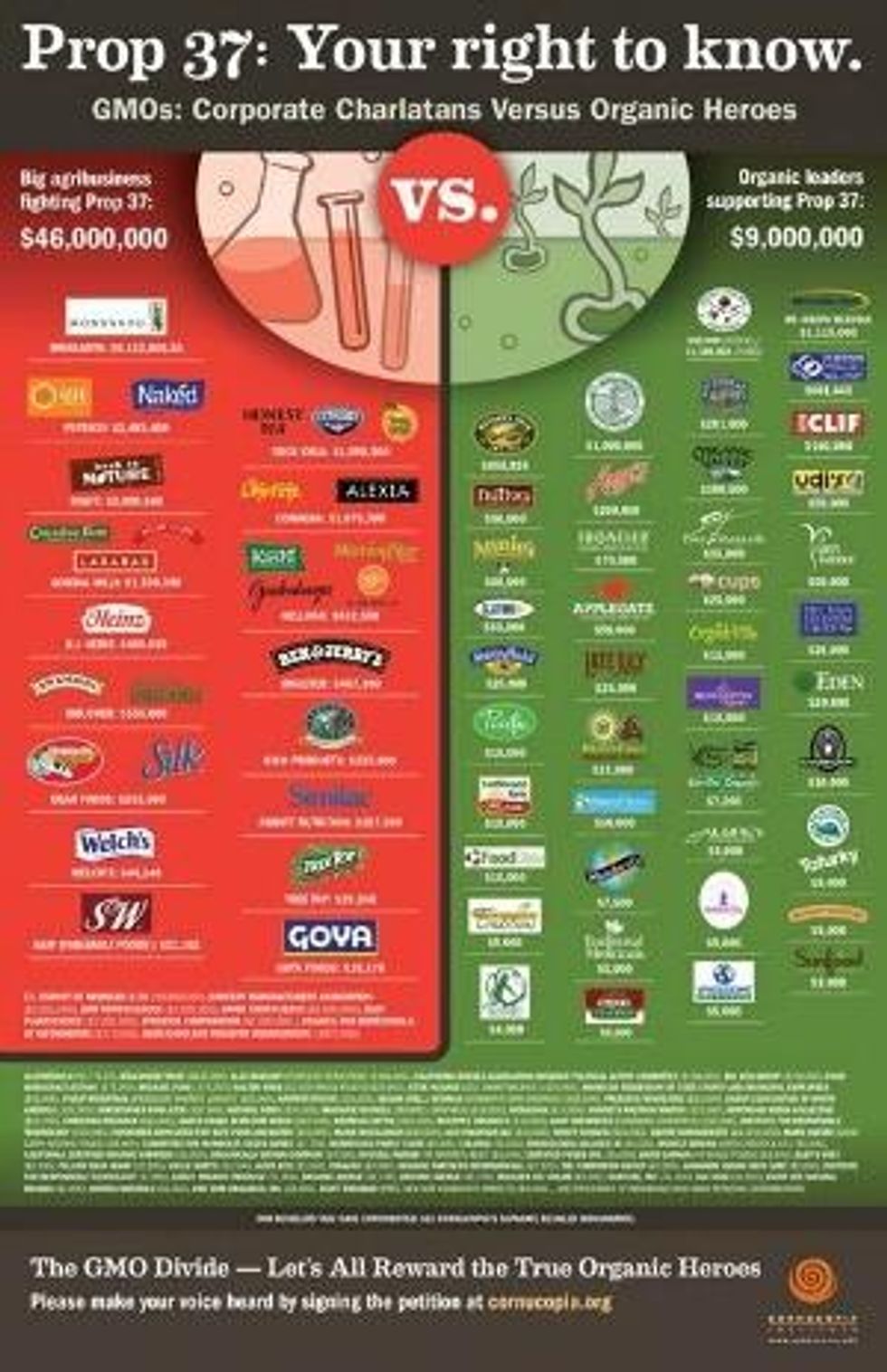 "Corporations that produce both the genetically engineered crops and their designer pesticides, in concert with the multi-billion-dollar food manufacturers that use these ingredients, fought this measure tooth and nail, throwing $46 million at the effort that would have required food manufacturers to include informational labeling on GMO content on their packaging," Kastel added.
Many food activists nationwide looked to the California initiative as "the last best hope" for GMO labeling in this country. Such labeling is required throughout Europe, and by scores other countries worldwide. In the US, polls indicate that over 90% of citizens support labeling and the right to choose if they have not been deluged by misleading advertisements paid for by biotechnology corporations. But both Republicans and Democrats in Washington have been unwilling to address the issue, likely due to massive campaign contributions from the biotechnology and agribusiness lobbies.
The failure of Proposition 37 does not leave consumers completely in the dark about genetically engineered (GE) foods, since foods without GE ingredients are already widely available and clearly carry the USDA "organic" seal. Federal law prohibits the use of GE seed or ingredients in any product labeled "organic."
In some ways, the "organic" label goes much further than what Proposition 37 would have required, since organic meat, milk and eggs must come from animals that were not treated with GE hormones and fed a diet that is free of GE ingredients. Proposition 37 would not have required labels on meat, milk and eggs from animals given GMO feed. Alcoholic beverages were also not covered under proposition 37. Organically labeled beer, wine and spirits are increasingly available in the marketplace.
"Organic foods are already required by federal law to be free from genetic engineering," says Steven Sprinkel, an organic farmer in Ojai, California who fought for prop 37 passage. "And the icing on the organic cake is that certified organic foods are also grown without a long list of dangerous and toxic chemicals and pesticides, hormones, antibiotics and other drugs that are routinely used in conventional agriculture."

Despite its defeat, Proposition 37 achieved at least one of its goals. The question on the ballot, which forced biotechnology corporations and food manufacturers to defend their experimentation with our food supply and with public health, has likely increased awareness about GE foods among California consumers.
The biotechnology and food manufacturing industry's efforts to defeat Proposition 37 revealed just how terrified these corporations were of consumers knowing what they are eating.
Click here to see a larger view"If corporations truly believed that genetically engineering our food supply is in society's best interest, they should be happy for consumers to know which foods contain their genetically engineered materials," says Cornucopia's Kastel. "Their obvious fear of people knowing what they're eating raises serious questions about their products' safety, and more and more consumers are making that connection."
The campaign to label genetically engineered foods also shed light on the dedication to organic principles, or lack thereof, by the corporate ownership of many iconic organic brands. For weeks, organic consumers have flooded consumer relations phone lines and Facebook pages of organic and "natural" brands such as Horizon Organic (Dean Foods), Silk (Dean Foods), Kashi (Kellogg) and Cascadian Farm (General Mills) when they learned that the corporate owners of these brands were spending hundreds of thousands of dollars to defeat Proposition 37.
In what turned out to be a David and Goliath campaign fight, a diversified group of independent food manufacturers, retailers and activists that espouse their commitment to the principles of sustainable agriculture and to producing healthy, wholesome and pure food, stepped up to the plate by making contributions to the "Yes on 37" campaign.
Consumers can view a scorecard illustrating the financial contributions of various organic brands by viewing Cornucopia's infographic at www.cornucopia.org/2012/08/prop37. "We hope this information will empower consumers to vote in the marketplace and support the true heroes in this industry," Kastel added.
Meanwhile, some corporations that should have stepped up to the plate gave token contributions at the eleventh hour. Whole Foods, a corporation with net sales as high as Monsanto's--both have approximately $11 billion in annual sales--contributed a mere $25,000, just two business days before the election, Cornucopia noted in its research. On the other hand, Monsanto contributed $8,113,000 to the "No on 37" campaign effort.
"Had we seen the same level of enthusiasm for consumers' right-to-know from Whole Foods as we saw against the right-to-know from Monsanto, the playing field would have been more level, and the misleading information spewed by giant corporate agribusinesses would quite possibly not have prevailed on election day," said Kastel. "Meaningful participation from Whole Foods could have been a game changer."
The Cornucopia Institute, a Wisconsin-based nonprofit farm policy research group, is dedicated to the fight for economic justice for the family-scale farming community. Their Organic Integrity Project acts as a corporate and governmental watchdog assuring that no compromises to the credibility of organic farming methods and the food it produces are made in the pursuit of profit.
LATEST NEWS
The Minnesota Democrat argues that the Republican effort to boot her from the panel is "motivated by the fact that many of these members don't believe a Muslim, a refugee, an African should even be in Congress, let alone have the opportunity to serve on the Foreign Affairs Committee."

Congresswoman Ilhan Omar on Sunday contended that some of her Republican colleagues—led by U.S. House Speaker Kevin McCarthy—are trying to oust her from the U.S. House Foreign Affairs Committee because she is a Muslim refugee from Somalia.
"Let me ask you, Congresswoman Omar, about what Republicans are saying about you, that there is a pattern of antisemitic and other controversial statements that make you unfit to sit on, in your case, the House Foreign Affairs Committee," CNN's Dana Bash said on "State of the Union."
Omar (D-Minn.) first addressed a pair of February 2019 tweets in which she tied U.S. politicians' support for Israel to money from lobbyists. "It's all about the Benjamins baby," she said at the time, using slang for $100 bills. Asked who she thought was paying American politicians to be pro-Israel, Omar replied, "AIPAC!" referring to the American Israel Public Affairs Committee.
"These people are OK with Islamophobia. They're OK with trafficking in their own ways in antisemitism."

The congresswoman said Sunday: "Yeah, I might have used words at the time that I didn't understand were trafficking in antisemitism. When that was brought to my attention, I apologized. I owned up to it. That's the kind of person that I am. And I continue to work with my colleagues and my community to fight against antisemitism."
After countering some other criticisms from the GOP, Omar argued that the campaign to remove her from the panel "is politically motivated. And, in some cases, it's motivated by the fact that many of these members don't believe a Muslim, a refugee, an African should even be in Congress, let alone have the opportunity to serve on the Foreign Affairs Committee."
Bash then said that "it sounds like you're accusing Kevin McCarthy of racism," to which Omar responded: "I mean, I'm not making any accusations. I'm just laying out the facts."
\u201cTrump dined with Nazis, said \u201cJews have to get their act together, and said to a group of Jewish leaders, \u201cYou\u2019re brutal killers. Not nice people at all. But you have to vote for me; you have no choice.\u201d He never apologized.\u201d

— Ilhan Omar (@Ilhan Omar) 1675040474
\u201cMcCarthy is following a well worn playbook: pit minority groups against each other in order to further marginalize them. It has been used by demagogues throughout history and it won\u2019t work. \n\nWe will continue to out-organize and outwork the hate.\u201d

— Ilhan Omar (@Ilhan Omar) 1675040474
Omar pointed out when then-President Donald Trump went to Minnesota in October 2019 and criticized the state for welcoming "large numbers" of refugees from Somalia. She also highlighted Islamophobic remarks from Reps. Marjorie Taylor Greene (R-Ga.) and Lauren Boebert (R-Colo.).
"These people are OK with Islamophobia. They're OK with trafficking in their own ways in antisemitism," Omar charged. "They are not OK with having a Muslim have a voice on that committee."
Omar appeared on CNN alongside Reps. Adam Schiff and Eric Swalwell, both California Democrats whom fellow Californian McCarthy barred from the House intelligence panel. Because that is a select committee, the speaker could unilaterally block the pair from being on it; however, kicking Omar off the foreign affairs panel requires a vote by the full chamber.
\u201cRepublicans say they believe in freedom of speech and debate. But if you don\u2019t agree with their policies, they will try to forcibly remove you from a committee you serve on. \n\nMy joint op-ed with @AdamSchiff and @ericswalwell \nhttps://t.co/XOBcvHaUvs\u201d

— Rep. Ilhan Omar (@Rep. Ilhan Omar) 1674783300
Republicans only narrowly control the House, and McCarthy ultimately may not have the votes to oust Omar. Reps. Ken Buck (R-Colo.) and Victoria Spartz (R-Ind.) have publicly said they oppose the attempt to remove Omar and Congresswoman Nancy Mace (R-S.C.) has openly criticized the effort. Additionally, Rep. Greg Steube (R-Fla.) said Monday that he will be "sidelined in Sarasota for several weeks" to recover from an injury.
Omar was also appointed to the House Education and the Workforce Committee. She said in a statement Friday that "as a child survivor of war living in a refugee camp, I would never have imagined that I would one day have the opportunity to serve on these important committees."
"Our democracy, and our governing bodies, rest on a healthy and vibrant debate," she stressed. "Our strength lies not in our perfection, but in the diversity of our voices and our openness to a civil discourse."
"Whatever our disagreements may be as members of Congress, policy differences alone have not and must not be cause for eliminating someone from serving on a committee," she added. "I am grateful for the confidence my constituents and my caucus have shown in me to lead this work, and I look forward to continuing to work for a more just and peaceful world."
News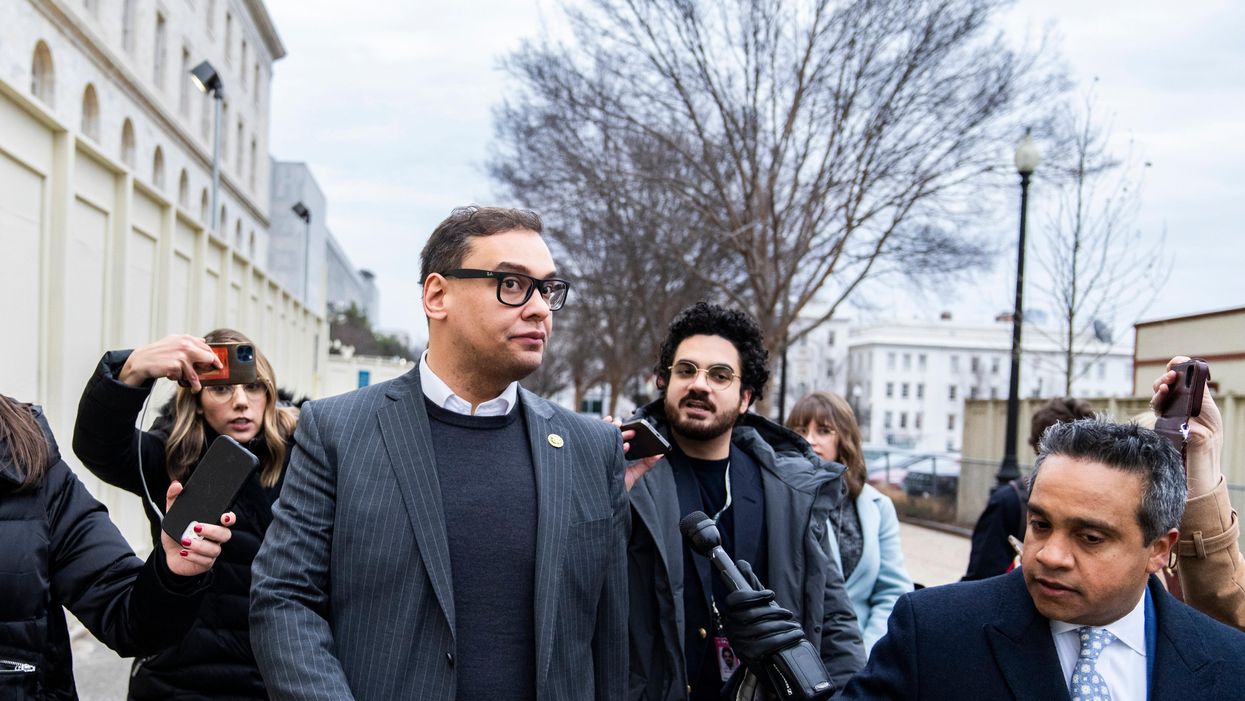 The potential campaign finance law violations were exposed amid reporting that the DOJ asked the FEC not to take action against the Republican congressman while prosecutors conduct a criminal probe.
A pair of Mother Jones journalists revealed late Friday that more than a dozen people identified as top donors to GOP Congressman George Santos' campaign who collectively account for over tens of thousands of dollars raised from individual donors in 2020 "don't seem to exist."
That revelation came as The Washington Post reported Friday night that the U.S. Department of Justice (DOJ) asked the Federal Election Commission (FEC) "to hold off on any enforcement action" against the first-term New York Republican "as prosecutors conduct a parallel criminal probe, according to two people familiar with the request."
Since his November win—which followed an unsuccessful 2020 run—Santos has faced intense scrutiny and pressure to resign over his mounting "lies and misdeeds," from dishonesty about his education, employment, family, religion, and residence; to concerns about his net worth soaring; to claims of fraud in Brazil and the United States.
\u201cSomehow, George Santos's campaign finance scandal just got a lot worse https://t.co/R8IFNFIGYo\u201d

— Citizens for Ethics (@Citizens for Ethics) 1674868219
The Mother Jones reporters attempted to contact "dozens of the most generous donors" to Santos' 2020 campaign. While several people confirmed their contributions, the investigation also uncovered various "questionable donations, which account for more than $30,000 of the $338,000" raised from individuals that year.
As the magazine detailed:
During Santos' first run for Congress, only about 45 people maxed out to his campaign during the primary and general elections. In nine instances, Mother Jones found no way to contact the donor because no person by that name now lives at the address listed on the reports the Santos campaign filed with the FEC. None had ever contributed to a candidate before sending Santos the maximum amount allowed, according to FEC records. Nor have any of these donors contributed since. The Santos campaign's filings list the profession of each of these donors as "retired."

Two other donors who contributed $1,500 and $2,000, respectively, were listed in Santos' FEC filings as retirees residing at addresses that do not exist. One was named Rafael Da Silva—which happens to be the name of a Brazilian soccer player.

Another suspicious donation was attributed to a woman who shares the name of a New York doctor who has made dozens of donations to Democrats. The Manhattan address listed for this donation does not exist. The doctor did not respond to a request for comment.
The outlet noted that "Santos did not respond to a detailed list of questions Mother Jones sent to his lawyer and his congressional office that included names of donors whose identities could not be verified."
Highlighting the report on Twitter Saturday, Brendan R. Quinn of the Campaign Legal Center (CLC) shared a "general reminder (that is apparently needed) that it is illegal to donate money using a false name or the name of someone else."
\u201cThis violates campaign finance laws & harms democracy. The integrity of the electoral process depends on transparent public disclosure of who is spending money on elections. \n\nLearn more about this issue and what @CampaignLegal is doing you fight it, here: https://t.co/c2cPn2OpkH\u201d

— Brendan R. Quinn (@Brendan R. Quinn) 1674915720
As Common Dreamsreported earlier this month, on the same day that the CLC filed a complaint with the Federal Election Commission regarding Santos' 2022 campaign, the group Citizens United filed complaints with the DOJ, FEC, and Office of Congressional Ethics (OCE).
The Post on Friday framed the DOJ Public Integrity Section's request that the FEC refrain from taking action against the congressman and turn over any relevant documents as "the clearest sign to date that federal prosecutors are examining Santos' campaign finances."
As the newspaper explained:
The FEC ordinarily complies with DOJ requests to hold off on enforcement. Those requests arise from a 1977 memorandum of understanding between the agencies that addresses their overlapping law enforcement responsibilities.

"Basically they don't want two sets of investigators tripping over each other," said David M. Mason, a former FEC commissioner. "And they don't want anything that the FEC, which is a civil agency, does to potentially complicate their criminal case."

The request "indicates there's an active criminal investigation" examining issues that overlap with complaints against Santos before the FEC, said Brett Kappel, a campaign finance lawyer at D.C.-based Harmon, Curran, Spielberg & Eisenberg.
According to the Post, Santos and his attorney did not respond while an FEC representative said the agency "cannot comment on enforcement" and a DOJ spokesperson declined to weigh in.
However, critics of the embattled congressman—who is also being investigated by the offices of Democratic New York Attorney General Letitia James and the Republican district attorneys in Nassau and Queens counties—had plenty to say.
\u201cIt's been said before, but winning this election was the basically worst thing that could have happened to Santos. At this point, there's pretty much no one in DC or NY who is *not* looking into him and his web of lies: https://t.co/g4LPPzsIH1\u201d

— Chris \u201cSubscribe to Law Dork!\u201d Geidner (@Chris \u201cSubscribe to Law Dork!\u201d Geidner) 1674940654
"Mr. Santos has one existential reason to remain in office: to gain enough leverage to secure a plea bargain with the U.S. attorney," said Rep. Ritchie Torres (D-N.Y.), who has urged the Republican to resign and advocated for federal investigations into him.
News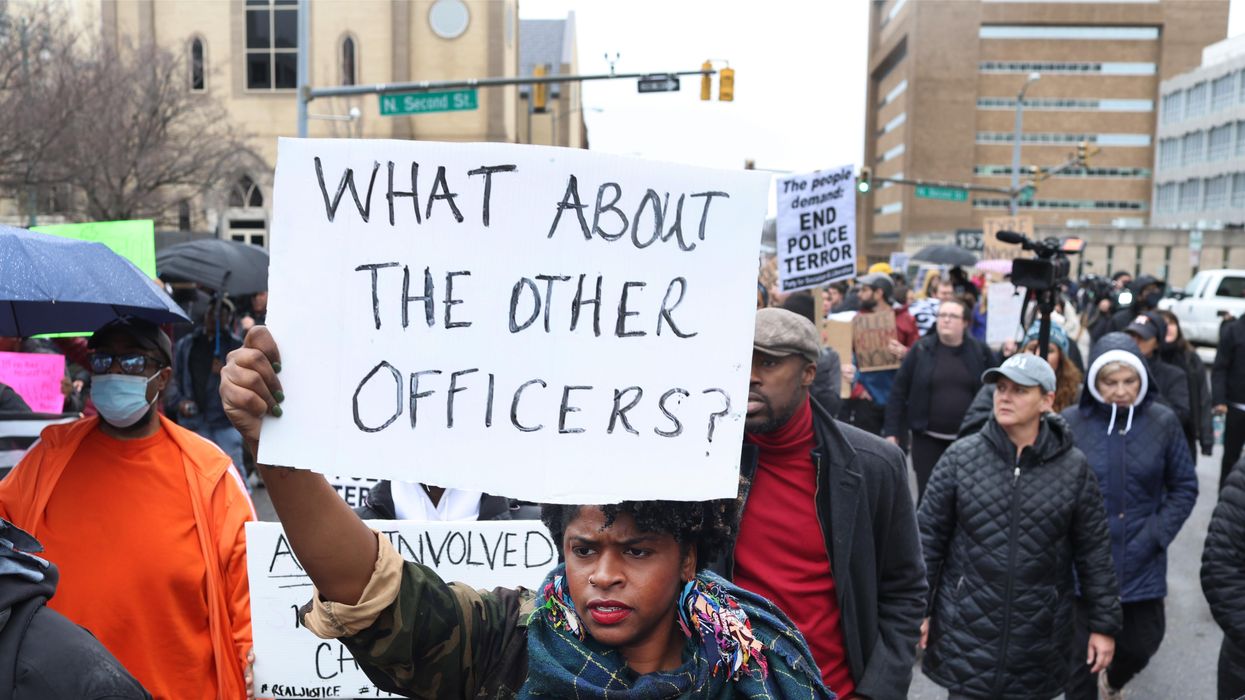 Attorneys for Nichols' family called the move "appropriate and proportional" in response to his death and urged other cities to follow suit but also stressed that "misconduct is not restricted to these specialty units."
The family of Tyre Nichols and others appalled by his death—for which five fired Memphis cops now face murder charges—welcomed the police department's decision on Saturday to disband a unit created in 2021 to patrol high-crime areas.
The move came a day after the Tennessee city put out videos of the former Memphis Police Department (MPD) officers—Tadarrius Bean, Demetrius Haley, Emmitt Martin III, Desmond Mills Jr., and Justin Smith—brutally beating Nichols following a traffic stop on January 7. The 29-year-old Black man was hospitalized and died three days later from cardiac arrest and kidney failure.
The MPD's Street Crimes Operation to Restore Peace in Our Neighborhoods (SCORPION) Unit hasn't been active since Nichols' January 10 death, according to the mayor. The five ex-officers, who are all Black, were part of the unit and on assignment with it when they pulled over Nichols, police spokesperson Maj. Karen Rudolph confirmed to multiple news outlets on Saturday.
In public comments leading up to the footage being released Friday night—which sparked nationwide peaceful protests—Nichols' family along with Memphis residents and people across the United States called for the unit to be shut down.
The MPD said in a statement that members of the unit met with Chief Cerelyn "C.J." Davis on Saturday "to discuss the path forward for the department and the community in the aftermath of the tragic death of Tyre Nichols."
"In the process of listening intently to the family of Tyre Nichols, community leaders, and the uninvolved officers who have done quality work in their assignments, it is in the best interest of all to permanently deactivate the SCORPION Unit," the statement continued. "The officers currently assigned to the unit agree unreservedly with this next step."
\u201cBig. \n\nMemphis Police have shut down the so-called SCORPION Unit. The officers that beat Tyre Nichols to death were all part of that unit. \n\nSeveral Memphis City Council members have called for it to be disbanded permanently.\u201d

— Gabriel Elizondo (@Gabriel Elizondo) 1674942545
In response, attorneys Ben Crump and Antonio Romanucci said in a statement that "the Nichols family and their legal team find the decision to permanently disband this unit to be both appropriate and proportional to the tragic death of Tyre Nichols, and also a decent and just decision for all citizens of Memphis."
"We hope that other cities take similar action with their saturation police units in the near future to begin to create greater trust in their communities," the pair added. "We must keep in mind that this is just the next step on this journey for justice and accountability, as clearly this misconduct is not restricted to these specialty units. It extends so much further."
Memphis City Council Member J.B. Smiley Jr. told the Commercial Appeal that shutting down the unit was "essential for the family" of Nichols, but "my ultimate concern is just, it may just be surface level," because "the police department has the ability to create other units and just call it something else."
Fellow Memphis City Council Member Patrice Robinson told CNN's Jim Acosta that "the community has a lot more questions and a lot more demands."
"We have gotten emails from many citizens in our community, they're all concerned and they're expressing exactly what they see and what they want to see in our police department," she said. "We really need to investigate and find out what's going on."
Rolling Stone reported on institutional changes that some locals want, according to Memphis organizer Amber Sherman:
They're calling for widespread reforms in the Memphis police: dissolving similar task forces in the city, ending the use of unmarked cars and plainclothes officers, and banning traffic stops without probable cause. All three help escalate police violence, Sherman tells Rolling Stone. "We can't just get rid of one of them. We have to do all three."

The SCORPION Unit was only 14 months old when it was disbanded. Founded in late 2021 during a rise in the city's murder rate, it was touted by local officials for its high number of arrests and a decline in violent crime, but locals say the unit quickly developed a reputation for its policing tactics. "Here in Memphis we call them the Jump-out Boys," Sherman says. "They're in unmarked cars, and they jump out of them and assault people."

Activists in Memphis emphasized that this type of policing is not a new phenomenon. "It's not just the SCORPION Unit. We've had these task forces for years," Sherman continues. "I'm born and raised here, in my 20s, and this has always been a practice."
National leaders also responded to the development on Saturday by warning that much more must still be done at all levels.

"This is what immediate action looks like in the face of crisis and traumatic events on behalf of a community," NAACP president and CEO Derrick Johnson declared of the department disbanding the unit, while also wondering why local leaders can "move to address the needs of the people faster than elected officials throughout the halls of Congress."
Meanwhile, Black Lives Matter activist DeRay Mckesson tweeted: "This is good. And not enough. And we've seen this happen before only for these units to pop back up when the world isn't watching."
\u201cAs news spreads the Memphis PD will disband the murderous \u201cScorpion\u201d Unit, it is important to know that back in 2020 NYC disbanded its own \u201canti-crime\u201d unit responsible for shootings, brutality, & Eric Garner\u2019s murder. \n\nNYC Mayor Eric Adams revived & expanded the unit last year.\u201d

— Scott Hechinger (@Scott Hechinger) 1674949043
"I must reiterate that this is not the win they want you to think it is. Cops have and will continue to be brutal despite not being in a cool 'special taskforce,'" coder, organizer, and YouTuber Sean Wiggs warned.

Legal reform advocate Dyjuan Tatro similarly argued that "the problem with this statement is that the SCORPION Unit should have never existed. It's well documented that police special units are violent, reckless, and racist. Furthermore, the rest of the officers of this violent unit are still on the police force, armed and ready to kill."
Strategist and writer Jodi Jacobson took issue with another element of the department's statement, telling the MPD: "It was NOT a 'tragic death.' It was murder at the hands of our department. What you say matters, and you clearly are not taking responsibility."

News
SUPPORT OUR WORK.
We are independent, non-profit, advertising-free and 100%
reader supported.