For Immediate Release
Contact:
Sam Husseini, (202) 347-0020; or David Zupan, (541) 484-9167
Chicago Strike and the Corporate Attack on Education
WASHINGTON
HENRY GIROUX [email]
Giroux holds a chair professorship at McMaster University in Canada at the English and Cultural Studies Department. His books include Critical Pedagogy and Education and the Crisis of Public Values. He just wrote the piece: "On the Significance of the Chicago Teachers Strike: Challenging Democracy's Demise."
SUSAN OHANIAN
Author of Why Is Corporate America Bashing Our Public Schools? Ohanian said today: "The current corporate-driven assault on public education rises from the late 1980s when Arkansas governor Bill Clinton held hands with IBM CEO Lou Gerstner to forge America 2000 for President Bush the Elder. That policy, which came directly from a Business Roundtable template, has morphed into Goals 2000, NCLB [No Child Left Behind] and now Race to the Top and the Common Core Standards, the latter whose initial development and promotion was paid for by the Bill and Melinda Gates Foundation and which brings us the national test which President Bill Clinton wanted so badly but never got. ...
"Officially, the only thing teachers can strike against is money. But teachers care a lot more about policies -- about things that harm kids -- than they do about pay raises. Until Chicago, they've never been allowed to protest class size, inadequate curriculum, lack of libraries, racist closure of neighborhood schools, and so on. The Chicago union has ignored these rules.
"I bet Randi Weingarten [president of the American Federation of Teachers] is just as nervous as Rahm Emanuel -- and just as anxious for this strike to be settled. If it continues, she's in trouble. And so is NEA. I think teachers across the country will feel, if Chicago can do it, so can we.
"What Chicago needs, and teachers across the country need, is for this strike to continue. The union has been so smart about getting community backing. I'd hate to see them cave. I worry they are under pressure to 'protect Obama.' This strike puts him in a terrible position, and if they can claim victory now and go back to work, it seems to let him off the hook -- at least temporarily. But it will be a terrible loss." Ohanian wrote the piece ""'Race to the Top' and the Bill Gates Connection" for FAIR's magazine, Extra!
PAULINE LIPMAN [email]
Professor of educational policy studies at the College of Education at the University of Illinois-Chicago, Lipman is author of The New Political Economy of Urban Education Neoliberalism, Race, and the Right to the City. She said today: "The Chicago Teachers union is in a pivotal battle with Mayor Rahm Emanuel and his appointed Board of Education, comprised of bankers, CEOs, and real estate magnates. As the strike enters its second week, it is clear that this strike is a pivotal battle for the future of public education, not only in Chicago, but in the U.S.
"After more than a decade of the punishing effects of top-down accountability, disinvestment in and closing of neighborhood schools, degradation of teaching and learning, and the expansion of charter schools, teachers have had enough. The CTU is pushing for smaller class sizes, more social workers and counselors, a rich curriculum for all students, fair teacher evaluation, recall of fired teachers due to school closings, and fair compensation. But at the heart of their demands is resistance to the whole corporate education agenda of testing, privatization, and union busting that is undermining public education in the U.S.
"This is why the stand by Chicago teachers and their union leadership has electrified teachers and parents nationally. It is not clear who will win the stand-off in Chicago, Rahm Emanuel and the powerful corporate education 'reformers' or the teachers. But, as the Chicago Sun Times pointed out, the CTU has already won a lot. They have forged a unified, mobilized, and courageous union of rank and file teachers and paraprofessionals. Through the strike, teachers have emerged as organizers and activists. There is a new solidarity between teachers and the parents and students. They have put the degradation of public education on the front page and defined an authentic education reform agenda. The strike has crystallized an education movement in Chicago that is lighting a fire nationally."
A nationwide consortium, the Institute for Public Accuracy (IPA) represents an unprecedented effort to bring other voices to the mass-media table often dominated by a few major think tanks. IPA works to broaden public discourse in mainstream media, while building communication with alternative media outlets and grassroots activists.
LATEST NEWS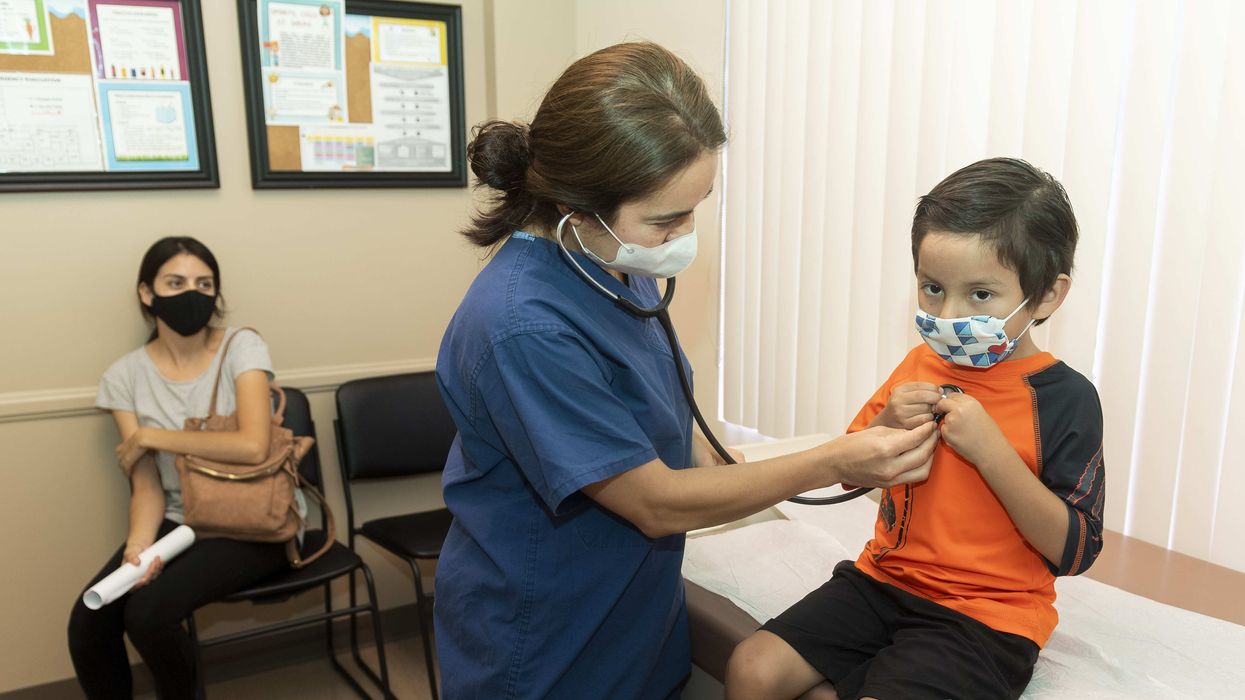 "I feel sick," said one physician. "Medicaid is not enough: we need seamless, lifelong universal care now."
Beginning on Saturday, states across the U.S. will start the process of stripping Medicaid coverage from millions of people as pandemic-related protections lapse, part of a broader unraveling of the safety net that was built to help families withstand the public health crisis and resulting economic turmoil.
Medicaid's continuous coverage requirements were enacted early in the Covid-19 pandemic to help vulnerable people maintain insurance amid the health emergency, resulting in record-high Medicaid enrollment.
But at the end of last year, congressional negotiators agreed on a bipartisan basis to set April 1 as the beginning of the "unwinding" process for the continuous coverage mandates, which prevented states from conducting regular eligibility screenings for Medicaid recipients.
The bipartisan deal gave states 12 months to determine who is still eligible for Medicaid, but some states—including Arkansas and South Dakota—are jumping at the opportunity to quickly remove people from the program. (State timelines for kicking off the unwinding process can be seen here.)
"Tonight at midnight some people in AZ, AR, ID, NH, and SD will lose their Medicaid coverage," Joan Alker, executive director of the Georgetown Center for Children and Families, tweeted Friday. "South Dakota is especially vexing as expansion kicks in July 1st. The state could structure their renewals to ensure that parents move seamlessly into expansion. But they are erroneously claiming federal rules mean they can't. Not true."
Residents of the 10 states that have refused lifesaving Medicaid expansion under the Affordable Care Act (ACA) are likely to be hit hardest by the end of continuous coverage requirements, which the Biden administration estimates could result in 15 million people losing health insurance nationwide—including millions of children.
"Because those states tend to make only the extremely poor eligible for Medicaid, they will have many people who make too much to qualify for the government health insurance but not enough to reach the income needed to get federal subsidies to afford health plans sold on ACA marketplaces—the coverage the administration is counting on as the main fallback," The Washington Post's Amy Goldstein reported earlier this week.
"The toll will be large, too, in 13 states that have not chosen to extend Medicaid benefits to women for a full year after they give birth," Goldstein added. "Texas falls on both lists."
Because of the administrative barriers associated with income verification and other eligibility tests, many people are likely to lose Medicaid coverage even though they're still eligible for the program.
The Health and Human Services (HHS) Department has estimated that nearly 7 million people could be removed from Medicaid despite still being eligible due to "administrative churning."

The consequences of what one commentator has dubbed "The Great Medicaid Purge" could be disastrous, given the health impacts associated with insurance loss.
As HHS summarized in a recent report:
People who experience churning or coverage disruptions are more likely to delay care, receive less preventive care, refill prescriptions less often, and have more emergency department visits. One study found that unstable Medicaid coverage increased emergency department use, office visits, and hospitalizations between 10% and 36% and decreased use of prescription medications by 19%, compared to individuals with consistent Medicaid coverage. Children with interruptions in coverage also are more likely to have delayed care, unmet medical needs, and unfilled prescriptions.
"I feel sick," said Adam Gaffney, an ICU doctor at the Cambridge Health Alliance. "Some 15 million people will be purged from Medicaid, including 7 million who actually remain eligible for the program but fail to jump through the bureaucratic hoops! Medicaid is not enough: we need seamless, lifelong universal care now."
The Medicaid continuous coverage requirements are the latest pandemic-era protections to fall in recent months.
Starting on March 1, enhanced Supplemental Nutrition Assistance Program (SNAP) benefits were cut off in dozens of states, slashing food aid for tens of millions.
Additionally, the boosted Child Tax Credit (CTC) expired in late 2021 due to opposition from Sen. Joe Manchin (D-W.Va.) and congressional Republicans, resulting in a rapid surge in child poverty. Shortly before the expanded CTC lapsed, boosted unemployment benefits that helped millions weather economic chaos ended.
As the pandemic-era safety net crumbles, congressional Republicans are looking to roll back Medicaid, SNAP, and other key programs even further with spending cuts and punitive work requirements.
"Republican calls to cut government funding put everything from child care to opioid treatment and mental health services to nutrition assistance at risk for millions," Rep. Rosa DeLauro (D-Conn.), the top Democrat on the House Appropriations Committee, warned earlier this week.
News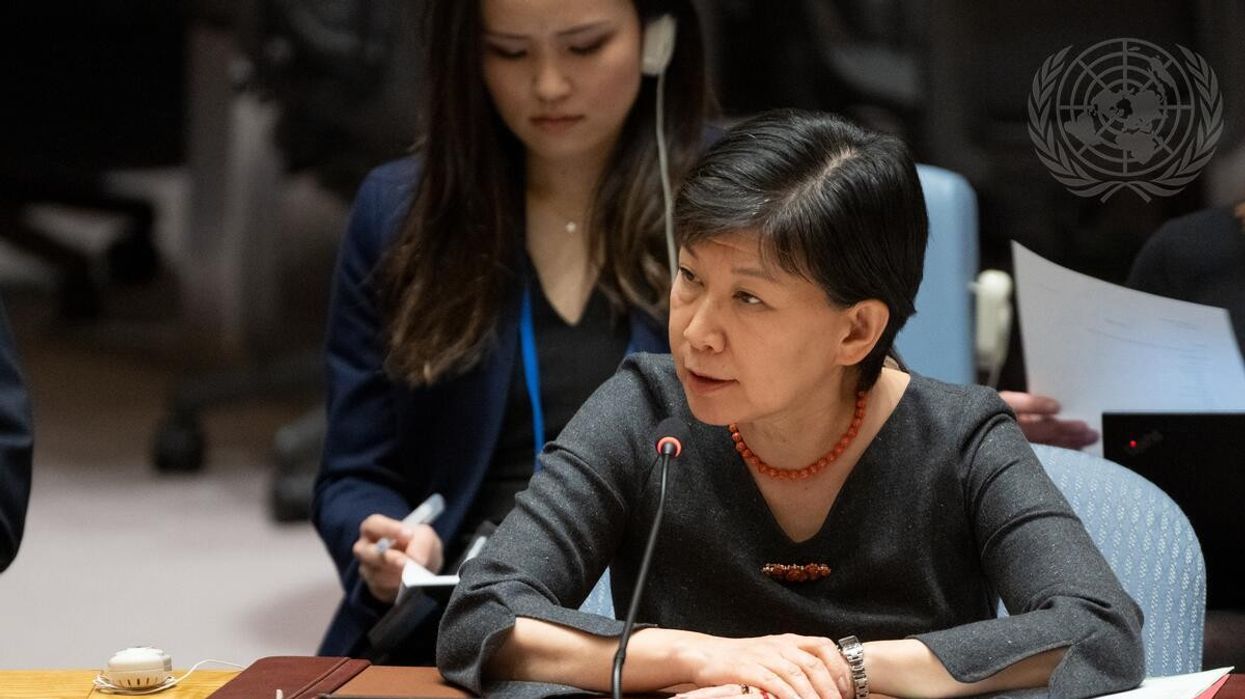 "The absence of dialogue and the erosion of the disarmament and arms control architecture, combined with dangerous rhetoric and veiled threats, are key drivers of this potentially existential risk."
The United Nations disarmament chief on Friday called for de-escalatory talks to curb the risk of nuclear war amid global concerns about Russian President Vladimir Putin's plan to station so-called "tactical" nuclear weapons in Belarus.
Roughly 13 months into the Russian invasion of Ukraine, Putin announced what critics called the "extremely dangerous escalation" last weekend, as United Nations High Representative for Disarmament Affairs Izumi Nakamitsu noted at the beginning of her briefing to the U.N. Security Council—which Russia, a permanent member, is set to lead for a month starting on Saturday.
Nakamitsu's remarks came as Belarusian President Alexander Lukashenko, in a speech to his country's Parliament, claimed without evidence that the United States and other Western nations plan to take over both Belarus and neighboring Poland, and vowed that "we will protect our sovereignty and independence by any means necessary."
"States must avoid taking any actions that could lead to escalation, mistake, or miscalculation."

Nakamitsu said that "the risk of a nuclear weapon being used is currently higher than at any time since the depths of the Cold War. The war in Ukraine represents the most acute example of that risk. The absence of dialogue and the erosion of the disarmament and arms control architecture, combined with dangerous rhetoric and veiled threats, are key drivers of this potentially existential risk."
"States must avoid taking any actions that could lead to escalation, mistake, or miscalculation," she continued. "They should return to dialogue to de-escalate tensions urgently and find ways to develop and implement transparency and confidence-building measures."
Putin justified the deployment plan in part by insisting that the weapons will remain under Russian control and pointing to the U.S. nukes that have been stationed in allied European countries for decades. The United States—which has the world's second-largest nuclear arsenal after Russia—is believed to have about 100 such bombs spread across Belgium, Germany, Italy, the Netherlands, and Turkey.
Both Russia and the United States are parties to the Nuclear Nonproliferation Treaty (NPT). Nakamitsu stressed Friday that all parties to the treaty, whether or not they have nukes, "must strictly adhere to the commitments and obligations they have assumed under the treaty."
\u201cToday, High Representative @INakamitsu urged dialogue to reduce nuclear risk and de-escalate tensions during @UN Security Council briefing on the threat to international peace and security.\n\nRead \u25b6\ufe0f\u00a0https://t.co/iLA5M3miD7\u201d

— ODA (@ODA) 1680279137
The issue of a state without its own weapons hosting some from one of the world's nine nuclear-armed nations "has existed for decades, across various regions and under different arrangements. These arrangements pre-date the NPT, with the exception of the recent announcement," Nakamitsu acknowledged. "The issue of so-called 'nuclear sharing' was debated intensely during the negotiation of the NPT" and "has been the subject of subsequent discussions."
After echoing U.N. Secretary-General António Guterres' call for Russia and the United States "to return to full implementation of the New START Treaty and commence negotiations on its successor," Nakamitsu said that "the accelerated implementation of commitments under the NPT can also contribute to undergirding international stability. I therefore appeal to all states parties of the NPT to fully adhere to their obligations to the treaty, and to immediately engage in serious efforts to reduce nuclear risk and de-escalate tensions."
Meanwhile, the U.S. and Russian ambassadors took aim at each other's countries during the U.N. Security Council meeting.

"We are pursuing cooperation with Belarus without violating obligations," argued Vassily Nebenzia, the Russian ambassador, highlighting the U.S. warheads across Europe. "We are not transferring nuclear weapons."
According toU.N. News:
Russia must take "all requisite measures" in response to "provocative steps," [Nebenzia] said, given the fraying global security architecture, dictated exclusively by Washington, along with London's recent decision to deploy armor-piercing ammunition to Ukraine.

"A nuclear war cannot be won," he said.

Russia's suggestion that this intended deployment is justified because of the use of armor-piercing ammunition supplied by Western forces, containing depleted uranium, is "ludicrous," U.S. Ambassador Robert Wood said.

"Armour-piercing ammunition is in no way analogous to tactical nuclear weapons," he said, adding that the Kremlin is attempting to limit and deter Ukraine's efforts to defend itself, and manipulate matters to win the war.
"Any use of nuclear weapons in Ukraine would have severe consequences and would fundamentally change the nature of this war," Wood added, urging Russia to reconsider its decision to deploy nukes in Belarus.

News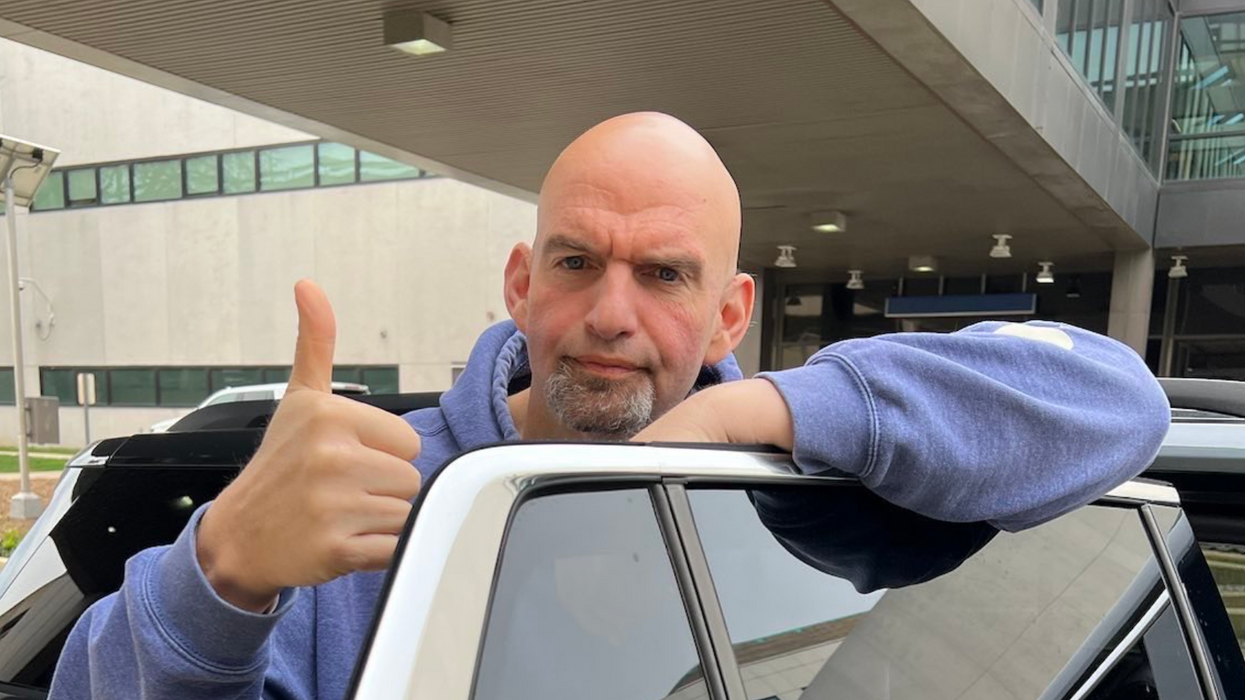 "I'm excited to be the father and husband I want to be, and the senator Pennsylvania deserves," the freshman lawmaker said.
Democratic U.S. Senator John Fetterman is back in his hometown of Braddock, Pennsylvania and looking forward to returning to work soon after being released Friday from Walter Reed military hospital in Maryland, where he was treated for depression.
"I am so happy to be home. I'm excited to be the father and husband I want to be, and the senator Pennsylvania deserves," Fetterman—who was hospitalized for more than a month—said in a statement Friday. "Pennsylvanians have always had my back, and I will always have theirs."
"I am extremely grateful to the incredible team at Walter Reed. The care they provided changed my life," he continued. "I will have more to say about this soon, but for now I want everyone to know that depression is treatable, and treatment works."
\u201cI am so happy to be home. I\u2019m excited to be the father and husband I want to be, and the senator Pennsylvania deserves.\n\nPennsylvanians have always had my back, and I will always have theirs.\u201d

— Senator John Fetterman (@Senator John Fetterman) 1680298883
"This isn't about politics—right now there are people who are suffering with depression in red counties and blue counties," the senator—who also suffered a stroke while campaigning during the Democratic primary race last year—added. "If you need help, please get help."
In an interview slated to be aired on "CBS Sunday Morning" this weekend, Fetterman told anchor Jane Pauley that, for him, depression is like "you just won the biggest, you know, race in the country, and the whole thing about depression is that, objectively, you may have won, but depression can absolutely convince you that you actually lost."
"And that's exactly what happened," he added. "And that was the start of a downward spiral."
\u201cSix weeks after entering Walter Reed National Military Medical Center for inpatient treatment for depression, Sen. @JohnFetterman shares his struggle with depression, his health, and more in an intimate interview with Jane Pauley this "Sunday Morning."\u201d

— CBS Sunday Morning \ud83c\udf1e (@CBS Sunday Morning \ud83c\udf1e) 1680298547
Fetterman is set to return to work the week of April 17 following the congressional recess, Politicoreports.
While still in the hospital on Thursday, Fetterman introduced his first bill—a railroad safety and accountability measure—with Sens. Bob Casey (D-Pa.) and Sherrod Brown (D-Ohio).

News
SUPPORT OUR WORK.
We are independent, non-profit, advertising-free and 100%
reader supported.