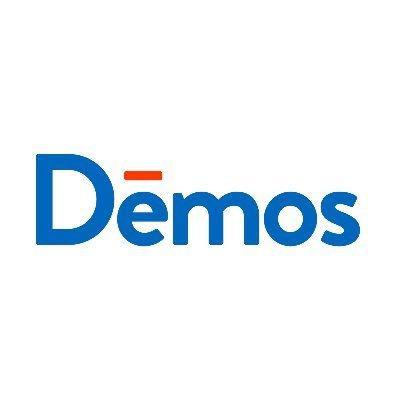 For Immediate Release
Contact:
212.633.1405 |,info@demos.org
Voting Rights Organizations File Suit to Enforce NVRA in PA
WASHINGTON
Today, the Black Political Empowerment Project (B-PEP) and ACTION United filed suit against Secretary of the Commonwealth Carol Aichele, Secretary of Public Welfare, Gary D. Alexander and Secretary of Health, Dr. Eli N. Avila in the U.S. District Court for the Eastern District of Pennsylvania. The plaintiffs, represented by a coalition of national voting rights groups including Demos, Project Vote and the Lawyers' Committee for Civil Rights Under Law, allege that the Commonwealth has systematically failed to comply with the National Voter Registration Act (NVRA). Since its 1993 enactment, the NVRA has helped ensure that low-income residents receive an opportunity to register to vote by mandating that all public assistance agencies offer voter registration services.
The plaintiffs allege that the majority of clients seeking public assistance services in Pennsylvania are simply not being offered voter registration opportunities, and some public assistance agencies do not even have the voter registration forms available on request. Specifically, the Complaint alleges that, based on Pennsylvania's own submissions to the U.S. Election Assistance Commission, the number of voter registration applications submitted at Pennsylvania public assistance offices decreased by a staggering 93% in recent years, from 59,462 in 1995-1996 to just 4,179 in 2009-2010. This steep decline in voter registrations is particularly significant because it occurred during the same period that both the population of the Commonwealth and the number of applicants for public assistance were increasing.
As a result of the Commonwealth's failures, the Plaintiffs are forced to expend resources helping to register citizens who would otherwise be registered by the Commonwealth.
"The freedom to vote is the foundation of American democracy. It is the means by which Americans, regardless of class or race, control their lives and their futures. The NVRA tasks all states, including the Commonwealth of Pennsylvania, with promoting and protecting this fundamental freedom," said Dave Rubino, counsel at Demos. "Right now, the Commonwealth is falling short on that task."
In the past several years, lawsuits filed by the same voting rights groups have forced other states that had been disregarding the NVRA to comply, with dramatic results. For example, applications from Missouri public assistance agencies skyrocketed, from fewer than 8,000 a year to more than 130,000 a year, following settlement of a suit in that state in 2009. More than 360,000 low-income Ohioans have applied to register since a similar case was settled there at the end of 2009. Cases were also recently settled in New Mexico, Indiana and Georgia.
"Public assistance clients greatly benefit from accessible voter registration. Congress decided that these citizens shouldn't have to jump through additional hoops to register," said Bob Kengle, co-director of the Lawyers' Committee's Voting Rights Project. "Our interviews with public assistance clients showed that few had received voter registration applications when they should have, and some offices didn't even have voter registration applications on site when we asked for them."
"Public assistance offices are in a unique position to increase voter registration rates among low-income citizens, the disabled and racial minorities," said Sarah Brannon, director of the Public Agency Voter Registration Program for Project Vote. "Pennsylvania should realize this potential and correct the inadequacies within its system."
The national coalition had been attempting to work with the Commonwealth collaboratively on NVRA compliance for a number of years. Only when it became clear that the Commonwealth would not voluntarily come into compliance prior to the voter registration deadline for this year's elections did the group opt to take legal action. Among other things, the Complaint seeks an order directing defendants, under a court-approved plan, to take all actions necessary to remedy the past and continuing violations of Section 7 of the NVRA.
"The people in the Commonwealth of Pennsylvania, and indeed the nation, who might benefit the most from having an ongoing, consistent and accessible opportunity to register to vote are low income residents. The opportunity for political empowerment and the opportunity to vote in each and every election cannot be underestimated," said Tim Stevens, Chairman and CEO of B-PEP, "It is imperative that the Commonwealth of Pennsylvania meet its NVRA obligation."
"Voting is the cornerstone of civic engagement and a critical part of being a citizen" said Lucille Prater-Holliday, president of ACTION United. "Public assistance offices should be not just facilitating but encouraging low-income citizens to participate. These offices particularly are the front line of engagement for many citizens who are disengaged and all but disenfranchised. Their absolute failure to do their duty required by the NVRA to only perpetuates this disenfranchisement and disengagement."
Demos is a think tank that powers the movement for a just, inclusive, multiracial democracy. Through cutting-edge policy research, inspiring litigation, and deep relationships with grassroots organizations, Demos champions solutions that will create a democracy and economy rooted in racial equity.
LATEST NEWS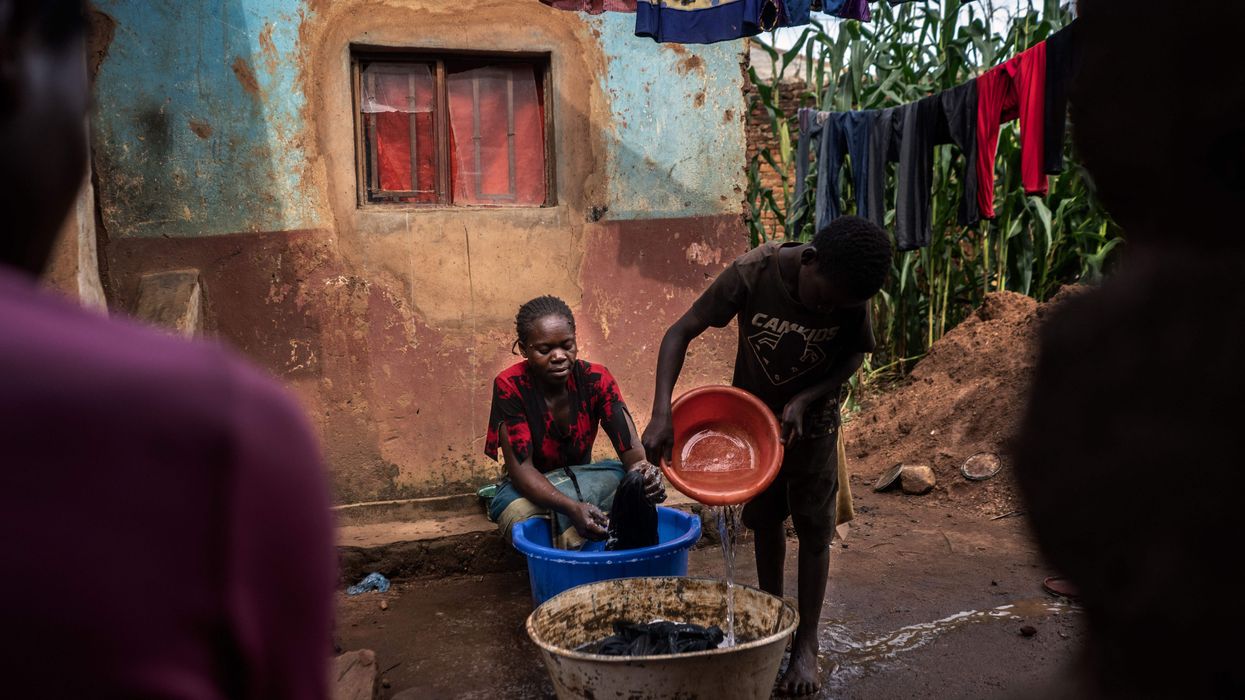 "Water is our common future and we need to act together to share it equitably and manage it sustainably," said the director-general of UNESCO.
Amid a lack of global cooperation, the world is far off-track in achieving universal access to clean drinking water by 2030, according to a United Nations report released Wednesday as officials marked World Water Day.
TheUnited Nations World Water Development Report 2023 was released by the U.N. Educational, Scientific and Cultural Organization (UNESCO) as global leaders convened in New York for the first international conference on water in nearly half a century.
With seven years to go until the end of the decade, 26% of the world population lacks access to safe drinking water and 46% don't have access to basic sanitation, the report found.
The persistent scarcity of potable water is being driven by a rapid increase in water use in recent decades, with usage growing by 1% per year in the last 40 years due to "a combination of population growth, socioeconomic development, and changing consumption patterns," including within the agriculture industry. Yearly water use growth is expected to continue at this rate until at least 2050.
In some of the most affected areas of the globe, progress on closing the water access gap and meeting this aspect of the U.N.'s sixth Sustainable Development goal would need to quadruple.
"Water is our common future and we need to act together to share it equitably and manage it sustainably," said Audrey Azoulay, director-general of UNESCO. "As the world convenes for the first major United Nations conference on water in the last half century, we have a responsibility to plot a collective course ensuring water and sanitation for all."
In addition to water use, UNESCO reported, "the acceleration and spreading of freshwater pollution"—the biggest source of which is untreated wastewater—and the climate crisis have helped to make water scarcity "endemic," particularly in middle- and lower-income countries.

"As a result of climate change, seasonal water scarcity will increase in regions where it is currently abundant—such as Central Africa, East Asia and parts of South America—and worsen in regions where water is already in short supply, such as the Middle East and the Sahel in Africa," reads the report. "On average, 10% of the global population lives in countries with high or critical water stress."

In a separate news report, Al Jazeeraprovided a visualization of water stress across the Middle East, showing how countries including Algeria, Egypt, and Sudan are "either extracting unsustainably from existing aquifer sources or relying heavily on desalination," and how rising temperatures, increased demand, and the construction of dams has shrunk a number of lakes across the region.

The UNESCO report emphasizes that global partnerships and cooperation are crucial to ensuring universal access to safe drinking water and sanitation by 2030, which Richard Connor, editor-in-chief of the report, told the Associated Press would require an investment of $600 billion to $1 trillion per year.
At the U.N. Water Conference, taking place from Wednesday through Friday, representatives from dozens of countries and international organizations focused on Indigenous rights, public health, and the climate are expected to speak about the solutions addressed in the report, including:
The reallocation of water from agriculture to urban centers, which has "become a common strategy to meet freshwater needs in growing cities";

Watershed protection, which can provide biodiversity conservation as well as jobs and training opportunities;

Water, Sanitation and Hygiene (WASH) initiatives such as water operators' partnerships, which "connect established, well-functioning utilities with others that need assistance or guidance";

Initiatives that allow the "meaningful" participation of beneficiaries, especially in rural areas; and

Coordination between climate and water agendas, with policymakers proactively reaching out to climate stakeholders and vice versa.

"Accelerating action through partnerships and cooperation between water and climate stakeholders can create additional benefits to freshwater ecosystems and to the most exposed and vulnerable people, reducing disaster risks, delivering cost savings, fostering job creation and generating economic opportunities," reads the report.

"Safeguarding water, food, and energy security through sustainable water management, providing water supply and sanitation services to all, supporting human health and livelihoods, mitigating the impacts of climate change and extreme events, and sustaining and restoring ecosystems and the valuable services they provide, are all pieces of a great and complex puzzle," it continues. "Only through partnerships and cooperation can the pieces come together. And everyone has a role to play."

News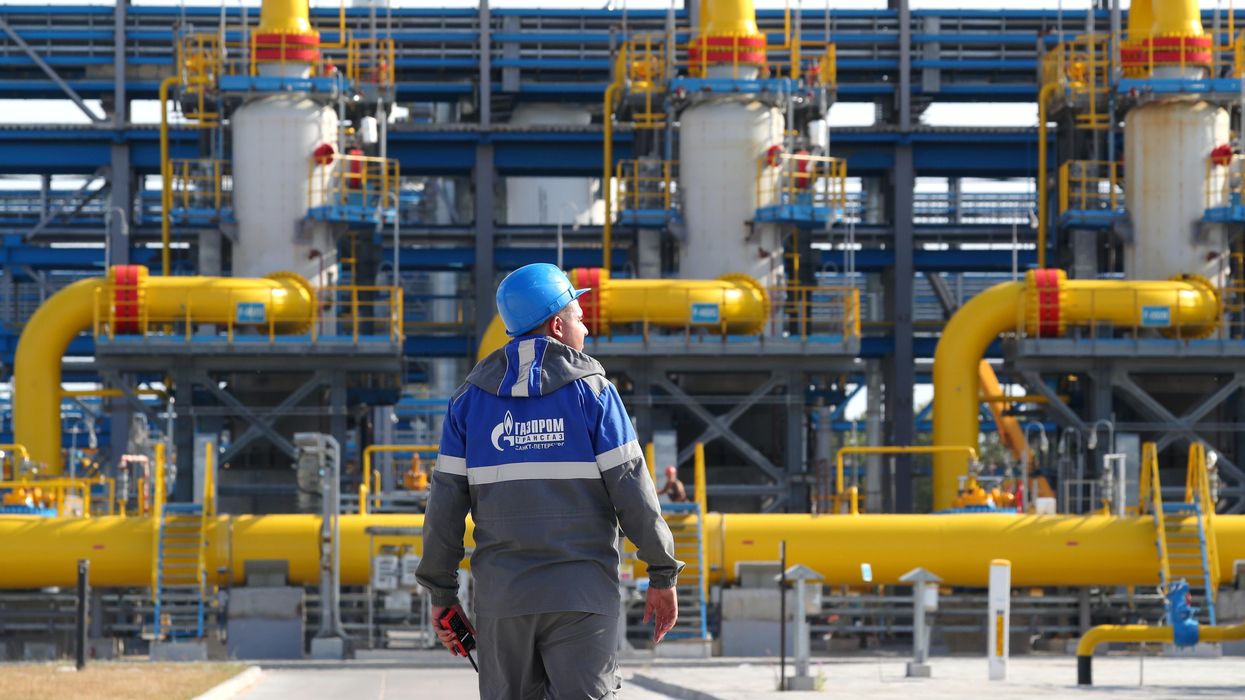 The veteran investigative journalist alleged that Biden administration officials have been "feeding" the press false stories to "protect a president who made an unwise decision and is now lying about it."
In a follow-up to his explosive story accusing U.S. President Joe Biden of ordering the sabotage of the Nord Stream pipelines, veteran U.S. journalist Seymour Hersh charged Wednesday that the White House—in collaboration with German Chancellor Olaf Scholz—is attempting a "cover-up of its operation" by "feeding" false alternative narratives to the press, most prominently The New York Times.
Hersh's initial reporting, which was based on anonymous sourcing, was quickly dismissed by the Biden administration, with State Department Spokesperson Ned Price calling the detailed February account "false" and suggesting that those who believe its version of events are "naive" and "gullible."
Hersh, who famously exposed U.S. forces' massacre of Vietnamese civilians in My Lai and the torture of detainees at Abu Ghraib prison in Iraq, forcefully hit back at the Biden administration on Wednesday and criticized the American press for failing to push the White House on the September attack, which has major geopolitical implications.
"Press aides for the White House and Central Intelligence Agency have consistently denied that America was responsible for exploding the pipelines, and those pro forma denials were more than enough for the White House press corps," Hersh wrote on his Substack.
"There is no evidence that any reporter assigned there has yet to ask the White House press secretary whether Biden had done what any serious leader would do: formally 'task' the American intelligence community to conduct a deep investigation, with all of its assets, and find out just who had done the deed in the Baltic Sea," the journalist continued. "According to a source within the intelligence community, the president has not done so, nor will he. Why not? Because he knows the answer."
Officials from Norway, Germany, and Sweden told the United Nations last month that they are still investigating the explosions that severely damaged the Nord Stream pipelines, setting off an environmental nightmare and immediate speculation as to who was responsible. Such speculation is ongoing, with both official and unofficial probes attempting to determine the perpetrator.
The Nord Stream 2 pipeline—which Biden vocally opposed—never became operational, as the German government put it on hold just ahead of Russia's invasion of Ukraine in February 2022.
During a press briefing late last month, Price said the U.S. "is not a party to this investigation because there are countries on whose sovereign territory this attack occurred, and we're deferring it to them to conduct this investigation."
On March 7, nearly a month after Hersh published his report, The New York Timesran a story—also based on anonymous sourcing—alleging that "new intelligence reviewed by U.S. officials" indicates "a pro-Ukrainian group carried out the attack on the Nord Stream pipelines last year."
The Ukrainian government has denied any involvement in the attack.

"U.S. officials said there was much they did not know about the perpetrators and their affiliations," notes the Times report, which makes brief mention of Hersh's story and quotes unnamed U.S. officials denying any Biden administration involvement.
"The disinformation professionals inside the CIA understand that a propaganda gambit can only work if those on receiving are desperate for a story that can diminish or displace an unwanted truth."
The same day as the Times published its story, the German weekly newspaper Die Zeit ran a report alleging that German investigators "succeeded in identifying the boat that was allegedly used for the secret operation" to sabotage the Nord Stream pipelines.
"It is said to be a yacht rented from a company based in Poland, apparently owned by two Ukrainians," Die Zeit reported. "According to the investigation, the secret operation at sea was carried out by a team of six people. It is said to have been five men and one woman."
In his Wednesday piece, Hersh contended that the message of the Times and Die Zeit stories—both of which emphasized that much of the sabotage operation remains shrouded in mystery—"was that the press and the public should stop asking questions and let the investigators unravel the truth."
"Holger Stark, the author of the report in Die Zeit, went a step further and noted that there were some 'in international security services' who had not excluded the possibility that the yacht story 'was a false flag operation.' Indeed, it was," Hersh alleged, citing an anonymous source inside the U.S. intelligence community.
That source told Hersh that the yacht narrative reported by Die Zeit "was a total fabrication by American intelligence that was passed along to the Germans, and aimed at discrediting your story."

Hersh went on to add that "the disinformation professionals inside the CIA understand that a propaganda gambit can only work if those on receiving are desperate for a story that can diminish or displace an unwanted truth."
"And the truth in question is that President Joe Biden authorized the destruction of the pipelines and will have a difficult time explaining away his action as Germany and its Western European neighbors suffer as businesses are shuttered amid high day-to-day energy costs," wrote Hersh, citing an energy expert who argued that the damage to the Nord Stream pipelines "led to a further surge of natural gas prices."
According to Hersh, the "most telling evidence" of the "weakness" of the Times reporting can be found in a podcast interview featuring Julian Barnes, one of three reporters whose bylines appeared on the March 7 story.
Barnes told podcast host Michael Barbaro that "we know really very little" about the pro-Ukrainian group that the Times reporting alleges may have been behind the Nord Stream attack.
"This group remains mysterious," Barnes said. "And it remains mysterious not just to us, but also to the U.S. government officials that we have spoken to. They know that the people involved were either Ukrainian, or Russian, or a mix. They know that they are not affiliated with the Ukrainian government. But they know they're also anti-Putin and pro-Ukraine."
In response, Hersh wrote that "the Times reporters in Washington were at the mercy of White House officials 'who had access to intelligence.'"
"But the information they received," he added, "originated with a group of CIA experts in deception and propaganda whose mission was to feed the newspaper a cover story—and to protect a president who made an unwise decision and is now lying about it."
Hersh also alleged that while it remains an "open question" whether Scholz was aware of the planned pipeline sabotage in advance, the German leader has "clearly been complicit since last fall in support of the Biden Administration's cover-up of its operation in the Baltic Sea."
Hersh wrote:

In early March, President Biden hosted German Chancellor Olaf Scholz in Washington. The trip included only two public events—a brief pro forma exchange of compliments between Biden and Scholz before the White House press corps, with no questions allowed; and a CNN interview with Scholz by Fareed Zakaria, who did not touch on the pipeline allegations. The chancellor had flown to Washington with no members of the German press on board, no formal dinner scheduled, and the two world leaders were not slated to conduct a press conference, as routinely happens at such high-profile meetings. Instead, it was later reported that Biden and Scholz had an 80-minute meeting, with no aides present for much of the time.
Citing an anonymous official with "access to diplomatic intelligence," Hersh wrote that "certain elements in the Central Intelligence Agency were asked to prepare a cover story in collaboration with German intelligence that would provide the American and German press with an alternative version for the destruction of Nord Stream 2."
"In the words of the intelligence community," Hersh continued, "the agency was 'to pulse the system' in an effort to discount the claim that Biden had ordered the pipelines' destruction."

News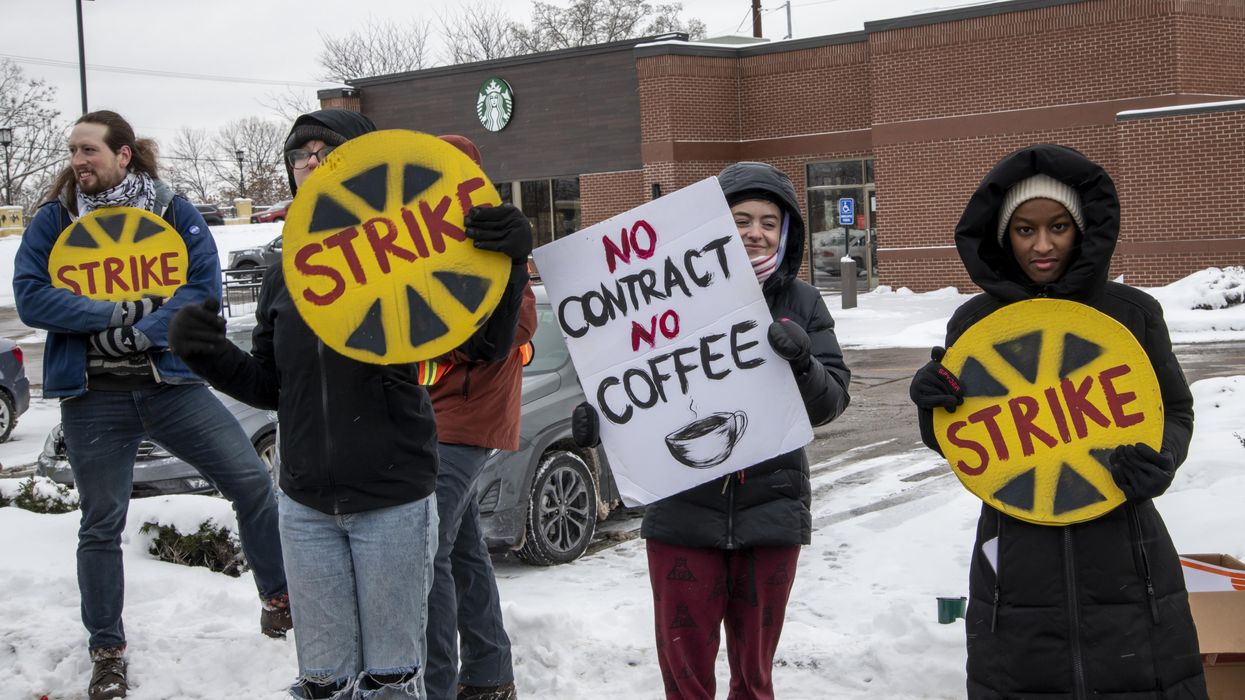 "Instead of celebrating the law-breaking former CEO hell-bent on silencing us, Starbucks should respect our right to organize and meet us at the bargaining table," said one Seattle barista and member of Starbucks Workers United.
Amid an ongoing unionization wave, Starbucks workers across the United States are holding a national day of action on Wednesday to demand a living wage, consistent scheduling, safe working conditions, and the right to organize free from fear and intimidation.
Baristas plan to strike at more than 100 of the coffee giant's shops from coast to coast, including at cafes in Seattle, New York, Los Angeles, Memphis, and other cities. In Seattle, where Starbucks was founded and is headquartered, a major protest is planned—one day before shareholders vote on an assessment of workers' rights at the corporation's annual meeting.
At 12:00 pm PT, workers will march outside Starbucks' headquarters, declaring that the company's illegal union-busting won't stop their fight for higher wages, better benefits, and democratic workplaces.
Since December 2021, when baristas in Buffalo made history by forming the first unionized Starbucks in the U.S., more than 7,500 workers at over 280 of the coffee chain's locations nationwide have voted to unionize. Organizers have won more than 80% of their campaigns despite the company's unlawful intimidation and retaliation tactics.
According to Starbucks Workers United:
In this same time period, the NLRB's [National Labor Relations Board] regional offices have issued more than 80 official complaints against Starbucks, prosecuting the company for over 1,400 specific alleged violations of federal labor law, including accusations that former CEO Howard Schultz personally threatened a worker who expressed support for organizing.

To date, NLRB administrative law judges have issued nine decisions, eight of which collectively found that the company has committed 130 violations, including illegally monitoring and firing organizers, calling the police on workers, and outright closing a store that recently attempted to organize.
Due to Starbucks' refusal to bargain in good faith, none of the locations that voted to unionize have reached a contract agreement.
With his unlawful crackdown on organizing coming under increased scrutiny, Schultz moved up his resignation from April 1 to March 20. Schultz is still scheduled to testify at next Wednesday's hearing convened by Independent Sen. Bernie Sanders of Vermont. He only agreed to do so under threat of subpoena.
Sarah Pappin, a Seattle Starbucks worker and member of Starbucks Workers United, said Wednesday in a statement: "Baristas like me are the ones who keep our stores running. We remember our customers' regular orders, make the lattes, clean up spills, and are often the bright spot of our customers' days. We are the heart and soul of Starbucks."
"Instead of celebrating the law-breaking former CEO hell-bent on silencing us, Starbucks should respect our right to organize and meet us at the bargaining table," said Pappin. "We are Starbucks, and we deserve better."
Starbucks Workers United said that "Wednesday's day of action will also serve to welcome the company's new chief executive, Laxman Narasimhan, and send him a message that the transition in the C-suite provides an opportunity for the company to stop its unprecedented campaign of union-busting and instead partner with its workers and our union to build a company that truly lives up to its stated progressive values."
Earlier this month, Starbucks Workers United sent a letter to shareholders urging them to vote for a third-party evaluation of Starbucks' purported commitment to affirming workers' rights, arguing that the corporation's anti-union actions are inconsistent with its International Labor Organization commitments.
According to the union, "Two proxy advisory firms, International Shareholder Services and Glass Lewis, have already recommended Starbucks shareholders vote in favor of the proposal from Trillium Asset Management, the New York City Pension Funds, and other investors."
News
SUPPORT OUR WORK.
We are independent, non-profit, advertising-free and 100%
reader supported.