For Immediate Release
Contact:
Brenda Bowser Soder,bowsersoderb@humanrightsfirst.org,O -202/370-3323, C - 301/906-4460
Rights Group Re-issues Call for Independent Monitoring of Detention Conditions at Guantanamo
WASHINGTON
The Pentagon issued a report yesterday concluding that the conditions of confinement at the Guantanamo Bay detention facility comply with the humane-treatment requirements of the Geneva Conventions. The report was completed at President Obama's request by Admiral Patrick M. Walsh, the vice chief of naval operations.
The following can be attributed to Elisa Massimino, CEO and Executive Director of Human Rights First:
"The Pentagon's report on Guantanamo underscores the need for independent and transparent monitoring of detention conditions. For years, prisoners' attorneys have detailed inhumane conditions of confinement at Guantanamo, including extreme isolation, lack of access to fresh air and natural light, limited access to attorneys, mental health deterioration, hunger strikes and the force feeding of hunger strikers. Though Human Rights First supports many of the improvements recommended in Admiral Walsh's report, and encourages their implementation as soon as possible, Admiral Walsh's findings stand in stark contrast to the real-time accounts of prisoners and their attorneys. We welcome the recommendation that President Obama consider inviting non-governmental organizations to Guantanamo, and we reiterate our request for full access to the detention facility so that we may examine the conditions there and, as improvements are made, credibly, independently and publicly report them to the world. Such access and reporting would set an example of transparency and inspire domestic and international confidence that the United States is re-committed to the humane treatment of prisoners in its care."
Human Rights First is a non-profit, nonpartisan international human rights organization based in New York and Washington D.C. Human Rights First believes that building respect for human rights and the rule of law will help ensure the dignity to which every individual is entitled and will stem tyranny, extremism, intolerance, and violence.
LATEST NEWS
"The Israeli government's collective punishment and unfolding genocide of Palestinians in Gaza cannot just be put on 'pause'; it must be stopped," said Jewish Voice for Peace.
Israel and Hamas have agreed to a deal under which dozens of Israeli hostages will be freed in exchange for a brief pause in fighting and the release of 150 Palestinian women and children held in Israel's prisons.
The pause, set to take effect within the next 24 hours, is expected to last at least four days to allow for the release of 50 hostages held by Hamas. Israeli Prime Minister Benjamin Netanyahu's office said the pause will be extended by a day for every additional 10 hostages released.
Hamas is believed to have around 240 hostages. According to the Israeli human rights group HaMoked, thousands of Palestinians are currently detained in Israel without charge or trial.
If it holds, the Qatar-mediated hostage deal will mark a temporary reprieve in what has been a catastrophic six-week war. Israel's response to the October 7 Hamas-led attack—which killed roughly 1,200 people—has decimated large swaths of the Gaza Strip, wrecking schools, homes, hospitals, and other civilian infrastructure and killing more than 14,000 people, drawing accusations of genocide.
Israel's siege of the Palestinian enclave has left virtually the entire population on the brink of starvation and forced many of the territory's overwhelmed hospitals to shut down due to a lack of fuel and other critical supplies, depriving many patients—including premature babies—of necessary treatment.
"There is no military solution. We need a political solution—and we cannot get there until we have a full and lasting ceasefire."
Progressive U.S. lawmakers who have been calling for a cease-fire for weeks welcomed the newly announced hostage deal but said it's not sufficient, particularly if the Israeli government resumes its devastating bombing campaign once the four-day pause is over—as Netanyahu has said he intends to do.

"A temporary pause in the violence is not enough," Rep. Rashida Tlaib (D-Mich.) said in a statement. "We must move with urgency to save as many lives as possible and achieve a permanent cease-fire agreement. Over 14,000 Palestinians have been killed in Gaza since this violence began, including thousands of children, and 1.7 million Palestinians have been displaced from their homes."
"Further displacement of Palestinians and forced annexation of their land will only perpetuate this conflict," Tlaib added. "Expanding the illegal occupation will never lead to a just and lasting peace. We must address the root causes of this conflict."
Rep. Cori Bush (D-Mo.), the lead sponsor of a cease-fire resolution in the U.S. House, said the pause announcement "further proves the effectiveness of de-escalation and diplomacy—not military force—as a means of saving lives and affirms why we must keep up our push for a permanent cease-fire."
"When this agreement expires, the bombing will continue, thousands more will die, and millions of people will continue to be displaced," said Bush. "We must continue to vigorously push for a permanent cease-fire that ends this violence, protects and saves lives, and ensures the safe return of all hostages, including those who are being arbitrarily detained."
The advocacy group Jewish Voice for Peace echoed Bush and Tlaib, saying that "the Israeli government's collective punishment and unfolding genocide of Palestinians in Gaza cannot just be put on 'pause'; it must be stopped."
"Once we have reached a permanent cease-fire, we cannot return to the status quo," the group continued. "We must address the root causes of injustice. A future of peace and safety for everyone, grounded in justice, freedom and equality for all, is still the only option. There is no military solution. We need a political solution—and we cannot get there until we have a full and lasting cease-fire."
Congressional support for a cease-fire has grown steadily in recent weeks as survey results indicate overwhelming support from the U.S. public. Forty-three members of Congress are now calling for a cease-fire, according to a tally by The Intercept's Prem Thakker.
The Biden administration, though, has repeatedly dismissed the prospects of a lasting cease-fire, claiming it would only benefit Hamas. Citing an unnamed senior official, Politicoreported Tuesday that "there was no sense" inside the administration "that the pause would turn into a lengthier cease-fire."
"And there was some concern in the administration about an unintended consequence of the pause: that it would allow journalists broader access to Gaza and the opportunity to further illuminate the devastation there and turn public opinion on Israel," the outlet added.
As news of the Israel-Hamas deal emerged late Tuesday, The Associated Pressreported that "residents in Gaza City said the fighting there had intensified overnight into Wednesday, with gunfire, heavy artillery, and airstrikes in central neighborhoods."
Omar Shakir, Israel and Palestine director at Human Rights Watch, said in response to the Israel-Hamas deal that "cease-fire or not, unlawful attacks should cease."
Shakir also called for the immediate release of all hostages and an end to the Israeli siege that "has put the lives of 2.2 million people at risk."
"Human beings are not bargaining chips," he said.
News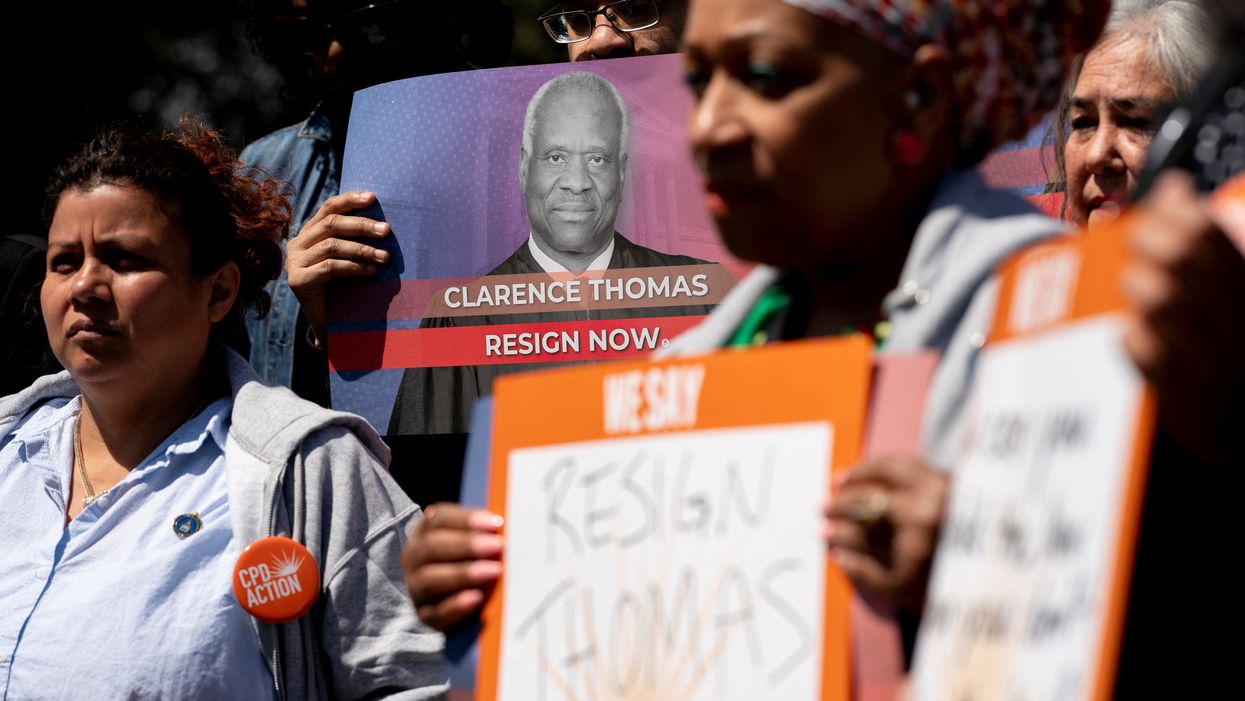 "Americans can see through the court's failed attempt at a code of conduct," said one group. "It's time for Congress to take action and pass actual ethics reform."
Nearly three-quarters of U.S. voters want federal lawmakers to pass a stricter ethics policy for the nation's Supreme Court, according to polling results released Tuesday by the progressive advocacy group Demand Justice.
The poll was conducted by YouGov after the Supreme Court announced last week that it had formally adopted a new code of conduct following months of outrage over reporting on relationships between right-wing justices and billionaires. YouGov explained to those surveyed that justices have been criticized for failing to disclose taking gifts and travel from political donors.
YouGov also told voters that supporters of a stricter ethics code say the newly adopted policy "has no way to actually enforce the rules" and believe "Congress should continue to investigate corruption allegations," while opponents of congressional action believe members of the court should be "allowed to determine their own rules without interference" and trusted to enforce them.
Across party lines, 74% of voters agreed that Congress should approve a stricter ethics code and continue to probe "the ties between justices and political megadonors," including 90% of Democrats, 70% of Independents, and 57% of Republicans.
In response to the findings, End Citizens United said that "Americans can see through the court's failed attempt at a code of conduct. It's time for Congress to take action and pass actual ethics reform."
As Common Dreamsreported when the new code was announced last week, critics have condemned it as a "toothless PR stunt" intended to curb media coverage of potential corruption and "halt momentum for transparency and real reform."
Amid a wave of reporting about Justices Clarence Thomas and Samuel Alito's connections to billionaire megadonors and Leonard Leo—who leads the Federalist Society, a primary force in pushing U.S. courts to the right—Democrats on the Senate Judiciary Committee passed the Supreme Court Ethics, Recusal, and Transparency (SCERT) Act in July.
However, the bill is unlikely to win approval from the full Senate or GOP-controlled House of Representatives. Still, the Senate panel—chaired by Sen. Dick Durbin (D-Ill.)—is expected to continue its probe, possibly with subpoenas targeting Leo and Thomas benefactor Harlan Crow.
Demand Justice was among over a dozen groups that last week called on the committee to issue subpoenas, arguing that "we must learn the full scope of these hidden efforts to improperly influence the Supreme Court and the extent of Justices Thomas' and Alito's ethical wrongdoings."

News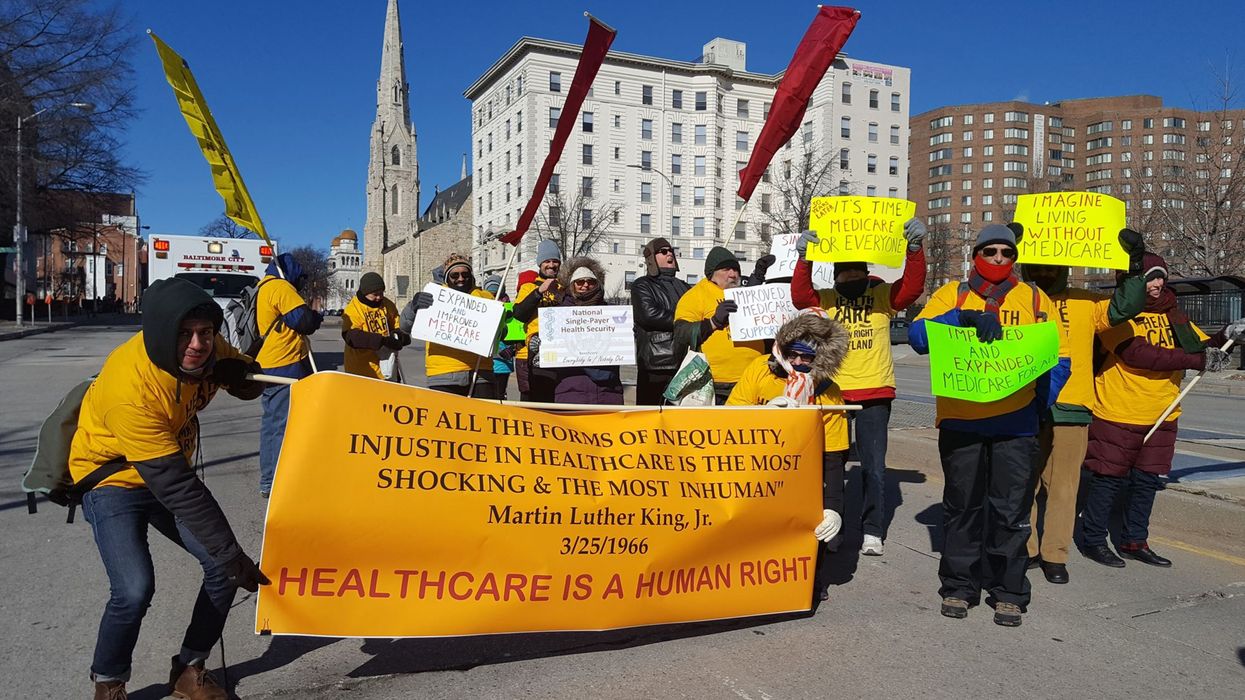 "Every Baltimore resident deserves healthcare whenever they need it," said one local pastor who backed the resolution. "It's time to join every other developed nation in making healthcare a guaranteed human right."
Baltimore on Monday became the latest of over 100 U.S. municipalities to officially endorse a national healthcare program, commonly called Medicare for All.
The passage of a Medicare for All resolution—introduced by Democratic Baltimore City Councilmembers Kristerfer Burnett and Odette Ramos—puts Maryland's largest city in a growing group of municipalities including Philadelphia, San Francisco, Seattle, Los Angeles, Atlanta, Denver, Austin, and Washington, D.C. that have endorsed federally funded universal healthcare programs.
"I want to thank the advocates who have been pushing these resolutions across the country to try and show that there are municipalities that understand that our constituents, in order to fully thrive, need access to healthcare," Burnett said Monday.
"No one should be forced to make the desperate choice between paying for insulin or groceries."
Local Rev. Alvin C. Hathaway Sr., pastor of the Union Baptist Church, told the consumer advocacy group Public Citizen that "every Baltimore resident deserves healthcare whenever they need it."
"No one should be forced to make the desperate choice between paying for insulin or groceries," Hathaway added. "It's time to join every other developed nation in making healthcare a guaranteed human right."
According to U.S. Census Bureau figures cited by Public Citizen, more than 1 in 5 Baltimore residents live in poverty, with 6.7% of residents under age 65 uninsured.
The Baltimore City Health Department published a report in 2020 that said, in part:
It is impossible to discuss the health and well-being of Baltimore City's residents without applying the lens of health equity and systemic disparities. While the overall mortality rate in Baltimore City has declined over the past decade, the city still has a mortality rate nearly 30% higher than the rest of the state, and ranks last on key health outcomes compared to other jurisdictions in Maryland.

This reality is compounded by a series of complicated systemic social, political, economic, and environmental obstacles. With more than 1 in 3 of Baltimore's children below the federal poverty line and more than 30% of Baltimore households earning less than $25,000 per year, income, poverty, and race have an enormous impact on health outcomes.

Jean Ross, president of National Nurses United, said that "every day, we nurses see the human cost of our patients delaying care or going without care, simply because they can't afford it, and that's why we need Medicare for All."
"We're grateful to the city of Baltimore for joining more than 100 other cities around the country in passing a resolution in support of Medicare for All," Ross added. "The grassroots movement to guarantee healthcare to all in the United States is growing every day."
Earlier this year, U.S. Sen. Bernie Sanders (I-Vt.) joined Reps. Pramila Jayapal (D-Wash.) and Debbie Dingell (D-Mich.) in reintroducing Medicare for All legislation.
"The American people understand, as I do, that healthcare is a human right, not a privilege," Sanders said at the time. "As we speak, there are millions of people who would like to go to a doctor but cannot afford to do so. That is an outrage."
News