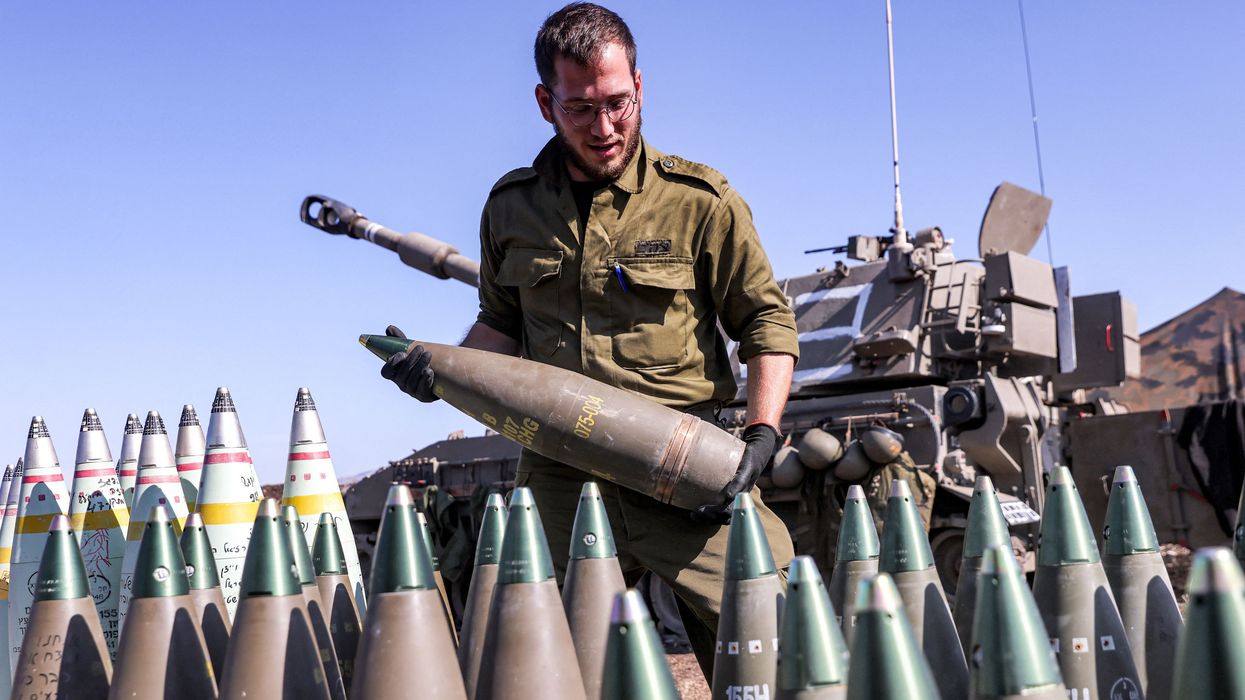 The senators—who are seeking improved oversight—sounded the alarm on the "staggering number of civilian deaths" caused by Israeli bombing with U.S.-supplied ordnance.
As the number of Gazans killed, maimed, or left missing by Israeli bombs and bullets—many of them manufactured in the United States— tops 60,000, a group of U.S. senators on Tuesday urged President Joe Biden to boost oversight of how American arms are used against Palestinian civilians.
Noting that Israel's response to the Hamas-led attacks of October 7 "has killed over 15,000 Palestinians in Gaza, the vast majority of whom are civilians," Sens. Elizabeth Warren (D-Mass.), Jeff Merkley (D-Ore.), Bernie Sanders (I-Vt.), Tim Kaine (D-Va.), and Martin Heinrich (D-N.M.) asked the White House for "information on the accountability and oversight measures that ensure any use of U.S. weapons is in accordance with U.S. policy and international law."
"U.S. allies and human rights groups have argued many of these deaths were preventable," the senators wrote in their letter. "In its campaign, Israel has also repeatedly targeted areas it previously designated as 'safe zones,' after telling Palestinians to move to these locations for safety."
"[Israel Defense Forces] airstrikes have also hit the densely populated Jabalia refugee camp multiple times," the lawmakers noted. "The first strike killed 'more than 100 people' and injured 'hundreds' more. The second strike left dozens wounded and rescuers said those killed included 'whole families'... Other strikes and operations have targeted hospitals."
A growing number of legal, human rights, and other experts have called Israel's war on Gaza a genocide.
The senators' letter continues:
While these strikes were aimed at Hamas, we have concerns that strikes on civilian infrastructure have not been proportional, particularly given the predictable harm to civilians. The United Nations Secretary-General António Guterres has said these strikes are 'clear violations of international humanitarian law.' Even Israeli Prime Minister Benjamin Netanyahu has admitted that his government's efforts to minimize civilian casualties to date are 'not successful.'
The letter singles out 155mm artillery shells, unguided explosive rounds with a "kill radius" of about 50 meters, with shrapnel able to kill and wound people hundreds of meters away.
"The IDF requires its ground forces to stay 250 meters away to protect its own forces," the letter states. "The IDF has previously used these shells to 'hit populated areas including neighborhoods, hospitals, schools, shelters, and safe zones,' causing a staggering number of civilian deaths."
"Over 30 U.S.-based civil society organizations warned against providing Israel 155mm shells in an open letter to [U.S. Defense Secretary Lloyd] Austin calling the shells 'inherently indiscriminate' and 'a grave risk to civilians,'" the lawmakers added.
Claiming that "civilian harm prevention is a cornerstone of American foreign policy"—a curious assertion given that the United States has killed more foreign civilians by far than any other armed force on the planet since the end of World War II—the senators argued that "we must ensure accountability for the use of U.S. weapons we provided to our ally."
"As you have acknowledged, Israel's military campaign has included 'indiscriminate bombing,'" they wrote. "Your administration must ensure that existing guidance and standards are being used to evaluate the reports of Israel using U.S. weapons in attacks that harm civilians in order to more rigorously protect civilian safety during Israel's operations in Gaza."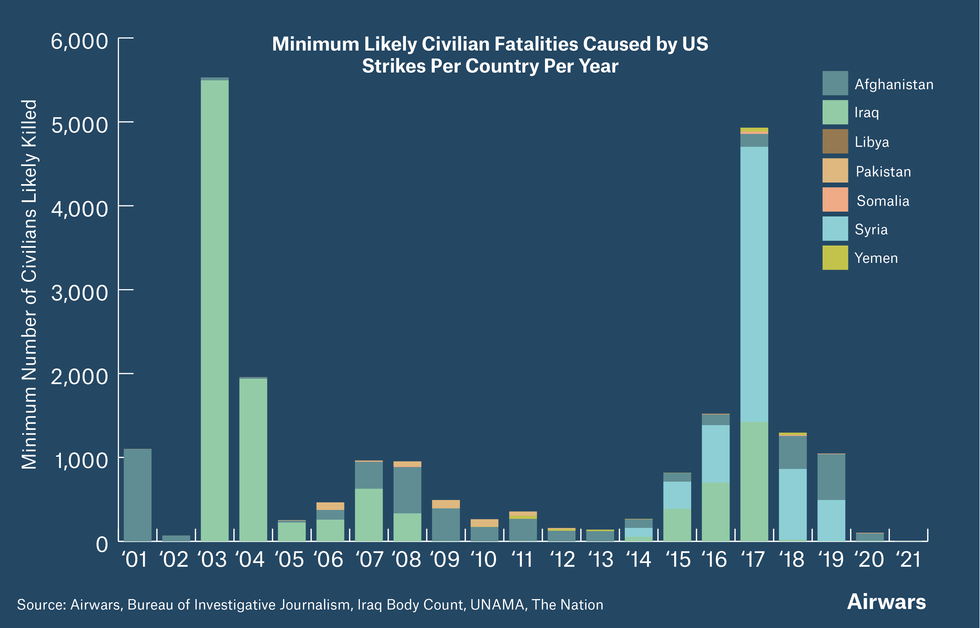 (Source: Airwars)
To that end, the senators ask Biden to answer 13 questions, including:
Are U.S. officials aware of the IDF's current policy on preventing civilian harm?
What insights does the U.S. government have into how the Israeli military assesses issues of proportionality?
What systems does the Israeli government have in place to investigate allegations of civilian harm?
Does the U.S. Defense Department or State Department plan to provide Israel with guidance on how 155mm shells should be
used when civilians are nearby?
Are you aware of any requests for inspector general reviews or audits of U.S. military assistance provided to Israel?
The senators' letter came ahead of Wednesday's procedural vote on whether to begin debating a $106 billion "national security" spending package requested by Biden, which includes more than $10 billion in additional U.S. military aid to Israel atop the nearly $4 billion it receives each year from Washington.
On Tuesday, Sanders—who has angered progressives by failing to demand a Gaza cease-fire—said he opposes sending billions of dollars in unconditional U.S. armed aid to the "right-wing, extremist" Israeli government led by Prime Minister Benjamin Netanyahu.

"Israel must dramatically change its approach to minimize civilian harm," he said, "and lay out a wider political process that can secure lasting peace."
News