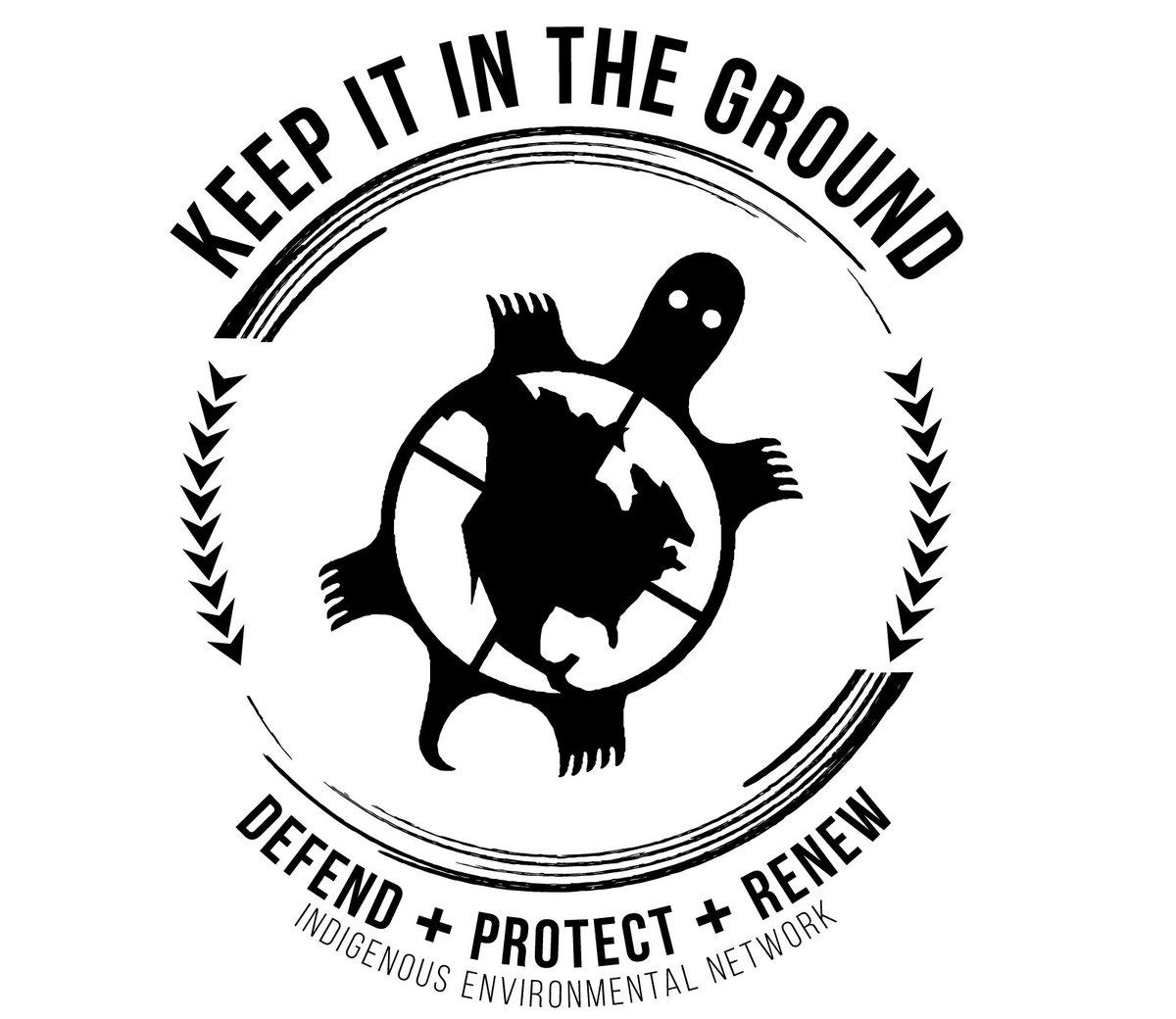 For Immediate Release
November, 29 2022, 09:55am EDT
Indigenous Environmental Network Denounces the Lack of Progress for Indigenous Peoples and Climate Justice at COP27
SHARM EL-SHEIK, Egypt
The UNFCCC Conference of the Parties concluded its 27th session in the early hours of Sunday, November 20, 2022 with the adoption of the Sharm El-Sheikh Implementation Plan. Despite the extended COP, Parties failed to take adequate steps and action to address climate change. The most glaring omission in the Plan is a failure of the Parties to cut fossil fuel emissions at the source and there were only vague references towards achieving the Paris Agreement temperature goal of 1.5 degrees Celsius.

False solutions such as REDD+, carbon markets, carbon offsets, climate-smart agriculture, climate geoengineering technologies, and nature-based solutions were focal points at COP27. Additionally, climate finance, adaptation and mitigation as well as loss and damage were at the forefront of negotiations at this year's session.

In the final days of the COP, various changes were made in the final documents that will have a direct impact on Indigenous Peoples and frontline communities. Under mitigation, Parties are called upon to "accelerate the development, deployment, and dissemination of technologies," which opens the door to streamline harmful, false solutions like climate geoengineering technology. Moreover, the mitigation text also calls for "accelerating efforts towards the phase down of unabated coal and phase-out of inefficient fossil fuel subsidies." Ultimately, this text does not call for the necessary climate action to phase out fossil fuels with any set dates for action, letting big polluters yet again off the hook, enabling them to continue to pollute and to not be held accountable for their immense contributions to the climate crisis.

While there was an acknowledgement of the rights of Indigenous Peoples as well as a recognition of the important role Indigenous Peoples have in addressing and responding to climate change in the preamble of the Sharm El Sheikh Implementation Plan, there is no other reference to Indigenous Peoples, Traditional [Indigenous] Knowledge, Indigenous Peoples' rights or human rights in any other text, and instead replaced with references like "social and environmental safeguards."

In terms of loss and damage, small islands and developing countries pushed for the large, developed countries to pay up for their contributions to climate change. While the text calls for Parties to provide "targeted support to the poorest and most vulnerable in line with national circumstances and recognizing the needs for support towards a just transition", there is no reference to Indigenous Peoples, and therefore the gap widens Indigenous Peoples receiving direct financial resources for loss and damage.

Although the architecture for loss and damage was agreed in Sharm El-Sheik, the details on implementation will be passed along to the next COP. IEN continues to be concerned on how the finance for loss and damage will be used to create more wealth for countries in the Global North through multilateral development banks and other financial mechanisms.

Furthermore, the Parties took steps backwards in Article 6 of the Paris Agreement, as the implementation process was fast-tracked without meaningful and democratic dialogue that centered around false solutions and no reference to Indigenous Peoples or our Traditional Indigenous Knowledge.

Article 6 relies far too heavily on the assumption that by educating and training citizens of the Parties on the ways and means of local and global efforts to mitigate the sources of climate change it will enable them to make contributions toward reductions of the impacts, wherein reality the Parties engagement is voluntary and they do not actively reduce emissions at source.

In reference to Article 6 and carbon markets, IEN Climate Justice Program Coordinator, Tamra Gilbertson shares, "When carbon pricing is attempted to be placed inside of democratic system to create compliance-based tracking and trading platforms, the whole system collapsed under the weight of attempted tracking, monitoring and accounting because carbon pricing systems are inherently flawed and cannot function within a system that would actually attempt to track and account for real emission's 'units'."

Tom BK Goldtooth, IEN Executive Director also shares his thoughts on the lack of progress made at COP27, "The bottom line at COP27 should have been for rich countries such as the U.S. to commit to a full unqualified phase-out of all fossil fuels, namely oil, gas and coal. This was not done. The door was kept wide open prolonging subsidies for and reliance on fossil fuels and new fossil fuel exploration. There was some headway on the establishment of a loss and damage fund, but only in principle and it could take years before real funding is made available for Indigenous Peoples and non-Indigenous communities in developing countries. There was no COP27 progress in mitigation and adaptation. We did see the UN, the World Bank, other multilateral development banks, and the private sector pushing the financialization of climate change that has nothing to do with addressing the root cause of climate change, allowing polluters to keep on polluting. This coming year IEN will be part of a global movement of grassroots and civil society taking back our power by planning our own regional and global Peoples' climate action summits."

While the COP attempted to galvanize Parties to pay up to those impacted by climate change through loss and damage, however after much resistance, the Parties remained unmoved to intervene on addressing the source of climate change which includes stopping big polluters and keeping fossil fuels in the ground.

The UNFCCC COP process yet again, fails to take necessary climate action to address the climate crisis and false solutions noted in the final text will continue to devastate Indigenous and frontline communities. To learn more about the false solutions at COP27, review IEN's three-part Climate Justice Program Series and critical analyses on Climate Finance, Climate-Smart Agriculture, and Nature-Based Solutions.
Established in 1990 within the United States, IEN was formed by grassroots Indigenous peoples and individuals to address environmental and economic justice issues (EJ). IEN's activities include building the capacity of Indigenous communities and tribal governments to develop mechanisms to protect our sacred sites, land, water, air, natural resources, health of both our people and all living things, and to build economically sustainable communities.
LATEST NEWS
"Chevron should not be doing $75 billion in stock buybacks while price gouging American families and accelerating the climate crisis," said one critic.
Climate and consumer advocates reacted angrily Thursday to Chevron's announcement of a planned $75 billion stock buyback amid record profits and a worsening planetary emergency exacerbated by the continued extraction and burning of fossil fuels.
California-based Chevron said Wednesday it would start buying back shares on April 1, and that the new repurchase will be three times the size of the last one, which began in 2019. Bloombergnotes that the new buyback is equivalent to nearly a quarter of Chevron's market value.

"Companies like Chevron are doing absolutely massive stock buybacks after price gouging working families for over a year," tweeted Pennsylvania state Rep. Malcolm Kenyatta (D-181). "Then these same companies will come back hat-in-hand begging for more tax breaks and tax cuts."
Brian Vickers, a business administration professor at Northeastern State University in Oklahoma, tweeted, "I kept saying gas price increases were straight-up price gouging and not indicative of the price of oil, and here's all the proof I was right."
\u201cAfter decimating Indigenous groups in the Amazon and evading a $9.5 billion pollution judgement in Ecuador, @Chevron is now reporting a $75 billion buyback of its own stock. How the rich get richer while the poor die.\n\nThis company should lose its license to operate.\u201d

— Steven Donziger (@Steven Donziger) 1674760480
The Biden administration—which despite a worsening climate emergency has been pressing oil companies to increase production to keep gas prices down—denounced Chevron's planned buyback.

"For a company that claimed not too long ago that it was 'working hard' to increase oil production, handing out $75 billion to executives and wealthy shareholders sure is an odd way to show it," White House spokesperson Abdullah Hasan said in response to news of the buyback.
Thursday's announcement came as Chevron, BP, ExxonMobil, Shell, and TotalEnergies are set to announce a record $199 billion in collective 2022 profits, 50% higher than the previous record set over a decade ago, according to Bloomberg.
\u201cNEWSFLASH: Chevron should not be doing *$75 BILLION* in stock buybacks while price gouging American families and accelerating the climate crisis.\u201d

— Climate Power (@Climate Power) 1674755389
Chevron's $11.2 billion third-quarter profit last year was its second-highest on record and nearly double the $6.1 billion it reported during the same period in 2021.
Reacting to Chevron's impending buyback, biogeochemist and Earth sciences professor Gabriel Filippelli said "so much is wrong about this."
"Record profits for Chevron and the [Biden] administration is mad that they don't pump that into more drilling?" he asked. "They should pump it into more renewables and a real divestment strategy to stop producing their deadly product."
On Wednesday, U.S. Sens. Catherine Cortez Masto (D-Nev.) and Ben Ray Luján (D-N.M.) reintroduced the Fair and Transparent Gas Prices Act, which the lawmakers argue "would give the Federal Trade Commission the tools it needs to investigate unfair practices, provide market transparency, and prevent price gouging by Big Oil and gas companies."
\u201cBig Oil is making record profits, while Nevadans still have some of the highest gas prices in the country. I see it every time I fill up my tank.\n\nMy bill will investigate Big Oil for price gouging and work to stop any unfair practices hurting Nevadans.\nhttps://t.co/bT3Qv1m5kx\u201d

— Senator Cortez Masto (@Senator Cortez Masto) 1674745500
Last March, Rep. Ro Khanna (D-Calif.) introduced legislation that would tax excess oil company profits and use the proceeds to pay American households a quarterly rebate. That same month in the Senate Bernie Sanders (I-Vt.) introduced the Ending Corporate Greed Act, which would impose a 95% tax on the windfall profits of major companies.
President Joe Biden has threatened to back a windfall profits tax on Big Oil unless companies ramp up production, but has not yet done so.

News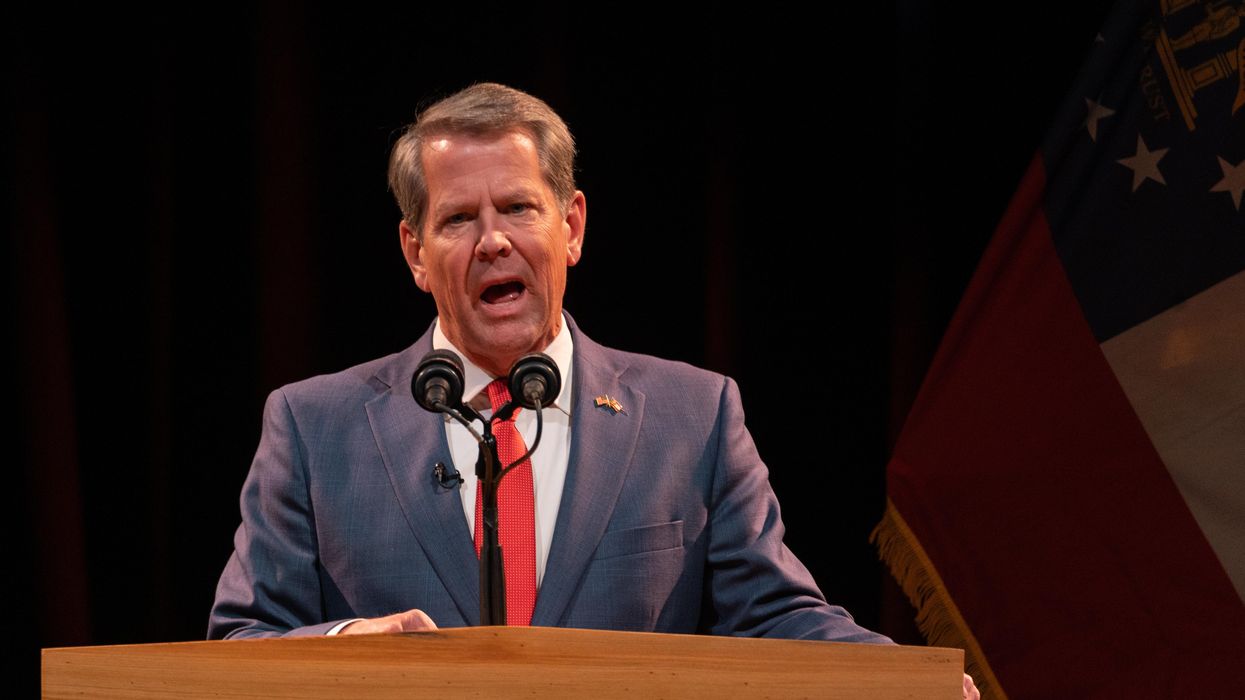 While the move comes after law enforcement in Georgia killed a "Cop City" protester, one official said it is a "purely precautionary" measure before the anticipated release of video footage from an arrest in Tennessee.

Republican Georgia Gov. Brian Kemp on Thursday signed an executive order declaring a state of emergency through at least February 9 that will enable him to deploy up to 1,000 National Guard troops "as necessary."
The order follows protests in Atlanta after 26-year-old forest defender Manuel "Tortuguita" Teran was shot dead last week during a multi-agency raid on an encampment to oppose construction of Cop City, a nearby law enforcement training center. The Georgia Bureau of Investigation (GBI), which is investigating the case, has said Teran was killed after he shot and wounded a state trooper.
While the order begins by stating that "protests turned violent in downtown Atlanta" last Saturday, The Atlanta Journal-Constitutionreported that Kemp's aides signaled that the move was not about the Cop City demonstrations but rather in anticipation of any potential response to video footage from Memphis, Tennessee showing the arrest of Black motorist Tyre Nichols.
\u201cGeorgia Gov. Brian Kemp is calling up to 1,000 National Guard troops & declaring a state of emergency until Feb 9, a week after police killed forest defender Tortuguita. 12 Cop City opponents were charged with domestic terrorism since. Tomorrow the Tyre Nichols video comes out.\u201d

— Alleen Brown (@Alleen Brown) 1674766682
As Common Dreamsreported earlier Thursday, five fired Memphis cops were charged with second-degree murder and other crimes related to Nichols' death. Footage of the 29-year-old's arrest is expected to be released sometime after 6:00 pm local time on Friday.
"We understand the executive order is purely precautionary based on possible unrest following the release of the videos from Memphis," an official in Georgia with direct knowledge of the situation told the AJC. "There are no immediate intentions to deploy the guard."
The Atlanta Police Department also mentioned the Memphis case in a statement Thursday:
We are closely monitoring the events in Memphis and are prepared to support peaceful protests in our city. We understand and share in the outrage surrounding the death of Tyre Nichols. Police officers are expected to conduct themselves in a compassionate, competent, and constitutional manner and these officers failed Tyre, their communities, and their profession. We ask that demonstrations be safe and peaceful.
In a series of tweets Thursday, the Atlanta Community Press Collective named several people killed by law enforcement in recent years and suggested that Kemp's order is about "trying to instill fear in anyone who stands up against police brutality."
\u201cKemp's declaration of a State of Emergency isn't about property damage at Saturday's protests at all. It's about police murdering #TyreNichols and Tortuguita within two weeks of each other. They're trying to instill fear in anyone who stands up against police brutality.\u201d

— Atlanta Community Press Collective (@Atlanta Community Press Collective) 1674764329
Meanwhile, national groups and progressive lawmakers have echoed local demands for an independent probe in Teran's case.
The Georgia Bureau of Investigation has highlighted that it is separate from the Georgia State Patrol and said that GBI "is conducting an independent investigation," after which it will "turn the investigative file over to the prosecutor." The agency noted Wednesday that DeKalb County District Attorney Sherry Boston has recused herself from the case so a special prosecutor will be assigned.
Some have pushed back against the "police narrative" that the "corporate media has ran away with" for Teran's case, as forest defender Kamau Franklin toldDemocracy Now! last week, adding that "we find it less than likely that the police version of events is what really happened."
"And that's why we're calling for an independent investigation, not one that's done by the Georgia Bureau of Investigation, not one that's done by any federal authority, but a complete independent investigation," Franklin said, "because that's the only way we're going to know what really happened."
Rights & Justice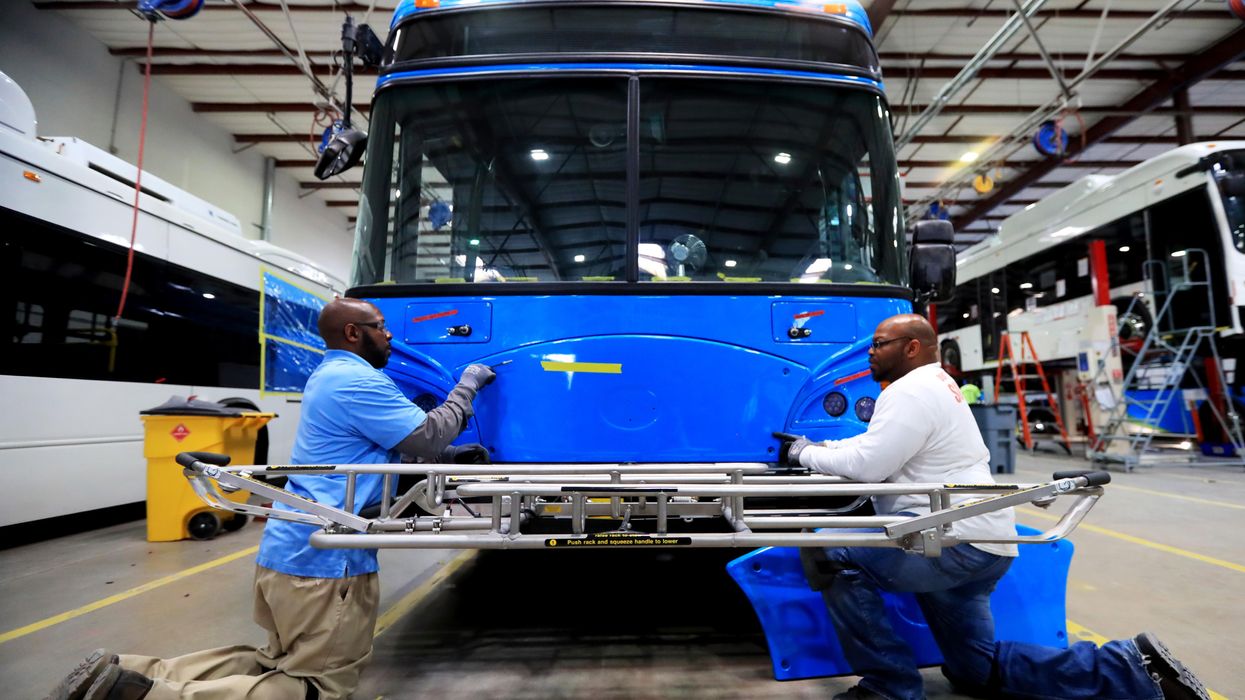 "Military industrial production can be redirected to civilian technologies that contribute to societal well-being and provide green jobs," says the Costs of War project.
A pair of reports published Thursday show that many workers employed in the U.S. military-industrial complex support shifting manufacturing resources from military to civilian use—a conversion seen as vital to the fight against the climate emergency.
Moving "from a war economy to a green economy" can help avert the worst consequences of the climate crisis, noted the Costs of War project at Brown University's Watson Institute, publisher of the new research.
"Ever-higher military spending is contributing to climate catastrophe, and U.S. lawmakers need a better understanding of alternative economic choices," Stephanie Savell, co-director of Costs of War, said in a statement. "Military industrial production can be redirected to civilian technologies that contribute to societal well-being and provide green jobs. This conversion can both decarbonize the economy and create prosperity in districts across the nation."
In one of the papers released Thursday, Miriam Pemberton, an associate fellow at the Institute for Policy Studies, described "how the United States developed a war economy," as reflected in its massive $858 billion military budget, which accounts for roughly half of all federal discretionary spending.
As Pemberton explained:
When the U.S. military budget decreased after the Cold War, military contractors initiated a strategy to protect their profits by more widely connecting jobs to military spending. They did this by spreading their subcontracting chains across the United States and creating an entrenched war economy. Perhaps the most infamous example: Lockheed Martin's F-35 fighter jet, which is built in 45 states.

The strategy proved successful. Today, many members of Congress have political incentives to continue to raise the military budget, in order to protect jobs in their districts. Much of the U.S. industrial base is invested in and focused on weapons production, and industry lobbyists won't let Congress forget it.

Not only is the Pentagon a major contributor to planet-heating pollution—emitting more greenhouse gases than 140 countries—and other forms of environmental destruction, but a 2019 Costs of War study showed that "dollar for dollar, military spending creates far fewer jobs than spending on other sectors like education, healthcare, and mass transit," Pemberton continued.
Moreover, "military spending creates jobs that bring wealth to some people and businesses, but do not alleviate poverty or result in widely-shared prosperity," Pemberton wrote. "In fact, of the 20 states with economies most dependent on military manufacturing, 14 experience poverty at similar or higher rates than the national average."
"A different way is possible," she stressed, pointing to a pair of military conversion case studies.
"The only way to really lower emissions of the military is you've got to make the military smaller."
As military budgets were shrinking in 1993, Lockheed was eager to expand its reach into non-military production.
"One of its teams working on fighter jets at a manufacturing facility in Binghamton, New York successfully shifted its specialized skills to produce a system for transit buses that cut fuel consumption, carbon emissions, maintenance costs, and noise, called 'HybriDrive,'" Pemberton explained.
By 1999, Lockheed "sold the facility producing HybriDrive buses and largely abandoned its efforts to convert away from dependence on military spending," she wrote. "But under the new management of BAE Systems, the hybrid buses and their new zero-emission models are now reducing emissions" in cities around the world.
According to Pemberton, "This conversion project succeeded where others have failed largely because its engineers took seriously the differences between military and civilian manufacturing and business practices, and adapted their production accordingly."
In another paper released Thursday, Karen Bell, a senior lecturer in sustainable development at the University of Glasgow, sought to foreground "the views of defense sector workers themselves," noting that they "have been largely absent, despite their importance for understanding the feasibility of conversion."
Bell surveyed 58 people currently and formerly employed in military-related jobs in the U.S. and the United Kingdom and found that "while some workers said that the defense sector is 'socially useful,' many were frustrated with their field and would welcome working in the green economy."
"This was a small group so we cannot generalize to defense workers overall," writes Bell. "However, even among this small cohort, some were interested in converting their work to civil production and would be interested in taking up 'green jobs.'"
One respondent told Bell: "Just greenwashing isn't going to do it. Just putting solar panels up isn't going to do it. So we're trying to stress that the only way to really lower emissions of the military is you've got to make the military smaller."
"By the way, do we really need to update all our ICBMs [Inter-Continental Ballistic Missiles]?" the survey participant asked. "Don't we have enough to blow up the world three times over, or five times over? Why don't we take those resources and use them someplace else where they really should be?"
News
SUPPORT OUR WORK.
We are independent, non-profit, advertising-free and 100%
reader supported.