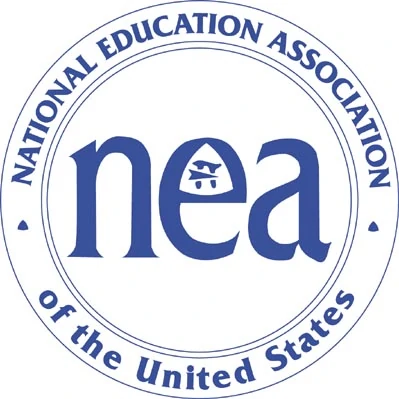 For Immediate Release
August, 12 2022, 05:37pm EDT
Contact:
Staci Maiers, NEA Communications, 202-270-5333 cell, smaiers@nea.org
NEA Applauds the Passage of the Inflation Reduction Act
New law is a 'victory for America's working families'
WASHINGTON
Congress today passed the Inflation Reduction Act of 2022, the most significant climate investment in U.S. history that also makes healthcare more affordable to millions and enacts a 15% minimum tax on corporations that make more than $1 billion in profits. The legislation is expected to be signed into law by President Biden.
The following statement can be attributed to NEA President Becky Pringle:
"No matter our race or place, everyone deserves access to affordable healthcare, clean air and water, and fairer taxes. The Inflation Reduction Act will make a difference in people's lives by helping them reduce prescription drug prices, capping the cost of insulin, and lowering healthcare premiums because no one should have to choose between getting their pills or paying their bills. Today's victory for America's working families was made possible because we came together in record numbers at the ballot box to speak up for our values and our future.
"Educators applaud President Biden, Majority Leader Chuck Schumer, Speaker Pelosi and every member of Congress who helped to pass this historic legislation."
The National Education Association (NEA), the nation's largest professional employee organization, is committed to advancing the cause of public education. NEA's 3 million members work at every level of education--from pre-school to university graduate programs. NEA has affiliate organizations in every state and in more than 14,000 communities across the United States.
(202) 833-4000
LATEST NEWS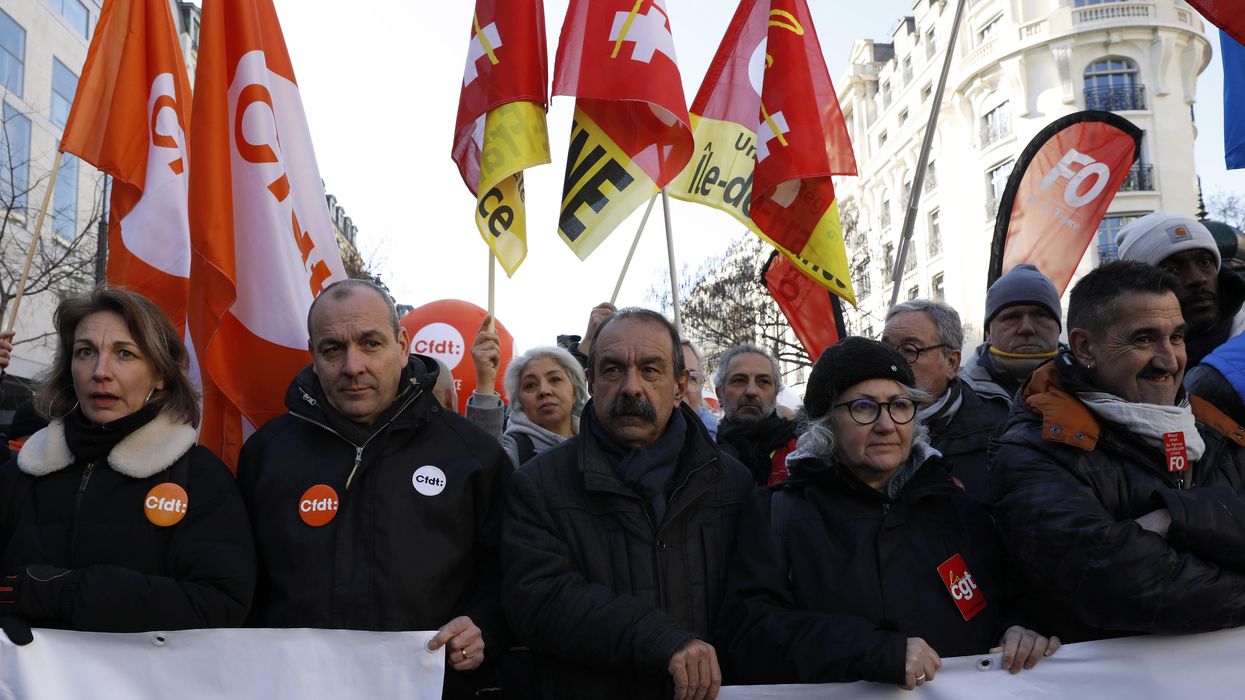 "Retirement should be a second life, not a waiting room for death," said one pensioner.
For the third time in less than a month, hundreds of thousands of workers across France participated Tuesday in strikes and rallies to protest President Emmanuel Macron's unpopular plan to force people to work longer before they qualify for a full pension.
The latest nationwide mobilization against Macron's assault on French retirement benefits brought at least 750,000 people to the streets, with turnout lower than on January 19 and January 31. Tuesday's walkouts and marches came one day after the National Assembly began debating legislation that would raise France's official retirement age from 62 to 64 by 2030.
"Those of you who support this reform don't understand how tough jobs are, what it's like to wake up with an aching back," Rachel Keke, the first cleaner in France to become a lawmaker, said during a tense debate in parliament on Monday.
"You don't understand what it's like to take medication to get through the work day. You don't understand because it's not a world you live in," the leftist continued, garnering applause from fellow opposition lawmakers.
During a Tuesday rally in the city of Nice, pensioner Bernard Chevalier echoed Keke, saying that "we're worn out by work."
"Retirement should be a second life, not a waiting room for death," he added.
\u201c\ud83c\uddeb\ud83c\uddf7 Teachers cannot start working very early\u2014if they work for a total of 43 years, they will end up retiring at the age of 67, says one English teacher at the protests in #Paris on Tuesday. \n\n@lizakaminov spoke with the educator while at the demonstration \u2935\ufe0f\u201d

— FRANCE 24 English (@FRANCE 24 English) 1675765247
Opposition to pushing back France's retirement age is widespread, with recent polling showing that approximately three-fourths of the population is against such a move. Nevertheless, many of Macron's allies remain determined to fulfill his campaign pledge to overhaul the nation's pension system.
Last week, Macron characterized his effort to hike the retirement age as "essential," while Prime Minister Élisabeth Borne claimed that doing so is "no longer negotiable."
On Tuesday, Labor Minister Olivier Dussopt dismissed opposition lawmakers' accusations that the government is in denial over the scale of protests and doubled down on the supposed need for change.
"The pension system is loss-making and if we care about the system, we must save it," Dussopt told RMC radio.
But as Agence France-Presse reported, "some of the government's own experts have said the pension system is in relatively good shape and would likely eventually return to a balanced budget even without reforms."
Union leaders and left-wing lawmakers, meanwhile, "say the money can be found elsewhere, notably from the wealthy," Reutersreported.
Organized labor, for its part, intends to launch repeated waves of mass demonstrations until Macron and others who insist on the need to cut retirement benefits are defeated.
"This reform will upend the lives of several generations," Philippe Martinez, general secretary of the General Confederation of Labor (CGT), said Tuesday at a march in Paris. "If the government stubbornly forges ahead, we will step up our protest with longer and harder actions."
Striking workers in strategic sectors—including electricity production, transportation, and education—disrupted multiple aspects of daily life on Tuesday, though to a lesser degree than they did twice last month.
\u201cBy late afternoon, it appeared that the turnout for demos in large towns, including Paris, was only about half to two thirds of the 1.27m who marched last Tuesday.\u00a0 Rail, metro, school and energy strikes were also much less effective. BUT\u2026\u00a0 2/\u201d

— Mujtaba Rahman (@Mujtaba Rahman) 1675788971
Macron's bill faces an uphill battle in the National Assembly.
Notably, the New Ecological and Social People's Union (NUPES)—a coalition of four left-wing parties recently formed by Jean-Luc Mélenchon—won 131 seats in last June's parliamentary elections, denying Macron's neoliberal alliance Ensemble the absolute majority it needed to ram through his unwanted austerity agenda.
However, journalist Marlon Ettinger, citing French Communist Party lawmaker André Chassaigne, warned recently that "the government might try to pass the reform through a social security financing bill (known as PLFRSS), which would allow for a series of constitutional delays that would significantly limit the amount of time deputies can discuss the bill. It would also block the possibility for the opposition to present their own counterproposals."
In addition, "although Macron has no popular assent, nor a parliamentary majority for his reform, he does have constitutional tools he can use to push the package through," Ettinger explained in Jacobin. "One, known as 49.3 (after the article of the Constitution which grants the president this power), essentially lets him bypass the National Assembly. The constitution of the current Fifth Republic grants the president these authoritarian powers to hedge against any popular sentiment that might make its way into the lower house. The use of 49.3 would suspend the debate in the National Assembly, then send the bill directly to the Senate, which is controlled by Les Républicains."
Laurent Berger, general secretary of the French Democratic Confederation of Labor (CFDT), told a Parisian crowd on Tuesday that concessions offered by the government, such as allowing people who start working early to retire early, "are just patches."
"Increasing the legal retirement to 64 is the core of this reform and it is deeply unfair," said Berger. "It is a democratic folly for the government to turn a deaf ear to the protest."
Another day of action is planned for Saturday.
News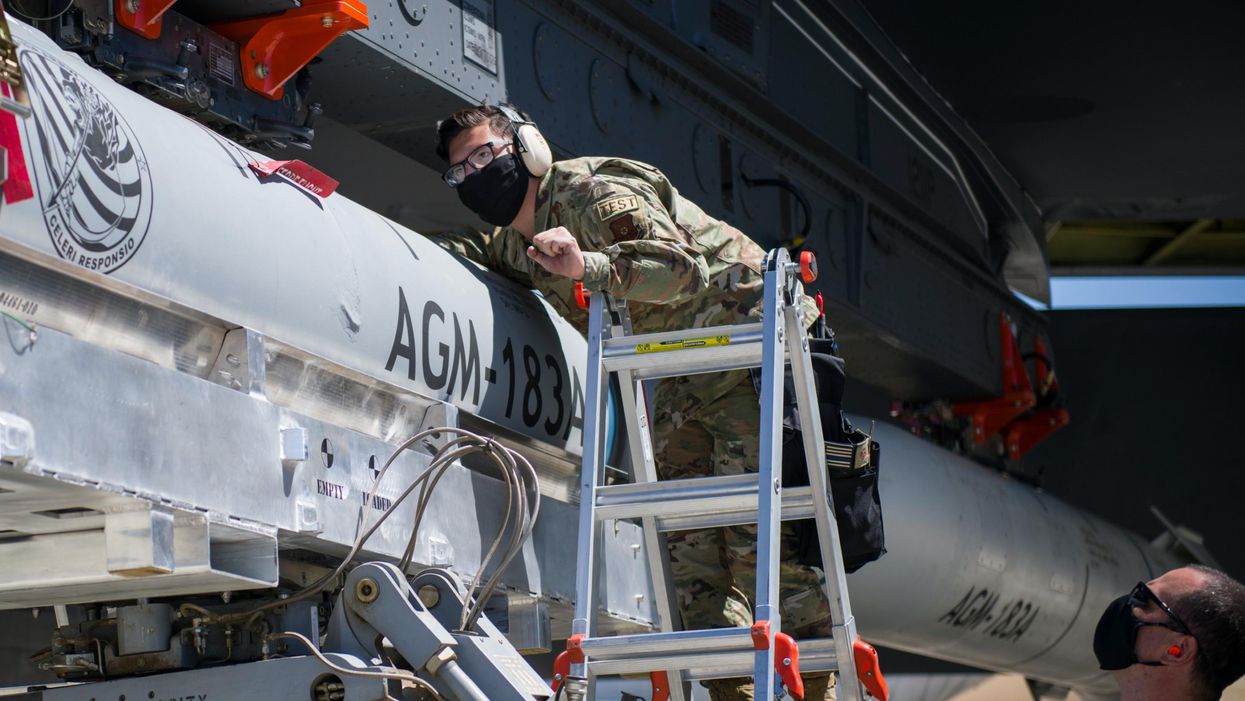 "While the media and the U.S. Congress have devoted much attention to the purported benefits of exploiting cutting-edge technologies for military use, far less has been said about the risks involved."
Emerging technologies including artificial intelligence, lethal autonomous weapons systems, and hypersonic missiles pose a potentially existential threat that underscores the imperative of arms control measures to slow the pace of weaponization, according to a new report published Tuesday.

The Arms Control Association report—entitled Assessing the Dangers: Emerging Military Technologies and Nuclear (In)Stability—"unpacks the concept of 'emerging technologies' and summarizes the debate over their utilization for military purposes and their impact on strategic stability."
The publication notes that the world's military powers "have sought to exploit advanced technologies—artificial intelligence, autonomy, cyber, and hypersonics, among others—to gain battlefield advantages" but warns too little has been said about the dangers these weapons represent.
"Some officials and analysts posit that such emerging technologies will revolutionize warfare, making obsolete the weapons and strategies of the past," the report states. "Yet, before the major powers move quickly ahead with the weaponization of these technologies, there is a great need for policymakers, defense officials, diplomats, journalists, educators, and members of the public to better understand the unintended and hazardous outcomes of these technologies."
\u201cA new @ArmsControlNow report assesses the extent to which military use of emerging tech could result in an accidental use of nuclear weapons in a crisis, and provides a framework for curtailing the indiscriminate weaponization of such tech.\n\nAvailable at https://t.co/gPyDbcaOcd\u201d

— Arms Control Assoc (@Arms Control Assoc) 1675774840
Lethal autonomous weapons systems—defined by the Campaign to Stop Killer Robots as armaments that operate independent of "meaningful human control"—are being developed by nations including China, Israel, Russia, South Korea, the United Kingdom, and the United States. The U.S. Air Force's sci-fi-sounding Skyborg Autonomous Control System, currently under development, is, according to the report, "intended to control multiple drone aircraft simultaneously and allow them to operate in 'swarms,' coordinating their actions with one another with minimum oversight by human pilots."
"Although the rapid deployment of such systems appears highly desirable to many military officials, their development has generated considerable alarm among diplomats, human rights campaigners, arms control advocates, and others who fear that deploying fully autonomous weapons in battle would severely reduce human oversight of combat operations, possibly resulting in violations of international law, and could weaken barriers that restrain escalation from conventional to nuclear war," the report notes.

The latter half of the 20th century witnessed numerous nuclear close calls, many based on misinterpretations, limitations, or outright failures of technology. While technologies like artificial intelligence (AI) are often touted as immune to human fallibility, the research suggests that such claims and hubris could have deadly and unforeseen consequences.
"The major powers are rushing ahead with the weaponization of advanced technologies before they have fully considered—let alone attempted to mitigate—the consequences of doing so."
"An increased reliance on AI could lead to new types of catastrophic mistakes," a 2018 report by the Rand Corporation warned. "There may be pressure to use it before it is technologically mature; it may be susceptible to adversarial subversion; or adversaries may believe that the AI is more capable than it is, leading them to make catastrophic mistakes."
While the Pentagon in 2020 adopted five principles for what it calls the "ethical" use of AI, many ethicists argue the only safe course of action is a total ban on lethal autonomous weapons systems.

Hypersonic missiles, which can travel at speeds of Mach 5—five times the speed of sound—or faster, are now part of at least the U.S., Chinese, and Russian arsenals. Last year, Russian officials acknowledged deploying Kinzhal hypersonic missiles three times during the country's invasion of Ukraine in what is believed to be the first-ever use of such weapons in combat. In recent years, China has tested multiple hypersonic missile variants using specially designed high-altitude balloons. Countries including Australia, France, India, Japan, Germany, Iran, and North Korea are also developing hypersonic weapons.
\u201cDARPA\u2019s HAWC program is a wrap\u2026concluding with a successful @LockheedMartin #hypersonic missile flying more than 300 nautical miles and lots of data for the @usairforce. More: https://t.co/Yqq2Xl50jn\u201d

— DARPA (@DARPA) 1675093457
The report also warns of the escalatory potential of cyberwarfare and automated battlefield decision-making.

"As was the case during World Wars I and II, the major powers are rushing ahead with the weaponization of advanced technologies before they have fully considered—let alone attempted to mitigate—the consequences of doing so, including the risk of significant civilian casualties and the accidental or inadvertent escalation of conflict," Michael Klare, a board member at the Arms Control Association and the report's lead author, said in a statement.
"While the media and the U.S. Congress have devoted much attention to the purported benefits of exploiting cutting-edge technologies for military use, far less has been said about the risks involved," he added.
The report asserts that bilateral and multilateral agreements between countries that "appreciate the escalatory risks posed by the weaponization of emerging technologies" are critical to minimizing those dangers.
"As an example of a useful first step, the leaders of the major nuclear powers could jointly pledge to eschew cyberattacks" against each other's command, control, communications, and information (C3I) systems, the report states. A code of conduct governing the military use of artificial intelligence based on the Pentagon's AI ethics principles is also recommended.
"If the major powers are prepared to discuss binding restrictions on the military use of destabilizing technologies, certain priorities take precedence," the paper argues. "The first would be an agreement or agreements prohibiting attacks on the nuclear C3I systems of another state by cyberspace means or via missile strikes, especially hypersonic strikes."

"Another top priority would be measures aimed at preventing swarm attacks by autonomous weapons on another state's missile submarines, mobile ICBMs, and other second-strike retaliatory systems," the report continues, referring to intercontinental ballistic missiles. "Strict limitations should be imposed on the use of automated decision-support systems with the capacity to inform or initiate major battlefield decisions, including a requirement that humans exercise ultimate control over such devices."
"Without the adoption of measures such as these, cutting-edge technologies will be converted into military systems at an ever-increasing tempo, and the dangers to world security will grow apace," the publication concluded. "A more thorough understanding of the distinctive threats to strategic stability posed by these technologies and the imposition of restraints on their military use would go a long way toward reducing the risks of Armageddon."

News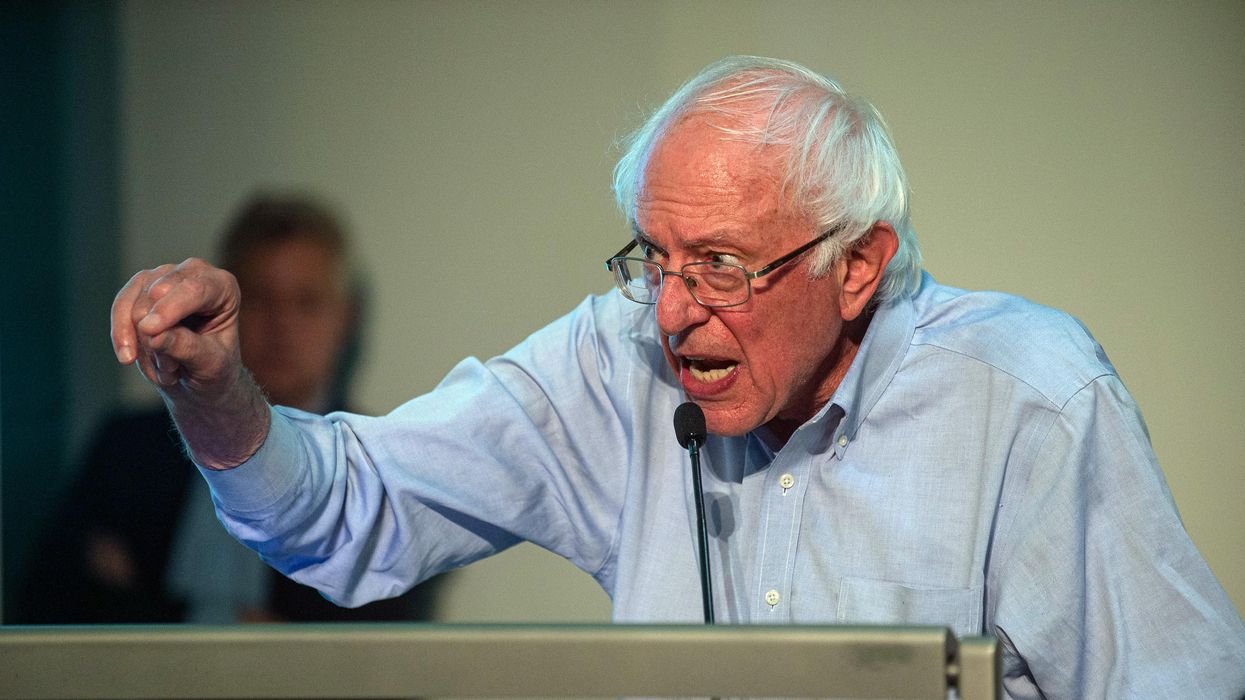 "A worker should not be fired for going to the doctor. Yet it is 2023 and railroaders are fighting for sick leave in the richest country on Earth," said one rail union leader.
Sen. Bernie Sanders announced Tuesday that he will join rail workers later this week to launch a fresh push for at least seven days of paid sick leave, an effort that comes months after Congress and the Biden White House forced workers to accept a contract without a single paid sick day to avert a potential strike.
Joining Sanders (I-Vt.) and rail union representatives at the Thursday press conference in Washington, D.C. will be Sen. Mike Braun (R-Ind.), one of the handful of Republican senators who voted for Sanders' amendment to add a week of paid sick leave to the White House-brokered contract deal.
The Vermont senator's amendment ultimately fell seven votes short of the 60 needed to overcome the Senate filibuster.
Since lawmakers' December vote to impose the contract despite opposition from unions representing a majority of U.S. rail workers, progressive members of Congress and rail employees have continued pressuring the Biden administration and ultra-profitable railroads to provide paid sick leave, overhaul their exploitative and untenable scheduling systems, and implement stronger safety standards.
On December 9, Sanders and more than 70 of his Democratic colleagues in the House and Senate sent a letter urging President Joe Biden to use his executive authority to "take quick and decisive action to guarantee these workers paid sick leave"—something he has yet to do.
Sanders, the chair of the Senate Health, Education, Labor, and Pensions Committee, is expected in the coming months to introduce legislation that would require rail corporations to guarantee their workers a minimum number of paid sick days.
At Thursday's press conference, according to Sanders' office, union leaders will demand that "companies provide them with at least seven paid sick days."
"Rail labor is committed to pursuing and securing paid leave for workers this year to create a safer, healthier national rail system for all."
The event will come just two weeks after Union Pacific, one of the largest rail corporations in North America, reported a record $7 billion in profits for 2022. The company spent significantly more on stock buybacks last year than it did on worker pay and benefits.
Sanders' office noted Tuesday that "guaranteeing seven paid sick days to rail workers would cost the industry just $321 million dollars—less than 1.2% of profits in a single year."
Marking the 30th anniversary of the Family and Medical Leave Act, U.S. rail unions unanimously adopted a resolution last week declaring that "all of rail labor is united and resolved to fight for paid sick leave for all railroad workers through collective bargaining or voluntary agreement, and that rail labor will further call upon all elected and appointed government officials and government agencies to pass a national paid sick leave law that covers all railroad workers with paid sick leave without penalty or punishment."
"A worker should not be fired for going to the doctor. Yet it is 2023 and railroaders are fighting for sick leave in the richest country on Earth," Greg Regan, president of the Transportation Trades Department of the AFL-CIO, said in a statement Monday. "Absent a national paid sick leave policy, the burden of securing this humane policy falls onto the shoulders of workers and the unions that represent them."
"Rail labor is committed to pursuing and securing paid leave for workers this year to create a safer, healthier national rail system for all," Regan added.
News
SUPPORT OUR WORK.
We are independent, non-profit, advertising-free and 100%
reader supported.