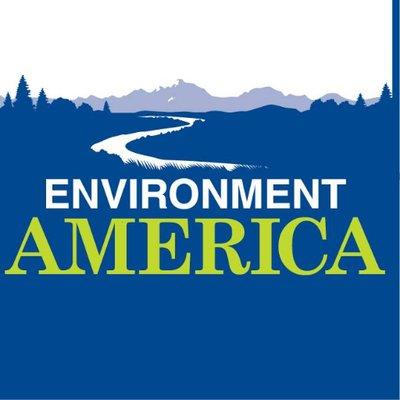 Biden Expected To Keep Promise as U.S. Will Rejoin the International Paris Agreement
President poised to fulfill important day-one climate change pledge.
WASHINGTON
When the Trump administration officially pulled the United States out of the international Paris Agreement on Nov. 4, 2020, Joe Biden promised that the United States would rejoin the climate accord upon his first day in office. On Wednesday, Biden is expected to follow through on his commitment to once again be part of this ground-breaking agreement to reduce greenhouse gas emissions.
Environment America had called on Biden to prioritize rejoining the Paris Agreement on his first day in office in the "First Things to Fix" report. The report presented 20 actions for the Biden administration to undertake in early days of office to undo the Trump administration's rollbacks of environmental laws and protections.
Andrea McGimsey, senior director for Environment America's Global Warming Solutions campaign, issued the following statement:
"By rejoining the Paris Agreement on day one, President Biden is sending a crystal clear signal to all Americans and to the world that the United States will once again lead when it comes to solving the climate crisis. By prioritizing this critical international commitment, the president is proving he's listening to his constituency as more than 60 percent of Americans say they want their government to take climate change seriously.
"We are thankful for this first action, because it comes with little time left to spare. The natural disasters in 2020, from the repeated storms pummeling the Gulf Coast to the devastation of more than 10 million burned acres, show that we are changing the Earth's system in unprecedented and unsustainable ways.
"While we are grateful for this action, we also know this is only the start. We need our country to be fully powered by clean energy, and we must do it quickly and thoroughly. With President Biden leading the way, Congress should step up as a full partner and pass bipartisan, comprehensive climate legislation that meets the targets for greenhouse gas emission reductions that the scientific community has told us we must achieve. The days of dirty, fossil fuel-burning, 19th century technology must be numbered in order to reach a cleaner tomorrow."
With Environment America, you protect the places that all of us love and promote core environmental values, such as clean air to breathe, clean water to drink, and clean energy to power our lives. We're a national network of 29 state environmental groups with members and supporters in every state. Together, we focus on timely, targeted action that wins tangible improvements in the quality of our environment and our lives.
(303) 801-0581
LATEST NEWS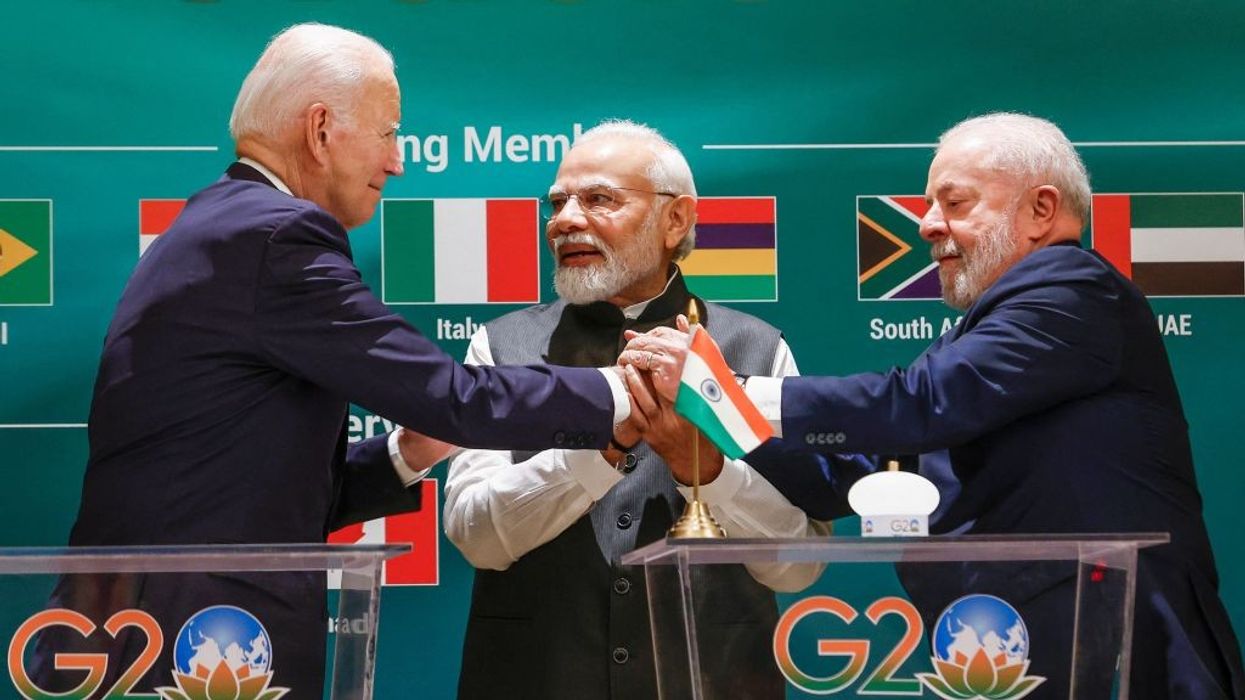 "All G20 members must work towards the elimination of nuclear weapons as an urgent priority," said ICAN executive director Melissa Parke.
A renunciation of the threat posed by nuclear weapons by G20 leaders in New Delhi this weekend must be matched by action that would actually reduce such a threat and lead the way to the full abandonment of atomic weapons worldwide, according to one of the world's preeminent anti-nuclear organizations.

While the the G20 'New Delhi Declaration' released Saturday states that the "use or threat of use of nuclear weapons is inadmissible" in the context of the Russia-Ukraine war, the International Campaign to Abolish Nuclear Weapons (ICAN), which won the peace prize in 2017, said that does not go far enough.
ICAN's exective director Melissa Parke said in a statement that while the G20 leaders "reaffirmed the obvious truth that the use, or threat of use, of nuclear weapons is unacceptable," it is now vital that they "put these words into action."
"All G20 members must work towards the elimination of nuclear weapons as an urgent priority, including, for those who haven't done so already," said Parke, "by signing and ratifying the Treaty on the Prohibition of Nuclear Weapons without delay."
The official Treaty on the Prohibition of Nuclear Weapons (TPNW), adopted by the United Nations in 2017 and implemented in 2020, bans signatories from the use, possession, testing, and transfer of nuclear weapons.
None of the nuclear powers in the world—including Russia, the United States, Israel, the United Kingdom, India, or China—have signed or adopted the TPNW, and Ukraine, along with the majority of NATO and G20 members, have also not supported or adopted the treaty.
Since its invasion of Ukraine in early 2022, numerous Russian officials have invoked the specter of a nuclear exchange or possible use of atomic weapons if Moscow deemed it necessary. Peace advocates calling for urgent diplomacy to help end the war have continued to cite the possibility of a nuclear escalation as a chief concern.
Last month, former president and current senior official Dmitry Medvedev said Russia would have no choice but to use nuclear weapons if Ukraine's counter-offensive, backed by NATO forces, took land claimed by Moscow.
"Just imagine that the offensive… in tandem with NATO, succeeded and ended up with part of our land being taken away. Then we would have to use nuclear weapons by virtue of the stipulations of the Russian Presidential Decree," said Medvedev.
"There simply wouldn't be any other solution," he added. "Our enemies should pray to our fighters that they do not allow the world to go up in nuclear flames."
News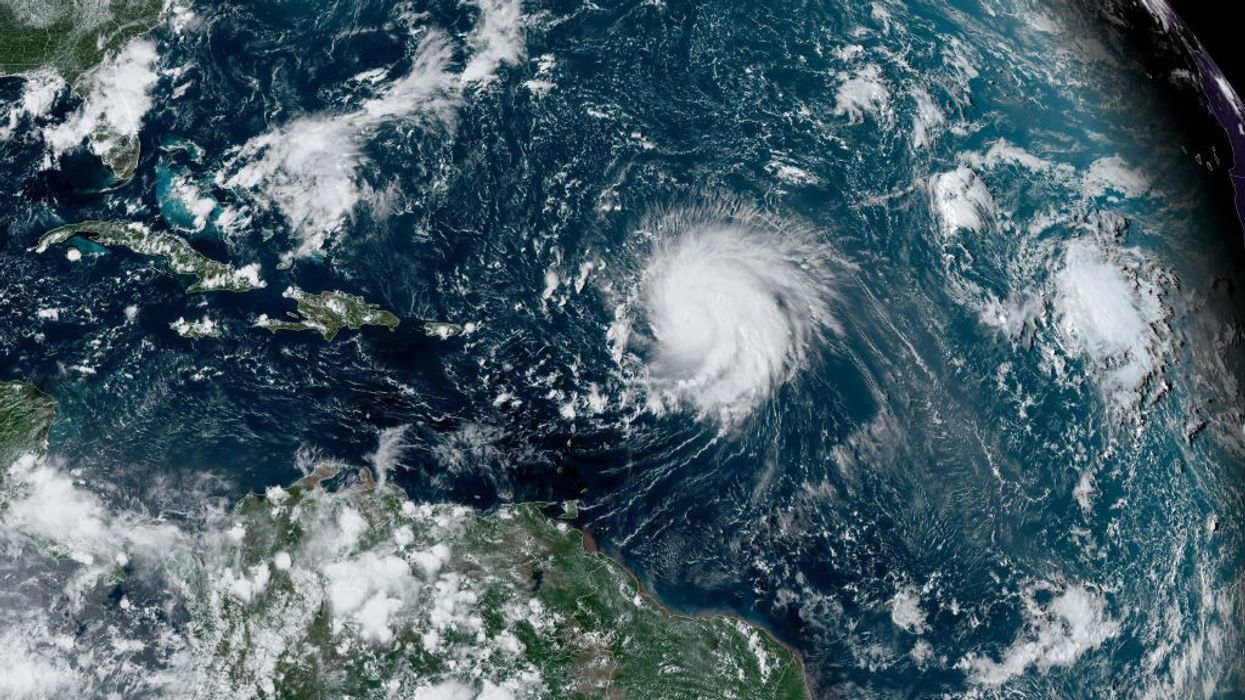 "This is your hurricane on fossil fueled climate change."
Hurricane Lee, which became a monster Category 5 before weakening over the weekend and which may or may not ever make landfall, is being treated as a warning by meteorologists and climate experts who say the storm's behavior over recent days could have dire future implications.
The National Hurricane Center said Saturday that Lee would move well north of Puerto Rico and the Virgin Islands but that dangerous beach conditions may be seen along the Atlantic coastline of the United States. On Thursday, the hurricane jumped from a Category 3 storm to a Category 5 in less than 24 hours at a pace faster than what is called "rapid intensification"—when sustained winds increase by 35 mph over the course of a day.
Marshall Shepherd, director of the University of Georgia's atmospheric sciences program and a past president of the American Meteorological Society, explained to the Associated Press how Hurricane Lee intensified at more than double that rate, moving it into a category he called hyperintensification.
"This one increased by 80 mph (129 kph)," Shepherd said. "I can't emphasize this enough. We used to have this metric of 35 mph, and here's a storm that did twice that amount, and we're seeing that happen more frequently." If future storms, fueled by increasingly hotter ocean temperatures, continue with this trend it will have disastrous consequences for regions that rarely, if ever, experience such powerful storms.
As Lee became reached Category 5 status on Thursday, meteorologist Jeff Berardelli pointed out the increasing frequency of storms reaching that threshold:
Responding to the same trend and data, climate movement organizer Jamie Henn said: "This is your hurricane on fossil fueled climate change."

And it's a global phenomenon, not just for hurricanes forming in the Atlantic. For the first time since records began, Category 5 storms (or the equivalent) have been recorded in each of the world's designated cyclone basins.
"Hurricanes are getting stronger at higher latitudes," warned Shepherd in his assessment. "If that trend continues, that brings into play places like Washington, D.C., New York and Boston."
As science and environment journalist Matt Simon wrote for Wired on Saturday:
Rapid intensification makes hurricanes extra dangerous because they change so quickly and dramatically as they approach the coastline. It's a bit like watching a driver who's cruising along at 25 miles per hour and then guns it right before hitting an obstruction. Residents might be expecting a storm they can ride out, but are instead faced with a full-scale hurricane that's quickly grown monstrous.
Exploring the science and talking with experts of rapid intensification, Simon explained why Lee is being treated as "a warning" and that people and communities should "get ready for more of this phenomenon as the planet warms."

News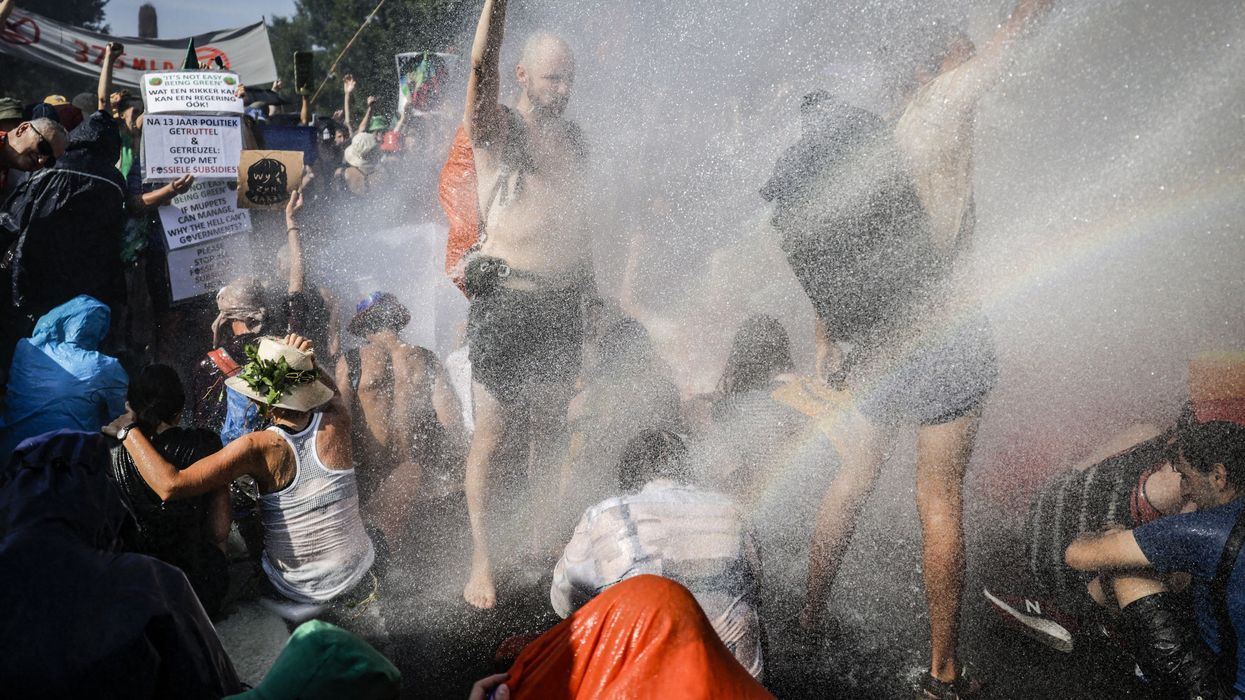 "While the world is going up in flames, the government continues to add fuel to the fire by propping up the biggest source of the climate crisis, fossil fuels, with billions in subsidies."
Climate campaigners calling for an end to fossil fuel subsidies were fired upon with water cannons and physically abused Saturday near The Hague in the Netherlands as the global movement demanding an end to the dominance of the coal, oil, and gas industry continues to call on world leaders to act.
Members of Extinction Rebellion spearheaded the direct action on the A12 Utrechtsebaan highway near the center of the Dutch government. With an estimated 10,000 participants overall, the jovial protesters sat down in the road, bringing traffic to a standstill as they chanted, "The seas are rising and so are we!" even as police vehicles sprayed them with water at high velocity.
The Associated Press reported that the protesters vowed to stay until the Netherlands ends public subsidies for the fossil fuel industry or, if removed by police, to return each day until the financial support is suspended.
"This is much larger than any one of us," one participant, Yolanda de Jager, told the AP. "This concerns the whole world."
Dutch police carted some protesters off in carts while others were beaten with batons or dragged off the roadway:
Earlier this week, a new report detailed how the Dutch government spends nearly $38 billion in taxpayer funds each year to support fossil fuels. The authors of the peer-reviewed report—a joint research effort by SOMO, Oil Change International, and Milieudefensie—argued that such subsidies should be eliminated by 2025 in order to help the nation meet its emission reductions goals and also help fund the necessary transition to renewable energy.
"Phasing out fossil subsidies kills two birds with one stone: it reduces fossil fuel emissions and raises additional revenue needed to accelerate a social and equitable transition," said Audrey Gaughran, director of SOMO, also known as the Centre for Research on Multinational Corporations.
OCI director Elizabeth Bast said, "The Netherlands has taken the international stage to promise an end to fossil fuel subsidies multiple times already, but it is failing to live up to its promise."
"While the world is going up in flames, the government continues to add fuel to the fire by propping up the biggest source of the climate crisis, fossil fuels, with billions in subsidies," she added. "With an urgent and fair phase-out plan the Netherlands can deliver on longstanding promises and take the lead within the EU and internationally to ensure other countries follow through."

News
Independent, nonprofit journalism needs your help.
Please Pitch In
Today!