Guantanamo Brit Files Tribunal Complaint Against UK Intelligence Services Over Torture and Detention
A British resident detained in Guantanamo Bay has filed a complaint against the UK security services over their continuing involvement in his detention without charge or trial.
Shaker Aamer, from South London, has brought a case to the secretive Investigatory Powers Tribunal (IPT) over "The actions of the [UK] security services [which] have prevented [his] release due to defamatory statements that have no basis in honest fact."
LONDON
A British resident detained in Guantanamo Bay has filed a complaint against the UK security services over their continuing involvement in his detention without charge or trial.
Shaker Aamer, from South London, has brought a case to the secretive Investigatory Powers Tribunal (IPT) over "The actions of the [UK] security services [which] have prevented [his] release due to defamatory statements that have no basis in honest fact."
Mr Aamer's complaint also concerns how UK security services interrogated him at Bagram prison in Afghanistan "despite the fact that they knew that [he] was being abused," and "actively sanctioned or encouraged [his] illegal transfer from Afghanistan to Guantanamo Bay."
Although Mr Aamer has twice been cleared for release by the US Government itself, and David Cameron has personally asked Barack Obama that he be returned home to London, he remains in detention at Guantanamo - where he has never been tried or even been charged.
This has strengthened concerns set out by Mr Aamer and his lawyers at Reprieve that false information provided by British intelligence is leading to his ongoing detention at Guantanamo - in contradiction with the publicly-stated policy of the British Government.
Mr Aamer has therefore brought his complaint to the IPT, which investigates complaints about the conduct of the UK's intelligence agencies. However, the IPT is also highly secretive and provides a one-sided process in which the citizen hears at best very little - and usually nothing at all - about the case put against them.
Commenting, Reprieve Legal Director, Kat Craig said: "The US has cleared Shaker, and the British Government wants him home - so why is he still there? All the evidence points to briefing against him by the UK intelligence services, who are terrified that his release will allow him to speak freely about the part they played in his torture and rendition. In effect, our spies are undermining the aims of our democratically elected Government. The IPT will be worthless if it cannot put an end to this scandal."
Reprieve is a UK-based human rights organization that uses the law to enforce the human rights of prisoners, from death row to Guantanamo Bay.
LATEST NEWS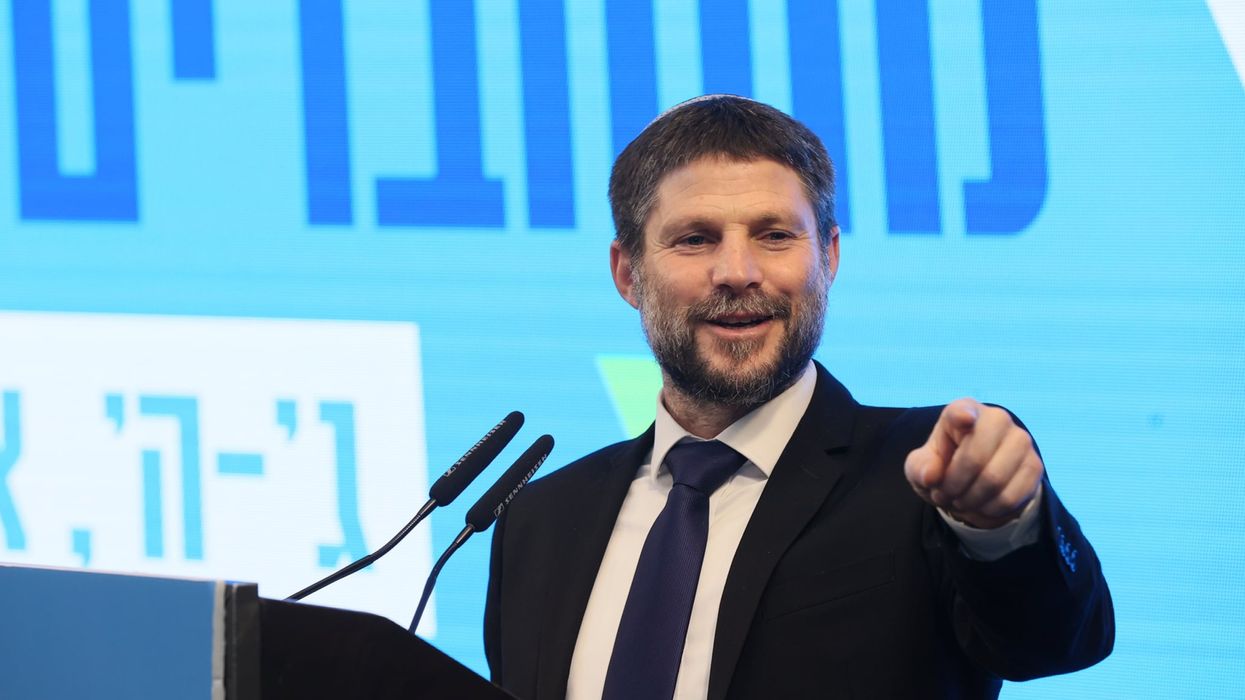 "My question is: What would Smotrich actually have to do to have a visa denied?" asked one U.S. foreign policy expert.
Ignoring pleas from human rights defenders, the Biden administration will issue a visa to far-right Israeli Finance Minister Bezalel Smotrich—who earlier this month said an entire Palestinian town of over 5,000 people should be "wiped out" by Israel—the minister's office announced Thursday.
Smotrich is scheduled to speak Sunday at the annual conference of Israel Bonds—which sells Israeli government bonds to foreign investors—in Washington, D.C. is set to meet with the director of the International Monetary Fund before traveling to New York for engagements on Tuesday and Wednesday, TheTimes of Israel reports.
No Biden administration officials plan to meet with Smotrich while he is in the United States.
When asked earlier this month about the deadly rampage by Israeli settler-colonists in the Palestinian town of Huwara in the illegally occupied West Bank—an attack critics including one top Israeli general called a "pogrom"—Smotrich replied: "I think the village of Huwara needs to be wiped out. I think the state of Israel should do it."
U.S. State Department Spokesperson Ned Price at the time condemned Smotrich's remarks as "repugnant," "disgusting," and an "incitement to violence."
A State Department official toldAxios Thursday that "visa records are confidential under U.S. law; therefore, we cannot discuss the details of individual visa cases."
However, an unnamed senior U.S. official told the outlet that there is a very high bar—both politically and legally—for denying a diplomatic visa to a cabinet-level minister of an allied country.
Palestinian, human rights, and some Jewish groups had urged the Biden administration to bar Smotrich from entering the United States. Berkeley, California-based Jewish Voice for Peace circulated a petition signed by thousands of people urging the administration to deny Smotrich a visa.
"Bezalel Smotrich, an Israeli government official with sweeping power over the occupied West Bank, is publicly and unabashedly inciting genocide and supporting settler pogroms," Jewish Voice for Peace Action political director Beth Miller said on March 1, echoing the sentiment of numerous human rights defenders. "If Biden fails to take action at this moment, the U.S. will be fully complicit in the violence that comes next."
Last Saturday, Smotrich—a self-described "fascist homophobe" who has advocated shooting Palestinian children who resist Israeli repression—walked back his comments on Huwara somewhat, tweeting that "people sometimes use harsh words they don't mean in order to pass a message."
News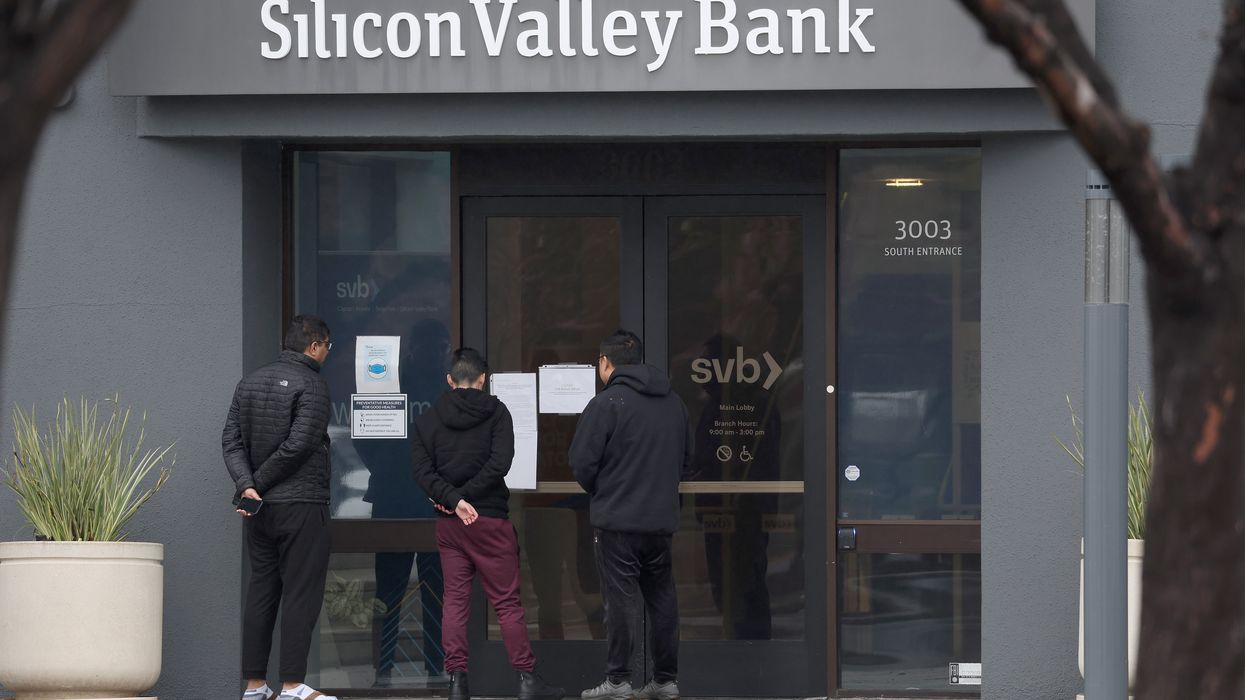 The bank's financial woes rattled Wall Street and left depositors scrambling to withdraw their money.
Santa Clara-based Silicon Valley Bank, a major lender to technology startups, collapsed on Friday after its emergency attempts to raise money and find a potential buyer failed, forcing regulators to step in and take over the institution.

The speed of SVB's collapse, the largest since the fall of Washington Mutual in 2008, stunned observers and rattled Wall Street, with bank stocks selling off heavily since news broke Wednesday that the California bank was in serious financial trouble.
Earlier this week, the SVB announced that it sold $21 billion worth of investments and moved to sell its stock in a last-ditch effort to raise funds. Those financial maneuvers sparked a bank run as panicked depositors rushed to pull their money, compounding the firm's crisis.
As late as Thursday afternoon, SVB Financial Group CEO Greg Becker was telling clients to "stay calm" and continue to support the bank, which was the 16th largest in the U.S. at the end of last year and had branches in California and Massachusetts.

The Financial Timesreported Friday that SVB's failure stemmed from "a decision made at the peak of the tech boom to park $91 billion of its deposits in long-dated securities such as mortgage bonds and U.S. Treasuries, which were deemed safe but are now worth $15 billion less than when SVB purchased them after the Federal Reserve aggressively raised interest rates."
The Federal Deposit Insurance Corporation (FDIC) seized SVB's assets on Friday after the company's emergency money-raising efforts fell flat.
In a statement, the FDIC said that it has established a new bank—the Deposit Insurance National Bank of Santa Clara—in order to "protect insured depositors."
"At the time of closing, the FDIC as receiver immediately transferred to the DINB all insured deposits of Silicon Valley Bank," the agency said. "All insured depositors will have full access to their insured deposits no later than Monday morning, March 13, 2023. The FDIC will pay uninsured depositors an advance dividend within the next week. Uninsured depositors will receive a receivership certificate for the remaining amount of their uninsured funds. As the FDIC sells the assets of Silicon Valley Bank, future dividend payments may be made to uninsured depositors."
A recent regulatory filing indicates that 93% of SVB's deposits are uninsured. The Wall Street Journalreported that "as of the end of last year, Silicon Valley Bank estimated that uninsured deposits exceeded those insured by FDIC by around $151 billion."
Business accounts are typically only FDIC-insured up to $250,000.

The systemic impacts of SVB's collapse remain unclear.
Treasury Secretary Janet Yellen told lawmakers on Friday that she is "very carefully" monitoring a few banks amid the turmoil surrounding SVB.
News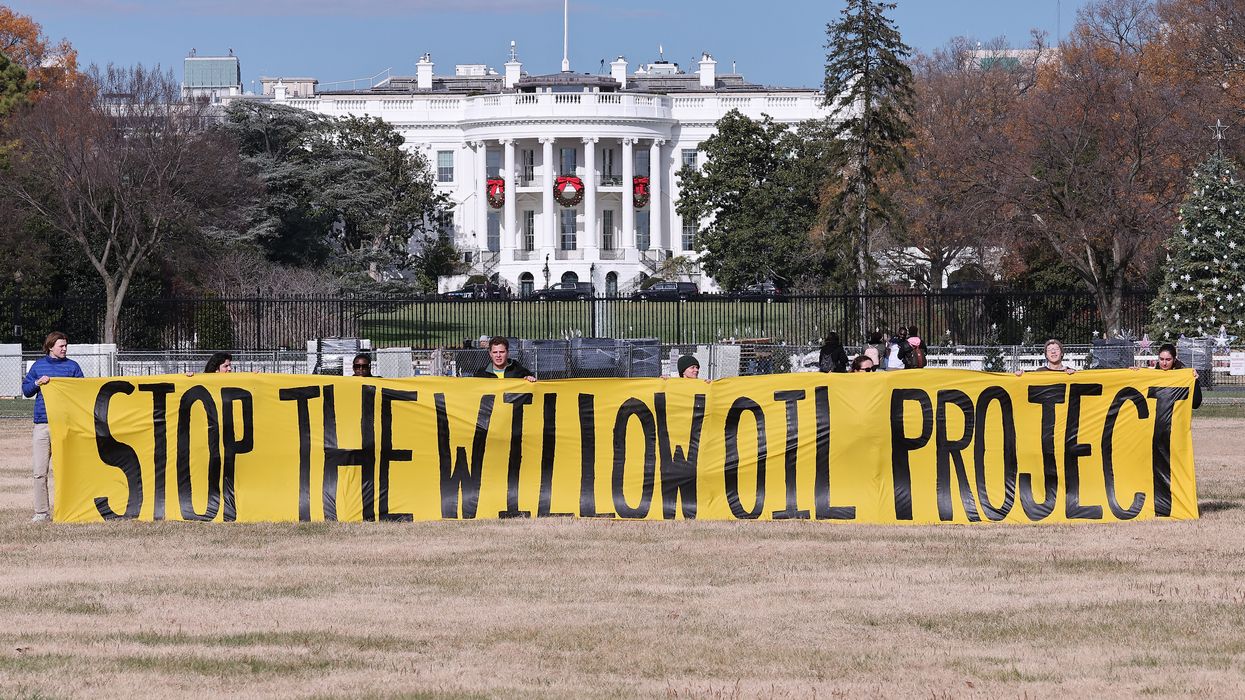 "As I watch millions of people join the #StopWillow movement, these staggering numbers send a clear message that today's youth expect President Biden and Secretary Haaland to step up," said one activist.
From climate campaigners on TikTok to former Vice President Al Gore, people who care about the planet across the United States are pressuring the Biden administration to block ConocoPhillips' multibillion-dollar Willow oil project in Alaska.
The U.S. Department of Interior's Bureau of Land Management (BLM) published a notice of availability regarding its final supplemental environmental impact statement for the proposed Willow Master Development Plan in the Federal Register on February 6. It said that a final decision for the project would come no earlier than 30 days from then.

Leading up to the BLM's decision—which ConocoPhillips chairman and CEO Ryan Lance expects this week—opponents have stressed scientists' warnings about the need to keep fossil fuels in the ground if humanity has any chance of preventing catastrophic global heating and meeting the Paris climate agreement's 1.5°C target for this century.
Announced by the Houston-based company in 2017, the 30-year development in the National Petroleum Reserve would produce up to 180,0000 barrels of oil a day at its peak and release over 9.2 metric tons of planet-heating carbon dioxide annually.
"We don't need to prop up the fossil fuel industry with new, multiyear projects that are a recipe for climate chaos."
"Some Native Alaskan Iñupiaq have also raised serious concerns about the project's local environmental impacts, including disturbance to local wildlife, disruption to traditional hunting practices, and a decline in air quality," BBC Newsnoted Friday.
Gore, a longtime environmentalist, acknowledged both local and global concerns on Friday in comments to The Guardian.
"The proposed expansion of oil and gas drilling in Alaska is recklessly irresponsible," he said. "The pollution it would generate will not only put Alaska Native and other local communities at risk, it is incompatible with the ambition we need to achieve a net-zero future."
"We don't need to prop up the fossil fuel industry with new, multiyear projects that are a recipe for climate chaos," Gore continued. "Instead, we must end the expansion of oil, gas, and coal and embrace the abundant climate solutions at our fingertips."
Climate advocacy groups have been sending President Joe Biden and U.S. Interior Secretary Deb Haaland that same message.
After the White House released its budget blueprint on Thursday, Varshini Prakash, executive director of the youth-led Sunrise Movement, said that the "proposed budget—especially its investments in clean energy, jobs, and an end to oil and gas subsidies—is the kind of thing young people in this country want to see ahead of 2024."
"But President Biden has the power to act on climate and issues important to our generation without having to go through a Republican House," Prakash added. "He can reject the Willow Project, which goes against his own agenda to stop the climate crisis, and can do everything in his executive authority, like declaring a climate emergency and invoking the Defense Production Act, to jump-start our transition to clean energy."
Though Willow is backed by Alaska's three-member congressional delegation, Republican Gov. Mike Dunleavy, and the state Legislature, opponents of the project have taken social media by storm with the hashtag #StopWillow.
"I have never seen so many videos, so many comments, mentions about a climate topic on social media," 26-year-old Alaina Wood, a scientist and climate activist with more than 353,500 followers on the video platform TikTok, toldThe Washington Post Tuesday.
Elise Joshi, a 20-year-old University of California, Berkeley student and acting executive director of the nonprofit Gen-Z for Change, posted one of the earliest TikTok videos about the project, which now has over 300,000 views. She emphasized that "this is not environmentalist groups."
"This is young people as a whole, as a voter base, taking action," Joshi explained to the Post. "With Willow, this is one of the biggest actions we've ever seen on TikTok go forward. It has shown that we are willing to fight."
A Change.org petition urging Biden to stop Willow—now signed by more than 3 million people and promoted by groups including the Indigenous-led NDN Collective—declares that "there must come a point where human health, food security, environmental justice, and a functioning ecosystem come before corporate profit."
Pointing to the growing support for the petition, Alex Haraus, a 25-year-old TikTok creator whose Willow videos have millions of views, toldCNN, "If that doesn't emphasize the fact that it's everyday Americans pushing back, I don't know what does."
"This is not an environmental movement, it's much larger than that," Haraus added. "It's the American public that can vote."
Hazel Thayer, another climate activist who has posted TikTok videos with #StopWillow, toldThe Associated Press Wednesday that the proposed Big Oil project is "just so blatantly bad for the planet."

"With all of the progress that the U.S. government has made on climate change, it now feels like they're turning their backs by allowing Willow to go through," Thayer said. "I think a lot of young people are feeling a little bit betrayed by that."
Quannah Chasinghorse—a Han Gwich'in and Sicangu/Oglala Lakota land protector, climate justice activist, and fashion model from Eagle Village, Alaska and the tribes of South Dakota—wrote Friday in a CNN opinion piece opposing the project that "I've been inspired by the chorus of voices who have joined me."
"To date, #StopWillow (and related) videos from a diverse array of young creators have around 300 million direct views on TikTok alone," Chasinghorse noted. "In a matter of just a few days, #StopWillow catapulted to the top of social media conversations."
"As I watch millions of people join the #StopWillow movement, these staggering numbers send a clear message that today's youth expect President Biden and Secretary Haaland to step up," she added. "It reflects a game-changing trend that astute leaders should not ignore: They must deliver the climate leadership they promised by taking bold action to stop the Willow climate disaster before it's too late."
Even if the Biden administration gives Willow the green light, that approval is expected to be met with legal challenges.
"I think that litigation is very likely," Earthjustice senior attorney Jeremy Lieb told The Guardian. "We and our clients don't see any acceptable version of this project."
News
SUPPORT OUR WORK.
We are independent, non-profit, advertising-free and 100%
reader supported.