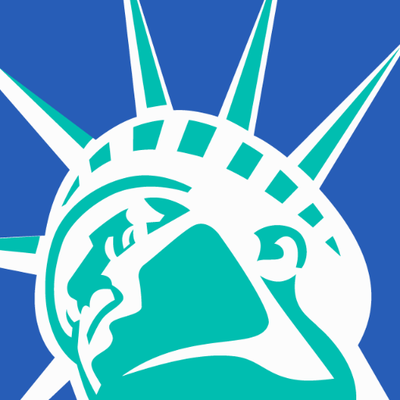 For Immediate Release
January, 17 2013, 02:38pm EDT
Contact:
Phone: (202) 588-1000
Citizens Rally This Week to Demand End to Dual Threat of Money in Politics and Voter Suppression
Events Across Nation Commemorate Martin Luther King Jr. Day and Third Anniversary of Citizens United,Demand 'Money Out/Voters In'
WASHINGTON
Citizens will gather across the country this week to demand an end to the combined threat to our democracy of unlimited corporate spending in elections and voter suppression.
These events are part of a nationwide day of action called Money Out/Voters In taking place on and around the weekend of Jan. 19. Activists in more than 75 towns and cities will rally to demand that lawmakers pass measures that limit the corrosive influence of money in politics and expand democratic participation at the polls. Money Out/Voters In is made up of a broad coalition of groups including Public Citizen, NAACP, U.S. PIRG, Common Cause, MoveOn, Organic Consumers Association, League of United Latin American Citizens, Hip Hop Caucus and many more.
"At the same time we've seen record amounts of unaccountable corporate money spent on elections, we've also seen a deliberate attack on the rights of voters to participate in our democracy," said Aquene Freechild, senior organizer for Public Citizen's Democracy Is For People campaign. "Having so many diverse groups involved in this week's events shows how crucial this fight is."
In addition to being on the eve of the presidential inauguration, the weekend of Jan. 19 precedes the third anniversary of the U.S. Supreme Court's landmark Citizens United v. Federal Election Commission decision and Martin Luther King Jr. Day - both on Jan. 21.
Events include:
- Annapolis, Md. - U.S. Reps. John Sarbanes and Chris Van Hollen will attend a rally and address local advocates who worked to make Maryland one of the first states to call for a constitutional amendment.
- Richmond, Calif. - Community members will hold a rally with speakers and entertainment outside the Chevron refinery, and will make a human billboard. The rally is to protest more than $3.5 million in political spending by Chevron, including $1 million injected into the local city council race.
- Chicago, Ill. - Elected officials will join members of the labor, democracy and civil rights communities at a rally to call for transparency and limits on spending in elections and voting rights for all citizens. Illinois PIRG also will release a report on spending in the last election.
- New York City - Mark Green, former New York City public advocate, will speak at a rally with the Rev. James Forbes; Jeff Clements, author of "Corporations Are Not People"; and Shirley Adelbo, executive vice president of SEIU 32BJ Hospital Workers Union at NYU's Kimmel Center. The rally will be followed by a "holy matrimony" ceremony between a person and a corporation.
- Austin, Texas - Tom "Smitty" Smith, director of Public Citizen's Texas office, will join leaders from the NAACP, AFL-CIO, Common Cause and Occupy at a rally on the south steps of the Capitol.
These actions come as the country is witnessing a groundswell of grassroots support for improving our democracy. On Election Day, voters in Montana, Colorado, Chicago, San Francisco and dozens of towns in Massachusetts overwhelmingly backed initiatives that called on Congress to pass a constitutional amendment to overturn Citizens United. So far, 11 states and more than 350 communities have formally called for an amendment. In addition, nearly 100 current members of Congress have expressed support for an amendment, as has President Barack Obama.
"The 2012 election - only the second post-Citizens United election - was the most expensive ever, saw more outside money spent than ever, had more secret, Dark Money spent than ever, and subjected voters to unprecedented negative, attack advertising. We can't keep going in this direction and maintain a functioning democracy," said Robert Weissman, president of Public Citizen. "As this week's actions demonstrate, the good news is the American people are in an uproar, and demanding fundamental reform, including a constitutional amendment to overturn Citizens United and related decisions."
"We are facing a dual attack on our democracy - everyday voters are being disenfranchised while corporations are being hyper-enfranchised," stated NAACP President and CEO Benjamin Todd Jealous. "We need to fix the fundamentals of our political system if we want to get down to solving our long-term problems."
"Since the Citizens United decision three years ago, voters have been clear in their disdain for this decision," said Common Cause President Bob Edgar. "The big question is whether our elected representatives will listen to those voices. Our goal is to build a wave of grassroots support so strong that they cannot ignore it."
Added Marge Baker, executive vice president for People For the American Way, "Voter suppression and unlimited corporate and special interest money in politics serve as barriers to full civic participation, transparency, and accountability. We are excited to come together with our allies on this important weekend to signal our intentions to confront the multi-faceted assault on the voices of everyday Americans in our political system."
Since the Supreme Court's Citizens United decision, super PACs and other independent groups - many of which can hide the identities of their donors - have spent huge amounts, in some cases outspending individual campaigns by a ratio of 2-to-1. Citizens United-enabled outside group spending is devoted overwhelmingly to negative attack ads.
Information about the nationwide action can be found at www.moneyout-votersin.org.
Follow this issue on Twitter at #MoneyOutVotersIn.
Public Citizen is a nonprofit consumer advocacy organization that champions the public interest in the halls of power. We defend democracy, resist corporate power and work to ensure that government works for the people - not for big corporations. Founded in 1971, we now have 500,000 members and supporters throughout the country.
(202) 588-1000
LATEST NEWS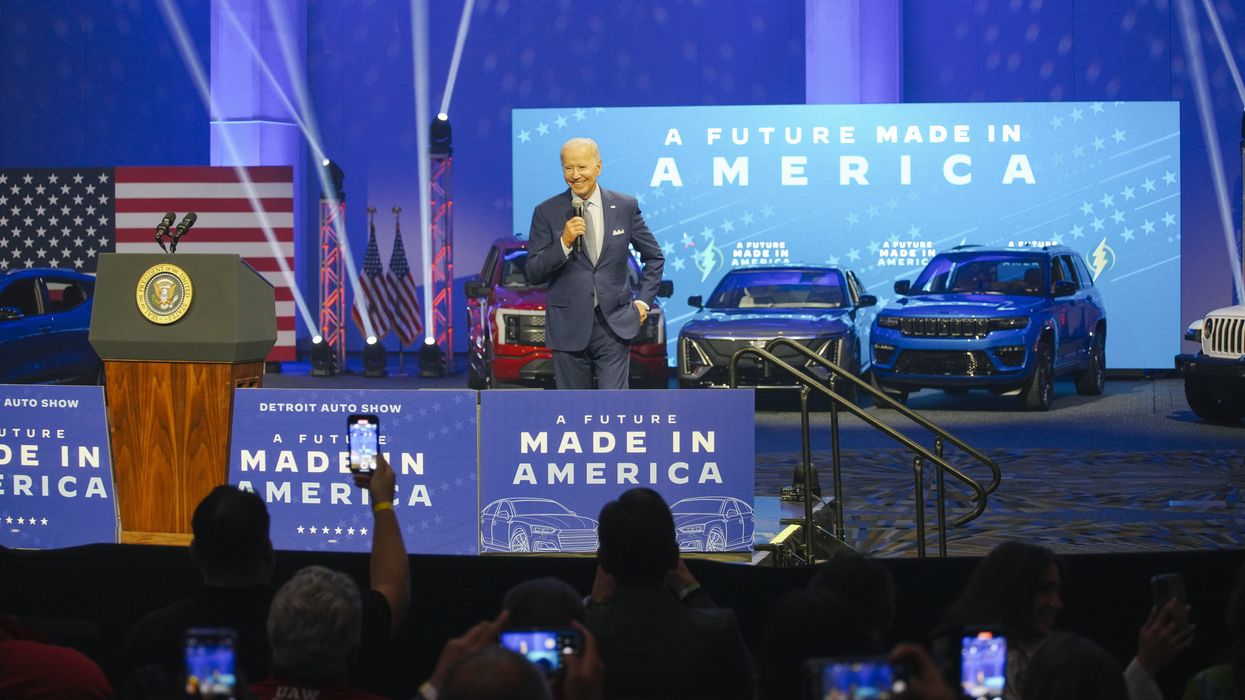 "We are glad to see the Biden administration doing its part to reject the false choice between a good job and a green job," said the United Auto Workers president.
In a move welcomed by progressives in Congress and a top union leader, U.S. President Joe Biden's administration on Friday announced a $15.5 billion package "primarily focused on retooling existing factories for the transition to electric vehicles" and stressed the importance of "supporting good jobs and a just transition to EVs."
The Biden administration is making available $2 billion in grants and up to $10 billion in loans for conversion projects that keep jobs in communities already home to automaker facilities, according to a statement about the package. The Department of Energy (DOE) is also planning for $3.5 billion in funding to expand domestic manufacturing of batteries and related materials for EVs and the U.S. electric grid.
"President Biden is investing in the workforce and factories that made our country a global manufacturing powerhouse," said U.S. Secretary of Energy Jennifer Granholm. "Today's announcements show that President Biden understands that building the cars of the future also necessitates helping the communities challenged by the transition away from the internal combustion engine."
The package follows the United Auto Workers (UAW) revealing last week that 97% of participating members at "Big Three" vehicle manufacturers Ford, General Motors, and Stellantis—whose brands include Chrysler, Dodge, Fiat, Jeep, Maserati, and RAM—voted to authorize a strike if a contract deal with management isn't reached by mid-September.
It also comes after the UAW on Thursday filed unfair labor practice charges against General Motors and Stellantis, accusing them of illegally refusing to negotiate in good faith and dragging out talks "with the goal of forcing the union to swallow a milquetoast contract at the last minute," in the words of UAW president Shawn Fain.
Fain on Friday celebrated the DOE package, saying that "the UAW supports and is ready for the transition to a clean auto industry. But the EV transition must be a just transition that ensures auto workers have a place in the new economy. Today's announcement from the Department of Energy echoes the UAW's call for strong labor standards tied to all taxpayer funding that goes to auto and manufacturing companies."

The UAW leader—whose union has pressured the president to use his power to help ensure a just transition to EVs—continued:

We are glad to see the Biden administration doing its part to reject the false choice between a good job and a green job. This new policy makes clear to employers that the EV transition must include strong union partnerships with the high pay and safety standards that generations of UAW members have fought for and won.

The Big Three have closed or spun off 65 plants in the last 20 years. The automakers have not yet promised job security in our ongoing negotiations. I have traveled across the country, meeting displaced workers who've had to pick up and move their families when plants shut down recently in Belvidere, Illinois, Lordstown, Ohio, and Romeo, Michigan. These new grants and loans will give plants like these a chance for federal support to ensure those jobs and communities are protected.

Granholm noted Fain's remarks on social media, saying she "couldn't agree more" that the shift to EVs must be a just transition.
Members of Congress, including Rep. Ro Khanna (D-Calif.), similarly took to social media to highlight the UAW leader's comments.
Along with also pointing to Fain's statement, Sen. Bernie Sanders (I-Vt.) said that "President Biden is right. When the federal government provides billions to the auto industry for the production of electric vehicles, the jobs that are created must be good-paying union jobs and the cars must be produced in the U.S. This new policy is an important step forward."
News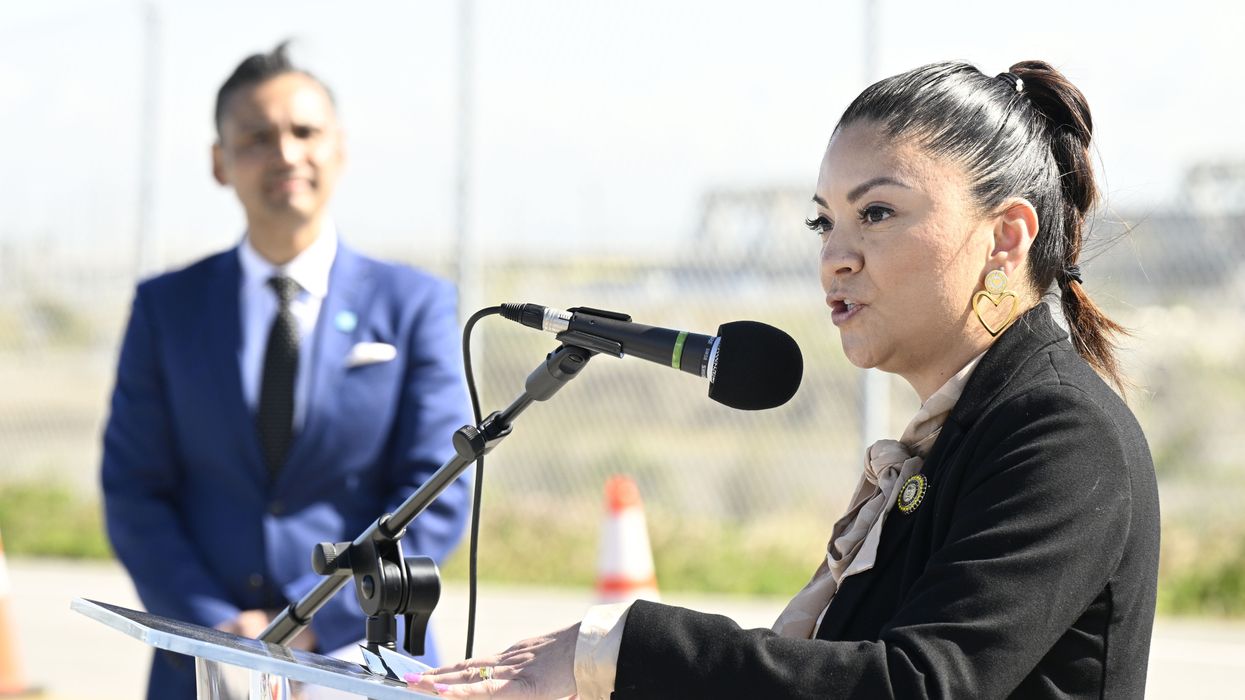 "We hope this move locks in real action on ending the era of fossil fuels in California, and spurs other regions, states, and countries to join forces in tackling the root cause of the climate crisis," said one activist.
Climate campaigners in California and beyond celebrated on Friday after the state Legislature affirmed its support for a resolution that urges the U.S. government to join a worldwide effort to develop "a fossil fuel nonproliferation treaty as an international mechanism to manage a global transition away from coal, oil, and gas."
Senate Joint Resolution 2 also endorses what advocates call a "just transition," stating that "California affirms the need for a plan to phase out existing fossil fuel production that prioritizes the most impacted workers and local government services with short- and long-term investments that include enforceable labor standards, such as prevailing wages, apprenticeship opportunities, and project labor agreements, to protect workers and communities."
California Senate Majority Whip Lena Gonzalez (D-33), who spearheaded SJR 2, declared Friday that "it is essential that we commit once and for all to ending our reliance on fossil fuels. People around the world, especially low-income people of color, are suffering the adverse health impacts of fossil fuel pollution, from asthma to cancer. The recent devastating fires and hurricanes emphasize the urgency of taking action, to prevent further extreme weather changes."
"The science has been clear for decades—fossil fuels are responsible for the climate crisis," she added. "We can prevent further harm to our communities, and that is why I am proud that California has now been added to the growing list of governments endorsing the fossil fuel nonproliferation treaty. It is time for our nation to be a part of the solution, to forge strong unity and commitment to phasing out the use of fossil fuels."
According to its text, SJR 2 will be sent to Democratic U.S. President Joe Biden and Vice President Kamala Harris—who are seeking reelection next year—as well as the top Democrats and Republicans in Congress, California's congressional delegation, Democratic Gov. Gavin Newsom, every mayor in the state, the United Nations secretary-general, and the U.N. high commissioner for human rights.
The resolution was sponsored by the Stand.earth initiative Stand Against Fossil Fuel Expansion (SAFE) Cities and the Indigenous Environmental Network, whose executive director, Tom Goldtooth, said in a statement Friday that "this decision of the state of California is a commitment to take down the single biggest contributor to the climate crisis: the fossil fuel industry."
"California joins the millions of voices across Turtle Island and Mother Earth calling on Biden to follow in the footsteps of our Pacific Island brothers and sisters from the small island states and negotiate a mandate for a fossil fuel nonproliferation treaty," he noted. "As the state with the highest population of Indigenous peoples in the country, it is important to pass legislation that would put a halt to the devastation and destruction of the compounding effects of climate change caused by fossil fuels."
"This decision of the state of California is a commitment to take down the single biggest contributor to the climate crisis: the fossil fuel industry."
Along with other local, regional, and national governments, the demand for such a treaty is backed by the European Parliament, the World Health Organization, faith and civil society groups, and individuals across the globe, including Nobel laureates, scientists, and youth leaders.
If California were a country, it would be the fifth-largest economy in the world in terms of gross domestic product, after the full United States, China, Japan, and Germany. The U.S. state is the largest economy to embrace the treaty call so far, according to Alex Rafalowicz, executive director of the Fossil Fuel Nonproliferation Treaty Initiative.
Rafalowicz said in a statement Friday that by supporting the treaty proposal, "California sets a powerful example to the international community, underscoring the urgency of fast-tracking an equitable transition away from oil, gas, and coal. This move will catalyze a ripple effect that reaches far beyond state borders."
"By aligning its immense economic and cultural influence with the fossil fuel treaty proposal, California can accelerate its own energy transition, inspiring global cooperation to safeguard our planet and communities," the campaigner continued. "We hope this move locks in real action on ending the era of fossil fuels in California, and spurs other regions, states, and countries to join forces in tackling the root cause of the climate crisis: the production of coal, oil, and gas."
Last December, California regulators approved a blueprint to cut planet-heating emissions by 85% and get the state to carbon neutrality by 2045. Newsom said at the time that "California is leading the world's most significant economic transformation since the Industrial Revolution—we're cutting pollution, turning the page on fossil fuels, and creating millions of new jobs." However, activists have called on him and other state leaders to go further.
Nathan Taft, a California resident and senior digital campaigner for SAFE Cities, said Friday that "Los Angeles was one of the first cities in the world to endorse the fossil fuel treaty, and it's great to see California following its lead by becoming one of the first subnational governments joining this movement to address the climate crisis with the scale and urgency required."
"At the same time, California must follow this historic resolution with concrete policies that protect its residents and the climate from fossil fuels," Taft asserted. "At a bare minimum, California should stop issuing new fossil fuel permits, divest its massive pensions from fossil fuels, and implement all-electric building codes."
Central California Environmental Justice Network oil and gas director Cesar Aguirre similarly argued that the state's support for the treaty "only holds weight if we see meaningful protections come from it" and "no new neighborhood drilling should be the first priority."
The vote in California comes as much of the Northern Hemisphere has endured a summer of extreme heat connected to human-caused global warming and as parties to the 2015 Paris agreement prepare for COP28, a U.N. climate summit hosted by the United Arab Emirates in November.
As Common Dreamsreported last November, during COP27 in Egypt, Kausea Natano, prime minister of the Pacific nation Tuvalu, proposed a fossil fuel nonproliferation treaty, telling those gathered that "we all know that the leading cause of climate crisis is fossil fuels."
News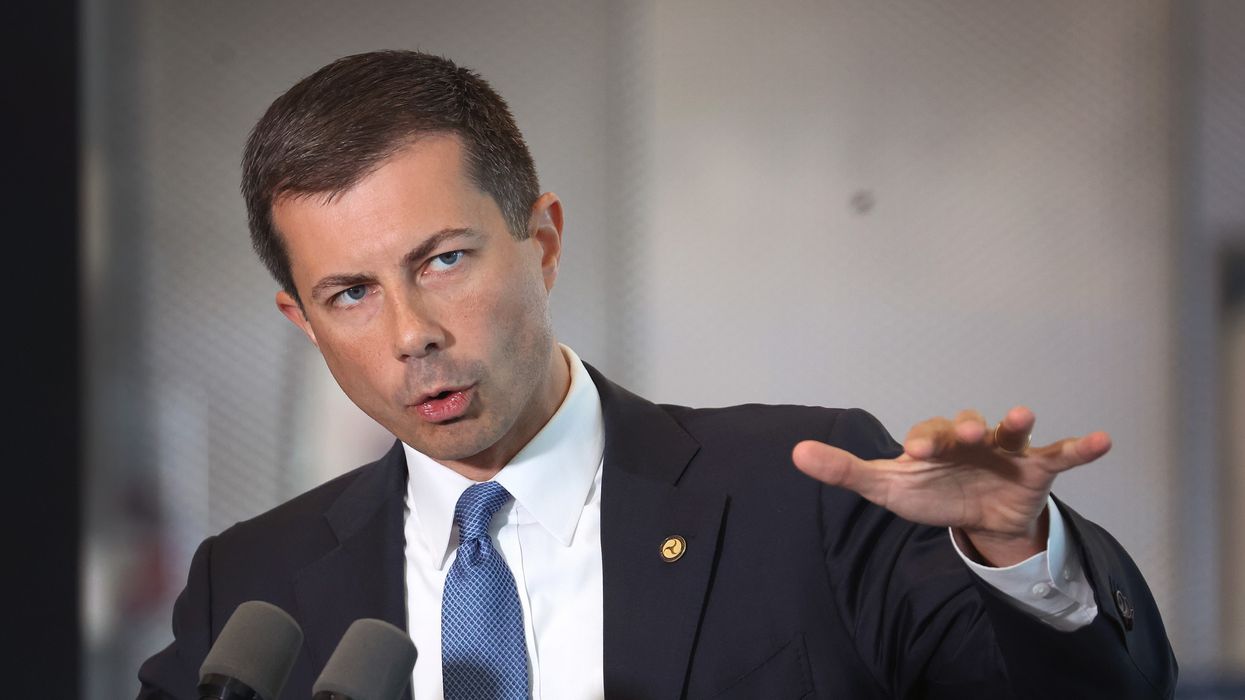 While celebrating the forthcoming review, campaigners also argued that "Secretary of Transportation Pete Buttigieg should put a new rule in place that restores the ban on LNG by rail once and for all."
Green groups on Friday applauded as the Biden administration suspended a Trump-era rule allowing liquefied natural gas to be transported by train, delivering another blow to New Fortress Energy's proposal to ship climate-wrecking LNG by rail from Wyalusing, Pennsylvania to Gibbstown, New Jersey.
The Pipeline and Hazardous Materials Safety Administration (PHMSA)—in coordination with the Federal Railroad Administration, another U.S. Department of Transportation (DOT) agency—announced in the Federal Register on Friday that it is amending the Hazardous Materials Regulations (HMR) to suspend authorization of LNG rail transportation.
PHMSA had previously finalized the rule in June 2020, complying with an April 2019 executive order from then-President Donald Trump, who went on a deregulatory spree during his four years in office and is now seeking a second term in 2024.

Rail transportation of LNG has not yet occurred "and there is considerable uncertainty regarding whether any would occur in the time it takes for PHMSA to consider potential modifications to existing, pertinent HMR requirements," the DOT agency noted. The suspension "guarantees no such transportation will occur before its companion rulemaking has concluded or June 30, 2025, whichever is earlier."
Food & Water Watch New Jersey state director Matt Smith said that "suspending the outrageously dangerous Trump bomb train rule is a welcome relief to the communities that would be turned into sacrifice zones for a billionaire hedge fund tycoon to bet big on dirty gas exports. The victory goes to the powerful grassroots movement fighting back against the dangerous New Fortress export scheme and the enormous climate threat associated with the expansion of fracking and LNG."
The suspension follows the DOT in April denying New Fortress' permit request for an export facility on the Delaware River in Gibbstown—a move that Smith had said at the time was "long overdue, and provides some measure of protection for the communities across South Jersey."
Smith stressed Friday that "this victory can, and must, go deeper. The Biden administration should take action to eliminate the threat of fracked gas bomb trains entirely, and it must do more to stop new fossil fuel projects across the country."
The administration of Democratic New Jersey Gov. Phil Murphy "must do more to stop the dirty energy projects that are being proposed across the state," he added. "If our political leaders believe their own rhetoric about the climate crisis, then they must take appropriate action—and that begins by stopping new fossil fuel proposals immediately."
Natural Resources Defense Council senior attorney Kimberly Ong similarly celebrated the development—particularly for frontline communities of the New Fortress project—while also calling for additional action by the Biden administration.
"People of Pennsylvania and New Jersey living near key rail lines would have faced damage to their health, families, and homes in the event of a derailment," Ong said. "After pausing the rule, Secretary of Transportation Pete Buttigieg should put a new rule in place that restores the ban on LNG by rail once and for all. That would finally put an end to the threat to communities around Gibbstown and other communities targeted by similar dangerous projects."
"New Fortress Energy's proposed LNG project endangers nearly 2 million people living near truck and rail transport routes," she pointed out. "LNG is a volatile substance that can lead to fires and even explosions. The rail disaster in East Palestine, Ohio earlier this year underscores how serious a train derailment involving hazardous substances can be."
The February derailment and resulting environmental and public health concerns in Ohio have generated nationwide calls for stricter rail safety policies and inspired the introduction of multiple bills in Congress.

News
We Still Must Raise $8,000 by Midnight Tonight
Please Support Our
Summer Campaign Today!