For Immediate Release
March, 28 2011, 03:50pm EDT
Contact:
Tel: +1-212-216-1832,Email:,hrwpress@hrw.org
Syria: Security Forces Fire on Protesters
Death Toll at Least 61 in Daraa Region, 12 in Latakia
LONDON
Syria's security forces used live ammunition against protesters in Daraa and the surrounding villages of Sanmein and Tafas on March 25 and 26, 2011, killing at least 26 and bringing the death toll in the Daraa governorate reported by Syrian human rights activists since March 18 to at least 61, Human Rights Watch said today. Clashes between security forces and protesters in the coastal city of Latakia on March 26 killed another 12, according to Syria's state news agency.
Human Rights Watch called on the government to hold to account those responsible for any unlawful shooting on demonstrators and urged concerned governments to back their condemnations of Syria's violent crackdown with concrete measures, such as ending all transfer of military or security assistance, as long as the abuses continue.
"Syria's authorities promise reform on TV but meet demonstrators with bullets in the streets," said Sarah Leah Whitson, Middle East director at Human Rights Watch. "The government should understand that these demonstrations won't end until it stops shooting at protesters and begins to change its repressive laws and practices."
Confrontations between protesters and security forces also took place in Latakia on March 26, leading the Syrian army to deploy in the city at night. A Syrian official told SANA, the Syrian state news agency, that 12 people were killed, including security forces and protesters. Human Rights Watch spoke to two residents in Latakia, but both were too afraid to provide any details of the events. Anti-government demonstrators in Latakia who spoke to television outlets accused the security forces of opening fire on them, while officials and pro-government protesters accused the anti-government protesters of having guns and shooting at police.
In Daraa on the morning of March 25, tens of thousands of demonstrators gathered for a funeral procession for protesters killed the previous day. The protest had been peaceful in the morning, but security forces fired live ammunition at protesters after they tried to destroy a statue of former president Hafez al-Assad in the square facing the governor's residence, two witnesses told Human Rights Watch. Video footage posted by anonymous sources on YouTube showed the protesters attempting to pull down the statue as well as a billboard photo of President Bashar al-Asad in a neighboring square. The sound of gunfire could be heard in the background.
A Daraa resident told Human Rights Watch on March 26 that protests on March 25 had first been peaceful. When people in the crowd received information that security forces had shot and killed demonstrators in the nearby village of Sanamein, who were on their way to join the funeral procession in Daraa, they vented their anger by trying to destroy a statue of former president al-Asad, the father of the current president. The witness told Human Rights Watch: "The information about the killing of protesters who were coming to join us angered the crowd. And some people tried to destroy the statue of President Hafez al-Asad. At that point, security forces opened fire, and I ran away."
Another Daraa resident told Human Rights Watch that 14 people had died in the subsequent shootings in Daraa, but Human Rights Watch was able to obtain the names of only two dead protesters: Muhammad Ayshat and Tarek Abu Aysh.
A Sanamein resident told Human Rights Watch what happened in his village: "We were heading to Daraa to join the funeral when we reached security forces who were blocking our way. When we refused to stop, they started shooting at us." He said that the security forces killed 16 people in his village. A Syrian official told Agence France-Presse that 10 people were killed in clashes between protesters and security forces in Sanamein but gave no further details. Human Rights Watch obtained the names of two of those killed, Muhammad Zu`bi and Yaser Sarrouh.
Also on March 26, anti-government protesters set fire to the headquarters of the ruling Baath Party and a police station in Tafas, another village near Daraa, during the funeral of a demonstrator who had been killed on March 25, a Syrian activist told Human Rights Watch. The activist told Human Rights Watch that security forces had killed two protesters in an effort to disperse the crowd. Syria's government did not issue any comment on the events in Tafas.
The United Nations Basic Principles on the Use of Force and Firearms by Law Enforcement Officials allow law enforcement agents to use only that degree of force necessary and proportionate to protect people and property and to use intentional lethal force only when strictly unavoidable, to protect life. The Basic Principles require governments to ensure that arbitrary or abusive use of force or firearms by law enforcement officials is punished as a criminal offense.
"Attacks on a statue do not justify shooting protesters dead," Whitson said. "It is time for President al-Asad to show leadership by reigning in his security forces, investigating those responsible for unlawful attacks on protesters, and holding them accountable in a court of law."
The government has arrested scores of people since large-scale demonstrations began on March 16. While it now has released some, others remain in detention and their whereabouts are unknown. Authorities immediately should disclose the names, whereabouts, and charges against anyone who may still be in custody in connection with recent events, Human Rights Watch said.
Officials from the United States, European Union, and UN have condemned violence against protesters and called on Syrian authorities to release those detained.
Concerned governments and the UN should back their statements with concrete action to stop the bloodshed, including an embargo on all arms and security equipment to Syria, targeted sanctions and travel bans against Syrian officials responsible for ongoing grave human rights abuses, and support for a comprehensive, independent, and speedy investigation into any crimes committed, Human Rights Watch said.
"It's important to denounce the violence but we need concrete measures that will convince the Syrian leadership to end the bloodshed," Whitson said.
Human Rights Watch is one of the world's leading independent organizations dedicated to defending and protecting human rights. By focusing international attention where human rights are violated, we give voice to the oppressed and hold oppressors accountable for their crimes. Our rigorous, objective investigations and strategic, targeted advocacy build intense pressure for action and raise the cost of human rights abuse. For 30 years, Human Rights Watch has worked tenaciously to lay the legal and moral groundwork for deep-rooted change and has fought to bring greater justice and security to people around the world.
LATEST NEWS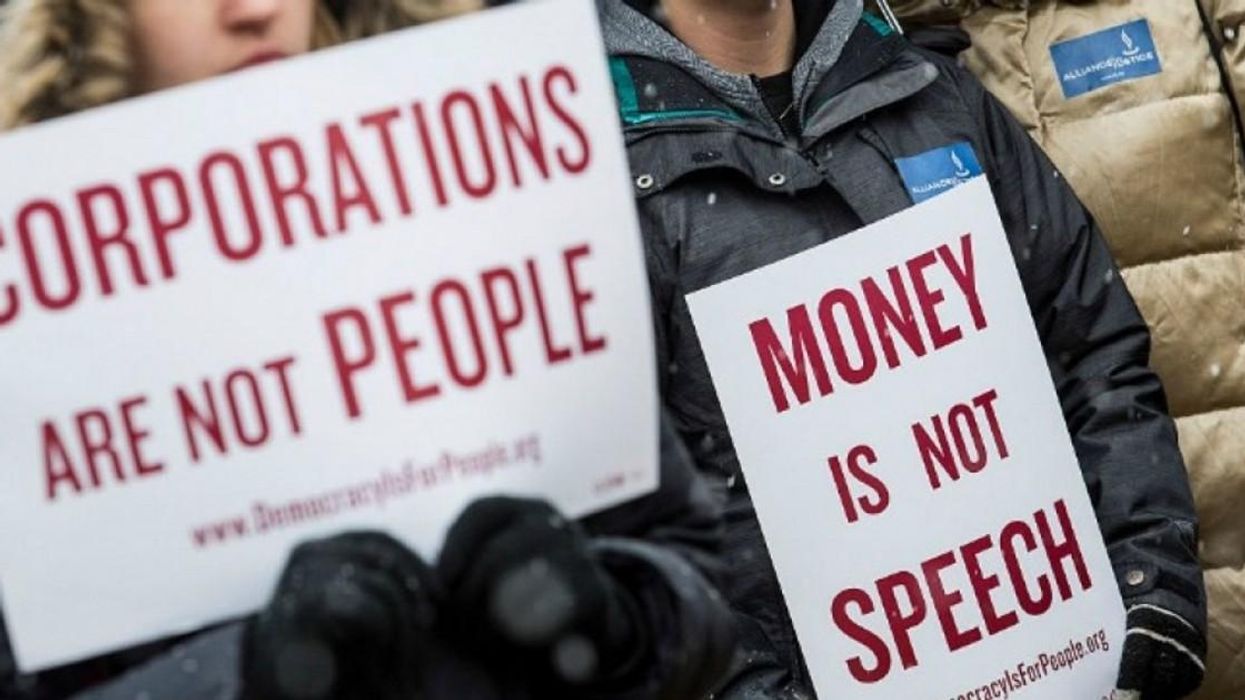 "It's time to ensure our democracy works for all people by getting big money out of politics and ensuring every voter's voice is heard," said Rep. Pramila Jayapal.
To end an era in which wealthy corporations have been given free rein to spend nearly unlimited money on political campaigns, Democrats in the U.S. House on Thursday proposed a constitutional amendment that would overturn the hugely consequential Citizens United v. Federal Election Commission decision by U.S. Supreme Court, saying the ruling "has dangerously eroded" the government's ability to serve the public interest.
Reps. Adam Schiff (D-Calif.), Pramila Jayapal (D-Wash.), Dean Phillips (D-Minn.), and Jim McGovern (D-Mass.) led dozens of co-sponsors in introducing the Democracy for All Amendment two days before the 13th anniversary of the Citizens United decision, in which the court struck down a ban on corporate independent expenditures.
According to Schiff, the constitutional amendment—which the congressman first proposed in 2013—would:
Make clear the Constitution does not restrict the ability of Congress or the states to propose reasonable, viewpoint-neutral limitations on the raising and spending of money by candidates and others to influence elections;
Distinguish between natural persons and corporations or other artificial entities, including by prohibiting the latter from spending unlimited amounts of money to influence elections;
Allow states to enact public campaign financing systems, which can restrict the influence of corporate or private wealth; and
Take further steps to protect the freedom of the press in the case of future campaign finance-related legislation.
The proposal, said the campaign finance reform group End Citizens United, "strikes at the heart" of the 2010 ruling.
"It would affirm the right of the people to pass state and federal laws by restoring Congress' and the states' authority to place [limits] on political spending," said the group.

In addition to overturning Citizens United, the Democrats aim to overturn the "fundamental flaws" and legal precedents that underpinned the court's reasoning in 2010 and in "an entire line of cases dating back to the 1976 Buckley v. Valeo decision, which prevented meaningful regulation of campaign expenditures by corporations and special interest groups."
\u201cBREAKING: We've introduced a constitutional amendment to overturn Citizens United and the irresponsible SCOTUS decisions that came before it.\n \nUnrestricted dark money has no place in our elections or democracy. We need to return power to people. Once and for all.\u201d

— Adam Schiff (@Adam Schiff) 1674144857
"Citizens United was one of the most egregious enablers of special interest money, but it was only the latest in a long line of Supreme Court cases that opened the floodgates. To truly rein in dark money, we must amend our Constitution," Schiff's office said. "The Democracy for All Amendment will close legal loopholes that wealthy megadonors, corporations, and special interest groups have exploited for far too long, and return power to the people once and for all."
The 2010 ruling allowed special interest groups and corporations to create super PACs, which can accept unlimited donations—including from "dark money groups" whose contributors are hidden from the public—and spend unlimited amounts of money on campaigns.
\u201cWe cannot continue to let members of Congress be controlled by dark money and corporations.\n\nThat's why I'm a cosponsor on the Democracy for All Amendment, which would overturn Citizens United v. FEC.\n\nAmericans deserve representatives who aren't influenced by dark money.\u201d

— Congressman Jamaal Bowman (@Congressman Jamaal Bowman) 1674146650
John Bonifaz, president and co-founder of Free Speech For People, said the amendment would allow for overall campaign spending limits and public campaign financing systems and would end the big money dominance of our elections."
The Democracy for All Act would affirm, said Jayapal, that "corporations are not people and money is not speech."
"In every election following Citizens United, billions of dollars of dark money have been dumped into our electoral system, giving corporations and the richest Americans outsized power and influence," said the congresswoman. "It's time to ensure our democracy works for all people by getting big money out of politics and ensuring every voter's voice is heard."
News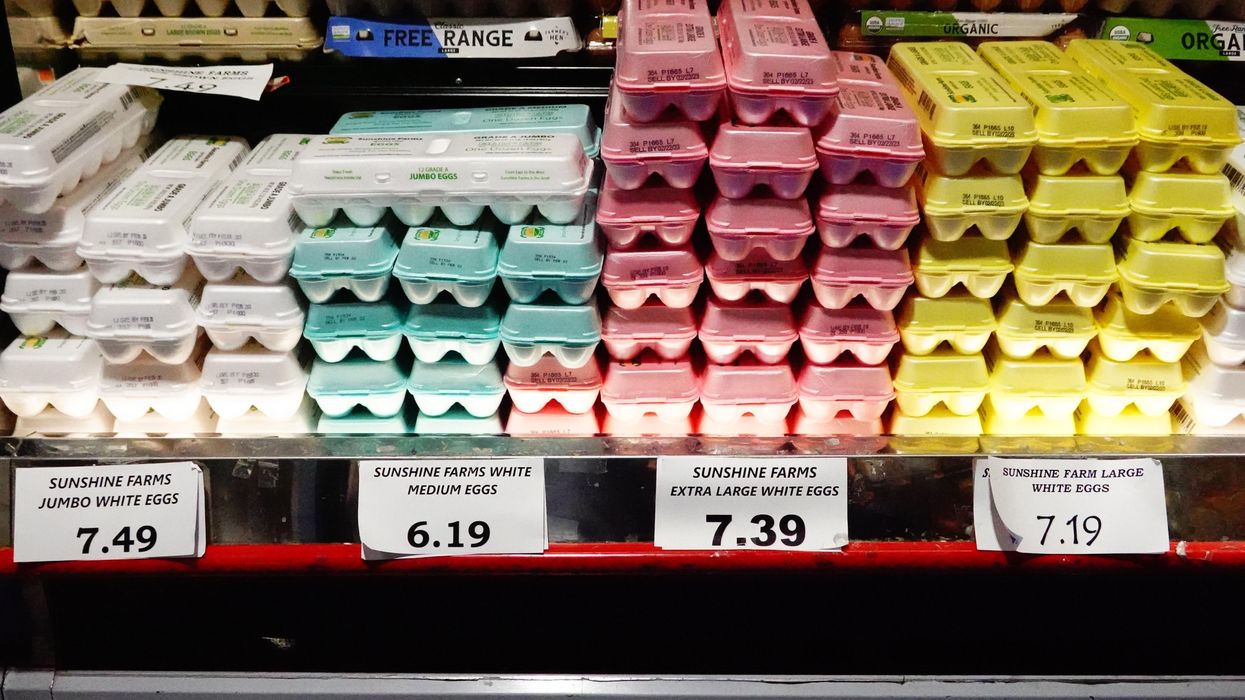 "Contrary to industry narratives, the increase in the price of eggs has not been an 'act of God,'" says Farm Action. "It has been simple profiteering."
As U.S. egg producers rake in record profits amid soaring prices, a farmer-led advocacy group focused on building a just and sustainable food system on Thursday implored the Federal Trade Commission to "promptly open an investigation into the egg industry, prosecute any violations of the antitrust laws it finds within, and ultimately, get the American people their money back."
Just before testifying at an open meeting of the FTC, Farm Action sent a letter to agency chair Lina Khan detailing its "concerns over apparent price gouging, price coordination, and other unfair or deceptive acts or practices by dominant producers of eggs such as Cal-Maine Foods, Rose Acre Farms, Versova Holdings, and Hillandale Farms, among others."
As Farm Action explained, "Egg prices more than doubled for consumers last year—going from $1.79 in December 2021 to $4.25 in December 2022 for a dozen large Grade A eggs."
Major egg producers and their allies have blamed surging prices on a "supply disruption" triggered by the deadliest outbreak of avian influenza in U.S. history, calling it "'act of God' type stuff," the letter notes.
Based on its analysis of publicly available industry data, however, Farm Action determined that while the avian flu outbreak killed roughly 43 million egg-laying hens nationwide in 2022, "its actual impact on the egg supply was minimal."
According to the letter:
After accounting for chicks hatched during the year, the average size of the egg-laying flock in any given month of 2022 was never more than 7-8% lower than it was a year prior—and in all but two months was never more than 6% lower. Moreover, the effect of the loss of egg-laying hens on production was itself blunted by "record-high" lay rates observed among remaining hens throughout the year. With total flock size substantially unaffected by the avian flu and lay rates between 1-4% higher than the average rate observed between 2017 and 2021, the industry's quarterly egg production experienced no substantial decline in 2022 compared to 2021.
Nevertheless, the "weekly wholesale price for shell eggs climbed from 173.5 cents per dozen at the end of February to 194.2 cents in the middle of March," the letter continues. "By the first week of April, it had reached 298 cents per dozen. For two months after this point, the wholesale price of eggs appeared to stabilize at elevated levels slightly below this peak—but then it started increasing again. In July, it broke previous records and reached over 300 cents per dozen. After dipping briefly in August, the rally in wholesale egg prices continued, hitting 400 cents per dozen in October and almost 450 cents per dozen in the first weeks of December."
According to Farm Action, major egg producers' massive price hikes are unjustifiable. In addition to the avian flu outbreak, some have attributed skyrocketing egg prices to higher feed and fuel costs, but "the dominant producers' course-of-business documents suggest these claims have little merit," the letter states. "For example, in a presentation to investors just this month, Cal-Maine noted that total farm production and feed costs in 2022 were only 22% higher than they were in 2021."
"What Cal-Maine Foods and the other large egg producers did last year—and seem to be intent on doing again this year—is extort billions of dollars from the pockets of ordinary Americans."
"The real culprit behind this 138% hike in the price of a carton of eggs," says the letter, "appears to be a collusive scheme among industry leaders to turn inflationary conditions and an avian flu outbreak into an opportunity to extract egregious profits reaching as high as 40%."
Max Bowman, the chief financial officer of Cal-Maine—the nation's largest producer and distributor of eggs—has admitted as much, saying in a recent statement that "significantly higher selling prices, our enduring focus on cost control, and our ability to adapt to inflationary market pressures led to improved profitability overall."
CNNreported last week that "there have been no positive tests" of avian flu at any of Cal-Maine's facilities, and yet the company's net average selling price per dozen conventional eggs more than doubled last year. The corporate giant, which controls roughly 20% of the egg market, is behind several popular brands, including Farmhouse Eggs, Sunups, Sunny Meadow, Egg-Land's Best, and Land O' Lakes eggs.
"Contrary to industry narratives, the increase in the price of eggs has not been an 'act of God'—it has been simple profiteering," Farm Action's letter argues. "For the 26-week period ending on November 26, 2022, Cal-Maine reported a 10-fold year-over-year increase in gross profits—from $50.392 million to $535.339 million—and a five-fold increase in its gross margins."
"Cal-Maine's willingness to increase its prices—and profit margins—to such unprecedented levels suggests foul play. That Cal-Maine—the leader in a mostly commoditized industry with, presumably, the most efficient operations and the greatest financial power—will quintuple its profit margin in one year without any compelling business reason is plainly an indication of market power," the letter continues. "It is also an invitation for rival egg producers to tacitly collude with Cal-Maine, forego price competition themselves, and maintain high prices for the entire industry. Fundamentally, Cal-Maine seems to be engaging in price leadership—using the avian flu outbreak and the inflationary conditions of the past year as cover to establish a new 'focal point' for egg prices."
"This pattern of behavior by the dominant firms in the egg industry raises significant concerns about monopoly power and potential antitrust violations in this sector," the letter adds. "It also presents exactly the kind of monopoly or oligopoly power that is entrenched in a market 'with highly inelastic demand' and that 'imposes substantial costs on the public,' which Chair Khan has previously argued enforcers should seek to challenge. We urge the FTC to exercise the full scope of its authorities—under the Sherman, Clayton, and FTC Acts—to identify, challenge, and uproot anti-competitive arrangements that suppress competition among egg producers and enable dominant firms like Cal-Maine to extort consumers for the eggs they need every day."
In November, "antitrust trailblazer" Khan led the agency in issuing a new policy statement restoring its commitment to "rigorously enforcing" the FTC Act's prohibition on "unfair methods of competition," including what critics have called "predatory pricing."
According to Farm Action: "What Cal-Maine Foods and the other large egg producers did last year—and seem to be intent on doing again this year—is extort billions of dollars from the pockets of ordinary Americans through what amounts to a tax on a staple we all need: eggs. They did so without any legitimate business justification. They did so because there is no 'reasonable substitute' for a carton of eggs. They did so because they had power and weren't afraid to use it."
"This kind of organized theft is exactly what Congress—and the public it represents—'empowered and directed' the FTC to prevent," the group concluded. "The FTC should do nothing less."
In addition to regulatory action, Sen. Bernie Sanders (I-Vt.) argued last weekend that Cal-Maine's "corporate greed" exemplifies why "we need a windfall profits tax."

\u201cCorporate greed is the producer of Egg-Land's Best, Farmhouse Eggs & Land O'Lake Eggs, increasing its profits by 65% last quarter to a record-breaking $198 million while doubling the price of eggs & reporting no positive cases of avian flu. Yes. We need a windfall profits tax.\u201d

— Bernie Sanders (@Bernie Sanders) 1673804220
Last March, Sanders introduced the Ending Corporate Greed Act, which seeks to stamp out price gouging by imposing a 95% tax on the windfall profits of major companies.
Progressive economists have long urged Congress and the Biden administration to enact a windfall profits tax, strengthen antitrust enforcement, and impose temporary price controls, arguing that only these measures—and not the Federal Reserve's unemployment-inducing interest rate hikes—can address the corporate profiteering underlying the cost-of-living crisis.
News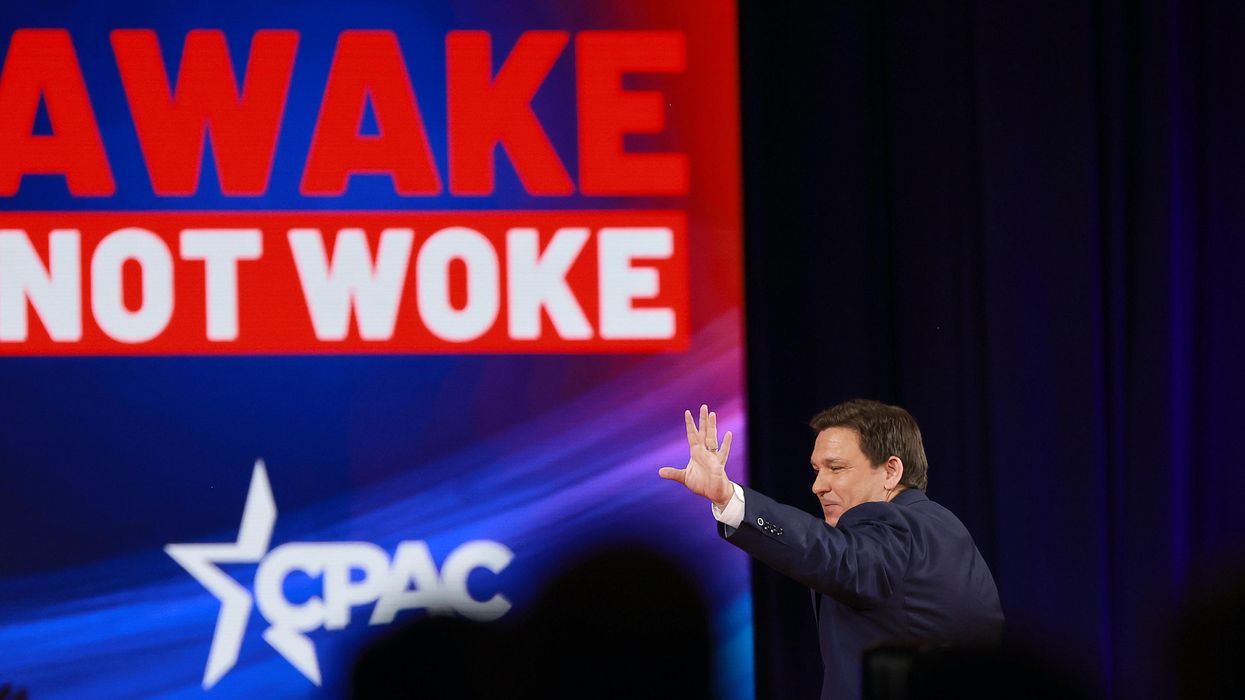 "Florida is doing its best to shut down discussions about race, slavery, anything having to do with a challenge to the idea that racism is still a real factor in American life today," said one author and former professor.

Academics and Democratic lawmakers reacted angrily Thursday after the administration of Republican Florida Gov. Ron DeSantis rejected a new high school Advanced Placement African-American studies course—without even seeing its syllabus—claiming it violates the state's ban on "woke" education and "lacks educational value."
Some Republican Florida officials said they believe the African-American studies course offered by the College Board—which approves AP courses and runs SAT testing—violates the state's Stop WOKE Act by promoting critical race theory (CRT), a graduate-level academic framework positing that systemic racism is inherent in U.S. society.
DeSantis said the Stop WOKE Act, which applies to schools from the primary through university level and businesses, is meant to combat "wokeness as a form of cultural Marxism."
"Diversity and equity are offensive to the conservative worldview, and they will use whatever tools available to continue enforcing a hierarchy which keeps those they consider the in-group at the top, and the rest of us at the bottom, if they must abide our existence at all."
The law was partially blocked last year by a federal judge who rejected the state's "authority to muzzle its professors in the name of 'freedom.'"

Marvin Dunn, a prolific author and former Florida International University professor who has dedicated his career to preserving and sharing Florida's Black history, told the Daily Beast that the state's rejection of the AP African-American studies course "means an insult to me, it means an injury to me."

"Florida is doing its best to shut down discussions about race, slavery, anything having to do with a challenge to the idea that racism is still a real factor in American life today," he added.

\u201cThis political extremism and its attack of Black History and Black people, is going to create an entire generation of Black children who won\u2019t be able to see themselves reflected at all within their own education or in their own State.\n\nhttps://t.co/0IDCzOJZlG via @thedailybeast\u201d

— Shevrin \u201cShev\u201d Jones (@Shevrin \u201cShev\u201d Jones) 1674085974
New York University historian Diane Ravitch wrote:

Just in case there was any doubt about what Gov. DeSantis and Florida Legislature banned when they outlawed any discussion of "critical race theory," that doubt has been resolved. They do not want schools and teachers to acknowledge race, racism, or the very existence of people of color in the United States. Sight unseen, the [Florida Department of Education] has banned an AP course on African-American studies. The department claimed that the content of the course is historically inaccurate and violates state law, even though the department has never seen the course syllabus.
DeSantis, a potential 2024 presidential candidate, has backed dozens of right-wing school board candidates while purging education officials who promote or enforce Covid-19 mandates. Last year, he outraged LGBTQ+ advocates by signing into law the so-called "Don't Say Gay or Trans" bill, falsely claiming that schools were promoting "pornographic" material.
Cassandra Quick, a Seattle-area attorney who is Black and transgender, told Common Dreams that Republicans like DeSantis "seek to silence the stories and histories of Black and Brown people, and of queer people, in a bid to maintain the cultural, economic, and political hegemony they've enjoyed since the inception of the United States and which is threatened by current efforts to shine the light on the realities of those they have suppressed and marginalized."

"Diversity and equity are offensive to the conservative worldview, and they will use whatever tools available to continue enforcing a hierarchy which keeps those they consider the in-group at the top, and the rest of us at the bottom, if they must abide our existence at all," Quick added.
\u201cWhat\u2019s worse, is that for voters who buy white supremacy lock, stock & barrel, their fealty to DeSantis just increased.\n\nThey believe him, his \u201cStop WOKE Act,\u201d and banning things like AP Black History are *protecting* them, their power, and their property.\n\nIt makes him stronger.\u201d

— brittany packnett cunningham. (@brittany packnett cunningham.) 1674138829
In its brief letter explaining why it rejected the AP African-American studies course, the Florida Department of Education (DOE) said that "as presented, the content of this course is inexplicably contrary to Florida law and significantly lacks educational value."
The letter was issued on January 12, just days before the Martin Luther King Jr. holiday and days after the 100th anniversary of the Rosewood Massacre, in which white supremacists destroyed the eponymous Black town in Levy County, Florida in a murderous rampage.

Florida DOE spokesperson Cassie Pelelis told the Daily Beast that "if the course comes into compliance and incorporates historically accurate content, the department will reopen the discussion."
In response to Florida's move, the College Board told the Daily Beast that "we look forward to publicly releasing the updated course framework as soon as it is completed and well before this class is widely available in American high schools."
In a separate statement, the College Board said that "like all new AP courses, AP African-American Studies is undergoing a rigorous, multiyear pilot phase, collecting feedback from teachers, students, scholars, and policymakers. The process of piloting and revising course frameworks is a standard part of any new AP course, and frameworks often change significantly as a result."
\u201cClearly every history except Black, is seen as worthy of further development, exploration and understanding in Florida under DeSantis' leadership. Black history is American history. Striking it from curriculum does students a grave disservice, and makes America weaker for it.\u201d

— Ameshia Cross (@Ameshia Cross) 1674144497
Reacting to the course's rejection, political analyst Ameshia Cross tweeted: "Black history is American history. Striking it from [the] curriculum does students a grave disservice, and makes America weaker for it."

News
SUPPORT OUR WORK.
We are independent, non-profit, advertising-free and 100%
reader supported.