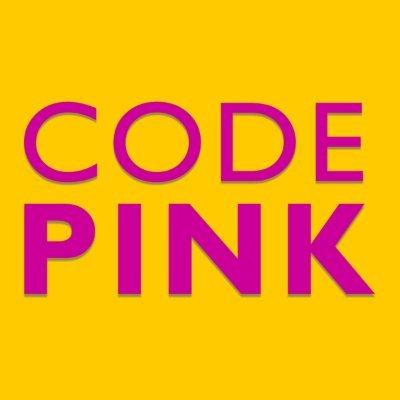 For Immediate Release
March, 19 2010, 11:51am EDT
Contact:
Medea
Benjamin, CODEPINK Cofounder, 415 235-6517 (available for interviews)
Dana Balicki, Campaign Manager, 202 422-8624
Rae Abileah, CODEPINK Local Groups Coordinator, 415-994-1723
Women Mark Iraq War's Seventh Anniversary with Vibrant Visuals & Community Event
Joining a Nation-Wide Call to Repair the War-Torn Economy & Redirect Our Resources to Education & Healthcare
WASHINGTON
On
the anniversary of seven years of war in Iraq, CODEPINK women in
Washington, D.C. and across America will honor this tragic anniversary
with a march in the nation's capitol and a special "Women Say No To War:
Building Peace in War Zones Around the World" event with award-winning
author of the Vagina Monologues Eve Ensler, award-winning journalist Amy
Goodman, Immigration activist Pramila Jayapal, Congresswoman Donna
Edwards and more at Busboys & Poets, owned by Iraqi-American, DC
entrepreneur Andy Shallal. CODEPINK women will join the many
demonstrations occurring across the country, connecting the failing U.S.
economy with continued military spending and the largest Pentagon
budget in history.
WHAT: CODEPINK Women for Peace march on the 7th anniversary of
the Iraq War followed by an evening celebrating women peacemakers Eve
Ensler, Amy Goodman and more. The march in DC is in conjunction with
events nationwide organized around the 7th anniversary of the Iraq
invasion, additionally calling for an end to the occupation of
Afghanistan.
WHEN: March 20, march starts 12pm and "Women Say No To War:
Building Peace in War Zones Around the World" event starts at 7pm (event
is free and open to the community)
WHERE: March & Rally--CODEPINK to gather at St. Johns Church
on H & 16th Sts NW, Evening
Event--Busboys & Poets 1025 5th NW (@ K St NW)
"As the hope of a new administration leading us towards peace has faded,
it is clear that only way we will bring our troops home is to organize
the silent majority opposed to the needless wars in Iraq and
Afghanistan", states Medea Benjamin cofounder of Global Exchange and
CODEPINK. "On the 7th anniversary of the Iraq war, we are determined to
bring the voices of Main Street to the halls of power to say: Stop
funding the warfare state and redirect our resources to life-affirming
activities".
March 20th marks six years of war in Iraq, over 8 years of war in
Afghanistan, thousands of troops dead, between 100,000 and 1million
Iraqi and Afghan civilians dead. At home Americans are suffering from
joblessness while being asked by the Obama Administration to endure a
domestic spending freeze and the largest Pentagon spending budget to
date. With these anniversary actions, communities are demanding an end
to a war-torn economy and a refocus on our economic and social
priorities here at home.
From Daytona Beach, FL to Troy, MI, cities across the country activists
and concerned citizens will rally and march on Saturday, March 20, in
opposition to the ongoing occupations of Iraq and Afghanistan and
calling for soldiers and desperately needed funds to return to the US.
Mass marches are planned in DC, San Francisco, Los Angeles, and
Chicago. For a full listing of actions please see www.codepinkalert.org/calendar
and https://pjep.org/announcements/?id=961.
Founded in the lead up to the Iraq War in 2003, CODEPINK Women for Peace
has become a vibrant, creative voice in the peace movement, an outlet
especially for women in the United States and worldwide.
CODEPINK Cofounders Medea Benjamin and Jodie Evans are available for
interview/comment. Please contact Dana Balicki for more info--(202)
422-8624, Dana@codepinkalert.org
CODEPINK is a women-led grassroots organization working to end U.S. wars and militarism, support peace and human rights initiatives, and redirect our tax dollars into healthcare, education, green jobs and other life-affirming programs.
(818) 275-7232
LATEST NEWS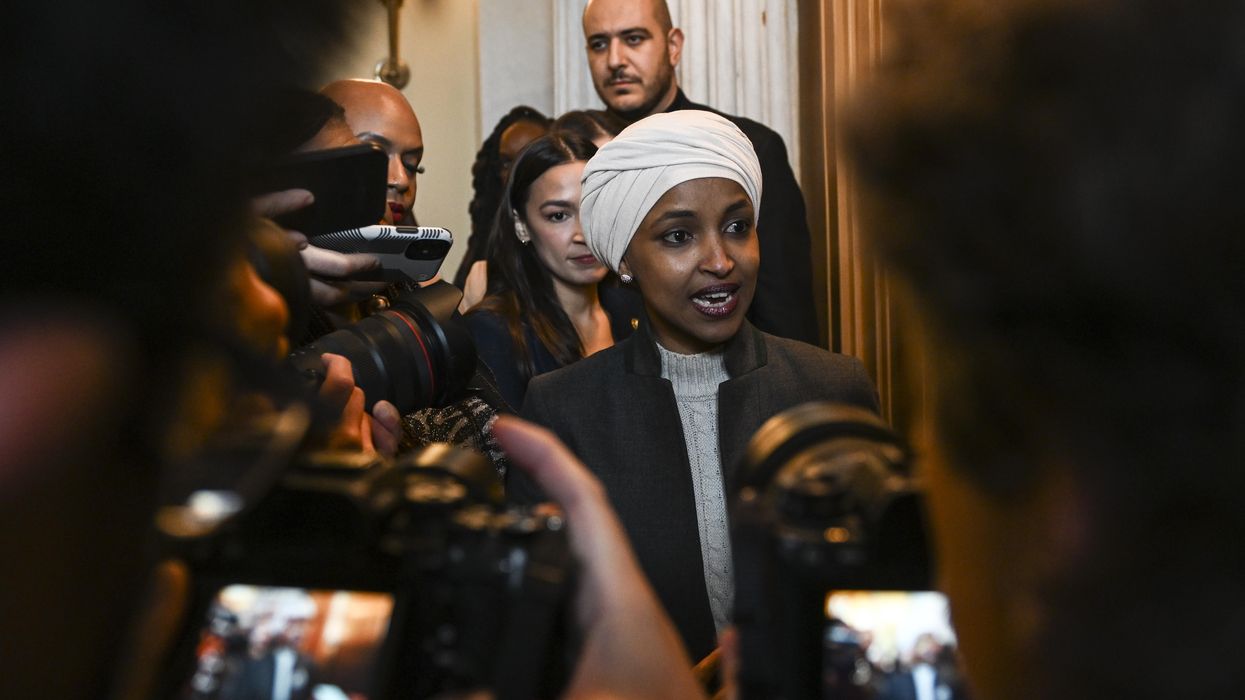 The House GOP's vote to remove Rep. Ilhan Omar from the House Foreign Affairs Committee came hours after Israel launched its latest bombing campaign in the occupied Gaza Strip.

Rep. Ilhan Omar vowed Thursday that the House GOP's vote to remove her from the chamber's foreign affairs panel would not stop her from criticizing Israel's treatment of Palestinians, a pledge that came after the Israeli government carried out its latest bombing campaign in the occupied Gaza Strip.

"My critique of our foreign policy, Israel's policy towards Palestinians, or that of any foreign nation will not change," Omar (D-Minn.) wrote in a Twitter post following passage of a Republican resolution forcing her off the House Foreign Affairs Committee—a seat she has used to speak out against human rights violations and demand accountability for war crimes, including those committed by the U.S. and Israel.
"As a person who suffered the horrors of war and persecution," Omar added, "my advocacy will always be for those that suffer because of the actions of governments."
The House vote was held hours after Israel's far-right government launched a series of airstrikes in the densely populated "open-air prison" of Gaza, bombings that came a week after Israeli forces killed 10 Palestinians at a refugee camp in the occupied West Bank. When two rockets were fired at Israel from Gaza in the wake of the massacre, Israel bombarded the enclave, reportedly hitting a refugee camp at the center of the strip.
During the floor debate ahead of the GOP resolution's passage, Republican lawmakers made clear that Omar's criticisms of Israeli policy—which are frequently conflated with antisemitism—were a driving force behind the effort to remove her from the House Foreign Affairs Committee.
Rep. Mike Lawler (R-N.Y.) specifically cited Omar's past characterization of Israel as an "apartheid" state, calling the description "appalling"—even though mainstream organizations, including Human Rights Watch and Amnesty International, have offered the same assessment of Israel's decades-long occupation and brutalization of Palestinians.
"Rep. Ilhan Omar was booted off of the House Foreign Affairs Committee today for one reason only: her firm and unequivocal opposition to Israel's brutal apartheid rule over the Palestinian people," wrote Josh Ruebner, an adjunct professor at Georgetown University and the former policy director of the U.S. Campaign for Palestinian Rights.
"All other pretexts," Ruebner argued, "are just designed to obscure this fact."
"Israel has long attempted to silence findings of apartheid with targeted smear campaigns, and the international community allows itself to be cowed by these tactics."
The House GOP passed its resolution kicking Omar off the powerful committee as rights groups warned that Israel is ramping up its assault on Palestinian rights and livelihoods.
"This circus is happening while the Israeli government is escalating an entirely new phase of state violence against Palestinians," Beth Miller, political director of Jewish Voice for Peace Action, told The Intercept's Akela Lacy, who argued Thursday that congressional Democrats "paved the way" for the GOP's attacks on Omar.
"If you actually look at what the Israeli government is doing right now," Miller said, "the mask is off completely."
Over the weekend, Israel moved to seal—and signaled plans to demolish—the West Bank homes of two Palestinians suspected of deadly attacks against Israelis. Human Rights Watch condemned Israel's response as an act of "collective punishment."
"Deliberate attacks on civilians are reprehensible crimes," Omar Shakir, Israel and Palestine director at Human Rights Watch, said in a statement Thursday. "But just as no grievance can justify the intentional targeting of civilians in Neve Yaakov, such attacks cannot justify Israeli authorities intentionally punishing the families of Palestinian suspects by demolishing their homes and throwing them out on the street."
Amnesty International noted earlier this week that Israeli forces killed 35 Palestinians in January alone. Last year was one of the deadliest in decades for Palestinians in the occupied territories.
"The devastating events of the past week have exposed yet again the deadly cost of the system of apartheid," said Agnès Callamard, Amnesty's secretary-general. "The international community's failure to hold Israeli authorities to account for apartheid and other crimes has given them free rein to segregate, control, and oppress Palestinians on a daily basis, and helps perpetuate deadly violence."
"Apartheid is a crime against humanity, and it is frankly chilling to see the perpetrators evade justice year after year," Callamard added. "Israel has long attempted to silence findings of apartheid with targeted smear campaigns, and the international community allows itself to be cowed by these tactics. Until apartheid is dismantled there is no hope of protecting civilian lives, and no hope of justice for grieving families in Palestine and Israel."
News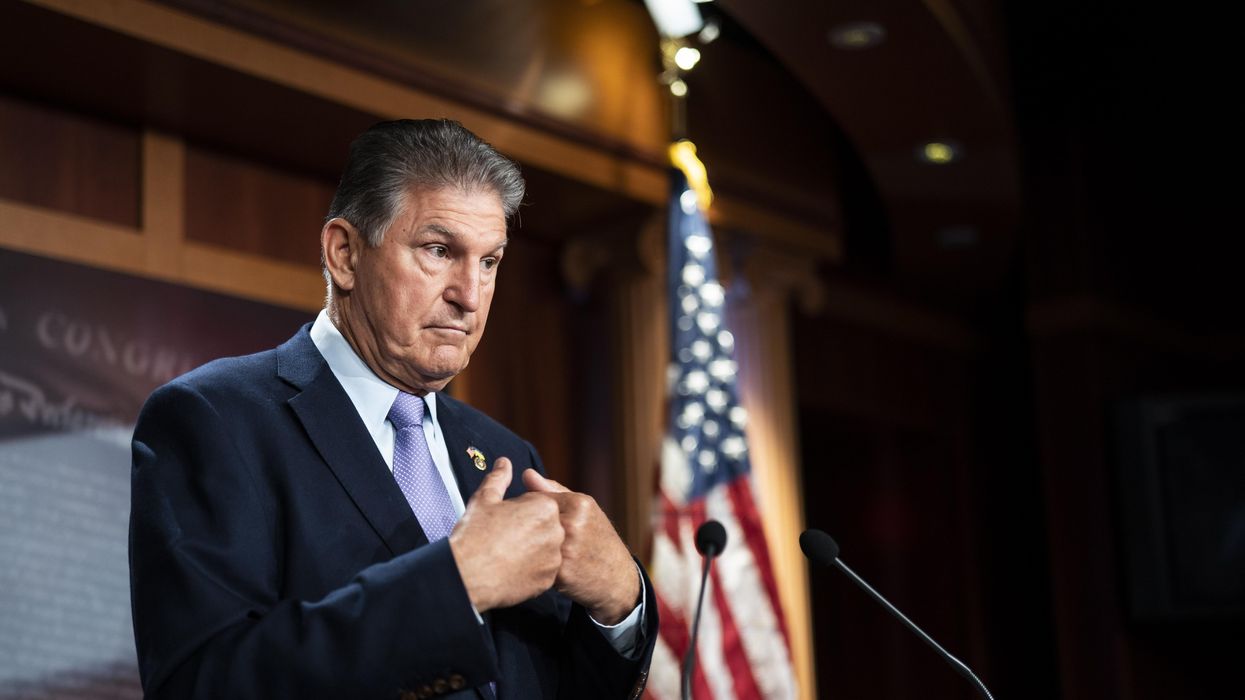 "Manchin is making another push to accelerate fossil fuel permitting," said one climate group. "But what we urgently need is to make it easier to permit clean energy projects."

The U.S. climate movement this week vowed to keep fighting against Sen. Joe Manchin's thrice-defeated "dirty deal" after the West Virginia Democrat indicated he intends to work with House Republicans to force through fossil fuel-friendly permitting reforms.
Frontline climate campaigners and progressives in both chambers of Congress worked tirelessly last year to quash Manchin's proposals—while also advocating for updates to permitting policy that would speed up the renewable energy transition.

The GOP took narrow control of the House earlier this year, and the chamber's Natural Resources Committee is now led by Bruce Westerman (R-Ark.). Manchin, who chairs the Senate Energy and Natural Resources Committee, met with him on Wednesday to discuss permitting legislation.
"Permitting reform as proposed in recent legislation would undermine effective tools used to protect air, water, and climate from the most damaging new infrastructure under consideration."
"They're going to work on something," Manchin said of the House, according to E&E News. "I think it's a high priority, which both sides know that we need it. Everyone has come to agreement that you got to have permitting. Let's take the politics out of it, and do what's doable."
After the meeting, Westerman said he saw "common ground between Sen. Manchin and myself."
The same day, the Republican Study Committee, the largest House GOP caucus, convened to discuss priorities for debt ceiling negotiations. According to a leaked portion of a slideshow, one policy endorsed by the committee for those talks is "enact a package of inflation-busting reforms to increase domestic energy capacity and reduce associated regulatory and permitting barriers."
Meanwhile, the Green New Deal Network—a U.S. campaign that includes 15 national organizations–pledged Wednesday that "we'll be here, ready to kill Manchin's dirty deal all over again."
The battle over the dirty deal, as critics call it, began last summer, when Senate Majority Leader Chuck Schumer (D-N.Y.) agreed behind closed doors to push through permitting reforms in exchange for Manchin's support for the Inflation Reduction Act. Despite Manchin and Schumer's efforts to advance various versions of a permitting bill, it was blocked in September and then twice in December.
"Defeated for the third time this year, this zombie bill would have fast-tracked dangerous fossil fuel and mining projects that would undercut the positive impacts of the Inflation Reduction Act," Chelsea Hodgkins, Oxfam America's climate policy adviser, said in mid-December. "Sen. Manchin's proposal would do nothing to address the real barriers to renewable energy development, which include fully resourcing underfunded agencies and investing in community-supported renewable systems."
Manchin and Westerman's meeting came after Politicoreported Tuesday that Sen. Shelley Moore Capito (R-W.Va.), who supported including the dirty deal in a December military spending package, "is bullish about the prospects of passing a bill to ease permitting rules now that the House is in GOP hands."
Capito, who will again serve as ranking member of the Senate Environment and Public Works (EPW) Committee, told Politico that "permitting—it's a very important aspect of energy development and we have a big role in that at EPW. One of the reasons it failed [last year] is because it didn't go through the committee process. I would love to see us try to work through a committee process that can be successful in the end."
"I'm certainly going to be pressing and we're going to be having meetings with our House colleagues on this very issue," Capito said during a Thursday press briefing. "We'll look and see what the House comes up with and see if it's something I think we can get good compromises on."
"Finding reasonable compromise to permit pipelines and power lines and other things is important to both sides," added Capito—who, like Manchin, wants to see the controversial and long-delayed Mountain Valley Pipeline completed. "If you want more renewable, you can't do it without transmission. If you want more natural gas, like I do, you can't do it without pipelines."
E&E News reported that House Republicans now plan "to use, as a starting point, legislation introduced in previous sessions of Congress by Rep. Garret Graves (R-La.), known as the 'Builder Act,' which would achieve the main goals of speeding up permits for energy projects by making changes to the National Environmental Policy Act," or NEPA—which is expected to anger Democrats.
Asked by the outlet whether he would accept changes to NEPA as part of a deal, Rep. Raúl Grijalva (D-Ariz.), the ranking member of the House Natural Resources Committee—who, as the panel's chair last year, led Democratic opposition to Manchin's legislation—said, "No."
Amid discussion on Capitol Hill this week, the Bulletin of the Atomic Scientists asked six experts to weigh in on permitting reform. Associate editor Jessica McKenzie summarized their arguments in a series of tweets:
"Reform advocates rightly emphasize the need for rapidly constructing wind, solar, geothermal, energy storage, and transmission," wrote Dustin Mulvaney, a professor in the Environmental Studies Department at San José State University and fellow with the Payne Institute for Public Policy at the Colorado School of Mines.
"The problem is that streamlining environmental rules and regulations could have the opposite effect, unless the 'streamlining' is achieved via planning processes that include stakeholder feedback," he stressed. "More important, permitting reform as proposed in recent legislation would undermine effective tools used to protect air, water, and climate from the most damaging new infrastructure under consideration—namely oil, gas, and tar sands pipelines."

News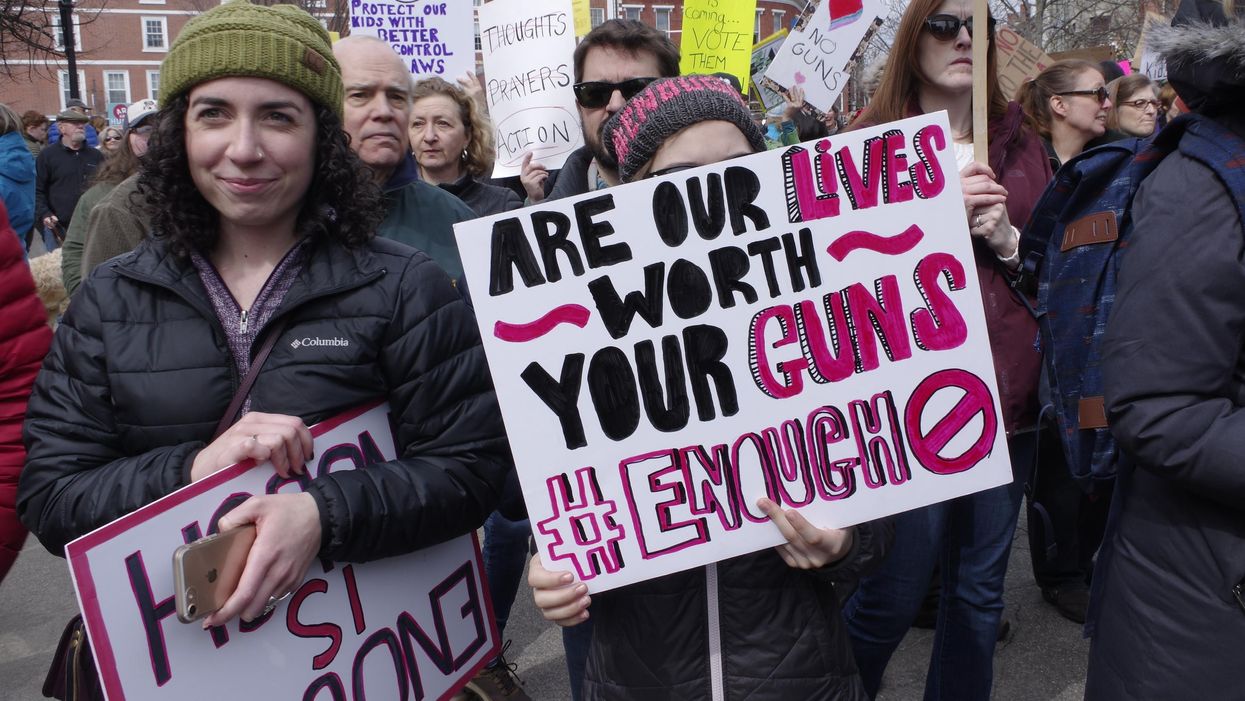 "There is no real doubt that the 5th Circuit's decision is going to lead to more abusers murdering their wives and girlfriends," said one gun control advocate. "It will also increase mass shootings."
The right-wing 5th U.S. Circuit Court of Appeals on Thursday struck down a federal law barring people with domestic violence restraining orders from owning firearms, a ruling that gun control advocates said will cost lives.
A three-judge panel of the New Orleans-based appellate court said in its decision that the overturned law is an unconstitutional impediment to the right to bear arms. The judges based their ruling on New York State Rifle & Pistol Association v. Bruen, a June 2022 U.S. Supreme Court decision that struck down that state's limits on carrying concealed guns in public.

The judges—who were all appointed by Republican presidents—wrote that under Bruen, the law prohibiting people with domestic violence restraining orders from owning guns "fails to pass constitutional muster," and that the ban is an outlier "that our ancestors never would have accepted."

Responding to the ruling, Shannon Watts, founder of the gun control advocacy group Moms Demand Action, tweeted, "Given that domestic violence is often a precursor to gun violence, this ruling is a death sentence for women and families in the U.S."

\u201cI can feel my blood pressure rising with each paragraph of this Fifth Circuit opinion\n\nIt concludes that 'our ancestors would have never accepted' banning perpetrators of domestic violence from possessing guns\n\nTwo quick questions: whose ancestors and why should I care?\u201d

— Barred and Boujee (@Barred and Boujee) 1675369956
"When someone is able to secure a restraining order, we must do everything possible to keep them and their families safe—not empower the abuser with easy access to firearms," Watts added. "This dangerous and deadly ruling cannot stand and must quickly be overturned."

Slate senior writer Mark Joseph Stern warned via Twitter that "there is no real doubt that the 5th Circuit's decision is going to lead to more abusers murdering their wives and girlfriends. It will also increase mass shootings."

Stern noted that the U.S. Supreme Court "held that gun restrictions are only constitutional if they have historical analogs from 1791 or 1868. But domestic violence was widely accepted in those eras. So, the 5th Circuit says, the government can't disarm alleged domestic abusers today."

\u201cThe Dobbs decision overturning Roe was an act of violence against women. The 5th Circuit ruling that domestic abusers can keep their guns - also likely headed to SCOTUS - is another one.\nHow many times does it need to be made plain that Republican HATE women?\u201d

— Laura Chapin (@Laura Chapin) 1675374618
"To be clear—the reason there weren't laws disarming domestic abusers in 1791 or 1868 is because women were not equal citizens and domestic violence was not deemed a criminal offense by the men who made and enforced the laws," Stern added.
According to the National Coalition Against Domestic Violence, the presence of a firearm in a domestic violence situation increases the risk of homicide by 500%. Each year, more than 600 U.S. women are shot to death by their intimate partners. That's one killing every 14 hours.

News
SUPPORT OUR WORK.
We are independent, non-profit, advertising-free and 100%
reader supported.