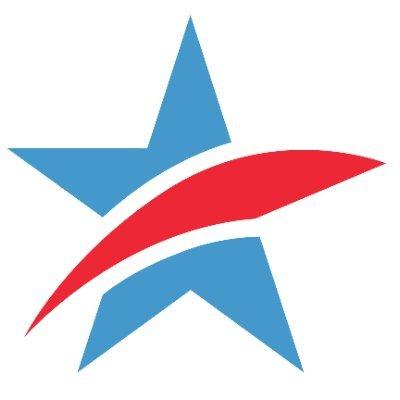 For Immediate Release
March, 03 2009, 01:13pm EDT
Contact:
John Sparks (202)736-5713
Common Cause Statement on the Caperton v. Massey Supreme Court Case
Judge Receives $3 Million in Campaign Money from Defendant:
WASHINGTON
The U.S. Supreme Court today hears arguments in the Caperton v. Massey case from West Virginia. Common Cause believes this case presents an example of a blatant conflict of interest. Hugh Caperton won a $50 million jury verdict against Massey Coal, which appealed the case to the state Supreme Court. Massey CEO Don Blankenship then gave a $3 million campaign contribution in support of Brent Benjamin in his race for state Supreme Court Justice; Benjamin won the race, did not recuse himself from the Caperton case, and cast the deciding vote in a 3-2 ruling to overturn the $50 million verdict against Massey. The immediate question is whether Benjamin should have recused himself in the case.
The damage goes far beyond Hugh Caperton. The erosion of public trust after such an egregious conflict of interest is not isolated to this case, nor to the judiciary branch alone.
"As citizens exit the Supreme Court today, they would do well to look across the street at the U.S. Capitol," said Bob Edgar, President & CEO of Common Cause. "In every race for every seat in the Congress, members take money from a variety of interests who will be directly affected by the laws formed in Congress. That conflict of interest is just as deeply embedded as in today's Caperton case, and goes on day after day and year after year."
Edgar continued, "Is there a substantive difference between a justice receiving money from a coal company executive whose case he will decide, and a Senator receiving money from an army of coal executives just before he casts a vote on a carbon emissions bill? Not in our mind, nor in the public eye."
Since 2000, the energy industry has contributed just over $300 million in campaign contributions to Congress, including $74 million in 2008 alone. The coal mining industry alone has contributed $15 million to Congress since 2000, according to the Center for Responsive Politics.
As the nation's media await the Supreme Court's decision in this conflict of interest case, their attention will be drawn to a system in many states where judges run for office and seek contributions from interests, including businesses and trial lawyers, who will very likely appear before them in later cases. The American people will rightly observe the inherent conflict of interest for judges to seek funds from those who appear in their courts, but this kind of pay-to-play in judicial campaigns is no different from that of campaigns for members of Congress.
Common Cause is a nonpartisan, grassroots organization dedicated to upholding the core values of American democracy. We work to create open, honest, and accountable government that serves the public interest; promote equal rights, opportunity, and representation for all; and empower all people to make their voices heard in the political process.
(202) 833-1200
LATEST NEWS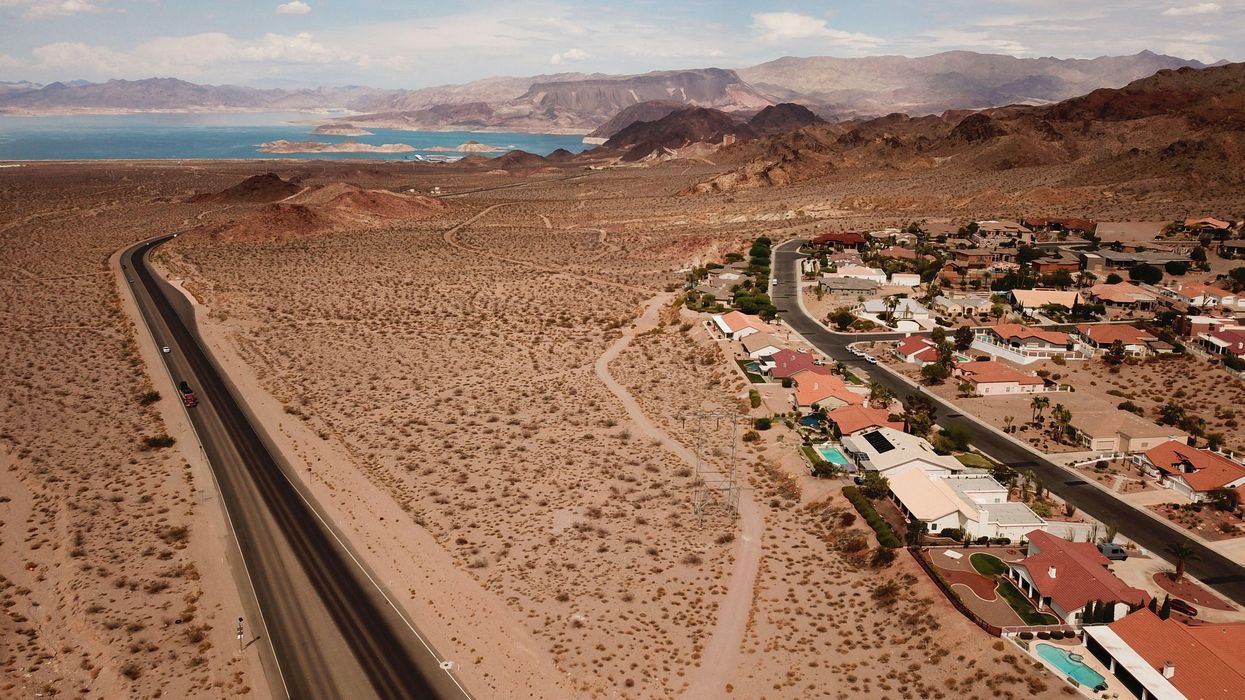 "Vultures," said one critic, are "looking to make a lot of money off this public resource."
Financial speculators are buying and selling rights to the Colorado River's dwindling water resources in a bid to profit as historic drought conditions intensified by the fossil fuel-driven climate crisis lead to worsening scarcity.
Wall Street investment firms "have identified the drought as an opportunity to make money," Andy Mueller, general manager of the Colorado River Water Conservation District, toldCBS News on Tuesday. "I view these drought profiteers as vultures. They're looking to make a lot of money off this public resource."
Matthew Diserio, the co-founder and president of a Manhattan-based hedge fund called Water Asset Management (WAM), makes no secret of his intentions, having described water in the United States as "the biggest emerging market on Earth" and "a trillion-dollar market opportunity." The company's website declares that "scarce clean water is the resource defining this century, much like plentiful oil defined the last."
A newly published joint investigation by CBS News and The Weather Channel found that WAM has purchased at least $20 million worth of land in Western Colorado over the past five years, making it one of the biggest landowners in a farming and ranching region known as the Grand Valley.
According to Mueller, WAM has bought more than 2,500 acres of farmland in the area. But "it's the water"—not the land—that investors are really interested in, he said, observing that the farmland comes with water rights.
"There are real fears that this crucial water supply for the West is on the brink of disaster."
Notably, WAM has "hired Colorado's former top water official as one of its lawyers," CBS News reported. Diserio previously stated that "one of his firm's strategies is to profit from water in part by making the farms it buys more efficient and then selling parts of its water rights to other farmers and cities increasingly desperate for the natural resource."
Mueller is tasked with protecting Colorado's share of the Colorado River—a sprawling 1,450-mile waterway that traverses seven states and is a key water source for 40 million people in the western U.S. and northern Mexico, including those in the metropolitan areas of Los Angeles, Phoenix, San Diego, Denver, Las Vegas, Albuquerque, and Salt Lake City.
Clean water is becoming increasingly scarce in the region for a variety of reasons, not least of which is the fossil fuel-driven climate emergency.
"The Colorado River relies mostly on snowpack in the Rocky Mountains that feeds into the river as it melts in the spring and summer," Weather Channel storm specialist Greg Postel explained. "But climate change is making the West hotter and drier. For every degree the temperature has gone up, the flow of the river has dropped by about 5%—a nearly 20% reduction over the past century."
The volume of water being withdrawn from the Colorado River has fallen since 2000 despite more people moving to the region. But with less water flowing into the river amid the West's ongoing 23-year megadrought—more severe than anything seen in the preceding 1,200 years—recent decreases in per capita water consumption are insufficient.
"It's taken a major toll on the nation's largest reservoirs," Postel said of climate change-amplified drought. "Lake Powell in Arizona and Lake Mead in Nevada—they are at historic lows. They're at just 25% of their full, combined capacity. There are real fears that this crucial water supply for the West is on the brink of disaster."
\u201cDisaster capitalism. \nInvestors like "Water Asset Mangement" (an actual company) are betting on a water crisis.\u201d

— Leslie (@Leslie) 1675176003
As the long-brewing crisis surrounding the Colorado River grows more acute, the federal government has taken steps to compel state-level policymakers to improve how they manage water resources in the increasingly arid region.
For instance, "Congress recently allocated $4 billion in drought funding that can be used to pay farmers to fallow their land and not use their water," CBS News reported. "Some Western states, including Colorado, are also considering paying some farmers to keep their lands fallow." Agriculture accounts for 70% of withdrawals from the Colorado River.
Last August, after the Colorado River Basin states failed to meet a federal deadline to approve a plan for achieving a 15% to 30% reduction in water use, the U.S. Department of Interior (DOI) announced—based on projected water levels for 2023—that Arizona, Nevada, and Mexico would be forced to draw less from the river this year.
On Tuesday, for the second time in six months, the seven states that depend on the Colorado River failed to reach a water conservation pact by the DOI's deadline, increasing the likelihood the agency will impose cuts later this year. Six states—Arizona, Colorado, Nevada, New Mexico, Utah, and Wyoming—agreed to slash water use. But California, the largest water consumer of the bunch, refused, setting the stage for what CNNdescribed as a "high-stakes legal battle."
In August, Food & Water Watch research director Amanda Starbuck implored policymakers to "eliminate rampant corporate water abuse before it's too late," decrying the "massive water use of Big Ag and Big Oil."
"By switching to renewable energy sources like solar and wind, California could save 98% of the water currently needed for its fossil fuel production," said Starbuck. "And by transitioning away from industrial megadairies, thirsty crops like almonds and pistachios, and engaging in regenerative farming, California will gain enormous water savings that could serve small farmers and domestic households."
Regarding WAM and other hedge funds looking to profit from looming water shortages, Rep. Ro Khanna (D-Calif.) and Sen. Elizabeth Warren (D-Mass.) unveiled legislation last March that would prevent Wall Street from speculating on life-sustaining water resources.
The Future of Water Act, as the congressional Democrats' bicameral legislation is titled, would amend the Commodity Exchange Act to affirm that water is a human right to be managed for public benefit—not a commodity to be bought and sold by investment firms. The bill would also prohibit the trading of water rights on futures markets—a recently invented financial ploy widely condemned as "dystopian."
Wenonah Hauter, executive director of Food & Water Watch, said at the time of the bill's introduction that "with the climate crisis delivering historically devastating droughts across the West, it is clearer than ever that water should be treated as a scarce, essential resource, not a commodity for Wall Street and financial speculators."
"This groundbreaking legislation would put a lid on dangerous water futures trading before it creates a crisis," said Hauter, "and it reinforces the fact that water must be managed as a public resource, not a corporate profit center."
Mueller, for his part, said Tuesday that "water in Colorado, water in the West, is your future."
"Without water," he added, "you have no future."
Economy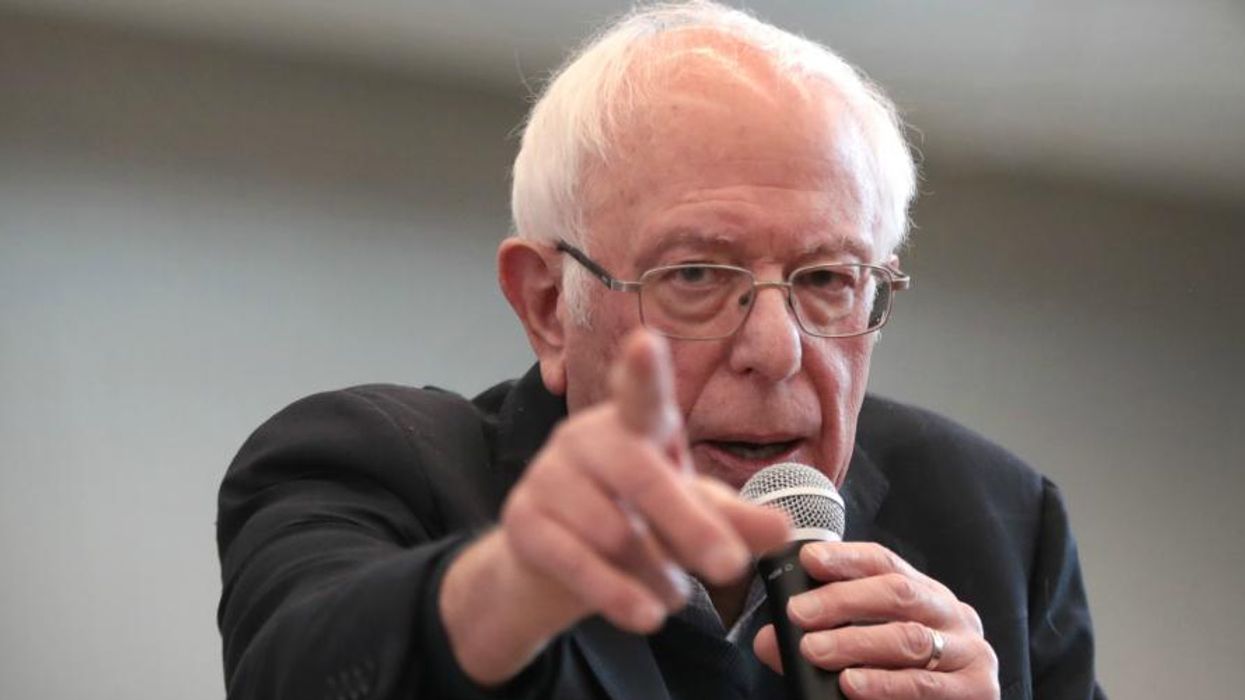 "Virtually all Democrats talk about the need for campaign finance reform," wrote Sanders. "Talk is easy. Now it's time to walk the walk."
Ahead of the Democratic National Committee's annual Winter Meeting in Philadelphia, Sen. Bernie Sanders on Tuesday called on the party to end super PAC spending in primary races, saying the Democrats should take the event as an opportunity to show their commitment to protecting democracy.
Twelve years after the U.S. Supreme Court ruled on Citizens United v. Federal Election Commission, the Vermont Independent senator wrote, the last election cycle illustrated how the "disastrous" decision is "undermining American democracy," as super PACs spent roughly $1.3 billion on campaigning—including more than $460 million spent by Democratic groups.
Millions of dollars were spent by billionaires "against progressive candidates in competitive primaries," Sanders wrote, with super PACs funding "outrageous and dishonest attack ads."
"When we talk about billionaires buying elections, this is exactly what we are talking about."
Notably, a super PAC created by the American Israel Public Affairs Committee (AIPAC) spent millions of dollars in competitive races in North Carolina, Texas, and Pennsylvania last year, running attack ads against progressives who are critical of the United States' support for Israel's violent anti-Palestinian policies. One ad accused Rep. Summer Lee (D-Pa.) of being disloyal to the Democratic Party.

"When we talk about billionaires buying elections, this is exactly what we are talking about," wrote Sanders, who caucuses with Senate Democrats.

The 2010 Citizens United ruling allowed corporations and special interest groups to create super PACs, which can accept unlimited donations and spend unlimited money on campaigns. The ruling has been condemned for years by Democratic lawmakers including Rep. Adam Schiff (D-Calif.), who earlier this month introduced legislation to overturn Citizens United.
The party could make clear that it opposes the corporate takeover of campaigning by banning super PAC spending in its primaries, said Sanders, noting that the issue was not permitted to come up for a vote at last year's DNC meeting when he proposed it there.
\u201cVirtually all Democrats talk about the need for campaign finance reform. Talk is easy. Now it\u2019s time to walk the walk. I wrote a letter to the @DNC today on why we must stand up for democracy and end super PAC spending in primaries.\u201d

— Bernie Sanders (@Bernie Sanders) 1675194781
"Virtually all Democrats talk about the need for campaign finance reform," wrote Sanders. "Talk is easy. Now it's time to walk the walk. Let's stand up for democracy."

News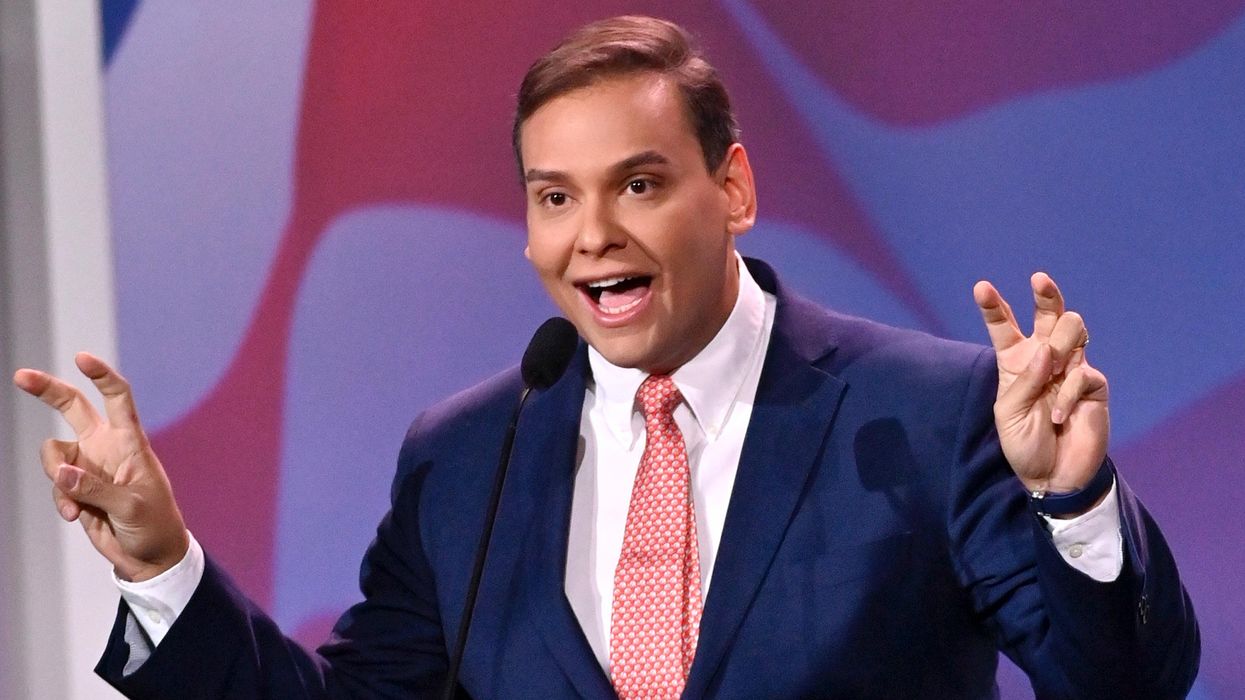 "Talk about buyers' remorse," cracked the director of Siena College Research Institute, which conducted the poll.
Close to 80% of voters in GOP Rep. George Santos' New York congressional district want him to resign—including 71% of Republicans—according to a poll published Tuesday, the same day the serial liar temporarily stepped down from his House committee assignments.
According to the Newsday/Siena College poll, Santos' overall approval rating is an abysmal 7%, with 83% disapproval. Seventy-eight percent of survey respondents said Santos should resign, including 89% of Democrats, 71% of Republicans, and 72% of Independents.
"Talk about buyers' remorse," Siena College Research Institute director Don Levy said in a statement. "Voters elected George Santos by a comfortable margin not even three months ago. But today, the vast majority of his new constituents—including the vast majority of those who voted for him—want him gone."
"Discouragingly, three-quarters or more of voters of every party say that Santos' behavior and now his refusing to resign show that our political system is broken, not that his behavior says little about the state of our politics," Levy added.
The survey of registered voters in New York's 3rd Congressional District was conducted last week.
\u201cSpecial Newsday / Siena College NY 3 Congressional District Poll:\nNY 3 Voters Say Santos Should Resign 78-13%, Including 71% of Reps\n\nhttps://t.co/29pwfP7Tx4\u201d

— SienaResearch (@SienaResearch) 1675161006
From intrigue surrounding how his net worth skyrocketed from almost nothing to $11 million in less than two years; to demonstrable lies about his education, employment history, residence, and purported Jewish heritage; to allegations of fraud perpetrated in Brazil and against a U.S. combat veteran and his dying dog, Santos' lies have dominated his short congressional career.
On Tuesday, Santos said he would temporarily step down from the House Small Business Committee and the Science, Space, and Technology Committee amid investigations into his campaign finances. The embattled congressman thanked House Speaker Kevin McCarthy (R-Calif.) for "allowing me to take time to properly clear my name before returning to my committees."
Responding to this, the political action group MoveOn tweeted: "Stepping down from committees is just the start. Santos needs to resign."

News
SUPPORT OUR WORK.
We are independent, non-profit, advertising-free and 100%
reader supported.