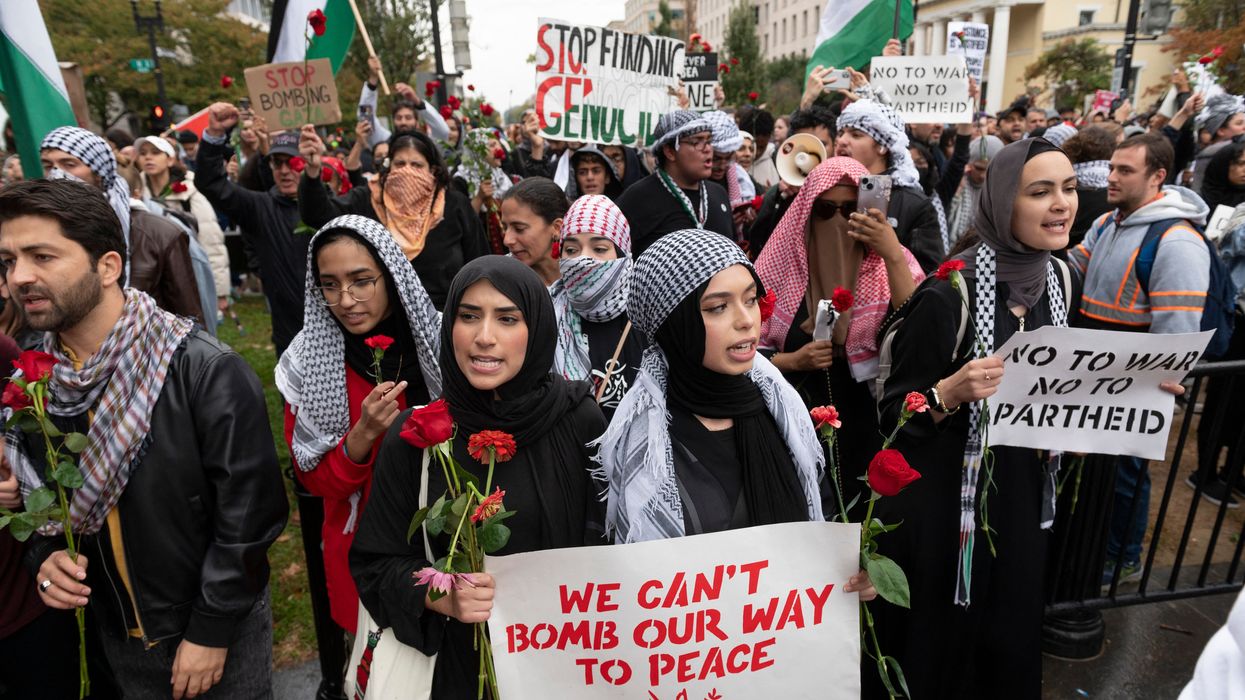 "The U.S. should use diplomatic channels to work for an immediate cease-fire," said the National Priorities Project, discouraging "more weapons and military aid that would further inflame an unjust and illegal response."
With more than 4,100 Palestinians and 1,400 Israelis already dead as Israel bombards the Gaza Strip in retaliation for a surprise attack led by Hamas, progressive groups on Friday pushed back against U.S. President Joe Biden's effort to further arm Israel.
"In the face of massive suffering in Gaza and disregard for international law by the Israeli government, the U.S. must not provide additional military aid or weapons that would cause more deaths," the National Priorities Project (NPP) at the Institute for Policy Studies said, demanding that U.S. use its diplomatic power to push for a cease-fire.
"The Israeli military's onslaught on Gaza has not protected civilians. It has instead targeted them," NPP asserted, pointing out that while cutting off Palestinians in the Hamas-governed territory from essentials like food, water, medicine, and electricity, Israel has bombed residential, religious, medical, and educational buildings over the past two weeks.
Already, the United States provides Israel with $3.8 billion in annual military aid. After visiting Tel Aviv earlier this week, Biden confirmed in a Thursday night speech that on Friday he would "send to Congress an urgent budget request to fund America's national security needs, to support our critical partners, including Israel and Ukraine."
The administration's $106 billion supplemental funding request includes $61.4 billion for Ukraine—which is battling a Russian invasion—$14.3 billion for Israel, and $9.15 billion for humanitarian aid to both countries plus Gaza. It also seeks $13.6 billion for the U.S. southern border and $4 billion to counter Chinese influence in the Indo-Pacific region.
"The billions of dollars that have been proposed for Israeli military aid are needed elsewhere," argued NPP. "Whether for international humanitarian aid or underfunded programs for U.S. residents, our resources should be supporting life, peace, and justice, not war and vengeance."
"The suffering of Israeli civilians in the attacks of October 7 does not justify collective punishment of Palestinian civilians," NPP stressed. "The U.S. must not support these violations of international law or of U.S. law, which prohibits funding foreign military forces engaged in human rights abuses. Instead, the U.S. should use diplomatic channels to work for an immediate cease-fire to protect civilians. It should not provide more weapons and military aid that would further inflame an unjust and illegal response."
Legal experts with the U.S-based Center for Constitutional Rights warned Biden this week that "the United States is not only failing to uphold its obligation to prevent the commission of genocide, but there is a plausible and credible case to be made that the United States' actions to further the Israeli military operation, closure, and campaign against the Palestinian population in Gaza rise to the level of complicity in the crime under international law."
As a potential Israeli ground invasion of Gaza loomed, Amnesty International on Friday shared what it described as "damning evidence of war crimes as Israeli attacks wipe out entire families" in the besieged territory, while also calling on Palestinian militants including Hamas to release their estimated 200 hostages.
Throughout this week, progressives U.S. lawmakers and congressional staffers have joined people across the United States and beyond—including many Jewish individuals and groups—in calling for a cease-fire. Polling results released Friday by Data for Progress show that 66% of likely voters agree that "the U.S. should call for a cease-fire and de-escalation of violence in Gaza" and "leverage its close diplomatic relationship with Israel to prevent further violence and civilian deaths."
In response to the president's Thursday night speech, Working Families Party federal affairs director Natalia Salgado declared Friday that "the role of the United States should be to use diplomacy to work toward peace, not fanning the flames of violence," which "means pushing for an immediate cease-fire and working to free the hostages."
Citing the "growing number of Jews, Muslims, and people of all faiths standing together against further bloodshed," including U.S. lawmakers who have called for a cease-fire, Salgado said: "We encourage more to speak up. And we call on members of Congress to oppose unconditional military aid."
"There is no military solution to this conflict, and there never has been," she added. "Stop the fighting. Release the hostages. End the siege and the occupation."
News