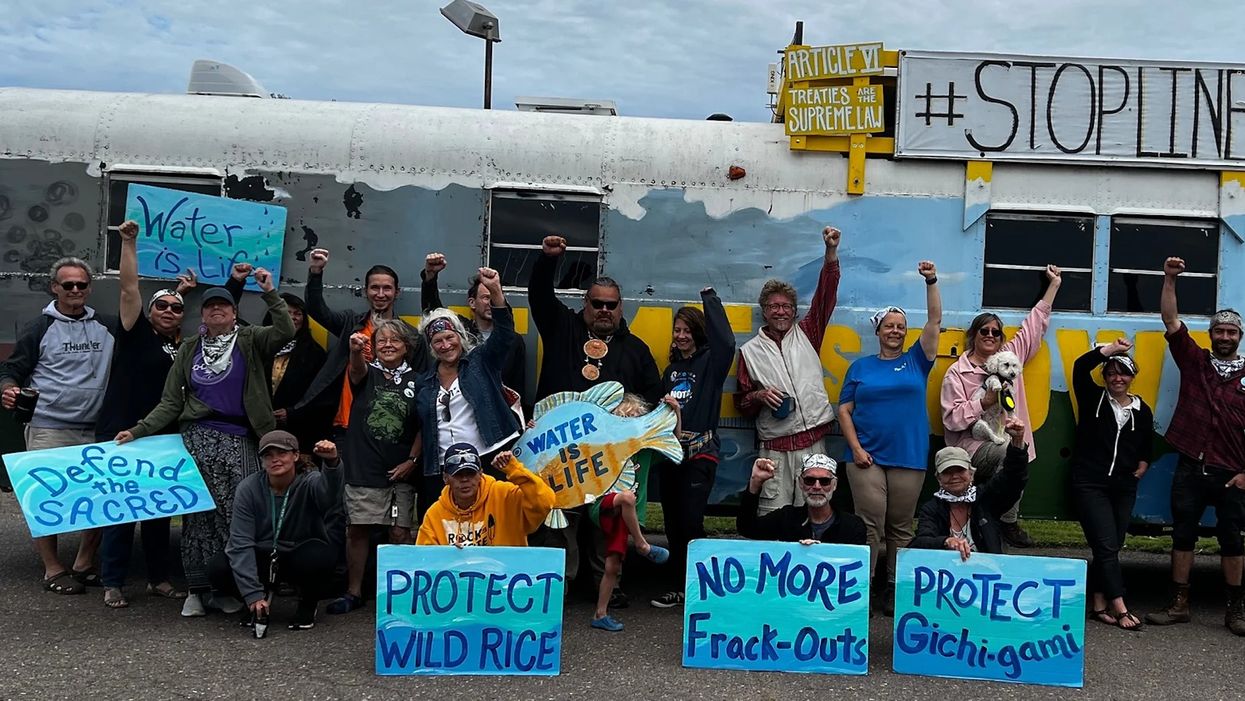 "Every single one of us has agency and a responsibility to take action, honor the treaties, and protect Mother Earth," asserted one Oneida Nation leader. "It is the time to be brave and courageous."
Native American women leaders and more than 150 allied advocacy groups from across the United States on Thursday implored the Biden administration to decommission a Canadian-owned oil and gas pipeline that, according to one group, has spilled more than a million gallons of fossil fuels in over 30 incidents during the past 55 years.
In a letter to President Joe Biden, Environmental Protection Agency (EPA) Administrator Michael Regan, and other administration officials, leaders of the Indigenous Women's Treaty Alliance—which is facilitated by the Women's Earth and Climate Action Network (WECAN)—called on the president to "immediately revoke the presidential permit for Canada's deteriorating Enbridge Line 5 pipeline before environmental calamity strikes with oil spills into the Great Lakes."
"We write to you as Indigenous grandmothers, mothers, aunties, daughters, sisters, and relatives. We are of the Great Lakes, where our sacred food manoomin (wild rice) grows on water," the letter states. "We hold a responsibility to protect our water, our ecosystems, and our cultural lifeways for the next seven generations."
Manoomin "is fundamental to the physical, spiritual, and cultural survival of the Bad River Band of Lake Superior Chippewa," the letter's signers explained. "Our sovereignty and treaty-protected rights to hunt, fish, and gather food and medicine are all at risk. Diverse fish populations spawn in the Bad River Watershed. These fish are economically and culturally vital to the Bad River Band, Red Cliff Band of Lake Superior Chippewa, and the entire region."
Treaty rights and manoomin were at the center of Indigenous-led opposition to replacing Line 3, another Enbridge pipeline running from Canada through the Great Lakes region. Despite fierce resistance from Indigenous, climate, and environmental activists, the Biden administration declined to block Line 3's replacement, which went online in October 2021.

"An oil disaster would permanently devastate the exceptional ecology of the watershed, the wild rice, and fish populations," the new letter continued. "At the Bad River Reservation, recent flooding has eroded one riverbank to within 11 feet or less of Line 5's centerline, creating an immediate threat."
Last September, U.S. District Judge William Conley found that Enbridge was trespassing on lands belonging to the Bad River Band of Lake Superior Chippewa in northwestern Wisconsin, and profiting off Line 5 at the tribe's expense. However, Conley said earlier this month that since the tribe cannot prove that an "emergency" exists along the flooded riverbank, he is unlikely to order Enbridge to shut down the pipeline.

"This is a nearly 70-year-old pipeline running almost two decades past its engineered lifespan," the new letter stresses. "Erosion from receding waters or the next rainfall could cause a 'guillotine rupture'—a vertical break causing oil to gush from both sides, poisoning the Bad River watershed and Lake Superior."
As the Oil & Water Don't Mix coalition explained:
Nearly 23 million gallons of oil daily flow through two aging pipelines in the heart of the Great Lakes, just 1.5 miles west of the Mackinac Bridge. Constructed during the Eisenhower administration in 1953, the two 20-inch-in-diameter [pipelines]... lie exposed at the bottom of the Straits of Mackinac—a busy shipping channel...

Line 5 has spilled 33 times and at least 1.1 million gallons along its length since 1968.

The pipelines in the Straits of Mackinac cross one of the most ecologically sensitive areas in the world. The Great Lakes are home to 21% of the world's fresh surface water. The pristine straits area supports bountiful fisheries, provides drinking water to thousands of people, and anchors a thriving tourism industry with historic and beautiful Mackinac Island right in the center.
In November 2020, Michigan Gov. Gretchen Whitmer moved to revoke Line 5's easement, with a shutdown order coming the following May. However, Enbridge ignored Whitmer's order and kept running the pipeline.
"Revoking the presidential permit and forcing Enbridge to cease Line 5's operations is consistent with your administration's directives for climate, nation-to-nation relations, and environmental justice. It is also consistent with the knowledge we share that the Great Lakes—one-fifth of the world's surface freshwater at a time of growing water scarcity—are invaluable treasures that must be protected, regardless of political pressures, special interests, and short-term profits," the new letter argues.
"Water is life," the signers added. "We are... calling on you to protect essential water, as well as wild rice, fisheries, and cultural survival."
Jannan J. Cornstalk, a citizen of Little Traverse Bay Bands of Odawa Indians and director of the Water is Life Festival, said in a statement Thursday that "our very lifeways and cultures hang in the balance as Line 5 continues to operate illegally in Indigenous territories and water."
"These are our lifeways—when that water is healthy enough that rice is growing—that not only benefits our communities, but that benefits everybody up and downstream," Cornstalk added. "Allowing Line 5 to continue to operate is cultural genocide, and the Biden administration must listen and shut down Line 5. That water is our relative, and we will do whatever it takes to protect our water, our sacred relative."
Aurora Conley of the Bad River Ojibwe and Anishinaabe Environmental Protection Alliance said: "I am calling on the Biden administration to shut down Line 5 immediately. Our territories and water are in imminent danger, and we do not want to see irreversible damage to our land, water, and wild rice."
"We do not want our lifeways destroyed," Conley added. "The Ojibwe people are here in Bad River because of the wild rice. A rupture from this oil spill will irreversibly harm the Great Lakes and wild rice beds. This is unacceptable. We will not stand for this. Shut down Line 5 now."
Carrie Chesnik of the Oneida Nation Wisconsin and founder of the Treaty Land Trust, asserted that "we have an opportunity here to shut down the Line 5 pipeline, and protect what we all hold dear."
"We all have the responsibility and agency to act in a good way, to care for the land and waters," she continued. "What our communities have known for a long time is that the water is hurting, Mother Earth is hurting, and pretty soon we won't have clean water for our kids, for future generations."
"As a Haudenosunee woman, an auntie, daughter, and sister, I have an inherent responsibility to the water and our children," Chesnik added. "Every single one of us has agency and a responsibility to take action, honor the treaties, and protect Mother Earth. It is the time to be brave and courageous."

News