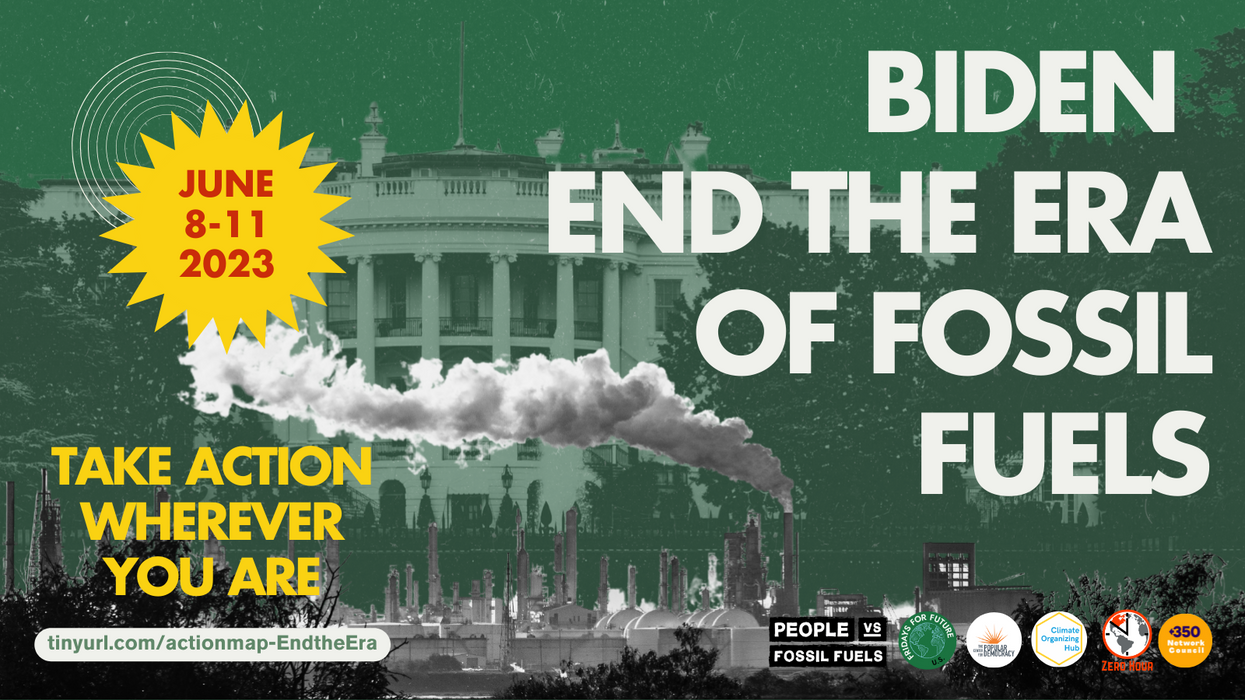 "Young people are angry and fed up with watching President Biden cave to the fossil fuel industry time and time again," one activist said.
In the wake of Biden administration decisions like approving ConocoPhillips' Willow project and agreeing to fast-track the Mountain Valley Pipeline (MVP), climate organizations and frontline communities across the country are launching a week of action from June 8 to 11 to demand President Joe Biden honor his promise to be the climate president and end the era of fossil fuels for good.
The action week will include a Thursday rally and sit-in at the White House along with demonstrations at 65 other locations across the nation backed by 64 different Indigenous, climate, labor, and environmental justice groups.
"Young people are angry and fed up with watching President Biden cave to the fossil fuel industry time and time again," Zero Hour organizing director Magnolia Mead said in a statement. "We need an immediate transition to renewable energy to slow the climate crisis, and that's impossible while our president is still approving massive fossil fuel expansion. If President Biden cares at all for future generations and frontline communities, he must choose to end the era of fossil fuels."
Our public officials clearly lack the political will or backbone to protect our people and the planet. So we must take action."
The action week—whose organizers include Zero Hour, Sunrise, 350.org, the Indigenous Environmental Network, Fridays for Future, and the People vs. Fossil Fuels coalition—grew out of disappointment with Biden's Willow approval along with the desire to channel young people's online opposition to that project into direct action.
The sense of urgency only mounted when the debt-ceiling agreement, signed into law by Biden Saturday, included approving the MVP and weakening the National Environmental Policy Act (NEPA), which gives frontline communities a say in infrastructure projects.
The protest outside the White House, which begins at 2:00 pm ET, will specifically demand that Biden cancel the 300-mile fracked gas MVP through Virginia and West Virginia.
"We are still not deterred in our fight against the MVP and other such harmful projects," Maury Johnson, a landowner in the MVP's path and a member of Preserve Monroe and the POWHR (Protect Our Water, Heritage, & Rights) Coalition—who is helping to arrange transport for the rally—told Common Dreams. "Hope to see hundreds if not thousands join us in front of the White House on Thursday, June 8."
The new direct action group Climate Defiance has promised to risk arrest at the protest and called on everyone of conscience to join them.
\u201cThe President stabbed us in the back. He sold us out to fossil fuel CEOs. He forced upon us the Mountain Valley Pipeline, which is a death sentence for our generation.\u201d

— Climate Defiance (@Climate Defiance) 1686004033
"Now is the time for climate action," Jay Waxse of Climate Defiance told Common Dreams. "Joe Biden and Joe Manchin think it's time for massive fossil fuel expansion, while our forests burn and skies fill with smoke. Our public officials clearly lack the political will or backbone to protect our people and the planet. So we must take action."
Waxse added that the group had chosen nonviolent direct action "to express to our branches of government that we won't be satisfied until we put an end to the expansion of new fossil fuels. And that means stopping the MVP now!"
As Washington D.C., along with most of the eastern U.S., chokes on unhealthy air from Canadian wildfires, Jamie Henn of Fossil Free Media said the White House protest would go ahead, though the organizers were taking health precautions including distributing N95 masks.
"This is 'exactly' why we have to take these sorts of actions," Henn tweeted.
\u201cThat said: we are absolutely going to take precautions to keep people healthy and safe, with KN95 masks and other precautions available for folks. \n\nThe fires are a real reminder of how climate, health, and disabilities all intersect, especially for the most vulnerable.\u201d

— Jamie Henn (@Jamie Henn) 1686161011
For those who can't travel to D.C., organizers have provided a nationwide action map for the week as well as a toolkit explaining how to register an action.
Overall, the week has four main demands for Biden:
End new fossil fuel projects, including Willow and the Alaska LNG project.
Phase out ongoing oil and gas drilling on public lands.
Declare a climate emergency.
Make renewable energy technology more available for homes and transportation.
Local actions will also target specific fossil fuel projects, such as the Canadian-owned aging Line 5 pipeline that Indigenous advocates worry will spill oil into the Great Lakes.
"As a Bad River Band of Lake Superior Ojibwe member, I am calling on the Biden administration to shut down Line 5 immediately," Bad River Ojibwe activist Aurora Conley of the Anishinaabe Environmental Protection Alliance said in a statement.
"Our territories and water are in imminent danger, and we do not want to see irreversible damage to our land, water, and wild rice. We do not want our lifeways destroyed," Conley added.
In Seattle, meanwhile, protesters with XR Seattle, 350 Seattle, and other groups are meeting outside the Henry M. Jackson Federal Building at 12:00 pm PT Thursday with both national and local demands. In addition to calling on Biden to halt the MVP and restore NEPA, they also want Sens. Maria Cantwell (D-Wash.) and Patty Murray (D-Wash.) to publicly oppose the expansion of the GTN pipeline, a plan from TC Energy to pump an additional 150 million cubic feet of methane per day through the 1,354 mile long pipeline that runs through British Columbia, Idaho, Washington, and Oregon. The additional methane would add 3.47 million metric tons of greenhouse gasses into the atmosphere each year.
The Federal Energy Regulatory Commission could decide on the expansion as soon as July 27.
350 Seattle communications director Ben Jones told Common Dreams that the action was motivated by "the combination of looming expansion of natural gas" along the West Coast "and approval of a deeply unpopular and strongly resisted pipeline out East."
Jones was also concerned about the gutting of NEPA, which has helped communities in the Pacific Northwest to fight off more than 20 proposals for oil and gas expansion in the region in the last 15 years.
"With gutting NEPA, that's some of the main avenues that community groups have for public comment or for advocacy," Jones said.
Nationwide, organizers hope that the coming week of action will be the first in a summer-long escalation leading up to U.N. Secretary General António Guterres' hosting of a global Climate Ambition Summit in New York City in September.
"Starting this June and leading up to September, we will be taking action with national and international partners to make it clear that siding with Big Oil is a political liability for Biden—and we, the people who got him elected, demand better," the coalition said in their toolkit.
Correction: This piece has been updated to reflect a change in the expected FERC agenda with regards to the GTN pipeline expansion.

News