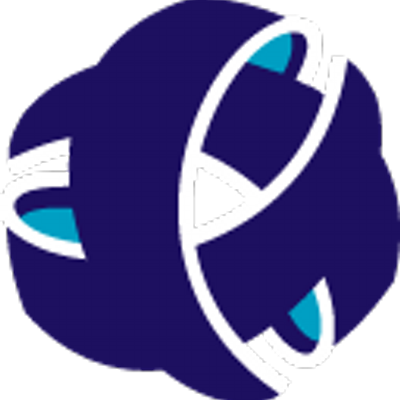 FinCEN Files Highlight Need to Overhaul and Prioritize Dirty Money Fight
Statement by Clark Gascoigne, Interim Executive Director of the FACT Coalition
WASHINGTON
A new investigation published Sunday by a global network of news outlets reveals major flaws in U.S. anti-money laundering safeguards. Dubbed the "FinCEN Files," the latest expose from the International Consortium of Investigative Journalists (ICIJ) and Buzzfeed News spotlights trillions of dollars in dirty money flowing freely through major U.S. and international banks, with few repercussions for bad actors but serious ramifications for national security and public safety.
Clark Gascoigne, interim executive director of the FACT Coalition, issued the following statement:
"Nearly every national security and public safety threat that we face -- from terror financing and sanctions evasion to the opioid crisis and human trafficking -- is either motivated or facilitated by money. The FinCEN Files reveal that the system we've established to follow that money is broken.

"It's time to overhaul our anti-money laundering system and prioritize the fight against illicit finance. That begins this fall by enacting bipartisan legislation to end the incorporation of anonymous shell companies in the National Defense Authorization Act. But we must go farther, by exponentially increasing the staff and resources devoted to FinCEN, overhauling safeguards in the correspondent banking system, expanding anti-money laundering requirements to other gatekeepers to the financial system, and holding individual leaders at financial institutions personally accountable for facilitating financial crimes."
The Financial Accountability and Corporate Transparency (FACT) Coalition is a non-partisan alliance of more than 100 state, national, and international organizations working toward a fair tax system that addresses the challenges of a global economy and promoting policies to combat the harmful impacts of corrupt financial practices.
(202) 827-6401
LATEST NEWS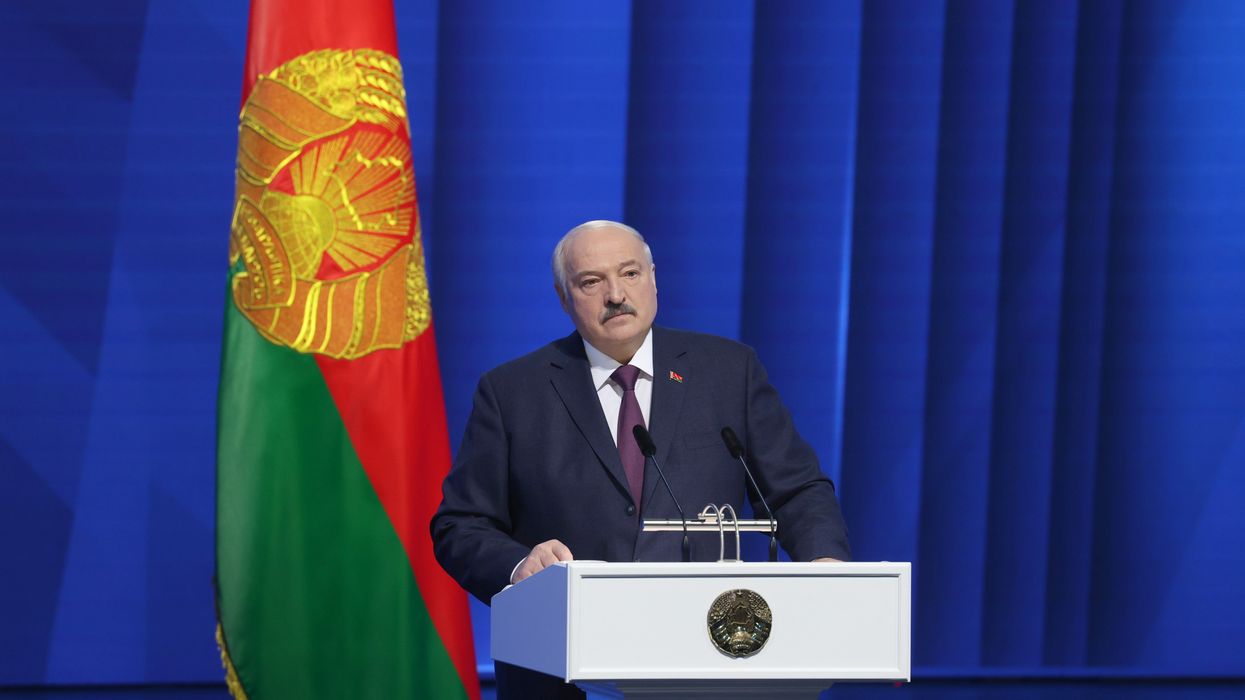 In addition to tactical nuclear weapons Russian President Vladimir Putin said last week he plans to station in Belarus, Lukashenko said Friday he would seek intercontinental ballistic missiles.
Belarusian President Alexander Lukashenko on Friday claimed without evidence that his government needs to "safeguard" the Eastern European country from a looming Western invasion, saying he is seeking to station intercontinental nuclear missiles there to defend Belarus against the United States and other countries in the West.
In an hourslong speech to Parliament on the state of the nation, Lukashenko, who has been in office since 1994 and whose 2020 reelection was disputed by hundreds of thousands of Belarusians, said the West is planning to take over both Belarus and its neighboring Poland.
"Take my word for it, I have never deceived you," said Lukashenko. "They are preparing to invade Belarus, to destroy our country."
For this reason, he said, he may use so-called "tactical" nuclear weapons that Russian President Vladimir Putin said last week the Kremlin would deploy in Belarus, if Putin agrees to their use. In addition, Lukashenko said he would seek intercontinental ballistic missiles, capable of destroying whole cities from thousands of miles away, on Belarusian soil.
"Putin and I will decide and introduce here, if necessary, strategic weapons, and they must understand this, the scoundrels abroad, who today are trying to blow us up from inside and outside," Lukashenko told lawmakers and his constituents. "We will stop at nothing to protect our countries, our state, and their peoples. "We will protect our sovereignty and independence by any means necessary, including through the nuclear arsenal."
"Don't say we will just be looking after them, and these are not our weapons," he added. "These are our weapons and they will contribute to ensuring sovereignty and independence."
Putin said Saturday that the short-range nuclear weapons he plans to station in Belarus will remain under Russian control.

Belarus relinquished its nuclear arsenal after the collapse of the Soviet Union in 1991. Lukashenko noted in his speech that Belarus gave up the weapons under pressure from former Russian President Boris Yeltsin.
Russia's announcement last week that it would deploy weapons in Belarus would mark the country's first stationing of nuclear weapons outside its border in more than three decades.
U.S. President Joe Biden said Tuesday that the pending deployment is "worrisome."

"Belarus hosting Russian nuclear weapons would mean an irresponsible escalation and threat to European security," said European Union foreign policy chief Josep Borrell this week. "Belarus can still stop it, it is their choice. The E.U. stands ready to respond with further sanctions."
Lukashenko and Putin have strengthened their cooperation since Russia's invasion of Ukraine in February 2022, with Belarus providing a staging ground for Russian troops.

The Belarusian leader's comments came amid ongoing attacks in Ukraine, with multiple rocket strikes in the southeastern city of Zaporizhzhia, the site of a nuclear power plant, on Friday. Lukashenko included in his speech a call for an immediate ceasefire "without preconditions," warning Ukraine that "it is impossible to defeat a nuclear power" and that Russia will use "the most terrible weapon" if it is threatened.

Thijs Reuten, a Dutch member of the European Parliament, denounced Lukashenko as Putin's "lapdog" and condemned his attempt to "blame the West."
\u201cAfter Putin\u2019s empty nuclear blackmail we get his lapdog Lukashenka blaming the West.\n\nUkrainians \ud83c\uddfa\ud83c\udde6 don\u2019t give in. Neither should we. \n\nTruly troubling: Each of these steps brings Belarus closer to full-blown occupation. The Belarusian people deserve so much better. \u26aa\ud83d\udd34\u26aa\u201d

— Thijs Reuten \ud83c\uddea\ud83c\uddfa\ud83c\udf39 (@Thijs Reuten \ud83c\uddea\ud83c\uddfa\ud83c\udf39) 1680273101
"Truly troubling: Each of these steps brings Belarus closer to full-blown occupation," said Reuten. "The Belarusian people deserve so much better."

News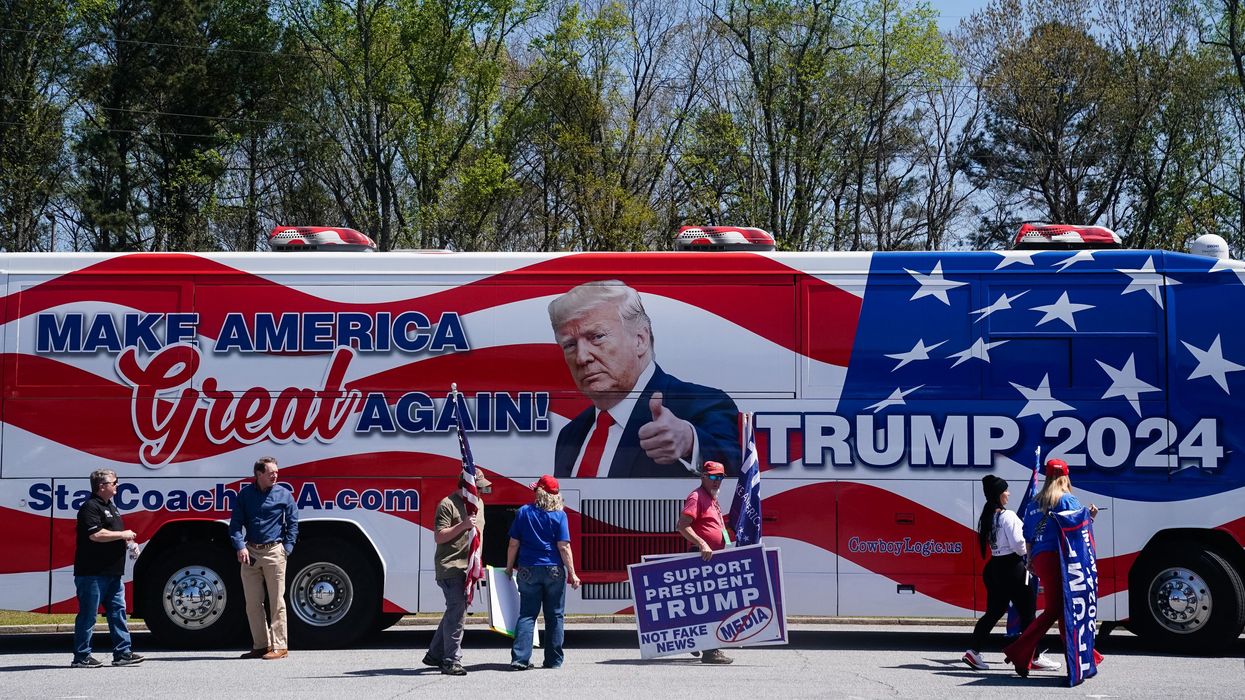 "His willingness to exploit his supporters has been well documented," one analyst wrote of the former president. "All of this should start closing wallets. But Trump's hold on his followers is strong."
The Trump campaign and the former president's Republican allies wasted no time attempting to turn Thursday's indictment news into a lucrative fundraising opportunity, appealing to their right-wing supporters for cash on live television and in a flurry of late-night emails.
"We are living through the darkest chapter of American history," blared one email that the Trump Save America Joint Fundraising Committee fired off after a Manhattan grand jury voted to indict the former president on criminal charges related to an alleged hush-money payment to porn star Stormy Daniels ahead of the 2016 election.
"With your support, we will write the next great chapter of American history—and 2024 will forever go down as the year we saved our Republic," the email, which was attributed to Trump himself, continued. "Please make a contribution—of truly any amount—to defend our movement from the never-ending witch hunts and WIN the WHITE HOUSE in 2024."
A subsequent email with the subject line "Holding a shirt just for YOU" called Alvin Bragg "George Soros' bought-and-paid-for Manhattan D.A." and said Trump was indicted for "committing NO CRIME."
The email then transitioned to a sales pitch for Trump campaign shirts, which supporters were informed they could receive for "free"—in exchange for a $47 donation.
"What better way to show your support for President Trump and our incredible movement during this dark chapter in our nation's history than to proudly wear the brand-new 'I Stand with President Trump' T-shirt," the appeal declared.
Sen. Lindsey Graham (R-S.C.), meanwhile, used his appearance on Sean Hannity's live-audienceFox News show Thursday night to plead with Trump supporters to "give the president some money to fight this bullshit."
"He's spent more money on lawyers than most people spent on campaigns. They're trying to bleed him dry," said Graham, one of many Republican lawmakers who rushed to Trump's defense following Thursday's news.
\u201cLindsey Graham: "They are trying to drain him dry. He's spent more money on lawyers than most people spent on campaigns. They're trying to bleed him dry. Donald J. Trump dot com. Go tonight. Give the president some money to fight this bullshit! This is going to destroy America!"\u201d

— Justin Baragona (@Justin Baragona) 1680227740
Republican members of Congress also sent out urgent fundraising emails Thursday night in an attempt to capitalize on news of Trump's indictment.
"Contribute to our OFFICIAL TRUMP DEFENSE FUND to STAND WITH PRESIDENT TRUMP against this SCAM INDICTMENT," read an email sent by the campaign of Rep. Elise Stefanik (R-N.Y.), the chair of the House Republican Conference.
The Trump campaign said it raked in at least $2 million in donations in the week after the former president predicted on his social media platform earlier this month that his arrest was imminent.
Trump is expected to turn himself in to New York authorities early next week. The former president is reportedly facing more than 30 criminal counts of document fraud, though the indictment and exact charges remain under seal.

MSNBC's Steve Benen wrote Friday that "in theory, it might seem impossible for a scandal-plagued politician to turn a criminal indictment into a grift."
"In practice, the relationship between Donald Trump and his followers is not normal," Benen added, noting that the Trump campaign has successfully raised money off impeachment proceedings, efforts to overturn the 2020 election results, and supposed post-election campaigns to "secure" future contests.
The latter fundraising ploy yielded millions of dollars for Trump's PAC—but that money was reportedly funneled toward the former president's travel costs and other expenses, not the election battles donors were promised.
"Common sense might suggest that the public would see these developments, learn about the former president's underhanded tactics, and his fundraising would dry up—especially in the wake of a criminal indictment," Benen wrote Friday. "His schemes have been exposed. His willingness to exploit his supporters has been well documented. All of this should start closing wallets. But Trump's hold on his followers is strong—so the grift continues."
News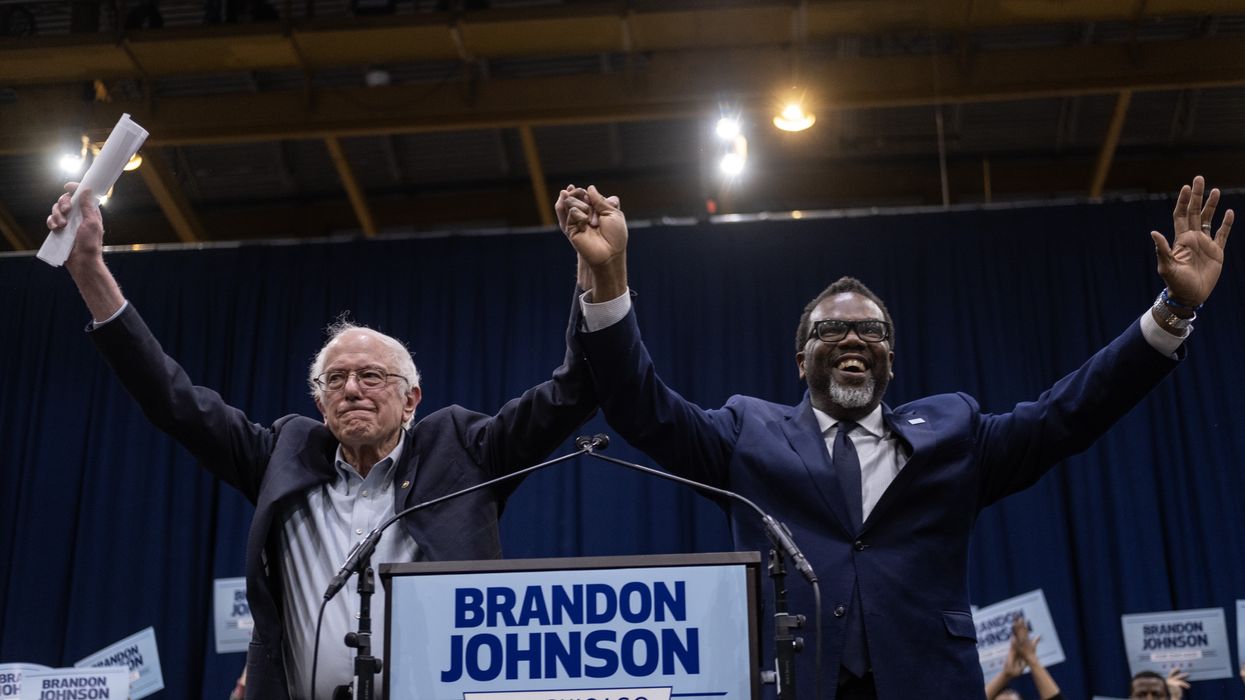 "Which side are you on?" Sanders asked at the packed rally. "Are you on the side of working people, or are you on the side of the speculators and billionaires? And I know which side Brandon is on."
U.S. Sen. Bernie Sanders stumped for progressive Chicago mayoral candidate Brandon Johnson late Thursday, imploring the city's voters to turn out in record numbers to overcome what he described as the powerful establishment forces backing conservative Democrat Paul Vallas.
"Our job on Tuesday is to make sure we have the largest voter turnout this city has ever seen," Sanders (I-Vt.) told the crowd gathered at the University of Illinois Chicago days ahead of the April 4 runoff. "This is going to be a close election, and the deciding factor will be voter turnout."

A Northwestern University poll released earlier this week showed the race is in a dead heat, with Johnson and Vallas each receiving 44% support and 12% of voters still undecided.
"Brandon's opponent and the other side—they have a lot of money," the Vermont senator said Thursday. "That's what always happens when you take on the establishment. They have the money. They've got a lot of power. But you know what we have? We have the people."

The rally came after new financial disclosures showed that a super PAC with close connections to former Education Secretary Betsy DeVos recently spent nearly $60,000 on digital media supporting Vallas, the former CEO of Chicago Public Schools who has worked to privatize education in his home city as well as New Orleans and Philadelphia.

"The fundamental issue, the deep down issue, is: Which side are you on?" Sanders said Thursday night. "Are you on the side of working people, or are you on the side of the speculators and billionaires? And I know which side Brandon is on."
While Sanders didn't explicitly mention the DeVos-tied super PAC's support for Vallas' campaign during Thursday's rally, American Federation of Teachers president Randi Weingarten did, saying it "tells you everything you need to know about" Vallas.
In a statement earlier Thursday, Weingarten said that "Paul Vallas' goal of defunding public schools and dividing parents against teachers makes him precisely the kind of candidate who would appeal to a fellow wrecker like Betsy DeVos—a person who's devoted her life to ending public education as we know it."
"From Chicago to Philadelphia to New Orleans," Weingarten added, "Vallas waged a craven campaign to voucherize and pauperize, just like DeVos tried—and failed—to do when she served as Donald Trump's education secretary."
Watch Thursday's rally:
Johnson, a longtime educator and organizer, also called attention to the Illinois Federation for Children PAC's spending on the race during a candidate forum late Thursday.
"Betsy DeVos has inserted herself and her resources into my opponent's coffers," Johnson said.
Vallas countered that he has "never had any conversations or contacts with Betsy DeVos."
"Our campaign has not received any money from her," Vallas said, citing the often vanishingly thin barrier separating so-called "independent expenditures" by super PACs and direct donations to political campaigns.

In addition to the DeVos-connected spending, Vallas has also received financial support from "conservative contributors and prominent Republicans," the Chicago Tribunereported earlier this month.
"Vallas' largest contributor was golf course developer Michael Keiser, who has given him $700,000," the Tribune noted. "Keiser previously contributed $11,200 to former President Donald Trump, a Republican. Vallas has taken money from John Canning, a Chicago private equity executive who has given to many politicians locally but also national Republicans, and Noel Moore, who has given to Trump and Texas Republican U.S. Sen. Ted Cruz."
Johnson's biggest contributors, by contrast, have been unions representing teachers and service workers.
"When you take dollars from Trump supporters and try to cast yourself as a part of the progressive movement, man—sit down," Johnson said at Thursday night's rally.
News
SUPPORT OUR WORK.
We are independent, non-profit, advertising-free and 100%
reader supported.