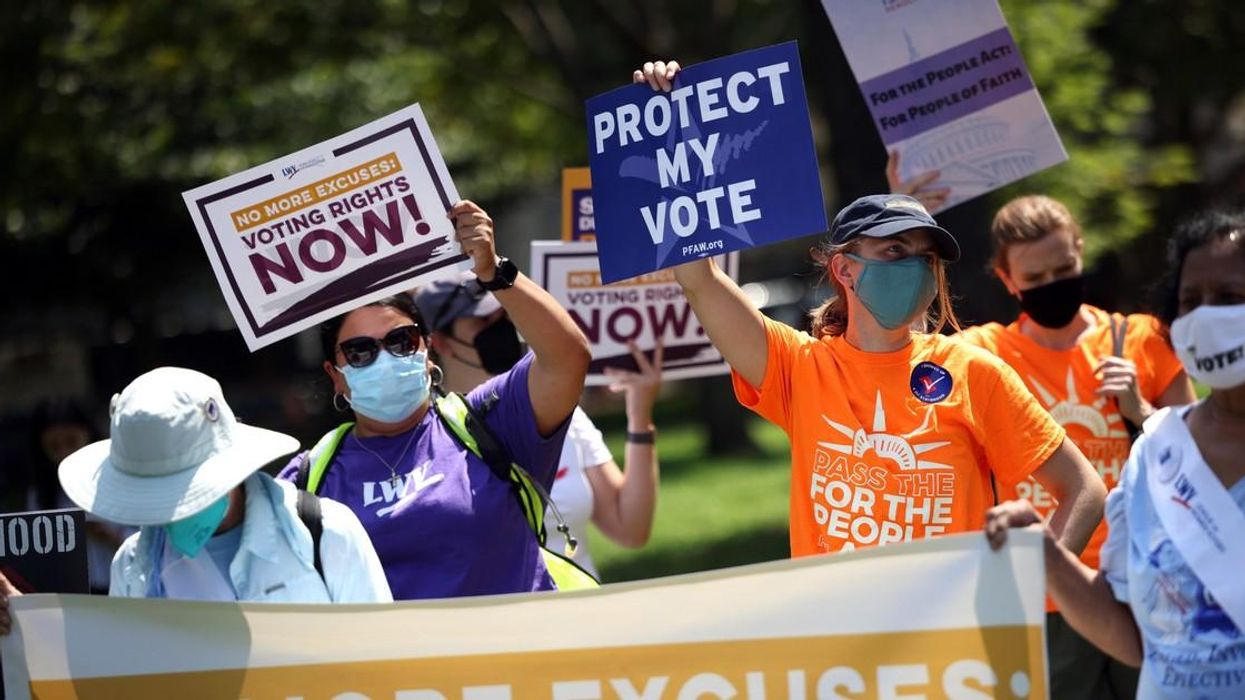 "We cannot be complacent; we are calling for an end to the ongoing violent and criminal attacks on our freedoms."
Progressive Democrats of America on Monday announced plans to hold rallies across the nation on Friday, the second anniversary of the January 6, 2021 insurrection, to call on lawmakers to do everything in their power to protect the U.S. from attacks on democracy, including the gutting of voting rights protections and threats to election officials.
The rallies are set to be held two weeks after the U.S. House select committee on the January 6 attack at the U.S. Capitol released its final report on an 18-month investigation into the insurrection and former President Donald Trump's role in planning and orchestrating the attempt to stop lawmakers from certifying the 2020 presidential election.
The report showed that Trump was the driving force behind the insurrection, and the committee recommended that the former Republican president—who announced his 2024 presidential candidacy in November—be barred from ever holding public office again.
Progressive Democrats of America (PDA) said Monday that Americans must speak out about ongoing threats posed by the Republican Party and Trump supporters, regardless of whether Trump runs for office again.
\u201cFRIDAY: Jan 6th Justice/Our Freedoms Our Vote rallies. You in?\n\nVIsit our website to join or host a January 6th event, and/or make a donation to help with organizing.\n\nhttps://t.co/ioaLhTgyTk\n\n#jan6justice #jan6 #insurrection\u201d

— PDAmerica (@PDAmerica) 1672687633
Republicans "are working to sabotage future elections by changing state laws, threatening election officials, and packing election administration offices so that they can have the final say over election results—even when they lose," said PDA. "We cannot be complacent; we are calling for an end to the ongoing violent and criminal attacks on our freedoms. We must stand up for our elections by protecting voters, election officials, and a free and fair process for all Americans."

At the rallies planned for Friday, organizers plan to express support for the ongoing investigations into the former president, including the U.S. Justice Department's probe into his retention of classified documents after he left office and a criminal investigation into election interference by Trump's allies in Georgia.

They will also "call upon local, state, and federal legislators to defend our freedom to vote by passing legislation to take down barriers to voting and protect election officials and voters."

More than 170 Republicans who deny President Joe Biden won the 2020 election are returning to or taking public office on Tuesday, and at least seven states passed at least 10 laws last year making it more difficult to vote.

As the federal government continues to investigate Trump's role in the January 6 insurrection, said PDA, "it's our time to stand strong for justice and democracy."

News