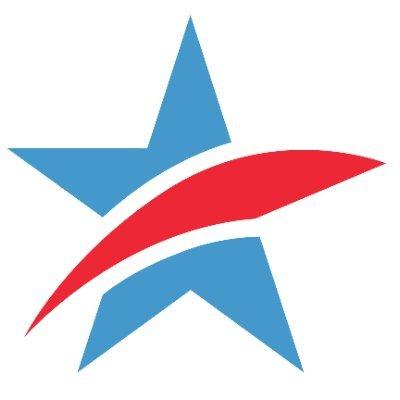 For Immediate Release
March, 18 2020, 12:00am EDT
COVID-19 Prompts Common Cause Call For Temporary Postponement of Any In-Person Voting
Statement by Common Cause President Karen Hobert Flynn 
WASHINGTON
The major disruptions to yesterday's elections caused by COVID-19 hammered home the need to retrench and take steps now to safeguard our democracy. To protect the safety of all voters and the integrity of our elections, Common Cause is now calling for a delay of any in-person voting for at least the next few weeks. The COVID-19 crisis is reshaping many of our day-to-day lives in ways we weren't expecting, including disrupting elections, but now is the time to act to ensure our primaries and general election are held this year and conducted in a safe, fair, and orderly manner.
Yesterday, Common Cause staff spent all day with our Election Protection partners helping voters deal with unprecedented challenges, causing low in-person turnout and a host of other problems. And in the past week, we've been talking with our voting experts, our state leaders, and dozens of Common Cause members about how best to respond. Given that the Center for Disease Control has advised against large events and gatherings nationwide and has called for individuals to practice social distancing, temporarily delaying in-person voting is the responsible decision for election officials to make.
Our call for postponing in-person voting is not a decision we make lightly. Common Cause has a long record of opposing last-minute changes to elections like this, which all too often can disenfranchise voters if done hastily or without proper communication. Common Cause's mission is all about protecting and expanding the critical right to vote. But the public health and voting integrity challenge we face from COVID-19 makes this a necessary step, at least in the short term.
Moving forward, Common Cause will continue to work with election officials to ensure they are taking the necessary steps so that every voter can cast their ballot safely. This is not about any individual party or candidate. It's about doing what's right for all voters. If nothing changes, we risk millions of voters staying home for fear of getting sick or infecting others, and it would cast doubt on the eventual results.
However, for the general election, Common Cause will not accept any delay or any changes that jeopardize the ability of every eligible voter to cast their ballot, particularly in communities that are already being targeted with vote suppression. Early this week, Common Cause released several recommendations that can be implemented before November's election to ensure a free, fair, safe, and on-time general election even in the face of COVID-19. You can find those at www.commoncause.org/covid19.
To view this statement online, click here.
Common Cause is a nonpartisan, grassroots organization dedicated to upholding the core values of American democracy. We work to create open, honest, and accountable government that serves the public interest; promote equal rights, opportunity, and representation for all; and empower all people to make their voices heard in the political process.
(202) 833-1200
LATEST NEWS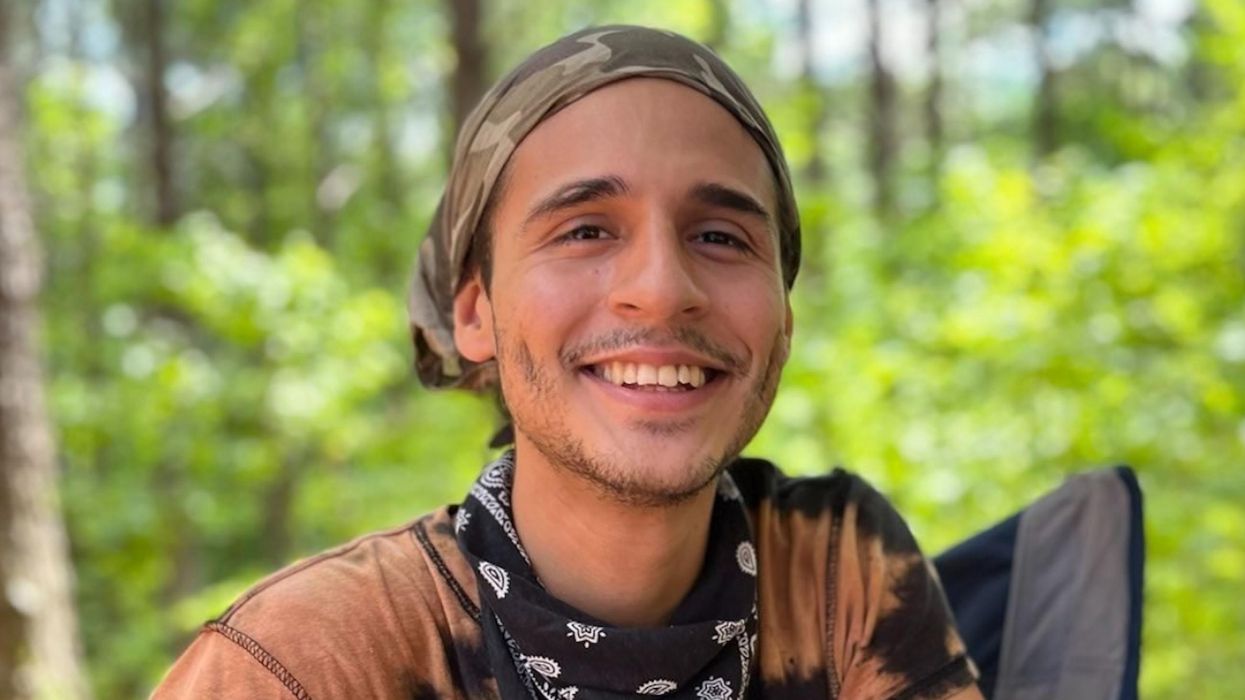 "I do not understand why they will not even privately explain to us what happened to our child," said the mother of Manuel Esteban Paez Terán.
Family members of climate activist Manuel Esteban Paez Terán are demanding answers regarding the January 18 police killing of their 26-year-old relative, commonly known as "Tortuguita."
At a press conference held Monday morning outside the DeKalb County courthouse in suburban Atlanta, family members and lawyers discussed the results of a private autopsy and demanded access to the Georgia Bureau of Investigation's (GBI) full record of events amid its ongoing probe.
According to the private autopsy, multiple officers from a joint task force shot Tortuguita at least 13 times during a raid on an encampment in the Weelaunee Forest. Tortuguita was part of a collective that occupied the forest in an attempt to prevent the construction of a $90 million, 85-acre police and fire training facility popularly known as Cop City.
The GBI alleges that Tortuguita fired a weapon before officers killed him. The GBI claims that it has traced the bullet that wounded a state trooper to a handgun found at the scene and has reportedly provided documents showing Terán purchased the firearm in 2020. However, law enforcement officials continue to evade basic questions about the fatal shooting.
"Manny was a kind person who helped anyone who needed it," Tortuguita's mother, Belkis Terán, said in a statement shared ahead of the press conference. "He was a pacifist. They say he shot a police officer. I do not believe it."
"I do not understand why they will not even privately explain to us what happened to our child," she added.
Civil rights attorney Jeff Filipovits lamented that "the GBI has selectively released information about Manny's death."
"They claim Manny failed to follow orders," said Filipovits. "What orders? The GBI has not talked about the fact that Manny faced a firing squad, when those shots were fired, or who fired them."
"Any evidence, even if it is only an audio recording, will help the family piece together what happened on the morning of January 18. This information is critical, and it is being withheld."
The GBI has stated publicly that body camera footage of the shooting does not exist. However, the bureau has not yet stated whether there is any audio or video from other sources, such as drones or helicopters that were being used at the time.
Tortuguita's family has requested that the GBI release whatever audio or video recordings of the shooting exist or any other information that could help illuminate what occurred.
"Any evidence, even if it is only an audio recording, will help the family piece together what happened on the morning of January 18," said Brian Spears, a civil rights attorney with nearly five decades of experience litigating police shootings. "This information is critical, and it is being withheld."
While the family searches for answers, Tortuguita's killing "escalates concerns related to the construction of a police training center and the government's willingness to deem activists as terrorists," Fossil Free Media noted. "The power used against these activists will soon be used against other protesters."
Several Weelaunee Forest defenders were arrested and charged—under a 2017 Georgia law that expanded the definition of "domestic terrorism" to include certain property crimes—during mid-December raids on their encampment.
More forest defenders were detained on the same charges on January 18, the day police fatally shot Tortuguita—the first or possibly second time that police have killed an environmental activist in modern U.S. history, according to experts. Additional activists are also facing prosecution as a result of Republican Gov. Brian Kemp's crackdown on demonstrations held since Tortuguita's killing.
According toGrist:
Over the course of December and January, 19 opponents of the police training center have been charged with felonies under Georgia's rarely used 2017 domestic terrorism law. But Grist's review of 20 arrest warrants shows that none of those arrested and slapped with terrorism charges are accused of seriously injuring anyone. Nine are alleged to have committed no specific illegal actions beyond misdemeanor trespassing. Instead, their mere association with a group committed to defending the forest appears to be the foundation for declaring them terrorists. Officials have underlined that an investigation is ongoing, and charges could yet be added or removed.
Atlanta Police Department Assistant Chief Carven Tyus was recently quoted as saying, "Protests by non-locals are inherently terrorism," according to Fossil Free Media. Moreover, Tyus has admitted in private meetings with his advisory council: "Can we prove they did it? No. Do we know they did it? Yes."
Fossil Free Media noted that "the city of Atlanta has also admitted to using Georgia's hands-free driving law as a pretext to arrest at least one person for filming officers at Cop City."
Gerry Weber of the Southern Center for Human Rights said that "police who behave legally have no reason to fear being filmed and should welcome it."
"Law enforcement has a vested interest in this training center that demands scrupulous transparency and impartiality," said Weber. "Unfortunately, we are getting the exact opposite."
"Cop City is something that no one in the community asked for, and survey after survey shows that the majority of Atlanta residents are opposed. The mayor continues to run roughshod over the desires of the community."
While Atlanta Mayor Andre Dickens and DeKalb County CEO Michael Thurmond announced what they called a "compromise" for Cop City last week, opposition to the project remains strong among locals.
"Cop City is something that no one in the community asked for, and survey after survey shows that the majority of Atlanta residents are opposed," Kamau Franklin from Community Movement Builders, one of the organizations fighting against Cop City. "The mayor continues to run roughshod over the desires of the community."
The Atlanta City Council gave the Atlanta Police Foundation, a private organization, permission to build Cop City in 2021, four years after the Atlanta City Planning Department recommended that the Weelaunee Forest—deemed one of four "city lungs"—be turned into a massive urban park.
A coalition of more than 1,300 progressive advocacy groups published a letter last week calling for an independent investigation into the killing of Tortuguita. The groups also demanded the resignation of Dickens, a Democrat who they said parroted "the rhetoric of extreme right-wing Gov. Brian Kemp" when he condemned protesters rather than police officers after the shooting.
The coalition pointed out that Dickens and the Atlanta City Council have the authority to terminate the land lease for Cop City and implored local policymakers to do so immediately.
Ikiya Collective, a signatory of the letter, noted that the training set to take place at Cop City "will impact organizing across the country" as police are taught how to repress popular uprisings.
"This is a national issue," said the collective. "Climate justice and police brutality are interconnected, which is why we are joining the Stop Cop City calls to action with the frontline communities in Atlanta."
News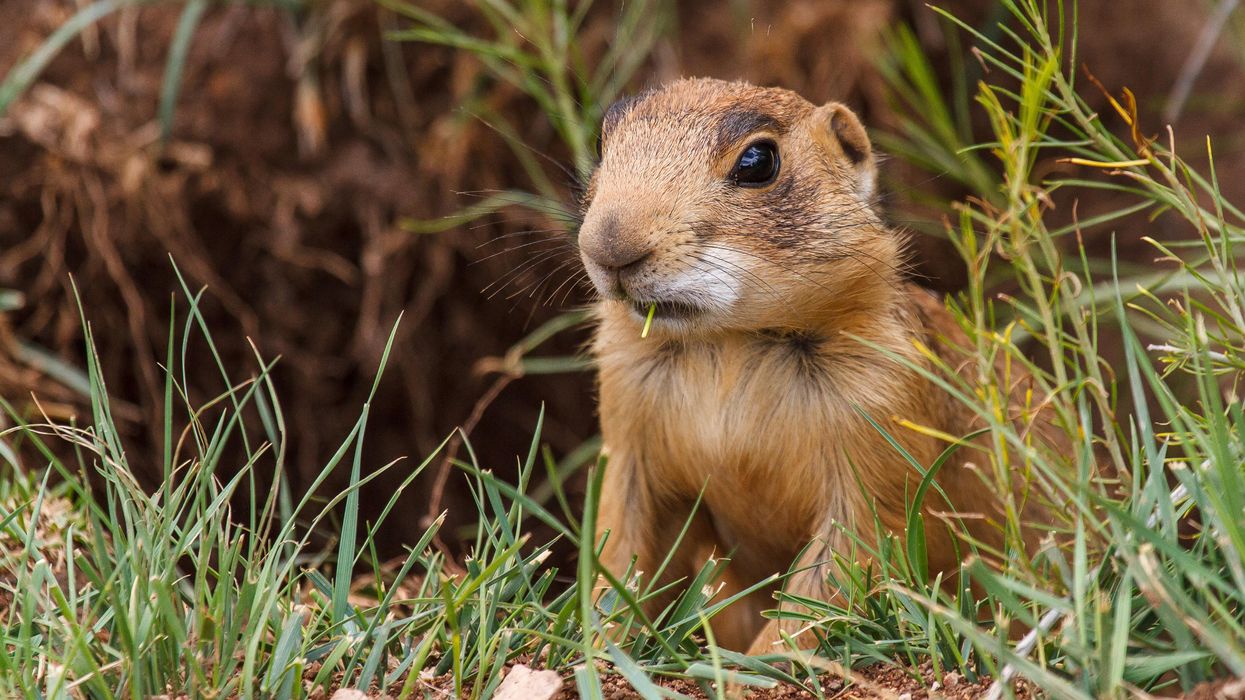 "We are currently experiencing and causing the Sixth Extinction—the mass extinction of species across the planet," said the head of NatureServe, which also found a third of plants nationwide are under threat.
Underscoring the need for humanity to overhaul its relationship with nature, 34% of plants species and 40% of animal species across the United States are at risk of extinction while 41% of U.S. ecosystems could collapse, according to an analysis published Monday by the nonprofit NatureServe.
"For 50 years, the NatureServe Network has been collecting the information necessary to understand biodiversity imperilment in the United States. This new analysis of that data, a first in 20 years, makes crystal clear the urgency of that work," said the group's vice president for data and methods, Regan Smyth.
"It's suicidal of us to pretend that business as usual is more important than safeguarding the natural world we all depend on."
"Two-fifths of our ecosystems are in trouble. Freshwater invertebrates and many pollinators, the foundation of a healthy, functional planet, are in precipitous decline," she pointed out. "Understanding and addressing these risks is critical if we are to forestall devastating consequences for the biodiversity that humanity needs to survive."
Noting that roughly a third of plants are in danger, the report—Biodiversity in Focus: United States Edition—explains that "this is an alarming general finding, but certain taxa face even greater threats. For example, 48% of cactus species are at risk of extinction, while around 200 tree species (about 20%) are at risk of extinction."
"Of the hundreds of grass species that form our nation's great prairies and marshes, about 19% are at risk of vanishing forever," the document states. "Preventing plant extinction is essential to maintaining ecosystem function and the services that wildlife and people rely upon."
\u201c\ud83d\udea8 NEW REPORT \ud83d\udea8 A new analysis from NatureServe reveals that over one-third of biodiversity in the United States is at risk of extinction. Read the report at:\nhttps://t.co/TceTuw3xgY\n\n#biodiversityinfocus\u201d

— NatureServe (@NatureServe) 1675696459
As for animals, the analysis says that "as a group, species associated with fresh water, including amphibians, snails, mussels, crayfish, and many aquatic insects, have the highest percentage of at-risk species, highlighting the importance of conservation strategies to protect freshwater ecosystems."
"Among pollinators, bees are particularly threatened, with 37% of assessed species at risk," the report continues. "The conservation needs of these, and other invertebrate species, are often overlooked, yet many invertebrates are integral to maintaining the ecological functions of freshwater and terrestrial ecosystems."
Ecosystems across the country face potential "range-wide collapse due to extensive threats such as land-cover conversion," the publication warns. "Tropical ecosystems in the U.S. are all under substantial risk, but account for relatively small proportions in number and area."
"Temperate grasslands, boreal grasslands, and shrublands stand out among highly threatened ecosystems that extend over vast areas of the country, with 51% of the 78 grassland types known to be at risk of range-wide collapse," the report adds. "Temperate forests, boreal forests, and woodlands have also experienced multiple pressures, leading to an at-risk status for 40% of the 107 types of native U.S. forests."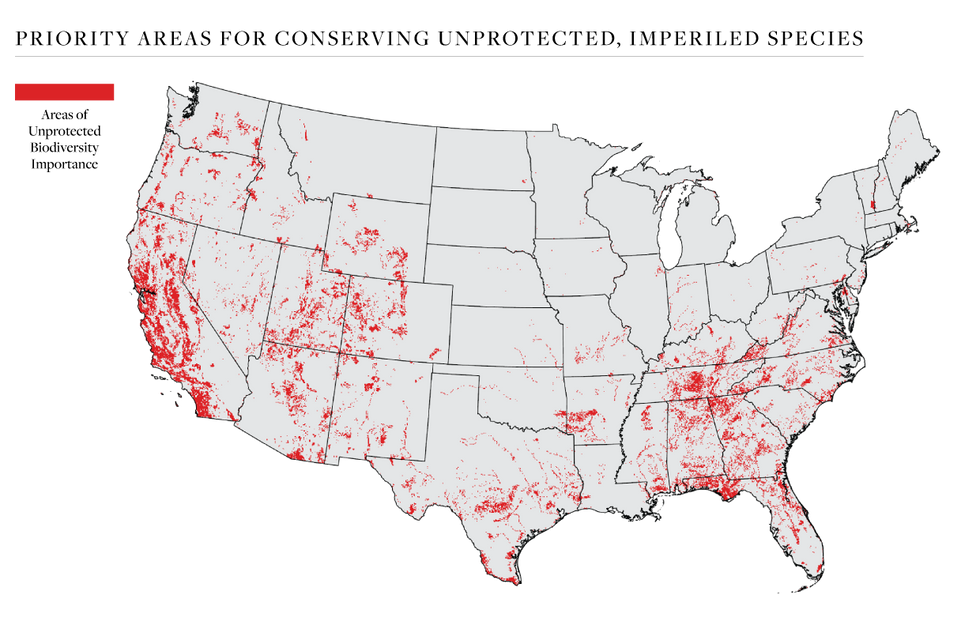 (Image: NatureServe)
NatureServe president and CEO Sean T. O'Brien stressed that "we are currently experiencing and causing the Sixth Extinction—the mass extinction of species across the planet. NatureServe's data highlight where the threats are right here at home."
"The plants, animals, and ecosystems found in our state, tribal, and federal lands are key components of our cultural and natural heritage," he said. "We should be proud of the biodiversity in our backyard and should prioritize protecting what is here, now."
The report is just the latest to emphasize the growing threat to various species. Others include the International Union for Conservation of Nature (IUCN) Red List of Threatened Species, updated in December during a summit in Montreal that ultimately produced what many experts and advocates agree is a "weak" global framework to protect biodiversity.
The IUCN update revealed "a perfect storm of unsustainable human activity decimating marine life around the globe," Bruno Oberle, the group's director general, said at the time. He warned that "we urgently need to address the linked climate and biodiversity crises, with profound changes to our economic systems, or we risk losing the crucial benefits the oceans provide us with."
The NatureServe analysis provoked similar demands for action. As Reutersreported:
Vivian Negron-Ortiz, the president of the Botanical Society of America and a botanist with the U.S. Fish and Wildlife Service, who was not involved in the NatureServe report, said there is still a lot scientists do not know and have not yet discovered about biodiversity in the United States, and that NatureServe's data helped illuminate that darkness.

More than anything, she sees the new data as a call to action.

"This report shows the need for the public to help prevent the disappearance of many of our plant species," she said. "The public can help by finding and engaging with local organizations that are actively working to protect wild places and conserve rare species."
Tierra Curry, a senior scientist at the Center for Biological Diversity, said in a statement Monday that "this grim assessment adds to the mountain of science showing that we're creating an extinction crisis."
"It's suicidal of us to pretend that business as usual is more important than safeguarding the natural world we all depend on," Curry declared, spotlighting some potential solutions including the Extinction Prevention Act and Recovering America's Wildlife Act.
"Grassland loss is the biggest U.S. environmental disaster that gets the least attention," she said. "Conversion of grasslands to suburban sprawl and pesticide-intensive agriculture is a primary reason we've lost 3 billion birds and why we could lose monarch butterflies and vital pollinators."
"By taking nature for granted we've pushed natural systems to the brink of collapse," Curry continued. "We've been so neglectful for so long, but we can create a different world that doesn't exploit nature and vulnerable human communities for never-ending sprawl and consumption."
News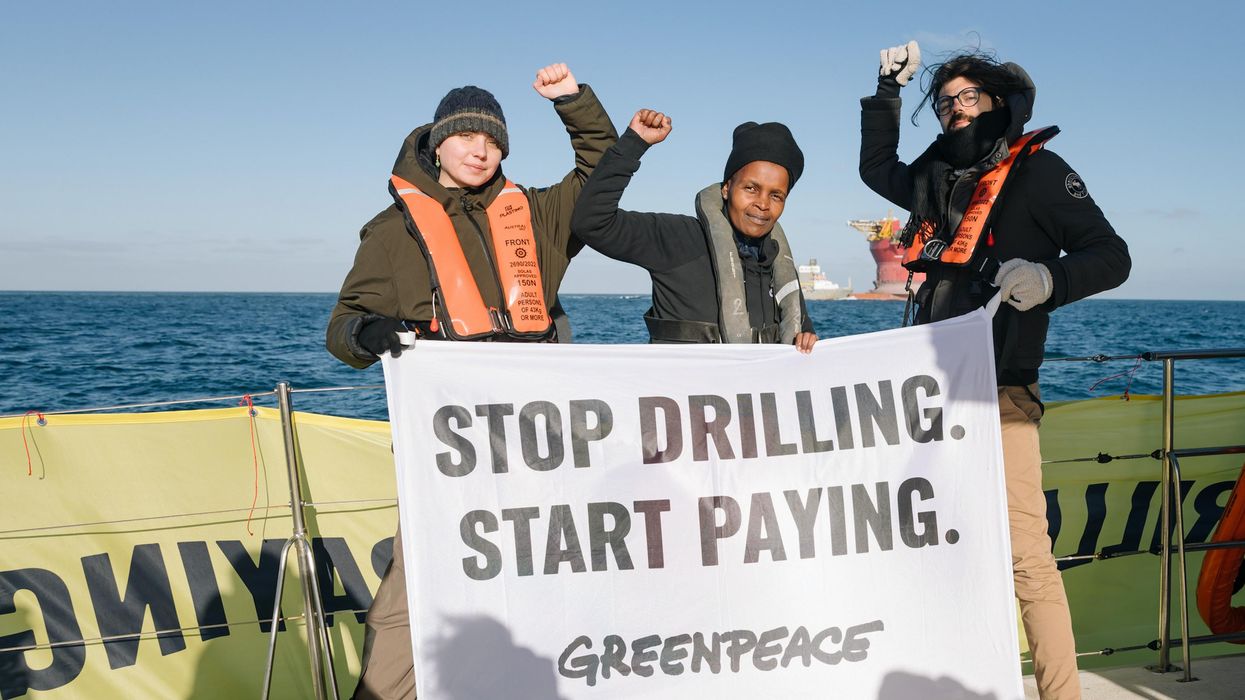 "We will not let Shell silence us," vowed one of demonstrators. "The world needs to hear about Shell's ongoing plans to further heat up the planet, increasing climate devastation without paying a cent towards rebuilding the carnage."
Undeterred by a court order threatening heavy fines or even two years behind bars, a pair of Greenpeace activists on Monday joined four other protesters aboard a shipcarrying a Shell oil platform into the North Sea in order to demand the company stop expanding fossil fuel production around the world.
On Monday morning, the Greenpeace France-chartered trimaran Merida and two small boats approached the White Marlin heavy-lift vessel, which is transporting Shell's 34,000-ton floating production storage and offloading vessel to the Penguins oil field near the Shetland Islands off northeast of Scotland. According to Energy Voice, it's Shell's first new manned installation in the U.K. North Sea in 30 years.
Monday's action follows the delivery Friday of an injunction stipulating that the four activists who climbed aboard the Shell platform last week must seek an agreement with the White Marlin's captain to safely disembark, and that the two Greenpeace boats—the U.K.-flagged Sea Beaver and Dutch-flagged Arctic Sunrise—must stay at least 500 feet away from the White Marlin.

"We will not let Shell silence us," Greenpeace climber Silja Zimmerman, Greenpeace—who boarded the White Marlin with Pascal Havez—vowed Monday in a statement. "The world needs to hear about Shell's ongoing plans to further heat up the planet, increasing climate devastation without paying a cent towards rebuilding the carnage we're seeing. And we have bad news for Shell: People everywhere are rising up in resistance because we no longer accept reliance on fossil fuel companies that are making our lives worse."
\u201c\ud83d\udea8 BREAKING: Shell has tried to SILENCE @Greenpeace\u2019s peaceful protest at sea with legal threats.\n\nSHELL FAILED. \n\nClimbers from Germany and France have joined the activists currently occupying Shell\u2019s oil platform on its way to the North Sea.\u270a\n\n#MakeShellPay\u201d

— Greenpeace UK (@Greenpeace UK) 1675689101
According to Greenpeace:
The platform which six activists are now occupying is a key piece of oil and gas production equipment that will enable Shell to unlock eight new wells in the Penguins field in the North Sea. Burning all of the oil and gas from the field redevelopment would create 45 million tons of CO2—more than the entire annual emissions of Norway.
"We're living with increasingly sweltering summers, a lack of rain is destroying forests and affecting farmers, and with expensive energy bills it's getting harder and harder to put food on the table," Zimmerman said. "Whole workforces and entire communities are exposed to the boom-and-bust of volatile oil and gas markets. And in Germany, floods in 2021 killed 180 people, with reconstruction costs of €30 billion."
"Enough is enough," she added. "Shell must stop drilling, and start paying."
\u201cICYMI: \u201cThat Shell is investing in new oil and gas is absolutely criminal.\u201d - Usnea, Greenpeace US activist.\n\nJoin Usnea by signing this petition to #EndFossilCrimes \u27a1\ufe0f https://t.co/sdokuM38Hv\n\n#ClimateJustice #MakeShellPay\u201d

— Greenpeace (@Greenpeace) 1675681996
Activist Hussein Ali Ghandour, who is from Lebanon, said aboard the Merida that "I come from the driest region of the world that is warming twice as fast as the global average."
"Across the Middle East and North Africa, droughts, raging forest fires, flash floods, and other climate disasters are now part of our daily realities, aggravating our social and economic woes," he stated. "It is big polluters like Shell that bear the historic responsibility for this loss and damage. The climate justice clock is ticking and polluters must stop developing new fossil fuel projects and pay for the decades of devastation they have caused around the world."
\u201c\ud83d\udea8 BREAKING: Greenpeace activists have OCCUPIED a Shell platform en route to the North Sea!\n\nThey have a message for the oil giant - Stop Drilling. Start Paying.\n\nShoutout to these brave activists \ud83d\udc4f\ud83d\udc4f\u201d

— Greenpeace UK (@Greenpeace UK) 1675181034
Another Greenpeace activist, Noa Helffer, said: "We know the climate crisis is hitting hardest in countries that are the least to blame; and in Europe we stand in solidarity. Growing up in Italy, we saw waist-high flooding sometimes, and conversely, there's been times where it didn't rain for months, and farmers were left with only dried leaves."
Greenpeace's North Sea protest came as Shell reported its profits more than doubled in 2022 to a record $40 billion.

"Shell's profits are our loss," Helffer said. "It's time to make polluters pay."
News
SUPPORT OUR WORK.
We are independent, non-profit, advertising-free and 100%
reader supported.