Freedom to Marry, Religious Institute to Host National Weekend of Prayer
Faith events from April 24-26 will highlight support for same-sex couples' right to marry
NEW YORK, NY.
With the U.S. Supreme Court set to hear oral arguments in marriage cases on Tuesday April 28, Freedom to Marry in partnership with the Religious Institute and 18 other religious organizations is hosting the National Weekend of Prayer for the Freedom to Marry. Nearly 300 congregations representing 20 different denominations in 46 states across the country will come together in prayer services and at vigils to pray that the values of love and the Golden Rule prevail over fear and discrimination.
"Support for the freedom to marry is at an all-time high nationwide, with more and more people of faith as well as mainstream denominations embracing the freedom to marry and celebrating couples' commitment," said Evan Wolfson, president of Freedom to Marry. "Heartfelt conversations, soul-searching, and reflection on key values such as the Golden Rule of treating others as you would want to be treated have moved millions of Americans into the majority for marriage that has created the climate for the courts, and now the Supreme Court, to end marriage discrimination in the law. It is time for the freedom to marry for all, leaving no state and no family out."
"People across the country are coming together in support of love and family next week, and praying for the Supreme Court to recognize what our faiths affirm: that everyone should have the rights and responsibilities of marriage, no matter who they love, and that where there is love, the sacred is in our midst," said Rev. Debra Haffner, president of the Religious Institute.
The National Weekend of Prayer for the Freedom to Marry is part of many multi-faith events happening in Washington, DC and across the country prior to oral arguments. DC-based events include a Weekend of Prayer Multi-Faith Service at the National City Christian Church in Washington, DC on April 26 at 5:00pm. Media interested in attending can RSVP to angela@freedomtomarry.org.
Last month, Freedom to Marry, in collaboration with the Religious Institute, dedicated its organizing team to helping secure nearly 2000 faith leaders from all 50 states in filing a friend-of-the-court brief in support of marriage cases before the U.S. Supreme Court.
In total, between 20,000 and 30,000 congregants will be praying for the freedom to marry this weekend. For a full list of participating congregations around the country, visit https://www.freedomtomarry.org/pages/national-weekend-of-prayer-participating-congregations.
Freedom to Marry is the gay and non-gay partnership working to win marriage equality nationwide. Headed by Evan Wolfson, one of America's leading civil rights advocates and lawyers, Freedom to Marry brings new resources and a renewed context of urgency and opportunity to this social justice movement.
LATEST NEWS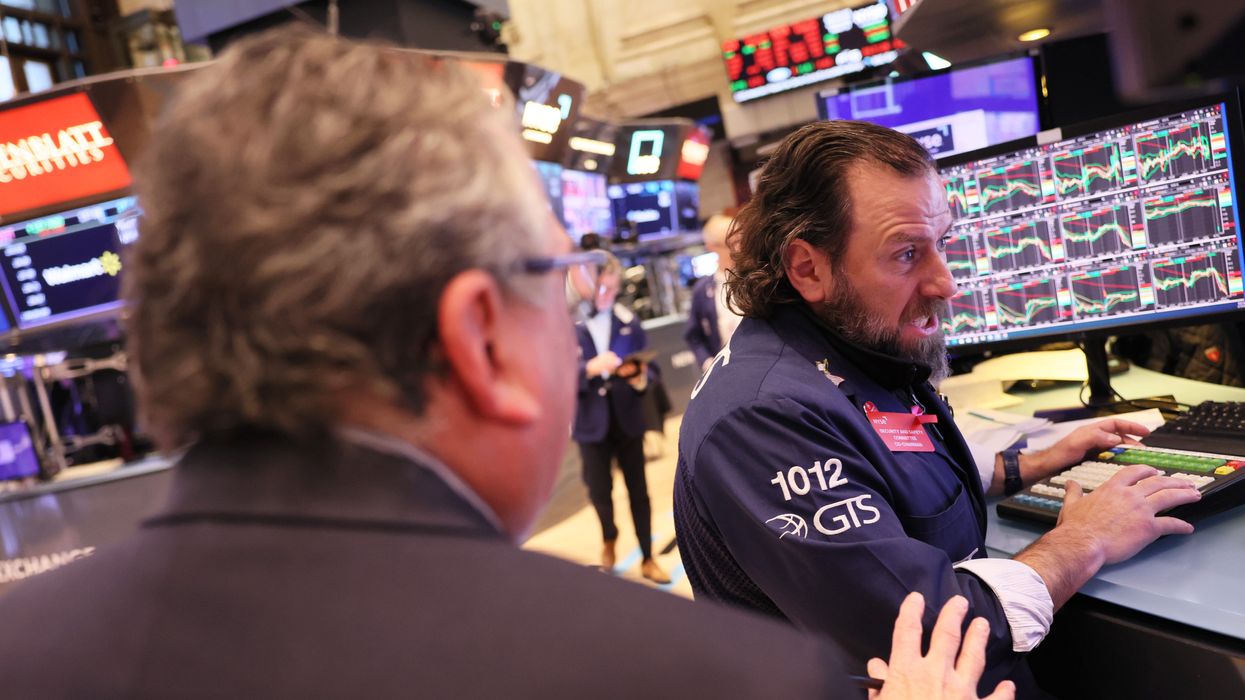 "Is this the next financial crisis unfolding? It feels like it may be—and all because of reckless increases in interest rates by central banks," argued one political economist.
A vanishingly short period of relief in U.S. and global markets was shattered Wednesday after the scandal-plagued Swiss banking giant Credit Suisse announced that its auditor identified "material weakness" in its financial reporting and the firm's largest investor—the Saudi National Bank—said it wouldn't inject more cash to bolster the company.
As its share price plunged, Credit Suisse intensified concerns about its financial health—and broader alarm about the stability of global markets—by pleading with the Swiss National Bank and the regulator Finma to issue public statements of support for the lender, which controlled roughly $580 billion in assets at the end of last year.
"The bank said it is working to address the problems [with its financial reporting], which 'could require us to expend significant resources,'" The Washington Postreported Wednesday. "It cautioned that the troubles could ultimately impact the bank's access to capital markets and subject it to 'potential regulatory investigations and sanctions.'"

The fresh crisis at Credit Suisse, which comes just days after two U.S. banks collapsed, compounded fears that seemingly isolated problems at individual financial institutions could signal a deeper systemic threat with far-reaching implications for the interconnected global economy.
"This is scary—financial markets are now betting on Credit Suisse failing—and no one can pretend there will not be a fallout from that," Richard Murphy, a professor of accounting practice at Sheffield University Management School in the U.K., wrote Wednesday, pointing to the soaring price of the bank's five-year credit default swaps, which prompted flashbacks to the 2008 global financial crisis.
"Is this the next financial crisis unfolding? It feels like it may be—and all because of reckless increases in interest rates by central banks," Murphy added.
Experts and analysts have argued that—along with years of deregulation—the U.S. Federal Reserve's rapid interest rate hikes contributed to the fall of California-based Silicon Valley Bank (SVB), which sold its bond portfolio at a major loss last week after it declined in value due to the Fed's actions.
While U.S. lawmakers have lambasted SVB for poor risk management, the firm was hardly alone in taking on large bond holdings when interest rates were low only to watch them lose value precipitously as central banks jacked up rates to combat high inflation.
"Investors said Credit Suisse's problems were a reminder that Europe's banks also had large holdings of bonds that had been hammered by rising interest rates," the Financial Timesreported.
As The American Prospect's David Dayen put it Wednesday, "As long as interest rates keep rising, more banks will be exposed."
"Credit Suisse is in principle a much bigger concern for the global economy than the regional U.S. banks which were in the firing line last week."
Just a week ago, it appeared that Fed Chair Jerome Powell was bent on continuing to raise interest rates even amid mounting warnings about the potentially devastating impacts on millions of workers whose wages and jobs are on the line.
But faced with growing panic in the financial sector, Powell is now widely expected to step on the brakes—at least temporarily—at the Fed's policy meeting next week. Powell is himself a former investment banker, and Wall Street lobbies the Fed on a range of issues.
Reutersreported Wednesday that "expectations for the U.S. central bank's next move have swung wildly in recent days, after the sudden failure of two regional banks late last week triggered alarm about the health of the banking system and raised doubts about how much further the Fed may take what has been an aggressive fight against stubbornly high inflation."

Turmoil at Credit Suisse, which insists its balance sheet is "strong," will likely cement the case against further Fed rate hikes in the near future, analysts suggested.
The Treasury Department is reportedly monitoring news at Credit Suisse, whose U.S. arm is overseen by the Fed.

"Credit Suisse is in principle a much bigger concern for the global economy than the regional U.S. banks which were in the firing line last week," Andrew Kenningham, chief Europe economist with Capital Economics, wrote in a research note on Wednesday. "Credit Suisse is not just a Swiss problem but a global one."
News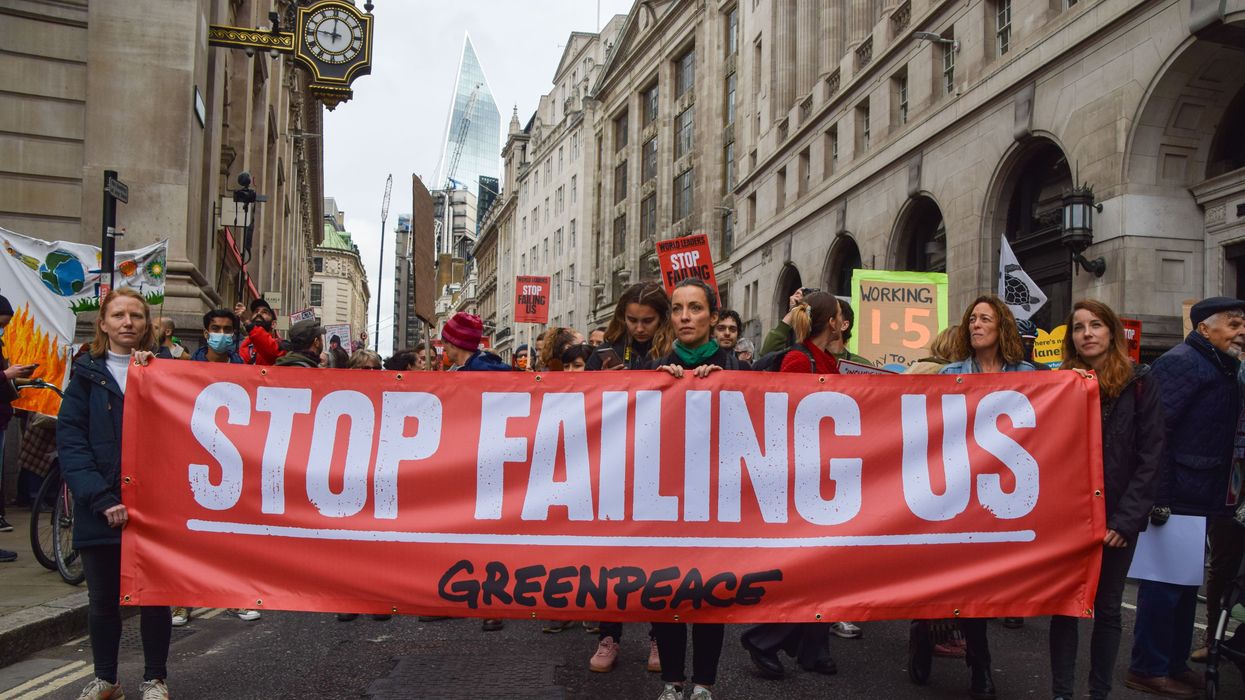 "While the Glasgow Statement is a success story that's having a real-world impact in shifting finance away from fossil fuels, some countries like the U.S., Germany, and Italy have broken their promise," said a lead author.
A report released Wednesday by Oil Change International reveals that while the Glasgow Statement is already shifting billions of dollars from fossil fuels to clean energy around the world, some rich nations are still failing to live up to promises made under the 2021 agreement.
During COP26—the United Nations climate summit in Glasgow, Scotland—34 countries and five public finance institutions vowed to cut off financing for new international fossil fuel projects by the end of 2022 and instead invest that money in clean power.
"Our research shows that while the Glasgow Statement is a success story that's having a real-world impact in shifting finance away from fossil fuels, some countries like the U.S., Germany, and Italy have broken their promise," said Oil Change International (OCI) public finance strategist Adam McGibbon, a lead author of the report.
The report—entitled Promise Breakers: Assessing the impact of compliance with the Glasgow Statement commitment to end international public finance for fossil fuels—states that "out of 16 signatories that provide significant international public finance for energy, eight have new or existing policies that broadly meet the promise they made in Glasgow (Canada, the European Investment Bank, the United Kingdom, France, Finland, Sweden, Denmark, and New Zealand)."
"True leaders do not blink when faced with a global climate crisis."
While those actions are expected to shift $5.7 billion from fossil fuels to clean energy annually, the report suggests that another $13.7 billion could be added if the countries who have failed to enact such policies and those "with below-Glasgow policies" did more to cut fossil fuel funding.
The nations with policies that are updated but still not in line with the Glasgow statement are Belgium, Spain, Switzerland, and the Netherlands. Those identified by OCI as in breach of the 2021 deal are Germany, Italy, Portugal, and the United States.
"During the 2020 presidential election, Joe Biden promised to end U.S. support for dirty energy projects abroad," the report highlights. "The Biden administration has taken the unusual step of developing a policy in response to the Glasgow Statement for its bilateral financing agencies but not making it public, even at the request of members of Congress."
After noting a diplomatic cable revealed in December 2021, the report calls on the administration to "release a public interagency guidelines that (a) bars new public fossil fuel support with no exemptions for gas projects and (b) closes the potential widely defined loophole for projects with 'national security' implications that appeared in the leaked memo."
Kate DeAngelis, international finance program manager at Friends of the Earth U.S., echoed that demand for transparency.
"The United States has long claimed to be a world leader in climate action, yet fails to back this up with meaningful action or policy," she said. "U.S. agencies like the U.S. Export-Import Bank and U.S. International Development Finance Corporation continue to be piggy banks for fossil fuel projects from Mexico to South Africa to Indonesia, as these nations suffer from climate change."
"President Biden must make his administration's policy public, which would catalyze other countries to stop providing billions of dollars to polluting projects all over the world," DeAngelis added. "True leaders do not blink when faced with a global climate crisis."
Meanwhile, the report details that not only has Italy declined to publish any Glasgow Statement policies but also the government recently "attempted to weaken a ministerial statement by 10 European governments to stop export credit support for fossil fuel projects" and its export credit agency SACE—which financed €13.7 billion ($14.45 billion) in fossil fuels from 2016-21—is continuing to consider major international projects.
Simone Ogno, climate and finance campaigner at ReCommon, pointed to some specific projects, saying Wednesday that "through its export credit agency SACE, Italy has become the first European fossil fuel financier, enabling the development of strategic oil and gas projects for the Russian Federation, not to mention LNG projects in Mozambique and oil refineries in Egypt."
Germany also has not only failed to put out a policy, but also "is engaged in a 'dash for gas,' including pursuing controversial gas development in Senegal and exploring gas deals with Qatar, the United States, and Iraq," the report says.
"Instead of providing gigantic sums of public funds for fossil fuel projects that are incompatible with the Paris agreement, we urge German Chancellor Olaf Scholz to ensure that the Kreditanstalt für Wiederaufbau adheres to the Glasgow Statement," declared Constantin Zerger, head of energy and climate protection at the Deutsche Umwelthilfe, referring to the nation's public bank.
"The government-owned development bank needs to officially commit that it will end its support for financial fossil fuel projects abroad and in Germany," Zerger charged. "Chancellor Scholz, it is time to become a real climate leader!"
Rather than featuring a section on Portugal like the other "promise breakers," the report calls out the country for "particularly low data transparency" and says its process for developing a policy related to the Glasgow Statement is "unclear."
While the new report takes aim at the "promise breakers," it also stresses that "all signatories must still do more to meet the parallel commitment to 'prioritize support fully towards the clean energy transition' whilst 'do[ing] no significant harm' to the goals of the Paris agreement, local communities, and local environments."
News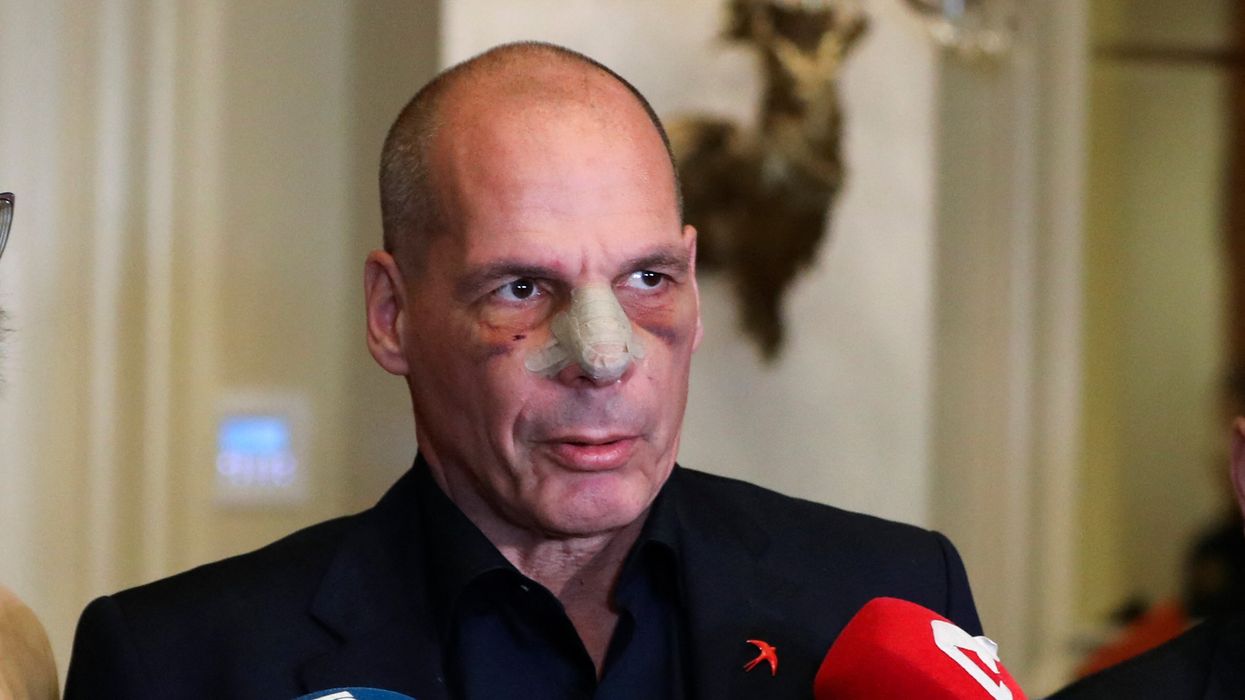 "I will recover," the Greek leftist said. "But those 57 from the train accident in Tempi won't, and their families' pain cannot be treated."
Recovering from a brutal assault that left him with a broken nose and cheekbone, leftist Greek lawmaker Yanis Varoufakis on Tuesday urged progressives "not get distracted" from the railway accident that killed 57 people last month or the neoliberal "privatize everything doctrine" he blames for the disaster.
Appearing on ANT1's "Kallimera Ellada" (Good Morning, Greece) on Tuesday, Varoufakis—the parliamentary leader of the left-wing MeRA25 party and former finance minister—told hosts Giorgos Papadakis and Maria Anastasopoulou he needs to "thank the public hospital staff" because "they worked miracles" to treat his fractured cheekbone and nose, which was broken in six places during the Friday evening assault by a group of young men the lawmaker described earlier as "hired thugs."
"The oligarchic establishment is trying to exploit my injuries in the most hideous, Goebbels-like manner."
"I will recover," he said, brushing off more questions about the attack. "But those 57 from the train accident in Tempi won't, and their families' pain cannot be treated," a reference to the February 28 collision of passenger and freight trains in Larissa.
Many observers have linked to disaster to austerity measures imposed upon Greece from abroad, especially by the so-called "Trokia" of the European Commission, European Central Bank, and International Monetary Fund. These institutions are widely reviled due to the suffering their policies forced upon Greece and other economically ailing European Union members after the 2007-08 global financial meltdown.
In aTuesday letter thanking supporters for "showering" him with "solidarity" following the attack, Varoufakis called for focusing on "what really matters."

"The Greek railway tragedy, that claimed 57 lives, has triggered a remarkable youth movement which is undermining the hegemony of the neoliberal 'privatize everything' doctrine," he wrote.
"The oligarchic establishment is trying to exploit my injuries in the most hideous, Goebbels-like manner," Varoufakis continued, referring to the Nazi propaganda chief. "They are insinuating that I, an anti-systemic politician, [have] fallen victim to the anti-systemic mood that politicians like me have inspired in our youth."
"We must not let them succeed in sullying a pristine, spontaneous, peaceful, progressive youth movement," he added.
Ekathimerinireported Tuesday that two people have been arrested in connection with that attack—a 19-year-old described by Greek Citizen Protection Minister Takis Theodorikakos as an "anarchist," and a 17-year-old who allegedly recorded the assault on his phone.

Varoufakis was attacked Friday evening outside a restaurant in the Athens neighborhood of Exarchia. According to the Democracy in Europe Movement 2025 (DiEM25)—which Varoufakis co-founded—the leftist lawmaker was at the restaurant with members of the movement from around Europe.
"A small group of thugs stormed the place shouting aggressively, falsely accusing him of signing off on Greece's bailouts with the Troika," DiEM 25 said. "Varoufakis stood up to talk to them but they immediately responded with violence, savagely beating him while filming the scene."
During his appearance on "Kallimera Ellada," Varoufakis said that after he left the eatery, one of his assailants was "pushing me and hitting me and I said to him, 'I'm trying to respect you, to listen to what you want, and you're hitting me?'"
When asked why he did not have a police or security escort, Varoufakis said police make him feel "imprisoned" but that "things will probably change now, due to my wife's demand... 'From now on, you will have police officers.'"

News
SUPPORT OUR WORK.
We are independent, non-profit, advertising-free and 100%
reader supported.