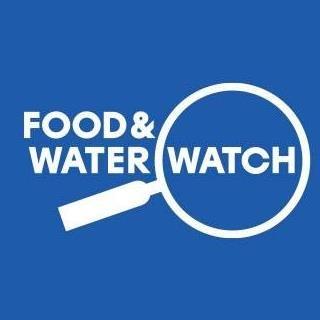 For Immediate Release
Contact:
Kate Fried, Food & Water Watch: (202) 683-2500, kfried(at)fwwatch(dot)org.
Natural Gas No Quick Fix for U.S. Energy Woes
Food & Water Watch Report Points to Need for Better Federal Regulations; Activists in Delaware River Basin, Colorado and Virginia Fear Risks from Fracking
WASHINGTON
In the wake of April's calamitous oil spill in the Gulf of Mexico,
pundits are pointing to natural gas as the resource to save the U.S.
from its energy woes. But a new report released today by the national
consumer advocacy group Food & Water Watch suggests that relying on
this polluting technology may simply set the nation up for further
ecological disasters.
Not so Fast, Natural Gas: Why Accelerating Risky Drilling
Threatens America's Water outlines the ways in which the rapid
expansion of the oil and gas industry's use of hydraulic fracturing
(also known as "fracking") in recent years compromises essential
drinking water resources, human health and the environment.
The process of extracting gas from rock formations, fracking relies
on a chemical cocktail that can be toxic if leaked into groundwater
supplies. The industry is not required by federal law to report the type
or quantity of chemicals it uses, and only ten states require
disclosure of this information. Analysis of what industry information is
available reveals that many of the chemicals used in the process can be
harmful to human gastrointestinal, respiratory, and nervous systems,
especially if leaked into drinking water supplies.
"Much in the same way that April's oil spill in the Gulf of Mexico
caused many to question the risks posed by shore oil drilling, hydraulic
fracturing poses a profound risk to our nation's drinking water," said
Food & Water Watch Executive Director Wenonah Hauter. "Unlike oil
drilling however, it doesn't take a single blowout to create an
environmental catastrophe. The dangers of fracking are slow, yet
insidious."
Waste generated by the process is also an environmental hazard,
especially because it is often injected underground or sent to
wastewater facilities that often lack the resources to effectively treat
it. In addition to polluting local water, hydraulic fracturing can also
be responsible for its depletion. The process can use up to 3.8 million
gallons of water to drill a single well. Large-scale extractions of
ground and surface water can threaten drinking water supplies and upset
the balance of local ecosystems.
"In the debate about natural gas drilling one question looms large,"
said Tracy Carluccio, Deputy Director of the Delaware Riverkeeper
Network. "What are the risks of rushing ahead with the dangerous
extraction practices that the industry is using to force gas out of deep
shale deposits?"
Despite these questions, and the public health and environmental
risks associated with hydraulic fracturing, the practice of using it to
extract gas from shale is on the rise. Shale gas grew from 1 percent of
the U.S. natural gas energy supply in 2000 to 20 percent in 2010. It is
expected to expand further as many companies eye the potential energy
reserves trapped within the Marcellus Shale. The first reported
Marcellus Shale well in Pennsylvania was drilled in 2003, and by May of
2010, 1,164 wells had been drilled in the portion of the Marcellus Shale
under that state alone.
The industry's rapid expansion may be due in part to the federal
government's lax oversight. The Energy Policy Act of 2005, for instance,
exempts hydraulic fracturing from the section of the Safe Drinking
Water Act that protects groundwater from chemical contamination. This
may be attributed to the industry's lobbying efforts. The Natural Gas
Alliance has spent $1.6 million since 2009 convincing Congress to favor
its particular interests.
With the federal government doing little to protect consumers and the
environment, opposition against the industry is gaining momentum on the
local level. In 2008, New York moved to require companies to reveal the
chemicals they use, and Governor Patterson demanded that the state
update its environmental review process that approves new hydraulic
fracturing projects. Lawmakers in Pennsylvania, Delaware and Texas have
established moratoriums on further drilling.
Residents and activists in Colorado, where the process has been in
place for more than twenty years, still have concerns. "How many more
times are policymakers going to allow industry profits to matter more
than public health?" said Josh Joswick, Energy Issues Organizer for the
San Juan Citizen's Alliance in Durango, Colorado. "There needs to be
public disclosure of what is being injected into our waters."
In regions rich with natural gas deposits that the industry is
looking to exploit, activists are encouraging governments to act to
protect consumers and the environment from the effects of hydraulic
fracturing before it's too late. "With the hydrofracking industry's
recent interest in expansion into Virginia, we have an opportunity to
take a hard look at what this has meant for communities and natural
resources in other states," said Kate Wofford, Director of Shenandoah
Valley Network. "Our localities now have a chance to work with the
Commonwealth to impose safeguards that will protect water sources and
citizens, rather than allowing gas companies to drill first and ask
questions later."
Many experts are calling on the federal government to step up its
efforts to prevent the natural gas industry from inflicting more damage.
The Fracturing Responsibility and Awareness of Chemicals Act, which is
currently moving through Congress, would close the loophole that
excludes hydraulic fracturing from the regulation under the Safe
Drinking Water Act.
"The long-term safety of public water is more important than an
indefinite energy resource. That is why the federal government needs to
act swiftly to protect the public from this reckless industry, and to
seek safe, sustainable energy production methods," noted Hauter.
Not so Fast, Natural Gas: Why Accelerating Risky Drilling
Threatens America's Water is available here: https://www.foodandwaterwatch.org/water/report/natural-gas/
Food & Water Watch mobilizes regular people to build political power to move bold and uncompromised solutions to the most pressing food, water, and climate problems of our time. We work to protect people's health, communities, and democracy from the growing destructive power of the most powerful economic interests.
(202) 683-2500
LATEST NEWS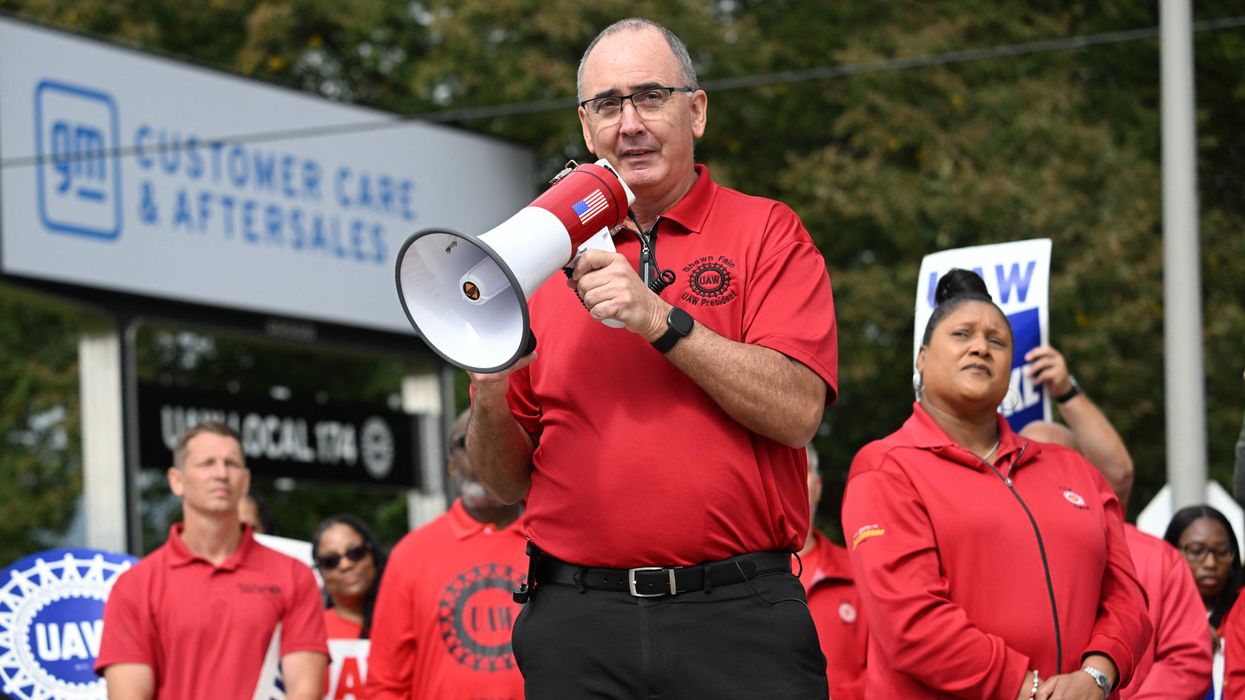 "From opposing fascism in WWII to mobilizing against apartheid South Africa and the Contra war, the UAW has consistently stood for justice across the globe," said United Auto Workers president Shawn Fain.
Fresh off historic contract victories, the United Auto Workers on Friday became the largest U.S. union to endorse a cease-fire in Gaza as Israel resumed its bombardment of the Palestinian territory following a weeklong pause.
"I am proud that the UAW International Union is calling for a cease-fire in Israel and Palestine," UAW president Shawn Fain wrote in a social media post on Friday. "From opposing fascism in WWII to mobilizing against apartheid South Africa and the Contra war, the UAW has consistently stood for justice across the globe."
The union's cease-fire endorsement was made public by Brandon Mancilla, director of UAW Region 9A, in remarks outside the White House, labor activist Mindy Isser reported for In These Times.
"Mancilla was at a news conference where labor leaders and union members from across the country had journeyed to Washington, D.C. to stand shoulder-to-shoulder with a broad, multiracial coalition of politicians, organizers, and activists who have been on a five-day hunger strike outside of the White House to demand a permanent cease-fire," Isser noted.
On social media, Mancilla announced that the UAW's International Executive Board "will also be forming a Divestment and Just Transition Working Group to study the history of Israel and Palestine, our union's economic ties to the conflict, and explore how we can have a just transition for U.S. workers from war to peace."
The UAW's cease-fire call makes the 400,000-member union part of a growing segment of the American labor movement that is pushing for a negotiated end to the bloodshed in the Gaza Strip, where U.S.-backed Israeli bombing has killed more than 15,000 people in less than two months.
Dozens of unions have signed onto a petition launched by the United Electrical, Radio, and Machine Workers of America, which demands the release of all hostages, an end to Israel's siege of Gaza, and a cease-fire that sets the stage for "negotiations for an enduring peace."
Despite growing labor support, the AFL-CIO—the largest federation of unions in the U.S.—has yet to back a cease-fire and has actively pushed back against its affiliates' efforts to build support for one.
During a meeting of the AFL-CIO's executive council in late October, just one union leader—Mark Dimondstein, president of the American Postal Workers Union (APWU)—spoke up in support of a cease-fire, The New York Timesreported at the time. Last month, the APWU called for "an immediate cease-fire, the release of hostages, and urgently needed humanitarian aid to the people of Gaza."
"The cries of humanity demand nothing less," the union said.
Dimondstein echoed that message at Friday's press conference outside the White House.
"As working people we stand with the oppressed and the innocent, thousands of whom have lost their lives over the last two months," he said. "We unite with unions and people of goodwill around the world in calls for justice and peace."
News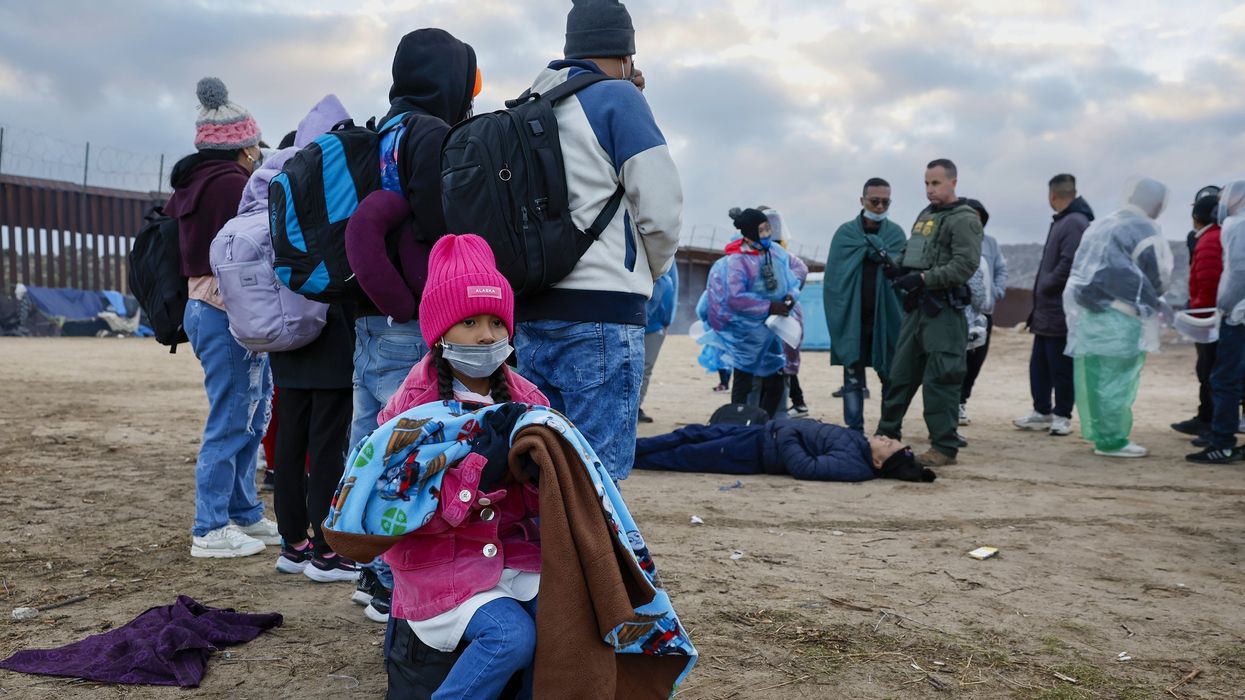 "The long-term result from such short-sighted extremist policy will be further chaos at the southern border and further loss of life and human dignity," warned one campaigner.
As a bipartisan group of U.S. senators negotiates a deal on war assistance, rights groups and some congressional Democrats this week have condemned possible GOP policies that would make it harder for migrants to seek asylum in the United States.
"Refugees International is alarmed at Senate negotiations to potentially condition funding for Ukraine, Israel, and Taiwan on permanent changes to asylum law and parole authority that would put the lives of people seeking safety at risk," said Yael Schacher, the group's director for the Americas and Europe, in a statement Thursday.
"Heightening the asylum standard and deeming transit countries safe would violate international law and do nothing to stop people from coming to the border," Schacher asserted. "And limiting parole would end a program that has proved a lifeline for tens of thousands of Ukrainians and so many others for 70 years."
Stressing that "the rise in migration to the border is attributable to worsening political and humanitarian crises abroad that have produced historically high numbers of people needing protection," she urged Congress and President Joe Biden's administration to instead "focus on scaling up our ability to humanely and efficiently provide protection to meet this growing need."
"Instead of appeasing the xenophobia of the far right, the Biden administration and Senate Democrats should be working to make the United States more welcoming."
Advocates from Americans for Immigrant Justice, Human Rights First, Immigrant Defenders Law Center, Oxfam America, and other groups have released similar statements. Calling the proposal "unacceptable," #WelcomeWithDignity campaign manager Melina Roche declared Wednesday that "emergency funding should not come at the expense of others who need help themselves to escape persecution and violence."
ACLU senior policy counsel Sarah Mehta warned that "using a one-time spending package to permanently gut our asylum system sets a dangerous precedent and undermines our nation's values, laws, and commitment to protect those seeking safety."
Denouncing Republicans' demands as "radical" and "utterly shameful," Center for Gender & Refugee Studies director Karen Musalo said that "they would result in the persecution, torture, and deaths of families, children, and adults seeking safe haven at our nation's doorstep."
Along with increasing risks for asylum-seekers, the changes sought by the GOP would be ineffective, campaigners argued. International Refugee Assistance Project policy director Sunil Varghese said that "the long-term result from such short-sighted extremist policy will be further chaos at the southern border and further loss of life and human dignity."
"Trading fundamental human rights protections for a one-time supplemental funding request is unconscionable, outrageous, and fundamentally misguided," Varghese argued. "Instead of appeasing the xenophobia of the far right, the Biden administration and Senate Democrats should be working to make the United States more welcoming, not more hateful."
Faith groups and religious leaders have also spoken out this week, including representatives from the American Friends Service Committee, Church World Service, Franciscan Action Network, and Unitarian Universalists for Social Justice.

"New restrictions will only make it more likely that people will be deported to dangerous conditions because they failed to navigate a complicated asylum system in an unfamiliar country," said Amanda Craft, assistant stated clerk of the Presbyterian Church (USA) General Assembly. "Women, Black migrants, LGBTQ+ migrants, and indigenous-language speakers will be particularly impacted."
"Our Christian faith tells us to center the voice of 'the least of these,' the most vulnerable people with the fewest resources," Craft continued, citing scripture. "Instead of restricting asylum, Congress should robustly fund migrant services through the Shelter and Services Program and support communities that are welcoming migrants."
Democratic lawmakers are also raising concerns. Congressional Hispanic Caucus Chair Nanette Barragán (D-Calif.) and the CHC's Border and Immigration Task Force co-chairs, Reps. Adriano Espaillat (D-N.Y.) and Rob Menendez (D-N.J.), said Thursday that "we are strongly opposed to any potential measures in a rushed border supplemental that would permanently restrict asylum access for immigrants."
Separately, Rep. Delia Ramirez (D-Ill.) called Republican efforts "morally bankrupt and grossly irresponsible," and pledged to vote against "any supplemental that dismantles U.S. asylum policy, adds 'third-country' limiting provisions or travel bans, or restricts our ability to receive people into the country on parole."
In the upper chamber, Sen. Alex Padilla (D-Calif.) led 10 colleagues—Sens. Cory Booker (D-N.J.), Dick Durbin (D-Ill.), Mazie Hirono (D-Hawaii), Ben Ray Luján (D-N.M.), Ed Markey (D-Mass.), Bob Menendez (D-N.J.), Jeff Merkley (D-Ore.), Elizabeth Warren (D-Mass.), Sheldon Whitehouse (D-R.I.), and Ron Wyden (D-Ore.)—in a statement opposing "harmful changes to our asylum system."
"We remain committed to working in good faith to modernize our outdated immigration system on a bipartisan basis and through a deliberative process," they added, emphasizing the need for "increasing lawful pathways for migration and legalizing long-time undocumented immigrants who put food on our tables, care for our elderly, and form the fabric of our communities."
The Associated Pressreported that U.S. House Speaker Mike Johnson (R-La.) on Wednesday "told GOP senators behind closed doors that he needs real border security changes as part of Biden's broader war funding package."
Referring to the House GOP's Secure the Border Act, Senate Majority Leader Chuck Schumer (D-N.Y.) said in floor remarks Thursday, "I was deeply troubled by reports yesterday that Speaker Johnson joined Senate Republicans and made a push to inject more H.R. 2 provisions into the Senate supplemental."

"Democrats are willing to work with Republicans on commonsense, realistic border security, but we can't have the hard right essentially say its H.R. 2 or nothing," he added. "If Speaker Johnson, or for that matter the negotiators, feel they have to listen to what Speaker Johnson can pass just amongst his caucus, we'll never get anything done."

News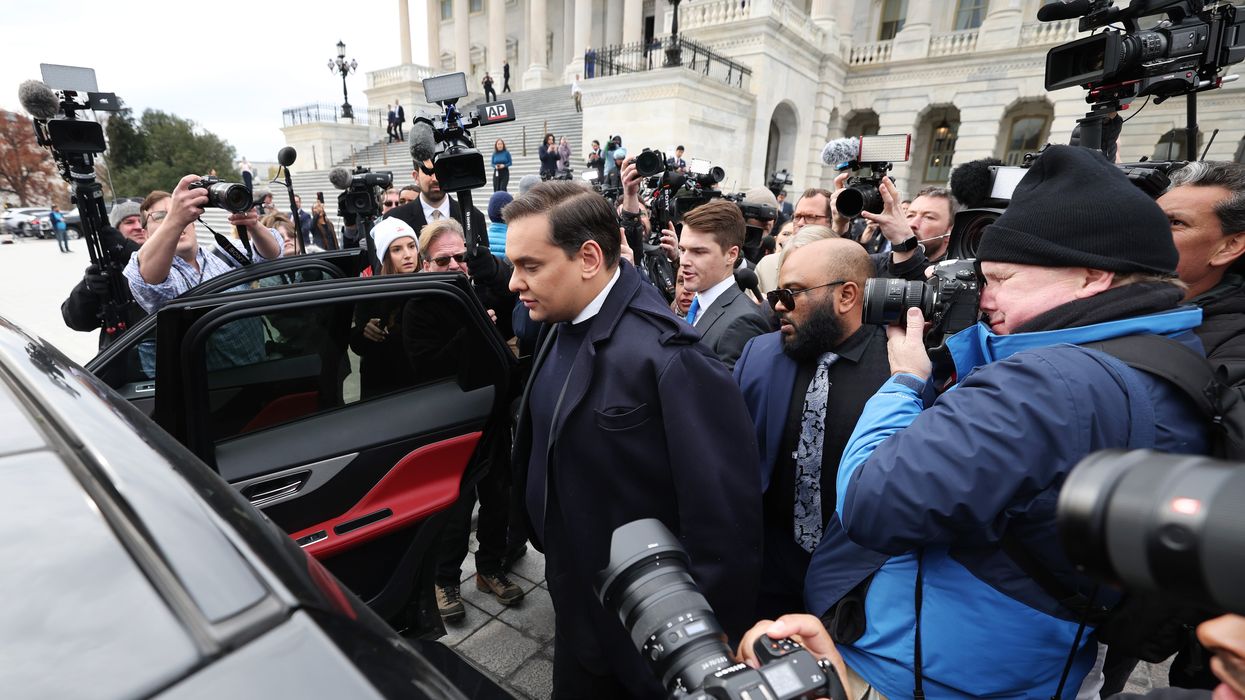 "A majority of Republicans voted against Santos' expulsion. That speaks volumes about the state of the Republican Party," said one observer.
The U.S. House voted overwhelmingly to expel Republican Rep. George Santos on Friday, ending a brief tenure in Congress that was engulfed by glaring and often bewildering scandals.
Santos—who is facing 23 criminal counts including wire fraud, aggravated identity theft, and conspiracy to commit offenses against the United States—left the House chamber before the vote was complete. The final tally was 311-114, with 112 Republicans—including House Speaker Mike Johnson (R-La.)—and two Democrats voting against expulsion.
"Why would I want to stay here? To hell with this place," Santos told reporters following the vote.
Santos, the sixth lawmaker to ever be expelled from the House, flipped New York's 3rd Congressional District seat from Democratic to Republican in the 2022 midterms, but he began facing calls to step aside before he was even sworn in after it became clear that he fabricated aspects of his biography.
Earlier this year, the U.S. Justice Department unsealed a 13-count indictment accusing Santos of money laundering, wire fraud, and theft of public funds, among other charges. Santos pleaded not guilty.
In October, federal prosecutors filed 10 additional charges against Santos, intensifying calls for his resignation or expulsion. Last month, the House Ethics Committee released a report alleging that Santos used campaign funds on credit card bills, gambling, Botox, and luxury shopping.
"George Santos' expulsion from the House of Representatives is long overdue," Lisa Gilbert, the executive vice president of Public Citizen, said in a statement. "His removal is a testament to the tireless advocacy of ethics advocates and his constituents. Residents of NY-03 were lied to throughout his campaign and denied competent representation in Congress for nearly a year. They now have a chance for honest representation."
"What should have been an open-and-shut case of defrauding voters became a year-long MAGA circus as former Speaker [Kevin] McCarthy, current Speaker Johnson, and other extreme House leaders shielded Santos from accountability—abandoning ethical responsibility in favor of one additional vote for their dangerous and unpopular agenda," Gilbert added. "We are all better off now that Santos no longer holds a seat in Congress."
"Now that Santos has been expelled from Congress, we look forward to seeing him held accountable by our legal system."
Santos' ouster triggers a special election early next year that analysts believe is a toss-up. The New York Timesreported Friday that the race is "expected to be one of the most high-profile and expensive off-year House contests in decades."
"It has the potential to further shrink Republicans' paper-thin majority and offer a preview of the broader battle for House control next November," the Times noted. "More than two dozen candidates have already expressed interest in running, and labor unions, super PACs, and other groups have begun earmarking millions of dollars for TV ads."
Brett Edkins, managing director of policy and political affairs at Stand Up America, said following Friday's vote that "until the very end, Republican leaders tried to protect Santos, putting cronyism and political expediency over principled leadership."
"A majority of Republicans voted against Santos' expulsion. That speaks volumes about the state of the Republican Party," said Edkins. "The campaign finance laws that Santos clearly violated are essential to preventing and punishing corruption and helping voters make informed decisions at the polls. Now that Santos has been expelled from Congress, we look forward to seeing him held accountable by our legal system."
News