For Immediate Release
Contact:
Mike Bento, NPSCC, 202.291.3117
Shannon Andrea, NPCA, 202.454.3371
Commission Recommends Sweeping Expansion of the National Park 'Idea'
Final report offers recommendations for enhancing the National Park System and the ability of the Park Service to engage the diversity of America
WASHINGTON
The independent, bipartisan National Parks Second Century Commission today concluded a year-long analysis with the release of a visionary report
calling for dramatic enhancements to the National Park System, and the
National Park Service's ability to protect our breathtaking landscapes
and historic and cultural treasures. Importantly, the Commission
recommends that the agency provide meaningful new opportunities for all
Americans-especially young people and diverse communities-to become
connected with our shared national heritage, and involved to protect it.
Chaired by former Senate Majority Leader Howard H. Baker, Jr. (R-TN)
and former Senate Energy and Natural Resources Committee Chairman J.
Bennett Johnston, Jr. (D-LA), the National Parks Second Century
Commission is a first-in-a-generation effort to examine the national
parks today, and chart a vision for the parks' second century of
service to the nation. The Commission consists of 26 national leaders
and experts with a broad range of diverse experience, including
scientists, historians, conservationists, academics, business leaders,
policy experts, and retired Park Service executives.
"At some of the most difficult times in American history, presidents
and Congress have had the courage and foresight to protect our national
heritage, and expand the ability of national parks to benefit all
Americans. This is another of those moments," said Senator Baker.
"The national parks truly are America's Best Idea, and these
recommendations will make the national parks even more central to the
lives of all Americans," said Senator Johnston.
First, the Commission recommends expansion of the National Park Idea
by enhancing educational opportunities within the park system and
community conservation and local partnerships to preserve our national
heritage. Specifically, the Commission called for an expansion of the
National Park Service's mission, making education an explicit part of
the mission for the first time. The report also recommends expanding
the park system itself to protect segments of all of America's
ecological and cultural treasures and to represent the diversity of our
changing nation.
The Commission also called for a sweeping revitalization of the
National Park Service, including strengthening the management,
research, and community assistance capacity of the agency, along with
significant steps for the Park Service to become a more innovative,
diverse, and responsive organization prepared for the expanded vision
of the system.
The Commission recommended actions to preserve America's natural and
cultural resources by strengthening the Park Service's capacity to
preserve park resources through expansion of its ability to prevent
other federal agency actions that would adversely impact parks. The
report also identifies enhancements to Park Service authorities,
budgets, and programs that provide the leverage to work cooperatively
with local communities and stakeholders to preserve parks and
surrounding landscapes.
And, recognizing the importance of funding for the system, the
Commission's final report includes recommendations for Congress and the
Administration to fully fund park needs through existing federal
programs that benefit the Park Service, and offered proposals for
enhanced permanent and sustainable funding from public and private
sources. A key recommendation is the creation of a
Presidentially-appointed commission to promote the importance of the
parks and raise substantial private funds by the 2016 centennial of the
Park Service. At a phone-in press conference today, the
Commission presented its report to the Secretary of Interior Ken
Salazar. The full report, which includes detailed recommendations to
the White House and Congress, and extensive reports from the seven
committees of the Commission, is available online.
The National Parks Second Century Commission first met in August 2008 at Santa Monica Mountains National Recreation Area in California, and in October at Lowell National Historical Park in Massachusetts. In January 2009 the Commission met at Yellowstone National Park, followed in March with a meeting at Gettysburg National Military Park in Pennsylvania and in June at Great Smoky Mountains National Park
in Tennessee. The Commission heard from a wide range of subject matter
experts, park managers, and the general public over the course of its
12-month effort, culminating in this report which will be shared with
the Congress, the Administration, park advocates, stakeholders, and the
American people.
The Commission was convened by the non-profit National Parks
Conservation Association, the leading voice of the American people in
protecting and enhancing our National Park System. The Commission's
report was endorsed today by the Trust for Public Land, Coalition of
Concerned National Park Service Retirees, and other organizations.
NPCA is a non-profit, private organization dedicated to protecting, preserving, and enhancing the U.S. National Park System.
LATEST NEWS
"We urge the commission to continue to focus on its vital work preserving market integrity and protecting the public, uphold the letter and spirit of the Dodd-Frank Act, and withdraw the proposed rule."
A trio of Democratic U.S. senators on Monday wrote to Commodity Futures Trading Commission Chair Rostin Behnam expressing their "serious reservations" with the agency's proposed rule on seeded funds and money market funds, a policy the lawmakers warned would "undermine the goals of Dodd-Frank" by rolling back the already weakened financial oversight law.
Passed in the wake of the 2008 global financial meltdown, the Dodd-Frank Wall Street Reform and Consumer Protection Act—which was partially rolled back during the Trump administration—overhauled federal financial regulation. In a letter to Behnam, Sens. John Fetterman (Pa.), Sherrod Brown (Ohio), and Tina Smith (Minn.) assert that the CFTC's proposed rule is a "step in the wrong direction" that would increase market instability by decreasing collateral requirements for certain transactions.
The Global Markets Advisory Committee, largely made up of finance industry insiders, recommended the proposed rule in 2020 during the Trump administration.
As the letter explains:
The proposed rule would reduce or eliminate initial margin requirements for up to three years for a subset of swap market participants. "Initial margin" is the collateral that participants must set aside when entering swap agreements. Initial margin requirements, along with "variation margin" and other capital requirements, protect counterparties to a swap in the event of a default. Dodd-Frank set up comprehensive rules for swap agreements after they significantly contributed to the 2008 financial crisis and the federal government was forced to bail out Wall Street.
"The 2008 financial crisis showed the dangers that swaps can pose to economic stability, and Dodd-Frank directed regulators, including the CFTC, to require initial margin for uncleared swaps specifically to reduce those risks," the senators wrote. "It is vital for the CFTC to continue upholding its Dodd-Frank mandate and to maintain high standards and safeguards for this important market."
"We urge the commission to continue to focus on its vital work preserving market integrity and protecting the public, uphold the letter and spirit of the Dodd-Frank Act, and withdraw the proposed rule," the lawmakers added.
The collapse earlier this year of Silicon Valley Bank and Signature Bank—both of which benefited from regulatory relief thanks to the 2018 rollback—brought renewed scrutiny on Dodd-Frank's Republican-engineered shortcomings. Sen. Mike Crapo (R-Idaho), who wrote the 2018 banking deregulation law, insisted in March that "there is no need for regulatory reform" in the wake of the banks' failures.
Robert Weissman, president of the consumer advocacy group Public Citizen, responded to Crapo's assertion by writing that "you have to be hard-core committed to mindless free-market fundamentalism—or truly in thrall to your donors—to insist there's no need for new regulations after Silicon Valley Bank."
Last month, Sen. Elizabeth Warren (D-Mass.) also wrote a letter to Behman sharing her concerns about the proposed rule. Noting the policy's 2020 introduction, Warren said in her October 10 letter that "it is unclear why the commission is choosing to propose these rules now, three years later, without conducting its own additional analyses of whether the changes are necessary or will strengthen the stability of the domestic financial system."
"I strongly urge the commission not to loosen the existing rules and not to roll back important Dodd-Frank Act reforms," Warren added.
News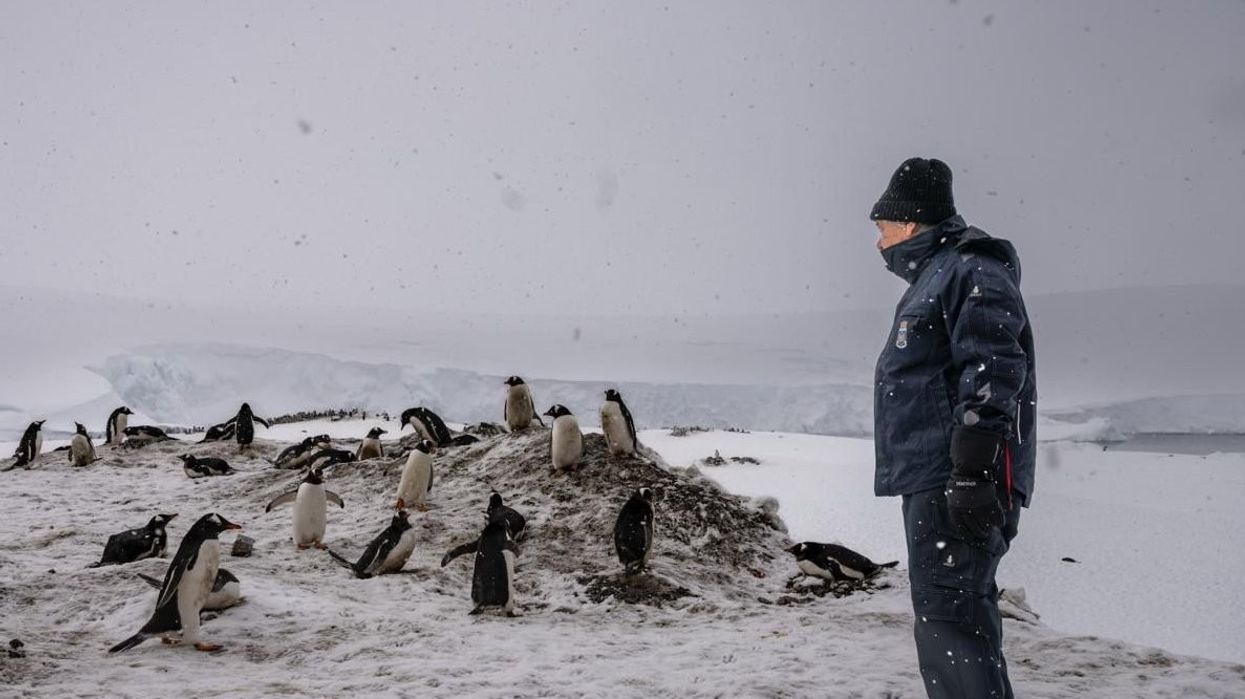 "It is profoundly shocking to stand on the ice of Antarctica and hear directly from scientists how fast the ice is disappearing."
United Nations Secretary-General António Guterres on Monday issued yet another impassioned call for ambitious climate action after a trip to Antarctica and amid preparations for the U.N. Climate Change Conference later this week.
"I have just returned from Antarctica—the sleeping giant. A giant being awoken by climate chaos. Together, Antarctica and Greenland are melting well over three times faster than they were in the early 1990s," he told reporters in New York City.
"It is profoundly shocking to stand on the ice of Antarctica and hear directly from scientists how fast the ice is disappearing," the U.N. leader said of his trip to the continent last week, pointing out that "this year, Antarctic sea ice hit an all-time low."
"Leaders must not let the hopes of people around the world for a sustainable planet melt away."
Scientists project that 2023 will be the hottest year in 125,000 years. Recent research has also shown that Antarctica is warming faster than widely cited models predicted, and even if humanity significantly cuts planet-heating pollution from fossil fuels, the West Antarctic Ice Sheet faces an "unavoidable" increase in melting this century.

Guterres stressed Monday that "what happens in Antarctica doesn't stay in Antarctica. We live in an interconnected world. Melting sea ice means rising seas. And that directly endangers lives and livelihoods in coastal communities across the globe. Floods and saltwater intrusion imperil crops and drinking water—threatening food and water security."
"The movement of waters around Antarctica distributes heat, nutrients, and carbon around the world, helping to regulate our climate and regional weather patterns," he explained. "But that system is slowing as the Southern Ocean grows warmer and less dense. Further slowdown—or entire breakdown—would spell catastrophe."
"The cause of all this destruction is clear: the fossil fuel pollution coating the Earth and heating the planet," he stressed. "Without changing course, we're heading towards a calamitous 3°C temperature rise by the end of the century."
That's according to a U.N. analysis of currently implemented policies, released last week ahead of the COP28 summit—which will be hosted in the United Arab Emirates by Abu Dhabi National Oil Company CEO Sultan Al Jaber, who has allegedly used meetings about the upcoming climate talks to push for fossil fuel deals with other governments.
"If we continue as we are, and I strongly hope we will not, the Greenland and West Antarctica ice sheets will cross a deadly tipping point. This alone would ultimately push up sea levels by around 10 meters. We are trapped in a deadly cycle," Guterres declared Monday. "At COP28, which starts later this week, leaders must break this cycle."
"Leaders must act to limit global temperature rise to 1.5°C, protect people from climate chaos, and end the fossil fuel age," the U.N. chief said, referencing a key goal of the 2015 Paris agreement. He called for tripling renewables, doubling energy efficiency, bringing clean power to all, a "clear and credible commitment" to phasing out fossil fuels, and "climate justice."
"Antarctica is crying out for action," Guterres said. "Leaders must not let the hopes of people around the world for a sustainable planet melt away. They must make COP28 count."
News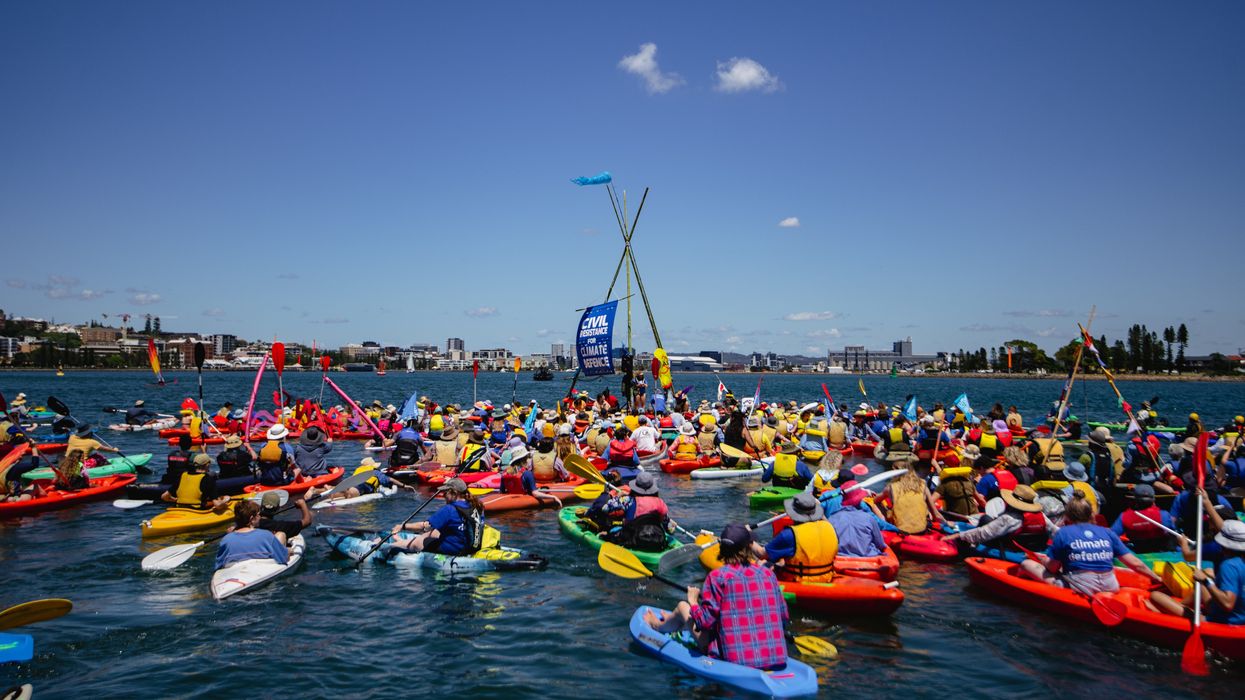 "World leaders attending COP28 this week should take note that the mass protest in New South Wales is not an isolated incident but part of a global pushback for change now," said one campaigner.

More than 100 climate defenders were charged Monday in New South Wales, Australia after using kayaks or swimming to blockade the coal port at Newcastle—the world's largest—to demand an end to fossil fuels as petrostate United Arab Emirates prepares to host the United Nations Climate Change Conference later this week.
New South Wales police said 109 people were arrested after paddling kayaks or swimming into the shipping lane servicing coal cargo at the Port of Newcastle during a 30-hour protest on Saturday and Sunday. The arrested activists were all charged with operating a vessel so as to interfere with others' use of waters.
The climate action group Rising Tide Australia, which led the action, said it would keep holding protests until federal and state governments take meaningful climate action.
"That's the choice we are giving government, either do your job and take on the industry that's causing the crisis, or people will continue to put themselves in situations like this," Rising Tide spokesperson Zack Schofield toldABC Newcastle.
Among those arrested was 97-year-old church minister Alan Stuart, who toldSBS News that he engaged in civil disobedience "for my grandchildren and for future generations because I don't want to leave them with a world full of increasingly severe, frequent national disasters because of climate change."
Anjali Beames, an activist with the School Strike for Climate movement started in Sweden by Greta Thunberg, was also arrested.
"My future is getting sold by the fossil fuel industry for profit, and I'm not going to sit idly by while that happens, it's the Australian government's failure to act," Beames told SBS News.
"We know that the climate crisis is here and now, and if there's any hope of mitigating the consequences and saving people's lives, we have to stop new fossil fuel projects, and that includes new coal," she added.
The New South Wales Council for Civil Liberties (NSWCCL) said several of the group's legal observers were arrested and charged along with the protesters. The group said its personnel "were easily identifiable by wearing pink high-visibility jackets with 'Legal Observers' written across the vest in large black letters."
NSWCCL president Lydia Shelly said that "the charges against the legal observers should be immediately withdrawn."
"It is not in the public interest for these charges to proceed," Shelly added. "If the charges are not withdrawn, it risks sending a dangerous message to the public that NSW police do not want their interactions or conduct with peaceful protestors monitored by independent organizations."
Referring to the U.N. Climate Change Conference slated to start Thursday in Dubai, Amnesty International Pacific researcher Kate Schuetze said in a statement Monday that "while it is deeply discouraging to see this kind of outcome after peaceful protests on the climate crisis days before COP28, it is also hugely inspiring to see the creativity, ingenuity, and solidarity of the protesters who took to kayaks to oppose climate inaction."
"World leaders attending COP28 this week should take note that the mass protest in New South Wales is not an isolated incident but part of a global pushback for change now," Schuetze continued. "People will not stay silent when climate upheaval threatens their futures."
New South Wales Premier Chris Minns of the center-left Labor Party dismissed the protesters' climate concerns, noting on Monday that "not only is the extraction and sale and export of minerals in NSW legal, it's our single biggest export."
"If we don't take some of the royalties from coal export, we will not meet our renewable energy targets in NSW," Minns added. "We won't even come close."
Alexa Stuart, an organizer of the protest and Alan Stuart's granddaughter, told SBS News that the Australian government's climate inaction forced climate campaigners' hands.
"We wish we did not have to do this but the Albanese government needs to understand we are serious," she said, referring to Labor Australian Prime Minister Anthony Albanese, a supporter of Australia's nearly U.S. $40 billion coal industry.
"If Australia today said we are not going to export any more coal, [it] wouldn't lead to a reduction in global emissions," Albanese said last year, rejecting Australian Greens' calls for a fossil fuel export moratorium. "What you would see is a replacement with coal from other countries that's likely to produce higher emissions… because of the quality of the product."
Still, Australian Climate Change Minister Chris Bowen claims the government's COP28 delegation will bring to Dubai evidence proving the country is on track to meet its target of a 43% reduction in carbon emissions by 2030.
Kelly O'Shanassy, chief executive of the Australian Conservation Foundation, toldThe Guardian on Saturday that "the Albanese government is taking genuine steps to reduce carbon emissions at home, while enabling the increased and indefinite export of coal and gas to other countries."
"It doesn't matter where the coal and gas is burnt," O'Shanassy added. "Australian fossil fuels are supercharging climate damage, fueling heatwaves, bushfires, and coral bleaching."
News