For Immediate Release
Contact:
Tel: +1-212-216-1832,Email:,hrwpress@hrw.org
Morocco: New Jail Term for Western Sahara Activist
Naâma Asfari Convicted for 'Showing Contempt' Toward Police
Human Rights Watch is one of the world's leading independent organizations dedicated to defending and protecting human rights. By focusing international attention where human rights are violated, we give voice to the oppressed and hold oppressors accountable for their crimes. Our rigorous, objective investigations and strategic, targeted advocacy build intense pressure for action and raise the cost of human rights abuse. For 30 years, Human Rights Watch has worked tenaciously to lay the legal and moral groundwork for deep-rooted change and has fought to bring greater justice and security to people around the world.
LATEST NEWS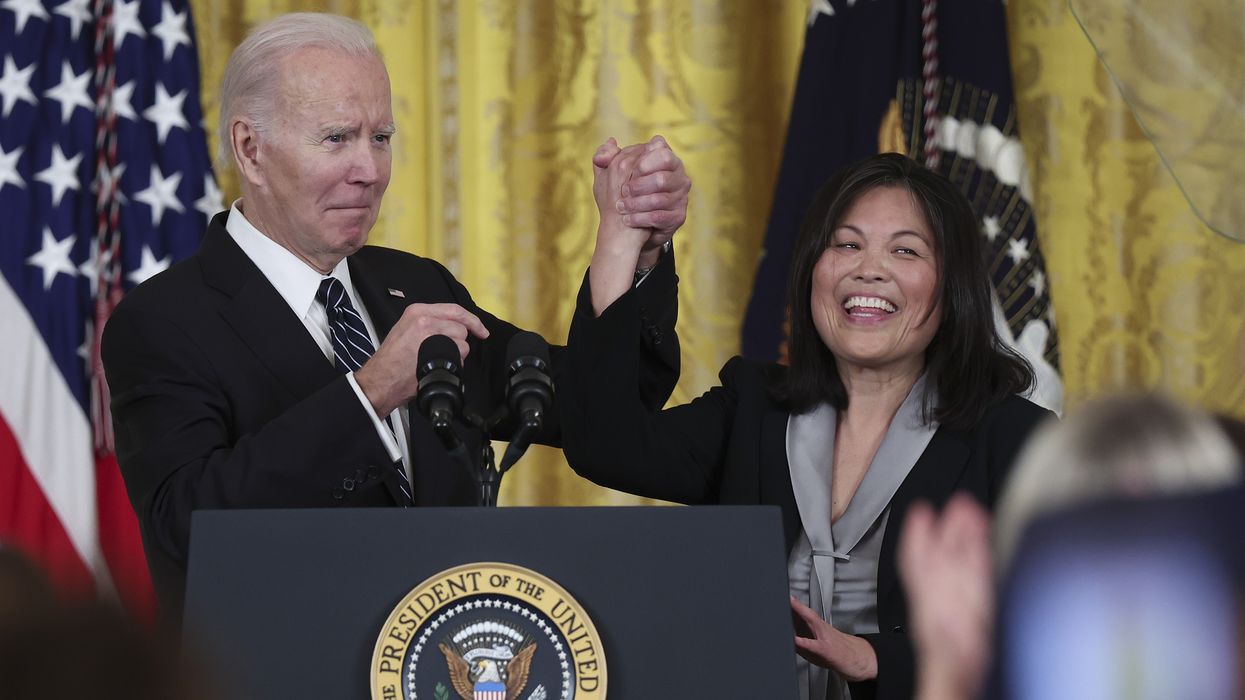 The department's "action against predatory stay-or-pay contracts sends a monumental message to employers: Obey the law or face repercussions," said the head of Towards Justice.
Workers' rights advocates are applauding the Biden administration this week for filing a historic lawsuit against a Brooklyn-based healthcare staffing agency for coercive contracts that allegedly violate federal labor law.
Biden's Department of Labor (DOL) says in a complaint filed against Advanced Care Staffing (ACS) and CEO Sam Klein in the U.S. District Court for the Eastern District of New York that "in flagrant disregard" of the Fair Labor Standards Act (FLSA), the company "has entered into contracts purporting to require employees to complete at least three years of full-time work for ACS in order to retain their wages."

"The contracts warn employees that if they leave ACS's employ before three years' time, they will face ACS and its lawyers in an arbitration behind closed doors, where ACS will demand that employees kick back much of their hard-earned wages—including wages to which they are entitled under federal law," the complaint continues.
"Under this scheme, the pay that ACS promises its employees may be converted into nothing more than a loan that employees must repay with interest and fees, leaving some employees with no compensation at all, much less the wages required by the FLSA," the document adds. "The FLSA prohibits an employer from holding employees' wages hostage, allowing employees to keep their wages free and clear only if employees remain in the service of their employer."

The DOL, led by acting Secretary Julie Su, aims not only to end this "unlawful conduct" but also "to recover unpaid wages and liquidated damages due to the former employees from whom ACS has already initiated arbitrations, and to restrain defendants from withholding unpaid wages from their former employees."

Solicitor of Labor Seema Nanda reiterated in a statement Monday that "federal law forbids employers from clawing back wages earned by employees, for employers' own benefit."

"Employers cannot use workers as insurance policies to unconditionally guarantee future profit streams. Nor can employers use arbitration agreements to shield unlawful practices," Nanda said. "The Department of Labor will do everything in its power to make sure employees are being paid their hard-earned wages, and to safeguard them from these types of exploitative practices."

Bloomberg last September reported on Benzor Shem Vidal, a nurse who immigrated to the U.S. from the Philippines and took legal action against ACS for forcing him to work in "brutal and dangerous conditions," including simultaneously caring for 40 patients.

As Bloomberg detailed:

Under Vidal's contract, Advanced Care Staffing could sue him in arbitration for damages if he quit within three years of starting work—and make him pay the legal costs, according to the complaint in federal court in Brooklyn. The conditions were so onerous that they violate human trafficking laws meant to protect people from being exploited for labor, Vidal said.

"Mr. Vidal believed it was impossible for him to provide adequate care to patients but was also terrified to resign," his lawyers wrote. "He knew that his contract with Advanced Care Staffing purported to allow the company to pursue legal action against him, with potentially ruinous financial consequences, if he decided to terminate his employment."

Advanced Care Staffing did not immediately respond to an inquiry. The company has placed thousands of employees at facilities in New York and surrounding states, according to its website.
The DOL complaint lays out his experience over several pages and concludes that "defendants have a policy and practice of entering into contracts with employees with identical or substantially similar contract provisions to the 2022 contract with Vidal."

Celebrating the new case against ACS, Towards Justice executive director David Seligman declared Tuesday that "DOL's action against predatory stay-or-pay contracts sends a monumental message to employers: Obey the law or face repercussions."

"A fundamental premise of our labor laws is that employers pay workers, and not the other way around," said Seligman. "This lawsuit builds on a multiagency effort from the Biden administration to curb coercive contracts that rob workers of bargaining power. We look forward to what's next."

As Seligman noted in a series of tweets, other actions include the Consumer Financial Protection Bureau (CFPB) last June launching an inquiry into practices and products that may leave workers indebted to their employers, and the Federal Trade Commission (FTC) in January proposing a ban on noncompete clauses.

After noting that the DOL is taking on the ACS case as a minimum wage fight, Seligman said another important aspect is the department's allegation that the company's "arbitration requirements violate federal law too, not just because the employer is attempting to shield unlawful practices but also because the arbitration requirement itself shifts costs onto workers."
The DOL complaint states that ACS's arbitration and contract demands "have an impermissible chilling effect on their employees' ability to effectively vindicate their federal statutory rights, including the protection to be free from an unsafe or hazardous workplace, and to obtain unpaid wages due."

Student Borrower Protection Center senior policy adviser Chris Hicks on Tuesday stressed that such problems stretch far beyond one company, saying that "whether it's training repayment agreement provisions (TRAPs) or stay-or-pay contracts, employers are using debt as a tool of coercion to force workers to stay in low-paying, unsafe jobs."

Hicks also highlighted that "the Biden administration has been strengthening its whole-of-government approach to ensure workers are able to fully and freely exercise their rights—including their right to depart without the looming threat of debt."
News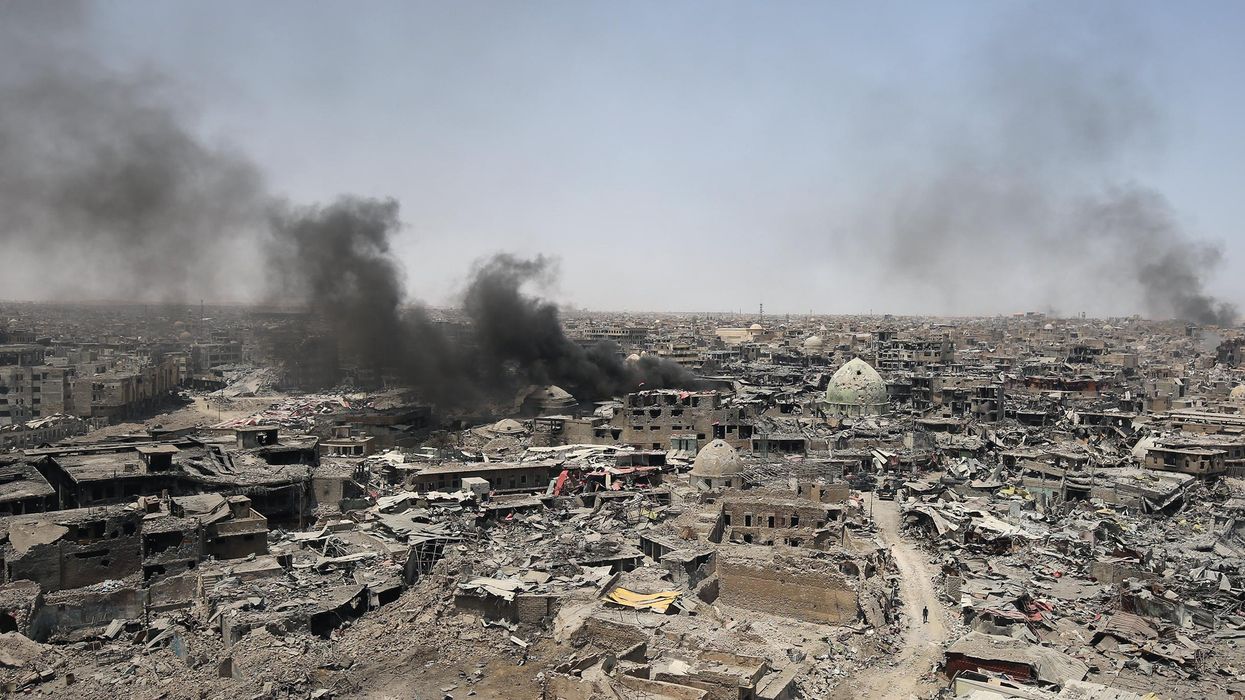 "Britain claims a 'perfect' war against Islamic State in Iraq," said a report co-author. "It isn't credible, and it isn't true."
British airstrikes targeting Islamic State militants in Iraq and Syria likely killed dozens of noncombatants despite claims by U.K. military leaders that no civilians died during such bombings, a major investigation by the monitor group Airwars and The Guardian revealed on Tuesday.
"Britain claims a 'perfect' war against Islamic State in Iraq. Thousands of missiles fired, thousands of fighters killed, and not a single civilian harmed," Guardian senior international affairs reporter and report co-author Emma Graham-Harrison tweeted. "It isn't credible, and it isn't true."
Airwars obtained via Freedom of Information Act requests previously classified documents from which the group identified eight airstrikes that may have been carried out by U.K. warplanes in which at least 32 civilians were killed.
"Working with The Guardian, we visited Iraq to search for the victims mentioned in the original casualty allegations and piece together what happened," said Airwars. "One of those we found was the Younis family in Mosul."
Using declassified reports, coalition statements, survivor and other witness interviews, and 3D modeling, Airwars reconstructed the November 29, 2016 strike that killed a 6-year-old member of the Younis family in the Iraqi city.
"We found that shortly before 4:00 pm a mission commander requested a strike on ISIS militants firing at Iraqi allies. After the strike was approved, coalition analysts reported losing sight of their initial targets," the group said. "They ultimately identified another group of males on the sidewalk carrying a 'possible' weapon."
Around this time, Enam Younis and her children left their home "looking for safety a few streets away. Both Enam and her father said there were no ISIS fighters within 30 meters. As they walked past the door of the neighboring house, the missile detonated."
As The Guardian reports:
Enam Younis, 31 at the time, was thrown to the ground by the blast and has never walked again. Her older daughter, Taiba, 6, inquisitive and desperate to start school, was killed instantly. Zahra, just 3, was hurled over a fence. She survived but was peppered with shrapnel that tore into her stomach and is still lodged deep in her skull. Doctors have said that if it moves, it could cause devastating brain injury.

There was a third child, Ali, a toddler too young to walk, who was shielded from the drone cameras—and the worst of the blast—by his mother's arms, but who still lost part of a foot and hand.

Younis was taken out of Mosul for treatment and even six years later, her memories are too painful for her to return to the city she called home. "It is still impossible for me to think about going to Mosul now," she said weeping. "I didn't even visit my daughter's grave. I can't do it."
A U.K. Ministry of Defense spokesperson declined to confirm or deny whether British forces carried out any of the airstrikes detailed in the investigation while insisting that "there is no evidence or indication that civilian casualties were caused by strikes in Syria and Iraq."
"The U.K. always minimizes the risk of civilian casualties through our rigorous processes and carefully examines a range of evidence to do this, including comprehensive analysis of the mission data for every strike," the spokesperson told The Guardian.
However, according to Airwars:
Politicians, campaigners, and civil society groups have consistently raised concerns about the U.K.'s lack of civilian harm monitoring and accountability in Iraq and Syria. The Netherlands has since paid millions in compensation to victims of its strikes, while the United States has launched major policy reforms to learn the lessons of the campaign. The U.K. remains an outlier, claiming it had robust mechanisms for monitoring the impact of its strikes—including post-strike battle damage assessments—and refusing to review its policies.
Airwars has also accused U.S. officials of habitually undercounting the number of civilians killed by American bombs and bullets.

The report notes that while "civilian victims of U.K. airstrikes can theoretically claim condolence payments from the British government," those attempting to do so "would face severe procedural and legal hurdles."
"The U.K. has not publicly compensated a single victim of a British airstrike and there is no clear process for victims and their families to apply," Airwars said.
Airwars estimates that between 8,197 and 13,254 Iraqi and Syrian civilians have been killed by U.S.-led coalition forces in 1,525 separate strikes since 2014. This figure stands in stark contrast with a coalition estimate of 1,437 civilians killed in 342 separate incidents.
Since the U.S.-led invasion of Iraq 20 years ago, between 550,000 and 580,000 Iraqis and Syrians have died, according to Airwars.

News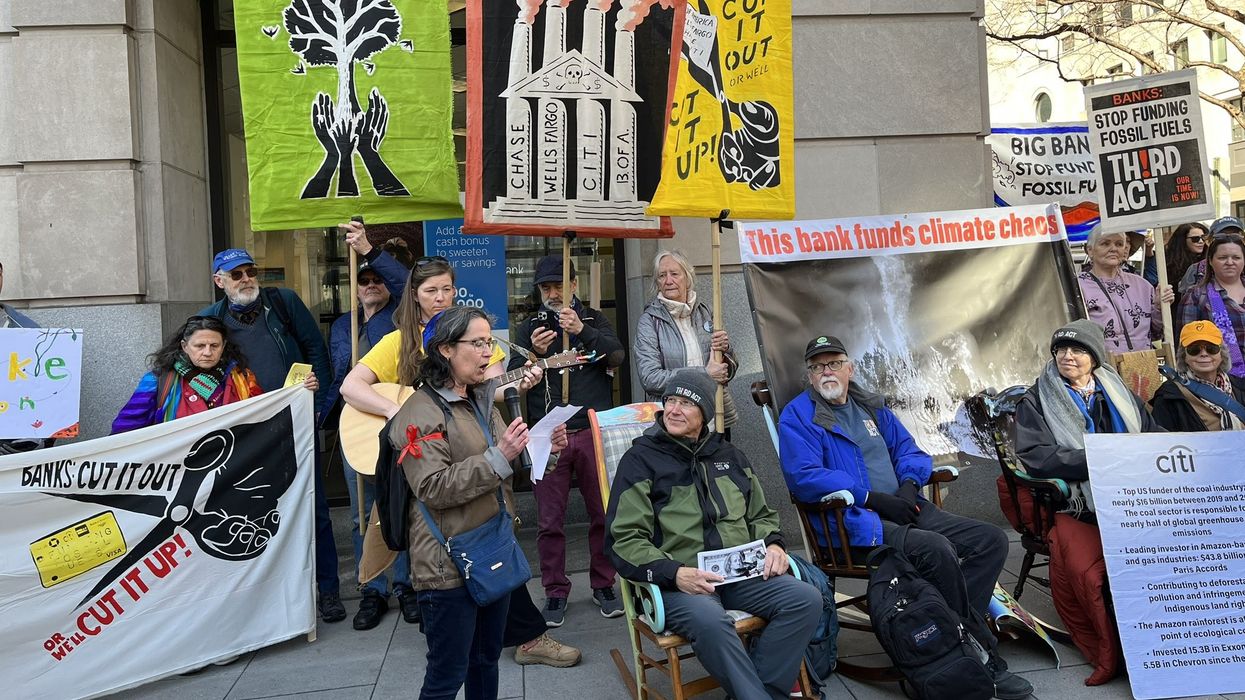 "We will not go to our graves quietly knowing that the financial institutions in our own communities continue to fund the climate crisis," said longtime environmentalist Bill McKibben.
Thousands of seniors outraged at big banks for continuing to underwrite the expansion of coal, oil, and gas projects took to the streets in cities across the United States on Tuesday to demand that financial institutions "stop funding climate chaos."
Held 24 hours after United Nations Secretary-General António Guterres—citing the latest report from the Intergovernmental Panel on Climate Change—called for an end to fossil fuel financing, the "Stop Dirty Banks" national day of action was organized by Third Act, an alliance of activists over the age of 60 co-founded by veteran campaigner Bill McKibben, and more than 50 other progressive advocacy groups.
The first elderly-led mass climate demonstration in U.S. history, which featured more than 100 rallies around the country, aimed to pressure financial institutions to stop bankrolling the planet-heating pollution that scientists have linked to worsening extreme weather.
Despite pledging to put themselves and their clients on a path to "net-zero" greenhouse gas emissions, the world's 60 largest private banks dumped $4.6 trillion into coal, oil, and gas projects from 2016 to 2021. Just four U.S. financial giants—JPMorgan Chase, Citi, Wells Fargo, and Bank of America—are responsible for a quarter of all fossil fuel financing identified since the Paris agreement entered into force.
"We must break the big banks' addiction to Big Oil."
"Today is a major drive to take the cash out of carbon," McKibben said Tuesday in a statement. "We want JPMorgan Chase, Citi, Wells Fargo, and Bank of America to hear the voices of the older generation which has the money and structural power to face down their empty, weasel words on climate. We will not go to our graves quietly knowing that the financial institutions in our own communities continue to fund the climate crisis."

"We're going to hit the streets and banks today in a wave of gray power," McKibben continued. "We will be colorful and noisy but our message is serious: We want the banks to move out of fossil fuels. The lives and livelihoods of our children and grandchildren depend on a drastic change and banks are the key to this."
In Washington, D.C., participants continued a 24-hour "rocking chair rebellion" that began Monday.
On Tuesday, people in D.C. also staged a die-in to draw attention to the lethal consequences of fossil fuel lending.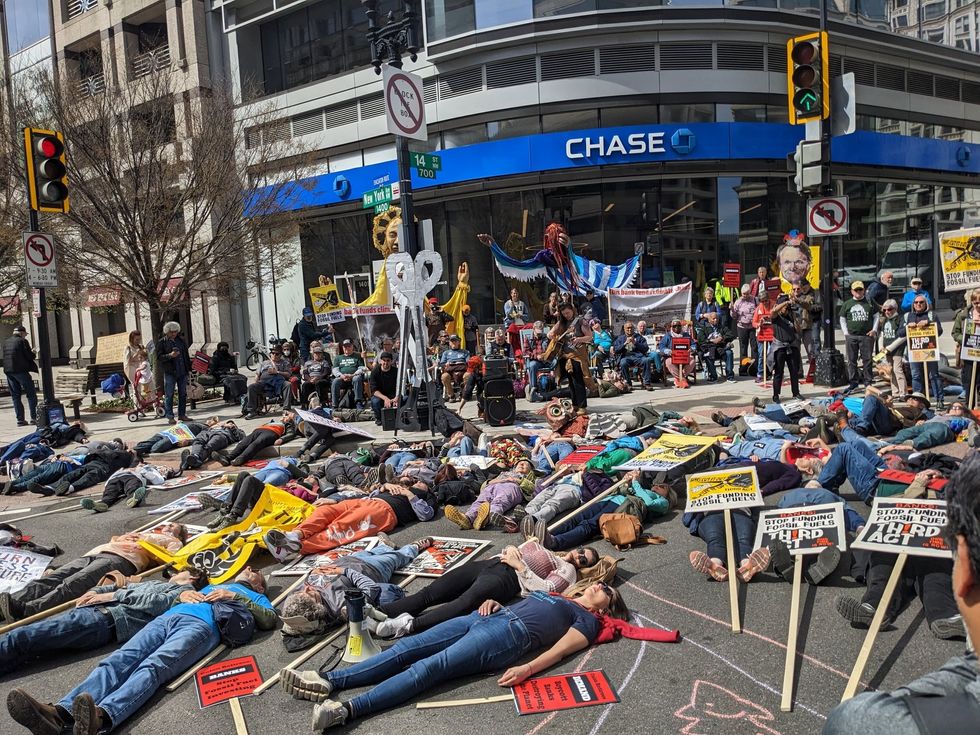 Sierra Club executive director Ben Jealous warned that "the big banks feel beholden to an industry literally driving us toward human extinction."

"What we're asking these banks to do," said Jealous, "is to have the moral clarity to say to their clients, 'You cannot keep expanding into the Arctic, you cannot keep expanding into the Gulf, you cannot keep drilling in Africa and throughout the globe. Because what you're doing is putting our communities, our future, and the climate at risk.'"
Closing out the rally in the nation's capital, Jealous declared, "We must break the big banks' addiction to Big Oil."
In New York City, protesters of all ages shut down traffic.
They also used giant mock scissors to "cut up" a cardboard credit card.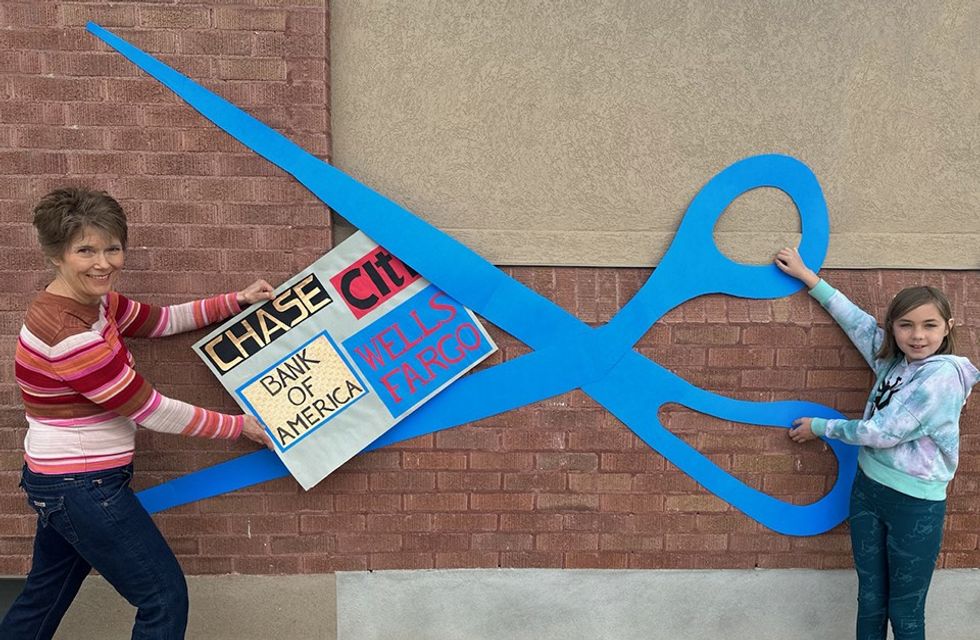 In addition to symbolically destroying a fake credit card, many people cut up real cards taken from their wallets.
"Third Act has gathered 17,000 pledges from bank customers to close their accounts and cut up their credit cards if the banks continue to fund fossil fuels," the group said. "These pledges were sent in recent weeks to the bank CEOs and in-person at bank branches from Burlington to Cleveland, from Oakland to New York."
"By continuing to finance fossil fuel expansion, Wall Street banks undermine our ability to meet our climate goals, and contradict their own climate pledges," said Ben Cushing, director of the Sierra Club's Fossil-Free Finance campaign. "These demonstrations are only the beginning of what each of us can do to hold big banks accountable for their role in the climate crisis."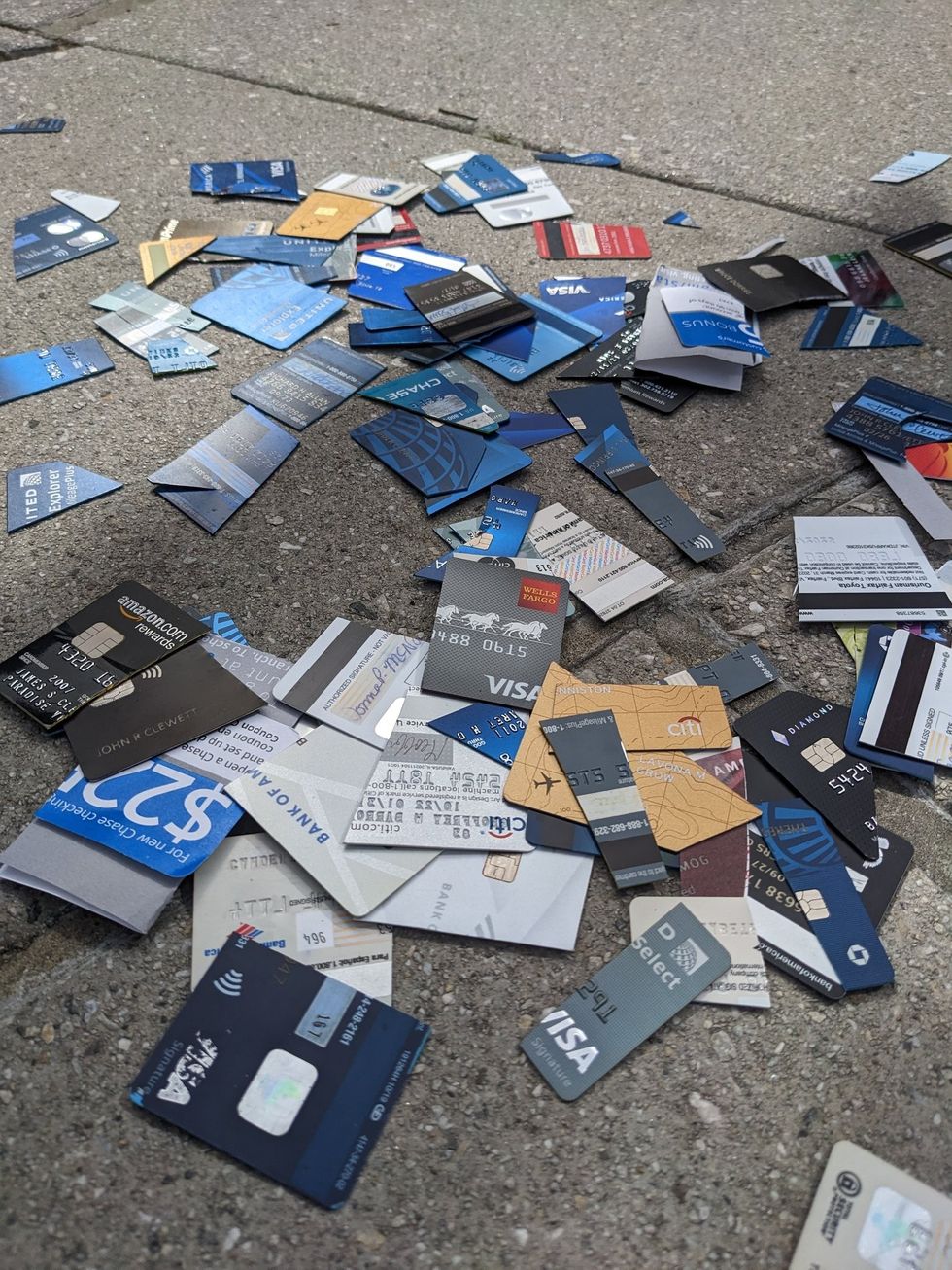 "This spring, we'll also be engaging with the banks' biggest shareholders in the lead-up to their annual meetings to support key climate votes," Cushing added. "It's a critical moment to push the banks to stop the flow of money to new fossil fuel expansion, to stop greenwashing their emissions targets, and to end the burden of dirty energy on frontline communities."
News
SUPPORT OUR WORK.
We are independent, non-profit, advertising-free and 100%
reader supported.