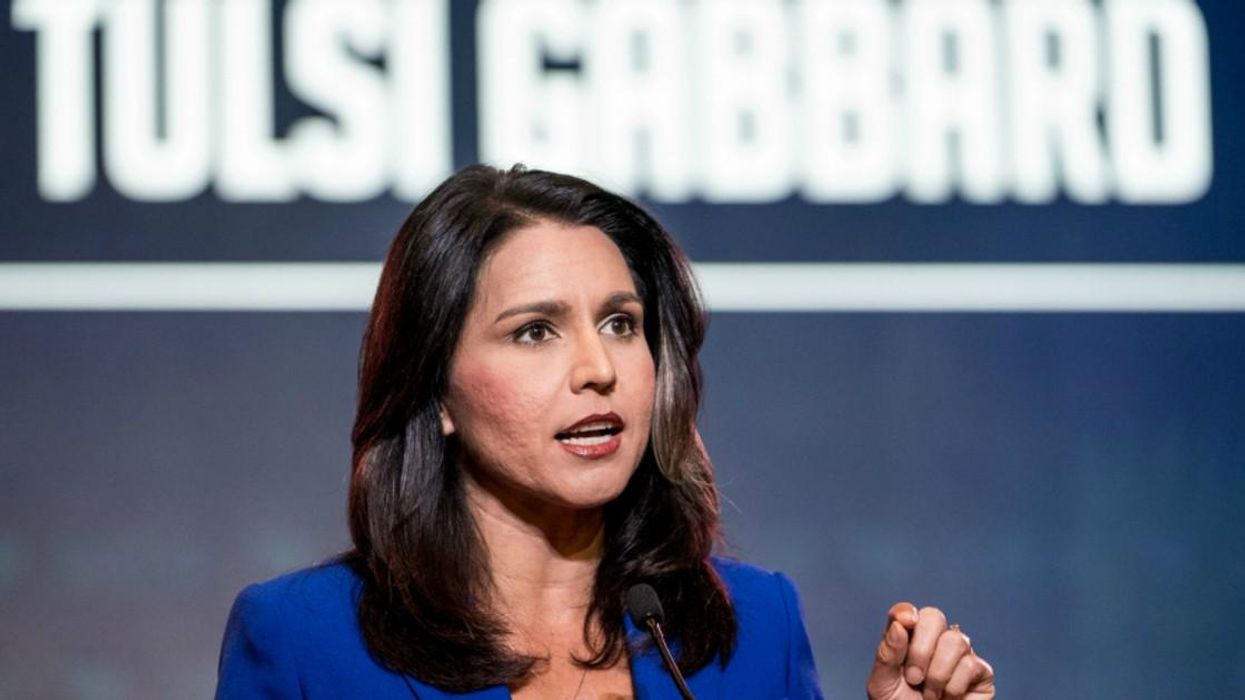 Given that Gabbard no longer has any position or particular role in the party to resign from, why is her change of party registration newsworthy at all?
The announcement by former Hawaii Rep. Tulsi Gabbard that she was leaving a Democratic Party driven by "cowardly wokeness," under the "control of an elitist cabal" which is stoking "anti-white racism," was met with mixed media enthusiasm. While the New York Times and Washington Post passed on the story, other major centrist media (NPR, 10/12/22; CNN, 10/11/22; USA Today, 10/11/22; Guardian, 10/11/22; LA Times, 10/11/22) thought it worth a headline.
"There is simply no evidence that Gabbard's exit moves the dial on the upcoming midterm elections in any significant way."
For right-wing media, Gabbard's leave-taking was a more significant story. Fox News, where Gabbard has appeared as pundit and occasional fill-in host (HuffPost, 8/13/22), celebrated her departure with coverage painting the Democratic Party as an out-of-touch social justice machine (10/11/22, 10/12/22, 10/13/22), while promising that Gabbard would actively support Republican election efforts (10/12/22) and attack the Biden administration (10/12/22).
Other conservative outlets likewise trumpeted her announcement (National Review, 10/14/22), even talking of (another) presidential run to challenge the Democrats from the right (New York Post, 10/14/22). An op-ed at The Hill (10/16/22) propped her up as a voice of reason against "socialism."
Because Gabbard had supported Vermont Sen. Bernie Sanders' bid for the presidency in 2016 (Washington Post, 2/28/16), and eventually endorsed Joe Biden in 2020 (NBC, 3/19/20), the right-wing press found in useful to present her as a disillusioned progressive who, as Ronald Reagan claimed, didn't leave the Democratic Party, but rather was ideologically left behind by an increasingly socially liberal party platform.
Echoing the right
But for many of her critics on the left, Gabbard's leaving the party, and the anti-"woke" rhetoric she used to announce it, was hardly a surprise. She has sponsored anti-trans legislation (Hill, 12/11/20), and said Florida's "Don't Say Gay" law didn't go far enough (Advocate, 4/5/22).
After she introduced anti-abortion legislation (Yahoo, 12/16/20), an op-ed in the Mormon Deseret News (12/20/20) said Gabbard could "build a bridge between the two major parties on abortion."
Lately she has tried to make friends in the Donald Trump camp, echoing right-wing talking points about the FBI raid on Mar-a-Lago (National Review, 8/13/22) and comparing Biden to Hitler (Daily Beast, 10/17/22). Previously, she voted "present," a kind of non-vote, in the first impeachment of Trump--the only Democrat to do so (Politico, 12/20/19).
The Nation (1/17/19) noted that her "hawkishness on Islamic terrorism has led in strange directions for someone perceived to be on the left," noting that "she has engaged with brutal authoritarians such as Syria's Bashar al-Assad and Egypt's Abdel Fattah el-Sisi in the name of countering 'terrorism.'"
FAIR (10/24/19) extensively covered this last point three years ago, showing how her political rhetoric has been influenced by the far-right Hindu nationalist movement that governs India today. The Intercept (1/5/19) wrote:
Dozens of Gabbard's donors have either expressed strong sympathy with or have ties to the Sangh Parivar--a network of religious, political, paramilitary and student groups that subscribe to the Hindu-supremacist, exclusionary ideology known as Hindutva, according to an Intercept analysis of Gabbard's financial disclosures from 2011 until October 2018....

According to our analysis, at least 105 current and former officers and members of US Sangh affiliates, and their families, have donated hundreds of thousands of dollars to Gabbard's campaigns since 2011. Gabbard's ties to Hindu nationalists in the United States run so deep that the progressive newspaper Telegraph India in 2015 christened her the Sangh's American mascot.
Boosting her brand
This isn't the first time Gabbard has used resignation to boost her image. In 2016, she resigned as vice chair of the Democratic National Committee in order to support the Sanders campaign (NPR, 2/28/16), but even her highly produced ad on the subject (YouTube, 3/24/16), featuring her surfing in gorgeous Pacific water and crying as she remembers her military experience, left questions of whether she was promoting Sanders or herself.
But given that Gabbard no longer has any position or particular role in the party to resign from, why is her change of party registration newsworthy at all? Her presidential run in 2020 was forgettable, winning two delegates and 0.8% of the popular vote (New York Times, 9/14/20). Her legislative accomplishments were thin; former Hawaii Gov. Neil Abercrombie called on Gabbard to resign her House seat because "her missed votes and absence from her district amid her bid for the presidency were unacceptable" (Honolulu Star-Advertiser, 12/23/19).
Having been out of office since January 2021, nearly two years ago, her departure doesn't signify a change in the overall political orientation of Hawaii, which is reliably Democratic.
Compared to other party defectors, her move doesn't matter in the grand scheme of things. Vermont Sen. Jim Jeffords' break from the Republican Party in 2001 was not just a symbolic blow to the administration of George W. Bush, but shifted the balance of power to Democrats in the Senate (Washington Post, 8/18/14). Then-Democratic Georgia Sen. Zell Miller's speech at the Republican National Convention in favor of Bush (CBS, 9/1/04) empowered Republicans in the short term at a critical election moment, and in the long run emboldened the position that Democrats had lost touch with the conservative South.
There is simply no evidence that Gabbard's exit moves the dial on the upcoming midterm elections in any significant way.
Gabbard is getting lots of attention at right-wing Fox News, for a fairly obvious reason. In addition to already being a contributor, as a military veteran she brings a patriotic veneer to a political rhetoric that shifts focus away from the Republicans' rapaciously cruel economic agenda and toward moral panic against the idea that children might be learning that LGBTQ people exist and have rights.
But as FAIR (11/17/21) has shown before, much of the mainstream media are drawn like moths to a flame to any rhetoric against "wokeness"--originally an African-American expression meaning socially aware. By pointing to "wokeness" as a catalyst for her exodus, Gabbard ensured that her stunt would attract attention.
Not only did centrist coverage forward the dubious idea that Democrats have gone overboard with anti-racism and LGBTQ advocacy, it also served to boost her brand as a right-wing talking head. As a pundit, she might have more influence, and will surely make more money, than she did as a politician.
Opinion