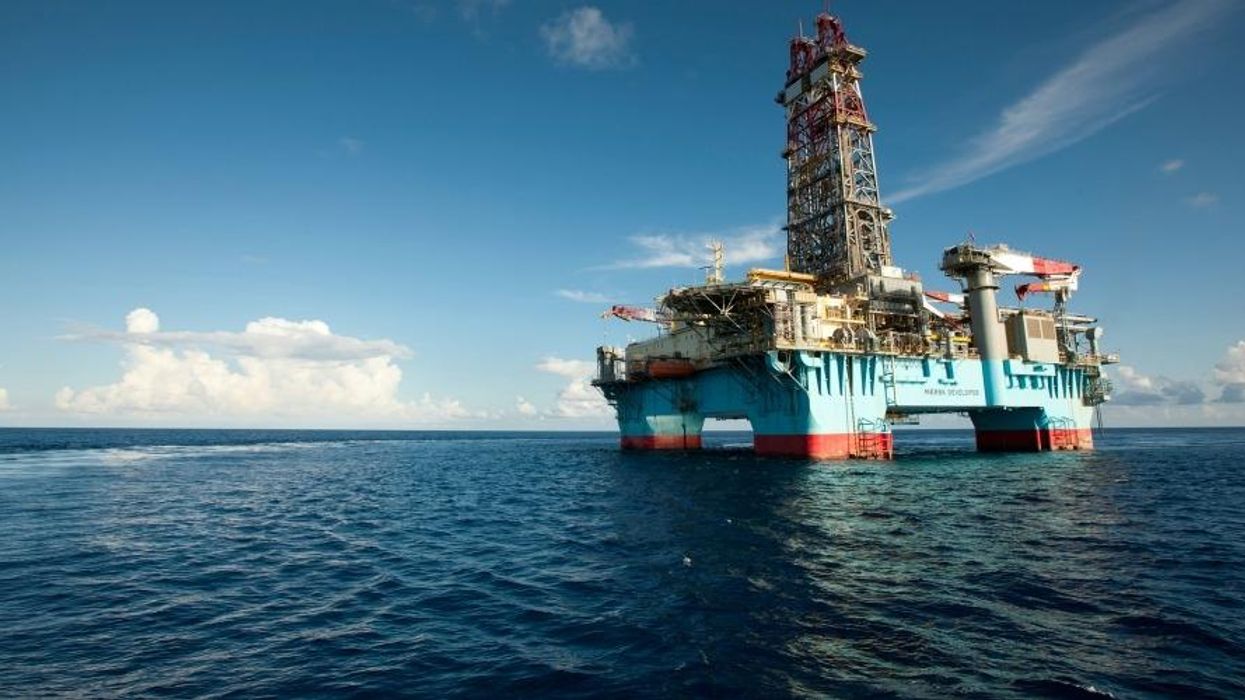 Even with oil spill prevention measures, said one advocate, "offshore drilling simply will never be safe."
Environmental advocates on Tuesday said the Biden administration's decision to reinstate offshore drilling safety rules would help undo damage caused by former Republican President Donald Trump's repeal of the regulations, but were clear that the rules would not change the fact that fossil fuel extraction is imperiling ecosystems and the planet.
U.S. Interior Secretary Deb Haaland announced that the rules have once again been finalized and will go into effect in October, governing the use of safety equipment on offshore oil rigs.
The rules were originally put in place by the Obama administration after BP's 2010 Deepwater Horizon disaster, which sent four million barrels of oil into the Gulf of Mexico and killed 11 people, an estimated one million seabirds, and up to five million fish.
The oil and gas industry strongly supported Trump's repeal of the rules, which Kristen Monsell, a senior attorney at the Center for Biological Diversity, said at the time would "make dirty offshore drilling even more dangerous" by making oil spills more likely.
But Jackie Savitz, chief policy officer for the ocean conservation group Oceana, said new safety regulations for drilling operations are no replacement for halting offshore drilling altogether.
"Offshore drilling simply will never be safe," she said. "When there is a spill like Deepwater Horizon, it's too late, our options are severely limited, so prevention is the only solution and this is a good step in that direction."

The reinstated rules are "a big step in getting us back on track" to ensuring there's no repeat of disasters like Deepwater Horizon, Savitz said, but "there is no way we can do enough to prevent an oil spill."
"It is an inherently risky business and it's not a matter of if, but when we will have another one," she added. "So a big part of prevention has to be to stop selling new leases."
The newly reinstated rules will require:
Real-time monitoring of drilling operations;
The third-party certification of emergency devices;
Increased strength requirements for blowout prevention devices, which stop the uncontrolled flow of oil or gas in the event of an accident;
The reporting of failure data on blowout preventers to the government; and
Investigations into failures that start within 90 days of an accident.
Ahead of the announcement, Zero Hour founder and executive director Zanagee Artis and Taproot Earth national policy director Kendall Dix wrote an op-ed in the Miami Herald, calling on U.S. President Joe Biden to "move the country off of its addiction to fossil fuels by barring new leasing on public lands and waters," as he promised to when he campaigned for the presidency in 2020.
With the Interior Department considering a five-year oil and gas leasing program that would allow the fossil fuel industry to conduct extraction operations in even more areas of the nation's oceans—a proposal expected to be finalized this fall as the revived safety regulations go into effect—"the risk of environmental disaster from offshore drilling is not a question of if disaster will strike, but when," wrote Artis and Dix.
They pointed out that in addition to the International Energy Agency's call for an immediate end to fossil fuel extraction in order to achieve net zero carbon emissions by 2050 and the United Nations' warning that oil and gas drilling are "incompatible with human survival," offshore operations are simply not necessary "to meet the nation's energy needs."
"An analysis by industry experts found that, even without a single new lease offering, oil production in the United States will remain steady into 2035, at which point the nation's transition to renewable energy will be approaching maturity," Artis and Dix wrote.
"We don't need to sell off more of our ocean to Big Oil," they added. "Every oil spill began with an offshore lease sale."
News