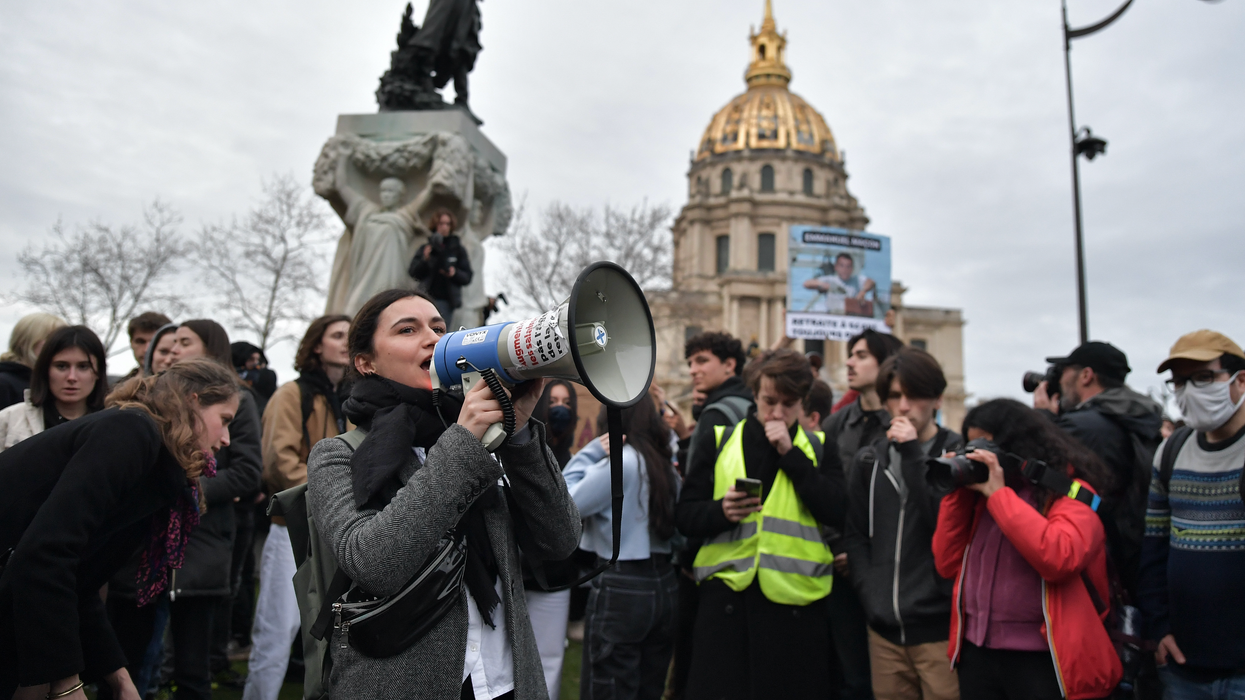 Protests—some of them violently repressed by police—broke out in Paris and cities across the nation after a parliamentary vote following the government's deeply unpopular move to raise the retirement age by two years.

Fresh protests erupted in Paris and other French cities on Monday after President Emmanuel Macron's government narrowly survived a pair of parliamentary no-confidence votes over bypassing the lower house of Parliament to raise the retirement age from 62 to 64.
The first parliamentary vote of no confidence, called by a small group of centrist lawmakers, fell nine votes short of the 278 needed to pass, Agence France-Presse reports. A second no-confidence vote, brought forward by the far-right National Rally, was also rejected.
The French Senate, which is dominated by right-wing parties, approved the higher retirement age last week. However, faced with the prospect of a vote shortfall in the National Assembly, Macron's government then invoked special constitutional powers to push through the retirement age hike.
The deeply unpopular policy has sparked widespread protests, some of which have drawn hundreds of thousands of people into the streets despite government bans on gatherings in locations including Place de la Concorde and the area of Avenue des Champs-Elysées in Paris.
Protests renewed following Monday's votes, with thousands of demonstrators marching in Paris alone. Videos posted on social media showed police charging protesters, spraying them with pepper spray, and beating them. One video showed officers brutalizing a person who appeared to be a photojournalist while an onlooker repeatedly shouted "it's the press!"

"We are not resigned," the Aubervilliers parliamentary group of the left-wing populist party La France Insoumise (LFI), or France Unbowed, tweeted Monday. "The fight against retirement reforms continues. All together in the street until the retirement of this unjust and illegitimate reform!"
LFI's parliamentary group in Haute-Garonne—which includes the southern city of Tolouse—tweeted that "Macron is more isolated than ever."
"The fight continues tonight," the party group said, previewing a Monday evening demonstration.
French unions are calling for a nationwide general strike on Thursday.
News