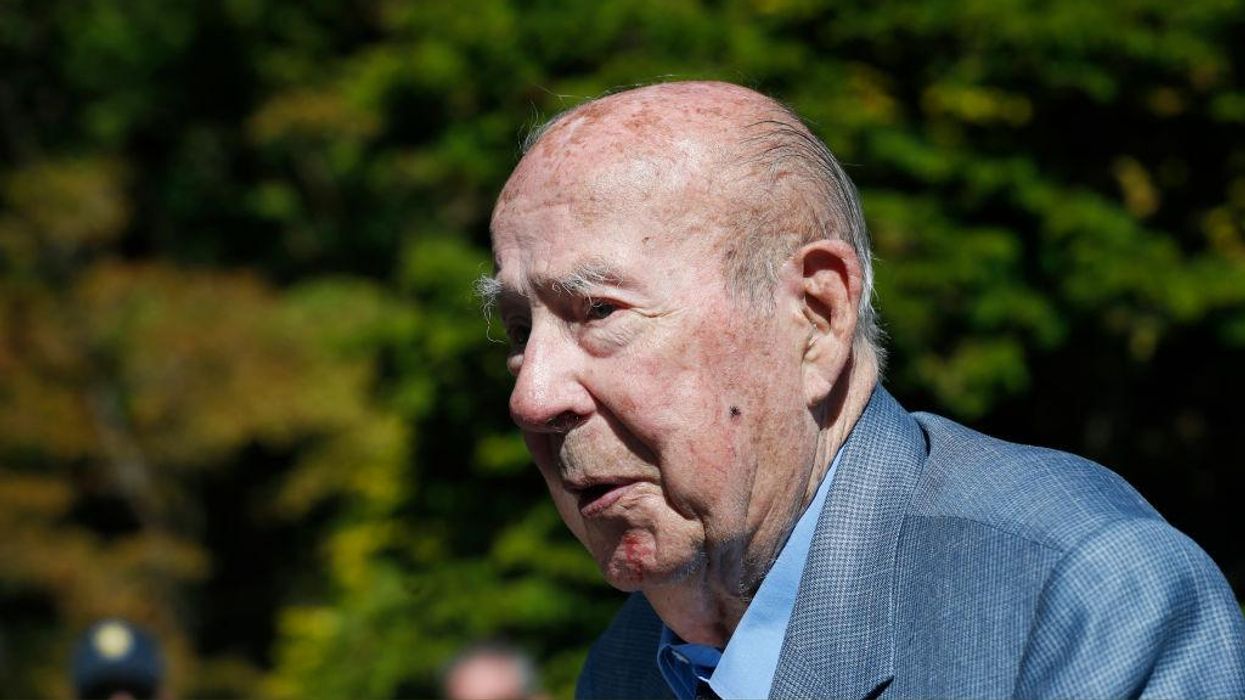 By exclusion or distortion, establishment obituaries rewrite history to make the official heroes fit for adoration.
George Shultz, a prominent cabinet member of both the Nixon and Reagan administrations, holding posts at State, Treasury, Labor and the Office of Management and Budget, died over the weekend at age 100. His death prompted no fewer than three fawning tributes in the Washington Post, in addition to the paper's official obituary.
Former George W. Bush Secretary of State Condoleezza Rice, who considered Shultz both a mentor and friend, was given column space at the Post (2/7/21) to wax poetic about how Shultz "never lost sight of the centrality of freedom to the human experience and to human dignity," and concluded that "we are all so much better for having been a part of the consequential life that he lived."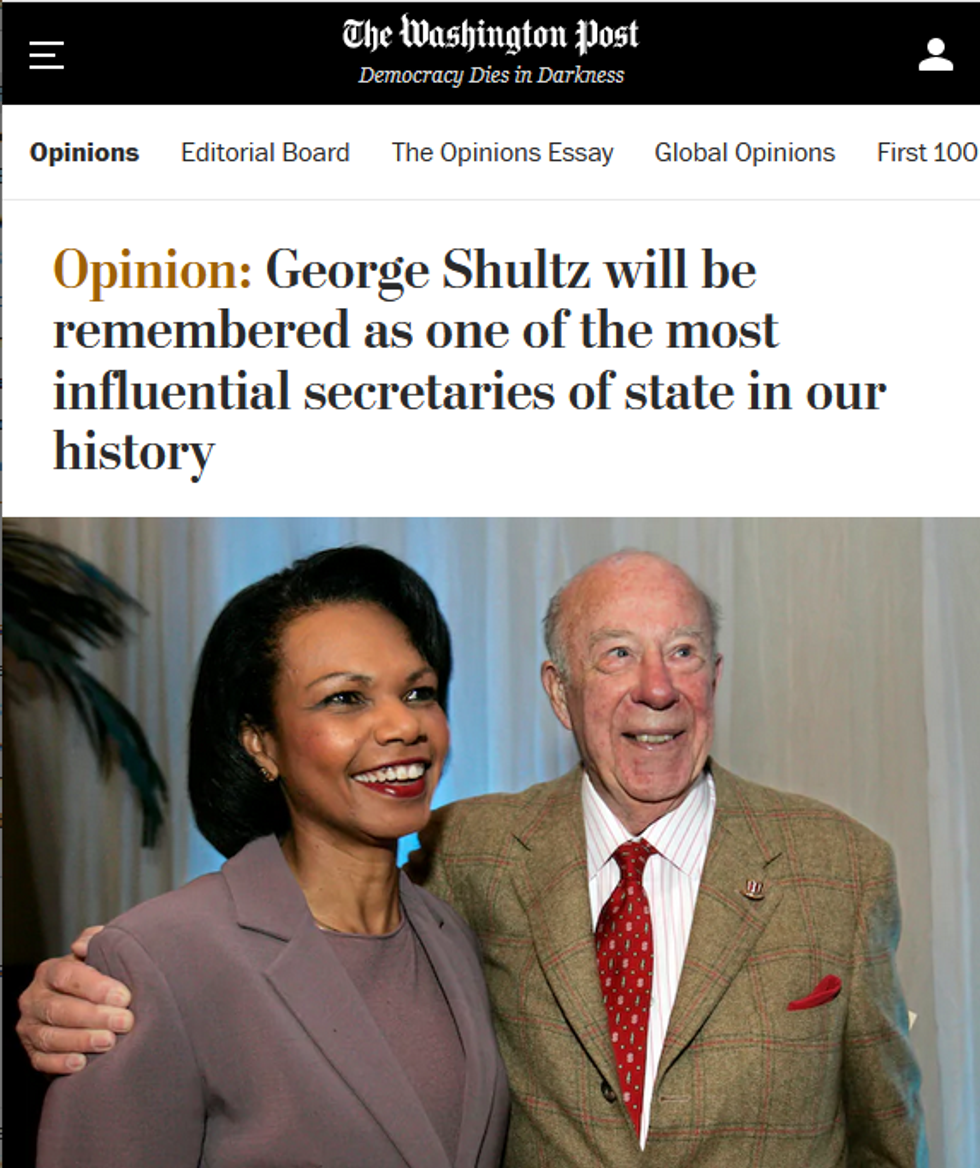 Minutes later, the Post published a tribute from the paper's former reporter Lou Cannon (2/7/21), who lauded a man who "spoke truth to power" and "lived his life in service to his nation and humanity."
The next day, Post columnist David Ignatius (2/8/21) offered yet a third hagiography. Ignatius gushed:
Watching him over so many years was an education in the fact that the good guys--the smart, decent people who take on the hard job of making the country work--do sometimes win in the end.
Ignatius noted that Shultz "was Post publisher Katharine Graham's favorite tennis partner," and the warm, fuzzy feelings clearly persist at the paper long after Graham's departure.
But assessments that judge Shultz to be one of "the good guys," with a commitment to things like freedom, human dignity and humanity, necessarily gloss over his role in both the Iraq War and the Iran/Contra scandal.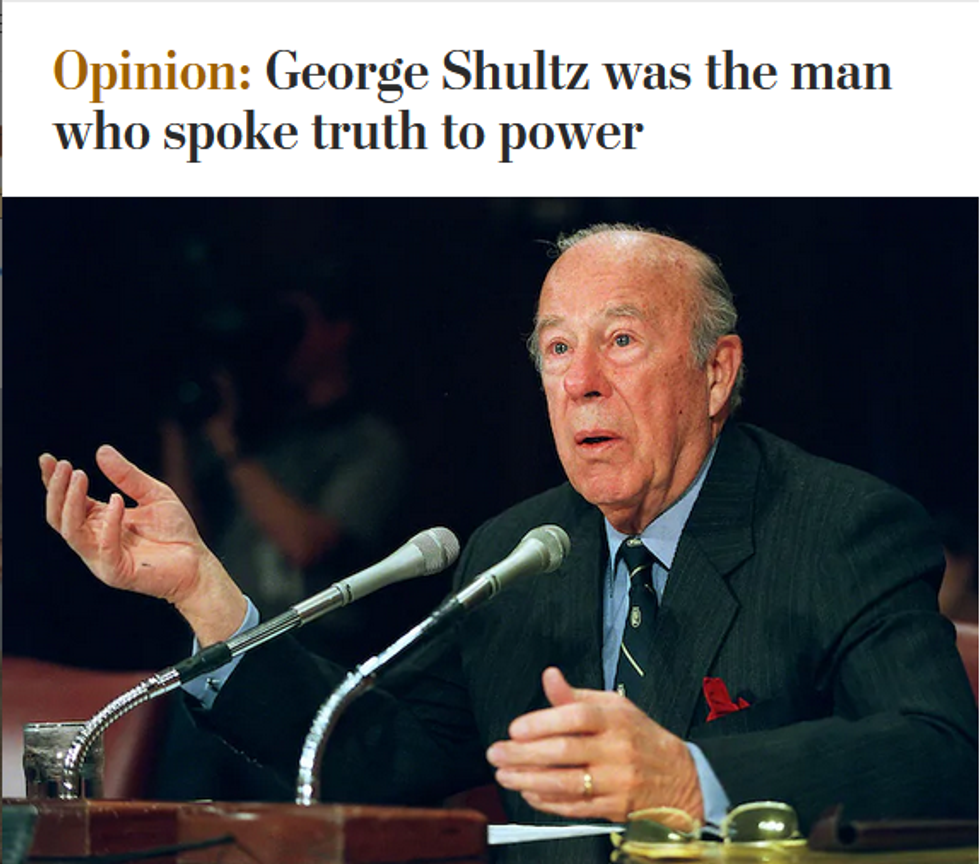 It was Shultz's influential assertion in the mid-'80s of a right to pre-emptively strike against "future attacks"--what was dubbed the "Shultz Doctrine"--that helped pave the way for the endless War on Terror, and led the Wall Street Journal (4/29/06) to call Shultz "the father of the Bush Doctrine" of unprovoked attacks on nations deemed threats. Shultz was a mentor to both George W. Bush and Dick Cheney, as well as Rice, and after 9/11 Shultz chaired the pro-invasion "Committee for the Liberation of Iraq." As FAIR (8/2/10) argued more than 10 years ago, when PBS aired a glowing documentary about Shultz that omitted his role in the Iraq War:
His advocacy for a new norm of international law that legitimizes "active prevention, pre-emption and retaliation" against terrorism is one of the most abiding, and controversial, legacies of Shultz's tenure at the State Department, providing the justification for two ongoing wars.
None of the three Post contributors mentioned Bush, Iraq or the War on Terror. Perhaps even more disturbingly, neither did the paper's nearly 3,000-word obituary for Shultz (2/7/21).
The Post also attempted to avoid or rewrite another key piece of Shultz's history--his role in the Iran/Contra scandal, in which the Reagan administration secretly sold arms to Iran in order to fund, against congressional prohibitions, the right-wing Contra terror squads working to overthrow the leftist Sandinista government in Nicaragua. As Iran/Contra prosecutor Lawrence Walsh concluded in his final report (Extra! Update, 4/94):
The evidence establishes that the central National Security Council operatives kept their superiors--including Reagan, [Vice President George] Bush, Shultz, [Defense Secretary Caspar] Weinberger and other high officials--informed of their efforts generally, if not in detail, and their superiors either condoned or turned a blind eye to them.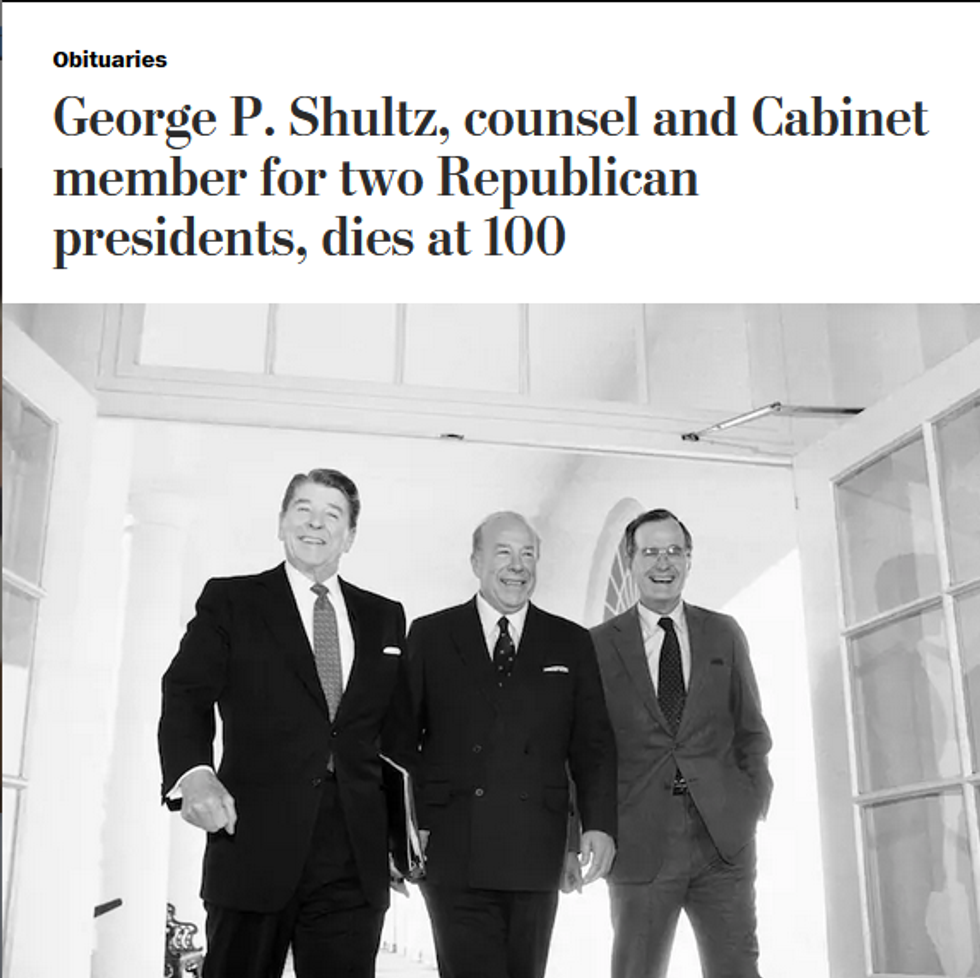 The Post obituary, written by Michael Abramowitz and David E. Hoffman, tried to spin this, relying on the account of the Reagan administration's hand-picked investigative board:
By Mr. Shultz's account, he argued vigorously in private against the arms sales to Tehran, which were designed to gain Iran's help in freeing US hostages in Lebanon. But he was criticized afterward for not taking on the matter more directly.

"Secretary Shultz and Secretary Weinberger in particular distanced themselves from the march of events," concluded the board chaired by former Sen. John Tower (R.-Texas) that reviewed the Reagan administration's handling of the matter. "Secretary Shultz specifically requested to be informed only as necessary to perform his job."
As if worried that even this apologetic assessment might still put the deceased in an unfavorable light, the paper quickly softened the blow:
Once the matter became public, however, Mr. Shultz, reflecting the lessons of what he had seen during Watergate, urged others in the administration to come clean. Historian Malcolm Byrne, in his book Iran/Contra, wrote that "Shultz alone proposed to engage the US public rather than keep a tight hold on information."
And the Post didn't even mention Shultz's position on the Contra half of the scandal--perhaps because he actively participated in discussions regarding how to get around the congressional prohibitions, and almost made a solicitation himself to the Sultan of Brunei (FAIR.org, 8/2/10).
In Ignatius's telling, Iran/Contra was an illustration of Shultz's "good judgment":
He could detect bad ideas taking shape in the bureaucracy almost as if by smell. And he tried to stop them, even when that meant challenging Defense Secretary Caspar Weinberger, whose policy ideas he mistrusted, or President Ronald Reagan, whose National Security Council staff concocted a bizarre plot--to fund the contras in Nicaragua by selling arms to Iran--that Shultz abhorred.
Rice and Cannon simply omitted Iran/Contra in their columns. Either way, by exclusion or distortion, establishment obituaries rewrite history to make the official heroes fit for adoration (FAIR.org, 6/9/04, 7/9/09, 8/29/18, 12/7/18).
Opinion