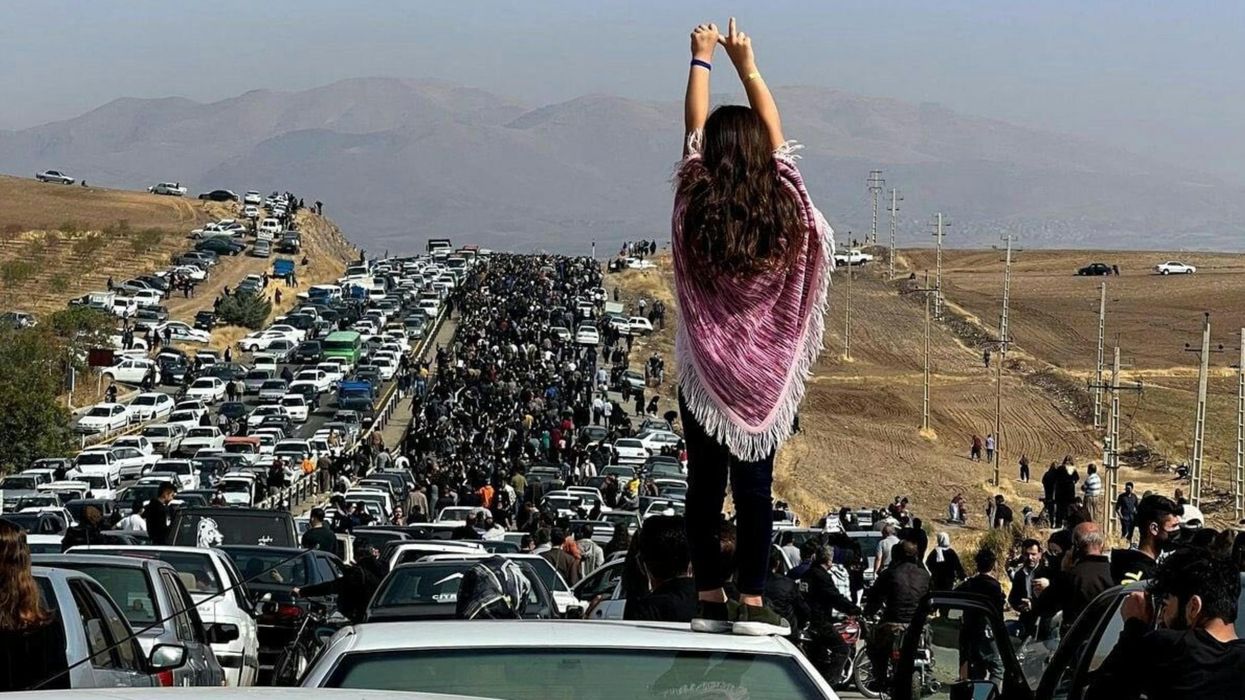 Meanwhile, Iranian state media said a gunman killed at least a dozen people at a Shi'a shrine in Shiraz, an attack for which the Sunni militant group Islamic State has claimed responsibility.
Iranian security forces on Wednesday attacked demonstrators marking 40 days of mourning for a young woman whose death in police custody sparked protests across the Middle Eastern country and around the world, while separately, Islamic State claimed responsibility for an attack on a popular Shi'a shrine in the southern city of Shiraz that reportedly killed more than a dozen people.
Wednesday's demonstrations, which reportedly took place in around 30 Iranian cities, were a continuation of nationwide and international protests sparked by the September 16 death of Mahsa Amini, a 22-year-old Kurdish-Iranian woman arrested by so-called morality police three days earlier and reportedly beaten for violating the fundamentalist theocracy's strict Islamic dress code.
An estimated 10,000 people gathered in Amini's hometown of Saqqez in Kurdistan province, where the first of the weekslong protests--many of them led by women and girls--erupted after the aspiring lawyer's death. News reports and videos posted on social media showed a large crowd of people marching and driving toward the cemetery where Amini is interred.
Al Jazeerareports the crowd chanted slogans including "woman, life, freedom," which became the rallying cry for one of the largest people's uprisings against Iran's dictatorship, which has ruled the country since shortly after the overthrow of its repressive, U.S.-backed monarchy in 1979.
\u201cVideo footage online shows hundreds of men and women gathering near the grave of Mahsa Amini, 40 days after the 22-year-old\u2019s death in police custody \u2935\ufe0f\u201d

— Al Jazeera English (@Al Jazeera English) 1666796908
The New York Timesreports that by evening, protests had spread to cities and university campuses across Iran. In the capital Tehran, demonstrators chanted anti-regime slogans in addition to the ubiquitous "woman, life, freedom" refrain.
Women burned their hijabs, the headscarves that are mandatory under the law which Amini was arrested for allegedly violating. Protesters chanted slogans calling for the ouster and death of Iranian Supreme Leader Ayatollah Ali Khamenei.
According to the Times:
Security forces attacked protesters with tear gas, beat them with batons and in some places, like Tehran, Shiraz, Qazvin, and Saghez, opened fire on them, with pellets, paint, and live bullets, videos showed. Some crowds in the capital fought back, chasing security forces and setting fire to their motorcycles.
Human rights groups say that at least 216 people have been killed during the course of the protests--including 32 children--with thousands more people wounded or arrested.
\u201cIt\u2019s been 40 days since the killing of Jina Mahsa Amini at the hands of Iran\u2019s so-called morality police, sparking continued protests across the country against the Islamic Republic.\n\nHere, protestors chant a simple but central demand: \u201cFreedom, freedom, freedom!\u201d\u201d

— Assal Rad (@Assal Rad) 1666800521
Meanwhile, the Sunni militant group Islamic State said it was responsible for an attack on the Shah Cheragh shrine and mosque in Shiraz, where a gunman killed at least a dozen religious pilgrims shortly before evening prayers, according to Iranian state media.
"This crime will definitely not go unanswered," Iranian President Ebrahim Raisi said in response to the massacre, "and the security and law enforcement forces will teach a lesson to those who designed and carried out the attack."
News