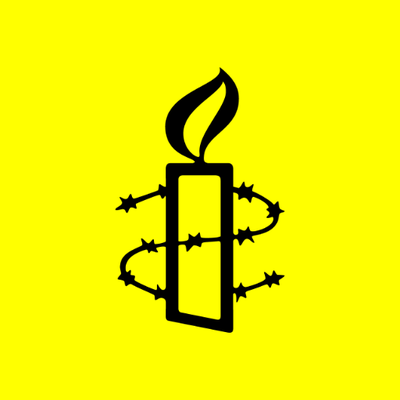 Majority of U.S. Adults Support Government Action to Require COVID-19 Vaccine Manufacturers Share Formulas, Forego Patents to Hasten Deployment of Vaccines Globally
Large share of respondents see COVID-19's spread globally as a threat to themselves personally and the U.S. economy.
WASHINGTON
Almost seven in ten U.S. adults (69%) think governments should ensure vaccine science and know-how is shared with qualified manufacturers, alongside adequately compensating the vaccine developers, rather than remaining the exclusive property of a handful of pharmaceutical giants.
The YouGov poll for the People's Vaccine Alliance, a global coalition of organizations including Amnesty International, Oxfam and Public Citizen, shows that a majority of respondents support the removal of patents for COVID-19 vaccines and other intellectual property barriers, which would allow for mass production of treatments against the disease. 70% of U.S. adults also felt that the continued spread of COVID-19 elsewhere in the world poses a substantial risk to the national economy, while nearly half (47%) felt it was a large or significant threat to them personally.
These poll numbers come as the World Trade Organization (WTO) prepares this week to discuss a proposal which would override the monopolies held by pharmaceutical companies and allow an urgently needed scale up in the production of safe and effective COVID-19 vaccines to ensure everyone in the world who needs a vaccine, regardless of how much money they have, can get one. The vast majority of low and middle income countries are supporting this proposal, but the U.S. is amongst richer countries opposing it.
The U.S. government has already ordered more than 20 percent of the world's supplies of vaccines currently in phase 3 clinical trials, enough to immunize the entire U.S. population four times over.
"We cannot bring this pandemic to an end unless pharmaceutical companies share the knowledge, technology and intellectual property to do so. This survey shows that the American public recognizes that COVID-19 will continue to threaten the lives and livelihoods of billions of people across the world, including in the U.S., until action is taken to drastically scale up global vaccine supply," said Joanne Lin, National Director for Advocacy and Government Affairs at Amnesty International USA.
"No one should be blocked from getting life-saving vaccines because of the country they live in or the amount of money in their pocket. Only by working with others to share resources and technology to scale up supply can we bring an end to the COVID-19 pandemic."
"In the battle against COVID-19, we must always remember that COVID anywhere is COVID everywhere. We can't end the pandemic or rebuild the economy without a vaccine that is free, fair, and available to all. Americans recognize this. In order to win against COVID, companies must share vaccine knowledge, technology, intellectual property, data and know-how to boost supply, reduce price and enhance equity," said Niko Lusiani, Senior Advisor with Oxfam America.
"The sharing of information and knowledge is what allowed the U.S. government and vaccine manufacturers to develop COVID-19 vaccines in record time. The legal barriers to sharing medical technology so more manufacturers can help ramp up vaccine production can easily be overcome. All that is needed is political will and cooperation," said Peter Maybarduk, Director of Access to Medicines with Public Citizen.
The People's Vaccine Alliance has previously warned that many poor countries will only be able to vaccinate one in ten people against COVID-19 this year unless urgent action is taken by governments and the pharmaceutical industry to make sure enough doses are produced.
Amnesty International is a global movement of millions of people demanding human rights for all people - no matter who they are or where they are. We are the world's largest grassroots human rights organization.
(212) 807-8400
LATEST NEWS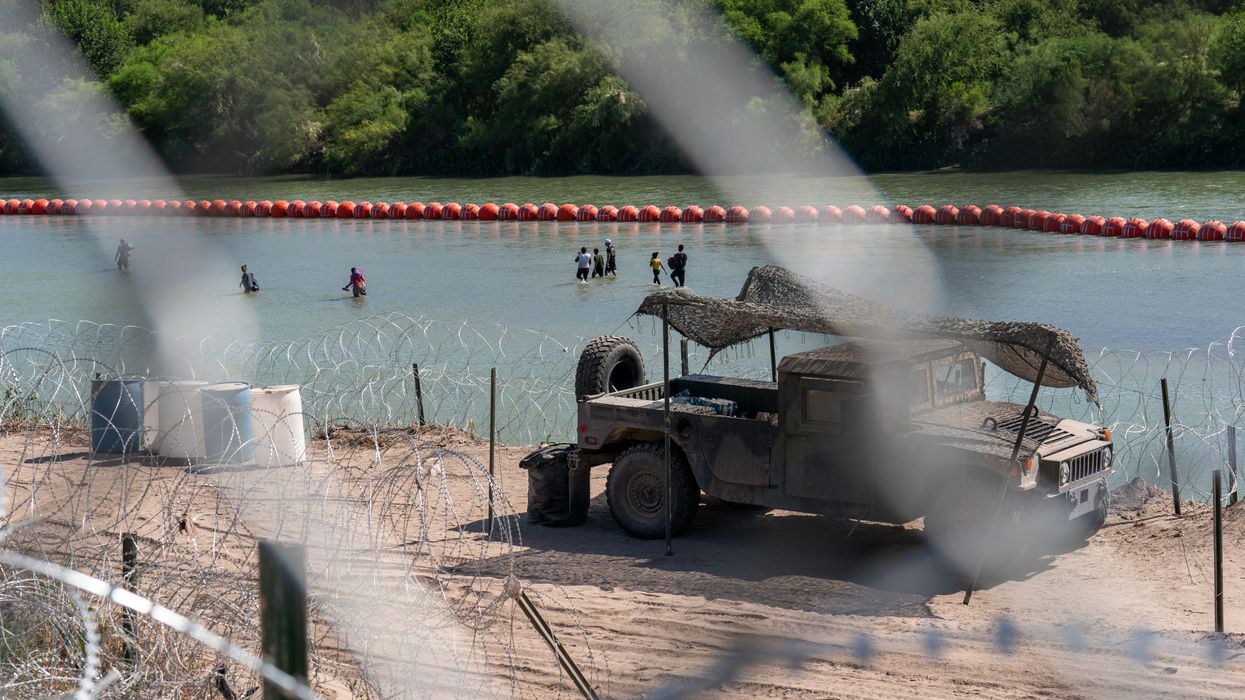 "Despite this small victory, the razor buoys are only a fraction of Gov. Abbott's racist and murderous Operation Lone Star," one group noted.
A federal appellate court panel on Friday delivered a blow to Republican Texas Gov. Greg Abbott's anti-migrant regime, ruling 2-1 that the state must remove from the Rio Grande a buoy barrier intended to block people from crossing the U.S.-Mexico border.
The U.S. Department of Justice (DOJ) sued Texas and Abbott over the buoys, which are part of the governor's Operation Lone Star, in July. U.S. Judge David A. Ezra of the Western District of Texas, an appointee of former President Ronald Reagan, ordered the state to remove the barrier and prohibited new or additional blockades in September.
The U.S. Court of Appeals for the 5th Circuit initially blocked Ezra's ruling while it considered the case, but Judges Dana Douglas and Carolyn Dineen King—respectively appointed by President Joe Biden and former President Jimmy Carter—affirmed his decision that the buoys violate federal law on Friday. Judge Don Willett, an appointee of ex-President Donald Trump, dissented.
"I've seen Gov. Abbott's border buoys for myself. They're illegal and dangerous."
The lower court "considered the threat to navigation and federal government operations on the Rio Grande, as well as the potential threat to human life the floating barrier created," Douglas wrote for the majority. "All of the district court's findings of fact were well supported by the record, and its conclusion... was not an abuse of discretion."
American Immigration Council policy director Aaron Reichlin-Melnick suggested on social media that the case turned out the way it did, even though the 5th Circuit is the most conservative U.S. appeals court, "in part because the panel draw was a very good one for the DOJ."

Abbott said Friday that the decision "is clearly wrong," that he and GOP state Attorney General Ken Paxton "will seek an immediate rehearing by the entire court," and that they will seek intervention from the right-wing U.S. Supreme Court "if needed."'
Despite the governor's determination to continue the legal battle, opponents of 4-foot-wide orange spherical buoys—which span 1,000 feet of the river near Eagle Pass—celebrated the appeals court decision.
"I've seen Gov. Abbott's border buoys for myself. They're illegal and dangerous," said U.S. Rep. Joaquin Castro (D-Texas), who led a congressional trip to the barrier and a letter urging the Biden administration to act. "I applaud the Justice Department for today's hard-fought victory in the conservative 5th Circuit and look forward to seeing these death traps removed from the Rio Grande."
The immigrant youth-led group United We Dream also welcomed the "small victory" but stressed that "the razor buoys are only a fraction of Gov. Abbott's racist and murderous Operation Lone Star," pointing to a new Human Rights Watch (HRW) report.
HRW revealed earlier this week that "dangerous chases of vehicles thought to contain migrants under the Texas government's Operation Lone Star program led to crashes that killed at least 74 people and injured at least another 189 in a 29-month period."
Alison Parker, HRW's deputy U.S. director, declared that the state operation "is maximizing chaos, fear, and human rights abuses against Texans and migrants, which might be a cynical way to win political points but is not a responsible way to run a government."
The report and ruling on Texas' operation come as congressional Republicans attempt to force through what migrant rights advocates are calling "unconscionable" changes to asylum policy in exchange for funding for Ukraine, Israel, and Taiwan.

News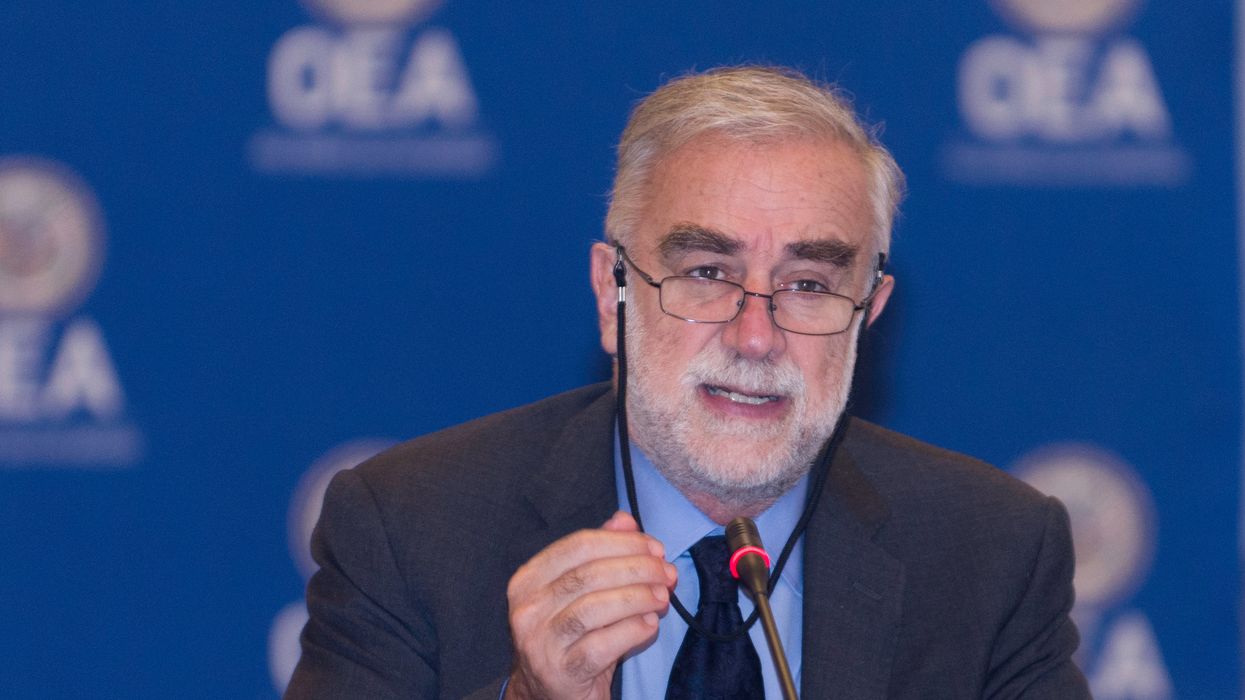 "Each bombing, each of the killings, should be properly investigated," said Luis Moreno Ocampo, "but... the siege itself is already genocide."
Luis Moreno Ocampo, the International Criminal Court's first chief prosecutor, said Friday that both Hamas and Israel perpetrated genocide—the Palestinian resistance group by murdering around 1,200 Israelis on October 7, and the Israeli government by besieging Gaza.
Appearing on Al Jazeera's "UpFront," Moreno Ocampo said that "you have Hamas committing war crimes... crimes against humanity, the crime committed in Israel on October 7... and probably genocide, because Hamas has [the] intention to destroy Israelis as a group."
"Then, Israel's reaction also includes many crimes," he continued. "It's complicated to define the war crimes, because each bombing has to be evaluated. But there is something very clear: The siege of Gaza itself... is a form of genocide."
"Article 2C of the Genocide Convention defines that you don't need to kill people to commit genocide," the Argentinian jurist added. "The rules say inflicting conditions to destroy the group, that itself is a genocide. So creating the siege itself is a genocide, and that is very clear."
"Many officers of the Israeli government are also expressing genocidal intentions," Moreno Ocampo noted. "That's why it's easy to say and there's reasonable basis to believe Israel is committing a genocide in Gaza, just the siege. Each bombing, each of the killings, should be properly investigated but... the siege itself is already genocide."

Under Article 2 of the Convention on the Prevention and Punishment of the Crime of Genocide—the first human rights treaty unanimously adopted by the United Nations General Assembly—genocide is defined as "any of the following acts committed with intent to destroy, in whole or in part, a national, ethnical, racial or religious group":
Killing members of the group;
Causing serious bodily or mental harm to members of the group;
Deliberately inflicting on the group conditions of life calculated to bring about its physical destruction in whole or in part;
Imposing measures intended to prevent births within the group; and
Forcibly transferring children of the group to another group.
Raz Segal, a leading Israeli Holocaust scholar,
argues
that his country is perpetrating "a textbook case of genocide" in Gaza.
More than 800 international lawyers, jurists, and genocide scholars in October published an open letter stating that "we are compelled to sound the alarm about the possibility of the crime of genocide being perpetrated by Israeli forces against Palestinians in the Gaza Strip."
The letter notes that "preexisting conditions in the Gaza Strip had already prompted discussions of genocide prior to the current escalation," notably by the National Lawyers Guild, the Russell Tribunal on Palestine, and the Center for Constitutional Rights (CCR).
CCR attorneys warned U.S. President Joe Biden in October that his "unwavering" support for Israel, including pushing for an additional $14.3 billion in American military aid for the country atop the nearly $4 billion it already gets each year—could make him complicit in genocide.

As for the problem of prosecuting Israeli genocide perpetrators when the country is not signatory to the Rome Statute that established the ICC, Moreno Ocampo noted during the interview that "the International Criminal Court has jurisdiction in Gaza, the West Bank, and East Jerusalem."
"Any crime committed in those places, by any person, could be mitigated by the International Criminal Court," he added.
News
"These actions undermine the integrity of the COP presidency and the process as a whole," former Marshallese President Hilda Heine wrote in her resignation letter to COP28 chief Sultan Ahmed Al Jaber.
United Nations Climate Change Conference advisory board member Hilda Heine resigned on Friday, citing reports that the Emirati oil executive presiding over COP28 has been busy pushing for fossil fuel deals in the run-up to the event.
Earlier this week, the Center for Climate Reporting and the BBCreported that Sultan Ahmed Al Jaber—who is simultaneously serving as COP28 president and CEO of the Abu Dhabi National Oil Company (ADNOC)—"has held scores of meetings with senior government officials, royalty, and business leaders from around the world in recent months" as the "COP28 team has quietly planned to use this access as an opportunity to increase exports of ADNOC's oil and gas."
"These actions undermine the integrity of the COP presidency and the process as a whole."
In her resignation letter, which was seen and first reported by Reuters, Heine—who is a former president of the low-lying Marshall Islands, one of the world's most climate-imperiled nations—called the United Arab Emirates' plan to make oil and gas deals at COP28 "deeply disappointing."
"These actions undermine the integrity of the COP presidency and the process as a whole," she asserted, adding that the only way Al Jaber can restore confidence is to "deliver an outcome that demonstrates that you are committed to phasing out fossil fuels."
Al Jaber has denied that he's using COP28 for fossil fuel deal-making.
"These allegations are false, not true, incorrect, and not accurate," he said Wednesday at a Dubai press conference. "And it's an attempt to undermine the work of the COP28 presidency."
A spokesperson for COP28's presidency said they are "extremely disappointed by Dr. Heine's resignation."
"We appreciated her advice throughout the year and that we only wish she would have been with us here in the UAE celebrating the adoption of a fund that will support vulnerable island states and those most affected by climate impacts," the spokesperson said, referring to the global "loss and damage" fund that one critic slammed as "a drop in the ocean compared to the scale of the need they are to address."

The UAE isn't the only major oil producer pushing fossil fuels while participating in COP28. Saudi Arabia—whose Crown Prince Mohammed bin Salman on Thursday was among the world leaders kicking off talks at the conference—"is overseeing a sweeping global investment program" intended to "ensure that emerging economies across Africa and Asia become vastly more dependent on oil," the Center for Climate Reporting and Channel 4 Newsrevealed this week.
News