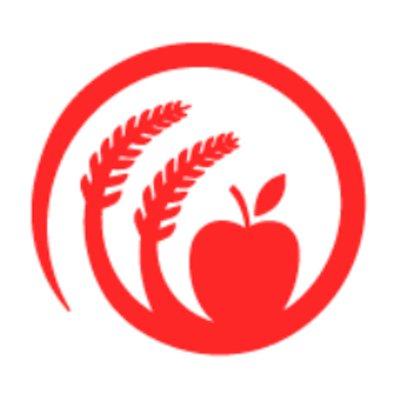 For Immediate Release
January, 29 2018, 11:15am EDT
Court Rejects Trump Administration Secrecy in Genetically Engineered Salmon Case
Federal Appeals Court Orders Government to Produce Documents on Approval of First GE Fish.
WASHINGTON
Late last week, the Ninth Circuit Court of Appeals denied the Food and Drug Administration's (FDA) attempt to hide thousands of pages of key government documents revealing how the agency arrived at its controversial approval of the first-ever genetically engineered (GE) animal for human consumption, a GE salmon. The court order rejected the Trump Administration's position that it can unilaterally decide which documents to provide and which to withhold from public and court review.
"Dictatorial secrecy is antithetical to democracy. This is a safeguarding win for government transparency, accountability, and meaningful judicial review of government decisions," said George Kimbrell, of Center for Food Safety and counsel in the case. "We look forward to the next stages of this case."
A broad coalition of commercial and recreational fisheries interests, environmentalists, and tribes challenged the GE salmon approval in 2016. Although FDA considered the application for the GE salmon for nearly two decades, the agency's record for court review was paltry, including mostly documents already publicly available on their website and only four agency emails. FDA refused to provide thousands of critical documents about how and why it approved the GE salmon.
The plaintiffs demanded that FDA provide all of the documents the agency considered in its decision and last January, the lower court agreed. Several months later, FDA sought to overturn that decision by seeking a writ of mandamus from the appeals court, an extraordinary mechanism that is hardly ever used for routine document disputes. In its mandamus petition, the Trump Administration raised a dangerous argument, with severe ramifications for effective court review of government actions--that defendant agencies can determine unilaterally what information to give to courts reviewing their decisions, and do not have to disclose any internal materials, even if the agency considered those materials in its decision. If adopted, this view would have far-reaching consequences for public review of agency decisions that have major impacts on everyday life.
"Our courts provide a level playing field where not even the federal government is above the law," said Steve Mashuda, Managing Attorney for Oceans at Earthjustice and counsel in the case. "Federal agencies cannot avoid accountability by omitting inconvenient facts and presenting a fictional account of their decisions."
Last summer, the plaintiffs opposed FDA's appeal, as did two dozen law professors who are experts on administrative and environmental law. On Friday, the Ninth Circuit agreed, issuing a short order denying the appeal. FDA will now have to produce the rest of the GE salmon documents.
The case is Institute for Fisheries Resources v. Burwell, Case No. 3:16-cv-01574-VC. CFS and Earthjustice are co-counseling the case on behalf of the following organizations: Institute for Fisheries Resources, Pacific Coast Federation of Fishermen's Associations, Golden Gate Salmon Association, Kennebec Reborn, Friends of Merrymeeting Bay, Cascadia Wildlands, Ecology Action Center, Friends of the Earth, Center for Biological Diversity, Food and Water Watch, the Quinault Indian Nation, and the Center for Food Safety.
Center for Food Safety's mission is to empower people, support farmers, and protect the earth from the harmful impacts of industrial agriculture. Through groundbreaking legal, scientific, and grassroots action, we protect and promote your right to safe food and the environment. CFS's successful legal cases collectively represent a landmark body of case law on food and agricultural issues.
(202) 547-9359
LATEST NEWS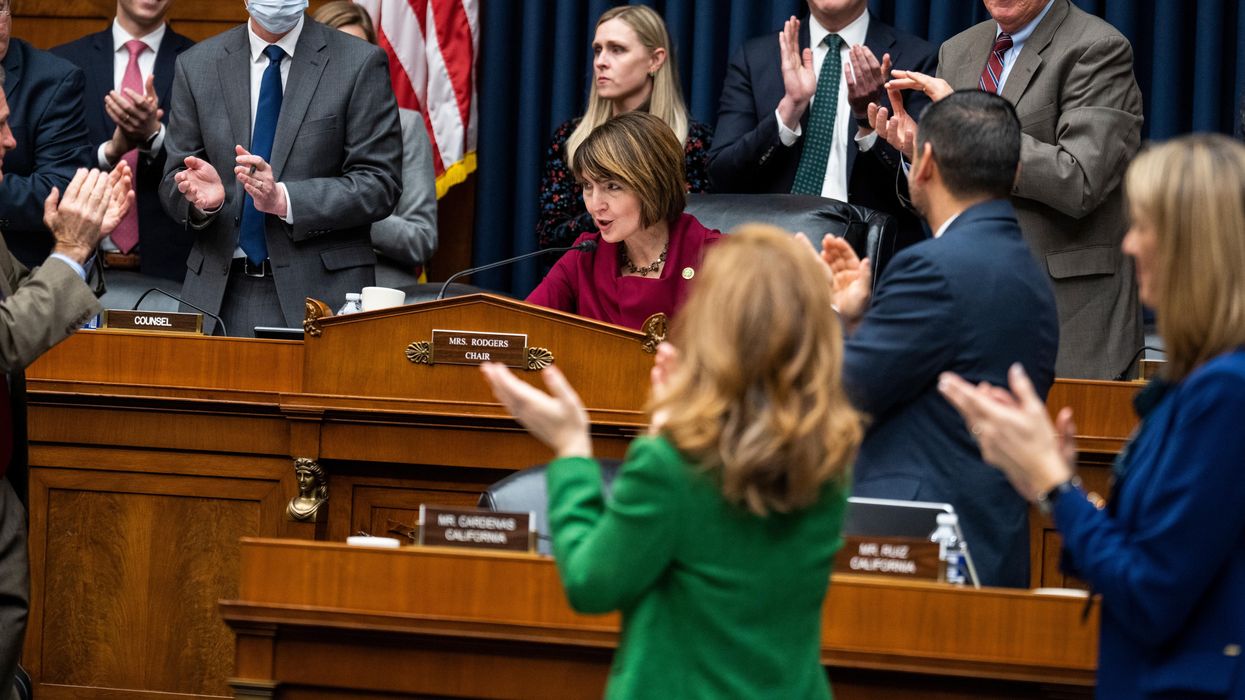 "If today was a sign of what's to come, future House Energy and Commerce Committee hearings will be reduced to GOP members regurgitating Big Oil's false talking points."
On the same day that the largest oil company in the United States reported record profits for 2022, Republicans used the first House Energy and Commerce Committee hearing of the new year to promote the further expansion of climate-wrecking fossil fuel production and attack efforts to build out renewable energy infrastructure.
The energy panel is chaired by Rep. Cathy McMorris Rodgers (R-Wash.), the top recipient of oil and gas PAC money in the last election cycle and a longtime advocate of opening U.S. public lands and waters to fossil fuel drilling.
In keeping with her record, Rodgers kicked off Tuesday's hearing by touting the House's passage of legislation that would require the federal government to lease a certain percentage of public lands and waters for fossil fuel extraction for every non-emergency drawdown of the U.S. Strategic Petroleum Reserve.
Rodgers touted last week's vote as "bipartisan," but just one House Democrat—Rep. Jared Golden of Maine—joined Republicans in passing the bill, which is unlikely to become law. Climate advocates have warned that, if enacted, the measure "could lock in at least a century of oil drilling."
"We need to be doing more to secure and unleash American energy," Rodgers said Tuesday, attacking so-called "rush-to-green" policies and falsely blaming Europe's energy crisis on renewables.

Rep. Jeff Duncan (R-S.C.), chair of the panel's subcommittee on energy, climate, and grid security, toed a similar line during his opening remarks at Tuesday's hearing, decrying "the Democrats' 'rush-to-green policies'" and condemning science-backed calls to phase out fossil fuels.
Duncan also praised surging oil exports, which experts say have driven up costs for U.S. consumers while padding the profits of fossil fuel giants and contributing to the rise of global carbon emissions.
Jordan Schreiber, the director of energy and environment with the progressive watchdog group Accountable.US, said in a statement Tuesday that "if today was a sign of what's to come, future House Energy and Commerce Committee hearings will be reduced to GOP members regurgitating Big Oil's false talking points while openly advocating for energy policies that favor wealthy executives and shareholders over their own constituents."
The hearing began hours after ExxonMobil reported a record-shattering $56 billion in profits for the full year of 2022.
The corporation, whose scientists accurately predicted global warming decades ago as the company publicly lied about climate change, said it distributed nearly $30 billion to shareholders last year as U.S. households struggled to pay their energy bills.
Days before Exxon's earnings release, Chevron—the second-largest oil company in the U.S. by market cap—reported $35.5 billion in 2022 profits, an all-time high for the company.
"Even on a day when three of the country's largest oil companies posted a whopping $82.5 billion in profits for 2022, thanks to the unrelenting price gouging of American consumers, the MAGA majority can not stop themselves from doing the industry's bidding," said Schreiber, referring to the combined profits of Exxon, Marathon Petroleum, and Phillips 66.
During Tuesday's hearing, Democrats on the House Energy and Commerce Committee slammed their Republican colleagues for prioritizing the interests of the ultra-profitable fossil fuel industry over U.S. consumers and the environment.
"We've all heard the slogans: 'Drill baby, drill,' 'energy dominance,' and now 'energy expansion,'" said Rep. Diana DeGette (D-Colo.). "But don't be fooled. These policies will not expand our potential for new renewable energy sources such as wind and solar, and will only increase our dependence on oil and gas."
"They're nothing more than a giveaway to the oil industry," DeGette said of the House GOP's fossil fuel-centered energy agenda.
Rep. Frank Pallone (D-N.J.), the top Democrat on the committee, pushed back on the GOP narrative that energy prices are high because the Biden administration is hindering the oil and gas industry's ability to drill—something that climate groups have pressured the administration to do, with little success.
"Republicans have pushed this idea that somehow Big Oil wanted to pump more but couldn't," said Pallone. "In reality, they wanted to keep the price artificially high."
News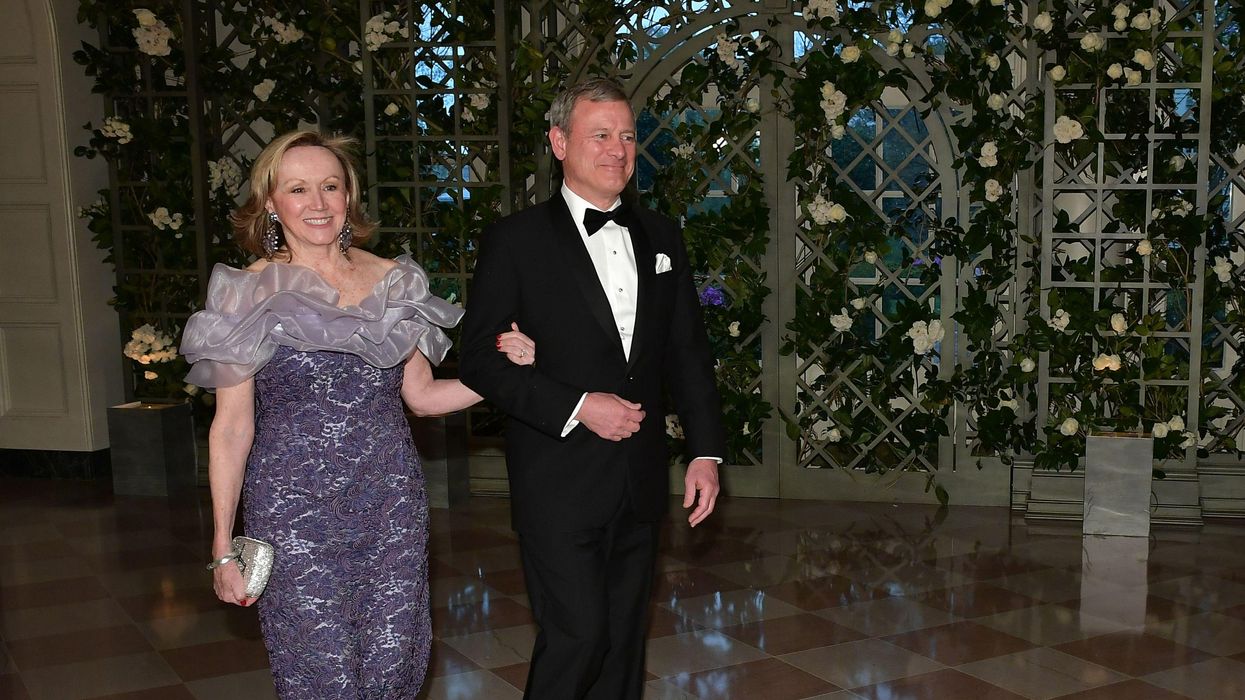 "It's clear that the ultraconservative justices in particular cannot be trusted to hold themselves to the same ethical standard as other federal judges," said one advocate, calling for congressional action.
Fresh calls for federal lawmakers to pass new ethics rules for the U.S. Supreme Court mounted after The New York Times on Tuesday revealed that a former colleague of Chief Justice John Roberts' wife raised concerns to Congress and the U.S. Department of Justice.
After her husband joined the nation's top court, Jane Sullivan Roberts left her job as a law firm partner to work as a legal recruiter. Though Roberts is now the managing partner of the Washington office of Macrae Inc., she and Kendal Price, the author of a letter obtained by the Times, worked as recruiters for the global firm Major, Lindsey & Africa.
"No wonder public trust in the Supreme Court is at an all-time low."
In his letter, Price "argued that the justices should be required to disclose more information about their spouses' work," the newspaper reported. "He did not cite specific Supreme Court decisions, but said he was worried that a financial relationship with law firms arguing before the court could affect justices' impartiality or at least give the appearance of doing so."

As the Times detailed:
According to the letter, Mr. Price was fired in 2013 and sued the firm, as well as Mrs. Roberts and another executive, over his dismissal.

He lost the case, but the litigation produced documents that he sent to Congress and the Justice Department, including spreadsheets showing commissions attributed to Mrs. Roberts early in her headhunting career, from 2007 to 2014. Mrs. Roberts, according to a 2015 deposition in the case, said that a significant portion of her practice was devoted to helping senior government lawyers land jobs at law firms and that the candidates' names were almost never disclosed.
Patricia McCabe, a spokesperson for the Supreme Court, told the paper that all the justices were "attentive to ethical constraints" and complied with financial disclosure laws, and that the chief justice and his wife had consulted the code of conduct for federal judges.
The reporting comes after Justice Clarence Thomas—one of the Supreme Court's six right-wing members—ignored calls to resign over efforts by his wife, activist Ginni Thomas, to help former President Donald Trump overturn the results of the 2020 presidential election. It also follows a September survey showing that U.S. adults' confidence in the court hit a record low.
"No wonder public trust in the Supreme Court is at an all-time low," Brett Edkins, managing director of policy and political affairs for Stand Up America, said Tuesday. "Jane Roberts is just the latest Supreme Court spouse to raise questions about potential conflicts of interest and influence peddling before the nation's highest court."
\u201cThe Roberts Court is corrupt, illegitimate, and undemocratic\n\n\u201cI do believe that litigants in U.S. courts, and especially the Supreme Court, deserve to know if their judges\u2019 households are receiving six-figure payments from the law firms"\nhttps://t.co/meehrlhwgf\u201d

— The Debt Collective \ud83d\udfe5 (@The Debt Collective \ud83d\udfe5) 1675199600
Edkins argued that "while she did not join a seditious conspiracy to overthrow the government, as Ginni Thomas did, her actions may nonetheless undermine Chief Justice Roberts' impartiality when his wife's clients argue before the court."
"It's clear that the ultraconservative justices in particular cannot be trusted to hold themselves to the same ethical standard as other federal judges," he added. "It's time for Congress to step up and pass meaningful reforms to fix the Supreme Court, including a code of ethics that would require justices to recuse themselves from cases where they have an actual or apparent conflict of interest."
In a Tuesday tweet, U.S. Sen. Elizabeth Warren (D-Mass.), lead sponsor of the Judicial Ethics and Anti-Corruption Act, pointed to the reporting as "example #4,394 of why the Supreme Court needs a binding code of ethics."
Senate Judiciary Chair Dick Durbin (D-Ill.) did not say how his panel may respond to Price's letter but told the Times that it raised "troubling issues that once again demonstrate the need" for ethics reforms to "begin the process of restoring faith in the Supreme Court."
News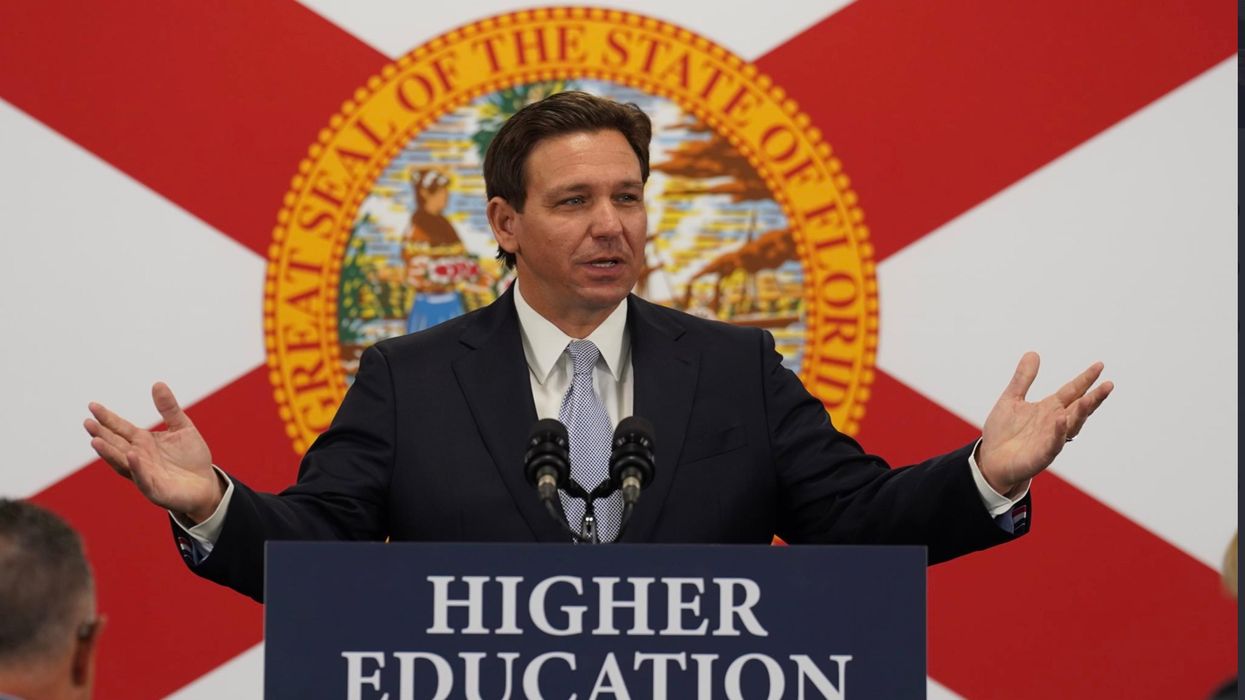 The union representing Florida's professors said it would "stand in lockstep opposition to any and all so-called 'reforms' that will actually destroy our state's world-class degree programs and their ability to serve our students."
Taking aim yet again at higher education, Republican Florida Gov. Ron DeSantis on Tuesday proposed sweeping changes to the state's university system, including banning state funding for diversity, equity, and inclusion programs and critical race theory education, as well as forcing tenured professors to undergo reviews at any time.
Speaking during a press conference at the State College of Florida in Bradenton, DeSantis said he is asking the state Legislature to cut all funding for programs he believes are "ideological."
Referring to diversity, equity, and inclusion programs—which aim to promote fair treatment and full participation—and critial race theory, a graduate-level framework dealing with systemic racism, DeSantis said that "we're also going to eliminate all DEI and CRT bureaucracies in the state of Florida. No funding, and that will wither on the vine."
Apparently not satisfied with a state law requiring tenured professors at state colleges and universities to undergo reviews every five years, DeSantis also called for legislation that would subject such educators to reviews at any time, at risk of their jobs.
"Yes, we have the five-year review of all the tenured faculty, which is, which is good… and the board of trustees has to determine whether they stay or go. But you may need to do review more aggressively than just five," he said.
"I've talked with folks around the country who've been involved in higher ed reform, and the most significant deadweight cost at universities is typically unproductive tenured faculty," the governor added. "And so why would we want to saddle you as taxpayers with that cost if we don't have to do that?"
United Faculty of Florida (UFF), the union representing college and university educators in the state, said it would fight DeSantis' proposals.
"The United Faculty of Florida stand in lockstep opposition to any and all so-called 'reforms' that will actually destroy our state's world-class degree programs and their ability to serve our students," UFF President Andrew Gothard said in a statement. "We will not allow Florida's future to be sacrificed for cheap political points."
Writing for The Chronicle of Higher Education, Francie Diep and Emma Pettit contended that "it's been a dizzying month for higher ed in the Sunshine State."
As the authors explained:

The recent avalanche of activity began in late December, when DeSantis' office requested that state colleges and universities list their spending on programs related to diversity, equity, inclusion, and critical race theory. Florida's Republican House Speaker, Paul Renner, later asked the same campuses to turn over a mountain of additional DEI-related information.

DeSantis' office also requested that state universities report data on transgender students, and he appointed six new trustees to the New College of Florida's board because, according to his press secretary, the small liberal arts institution has put "trendy, truth-relative concepts above learning."

"What I find most troubling is that DeSantis is putting out a blueprint for other governors and state legislatures," Kristen A. Renn—a professor at Michigan State University who researches LGBTQ+ college issues—told The Chronicle of Higher Education. "He's doing these things in ways that anybody else can pick this up and do it."
DeSantis—a potential 2024 presidential candidate—has also come under fire for other policies and actions including rejecting a college preparatory African-American studies course, banning unapproved books from K-12 libraries, and the Stop WOKE Act, a CRT ban that applies to schools from the primary through university levels and is meant to combat what the governor called "wokeness as a form of cultural Marxism."
Mia Brett, legal historian at The Editorial Board, last week compared Republicans' attacks on education across the country to similar moves by the leaders of Nazi Germany during the early months of their regime.
"I'm not being hyperbolic when I say this is directly out of Nazi laws passed in 1933. Though if this Republican effort is successful, you might not be able to learn things like that anymore," she wrote, adding that the legislation banning courses on CRT and racial and gender identity are a "chilling erosion of academic freedom and a huge step toward fascist academic control in the service of right-wing narratives."
"While it's still legal to teach history, remember where such efforts have led and take them seriously," Brett ominously warned.
News
SUPPORT OUR WORK.
We are independent, non-profit, advertising-free and 100%
reader supported.