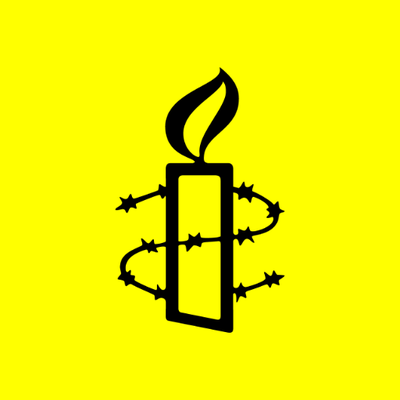 Amnesty International Welcomes Prison Release of Herman Wallace; Urges Gov. Jindal to Remove Co-Defendant Woodfox from Decades of Solitary Confinement
NEW YORK
Amnesty International USA issued the following comments today from Steven W. Hawkins, executive director, in response to news that the state of Louisiana has released Herman Wallace, among the Angola 3 prisoners, from prison:
"This is a bittersweet moment for us as activists. All of us feel the strength of our movement today - the years we spent fighting with others for the Angola 3 and the actions of more than 100,000 people around the world has helped bring about some measure of justice for Herman Wallace. And yet, we know he suffered intolerably for more than 41 years, confined alone for 23 hours a day. Nothing can erase those cruel years. But we must be grateful that Herman can receive the loving care in his final days that he was denied by the state of Louisiana for decades. We now ask again that Louisiana Governor Jindal remove Herman's co-defendant Albert Woodfox from the same inhumane solitary confinement he has endured for more than four decades.
The Case
Wallace and Woodfox were convicted for the murder of prison guard Brent Miller. Amnesty International has repeatedly expressed concern that many legal aspects of this case are troubling: no physical evidence links Woodfox and Wallace to the murder, potentially exculpatory DNA evidence was lost by the state, and their conviction was based on questionable testimony - some of which was subsequently retracted by witnesses. In recent years, evidence has emerged that the main eyewitness was bribed by prison officials into giving statements against the men. Throughout their incarceration, Woodfox and Wallace were denied any meaningful review of the reasons for being kept in isolation. They believed that they were placed in solitary to punish them for being members of the Black Panther Party in Angola Prison and organizing prisoners to demand better conditions and fairer treatment. Amnesty International has repeatedly campaigned to have them removed from prolonged isolation, which constitutes cruel, inhuman and degrading punishment.
According to his lawyers, Herman received substandard medical care both before and after his diagnosis, including delaying potential life-extending chemotherapy treatment. In 2007 a federal judge ruled that the conditions under which both Woodfox and Wallace were being held constituted a deprivation of a basic human need and that prison officials should have been aware that such treatment could be seriously harmful to the physical and mental health of prisoners. Today, Woodfox remains in solitary confinement, despite the fact that his conviction has been overturned three times.
Read Amnesty International's June 2011 report on the case, "100 Years in Solitary Confinement: the Angola 3 and Their Fight for Justice":
Amnesty International is a global movement of millions of people demanding human rights for all people - no matter who they are or where they are. We are the world's largest grassroots human rights organization.
(212) 807-8400
LATEST NEWS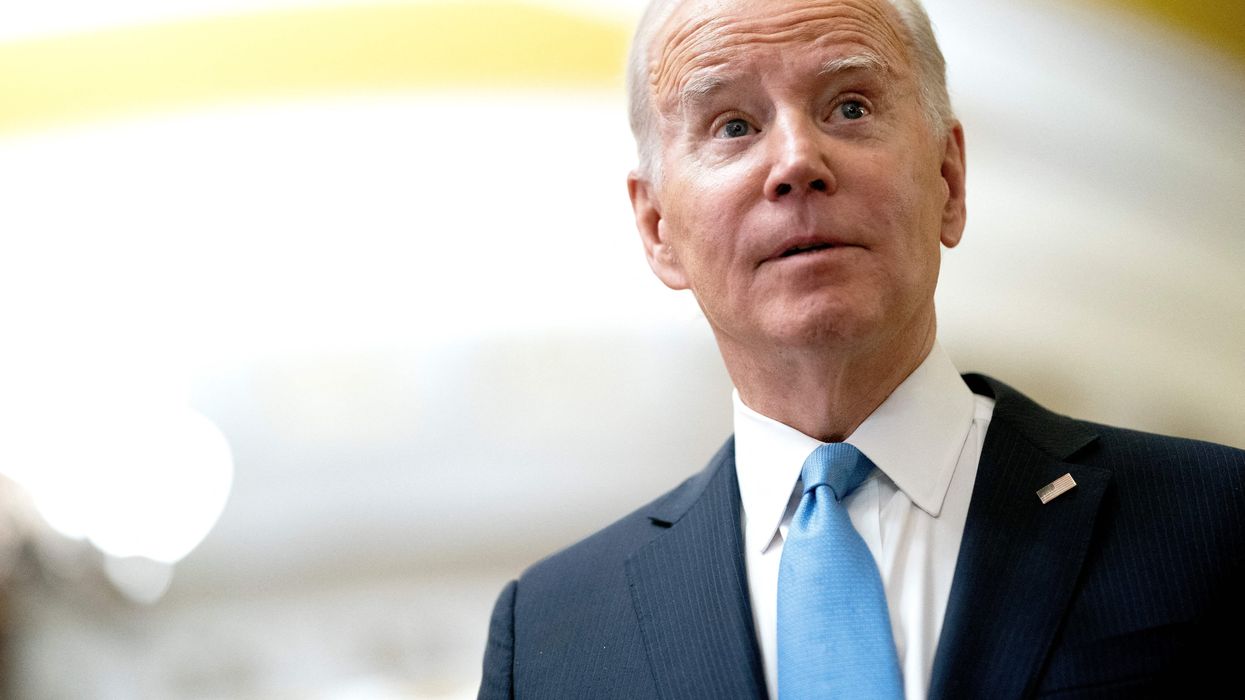 "The 700,000 people who live in D.C. know our community better than anyone else and deserve self-determination," said the ACLU of D.C.
Progressives expressed anger Thursday after U.S. President Joe Biden said that he would sign a Republican-authored resolution repealing criminal justice reforms recently approved by the elected leaders of the District of Columbia.
The GOP-controlled House claimed that the Revised Criminal Code Act (RCCA), enacted in January by city council members representing D.C. residents, would make it easier for people convicted of crimes to avoid punishment and contribute to higher crime rates. Last month, 31 Democrats joined 219 Republicans in passing H.J.Res. 26, which would nullify the changes to Washington's criminal laws that are set to take effect in 2025.
Biden informed Democratic senators during a private meeting on Thursday that he will not veto the resolution if it reaches his desk, The Associated Pressreported. The measure is expected to pass the Senate on a bipartisan basis as early as next week.
"In the name of democracy and common sense, the Senate must respect the District of Columbia's decision to pass the Revised Criminal Code Act."
Later on Thursday, Biden tweeted: "I support D.C. statehood and home rule—but I don't support some of the changes D.C. Council put forward over the mayor's objections—such as lowering penalties for carjackings. If the Senate votes to overturn what D.C. Council did—I'll sign it."
Local lawmakers voted to decrease the district's maximum sentence for carjacking from the current 40 years—equivalent to the penalty for second-degree murder and over twice as long as the penalty for second-degree sexual assault—to 24 years, which is still nine years longer than the harshest carjacking sentences actually handed down in D.C.
Democratic D.C. Mayor Muriel Bowser had opposed the RCCA but supported a Biden veto of H.J.Res. 26 due to the implications for home rule.
Journalist Austin Ahlman called Biden's decision "disgusting." Defending "evidence-based tweaks to the D.C. criminal code" through a veto, Ahlman added, would have had little to no impact on the president during the 2024 election cycle.
Markus Batchelor, national political director at People for the American Way, also condemned Biden, juxtaposing his purported support for democracy abroad with his unwillingness to defend it "for those Americans closest to him."
\u201cPresident Biden summoned the support of the Congress and a global alliance to defend democracy and the will of free people abroad \u2014 and won\u2019t even raise his pen to defend them for those Americans closest to him. https://t.co/zLrOX0ApSu\u201d

— Markus Batchelor (@Markus Batchelor) 1677784766
Democratic U.S. Rep. Eleanor Holmes Norton, who represents D.C. in Congress, told reporters that Biden's position was "news to me, and I'm very disappointed in it."
Earlier this week, Holmes Norton thanked 100-plus organizations for signing a letter to Senate leadership that expresses opposition to congressional resolutions aimed at overturning legislation passed by democratically elected D.C. lawmakers.
"D.C. residents elect their own local officials to govern local affairs, like every other jurisdiction in the country," Holmes Norton said in a statement. "Congressional interference in local affairs is paternalistic, undemocratic, and violates the principle of self-governance."
Prior to Biden's announcement, the ACLU's D.C. chapter wrote on social media, "The 700,000 people who live in D.C. know our community better than anyone else and deserve self-determination."
The group linked to a recent piece written by policy director Damon King, who argued that "in the name of democracy and common sense, the Senate must respect the District of Columbia's decision to pass the Revised Criminal Code Act."
\u201cDid you know that because D.C. is not a state, Congress can assert its will on us and stop us from implementing our own laws? \n\nThe 700,000 people who live in D.C. know our community better than anyone else and deserve self determination. https://t.co/cxwTD2LzBa\u201d

— ACLU of the District of Columbia (@ACLU of the District of Columbia) 1677779280
"In order to overturn our democratic will," King observed, "opponents of the RCCA have spread misinformation about the bill."
Shortly after the D.C. Council unanimously passed the RCCA and then overrode Bowser's veto of the bill by a margin of 12-1, Slate legal reporter Mark Joseph Stern wrote, "If you only read conservative and centrist pundits, you'd think the District of Columbia is about to embark upon a frightening experiment to weaken or abolish criminal penalties for violent crime."
As he explained:
Fox News has devotedfrenzied coverageto the claim that D.C. is "softening" its criminal laws. Republican politicians like Sen. Tom Cotton [R-Ark.] have seized on the story, as have conservative commentators like Erick Erickson, who cited it as evidence that Congress should abolish self-governance in the district. The Washington Post editorial board opined that a new "crime bill could make the city more dangerous," claiming it would "tie the hands of police and prosecutors while overwhelming courts."
"This coverage all repeats the same two claims: that D.C. is poised to slash prison sentences for violent offenses, and that these reforms will lead to more crime," wrote Stern. "Neither of these claims is true."
He continued:
The legislation that D.C. passed in January is not a traditional reform bill, but the result of a 16-year process to overhaul a badly outdated, confusing, and often arbitrary criminal code. The revision's goal was to modernize the law by defining elements of each crime, eliminating overlap between offenses, establishing proportionate penalties, and removing archaic or unconstitutional provisions. Every single change is justified in meticulous reports that span thousands of pages. Each one was crafted with extensive public input and support from both D.C. and federal prosecutors. Eleventh-hour criticisms of the bill rest on misunderstandings, willful or otherwise, about its purpose and effect. They malign complex, technocratic updates as radical concessions to criminals. In many cases, criticisms rest on sheer legal illiteracy about how criminal sentencing actually works.

The D.C. bill is not a liberal wish list of soft-on-crime policies. It is an exhaustive and entirely mainstream blueprint for a more coherent and consistent legal system.
The RCCA is not the only piece of D.C. legislation the House voted to rescind last month. In addition, 42 Democrats joined 218 Republicans in passing H.J.Res. 24, which would nullify the Local Resident Voting Rights Amendment Act.
That measure, enacted last year by the D.C. Council, would allow noncitizens who meet residency and other requirements to vote in local races.
The bill's fate in the Senate, and whether Biden would veto a resolution seeking to overturn it, remains unclear.
News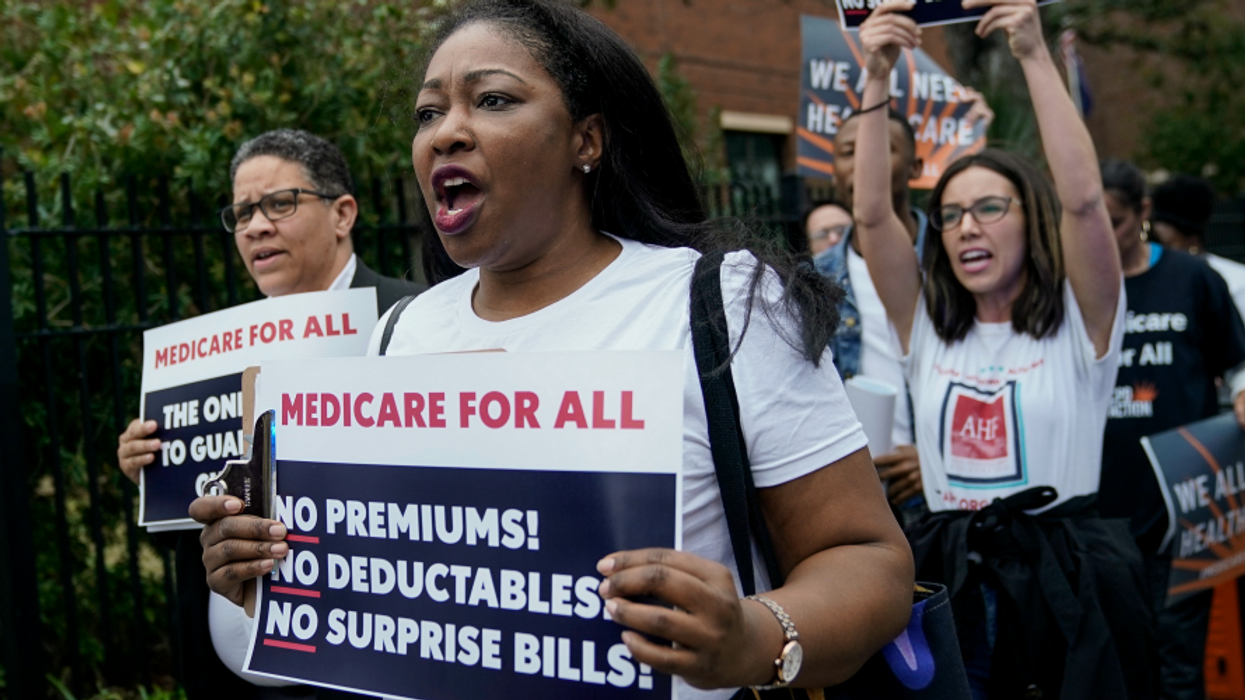 "It is absolutely reprehensible that the United States, the richest country in the world, does not have free universal healthcare when most of the other wealthy nations provide this benefit to their citizens," said one advocate.
Spurred by a statewide organizing effort by Our Revolution, the city council of Newark, New Jersey on Wednesday passed a resolution officially declaring support for legislation to expand Medicare to all U.S. residents, guaranteeing healthcare as a right.
"The Municipal Council and the mayor of the city of Newark, Ras J. Baraka, supports and urges Congress to work toward the immediate enactment of the Medicare for All Act of 2021 (H.R. 1976) by assuring appropriate and efficient healthcare for all residents of the United States," reads the resolution.
Our Revolution New Jersey has now successfully pushed 15 cities across the state to pass similar resolutions, while more than 100 counties, cities, and towns across the U.S. have backed Medicare for All.
\u201cHere\u2019s to our 15th #MedicareForAll municipal Resolution in NJ! So happy to see the local progress! These are the days & results I live and work for as an organizer. Onward!\u201d

— Anna-Marta Visky (@Anna-Marta Visky) 1677784732
In recent weeks, Cleveland and Boulder County, Colorado passed resolutions. Other cities backing the legislation include Philadelphia, Denver, and Los Angeles.
Newark's resolution was applauded by the People's Organization for Progress, a grassroots group based in the city.

"It is absolutely reprehensible that the United States, the richest country in the world, does not have free universal healthcare when most of the other wealthy nations provide this benefit to their citizens," said Lawrence Hamm, the group's chairman. "The resolution brings us one step closer to making Medicare for All a reality in the U.S. during our lifetime."
Campaigners in New Jersey have ramped up efforts to convince local lawmakers to back Medicare for All—which is supported by nearly 7 in 10 Americans—following a 20% premium increase in the state health benefit plan. The out-of-pocket healthcare cost hike came on the heels of a vote by lawmakers to allow the state health plan to operate as a for-profit entity.
"At a time when health insurance companies are making record profits, plans to increase health care costs for New Jersey public employees are a betrayal of thousands of hardworking members of Newark's municipal family, who are already being harshly impacted by rising costs of living," said Baraka when the premium increase was announced in September.
Nearly 20% of people under the age of 65 in New Jersey do not have health insurance, and a report released in September by Healthcare Value Hub showed that 36% of state residents were unable to get care when they needed it due to medical debt.
"Medical debt represents a crushing weight on many families in our community," said Matt Dragon, co-chair of Our Revolution Essex County. "Deferring or skipping medical care due to the cost exacerbates the health impacts for individuals, creates higher costs down the road, and in some cases ends in a loved one gone far too soon. Medicare for All also represents a racial justice policy as uninsurance rates in Black and Hispanic communities outpace those of white populations."
Our Revolution New Jersey expressed gratitude to Baraka, who championed the resolution.

"Medicare for All represents conscientious policy that is not based on zip code, class, economic status, etc. but is designed for everyone," said Baraka. "Here in Newark, we make sure that the needs of our residents are at the forefront of our initiatives, policies, and legislation through an equitable lens. The passing of today's resolution affirms our stance and makes clear: Newark will always work to advance the quality of life of its residents and having affordable and adequate healthcare is important to our community."
News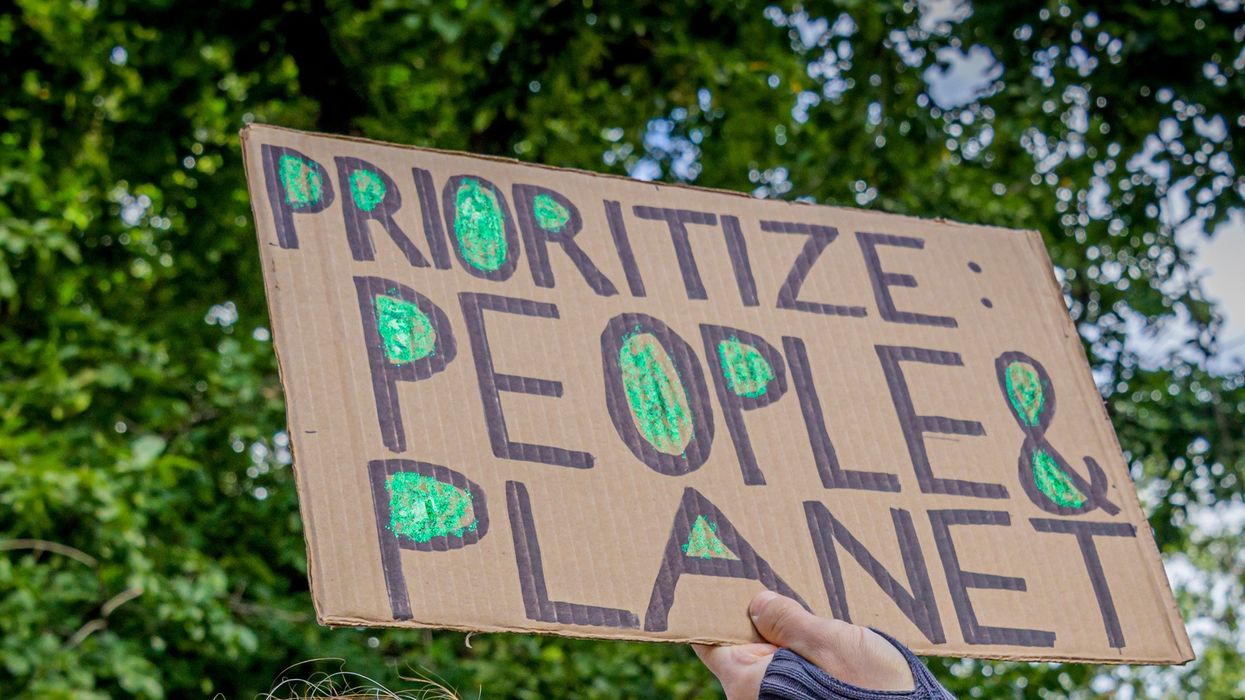 "Rather than expand subsidies for false fixes," said one critic of a new bipartisan bill, Congress should pass legislation to "phase out all fossil fuel subsidies."
Climate organizations this week are calling out new legislation that would pour even more money into the "false solution" of carbon capture technology, which they warn is just a distraction by the fossil fuel industry that does nothing to address the climate crisis.
Advocates of bold climate action are taking aim at the Captured Carbon Utilization Parity Act (S. 542/H.R. 1262), introduced by Sens. Sheldon Whitehouse (D-R.I.) and Bill Cassidy (R-La.) and Reps. David Schweikert (R-Ariz.) and Terri Sewell (D-Ala.) on Tuesday.
As a summary from the senators details, the bill would boost the 45Q tax credit for carbon capture and utilization (CCU) "to match the incentives for carbon capture and storage (CCS) for both direct air capture (DAC) and the power and industrial sectors."
Specifically, it would increase the value for DAC utilization to $180 per metric ton and for power and industrial sector utilization to $85 per metric ton—a move that the Joint Committee on Taxation estimates would cost $16 million over the next decade.
A White House Council on Environmental Quality report from 2021 explains that utilization "refers to the potential for using captured CO2 to make products, like concrete or plastics. CCU is a broad term used to describe the many different ways that captured CO2 can be used or 'recycled' to produce economically valuable products or services."
"We have real and proven solutions to address the climate crisis that don't harm communities already overburdened with pollution."
Many frontline communities and climate groups have long criticized efforts to develop and implement such operations—and the potential investment of public money into them—because of both local and global impacts, and instead demanded a swift and just transition to renewables.
"We have real and proven solutions to address the climate crisis that don't harm communities already overburdened with pollution," Friends of the Earth climate campaigner Sarah Lutz said Wednesday. "The Captured Carbon Utilization Parity Act will only undermine the needed transition away from fossil fuels."
"There is no legitimate reason to double down on subsidies for fossil fuel and petrochemical industry greenwashing scams," she continued. "Sen. Whitehouse should not work with Republicans to light taxpayer money on fire at the expense of our communities and climate."
Food & Water Watch similarly stressed that "it is time to stop wasting public money on bogus tech" while pointing out that tax credit just jumped from $50 per ton of sequestered CO2 to $85 per ton under the Inflation Reduction Act, a historic but flawed package that President Joe Biden signed last year.
"Carbon capture supporters like to talk about it as a climate fix, but the fact that it is backed by oil and gas giants tells you everything you need to know," said the group's policy director, Jim Walsh. "The fossil fuel industry has pulled off a remarkable trick by rebranding oil drilling as a form of pollution reduction."
Walsh warned that "this bill would steer more public money towards dirty energy and plastic production under the guise of reducing climate pollution, which would be better spent building genuinely clean energy sources rather than propping up the very industries that are destroying our planet."
"This is pro-polluter scam technology that serves the interests of fossil fuel companies, increases pollution in communities, and does nothing to help the climate."
"It's time for lawmakers to see the truth about carbon capture and sequestration: This is pro-polluter scam technology that serves the interests of fossil fuel companies, increases pollution in communities, and does nothing to help the climate," he said.
Collin Rees, United States program manager at Oil Change International, also piled on the CCU bill Wednesday.
"Carbon capture, utilization, and storage is a dangerous distraction from the urgent work needed to actually confront the climate crisis, including a rapid and equitable phase-out of fossil fuels," he said. "Giving more public money to prolong Big Oil's political power and profits is the wrong approach and a poor use of public funds."
"Rather than expand subsidies for false fixes like carbon capture yet again, policymakers should support existing bills," Rees argued, pointing to a proposal from Reps. Ro Khanna(D-Calif.), Raúl Grijalva (D-Ariz.), and Mike Quigley (D-Ill.) "to end subsidies for enhanced oil recovery" as well as the End Polluter Welfare Act, introduced by Sen. Bernie Sanders(I-Vt.) and Rep. Ilhan Omar(D-Minn.) "to phase out all fossil fuel subsidies."
News
SUPPORT OUR WORK.
We are independent, non-profit, advertising-free and 100%
reader supported.