For Immediate Release
June, 27 2013, 07:30am EDT
OCA Names Top North American Right to Know Grocers
The Organic Consumers Association (OCA) today announced results of its search for the top Right to Know Grocers in North America. The winning food retailers were selected from more than 150 consumer nominations. The OCA named 12 overall winners - the "Diligent Dozen" - and 10 winners each in five regions: Northeast, Northwest, Central, Southeast and Southwest.
FINLAND, Minn.
The Organic Consumers Association (OCA) today announced results of its search for the top Right to Know Grocers in North America. The winning food retailers were selected from more than 150 consumer nominations. The OCA named 12 overall winners - the "Diligent Dozen" - and 10 winners each in five regions: Northeast, Northwest, Central, Southeast and Southwest.
"As demand grows for organic, locally and sustainably grown, truthfully labeled non-GMO foods, hundreds of food retailers are rising to the occasion," said Ronnie Cummins, National Director. "The OCA wants to recognize the efforts these retailers are making, which include pressuring food manufacturers to transition from GMO to non-GMO ingredients, and providing consumers with clear labeling so they can make informed choices."
The OCA launched its Top Right to Know Grocers contest, a project of its Organic Retail and Consumer Alliance (ORCA) Campaign in March. Consumers were asked to nominate health food and natural health stores, food co-ops and CSAs that are making an honest effort to inform consumers about products they carry that contain genetically modified organisms (GMOs), and those stores that are actively working toward GMO-free product lines. More than 360 consumers nominated a total of 156 stores. The OCA interviewed store owners and managers to confirm strategies and policies. The results of those interviews are published on the ORCA campaign page.
The top 12 overall winners are: Berkshire Organics Market & Deli, Dalton, Mass.; Dad's Organic Market, Saskatoon, Sask.; Good Earth Natural Foods, Fairfax, Calif.; Jimbo's Naturally, San Diego, Calif.; MOM's Organic Market, Baltimore, Md. & Washington, D.C.; Native Sun Natural Foods, Jacksonville, Fla.; Natural Grocery Company, El Cerrito & Berkeley, Calif.; Nature's Food Patch Market & Cafe, Clearwater, Fla.; Ocean Beach People's Organic Food Co-Op, San Diego, Calif.; Sundance Natural Foods, Eugene, Ore.; Sunspot Natural Market, West Lafayette, Ind.; and Terra Organica, Bellingham, Wash.
The Organic Consumers Association (OCA) is an online and grassroots 501(c)3 nonprofit public interest organization, and the only organization in the U.S. focused exclusively on promoting the views and interests of the nation's estimated 50 million consumers of organically and socially responsibly produced food and other products. OCA educates and advocates on behalf of organic consumers, engages consumers in marketplace pressure campaigns, and works to advance sound food and farming policy through grassroots lobbying. We address crucial issues around food safety, industrial agriculture, genetic engineering, children's health, corporate accountability, Fair Trade, environmental sustainability, including pesticide use, and other food- and agriculture-related topics.
LATEST NEWS
"Enacting an ideological agenda driven by ignorance and prejudice, instead of science and compassion, is not the way forward."
Civil rights advocates on Thursday sharpened their focus on the Republican-controlled Oklahoma Legislature as lawmakers prepare to convene on February 6, beginning a session during which they're set to consider no fewer than 15 proposals attacking transgender people's right to obtain healthcare.
The state is at the forefront of a nationwide assault on transgender rights, with lawmakers planning to bring up for debate bills including the so-called Save Adolescents from Experimentation Act (S.B. 878), which would prohibit gender-affirming healthcare for adolescents; the Millstone Act of 2023 (S.B. 129), which would expand that proposed ban to transgender people up to age 26; and S.B. 250, which would threaten providers who accept Medicaid with a loss of reimbursement funds if they provide gender-affirming care.

According to the ACLU, Oklahoma currently has the most proposals to restrict healthcare for transgender people. Texas Republicans have put forward 10, and the Indiana Legislature has advanced nine.
The ACLU, Lambda Legal, and the ACLU of Oklahoma released a joint statement Thursday promising "swift legal action" if any of the legislation is passed.
\u201cTogether with @ACLU & @ACLUOK, Lambda Legal is prepared and committed to take legal action against any proposed restrictions on gender-affirming care for transgender Oklahomans. \n\nRead our full statement \u2b07\ufe0f \n\nhttps://t.co/BSzJubHK3d\u201d

— Lambda Legal (@Lambda Legal) 1675355382
"Access to healthcare is a human right, and our Constitution promises every person the right to be free from unwarranted governmental intrusion into their lives," said Omar Gonzalez-Pagan, counsel and healthcare strategist at Lambda Legal. "Targeting some of our most vulnerable youth—transgender young people who need love, support, and access to the medical care they need—for discrimination is wrong and dangerous. Enacting an ideological agenda driven by ignorance and prejudice, instead of science and compassion, is not the way forward."
"We will not hesitate to defend transgender Oklahomans' rights to equality, liberty, and nondiscriminatory access to the healthcare they need," Gonzalez-Pagan added.

As Common Dreamsreported last month, transgender rights advocates were alarmed when the Millstone Act was introduced, marking the "startling new evolution" of anti-LGBTQ+ legislation as it waged an attack on the rights of transgender adults as well as adolescents—against long-standing guidance from theAmerican Medical Association, theAmerican Psychiatric Association, and theAmerican Academy of Pediatrics.
"Gender-affirming care is lifesaving," said Harper Seldin, staff attorney at the ACLU's LGBTQ and HIV Project. "Every major medical association opposes bans on gender-affirming care, and these bills will push medical providers out of Oklahoma, which is already facing a shortage of doctors. These proposed bans do not protect anyone in Oklahoma... Oklahoma legislators have no business telling parents that they cannot seek lifesaving care for their transgender children, or stopping adults from accessing safe and effective care for themselves, just because they are transgender."

Last week Utah became the latest state to bar transgender adolescents from accessing gender-affirming healthcare. Arizona, Alabama, and Arkansas have also passed such bans into law, but a federal judge temporarily blocked Arkansas' law in 2021.
News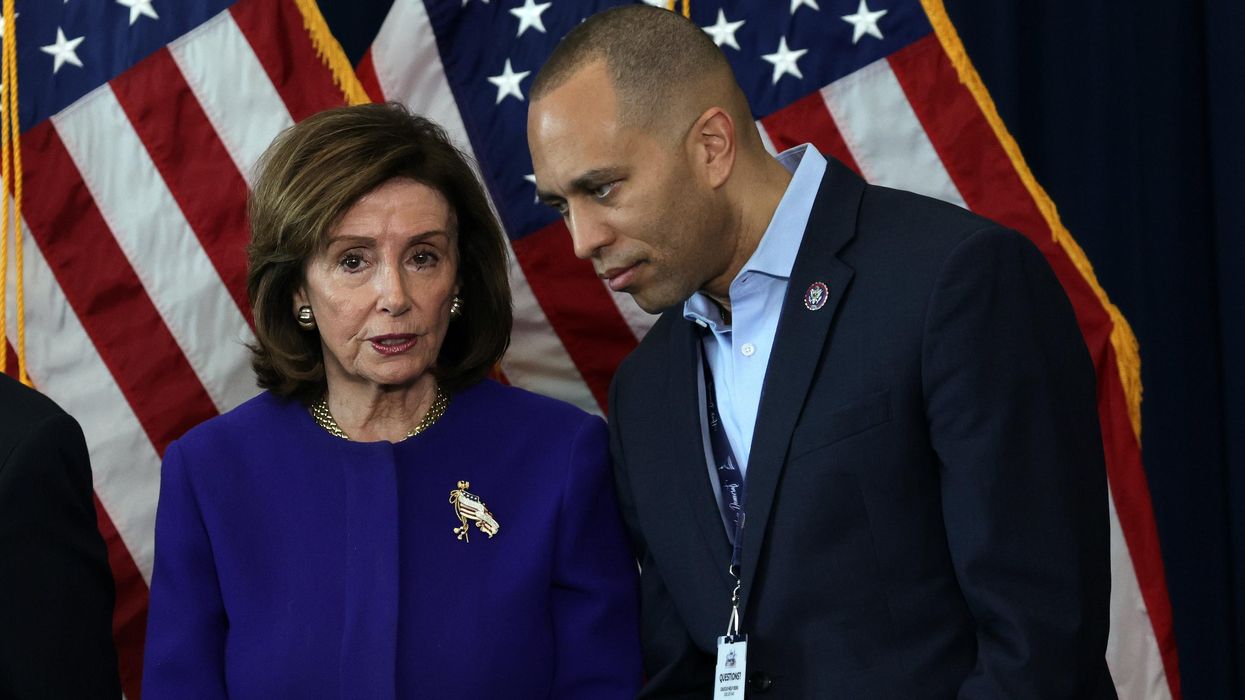 "This resolution is little about intelligent discourse and everything to do about laying the groundwork to cut Social Security and Medicare," said Rep. Mark Pocan, one of 86 House Democrats who voted against the measure.
More than 100 U.S. House Democrats—including some of the wealthiest members of Congress—joined with Republican lawmakers on Thursday in passing a resolution "denouncing the horrors of socialism," a largely symbolic gesture that opponents warned is nonetheless a step toward slashing Social Security, Medicare, and other safety net programs.
House Concurrent Resolution 9, which "denounces socialism in all its forms and opposes the implementation of socialist policies in the United States," was introduced by Rep. María Elvira Salazar (R-Fla.), the staunchly anti-communist daughter of Cuban exiles who once interviewed then-Cuban President Fidel Castro for Telemundo.

"I think it's the best resolution that has ever been presented before the United States Congress," Salazar toldInsider at the U.S. Capitol before the vote. "Our youth are being penetrated by this ideology through media and academia."
The measure—which followed the vote to oust Rep. Ilhan Omar (D-Minn.) from the House Foreign Affairs Committee—passed 328-86, with 14 lawmakers voting "present" and six members not voting.
One hundred and nine Democrats—many of them members of the corporate-friendly New Democrat Coalition—joined with every Republican lawmaker in voting to approve the resolution. Prominent Democrats who voted "yes" include: House Minority Leader Hakeem Jeffries (N.Y.), former House Speaker Nancy Pelosi (Calif.), and House Assistant Democratic Leader Jim Clyburn (S.C.), all of whom played prominent roles in defeating Sen. Bernie Sanders' (I-Vt.) presidential campaigns, which were based on popular democratic socialist policies and principles.
\u201cOne of these "New Democrats" is Congresswoman @SuzanDelBene - the new chair of the @DCCC, the House Democrats' PAC.\n\nThis is their plan to win the majority: not to pass popular bills like #MedicareForAll, but to ATTACK progressives and stoke another Red Scare.\n\nEmbarrassing.\u201d

— Our Wisconsin Revolution (@Our Wisconsin Revolution) 1675369788
Many of the Democrats voting for the resolution also rank among the wealthiest members of Congress, including Pelosi, whose 2018 net worth was over $114 million, according to OpenSecrets.org; Suzan DelBene (Wash., $79 million net worth); Dean Phillips (Minn., $64 million); Scott Peters (Calif., $60 million); and Ro Khanna (Calif., $45 million). Khanna along with Reps. Adam Schiff and Eric Swalwell of California and Rubén Gallego of Arizona, are either current or prospective candidates for U.S. Senate.
Denouncing the measure on the House floor, Rep. Jim McGovern (D-Mass.)—who voted "no"— said that "the socialism resolution is useless. It does nothing. It does not matter. Are we talking about public schools? Are we talking about roads? Are we talking about Social Security? I mean, give me a break."
\u201cThe GOP has called Social Security, Medicare, the Affordable Care Act, & even free public schools "socialism" to scare ppl. Today, House R's wasted our time by debating a sham resolution in an attempt to justify cuts to programs that millions of Americans have paid into & earned.\u201d

— Congressman Maxwell Alejandro Frost (@Congressman Maxwell Alejandro Frost) 1675355277
Rep. Mark Pocan (D-Wis.), Chair Emeritus of the Congressional Progressive Caucus, invoked his experience as a capitalist to lambaste the anti-socialism resolution.
"For 35 years now I've owned a small business, giving me significantly more experience as a capitalist than the vast majority of members on the other side of the aisle. So as a capitalist, let me tell you: This resolution is plain ridiculous. It jointly condemns Pol Pot and Norway," Pocan said during floor debate, referring to the former Cambodian dictator, who was supported by the Republican Reagan administration after leading a genocidal regime that killed at least 1.5 million people.
Pocan continued:
Here's what this is really about: More and more members on the other side of the aisle are calling for cuts to Social Security and Medicare, and many have referred to these programs as "socialism" throughout their existence. The other night in the Rules Committee they showed their cards. Republicans refused an amendment to declare that Social Security and Medicare is not socialism. This resolution is little about intelligent discourse and everything to do about laying the groundwork to cut Social Security and Medicare.
Rep. Maxine Waters (D-Calif.), another "no" vote, called out the hypocrisy of Republicans who support corporate welfare or are personal beneficiaries of social programs. Waters took aim at House Small Business Committee Chair Roger Williams (R-Texas), who summarized his support for the resolution as: "Socialism bad. Capitalism good. In God we trust."
"Mr. Williams is my friend," said Waters, "but I do wonder whether Mr. Williams views the $1.43 million he received in debt forgiveness [to be] consistent with his views on socialism? I don't get it."
\u201cGOP logic:\n\nPublic Housing= Socialism\nSocial Security and Medicare=Socialism\nInfrastructure=Socialism\n\nRepublicans always have and always will brand programs to help working families as socialism. That's why I'm voting no on this distraction of a resolution.\u201d

— Rep. Nydia Velazquez (@Rep. Nydia Velazquez) 1675354158
After Rep. Brad Sherman (D-Calif.), who voted against the measure, noted during floor debate that there have been numerous democratic socialist leaders around the world who've been "allies of America and NATO," Rep. Patrick McHenry (R-N.C.) quipped, "If this resolution would just simply draw out my Democrat colleagues to just say, yes, they are in favor of socialism, maybe this is a worthwhile endeavor."
Rep. Summer Lee (D-Pa.), a former organizer from Pittsburgh's Democratic Socialists of America chapter who voted against the resolution, shrugged off Republicans' red-baiting and the New Democrat Coalition's support for the GOP resolution.
"They're going to call you socialists anyways," Lee said.
News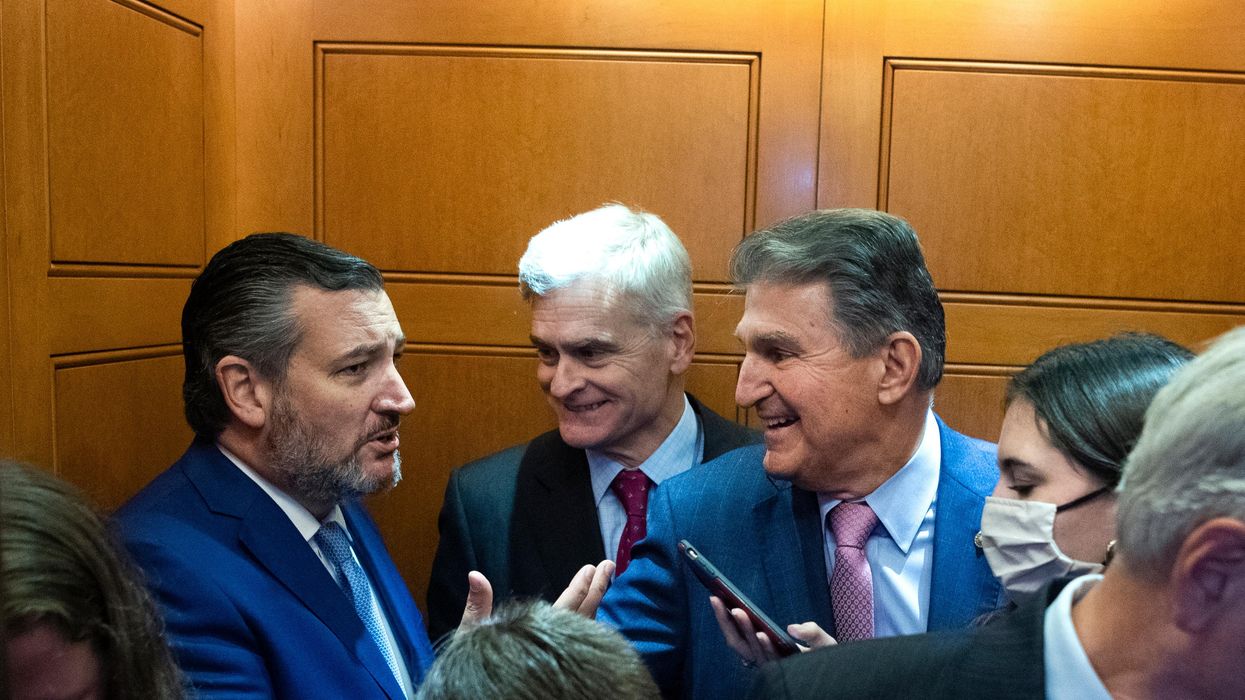 One critic said the right-wing Democrat intends "to inhibit climate action and undermine agencies charged with protecting public health and safety—all in the interest of propping up his fossil fuel funders."
Republican Sen. Ted Cruz of Texas and right-wing Democratic Sen. Joe Manchin of West Virginia on Thursday introduced legislation that would prevent a federal agency from banning gas stoves.
Cruz and Manchin's bill to preempt the U.S. Consumer Product Safety Commission (CPSC) from banning gas stoves—titled the Gas Stove Protection and Freedom Act and described by progressive advocacy group Food & Water Watch as "absurd"—comes even though the agency says it has no plans to implement such a prohibition.
Climate and public health advocates celebrated last month after CPSC Commissioner Richard Trumka Jr. told Bloomberg News that gas stoves are "a hidden hazard" and suggested that new ones should be banned.
However, as Reutersreported Thursday, Trumka "walked back those comments after conservatives and energy industry groups seized on them as a way to criticize the Biden administration for allegedly overreaching with its climate and environmental policy agenda."
Food & Water Watch observed that while "there is currently no plan" to ban gas stoves, "there is substantial research documenting the hazards associated with the air pollution" the methane-powered appliances create.
A widely shared recent study found that 12.7% of childhood asthma cases in the U.S. can be tied to indoor air pollution caused by gas stoves. The findings bolstered calls from environmental justice advocates and public health experts to prohibit the sale of new gas stoves and expedite the switch to cleaner and safer electric ones, but the CPSC has yet to propose regulatory action.
"Manchin is doing his part to fuel the ridiculous right-wing panic over a nonexistent war on gas stoves," Food & Water Watch policy director Jim Walsh said Thursday. "But his intent behind this legislation is serious: to inhibit climate action and undermine agencies charged with protecting public health and safety—all in the interest of propping up his fossil fuel funders."
"As state and local governments are increasingly looking to turn away from gas in new construction—moves that will improve air quality and public health, and reduce climate pollution—Sen. Manchin continues looking backward," said Walsh.
\u201ctwo of Congress's biggest beneficiaries of fossil fuel $ are here to defend gas stoves from a non-existent ban\n\nfabulous stuff\n\noil/gas contributions over career: \nCruz: $4,242,269\nManchin: $1,261,766 (incl. $757,059 in 2022 cycle)\u201d

— Chris D'Angelo (@Chris D'Angelo) 1675358153
Manchin is the top congressional recipient of cash from the fossil fuel industry, which has fought aggressively against increasingly popular campaigns to outlaw gas stoves at the state and local levels.
However, the coal baron who leads the Senate Energy and Natural Resources Committee is far from alone in his defense of planet-heating and illness-inducing gas stoves.
As The Washington Postreported Thursday, Natural Allies for a Clean Energy Future—a nonprofit group founded by a half-dozen gas companies—"has enlisted prominent Democratic politicians and pollsters to help enhance gas' reputation among liberal voters."
Former Sens. Mary Landrieu (D-La.) and Heidi Heitkamp (D-N.D.) and former Rep. Tim Ryan (D-Ohio) are among those going to bat for the fracking and gas utility industries.
"Natural Allies is backed by TC Energy, the Canadianpipeline giant behind the controversial Keystone XL project, and Southern Company, one of the biggest U.S. utilities," the Post reported. "Launched shortly before the 2020 election, the group is led by Susan Waller, a former executive at the pipeline firm Enbridge."
News
SUPPORT OUR WORK.
We are independent, non-profit, advertising-free and 100%
reader supported.