For Immediate Release
Contact:
Sam Husseini, (202) 347-0020; or David Zupan, (541) 484-9167
Mexican Election: Did Media "Fabricate Popularity" of Apparent Winner?
WASHINGTON
JOHN MILL ACKERMAN, johnmill.ackerman at gmail.com
Professor at the Institute for Legal Research at the National Autonomous University of Mexico, Ackerman said today: "Mexico apparently has decided to turn back the clock. Widespread frustration with twelve years of uneven political progress and stunted economic growth under the right-wing PAN [Party of National Action], has led to the desperate move of calling back to power the old guard PRI [Party of the Institutional Revolution]. Meanwhile, in a repeat of the last presidential race in 2006, the left-wing PRD [Party of the Democratic Revolution] has once again been left in a close second place.
"[PRI candidate] Pena Nieto also owes his apparent victory to the television duopoly which has literally fabricated his popularity out of thin air. The recent expose by The Guardian of enormous secret contracts between him and the television companies for the purpose of promoting his image, are only the tip of the iceberg. Upon arriving in office, the new president's first priority most likely will be to pay back this invaluable support through new laws and regulatory measures. Such a deal would also inevitably involve protection for the Pena Nieto administration from uncomfortable media oversight and accountability." See Ackerman's interview Monday morning on Democracy Now.
IRMA ERENDIRA SANDOVAL, irma.erendira at gmail.com
Irma Erendira Sandoval is professor of political science and coordinator of the Anti-Corruption Laboratory at the National Autonomous University.
She said today: "Although the initial results seem to indicate that the old Party of the Institutional Revolution may have won the election, turnout was very high and the leftist candidate, Andres Manuel Lopez Obrador, received more votes (over 15 million) this time around than he did during the 2006 presidential election. In general, the majority of the anti-Felipe Calderon vote was directed towards Lopez Obrador, and not towards the PRI. In addition, there is plenty of evidence that a great deal of the support for the PRI came from vote-buying and unfair support by the principal television stations. There does not appear to be a clear 'mandate' in favor of the PRI and, in order to govern, it will have to significantly modify its authoritarian tendencies and open itself up to criticisms from society, most importantly from the emerging student movement."
Also see: "Mexican Media Scandal: Secretive Televisa Unit Promoted PRI Candidate"
A nationwide consortium, the Institute for Public Accuracy (IPA) represents an unprecedented effort to bring other voices to the mass-media table often dominated by a few major think tanks. IPA works to broaden public discourse in mainstream media, while building communication with alternative media outlets and grassroots activists.
LATEST NEWS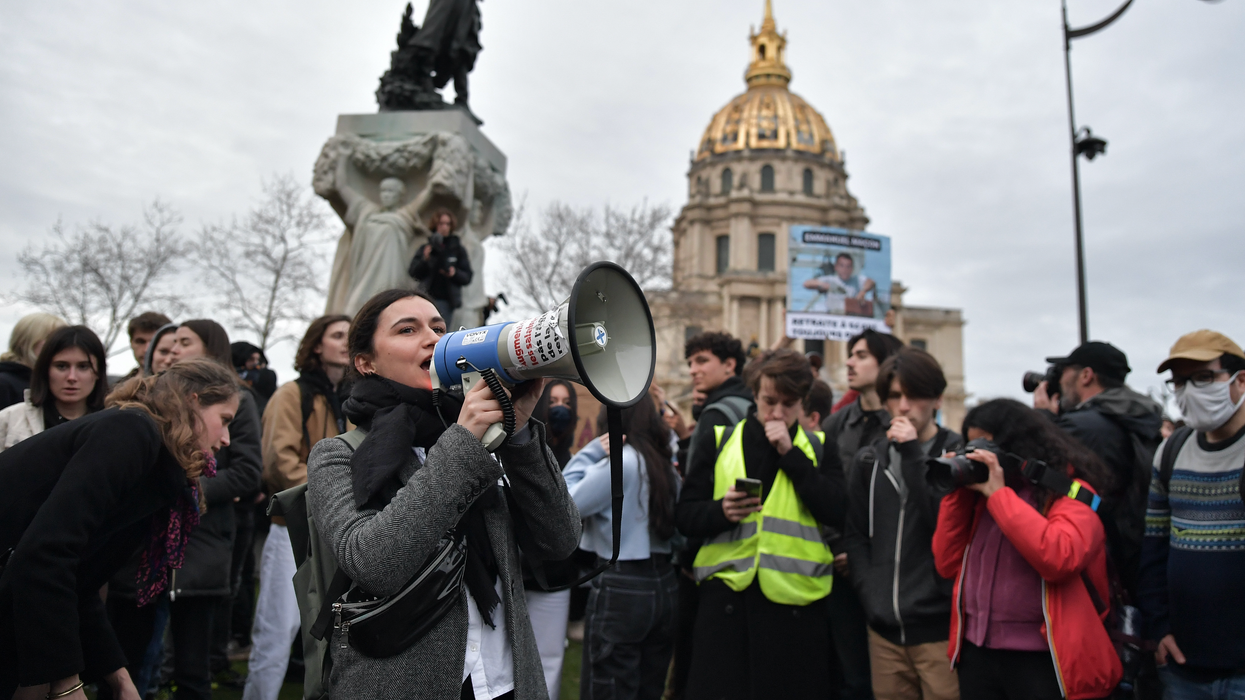 Protests—some of them violently repressed by police—broke out in Paris and cities across the nation after a parliamentary vote following the government's deeply unpopular move to raise the retirement age by two years.

Fresh protests erupted in Paris and other French cities on Monday after President Emmanuel Macron's government narrowly survived a pair of parliamentary no-confidence votes over bypassing the lower house of Parliament to raise the retirement age from 62 to 64.
The first parliamentary vote of no confidence, called by a small group of centrist lawmakers, fell nine votes short of the 278 needed to pass, Agence France-Presse reports. A second no-confidence vote, brought forward by the far-right National Rally, was also rejected.
The French Senate, which is dominated by right-wing parties, approved the higher retirement age last week. However, faced with the prospect of a vote shortfall in the National Assembly, Macron's government then invoked special constitutional powers to push through the retirement age hike.
The deeply unpopular policy has sparked widespread protests, some of which have drawn hundreds of thousands of people into the streets despite government bans on gatherings in locations including Place de la Concorde and the area of Avenue des Champs-Elysées in Paris.
Protests renewed following Monday's votes, with thousands of demonstrators marching in Paris alone. Videos posted on social media showed police charging protesters, spraying them with pepper spray, and beating them. One video showed officers brutalizing a person who appeared to be a photojournalist while an onlooker repeatedly shouted "it's the press!"

"We are not resigned," the Aubervilliers parliamentary group of the left-wing populist party La France Insoumise (LFI), or France Unbowed, tweeted Monday. "The fight against retirement reforms continues. All together in the street until the retirement of this unjust and illegitimate reform!"
LFI's parliamentary group in Haute-Garonne—which includes the southern city of Tolouse—tweeted that "Macron is more isolated than ever."
"The fight continues tonight," the party group said, previewing a Monday evening demonstration.
French unions are calling for a nationwide general strike on Thursday.
News
"How do we properly service our students when we are being overworked and underpaid and disrespected?" asked one special education assistant.

Demanding "respect and dignity" for tens of thousands of school support workers who help the Los Angeles Unified School District run, the union that represents 35,000 teachers in the city has called on its members to join a three-day strike starting Tuesday as school support staffers fight for a living wage.
Members of the Service Employees International Union (SEIU) Local 99 "work so hard for our students," said United Teachers of Los Angeles (UTLA) on Monday. "They deserve respect and dignity at work. We will be out in force tomorrow to make sure they get it."
Roughly 65,000 teachers and support professionals including bus drivers, cafeteria workers, teaching aides, and grounds workers are expected to walk out from Tuesday through Thursday this week, nearly a year after SEIU Local 99 entered contract negotiations with LAUSD, the second-largest school district in the United States.
The union is calling for a 30% pay increase for its members, who earn an average of $25,000 per year, or roughly $12 per hour. According to the MIT Living Wage Calculator, a living wage in the Los Angeles area is more than $21 per hour for a single person with no children and far more for people with children.
"I am a single mother and for the past 20 years I have worked two and sometimes three jobs just to support my family," Janette Verbera, a special education assistant, told In These Times Monday. "How do we properly service our students when we are being overworked and underpaid and disrespected?"
The school district offered a 20% overall pay increase spread over several years on Friday, along with a one-time 5% bonus.
Liz Shuler, president of the AFL-CIO, noted that LAUSD has a $4.9 billion surplus and said the district must use those funds to "invest in staff, students, and educators."
SEIU Local 99 members voted to authorize a strike in February, and said the limited three-day action is a protest against the district's negotiating tactics.
LAUSD has claimed the strike is unlawful and that workers are actually staging the walkout over pay without having exhausted all bargaining avenues. A state board over the weekend denied the district's request to block the strike.
As In These Timesreported, negotiations between the district and SEIU Local 99—as well as separate ongoing talks with the teachers' union about educators' contracts—are being led by Superintendent Alberto M. Carvalho, "whose $440,000 salary is nearly 10 times that of a starting salary for a LAUSD teacher."

"LAUSD won't get away with underfunding our schools," tweeted UTLA last week. "This is for our students, for our communities and for our lives."
News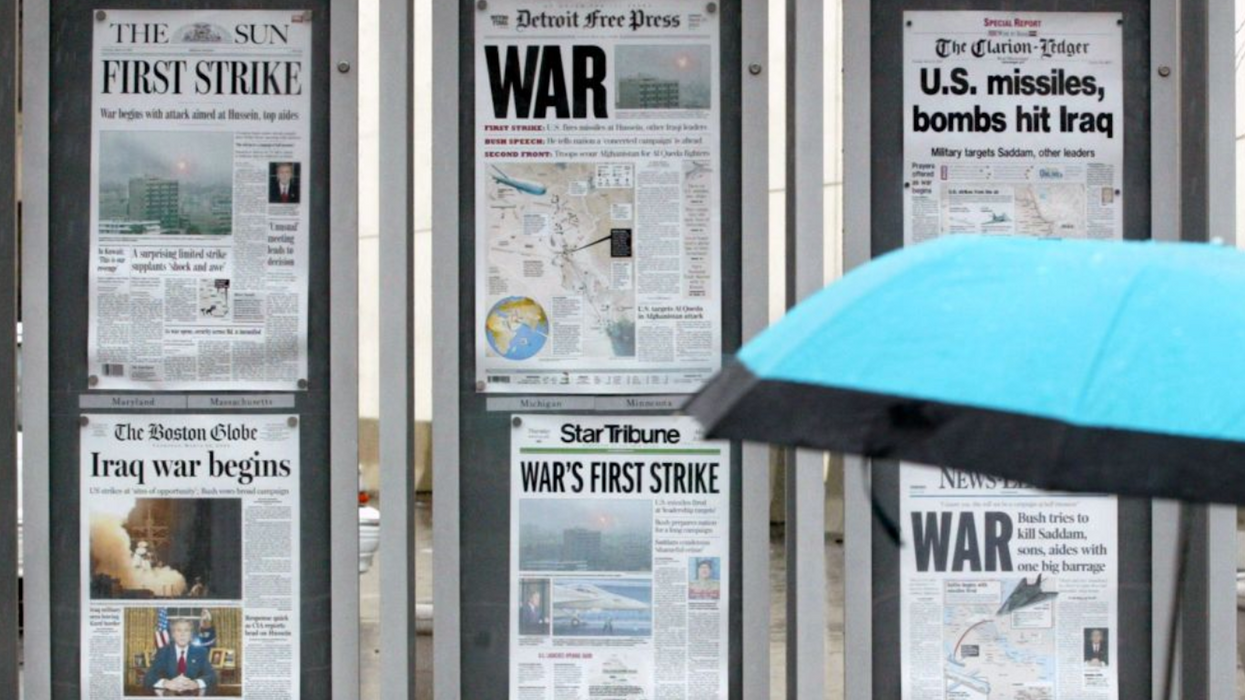 "It should not be forgotten that this debacle of death and destruction was not only a profound error of policymaking; it was the result of a carefully executed crusade of disinformation and lies," said one prominent critic.
As the world this week mark the 20th anniversary of the U.S.-led invasion of Iraq, journalism experts weighed in on the corporate media's complicity in amplifying the Bush administration's lies, including ones about former Iraqi dictator Saddam Hussein's nonexistent nuclear, chemical, and biological weapons upon which the war was waged.
"Twenty years ago, this country's mainstream media—with one notable exception—bought into phony Bush administration claims about Hussein's stockpiles of weapons of mass destruction, helping cheerlead our nation into a conflict that ended the lives of thousands of Americans and hundreds of thousands of Iraqis," Los Angeles Times columnist Robin Abcarian wrote Sunday.
That "one notable exception" was a group of journalists at the Washington, D.C. bureau of Knight Ridder—which was acquired by McClatchy in 2006—who published dozens of articles in several of the company's papers debunking and criticizing the Bush administration's dubious claims about Iraq and its WMDs. Their efforts were the subject of the 2017 Rob Reiner film Shock and Awe, starring Woody Harrelson.
"The war—along with criminally poor post-war planning on the part of Bush administration officials—also unleashed horrible sectarian strife, led to the emergence of ISIS, and displaced more than 1 million Iraqis," Abcarian noted.

She continued:
That sad chapter in American history produced its share of jingoistic buzzwords and phrases: "WMD," "the axis of evil," "regime change," "yellowcake uranium," "the coalition of the willing," and a cheesy but terrifying refrain, repeated ad nauseam by Bush administration officials such as then-National Security Adviser Condoleezza Rice: "We don't want the smoking gun to be a mushroom cloud."
"Of course," wrote Abcarian, "there was never any smoking gun, mushroom-shaped or not."
According to the Center for Public Integrity, a Washington, D.C.-based nonprofit investigative journalism organization, Bush and top administration officials—including then-Vice President Dick Cheney, Defense Secretary Donald Rumsfeld, Secretary of State Colin Powell, and Rice—"made at least 935 false statements in the two years following September 11, 2001, about the national security threat posed by Saddam Hussein's Iraq."
Those lies were dutifully repeated by most U.S. corporate mainstream media in what the center called "part of an orchestrated campaign that effectively galvanized public opinion and, in the process, led the nation to war under decidedly false pretenses."
"It should not be forgotten that this debacle of death and destruction was not only a profound error of policymaking; it was the result of a carefully executed crusade of disinformation and lies," David Corn, the Washington, D.C. bureau chief for Mother Jones, asserted Monday.
Far from paying a price for amplifying the Bush administration's Iraq lies, many of the media hawks who acted more like lapdogs than watchdogs 20 years ago are today ensconced in prestigious and well-paying positions in media, public policy, and academia.
In a where-are-they-now piece for The Real News Network, media critic Adam Johnson highlighted how the careers of several media and media-related government professionals "blossomed" after their lie-laden selling of the Iraq War:
David Frum—Bush's lead writer who coined the term "Axis of Evil" to refer to Iraq, Iran, and North Korea—is "a well-paid and influential columnist for The Atlantic and a mainstay of cable TV."
Jeffrey Goldberg, then a New Yorker reporter who pushed conspiracy theories linking Saddam Hussein to 9/11 and al-Qaeda to Iraq, is now editor-in-chief of The Atlantic.
MSNBC's Joe Scarborough, an erstwhile Iraq War hawk, rebranded himself as a critic of the invasion and occupation, and is a multimillionaire morning show host on that same network.
Fareed Zakaria hosts "Fareed Zakaria GPS" on CNN and writes a weekly column for The Washington Post.
Anne Applebaum, a member of the Post's editorial board at the time who called evidence of Iraq's nonexistent WMDs "irrefutable," now writes for The Atlantic and is a senior fellow at the Agora Institute at Johns Hopkins University's School of Advanced International Studies.

"The almost uniform success of all the Iraq War cheerleaders provides the greatest lesson about what really helps one get ahead in public life: It's not being right, doing the right thing, or challenging power, but going with prevailing winds and mocking anyone who dares to do the opposite," wrote Johnson.

In an interview with the Quincy Institute for Responsible Statecraft—which is hosting a discussion Wednesday about the media's role in war and peace—Middle East expert Assal Rad noted:
Rather than challenging the narrative of the state, calling for evidence, or even humanizing the would-be victims of the war, the Iraqi people, reporters such as Thomas Friedman with significant platforms like The New York Times most often parroted the talking points of U.S. officials. There was little critical journalism to question the existence of WMDs and little reflection on important issues, such as the U.S. role in supporting Saddam Hussein in the 1980s against Iran, international law, or the humanity of Iraqis.
While there was some contrition from outlets including the Times as the Iraq occupation continued for years and not the "five days or five weeks or five months" promised by Rumsfeld, journalist Jon Schwarz of The Intercept noted that media lies and distortions about the war continue to this day.
"Perhaps the most telling instance of the media's acquiescence was a year after the Iraq invasion," said Rad, "when President Bush's joke at the White House Correspondents' dinner about finding no weapons of mass destruction was met with uproarious laughter from an audience of journalists."
News
SUPPORT OUR WORK.
We are independent, non-profit, advertising-free and 100%
reader supported.