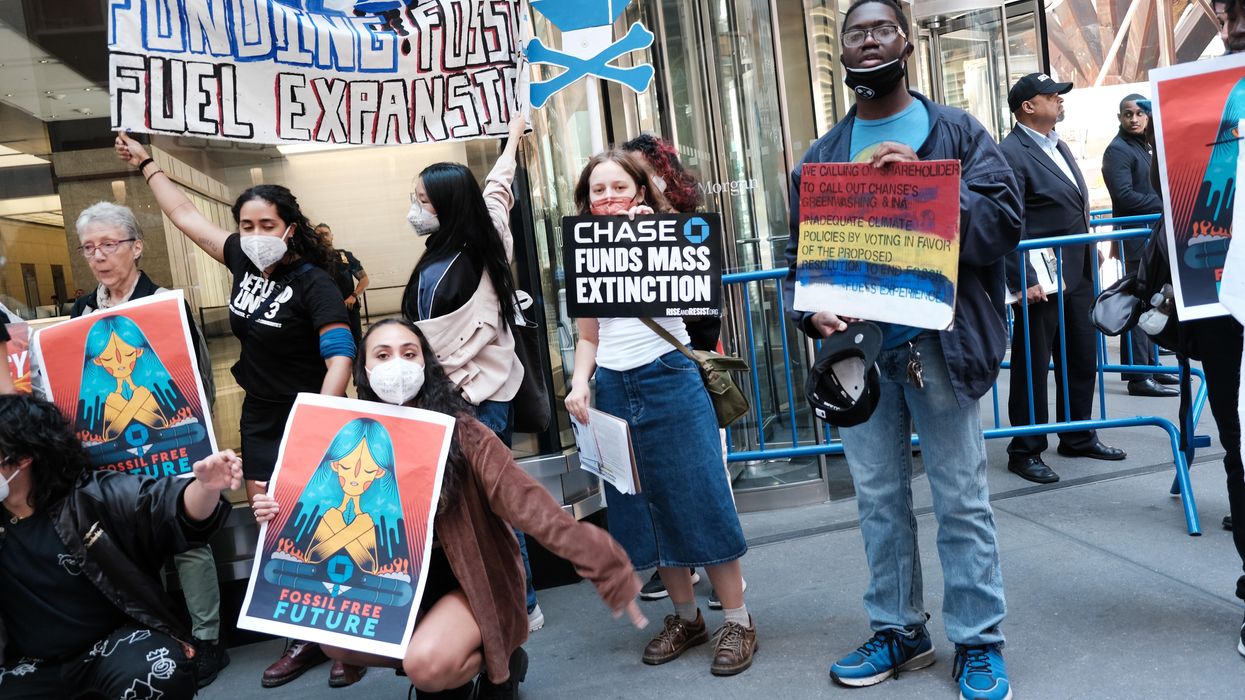 "The planet is running out of time and the banks are running out of excuses," said climate leader Bill McKibben.
A coalition of more than 240 advocacy groups on Wednesday launched a "Shareholder Showdown" campaign in support of shareholder resolutions urging climate action and respect for Indigenous rights at major U.S. and Canadian banks and insurance companies.
According to campaign coordinator Stop the Money Pipeline, the resolutions—which were filed by investors including the New York City and state pension funds, Sierra Club Foundation, and others—would require banks and insurance companies to "phase out their financing of companies engaged in fossil fuel expansion, report on projects that could violate Indigenous rights, use absolute emissions rather than emissions intensity targets, disclose 2030 transition plans, and hold directors accountable at banks that are not aligned with 1.5°C pathways."
The resolutions were timed to precede the companies' annual general meetings.

"This campaign is called Shareholder Showdown because we're in for a real fight—we're up against some globally powerful institutions," Arielle Swernoff, Stop the Money Pipeline's U.S. banks campaign manager, explained in an opinion piece published Wednesday by Common Dreams. "But organized people can achieve anything, and together we will stop the flow of money to fossil fuels and climate destruction."
\u201cToday we\u2019re launching our new campaign: #ShareholderShowdown! \n\nThis spring: banks + insurers will have their annual shareholder meetings, where they'll vote on resolutions needed to keep global warming below 1.5\u00b0C\u2026or decide to keep business as usual. \ud83d\udcb0\ud83d\udd25\n#StoptheMoneyPipeline\u201d

— Stop the Money Pipeline (@Stop the Money Pipeline) 1677684715
Bill McKibben, co-founder of the climate group 350.org, said in a statement that "the planet is running out of time and the banks are running out of excuses—everyone from the pope to the secretary-general of the [United Nations] have called on them finally to act with clarity and conviction to help with the planet's greatest crisis, and shareholders should demand no less."
Among the resolutions filed are:
An Indigenous rights reporting requirement filed by Sisters of St. Joseph for Peace at Citigroup;
An absolute emissions target disclosure mandate filed by New York City Comptroller Brad Lander and three city pension systems at Bank of America, Goldman Sachs, JPMorgan Chase, and Royal Bank of Canada; and
Measures filed by As You Sow requiring JP Morgan Chase, Bank of America, Wells Fargo, Goldman Sachs, and Morgan Stanley to publicly disclose their 2030 plans for transitioning lending and investment portfolios away from fossil fuels.
"Climate change is an existential crisis that can overwhelm a person in scale and size, impossible to address," said Tara Houska of the Giniw Collective, an Indigenous women and two-spirit-led frontline resistance group fighting fossil fuel projects like Line 3 in Minnesota.
"Big bank shareholders possess an enormous amount of influence on the world's emissions," Houska added. "A roomful of people can impact the disastrous course we are currently on. No more lip service or empty greenwashing—we need action, now."
News