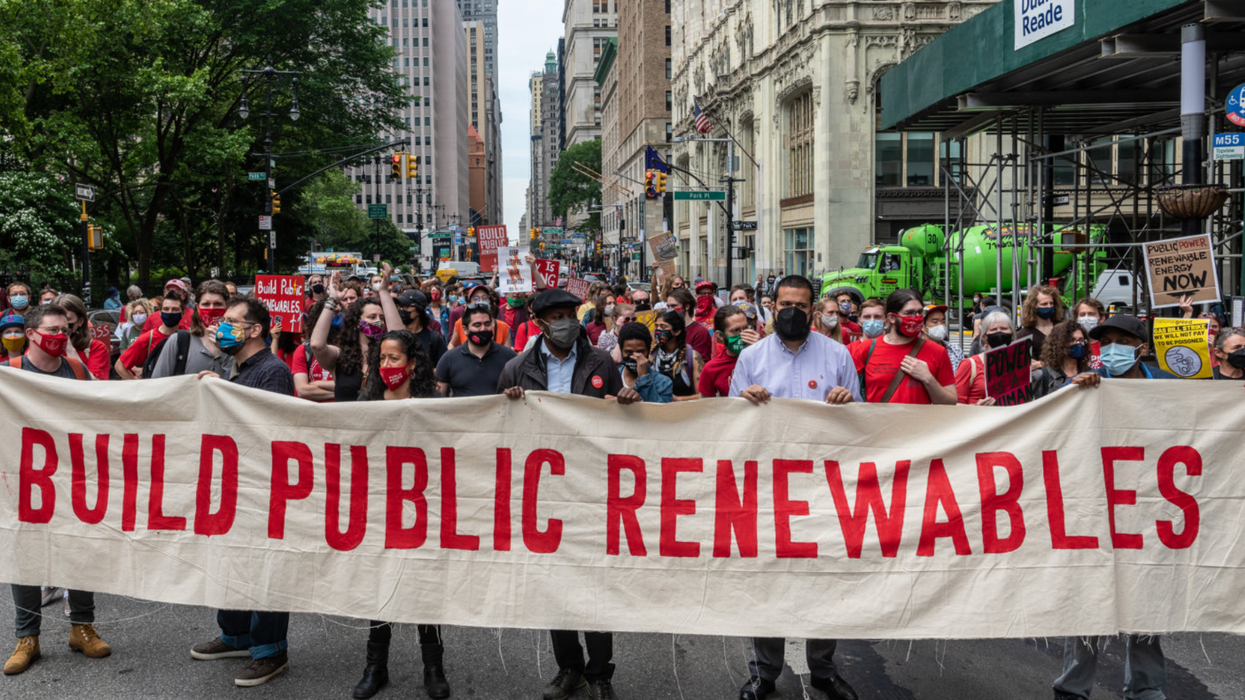 "A better world is possible," said campaigners who pushed for the passage of the Build Public Renewables Act. "And we are building it."
Climate campaigners in New York were credited on Tuesday with pushing Democratic Gov. Kathy Hochul and the state Legislature to include in the state budget "historic" provisions that will build publicly owned renewable energy and end the use of fossil fuels in new buildings—without a loophole allowing municipalities to opt out of the requirement.
The budget, hammered out in recent days in talks between the governor and the leaders of the Legislature as advocates refused to back down from their demands for far-reaching climate measures within the deal, includes the Build Public Renewables Act (BPRA), which was secured "through four years of organizing across the state by thousands of [Democratic Socialists of America members], the Public Power NY coalition, and more," said the NYC-DSA Ecosocialist Working Group.
"This text is the biggest Green New Deal win in U.S. history," said the group. "A better world is possible. And we are building it."
\u201cThis text is the biggest Green New Deal win in US history:\n\nThe #BuildPublicRenewables Act, now in the NY State Budget\n\nThrough four years of organizing across the state by thousands of @DemSocialists, @publicpowerny and more.\n\nA better world is possible. And we are building it.\u201d

— NYC-DSA Ecosocialist Working Group \ud83c\udf39 (@NYC-DSA Ecosocialist Working Group \ud83c\udf39) 1682989354
The BPRA will enable the New York Power Authority (NYPA), the state's publicly owned power provider, to assess each year whether New York is expected to meet its targets of achieving 70% renewable energy by 2030 and 100% by 2040. If not, the agency will step in to build enough renewable energy to fill in the gap.
The law is set to create tens of thousands of green jobs and "shut down some of the state's most polluting oil and gas plants—which are concentrated in working-class, Black, and brown communities—by 2030, replacing them with pollution-free renewable power," according to Public Power NY, a statewide grassroots movement.
Campaigners were outraged last year when the Democratic-led state Legislature refused to vote on the law before ending the legislative session early. Several New York Democrats in the U.S. House, including Reps. Alexandria Ocasio-Cortez and Jamaal Bowman, wrote to Hochul in March to demand the passage of the law.
Public Power NY noted that proposed reforms to the governance of the NYPA, which would have made the authority more accountable to New Yorkers, were not included in the final deal. Justin Driscoll, a former Republican donor who has opposed the BPRA, is currently Hochul's hand-picked interim CEO of the agency, and the coalition said it will "mobilize the powerful movement that passed this bill to oppose his nomination."
"NYPA needs leadership that understands the potential of public power and will use NYPA's resources and capacity to ensure that affordable energy gets to New Yorkers who need it most and that New York meets its climate goals," said Public Power NY.
Despite the absence of the proposed reforms in the budget, author and advocate Naomi Kleincalled the deal a "big win" for campaigners who have spent years pushing for public power in New York.
The budget also includes the All-Electric Building Act, a first-in-the-nation state law that will ban the use of fossil fuels in new buildings, starting in 2026 for structures with fewer than seven stories and 2029 for taller buildings.
Campaigners with Food & Water Watch (FWW), Earthjustice, NYPIRG, and New York Communities for Change successfully pushed Hochul and state lawmakers to exclude a "poison pill" provision which would have allowed local governments to opt out of the new requirements, enabling the entire state to take a "historic step" toward ending the use of oil and gas to heat and power buildings.
Once enacted, the measure will save households between $904 and $3,000 per year, according to an analysis by think tank Win Climate, but advocates noted that the law will go into effect two years after they had demanded—the result of a multimillion-dollar lobbying campaign by oil and gas giants, critics said.
"New Yorkers are resisting fossil fuels everywhere they pop up, from the power plants that pollute our air to the pipelines that put our communities in harm's way. Now buildings can be a part of that solution," said Alex Beauchamp, northeast region director at FWW. "Unfortunately, we're still moving too slowly, and Gov. Hochul is to blame. Instead of fighting for the swift transition off fossil fuels that the climate crisis demands, the governor caved at the eleventh hour, giving the fossil fuel industry another year of delay to profit at our expense. We won't stop fighting until we end our devastating addiction to fossil fuels."
Certain commercial buildings also won't have to comply until 2029, a carve-out that will benefit "large warehouses and box stores operated by the likes of Amazon" and will "reduce the bill's positive impact and further defer to corporate lobbyists," said FWW.
Rachel Rivera, a Brownsville, Brooklyn resident and New York Communities for Change member whose home was devastated by Hurricane Sandy in 2012, said the budget deal led her to have "mixed emotions."
"This policy is a political compromise between what's needed for the people and the death-dealing fossil fuel industry, the people who hurt my family so badly," said Rivera. "On the one hand, New York, my home, will be the first state to end fossil fuels in new buildings by law. That's huge because my community needs to save money, breathe clean air, and get good jobs in clean energy, not die in an extreme weather crisis, as members of my family have. Sadly, this great new law will go into effect years later than it should."
"New York is far behind what's needed for climate justice," she added. "I want to thank our bill sponsors, and all the movement leaders who fight for what's right."
News