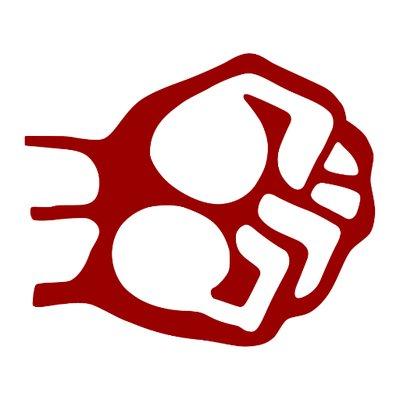 As Lawmakers Fall Ill, Congress and State Legislatures Must Enact Continuity Plans
Remote voting measures must be enacted before the crisis worsens and legislatures close.
WASHINGTON
Demand Progress calls on Congress and state legislatures to institute continuity of governance plans immediately, before the COVID-19 crisis worsens and the legislatures become unable to act. Many members of Congress have been exposed to the virus, it was announced that two New York state lawmakers had contracted the virus, and it's likely many others have contracted it as well. Overseas, the European Union Parliament in Strasbourg was closed and reconvened in Brussels, and about 10 percent of Iranian parliamentarians have tested positive, while two have died.
Federal and state legislatures must be able to act over the course of what could be a lengthy crisis to ratify emergency and non-emergency legislation and to provide crucial oversight of the government's response -- but they generally do not have procedures in place to allow them to do so, and the window during which to put them into place is closing.
Congress is in the midst of holding hearings on its spending bills that must be adopted this summer or the government will shut down; similarly, any hope of a third emergency coronavirus bill will require both chambers to function fully.
State legislatures are in similarly dire straits, with many convening only for a few months at the beginning of the year to enact a swath of spending and authorizing bills, including addressing likely budget shortfalls and emergency spending requirements wrought by this pandemic. Many potential election law changes -- like vote-by-mail -- that could be required to ensure full participation in elections because of the crisis are likely to require state statutory changes.
The Achilles' heel to Congress and state legislatures alike is the requirement that voting in committees and on the floor must take place in person. While the House Speaker and Senate Majority Leader have the emergency power to convene Congress in an alternate location, a decision available to some but not all state legislatures, legislators are not permitted to deliberate and vote remotely, i.e., through electronic means like video-conferencing.
The nature of the coronavirus makes in-person meetings dangerous to legislators and staff, and as its grip tightens, it will become difficult if not impossible for members to travel to their respective capitol buildings. Accordingly, the only way for legislatures to legislate will be through remote deliberations and voting, and only if they change their rules in advance to make this permissible.
There are reasonable concerns about the nature of electronic voting in the context of primary and general elections, but the same concerns do not hold true for legislatures. The use of basic teleconference software that is widely and commercially available, like Zoom, makes it possible to see and hear each member that is participating, to record the proceedings, and to publish the video online. Accordingly, the use of roll call voting makes it possible for other members of the chamber, the press, and the public to hear the matter that is being deliberated upon and to see each respective member as they vote yea or nay. Should there be an error in the recorded vote, it makes correction possible as well.
We would not endorse remote deliberations in normal circumstances. However, given the nature of the emergency, it is far preferable for legislatures to be able to deliberate, vote, and hold government to account in a remote proceeding than for the legislatures to shut down entirely.
Demand Progress calls upon the U.S. House and Senate to convene immediately to allow for an emergency, temporary suspension of the provisions of their rules that prohibit remote deliberations, and urges all state legislative bodies to examine relevant rules, statutes, and constitutional provisions and take all steps possible to enable legislatures to meet and vote through online means should the circumstance arise where it becomes necessary.
Such efforts can, and must, be accomplished while protecting government transparency and the integrity of relevant proceedings and votes. It is inaction that could undermine the legitimacy, if not the very existence, of our government: Governance systems could collapse, critical needs could go unmet, and the President and governors could feel pressure to, or simply seek to, expand sweeping emergency powers even as no legislative oversight function operates. Or they could lose the necessary prod of legislatures to act and the authority by which to do so and thereby cause many needless deaths and worse.
"The failure of legislatures to prepare for coronavirus is preparation for our legislatures to fail," said Daniel Schuman, policy director, Demand Progress. "The U.S. House and Senate and the 99 state houses must ensure that they can continue in the face of the deadly coronavirus, and that includes the ability to hold remote votes and deliberations so they can continue to pass life-saving legislation and oversee executive efforts to fight this scourge."
"As lawmakers fall sick, legislative sessions across the country are being cut short out of legitimate fear of the pandemic," said David Segal, executive director, Demand Progress, and a former Rhode Island state representative. "This crisis will only worsen: It's naive to assume that it will be possible to reconvene in a few weeks, so legislatures must make necessary changes to procedures now. If they do not then governments will be thrown into chaos and we can expect to witness the spectacle of lawmakers voting in hazmat suits over coming months as they struggle with budgets, election laws, and other critical concerns."
Demand Progress amplifies the voice of the people -- and wields it to make government accountable and contest concentrated corporate power. Our mission is to protect the democratic character of the internet -- and wield it to contest concentrated corporate power and hold government accountable.
LATEST NEWS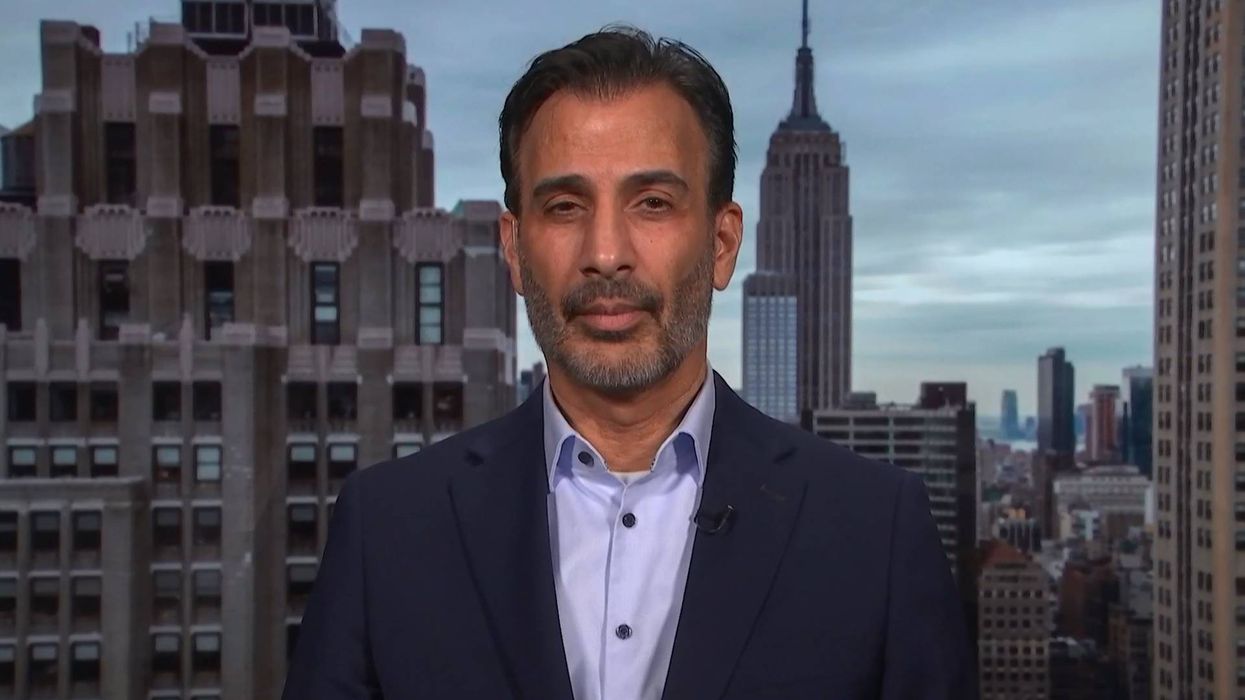 Meanwhile, a Biden administration spokesperson says it is "too soon" to judge whether Israel is protecting Palestinian civilians in Gaza.

A former United Nations human rights official who resigned from his job in October over what he called the world body's refusal to prevent Israel's slaughter of thousands of Palestinian civilians said this week that Israeli forces are undeniably committing genocide in Gaza.
In a Sunday interview with Al-Araby Al-Jadeed translated by The New Arab, Craig Mokhiber—formerly the New York director for the Office of the High Commissioner for Human Rights—described Israel's Gaza onslaught as the "most clear-cut case of genocide I have seen in my career."
"We are witnessing genocide in the 21st century, and it seems that the United Nations is once again unable to stop it," the American attorney added. "I realize that the term 'genocide' is being politicized and misused in some circumstances—so as a human rights lawyer, I am careful to apply the term only when there is a prima facie case and the evidence is clear."
"We are witnessing genocide in the 21st century, and it seems that the United Nations is once again unable to stop it."

Mokhiber, who is 63 years old, worked at the U.N. for more than 30 years as a human rights specialist, serving in places including Gaza, Afghanistan, and Darfur. He also worked during the Tutsi, Bosnian, Yazidi, and Rohingya genocides.
He quit in late October, penning a scathing resignation letter excoriating the U.N. Echoing earlier comments by Israeli Holocaust scholar Raz Segal, Mokhiber called Israel's conduct "a textbook case of genocide."
"What's interesting about this case compared to others is that generally when you try to prove genocidal intent, you need to get secret government documents and files, and dig through old secret archives to find indicators of intent," Mokhiber said Sunday.
"Here we have frank and clear statements of genocidal intent by senior Israeli officials, both public and official," he added.
Numerous senior Israeli officials have made what critics have called genocidal statements, including Prime Minister Benjamin Netanyahu, President Isaac Herzog, Defense Minister Yoav Gallant, Agriculture Minister Avi Dichter, and a number of Knesset lawmakers.
"They have a strong sense of impunity, frankly because of the protection they enjoy from the United States, Britain, and Europe in international forums," said Mokhiber.
During a Monday press conference, U.S. State Department spokesperson Matthew Miller was asked about Mokhiber's genocide assertion.
"The State Department has a rigorous process for evaluating... what constitutes genocide, ethnic cleansing, or a crime against humanity," he replied. "Those are terms we only use with very explicit care."
"We are monitoring the evolving situations and are examining facts as they develop," Miller continued. "It's an extremely challenging space to get all the information... But we support Israel's right to continue to take action to ensure that Hamas can never conduct terrorist attacks like it did on October 7th again. And as part of that, we urge Israel to take all possible measures to minimize civilian harm."
Asked if Israel is heeding Biden administration exhortations to protect civilians in Gaza, Miller said that "I think it's too early to draw a definitive assessment. I will say that unfortunately, we do expect to see civilian casualties as a result of this campaign."
"We believe that far too many civilians have been killed," Miller said later during the press conference. "But again, this goes back to the underlying problem of this entire situation, which is that Hamas has embedded itself inside civilians—inside civilian homes, inside its mosques, in schools, in churches. It is Hamas that is putting these civilians in harm's way."
Gaza officials said Tuesday that nearly 16,000 Palestinians—including more than 4,000 women and over 6,000 children—have been killed by Israeli bombs and bullets, with upward of 42,000 others wounded, around 80% of the besieged strip's 2.3 million people forcibly displaced, and approximately 60% of the territory's homes destroyed or damaged.
President Joe Biden—who is seeking $14.3 billion in additional military aid for Israel—and other U.S. officials have been accused of genocide denial for aspersing Gaza authorities' casualty reports because they were issued by Hamas. However, Israeli military officials said off the record this week that Hamas' figures are accurate.
News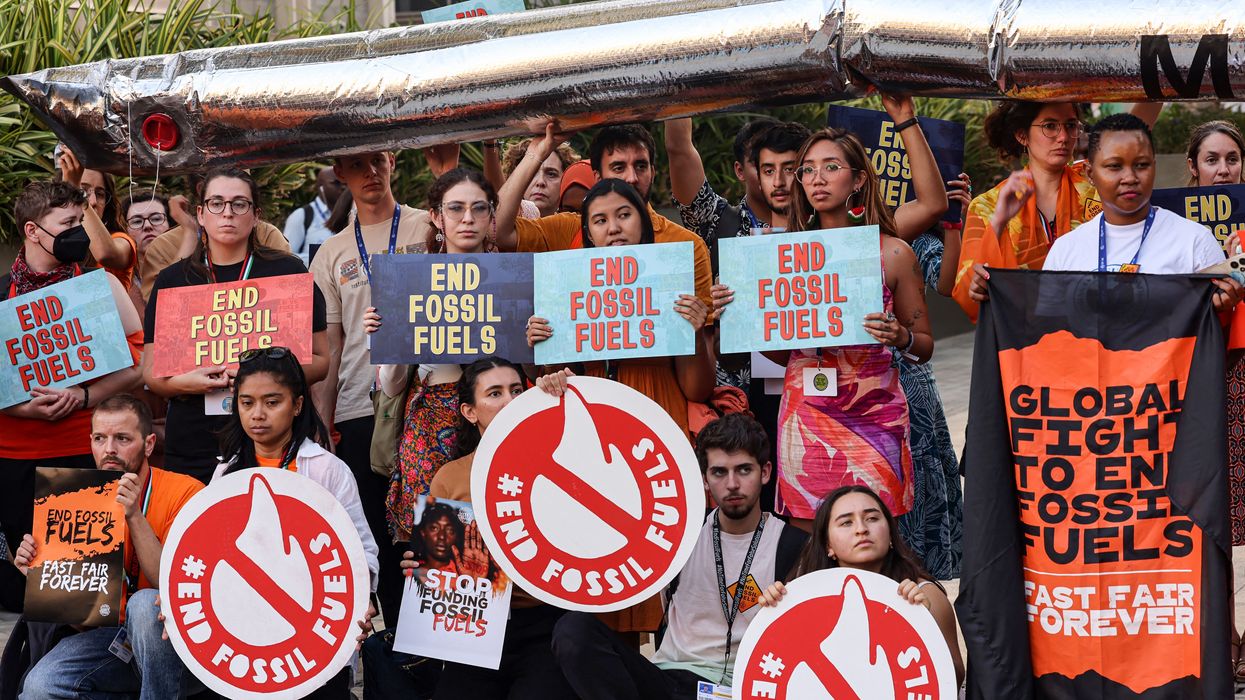 The draft offers "the fossil fuel industry a lifeline with dangerous distractions, like carbon capture and storage, and other abatement technologies," said one campaigner.
With a week left until the 28th United Nations Climate Change Conference wraps up with a long-awaited "Global Stocktake" that will measure countries' progress towards the objectives of the Paris climate agreement, a draft of the document released Tuesday revealed a strong push to include a major loophole for the biggest fossil fuel producers—in the form of language that would allow so-called "abated" emissions.
More than 100 countries reportedly support a clause in the Global Stocktake that would call for "accelerating efforts toward phasing out unabated fossil fuels"—emissions that are not "captured" through technological fixes like carbon capture and storage (CCS) before they reach the atmosphere. That option in the text also calls on countries to "rapidly" reduce unabated fossil fuels "so as to achieve net zero CO2 in energy systems by or around mid-century."
The Biden administration, among other wealthy governments, has backed an expansion of CCS, offering $1.2 billion in grants for two projects this year. Analysts warn the technology would actually increase energy consumption by 20%, ultimately increasing the carbon emissions that CCS proponents claim are "abated" by the technology, as well as worsening environmental injustice by ramping up smog, benzene, and formaldehyde emissions in fenceline communities.
Other options in the draft text include a call for "an orderly and just phaseout of fossil fuels," which more than 25 countries support, according toBusinessGreen, and no mention at all of a phaseout.
Another paragraph in the draft included an agreement that countries will rapidly phase out "unabated coal power this decade" and ban the building of new coal power plants, and a second option would omit any mention of phasing out coal.

Romain Ioualalen, global policy manager for Oil Change International, acknowledged that just "three years ago, it would have been unimaginable to see governments consider an inclusion of fossil fuel phaseout in any [Conference of the Parties] agreement," which organizers and governments in the Global South have aggressively campaigned for in recent years.
The ultimate goal for the Global Stocktake, however, said Ioualalen, is "an agreement to immediately decline fossil fuel production and use... as well as a full, fast, fair, and funded fossil fuel phaseout."
The draft released on Wednesday goes in the opposite direction, he said, giving "the fossil fuel industry a lifeline with dangerous distractions, like carbon capture and storage, and other abatement technologies."

"We urge parties to hold a strong line against these failed technologies and refuse any language that allows fossil fuel companies to justify continued oil and gas extraction," said Ioualalen.
Pivoting to technologies like carbon capture and storage instead of focusing on sharply dialing down all carbon emissions, he added, would "blow us well past 1.5°C [in planetary heating], and lead to catastrophic climate consequences."
As author and 350.org co-founder Bill McKibben wrote in a column earlier this week, countries that are embracing technologies like CCS are playing into the hands of fossil fuel giants.
"It's abundantly clear that coal, oil, and gas are breaking the climate system; it's also abundantly clear that the people who own coal, oil, and gas reserves don't care," wrote McKibben. "In an effort to keep burning them, so they can continue to collect the returns, they propose building vast engineering projects alongside fossil-fuel generating plants, to capture the carbon dioxide from the exhaust stream. That is, they want to 'abate' the damage of their product."

Scientists have warned that eight years after the Paris climate agreement was finalized with a goal of limiting planetary heating to 1.5°C—or as far below 2°C as possible—the world is currently on track to warm by 3°C this century.
Global carbon emissions have continued to rise in recent years as countries including the U.S. and the U.K. have approved major fossil fuel projects despite warnings from energy and climate experts that oil, gas, and coal extraction have no place on a pathway to 1.5°C.
The final Global Stocktake, said Shirley Matheson, the World Wildlife Fund's global nationally-determined contribution enhancement coordinator, must force governments to "face up to the consequences of their collective inaction, and commit to strengthen climate ambition and action in line with limiting global warming to 1.5°C."
Matheson called the current draft "bloated" and expressed hope that countries in attendance at the conference (COP28) will adopt a Global Stocktake with the best options included in the draft.

"Good language on phasing out fossil fuels is included as an option, and new text options have been added that call for stronger ambition in the national climate plans, and a new collective goal for 60% emissions cuts by 2035," she said. "These signals are essential to create the conditions for more ambitious commitments and more international cooperation to achieve them."
"Time is running out for negotiators to agree on a draft text with clear political options for ministers later in the week," she added. "Countries must work together to achieve science-aligned guidance and ways forward for a dramatic course correction of climate action. This will give us the best chance of securing a livable planet."
As Common Dreamsreported Wednesday, a record number of fossil fuel industry lobbyists are also attending COP28, leaving campaigners concerned that the final agreements out of the summit will include significant loopholes for the industry.
"Global leaders have to deliver a full package," said Ioualalen. "We will not accept weak outcomes only on coal or renewables, and without addressing the primary driver of the climate crisis, fossil fuels."
News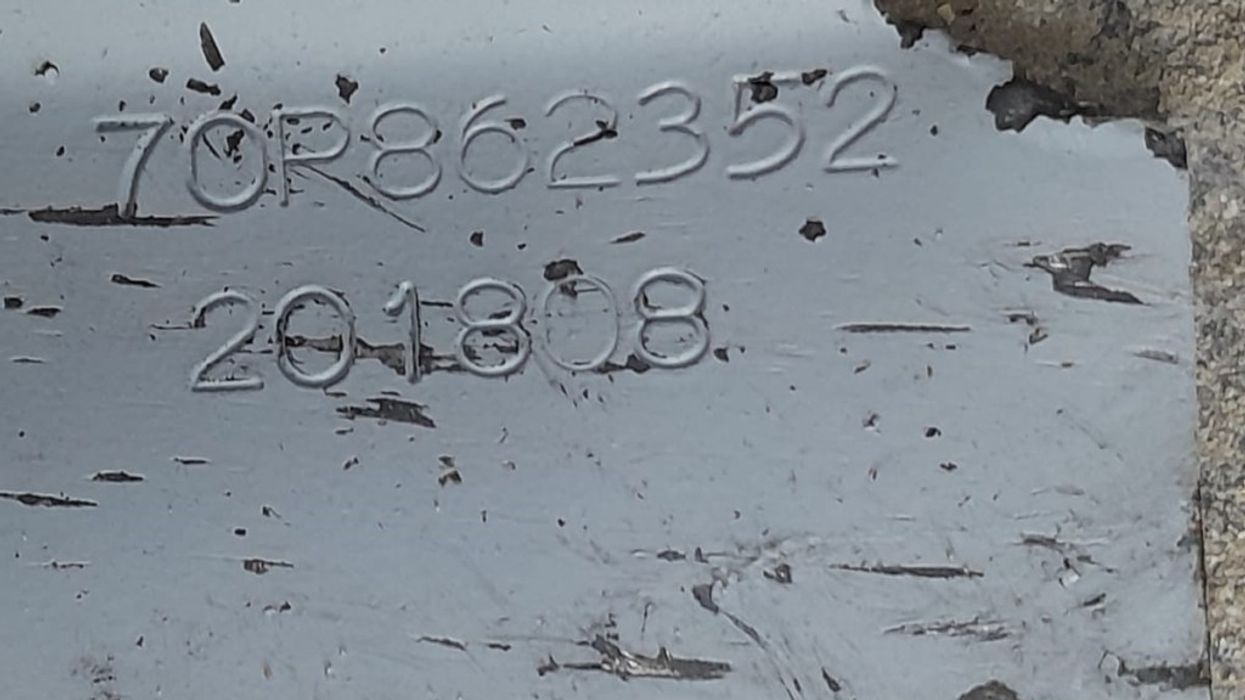 Amnesty International's findings "should be an urgent wake-up call to the Biden administration," said the group's secretary-general.
An Amnesty Internationalinvestigation published Tuesday found that the Israeli military used U.S.-made munitions in a pair of illegal airstrikes on homes in the occupied Gaza Strip in October, killing more than 43 people from two families—including 19 children.
Photographs taken by Amnesty fieldworkers show two fragments of what appear to be Joint Direct Attack Munitions (JDAM), the most common kind of weaponry that the U.S. has provided to Israel in recent years. The group noted that codes on the plates of the munition scraps "are associated with JDAMs and Boeing, the manufacturer."
The codes indicate that the munitions were manufactured in 2017 and 2018. JDAM kits are ostensibly designed to turn unguided bombs into GPS-guided weapons.
"The photos of the metal fragments from the weapons clearly show the distinctive rivets and harness system that indicate they served as a part of the frame that surrounds the body of the bomb of a JDAM," Amnesty said.
The two strikes that the organization examined, carried out on October 10 and October 22, killed 43 civilians—14 women, 10 men, and 19 kids. Survivors told Amnesty that they were not warned of an imminent strike.
"Both homes were south of Wadi Gaza, within the area where, on 13 October, the Israeli military had ordered residents of northern Gaza to relocate to," Amnesty said.
Agnès Callamard, the organization's secretary-general, said in a statement that the revelations "should be an urgent wake-up call to the Biden administration."
"The U.S.-made weapons facilitated the mass killings of extended families," said Callamard. "In the face of the unprecedented civilian death toll and scale of destruction in Gaza, the U.S. and other governments must immediately stop transferring arms to Israel that more likely than not will be used to commit or heighten risks of violations of international law."
"To knowingly assist in violations is contrary to the obligation to ensure respect for international humanitarian law," she added. "A state that continues to supply arms being used to commit violations may share responsibility for these violations."
The two airstrikes came in the early stages of an Israeli bombing campaign that has killed nearly 16,000 people in less than two months and displaced roughly 80% of Gaza's 2.3 million people.
The U.S.—Israel's primary arms supplier—has urged its ally in recent days to take steps to limit civilian deaths, but Israel's bombardment and ground assault have intensified since a seven-day pause ended last week, killing at least 900 people in just several days.
Even as Israel ignores its tepid calls to protect civilians, the Biden administration has continued to send weaponry to the Israeli military, deepening its complicity. Citing unnamed U.S. officials, The Wall Street Journalreported last week that the Biden administration has transferred more than 100 2,000-pound bunker-buster bombs to Israel as part of the flow of weapons that started soon after the October 7 Hamas-led attack.
According to the Journal, the U.S. has thus far provided Israel with roughly 15,000 bombs and 57,000 artillery shells. The Biden administration is currently pushing Congress to approve an additional $10 billion in military aid for Israel.
Based on the amount of damage inflicted, Amnesty estimates that the munition that hit the al-Najjar family home—killing 24 people—likely weighed 2,000 pounds, while the bomb that struck the Abu Mu'eileq home likely weighed at least 1,000 pounds.
"Our lives have been destroyed in a moment. Our family has been destroyed. Something that was unthinkable is now our reality."
Suleiman Salman al-Najjar told Amnesty that he was returning from the hospital after receiving treatment for kidney problems when he learned that his home had been bombed. The Israeli strike killed his wife, two daughters, and two sons as well as three neighbors.
"I rushed home and saw a scene of utter destruction. I could not believe my eyes. Everybody was under the rubble. The house was completely pulverized. The bodies were reduced to shreds," he said. "Our lives have been destroyed in a moment. Our family has been destroyed. Something that was unthinkable is now our reality."
Samaher Abu Mu'eileq, a survivor of Israel's October 22 strike, told Amnesty, "I had just left the house where my sisters-in-law and my nephews and nieces were sitting, a minute before the house was bombed."
"I walked downstairs and just as I was opening my front door, my brother's house next door was bombed," Abu Mu'eileq said. "I was thrown against the door by the force of the explosion and was injured in my face and neck. I can't understand why the house was bombed. My sisters-in-law and their children and my stepmother were killed, all of them women and children… Others were injured. What is the reason for such crime against civilians?"
Amnesty said the strikes should be investigated as war crimes and argued that the Biden administration "may share responsibility for serious violations of international humanitarian law committed by Israel with U.S.-supplied weapons, as all states have a duty not to knowingly contribute to internationally wrongful acts by other states."

News