For Immediate Release
Contact:
Sam Husseini, (202) 347-0020; or David Zupan, (541) 484-9167
Are Obama and Clinton Being Honest About How Afghan War Began?
WASHINGTON
"Only after the Taliban refused to turn over Osama bin Laden [did we send] our troops into Afghanistan."
-- Barack Obama at West Point, Dec. 1
"[The Taliban] were given a chance to turn over al Qaeda and bin Laden before we attacked them and they refused."
-- Hillary Clinton in response to questioning by Rep. Ron Paul, Dec. 2
Sept. 22, 2001: Washington Post reports: "The Taliban's ambassador to Pakistan said his government wants proof that bin Laden was involved in last week's attacks on the World Trade Center and the Pentagon before considering whether to extradite him. 'We are not ready to hand over Osama bin Laden without evidence,' said the envoy, Abdul Salam Zaeef [who would later be imprisoned and then released from Guantanamo]. In Washington, U.S. officials said they would not provide evidence to the Taliban about bin Laden's involvement in the Sept. 11 attacks. White House spokesman Ari Fleischer said there would be 'no discussions and no negotiations' with the Taliban. Releasing evidence about the attacks, Fleischer said, could provide 'meaningful assistance' to suspects still being sought by law enforcement authorities."
Oct. 3, 2001: Washington Post writes: "In Afghanistan, leaders of the ruling Taliban militia, which has been harboring bin Laden, urged the United States to share its evidence with them, saying they hoped for a negotiated settlement instead of a military conflict. The Taliban ambassador to Pakistan, Abdul Salam Zaeef, said his government would be willing to talk to the United States about bin Laden, but 'we don't want to surrender without any proof, any evidence.' ... But President Bush ruled out any discussions with the Taliban and reiterated his demand that bin Laden and members of al Qaeda be surrendered unconditionally. 'I have said that the Taliban must turn over the al Qaeda organization living in Afghanistan and must destroy the terrorist camps,' Bush said in Washington. 'They must do so, otherwise there will be a consequence. There are no negotiations. There is no calendar.'"
Oct. 4, 2001: Reuters runs the headline: "Taliban won't give up bin Laden even if proof -- paper" based on an interview with an Arabic newspaper: "Taliban's ambassador to Pakistan, Mullah Abdul Salam Zaeef, told the United Arab Emirates' Al-Khaleej newspaper the movement would 'thoroughly check' U.S. documents linking bin Laden to the devastating attacks on New York and Washington before putting him on trial in an Islamic sharia court."
Oct. 5, 2001: Guardian (UK) reports: "Mullah Abdul Salam Zaeff, the Afghan ambassador to Pakistan, said: 'We are prepared to try him, if America provides solid evidence of Osama bin Laden's involvement in attacks in New York and Washington.' Asked whether the Taliban would allow a trial of Bin Laden in another country, he said: 'We are willing to talk about that, but the first is that we must be given the evidence.' The Afghan Islamic Press (AIP) quoted Mullah Zaeff as saying: 'If America is not satisfied with our trial of Osama, we are also ready to find another Islamic way of trying him.' But asked whether the Taliban were ready to hand over Bin Laden, he said: 'This is a later thing, we cannot take any step that hurts our Islamic or Afghan dignity.'"
Oct. 6, 2001: AP reports: "'Tony Blair has come to encourage war,' Ambassador Abdul Salam Zaeef said. 'We have no message for him. Had he come for negotiations and talks, then we would have liked to have said something.' ... Bin Laden is the prime suspect in the Sept. 11 terror attacks on New York and Washington. 'The issue is not Osama,' Zaeef said. 'The issue is Islam. Osama is a Muslim; he is a citizen of a Muslim country. We cannot hand him over to the United States. We are ready to try him before an Islamic court or under Islamic law. If we send him to the United States, there will be no justice.'"
Oct. 7, 2001: Bombing of Afghanistan begins. Bin Laden tape released in which he lauds the attacks but does not actually claim responsibility (something he would not do until just before the 2004 U.S. election): "neither America nor the people who live in it will dream of security before we live it" and "its greatest buildings were destroyed, thank God for that."
Oct. 12, 2001: Slate publishes a legal analysis "Taliban vs. Osama Bin Laden: Would an Islamic court convict or acquit Bin Laden of murder?" by Dahlia Lithwick
Oct. 14, 2001: Guardian (UK) reports: "Bush rejects Taliban offer to hand Bin Laden over," which states: "President George Bush rejected as 'non-negotiable' an offer by the Taliban to discuss turning over Osama bin Laden if the United States ended the bombing in Afghanistan."
Oct. 15, 2001: Washington Post reports: "President Bush rejected an offer from Afghanistan's ruling Taliban to turn over suspected terrorist mastermind Osama bin Laden to a neutral third country yesterday as an eighth day of bombing made clear that military coercion, not diplomacy, remains the crux of U.S. policy toward the regime. 'They must have not heard: There's no negotiations,' Bush told reporters on the White House South Lawn after returning from Camp David. That brusque dismissal came on a day when Attorney General John D. Ashcroft warned in television appearances that nearly 200 people with potential links to the Sept. 11 attacks -- some of whom he believes are probably terrorists themselves -- remain at large in the United States."
Oct. 17, 2001: The Guardian (UK) publishes "New offer on Bin Laden: Minister makes secret trip to offer trial in third country," which states: "A senior Taliban minister has offered a last-minute deal to hand over Osama bin Laden during a secret visit to Islamabad, senior sources in Pakistan told the Guardian last night... For the first time, the Taliban offered to hand over Bin Laden for trial in a country other than the U.S. without asking to see evidence first in return for a halt to the bombing, a source close to Pakistan's military leadership said."
Oct. 29, 2001: Washington Post publishes "Diplomats Met With Taliban on Bin Laden: Some Contend U.S. Missed Its Chance," which states: "Over three years and on as many continents, U.S. officials met in public and secret at least 20 times with Taliban representatives to discuss ways the regime could bring suspected terrorist Osama bin Laden to justice. Talks continued until just days before the Sept. 11 attacks, and Taliban representatives repeatedly suggested they would hand over bin Laden if their conditions were met, sources close to the discussions said."
Nov. 1, 2001: AP reports: "'We do not want to fight,' Amir Khan Muttaqi, the Taliban's chief spokesman, said in an interview. 'We will negotiate. But talk to us like a sovereign country. We are not a province of the United States, to be issued orders to. We have asked for proof of Osama's involvement, but they have refused. Why?'"
SAM HUSSEINI
Communications director of the Institute for Public Accuracy, Husseini said today: "It's quite deceptive of Obama and Clinton to claim simply that the Taliban refused to hand over bin Laden. The reality is that the Bush administration refused to discuss how that might be done. The Taliban continually asked for evidence that bin Laden was responsible. We don't know whether the Taliban would have responded to such evidence, but it should have been made public in any case. Now, if Obama and Clinton want an exit strategy, they should be forthright about such issues." Husseini wrote the article "The Exit Strategy."
RAHUL MAHAJAN
Mahajan is author of Full Spectrum Dominance: U.S. Power in Iraq and Beyond, and publisher of Empire Notes.
He said today: "President Obama's statement during his speech at West Point that the United States went to war 'only after the Taliban refused to turn over Osama bin Laden' is a half-truth, as is his implication that the UN Security Council authorized the war on Afghanistan. The truth is that CIA and Special Forces were operating in Afghanistan almost immediately after 9/11. And well before the advent of aerial bombing on Oct. 7, the Taliban made numerous statements indicating willingness to negotiate. They wanted the United States to provide evidence regarding bin Laden's involvement before considering extradition -- a normal demand in any criminal case -- and Colin Powell said that evidence would be provided to the world, but the Bush administration almost immediately reneged on that commitment. They also wanted bin Laden tried in an Islamic court in a Muslim country. Their offered negotiating positions softened as the bombing continued. Whether negotiations would have led anywhere or not, the Bush administration resolutely refused to accept any possibility of avoiding war.
"It's not clear how well President Obama and his advisers know this history, although it was all documented in Western newspapers at the time; what is clear is that his suggestion that the Taliban refused to negotiate is not primarily about justifying the war post-9/11 -- that still remains unquestioned in mainstream U.S. politics -- but rather about justifying his current position that strenuous anti-Taliban efforts in Afghanistan, including the recently announced surge, are a necessary part of ensuring U.S. national security."
Mahajan noted the Taliban's position in an IPA news release on Oct. 7, 2001.
A nationwide consortium, the Institute for Public Accuracy (IPA) represents an unprecedented effort to bring other voices to the mass-media table often dominated by a few major think tanks. IPA works to broaden public discourse in mainstream media, while building communication with alternative media outlets and grassroots activists.
LATEST NEWS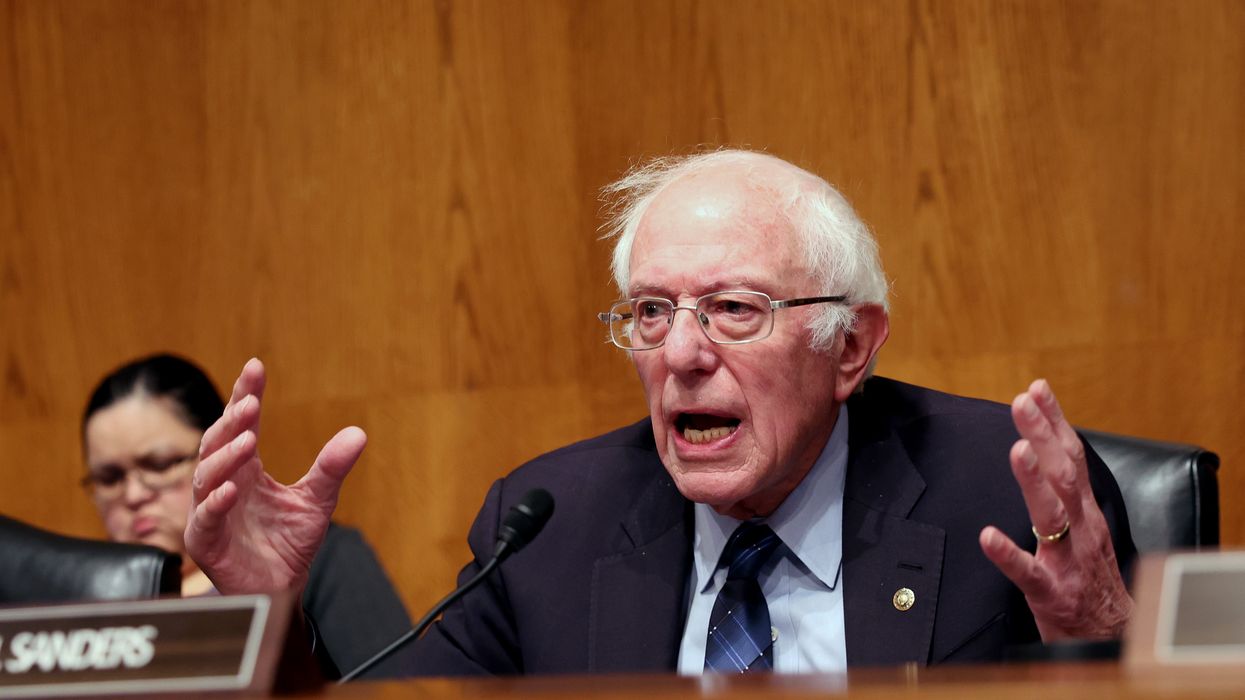 "The American people have a right to know why it is that they pay, by far, the highest prices in the world for prescription drugs," said the Vermont senator.
U.S. Sen. Bernie Sanders and every Democratic member of the committee he chairs sent letters on Tuesday inviting the CEOs of three major pharmaceutical companies to testify at an upcoming hearing on the nation's prescription drug costs, which are so high that millions of Americans are forced to ration their medications to save money.
"The American people have a right to know why it is that they pay, by far, the highest prices in the world for prescription drugs while the pharmaceutical industry in the U.S. makes hundreds of billions in profits and pays their CEOs tens of millions of dollars in compensation," Sanders (I-Vt.), chair of the Senate Health, Education, Labor, and Pensions (HELP) Committee, said in a statement.
In letters to the top executives of Johnson & Johnson, Merck, and Bristol Myers Squibb, Sanders and his Democratic colleagues asked, "How does it happen that one out of four Americans cannot afford to take the medicine their doctors prescribe while prescription drug companies make billions in profits and pay their executives exorbitant compensation packages?"
"How does it happen," the letters continue, "that the median price of new prescription drugs in the United States was over $220,000 last year, while the pharmaceutical industry spent billions on stock buybacks and dividends?"
Johnson & Johnson, Merck, and Bristol Myers Squibb are some of the U.S. pharmaceutical industry's biggest offenders when it comes to charging Americans exorbitant prices for medications that can be purchased at a fraction of the cost in other countries.
In a statement, Sanders' office pointed to Johnson & Johnson and AbbVie's Imbruvica, a blood cancer drug that carries a list price of roughly $204,000 for an annual supply in the U.S. The drug sells for $46,000 annually in the United Kingdom and $43,000 in Germany.
Imbruvica is one of the 10 drugs that the Biden administration selected for an initial round of price negotiations with Medicare, which was empowered to directly negotiate prescription medicine costs with pharmaceutical companies under the Inflation Reduction Act.
The three companies run by the invited executives have all sued the Biden administration over the Medicare price negotiations. In September, a federal judge in Ohio rejected an effort by the U.S. Chamber of Commerce to halt the negotiations.
Sanders said Tuesday that he looks forward to "hearing from the CEOs of large pharmaceutical companies directly on this critical issue."
"I also look forward to working with my colleagues in the Senate to lower the outrageously high price of prescription drugs," the senator added. "A lifesaving drug is not effective if the patient who needs that drug cannot afford it."
The hearing—titled "Why Does the United States Pay, By Far, the Highest Prices in the World for Prescription Drugs?"—is set to take place on January 25, 2024.
News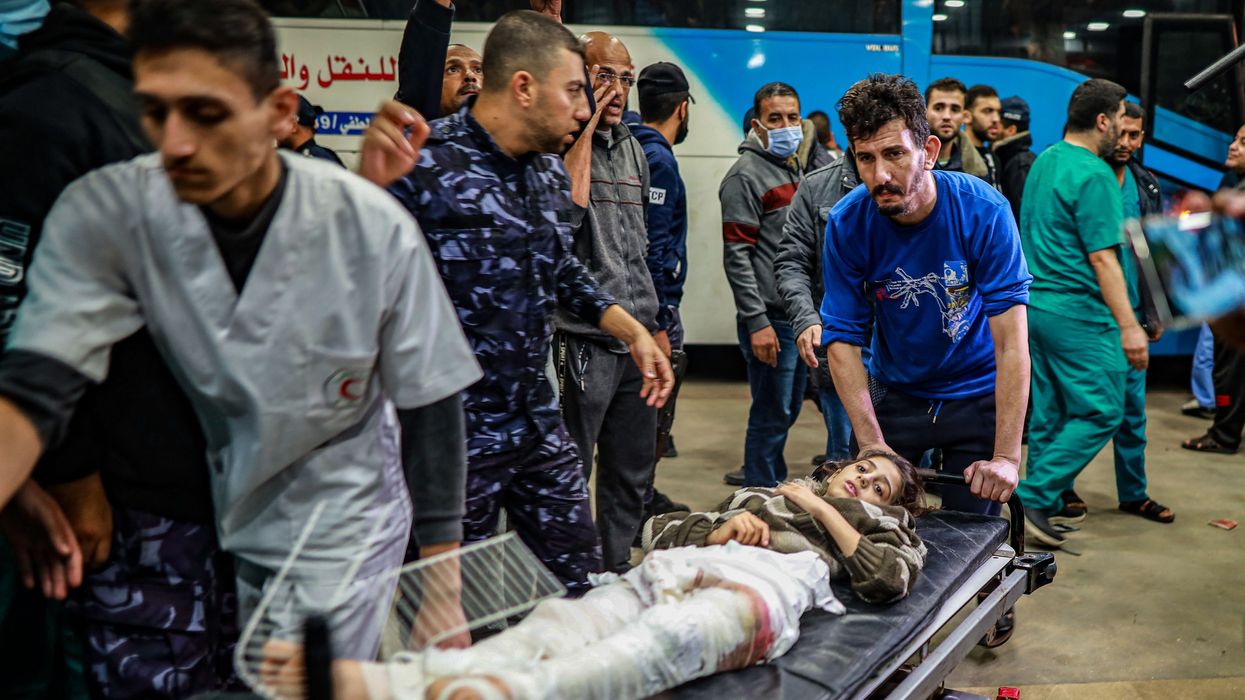 "You have destroyed the international rules of the game, insulted the authority of the U.N., torn apart the sense of justice... and tarnished the face of human civilization."
The director of the aid group that runs the Indonesian Hospital in Gaza—where Israeli attacks killed at least a dozen people on Monday—appealed directly to U.S. President Joe Biden, imploring him to push Israel to accept a cease-fire in a war that's killed or maimed more than 40,000 Palestinians.
"Gazans are facing death every day. Every five minutes, a Palestinian child is killed," Sarbini Abdul Murad, head of Medical Emergency Rescue Committee (MER-C) Indonesia, wrote in a letter to Biden.
Noting that Israeli forces have attacked "babies, children, women, the elderly, the disabled, hospitals, ambulances, medics, schools, teachers, residential complexes, worship places, and much more," Murad asserted that "this is completely genocide and ethnic cleansing."
"It is very unfortunate that your siding with Israel by facilitating weapons of mass destruction has actually made the conflict even wider," Murad continued. "Your action clearly contradicts various international treaties and agreements that apply to the existence of Palestine. You have destroyed the international rules of the game, insulted the authority of the [United Nations], torn apart the sense of justice, hurt human values, and tarnished the face of human civilization."
"Mr. President, we believe you still have a conscience," Murad wrote. "Your great country certainly wants to be seen as honorable for its humanitarian defenses. Moreover, your administration has determined to make the principles of multilateralism, justice, and human rights the foundation of United States foreign policy. So, actually, this is the right to prove it."
Urging Biden to "avoid double standards in dealing with the Palestinian-Israeli conflict," Murad added: "For the sake of peace and humanity, we demand that you immediately do [a] cease-fire. Restore the dignity of the United States as a country that upholds human rights. The cease-fire must be implemented now, so as not to increase the loss of life on both sides."
Murad's letter came as Israel Defense Forces tanks surrounded the Indonesian Hospital in northern Gaza after IDF artillery shelling killed 12 people in the facility's compound, including patients and their companions, according to the Gaza Health Ministry. The ministry also said many people were wounded in the attack, including patients in critical condition.
"The attack is a clear violation of international humanitarian laws. All countries, especially those that have close relations with Israel, must use all their influence and capabilities to urge Israel to stop its atrocities," Indonesian Foreign Minister Retno Marsudi said Monday.
According to Gaza officials, there are about 700 patients, staff, and other Palestinians trapped in the Indonesian Hospital. People trying to flee the compound have reportedly come under Israeli fire.
Marwan Abdallah, a medical worker at hospital, toldAl Jazeera that Israeli tanks could be seen maneuvering around the compound.
"You can see them moving around and firing," Abdallah said. "Women and children are terrified. There are constant sounds of explosions and gunfire."
The World Health Organization (WHO) said it is "appalled" by the attacks on Indonesian Hospital.
"Health workers and civilians should never have to be exposed to such horror, and especially while inside a hospital," the agency said in a statement.
"There have been multiple and ongoing attacks on health facilities in the last six weeks, that have resulted in forced mass evacuations from hospitals, and multiple fatalities and casualties among patients, their companions, and those who had sought refuge in hospitals," WHO continued.
"The Indonesian Hospital had already reportedly sustained damages due to at least five attacks since October 7," the organization added, referring to the date when Israel began bombarding Gaza by air, land, and sea following the Hamas-led attacks on southern Israel that killed around 1,200 people, with another 240 or so taken hostage.
"The world cannot stand silent while these hospitals, which should be safe havens, are transformed into scenes of death, devastation, and despair."
"WHO has recorded 335 attacks on healthcare in the occupied Palestinian territory since October 7, including 164 attacks in the Gaza Strip and 171 attacks in the West Bank," WHO noted. "There were also 33 attacks on healthcare in Israel during the violent events of October 7."
"The world cannot stand silent while these hospitals, which should be safe havens, are transformed into scenes of death, devastation, and despair," the agency added.
On Tuesday, Médecins Sans Frontières (MSF), or Doctors Without Borders, said two of its physicians—Drs. Mahmoud Abu Nujaila and Ahmad Al Sahar—were killed along with another doctor, Ziad Al-Tatari, in a strike on al-Awda Hospital in northern Gaza.
"We condemn this strike in the strongest terms, and call yet again for the respect and protection of medical facilities, staff, and patients," MSF said in a statement.
Israeli officials claim Hamas and other Palestinian militants are using hospitals as headquarters. However, Israel has provided no proof to support its allegations, which Palestinian and international medical professionals working in the facilities resoundingly refute.

According to Palestine's WAFANews Agency, at least 205 Palestinian medical workers have been killed by Israeli bombs and bullets during the war.

The WHO said Tuesday that one of its employees, Dima Alhaj, was killed in an Israeli attack on Gaza alongside her husband, their 6-month-old baby, and two of the woman's brothers.
Israel and Hamas appeared close to reaching a Qatar-brokered multiday cease-fire agreement on Tuesday, with hard-right holdouts in Israel's government—most notably, National Security Minister Itamar Ben-Gvir and Finance Minister Bezalel Smotrich—opposed to the deal, which would reportedly involve the release of around 50 civilian hostages held by Hamas and of Palestinian women and children imprisoned by Israel.
Gaza officials said Tuesday that the death toll from Israel's 46-day onslaught rose to at least 14,128, including over 3,900 women and 5,800 children. Tens of thousands more Palestinians have been wounded, nearly 1.7 million others have been forcibly displaced, and around half of all homes in the embattled strip have been damaged or destroyed.
News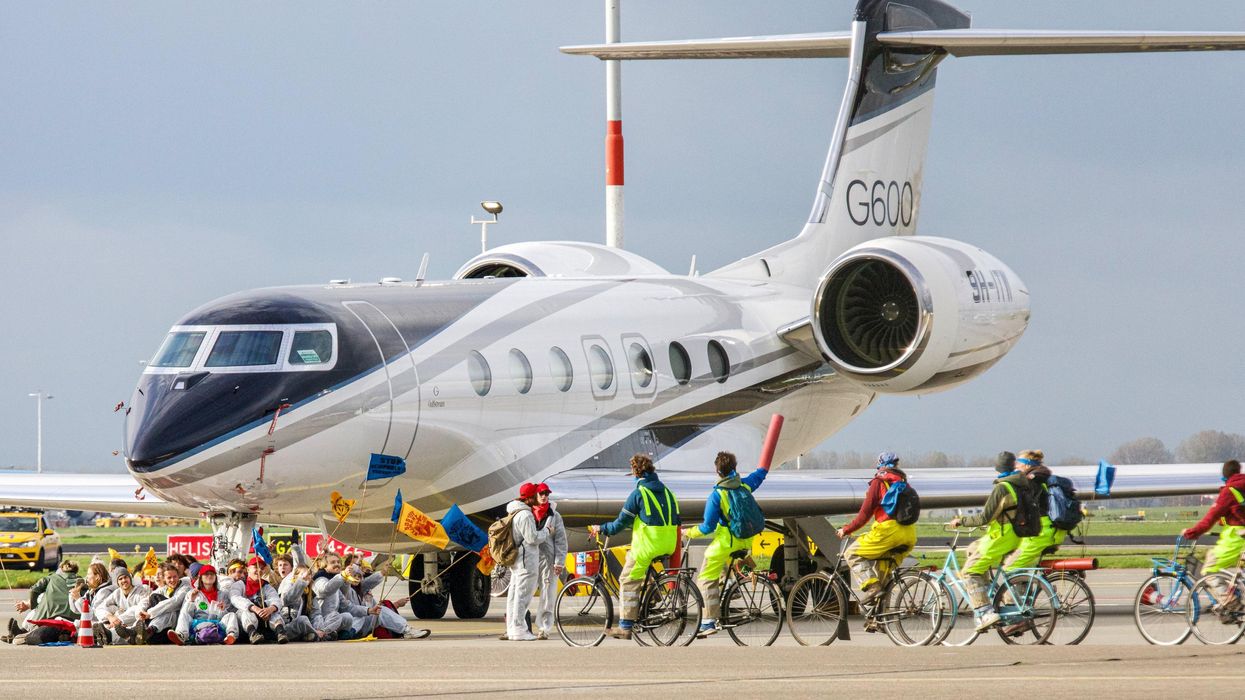 The planes tracked by a new Guardian report belong to celebrities, billionaires, CEOs, and their families, among them the Murdoch family, Taylor Swift, and the Rolling Stones.
The private jets of just 200 rich and famous individuals or groups released around 415,518 metric tons of climate-heating carbon dioxide between January 2022 and September 22, 2023, The Guardian revealed Tuesday.
That's equal to the emissions burned by nearly 40,000 British residents in all aspects of their lives, the newspaper calculated.
The planes tracked by the outlet belong to celebrities, billionaires, CEOs, and their families, among them the Murdoch family, Taylor Swift, and the Rolling Stones. All told, the high-flyers made a total of 44,739 trips during the study period for a combined 11 years in the air.
"Pollution for wasteful luxury has to be the first to go, we need a ban on private jets."
Notable emitters included the Blavatnik family, the Murdoch family, and Eric Schmidt, whose flights during the 21-month study period released more than 7,500 metric tons of carbon dioxide equivalent. The Sawiris family emitted around 7,500 metric tons, and Lorenzo Fertitta more than 5,000.
The Rolling Stones' Boeing 767 wide-body aircraft released around 5,046 metric tons of carbon dioxide, which is equal to 1,763 economy flights from London to New York. The 39 jets owned by 30 Russian oligarchs released 30,701 metric tons of carbon dioxide.
For comparison, average per capita emissions were 14.44 metric tons in the U.S. for 2022, 13.52 metric tons in Russia in 2021, and 5.2 metric tons in the U.K. the same year.
Taylor Swift was the only celebrity or billionaire in the report whose team responded to a request for comment.
"Before the tour kicked off in March of 2023, Taylor bought more than double the carbon credits needed to offset all tour travel," a spokesperson for the pop star told The Guardian.
Swift appears to have responded to public pressure to reduce private jet use. Her plane averaged 19 flights a month between January and August 2022, when she received criticism after sustainability firm Yard named her the celebrity who used her plane the most. After that point, the plane's average monthly flights dropped to two.
The Guardian's investigation was based on private aircraft registrations compiled by TheAirTraffic Database and flight records from OpenSky. Reporters calculated flight emissions based on model information found in the ADSBExchange Aircraft database and Planespotters.net and emissions per hour per model found in the Conklin & De Decker's CO2 calculator and the Eurocontrol emission calculator.
The report was released the day after an Oxfam study found that the world's richest 1% emitted the same amount as its poorest two-thirds. Given their high carbon footprint and luxury status, private jets have emerged as a rallying point for the climate justice movement.
"It's hugely unfair that rich people can wreck the climate this way, in just one flight polluting more than driving a car 23,000 kilometers," Greenpeace E.U. transport campaigner Thomas Gelin said in March. "Pollution for wasteful luxury has to be the first to go, we need a ban on private jets."
In the U.S., a group of climate campaigners is mobilizing to stop the expansion of Massachusetts' Hanscom Field, the largest private jet field in New England. An October report found that flights from that field between January 1, 2022, and July 15, 2023, released a total of 106,676 tons of carbon emissions.
"While plenty of business is no doubt discussed over golf at Aberdeen, Scotland, or at bird hunting reserves in Argentina (destinations we also documented), this is probably the least defensible form of luxury travel on a warming planet when a Zoom call would often do," Chuck Collins, who co-authored the Hanscom report, wrote for Fortune on November 14.
News