For Immediate Release
March, 06 2009, 10:15am EDT
Leading South African Political Activist Ends 21-Day Hunger Strike in Solidarity with Zimbabwean People
WASHINGTON
Nomboniso Gasa, chair of
South Africa's Commission for Gender Equality, ended on Mar. 4 a 21-day
hunger strike that sought to draw international attention to Zimbabwe's
deteriorating humanitarian crisis and the detention of political
prisoners.
The South African political activist survived only on water for the
duration of the three-week hunger strike, which began on February 11.
The hunger strike was staged as a symbolic act of solidarity with the
people of Zimbabwe as the country experiences massive food shortages, a
deadly cholera epidemic, and ongoing political turmoil, despite the
signing of the Global Political Agreement and the formation of the
unity government.
The hunger strike is part of an international solidarity campaign,
"Save Zimbawe Now!" to mobilize public awareness and build pressure on
Southern African governments to influence the Zimbabwean government to
restore dignity, human and democratic rights to its people.
"I've always been involved in the political struggle since the
anti-apartheid movement and am acutely aware of the solidarity role of
others in bringing about change," said Ms. Gasa. "I and others in the
solidarity campaign are horrified that the South African government and
international community are not adequately responding to the
humanitarian crisis, torture and abuse of political detainees, and an
economy spiraling out of control."

Ms. Gasa is in New York for the UN Commission on the Status of Women
meeting. She used her portion of the hunger strike relay as a platform
to highlight violence against women and the unique humanitarian
challenges faced by Zimbabwe women.
In mid-Feb., Gasa spent several days at a refugee camp for Zimbabwe
refugees on the border of South Africa and Zimbabwe where she witnessed
deplorable conditions and thousands waiting in limbo on whether to
return to their country.
Ms. Gasa completed the second leg of the relay fast and hunger strike
campaign from CIVICUS Honorary President Kumi Naidoo. She will hand
over the third leg of the relay fast to Dumisa Ntsebeza, a
distinguished human rights lawyer and member of South Africa's Truth
and Reconciliation Commission. Tens of thousands of activists around
the world have joined the fast relay in various ways as an act of
solidarity.
The campaign is urging the United Nations and international community
to step up pressure on the Zimbabwean government to end the political
passe, strengthen relief efforts to respond to the humanitarian crisis,
and to release political prisoners.
BIO:
A lifelong political activist and gender research analyis, Nomboniso
Gasa's first detention occurred during apartheid at age 14 in the
Western Cape. Since that time, she has tirelessly worked on human
rights for women and feminism in Africa. Her current research interests
include the de/constructions of cultural identities, masculinities,
intersections of unequal patriarchal power relations with gender and
other social inequalities.
PRESS AVAILABILITY:
Nomboniso Gasa will be available for interviews on her 21-day hunger
strike and the Save Zimbabwe Now! campaign. To schedule interviews,
contact Michael Stulman at Michael.Stulman@africaaction.org or call
(202) 507-4667, mobile: 419-957-0429
For more information on the campaign, please visit
www.savezimbabwenow.com.
Africa Action is a national organization that works for political, economic and social justice in Africa. Through the provision of accessible information and analysis combined with the mobilization of public pressure we work to change the policies and policy-making processes of U.S. and multinational institutions toward Africa. The work of Africa Action is grounded in the history and purpose of its predecessor organizations, the American Committee on Africa (ACOA), The Africa Fund, and the Africa Policy Information Center (APIC), which have fought for freedom and justice in Africa since 1953. Continuing this tradition, Africa Action seeks to re-shape U.S. policy toward African countries.
LATEST NEWS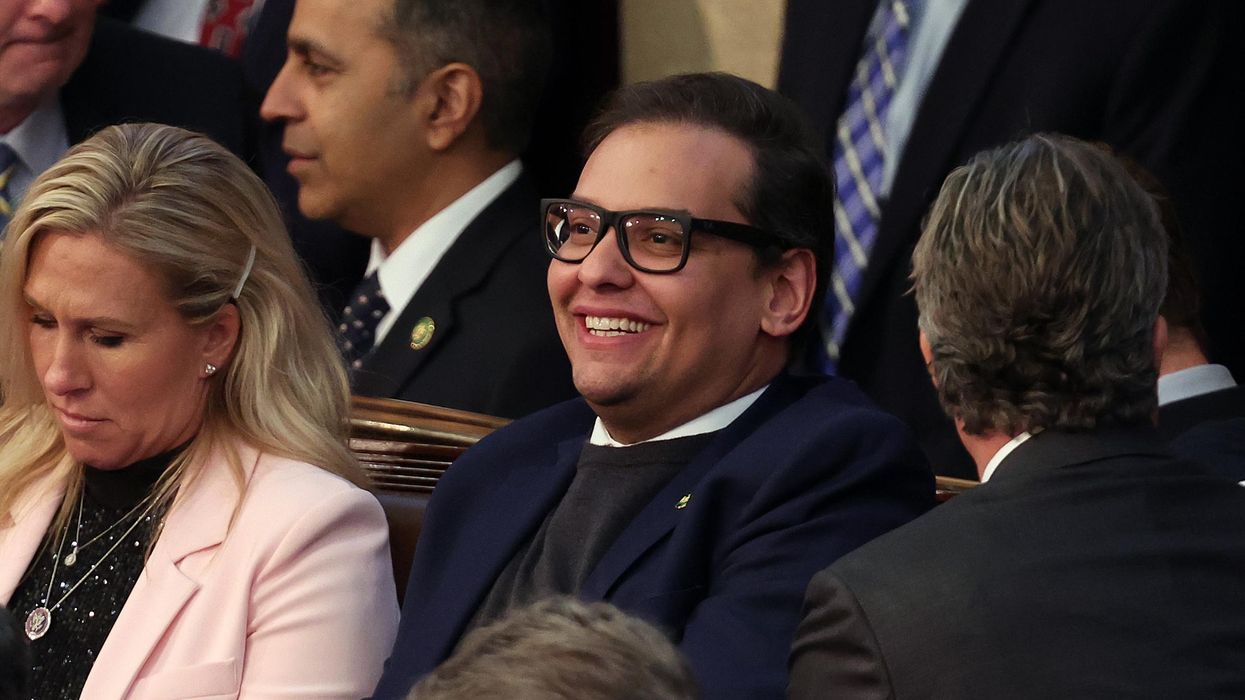 "It's telling that the very first action of the incoming MAGA Republican-led House was to kneecap a bipartisan office that oversees congressional ethics."
In one of their first acts in the majority, House Republicans on Monday approved a rules package that will dramatically hinder the Office of Congressional Ethics, an independent body tasked with investigating complaints about sitting lawmakers.
The change came as a number of House Republicans—including newly elected Rep. George Santos (R-N.Y.)—are facing growing scrutiny for alleged ethics violations that range from potentially running afoul of campaign finance laws to defying congressional subpoenas issued as part of the January 6 investigation.
House Speaker Kevin McCarthy (R-Calif.) opposed the establishment of the Office of Congressional Ethics (OCE) in 2008, and Republicans have repeatedly targeted the body in the years since its creation.

"It speaks volumes that House Republicans' first order of business after electing Kevin McCarthy as speaker is to gut the Office of Congressional Ethics, making it easier for House members—including those complicit in the conspiracy to overturn the 2020 election—to evade responsibility for misconduct," said Sean Eldridge, the founder and president of Stand Up America.
"This kind of self-serving behavior is why many Americans have lost faith in politics," Eldridge added. "McCarthy and his fellow MAGA Republicans have sent a clear message about their priorities and who is actually in charge in the new House: corrupt politicians."
The changes enacted by the House GOP on Monday impose an eight-year term limit on the eight members of the OCE, a change that will force out three of the four Democrats currently sitting on the board.
The new rules will also require OCE to hire all of its staff for the 118th Congress within a period of 30 days, a restriction that outside ethics watchdogs say "essentially limits any hiring for the office, including investigative staffers, to an impossibly brief period that would make it extremely difficult to rigorously assess candidates for these high-stakes jobs."
"Additionally," notes the Campaign Legal Center, "the 30-day hiring period applies to the entire 118th Congress, meaning that regardless of when a vacancy at the OCE occurs under this rule, the position cannot be filled."
Any new hires would require the approval of at least four OCE board members.
"This is about protecting their ethically-challenged members like fraudster George Santos or January 6 subpoena-defying Jim Jordan from accountability."
Citizens for Responsibility and Ethics in Washington (CREW) warned the changes enacted by House Republicans late Monday are "a disaster for everyone except corrupt politicians."

Kyle Herrig, president of the watchdog group Accountable.US, said in a statement that "this is about protecting their ethically-challenged members like fraudster George Santos or January 6 subpoena-defying Jim Jordan from accountability—or perhaps in anticipation of a new wave of corruption allegations and ethics violations from other MAGA extremists."
"It's telling that the very first action of the incoming MAGA Republican-led House was to kneecap a bipartisan office that oversees congressional ethics," said Herrig. "There's no good reason to make it easier for members to get away with ethics violations, which only invites problematic behavior. It sends a clear message that the MAGA House is more interested in sweeping any corruption amongst their ranks under the rug and performing political stunts against the Biden administration than they are doing anything constructive."
Santos, who has admitted to lying about numerous aspects of his background and is facing campaign finance complaints, celebrated the OCE changes as "fantastic" and called them "a good thing for transparency."
The Guardiannoted Monday that "as House Republicans moved to shield themselves from potential ethics investigations, they expanded their own investigative ability through the adoption of the rules package that allows for the creation of the special subcommittee to probe the Justice Department and intelligence agencies."
"The text of the resolution creating the subcommittee—scheduled for a vote on Tuesday—on 'the weaponization of the federal government' authorizes it to investigate any part of the federal government, including 'ongoing criminal investigations,' which Republicans have indicated could extend to probes against Trump," the newspaper reported.
News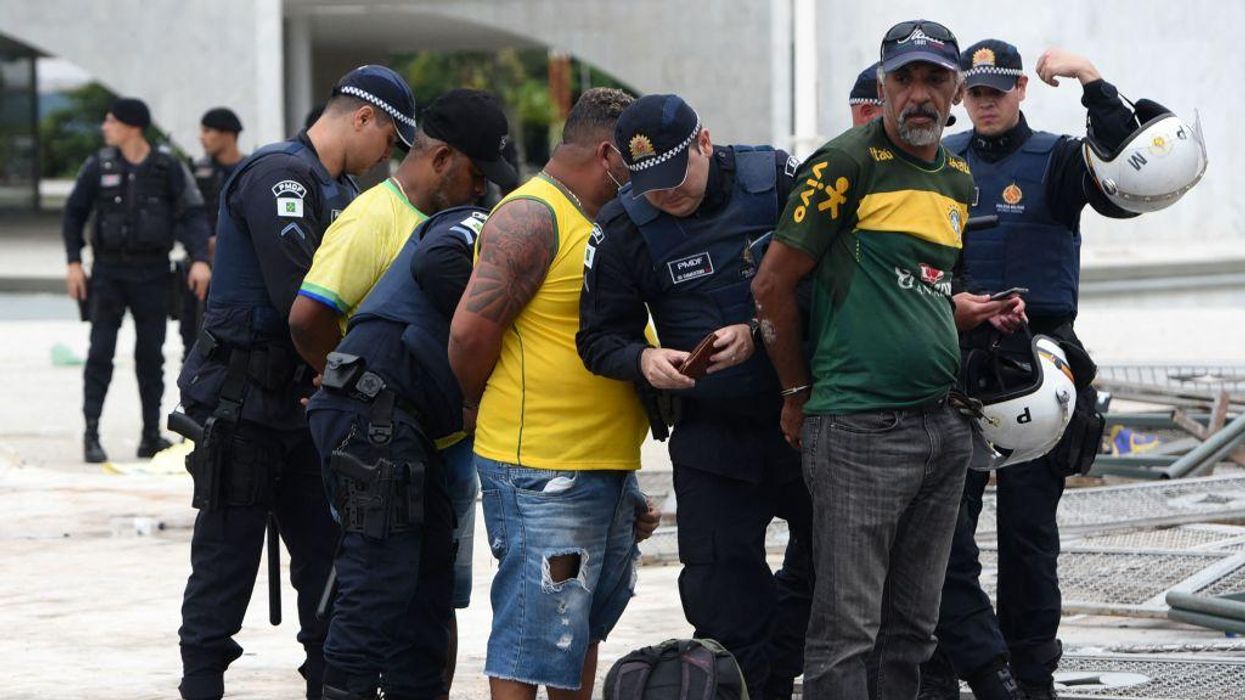 The country's justice minister said the right-wing former president bears "a political responsibility" for the attack on "the buildings of the three branches of powers, aiming at a coup d'état."
Brazilian Justice Minister Flávio Dino said Monday that "about 1,500" people have been arrested since supporters of Brazil's far-right former President Jair Bolsonaro attacked government buildings in Brasília the previous day.
Dino said that at least 209 people were arrested Sunday and "about 1,200" were detained Monday, as authorities dismantled a protest camp set up near military headquarters in the federal capital, according toCNN.
"This attack is the culmination of a campaign by Bolsonaro and his allies to undermine democratic institutions."
The attack on Brazil's National Congress, presidential palace, and top court came a week after the inauguration of leftist President Luiz Inácio Lula da Silva, who beat Bolsonoro in an October runoff. Since the election, some Bolsonaro supporters have advocated a military coup to oust Lula.
Neither man was in Brasília for the insurrection: Bolsonoro flew to Florida shortly before Lula was sworn in and was admitted to a U.S. hospital on Monday, according to his wife; Lula, who blamed his predecessor for inciting the violence, was in São Paulo.
As Bloombergreported Monday:
Lula held a meeting with the heads of the Supreme Court, Congress, and several of his Cabinet members at a presidential palace left in shambles.

"We're united to ensure that institutional measures are taken in accordance with the law," they wrote in a joint statement after the meeting. "We call on society to remain calm, defending peace and democracy in our country."
The Brazilian leader also spoke by phone with U.S. President Joe Biden on Monday.
"President Biden conveyed the unwavering support of the United States for Brazil's democracy and for the free will of the Brazilian people as expressed in Brazil's recent presidential election, which President Lula won," they said in a joint statement. "President Biden condemned the violence and the attack on democratic institutions and on the peaceful transfer of power."
"The two leaders pledged to work closely together on the issues confronting the United States and Brazil, including climate change, economic development, and peace and security," the statement continued. The U.S. leader invited his counterpart to visit Washington, D.C. early next month "for in-depth consultations on a wide-ranging shared agenda," and Lula accepted.
Earlier Monday, Biden had joined with Mexican President Andres Manuel Lopez Obrador and Canadian Prime Minister Justin Trudeau to condemn the "attacks on Brazil's democracy and on the peaceful transfer of power," express their solidarity with the South American country "as it safeguards its democratic institutions," and affirm that they "look forward to working with President Lula on delivering for our countries, the Western Hemisphere, and beyond."
\u201cSupporters of former Brazil president Jair Bolsonaro stormed Congress in Brazil's capital on January 8. This attack is the culmination of a campaign by Bolsonaro and his allies to undermine democratic institutions.\u201d

— Human Rights Watch (@Human Rights Watch) 1673295255
Although Bolsonaro is reportedly hospitalized with abdominal pain potentially related to an old stab wound, Biden is under mounting pressure—including from U.S. lawmakers—to expel him from the United States. The peace group CodePink has joined that call and highlighted that "Anderson Torres, Bolsonaro's justice minister who was appointed minister of public security for the capital city Brasília, is also in the United States."
"Bolsonaro and Torres should be sent back to Brazil to face justice for their crimes," the group said. "While Brazil's elected government and its people are anxious to rebuild a country that was seriously damaged by the unbridled neoliberal policies of the Bolsonaro government, the anti-democratic and violent mobs ignored the sovereign will of the Brazilian people who elected President Luis Inácio Lula da Silva to a new constitutional mandate. CodePink vehemently rejects these threats to the social and political peace of the Brazilian people, and stands firmly with the elected government of President Lula."
The Brazilian justice minister explained during a news conference Monday that at this time, there are no legal grounds to investigate Bolsonaro in connection with Sunday's violence. However, he still placed blame on the far-right leader.
"Words have power and those words turned into hate, which turned into destruction," Dino said. "It is a political responsibility because there are political leaders who are responsible for the hate speech and the destruction that we saw yesterday at the buildings of the three branches of powers, aiming at a coup d'état."
Other world leaders, including United Nations Secretary-General António Guterres, and human rights organizations have also condemned Sunday's attack and related actions from Bolsonaro and his supporters—which have provoked comparisons to former U.S. President Donald Trump's "Big Lie" about the 2020 election, which culminated in the January 6, 2021 insurrection.
\u201c"Perhaps if the U.S. had been more diligent in bringing the coup participants here, & their ringleaders, to justice much sooner, in the wake of January 6th 2021, there might not have been a coup attempt in Brazil on January 8th 2023."\n\nWatch my commentary:\nhttps://t.co/oVaVAA6gRU\u201d

— Mehdi Hasan (@Mehdi Hasan) 1673314795
"This attack is the culmination of a yearslong campaign by former president Jair Bolsonaro and his allies to undermine democratic principles and spread baseless claims of electoral fraud," Tamara Taraciuk Broner, acting director of Human Rights Watch's Americas Division declared Sunday. "The authorities have a responsibility to provide security to Congress, the Supreme Court, and the presidential palace, as well as protect the media and others."
"Local authorities failed to take adequate measures to protect key federal buildings, particularly considering previous violent incidents by Bolsonaro supporters, including an attack on the headquarters of the federal police on December 12, the day when electoral authorities officially certified the victory of Luiz Inácio Lula da Silva in the October presidential elections," she noted. "Police and the attorney general office need to investigate not just those who committed acts of violence, but those who incited and financed them. Those responsible for this extremely serious attack on Brazil's democratic institutions should be held accountable."
Amnesty International on Sunday also called for probes and prosecutions "in accordance with international human rights standards" and vowed to monitor the federal intervention in public security decreed by Lula in response to the violence.
The organization noted not only "the attacks and invasion of public buildings," but also "destruction of documents, violations of the security and physical integrity of journalists covering the events, and of security forces officers attacked by groups of civilians."
"Amnesty International demands that the Brazilian state ensure a prompt, impartial, serious, and effective investigation into the circumstances that led to the invasion and attacks," the group said, "in order to identify, prosecute, judge, and hold accountable all those involved in these incidents, including the instigators, organizers, and financiers, as well as the omissions of state institutions that failed to act to prevent these attacks from taking place."
Lula tweeted Monday evening that "it is not possible for a movement to last as long as it did" in front of the military headquarters "if there are no people financing it" and pledged that "we're going to investigate and we're going to find out who financed it."
News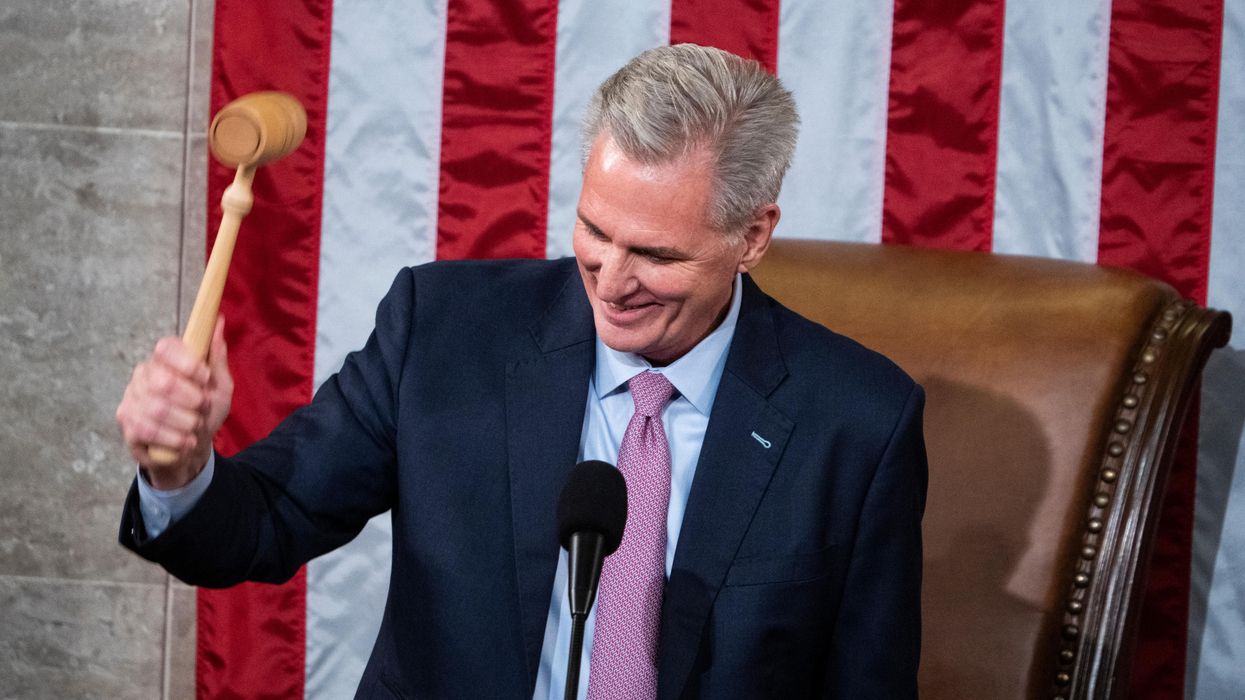 "Once again," said Congressional Progressive Caucus Chair Pramila Jayapal, Republicans are "putting politics over poor and working people."
Progressive U.S. lawmakers on Monday took House Republicans to task after the Congressional Budget Office said the erstwhile deficit hawks' first bill before the 118th Congress—a measure critics say is meant to "protect wealthy and corporate tax cheats"—will swell the federal deficit by more than $100 billion.
"They all run on reducing the deficit and now the House GOP's first... bill will increase the deficit by $114 billion," tweeted Rep. Ilhan Omar (D-Minn.). "Make it make sense."
Increasing the federal deficit can help people and the economy. Republicans have been criticized for hypocritically pushing cuts to social safety net programs in the name of fiscal responsibility while being willing to raise the deficit to help corporations and the rich.
The nonpartisan Congressional Budget Office (CBO) estimated that the euphemistically named Family and Small Business Taxpayer Protection Act—which faces a vote as soon as Monday evening—would "decrease outlays by $71 billion and decrease receipts by $186 billion over the 2023-2032 period."
\u201cThe @HouseGOP preaches about the deficit. Well here's their first bill \ud83d\udc47https://t.co/OujTofeKS0\u201d

— Raul M. Grijalva (@Raul M. Grijalva) 1673306214
That's because the legislation would rescind $72 billion of $80 billion worth of new Internal Revenue Service (IRS) funding authorized under the Inflation Reduction Act (IRA) passed by the Demorcat-controlled 117th Congress and signed into law last year by President Joe Biden.
In a December 30 letter to colleagues, House Majority Leader Steve Scalise (R-LA) said the proposed bill "rescinds tens of billions of dollars allocated to the IRS for 87,000 new IRS agents" under the IRA, a GOP talking point that has been widely debunked.
"Today, Republicans in Congress demonstrated their commitment to 'fiscal responsibility,'" Sen. Elizabeth Warren (D-Mass.) sardonically tweeted. "The first bill advanced by the GOP adds $114 billion to the deficit—by allowing the super-wealthy to cheat their taxes while everyone else pays. Corporate lobbyists are popping champagne."
Congressional Progressive Caucus Chair Pramila Jayapal (D-Wash.) lamented that the "first order of business in the GOP House of Representatives" will be to "vote to increase the deficit $114 BILLION by letting tax cheats dodge paying what they owe."
"Once again," she added, "they're putting politics over poor and working people."
Advocacy groups also questioned GOP lawmakers' motives for introducing the bill, with Americans for Tax Fairness tweeting that "House Republicans are using their new majority to try and repeal IRS funding that will make rich and corporate tax cheats pay what they owe."
"The GOP wants to let their rich friends keep cheating the rest of us," the group added.

News
SUPPORT OUR WORK.
We are independent, non-profit, advertising-free and 100%
reader supported.